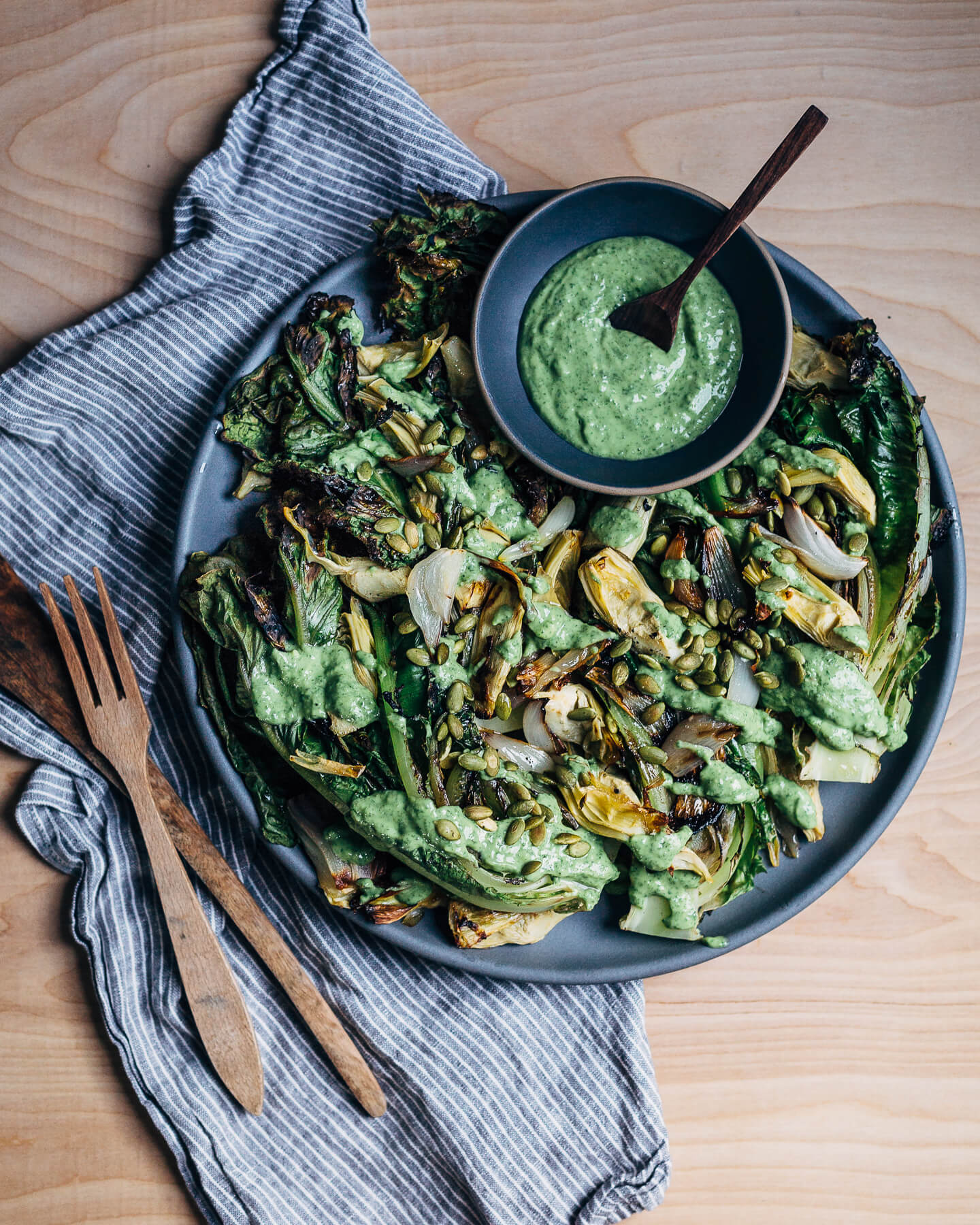 From Phoebe Lapine's new book, The Wellness Project, a grilled romaine heart salad topped with roasted shallots and artichoke hearts, toasted pepitas, and a avocado-kefir green goddess dressing. Jump to recipe.  
I had planned to share this recipe from Phoebe Lapine's new book The Wellness Project last week, but then a cold and sinus thing took me out of the blogging game for a week. It felt disingenuous to write about wellness when I was experiencing anything but.
And anyway, broaching the topic of wellness has me a little uneasy since the word itself is so fraught. Sometimes it refers to a genuinely healthful way of eating and living, aka being well, whereas other times, wellness falls in with problematic terms like "clean eating." At the core of BkS is the simple idea that good, wholesome food should be something everyone can take pleasure in. We all approach food differently and there's no one-size fits all solution for wellness. For instance, I'm severely allergic to nearly all legumes and tree nuts, so a so-called "clean," salad could very likely land me in the Emergency Room.
The understanding that we are unique and the path to wellness is not a straight line is at the heart of Phoebe Lapine's new book The Wellness Project: How I learned to Do Right by My Body, Without Giving Up My Life. Phoebe has Hashimoto's, a rare autoimmune disorder, and was one of the first people to reach out to me when I shared my story of autoimmune troubles this winter. Phoebe's book addresses health woes of all manner with ease and humor, and not a single mention of clean eating (though there is a hilarious chapter dedicated to Phoebe's vice detox). Fueling our unique bodies is an essential act, and Phoebe encourages you (and me) to do it right.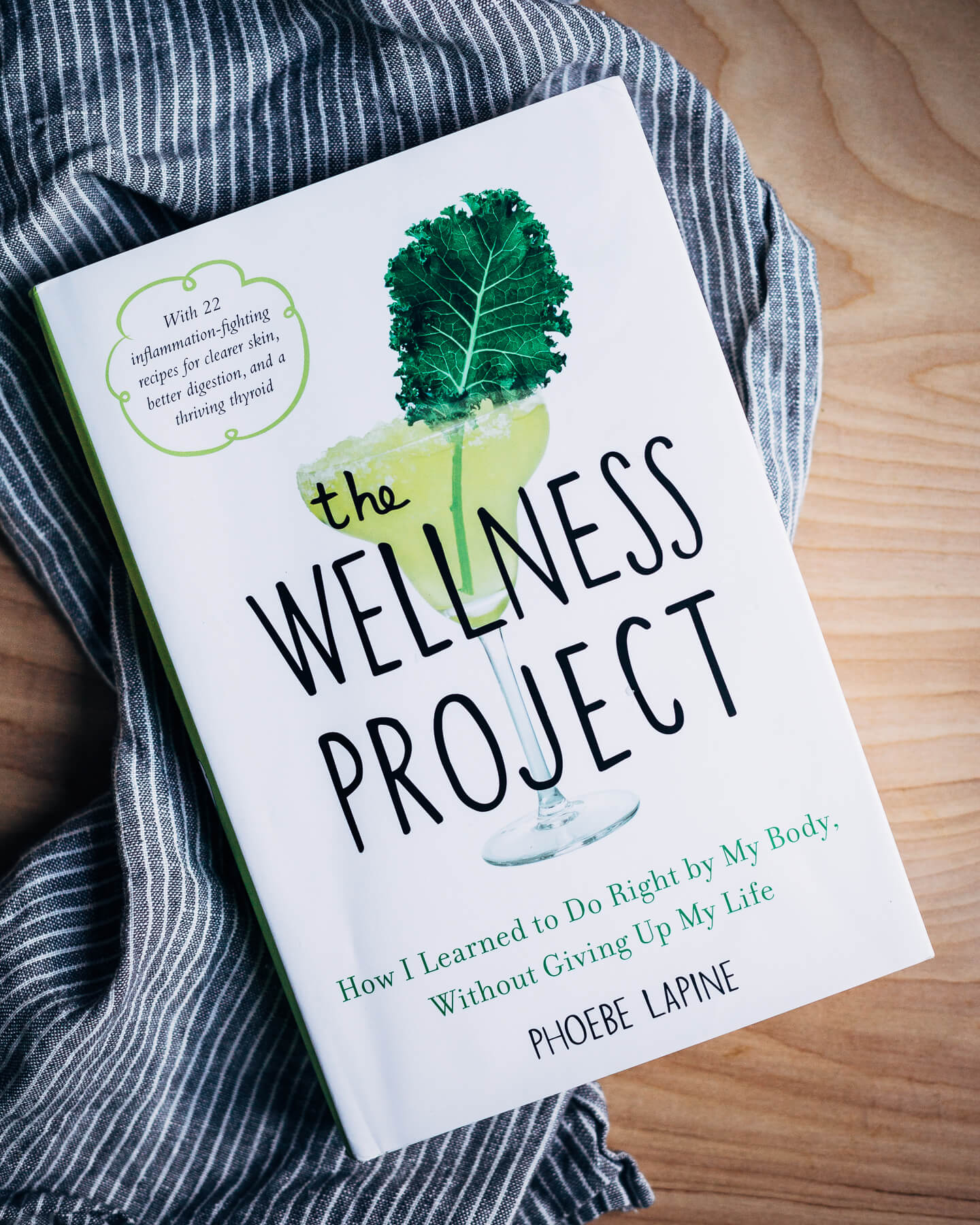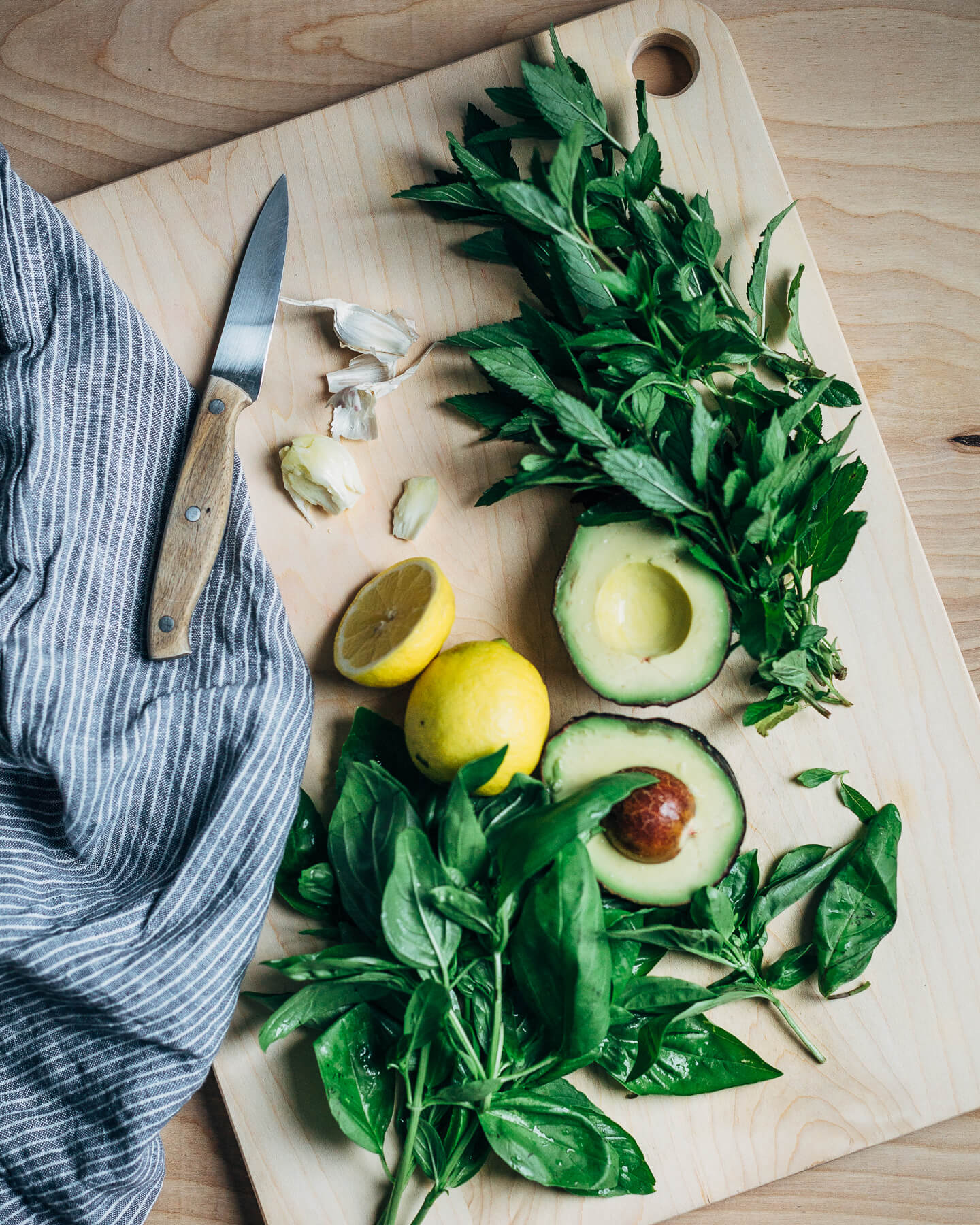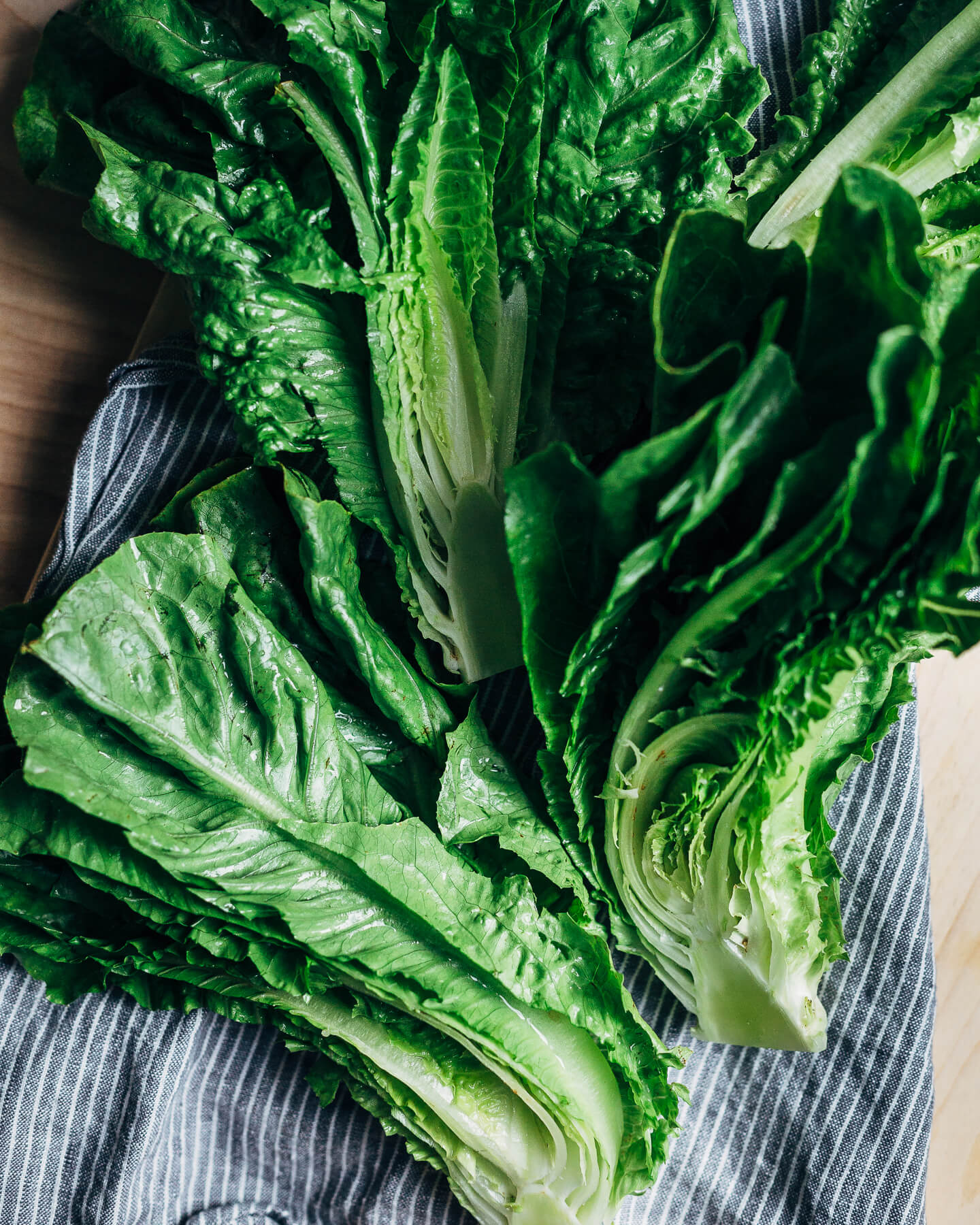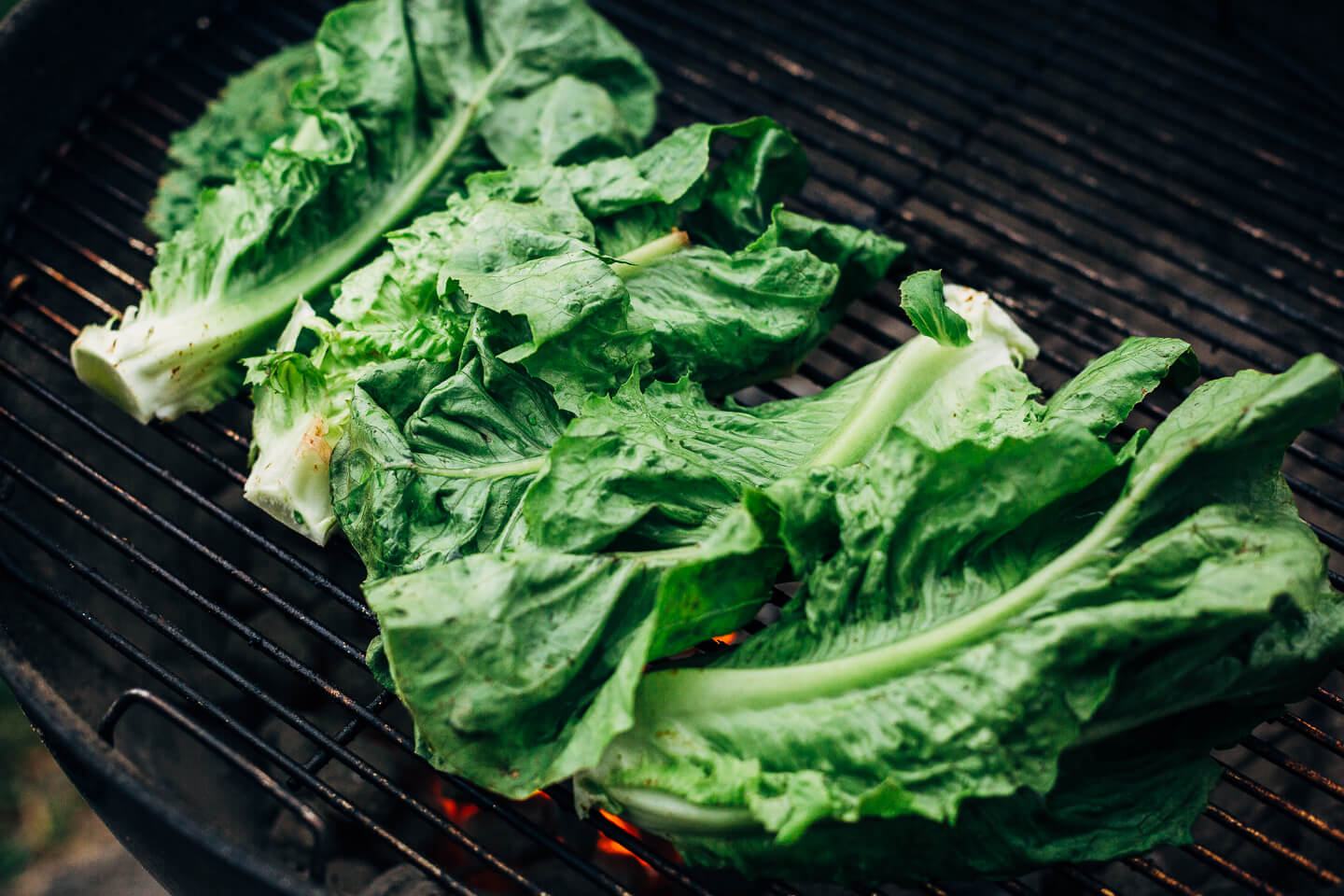 Phoebe brings the reader along on her own wellness journey, and shares everything from mistakes made to small triumphs. Wellness in Phoebe's world is approachable, aka "healthy hedonism" – dessert and wine and cocktails all have a place. If you've been wanting to make small changes, or address or improve your health, The Wellness Project is a wonderful resource.
Each chapter focuses on a specific part of the wellness equation and ends with a couple recipes. I had a hard time picking one to share, but a grilled romaine salad seemed fitting for all the summery grilltimes ahead. Grilled romaine hearts are layered with a tangy green goddess dressing made with kefir, and other good stuff like roasted artichoke hearts and shallots, and toasted pepitas.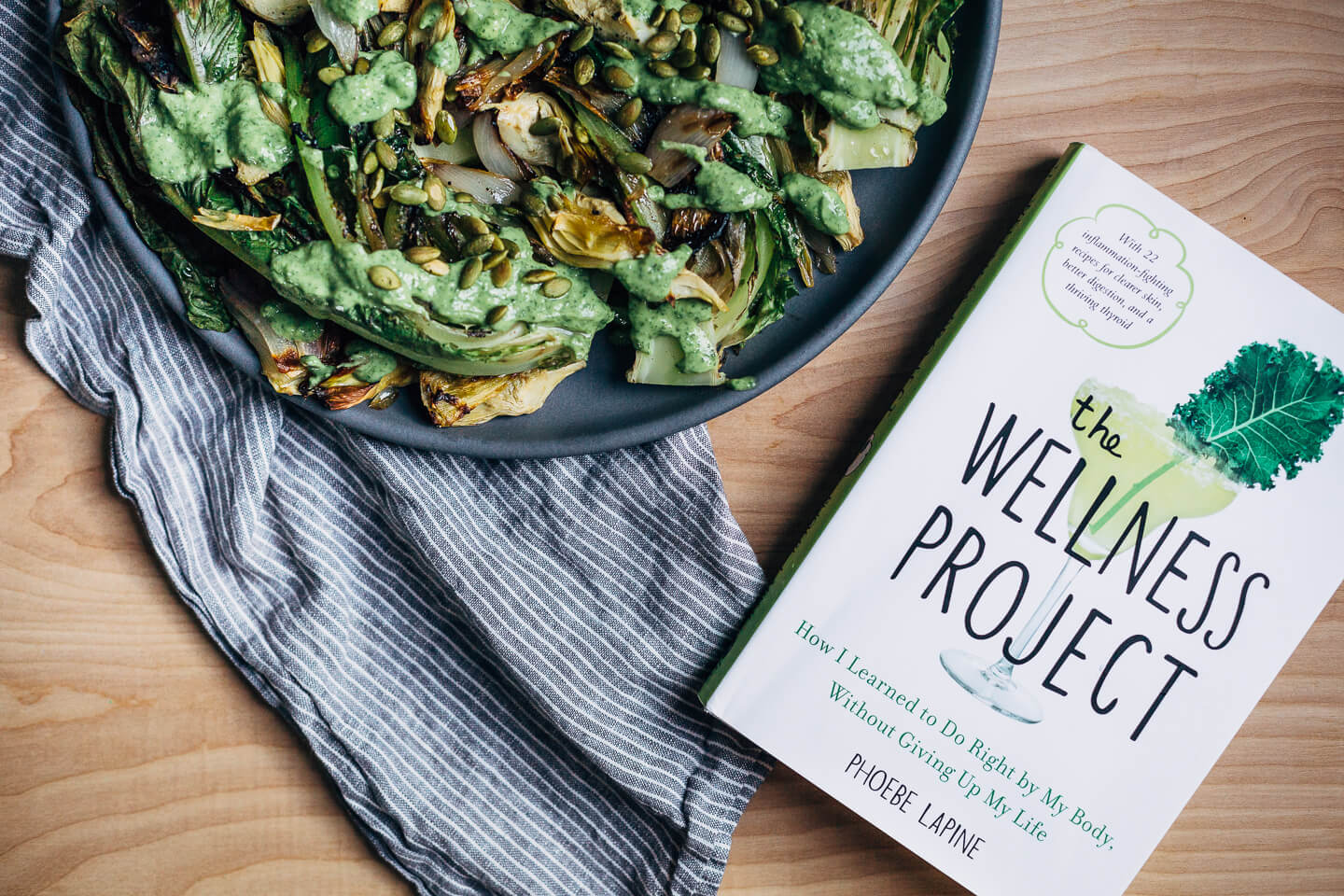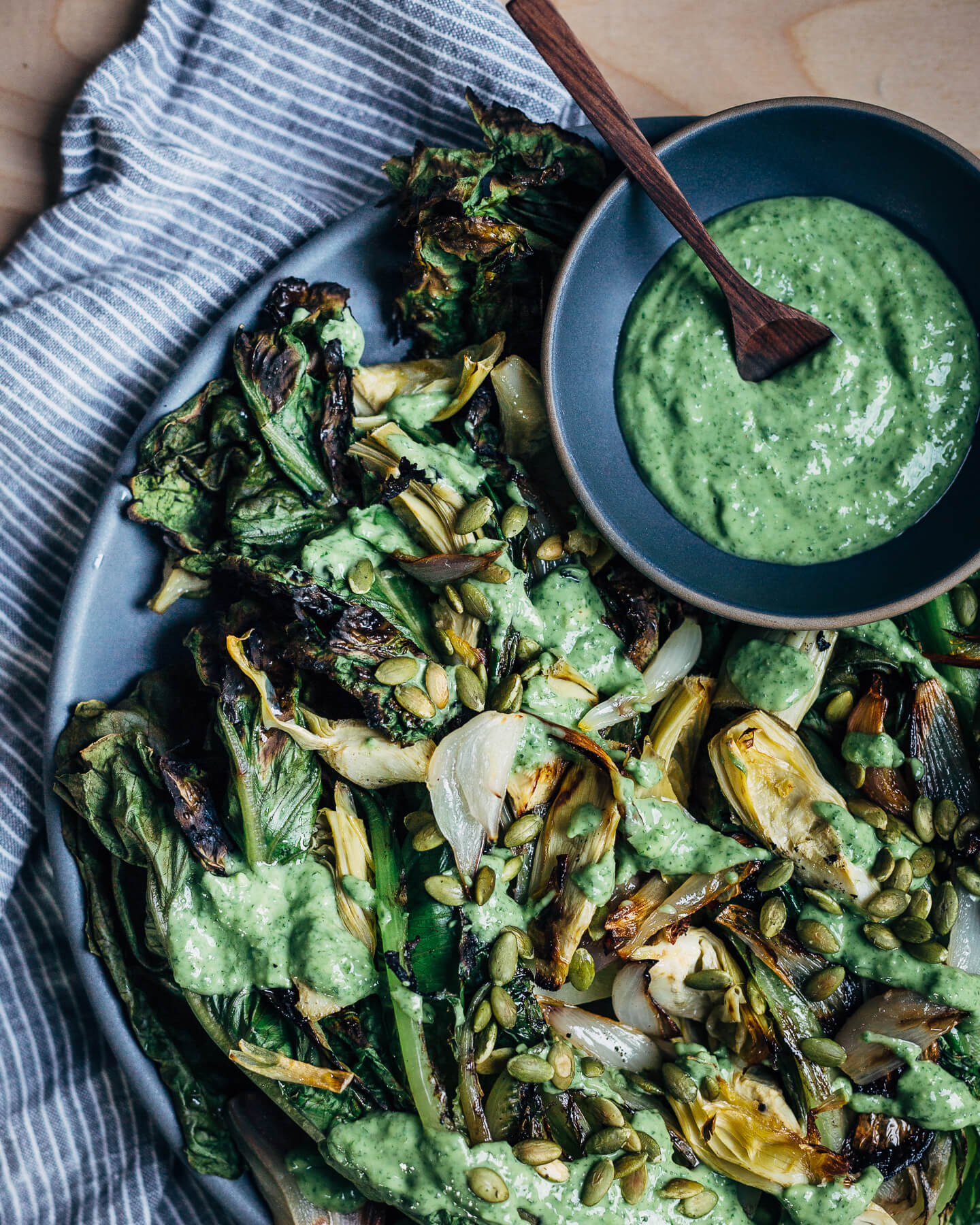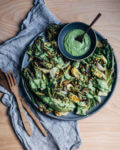 Grilled Romaine Heart Salad with Avocado-Kefir Green Goddess Dressing
Recipe reprinted with permission from The Wellness Project by Phoebe Lapine. Phoebe says, "This recipe is the healthy hedonist alternative to an anemic, blue cheese-bombed iceberg wedge salad. It has a plethora of gut all-stars: fibrous almonds* and artichokes, lacto-fermented kefir, and inulin-infused shallots. The charred hearts of romaine make for a beautiful presentation if served to company but also taste great raw if you don't want to bother with a grill."
*I used toasted pepitas instead.
Ingredients
4

medium shallots

, peeled and quartered

2

cups

quartered artichoke hearts

(if frozen, thawed; if canned, rinsed and drained)

2

tablespoons

olive oil

, plus more for brushing

1/2

teaspoon

sea salt

1/2

avocado

1

garlic clove

, peeled

2

tablespoons

freshly squeezed lemon juice

1/2

cups

fresh basil leaves

, tightly packed

1/2

cup

fresh mints leaves

, tightly packed

2/3

cup

plain kefir

(or use lactose-free kefir)

2

hearts of romaine

, washed and halved lengthwise

1/4

cup

roasted almonds

, chopped (I subbed toasted pepitas)
Instructions
Preheat the oven to 425 degrees F. Line a rimmed baking sheet with parchment paper.

Toss the shallots, artichoke hearts, olive oil, and ½ teaspoon salt together on the prepared baking sheet with your hands until well coated. Arrange in an even layer and roast until browned and caramelized, 25 to 35 minutes.

Meanwhile, in the bowl of a small food processor, puree the avocado, garlic, lemon juice, basil, mint, and kefir until smooth. Add water by the tablespoon until you obtain a ranch dressing-like consistency. You should have 1 ½ cups dressing.

Heat a grill or an indoor grill pan or cast-iron skillet. Dry the romaine with a kitchen towel and lightly brush the cut sides with olive oil. Grill the lettuce heads cut-side down over high heat until char marks have formed and the leaves begin to wilt, 3 - 5 minutes. If using an outdoor grill, place romaine hearts over indirect heat. Transfer to a serving platter.

Top the grilled romaine with the roasted shallots and artichokes, drizzle with ½ cup of the dressing, and garnish with the almonds. Serve immediately with the remaining green goddess dressing on the side.
Recipe Notes
Everything here can be made in advance except the romaine. If you're packing this as a brown bag lunch, simply cut the lettuce into wedges or chop it for a more office-friendly eating experience. The dressing keeps for up to 2 weeks.