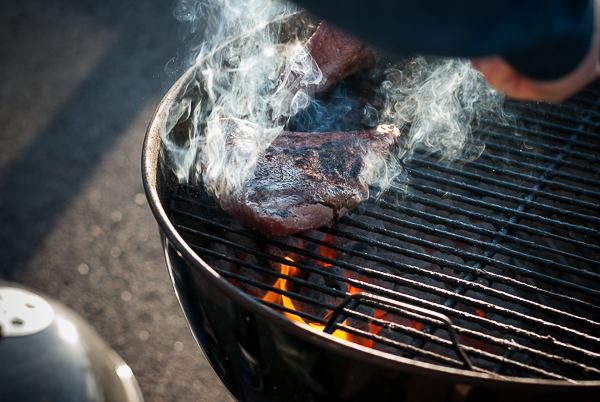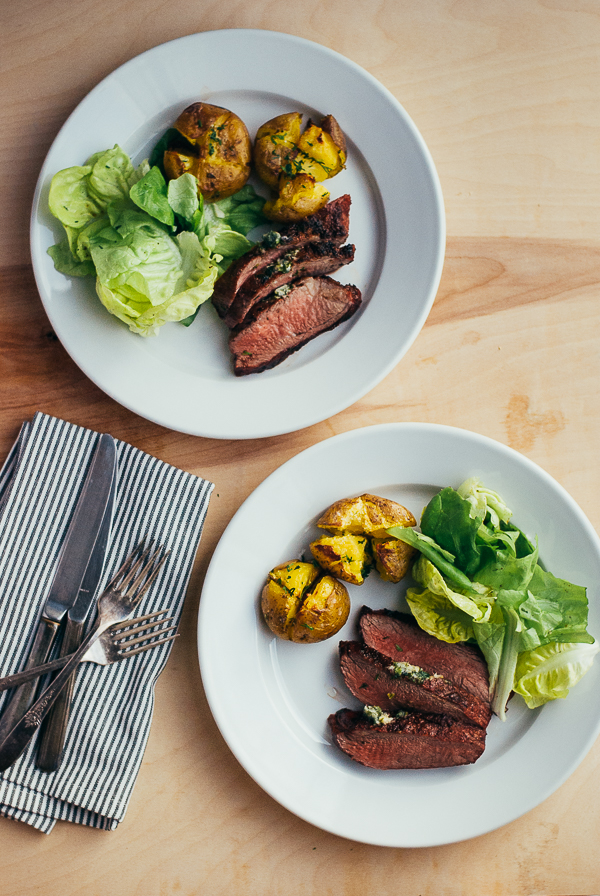 A simple Valentine's menu featuring grilled tri-tip steaks topped with a savory horseradish butter and served alongside smashed potatoes and butter lettuce. Jump to recipe.
Generally speaking, I hold a winter without snow in very low esteem. Still, when temperatures hit the sixty degree mark this weekend, we surrendered to nature and decided to grill. Likewise, I typically frown on early chives or premature forsythia blossoms, but decided to embrace things and reserved a spindly bunch of early chives for the weekend's cooking projects.
Brian likes to take a book outside and watch the grill while it gets going. Then at some point, I'll set the girls up with an activity (just kidding – it's tv) and sneak outside. If there's bourbon, we drink some. We dodge the smoke and talk. The girls usually make their way out too. And for just a while, we all hang out before things descend into the usual pre-dinner chaos.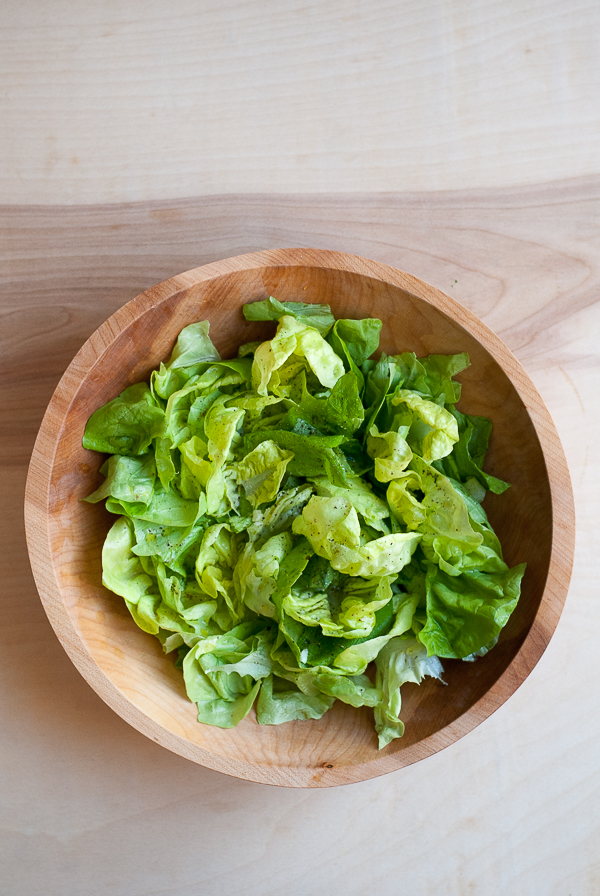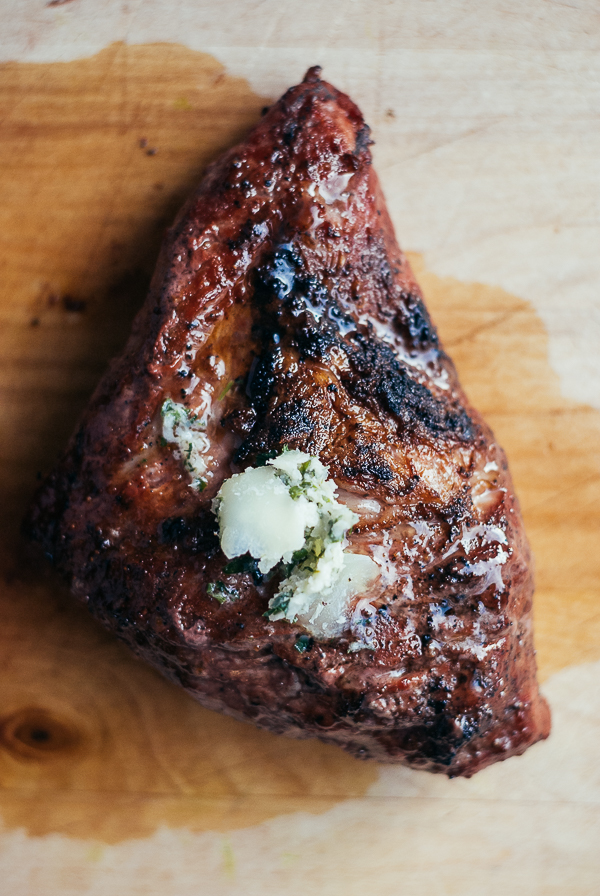 It is just the kind of laid back romance – cooking outside, sharing a simple meal, a cocktail, and something sweet – that I want most out of Valentine's Day. Low pressure, high reward. We served grilled tri-tips with a dollop of horseradish herb butter, lemony butter lettuce, and roasted smashed potatoes that skirted the line between roasted and baked beautifully. After dinner, we all shared a bar of dark chocolate. Things were simple but good.
(And apparently I've achieved some kind of vegetable nerd status because I splurged on a head of butter lettuce, but it did feel like a good spring treat.)
Below, I've got recipes for the whole plate: grilled tri-tips, horseradish herb butter, roasted smashed potatoes, and a butter lettuce salad. I'd also like to suggest this chocolate cake for dessert.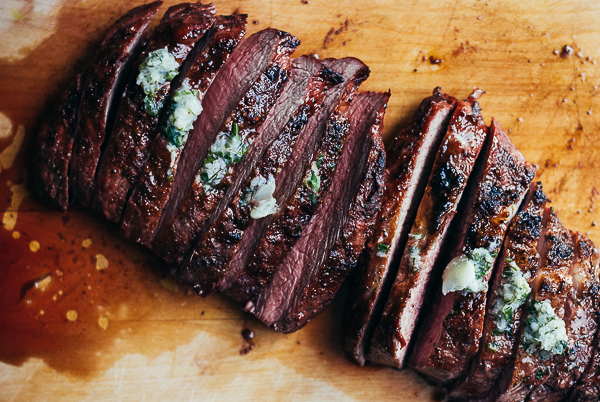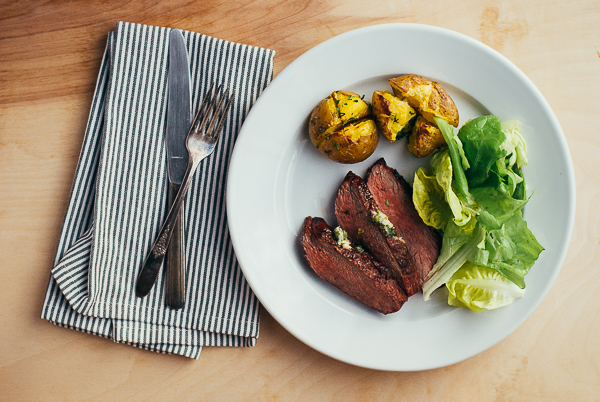 A note on the recipe: Grilling steaks is tricky since cooking times can vary greatly depending on the heat of your grill and the kind of beef. We used grass-fed beef from our local butcher. Grass-fed beef, while more flavorful than conventional, is generally leaner and a little tougher. But the tri-tip, which comes from the bottom sirloin, is naturally tender and does well on the grill without needing to be tenderized or marinated.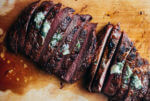 Grilled Grass-Fed Tri-Tip Steaks with Horseradish Herb Butter
A simple recipe for grilled tri-tip steak recipe topped with a savory horseradish herb butter.
Ingredients
For the Horseradish Herb Butter
4

tablespoons

unsalted butter

, at room temperature

1

teaspoon

grated fresh horseradish

(fresh or prepared horseradish varies wildly in spiciness so taste as you go, adding just enough for a little kick)

2

teaspoons

parsley

1

teaspoon

dill

1

teaspoon

chives

1/4

teaspoon

sea salt

black pepper
For the Grilled Tri-Tip Steaks
2

tri-tip steaks

, roughly 1 1/2 pounds each

sea salt

black pepper

cooking oil with a high smoke point

(we used grapeseed oil, but safflower or canola would work, too)
Instructions
To make the horseradish butter, heat 1 tablespoon butter in a small saucepan over medium-low heat. When foamy and fragrant, stir in horseradish, herbs, sea salt, and pepper. Cook 1 – 2 minutes.

Spoon into a small bowl and refrigerate until butter firms up slightly, roughly 20 minutes. Then, stir or whip melted butter into remaining butter. Form into a log, wrap in parchment, and chill.

To make the steaks, light your charcoal and let the coals get very hot.

Meanwhile, rub steaks liberally with sea salt and black pepper. I don't recommend doing this much earlier because you risk leaching moisture out of what is already a lean cut.

When coals are hot enough that it's uncomfortable for you to hold your hand over them for more than a couple of seconds, use tongs to pile them up on one side of the grill. Rub your grate down with a very small amount of oil and place it over the coals.

Place the steaks on the grill and grill 4 - 5 minutes a side.

Pull steaks and check temperature with a meat thermometer. You're aiming to pull them when they're about 5 degrees shy of the temperature you're going for. (Final temperatures are about: 135 degrees F for rare, 145 for medium rare, 160 for medium. This is not a good cut for medium well or well.)

If beef is not up to temperature yet, place it back on the grill, but not over the coals, and cover with lid. Cook a few more minutes and check temperature again.

When the beef is up to temperature, pull it and allow it to rest for five minutes. Add a dollop of herb butter to each steak.

Use a sharp knife to slice, and serve.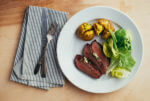 Roasted Smashed Potatoes
A simple, savory roasted smashed potatoes recipe.
Ingredients
1

pound

Yukon Gold potatoes

, scrubbed

extra virgin olive oil

sea salt

black pepper
Instructions
Preheat oven to 450 degrees F. Lightly oil a rimmed baking sheet and set aside.

Set potatoes in a large pot of cold water and bring to a boil. Salt the water. Boil potatoes until fork tender, 8 - 10 minutes. Drain and set potatoes on a rimmed baking sheet.

Cut a small x on the top of each potato and then use a glass or something with a flat bottom to smash it. There's a bit of an art to neither over- nor under-smashing — it's fine if a few fall apart. Brush smashed potatoes with olive oil, and sprinkle with sea salt and black pepper. Slide into the oven and bake for 20 – 25 minutes, or until potato edges are golden brown.

Serve each potato with a dollop of herb butter.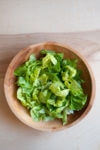 Butter Lettuce Salad
A bright, lemony butter lettuce salad recipe.
Ingredients
2

tablespoons

fresh squeezed lemon juice

1

clove

garlic

, finely minced

sea salt

1/4

cup

extra virgin olive oil

1

head butter lettuce

, gently torn into bite-sized pieces
Instructions
In a small bowl, whisk together the lemon juice, garlic, and sea salt. Slowly drizzle in olive oil, whisking until emulsified. Just before serving, toss lettuce with vinaigrette and finish with black pepper.