A jewel-toned winter orange and beet salad with layers of Cara Cara and blood oranges, grapefruit segments, red, yellow and chioggia beets, and a creamy homemade grapefruit aioli.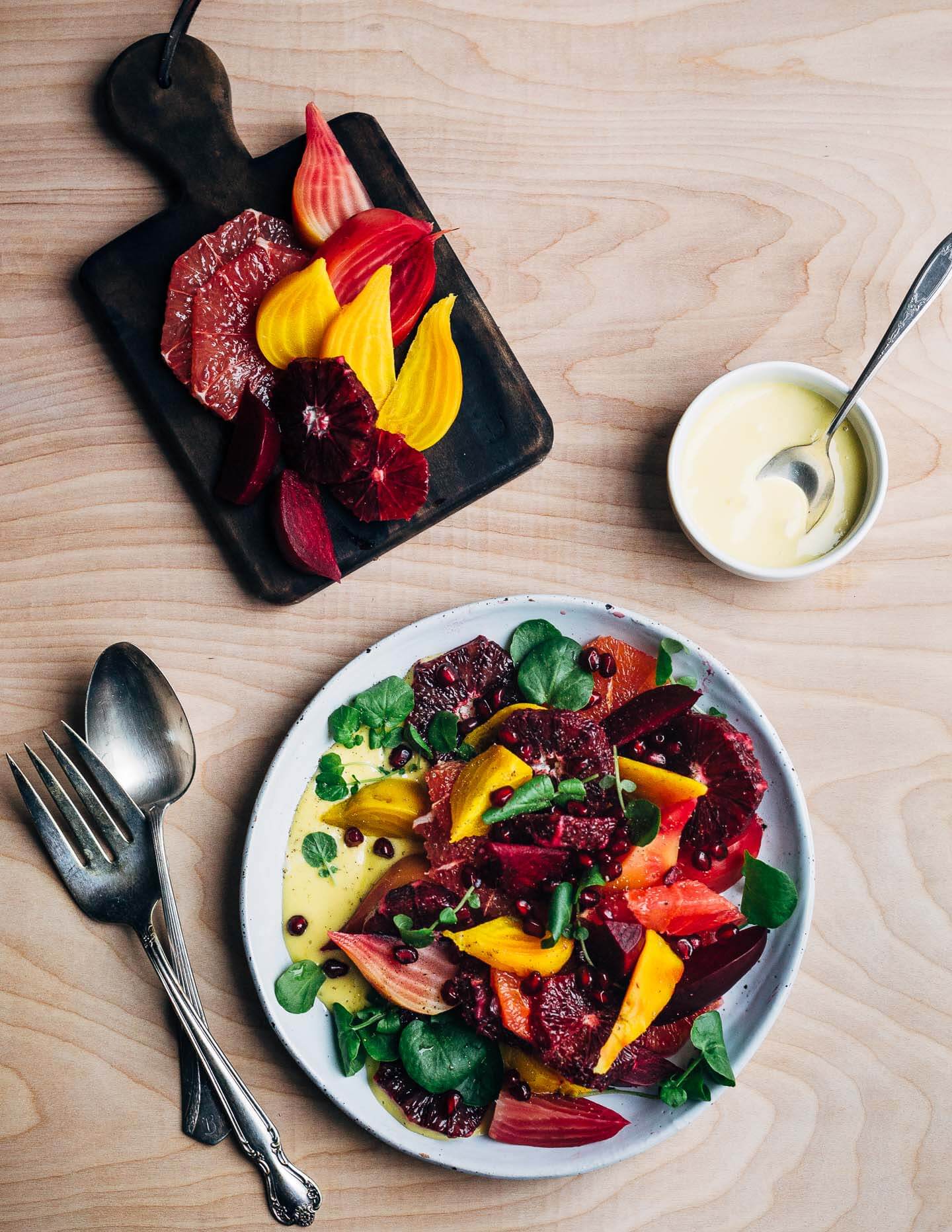 Valentine's salads aren't really a thing. But because Brian and I usually keep our weeknight Valentine's dinners simple – generally a protein and roasted potato situation – salad felt like the best place to get creative and play with flavor and texture (with bonus points for the on-point array of hues).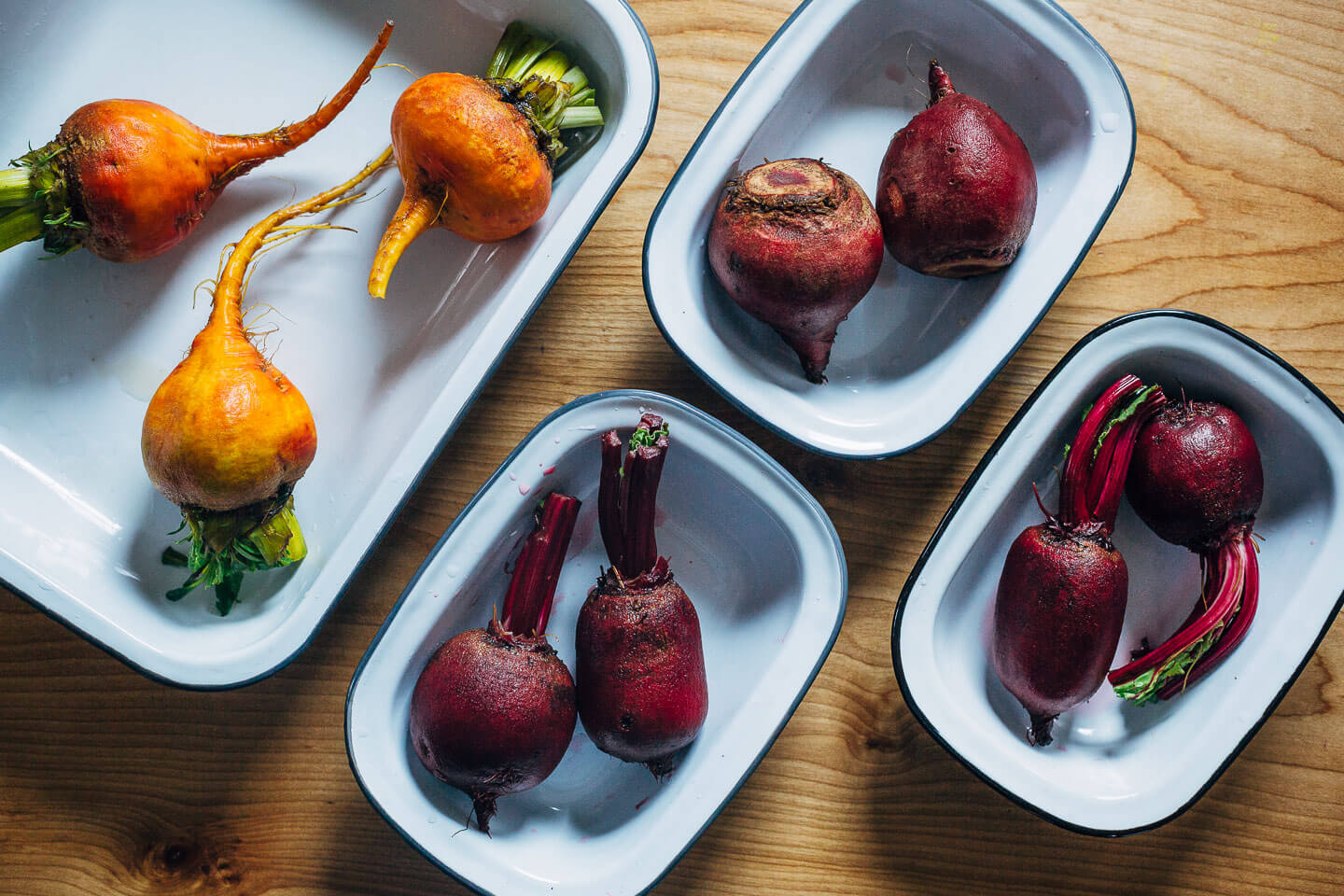 This salad is an elevated version a simple beet salad I often make for lunch in the winter months. Colorful winter citrus is effortless and beautifully sweet, while the earthy beets give the salad heft. A grapefruit aioli – at once rich, creamy, bitter, and sweet – brings it all together. This blood orange and beet salad is finished with just a few watercress leaves, which are balancing with their pretty hue and peppery flavor, pomegranate arils (because no Valentine's salad would be complete without them), and a few twists of black pepper.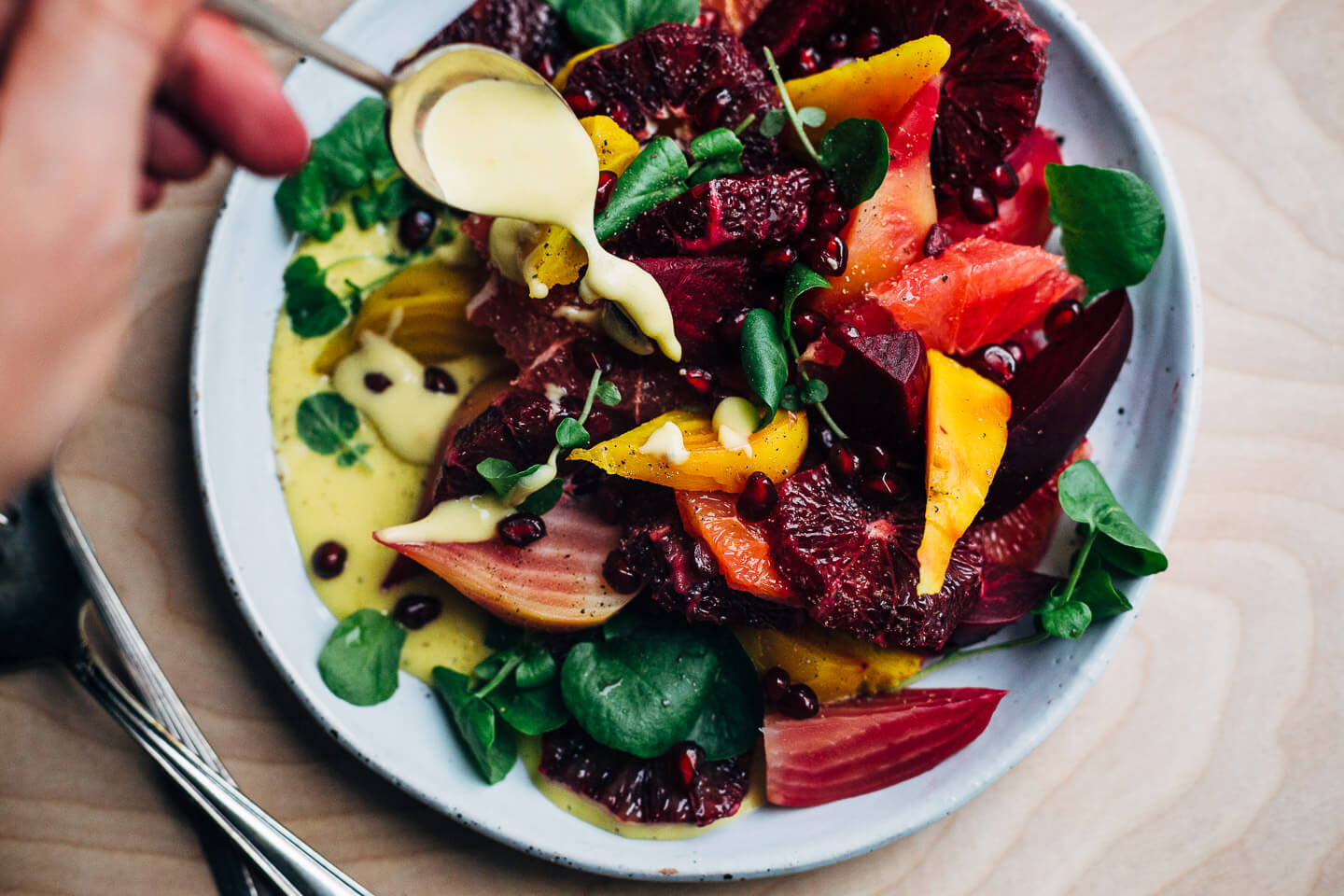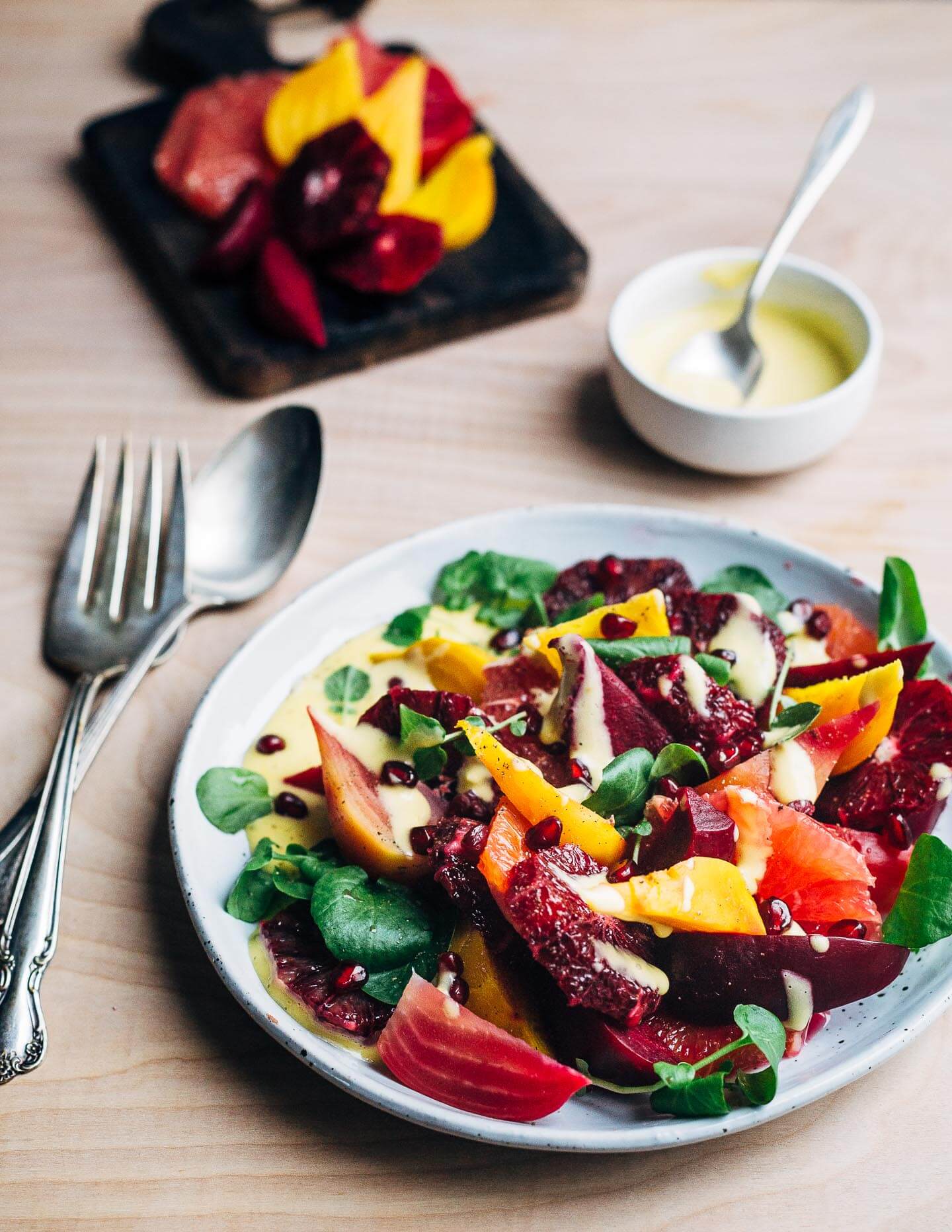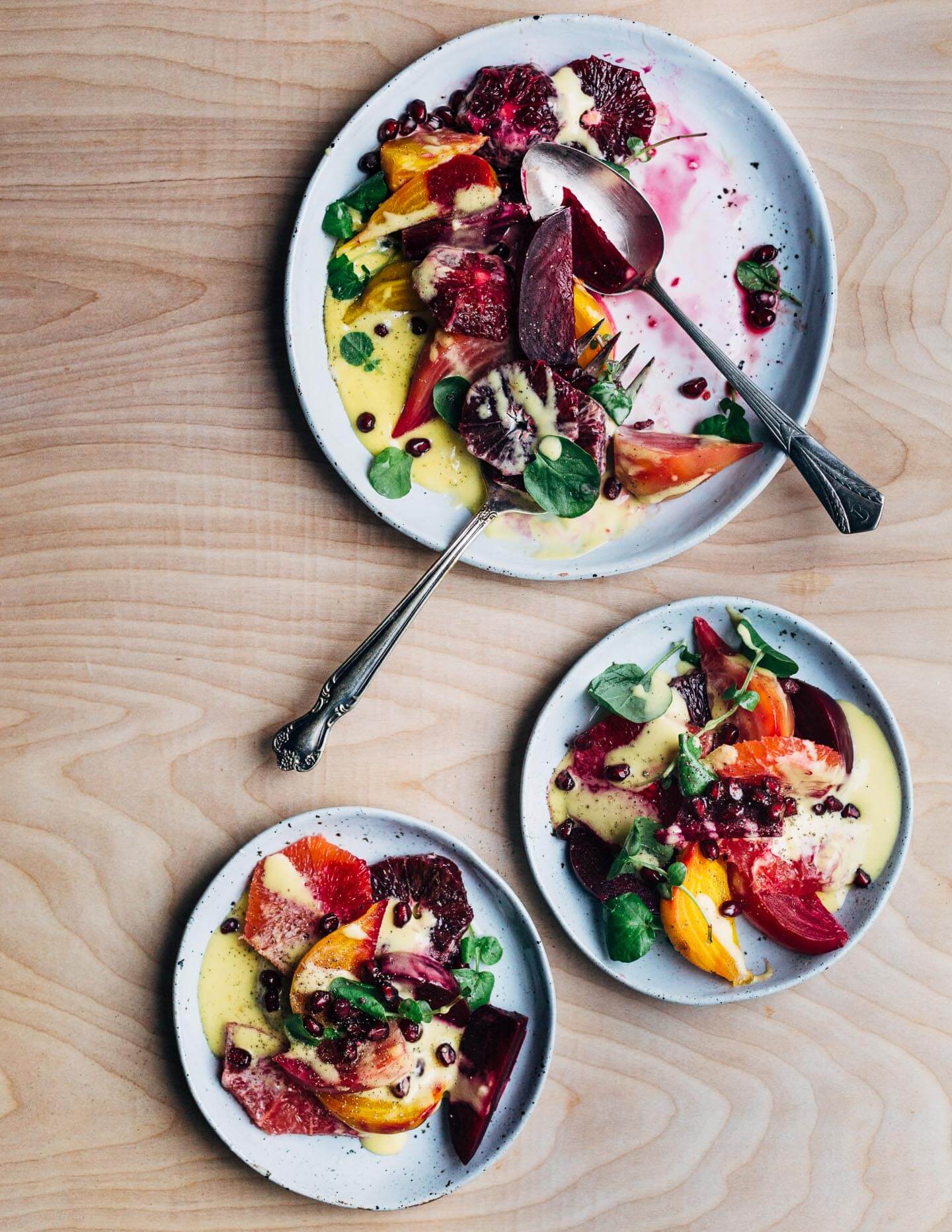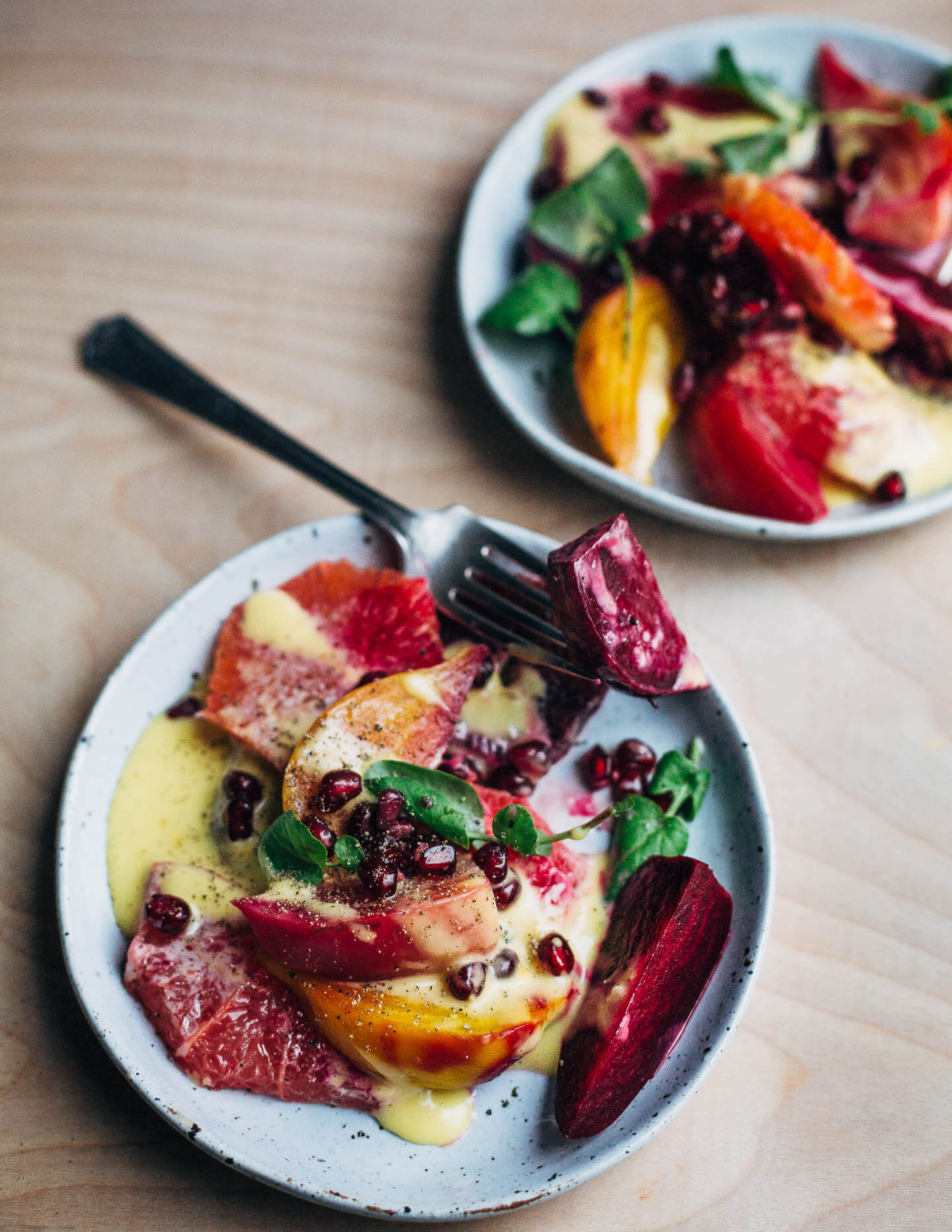 The eating is a bit messy – the aioli and sweet citrus juices turn everything pink and smeary (in a good way). I plated the salad into equal portions, but for a romantic night in, you should definitely share.
For more Valentine's Day dinner inspiration, check out these recipe from the archives:
Grilled Tri-Tip Steaks with Smashed Potatoes and Greens
Vegetarian Mushroom Bolognese
Steak au Poivre with Frites
Chocolate Beet Cake with blood Orange Buttercream Frosting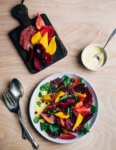 Blood Orange and Beet Salad with Grapefruit Aioli
A blood orange and beet salad that showcases winter flavors. A rainbow of roasted beets are tossed with juicy sweet blood orange, Cara Cara and grapefruit segments and served alongside a creamy grapefruit aioli. 

All salad elements can be made ahead and assembled just before eating. If you've never made aioli before,
check out this post for tips and troubleshooting
(it sometimes takes a couple of tries).
For optimal color retention, roast each color of beet separately. Note that beets with greens attached are fresher and have a lighter texture than storage beets. Reserve greens for salads or smoothies.
Ingredients
2

medium red beets

2

medium chioggia beets

2

medium yellow beets

3

tablespoons

rice wine vinegar

3/4

teaspoon

sea salt,

plus more to taste, divided

1

Cara Cara orange

2

blood oranges

1

Ruby Red grapefruit

1 - 2

large egg yolks

2

teaspoons

finely minced shallot

(about 1/2 a shallot)

1/2

cup

extra virgin olive oil

(use one with a flavor you like)

1/2

cup

watercress leaves

1/4

cup

pomegranate arils

fresh ground black pepper to taste
Instructions
Preheat oven to 400 degrees F.

Trim greens and scrub beets. Arrange in small, oven-proof containers, fill with water to 1/2-inch depth, and cover tightly with foil. Roast 45 minutes, or until beets are very tender. Use care when removing foil, since the steam will be very hot.

When beets are cool enough to handle, trim top, and remove peel until cold running water. If needed, a peeler will make quick work of the skins as well. Cut beets into sixths. Keeping colors separate, toss each beet color with 1 tablespoon rice wine vinegar and a generous sprinkle of sea salt (1/4 teaspoon in total). Set aside.

Trim top and bottom from oranges, then slice peel and pith off with vertical strokes. Slice oranges into 1/4-inch thick rounds.

Grate 1 teaspoon grapefruit zest. Slice grapefruit in half. Reserve one half and cut the other into half again. Squeeze 2 tablespoons juice from one of the quarters. Slice pith and peel from remaining grapefruit, then slice into 1/4-inch slices.

In a medium-sized mixing bowl, use a fork to combine grapefruit zest, 1/2 teaspoon sea salt, and shallot. Mix in egg yolk. Use a whisk to beat egg yolk until it's pale and quite thick. Whisking constantly, whisk in olive oil a few drops at a time. Go very slowly until until about half the oil is added. Mixture should be thick, with soft peaks. If it's not thickening up properly, spoon mixture into another container, and begin again with a second yolk. Slowly add olive oil, and once it's thick and emulsified, whisk in grapefruit and yolk mixture. Whisk in all of the olive oil. Next, slowly whisk in 1 tablespoon grapefruit juice. Taste, and add more juice or sea salt as needed. Set aioli in fridge to chill until needed.

To serve, spoon several tablespoons aioli onto platter. Layer on beet wedges and citrus slices, top with watercress and pomegranate arils, and finish with a few drizzles aioli, fresh ground black pepper, and a pinch of sea salt. Serve immediately with extra aioli on the side.
SaveSave
SaveSave
SaveSave
SaveSave
SaveSave
SaveSave
SaveSave
SaveSave
SaveSave