A simple, summery spin on kale sauce pasta made with burrata and fresh summer herbs that's ready in about 30 minutes.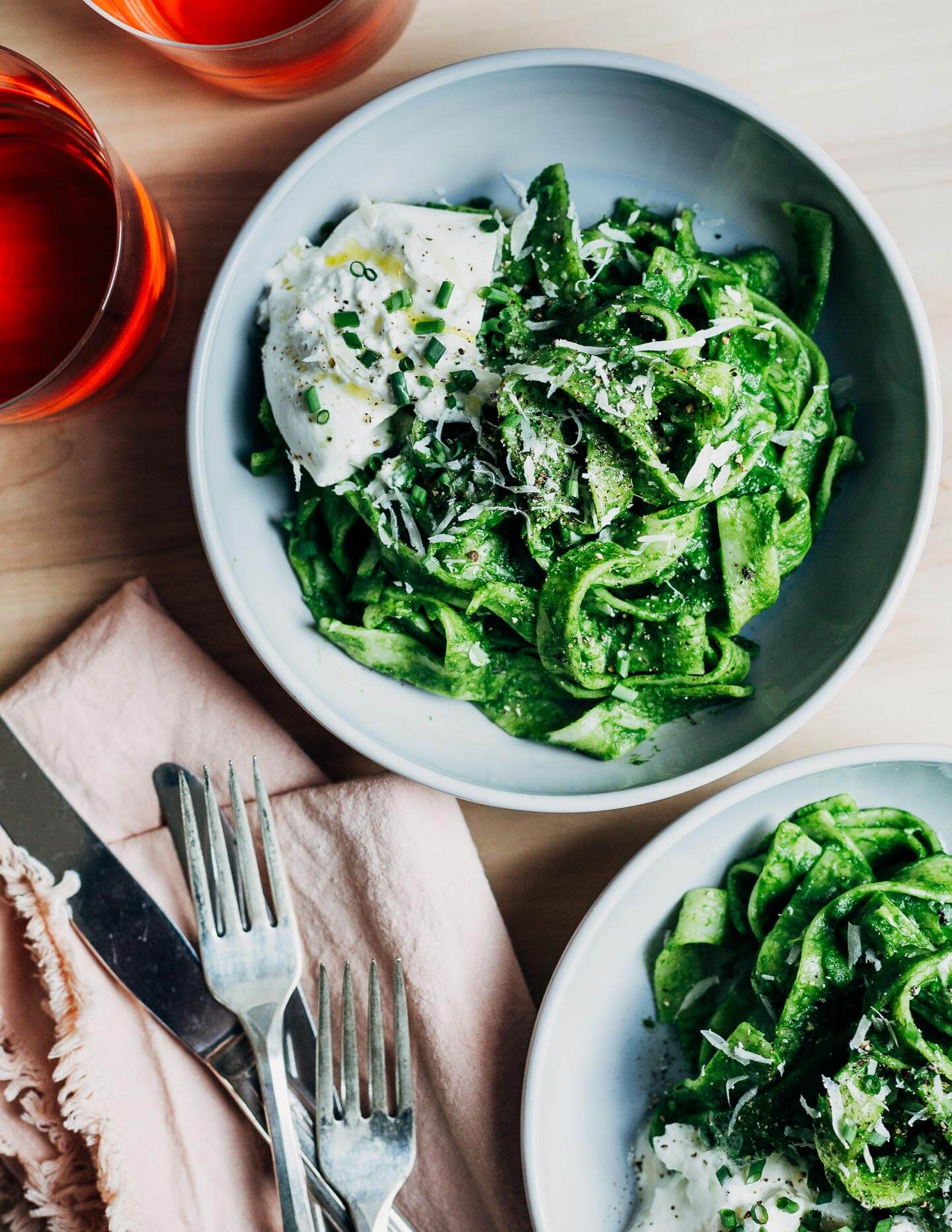 Steadily, I've been eating my way through a big patch of garden lettuce, trying to get it all before it bolts. Before that, a patch of nearly bolting collards kept my culinary attention. Now, it's time to reckon with the giant patch of kale I planted.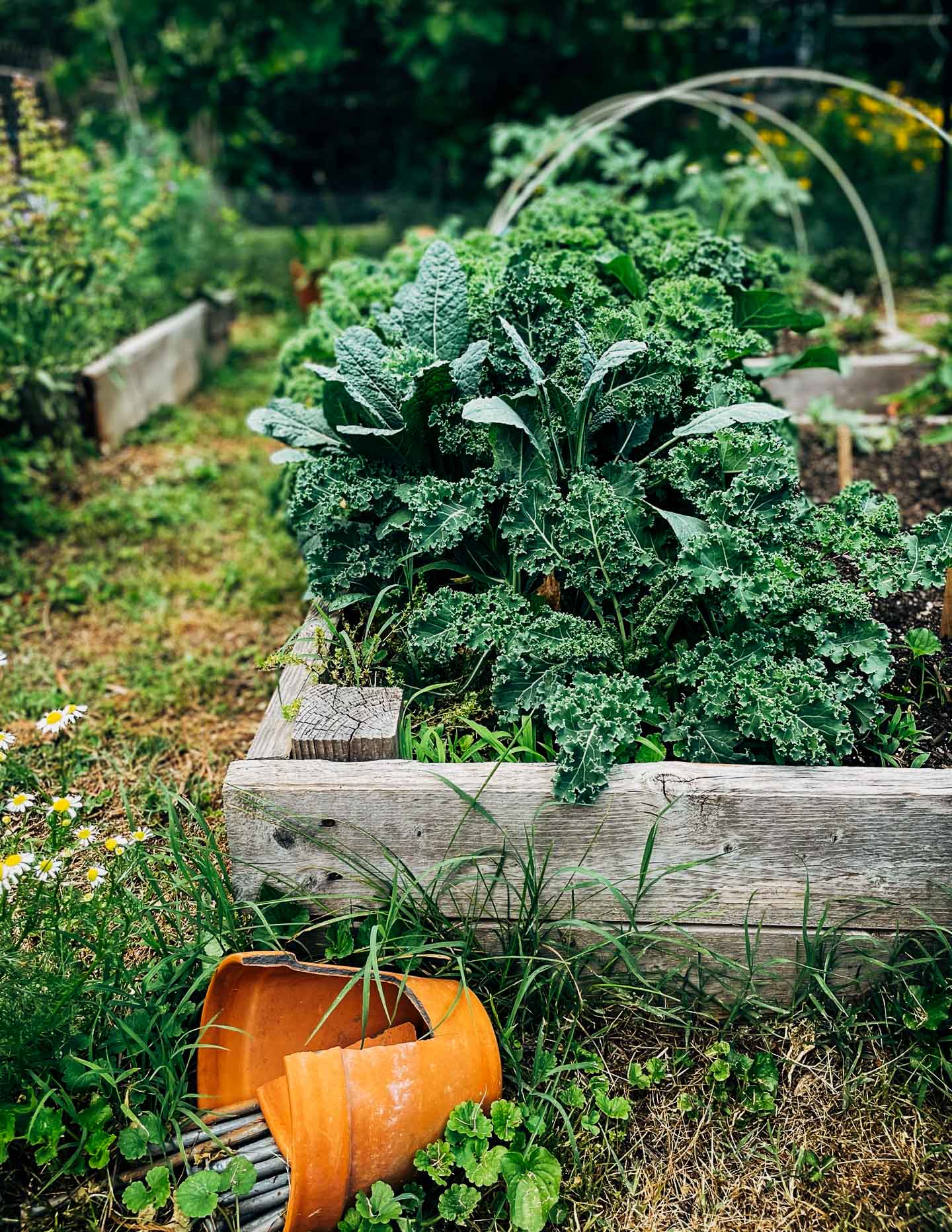 I'm happy to eat kale salads – especially ones with lots of lemon and Parmesan – but you don't need to be entirely saintly when it comes to eating kale. In fact, a big bunch of kale is an ideal opportunity to cook up a mess of delicious greens.
This recipe for kale sauce and pasta is adapted from Joshua McFadden's book Six Seasons, dedicated to seasonal vegetables and exactly when to eat them. His kale sauce recipe is a wintery dish, reserved for the time of year when hardy greens dominate the market landscape.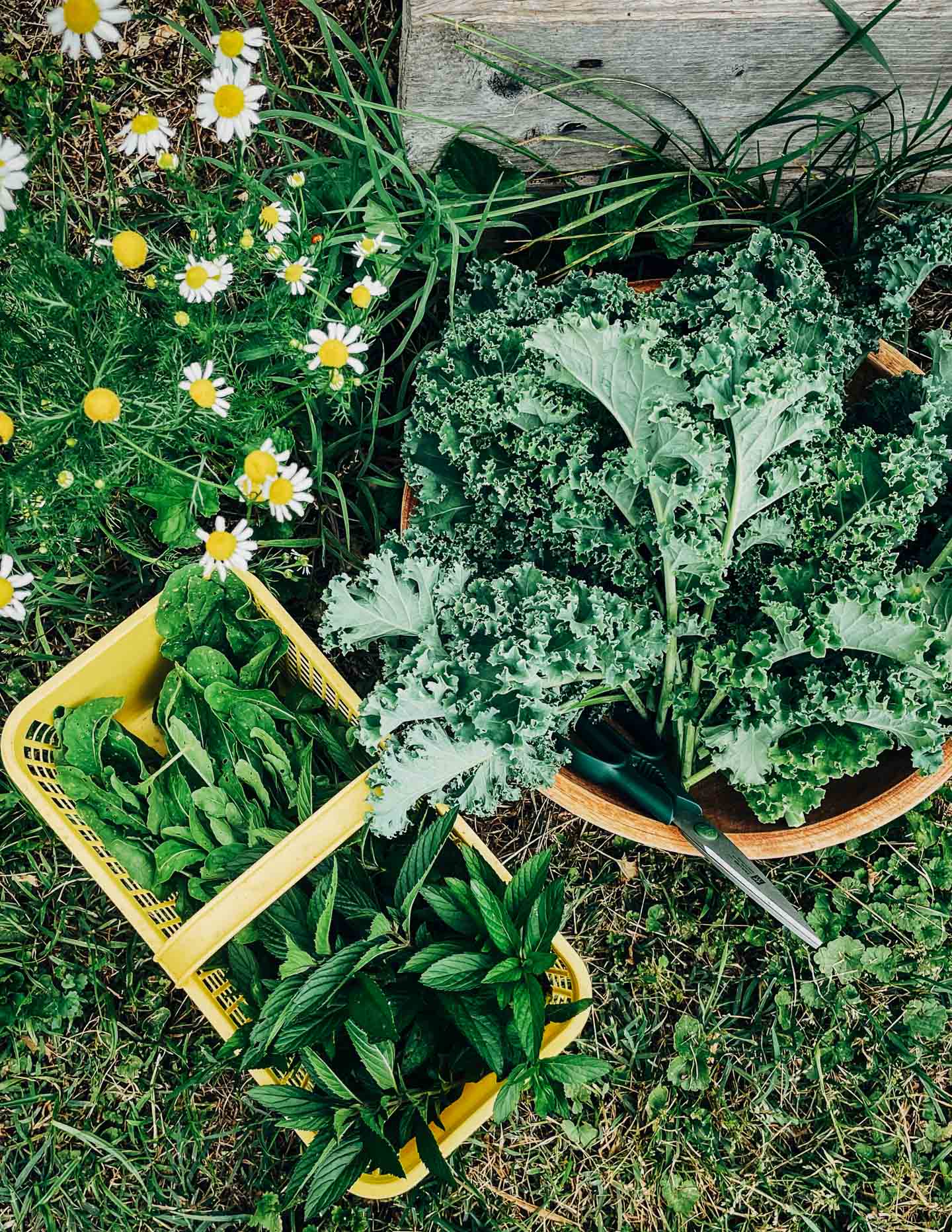 A Summery Kale Dish

My take on kale sauce is summery. Besides being the ideal vehicle for using up a full pound of kale, I'd assert that kale sauce is the perfect thing to make when you need a quick meal that won't heat up the house too much. The process is wonderfully simple: Bring a big pot of salted water to a boil, blanche the kale, then blitz the sauce in a blender while the pasta cooks. Next, work quickly to toss the sauce and pasta, top with flaky sea salt, lots of pepper, a drizzle of olive oil, and a few handfuls of summer herbs. And though the sauce has plenty of Parmesan, I like serving this dish with some mozzarella or burrata on the side.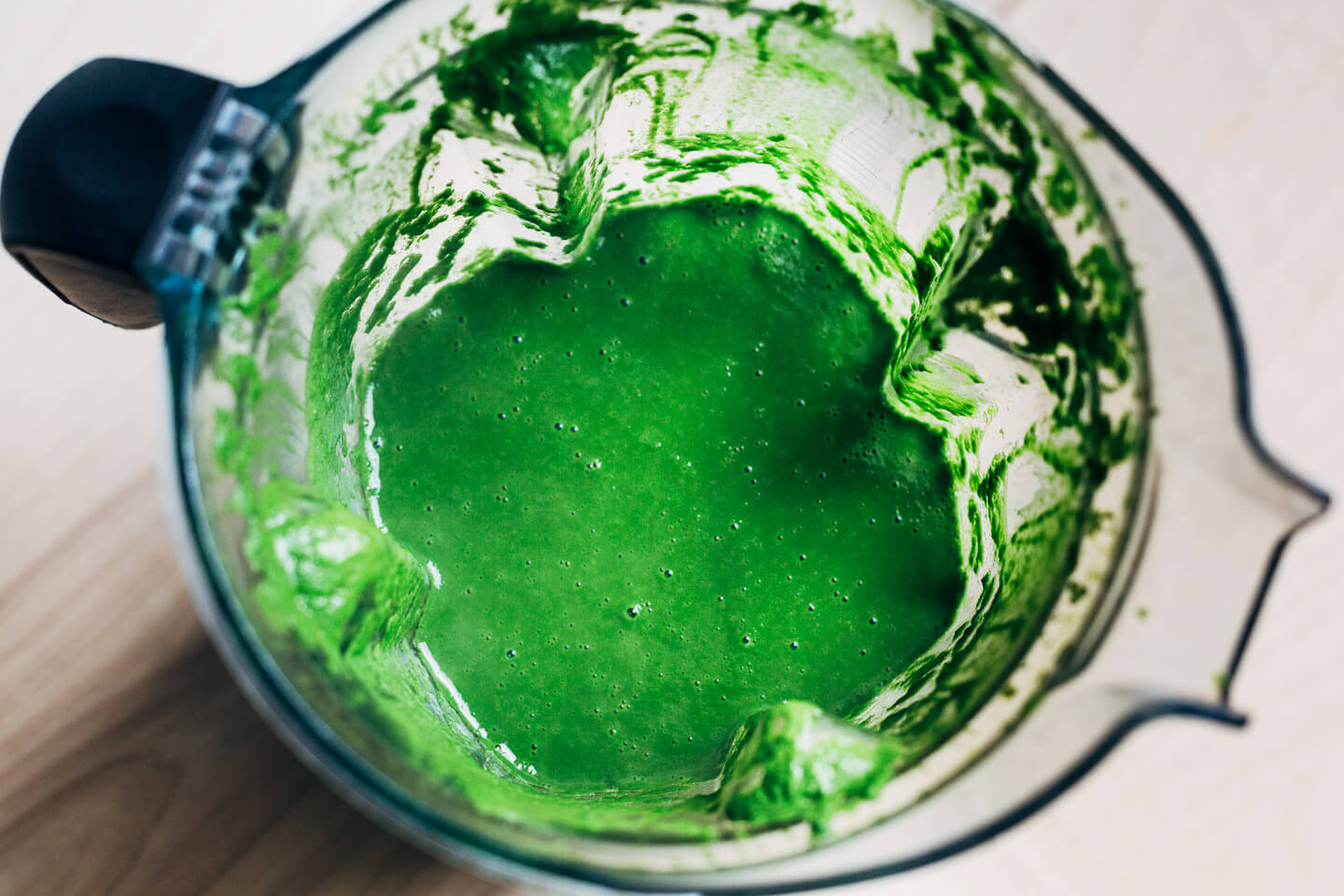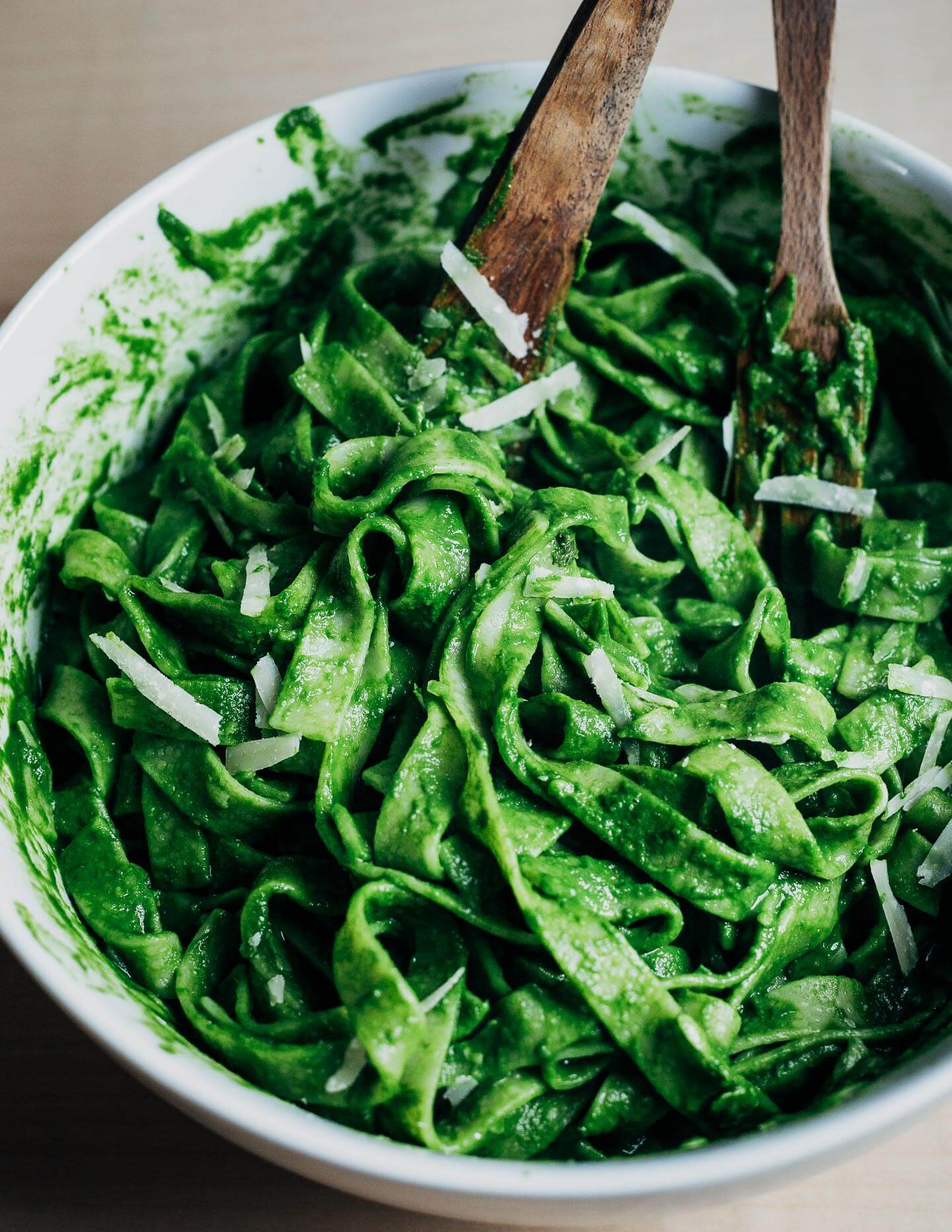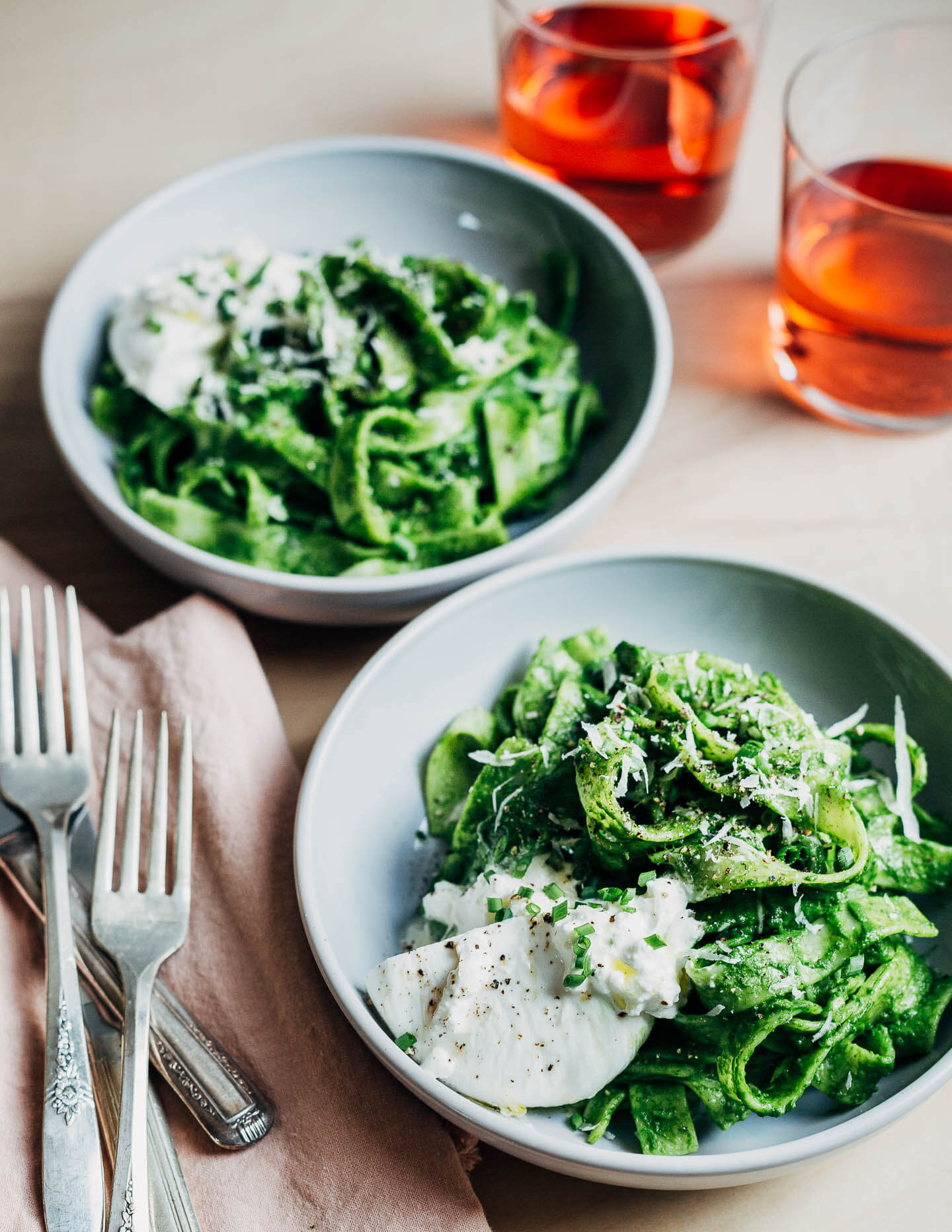 Know Your Kale
There are lots of different kinds of kale: curly, Tuscan or Lacinato, Red Russian, etc. and this recipe will work well with whatever variety you have on hand. When buying kale, I recommend looking for bunches with smaller, less fibrous stalks and tender leaves. Curly kale can get especially tough as it ages.
Variations: Collards, Mustard Greens, and More
As for other greens, this recipe would also work well with collards, radish, turnip, or spicy greens. For very spicy greens, be ready to add a bit more cheese and olive oil to temper the heat. I would also bet that this recipe could be easily adapted for other CSA mainstays – swap in spinach or arugula and cut blanching time to a minute, or sub in a sturdier option like broccoli rabe or Hon Tsi Tai.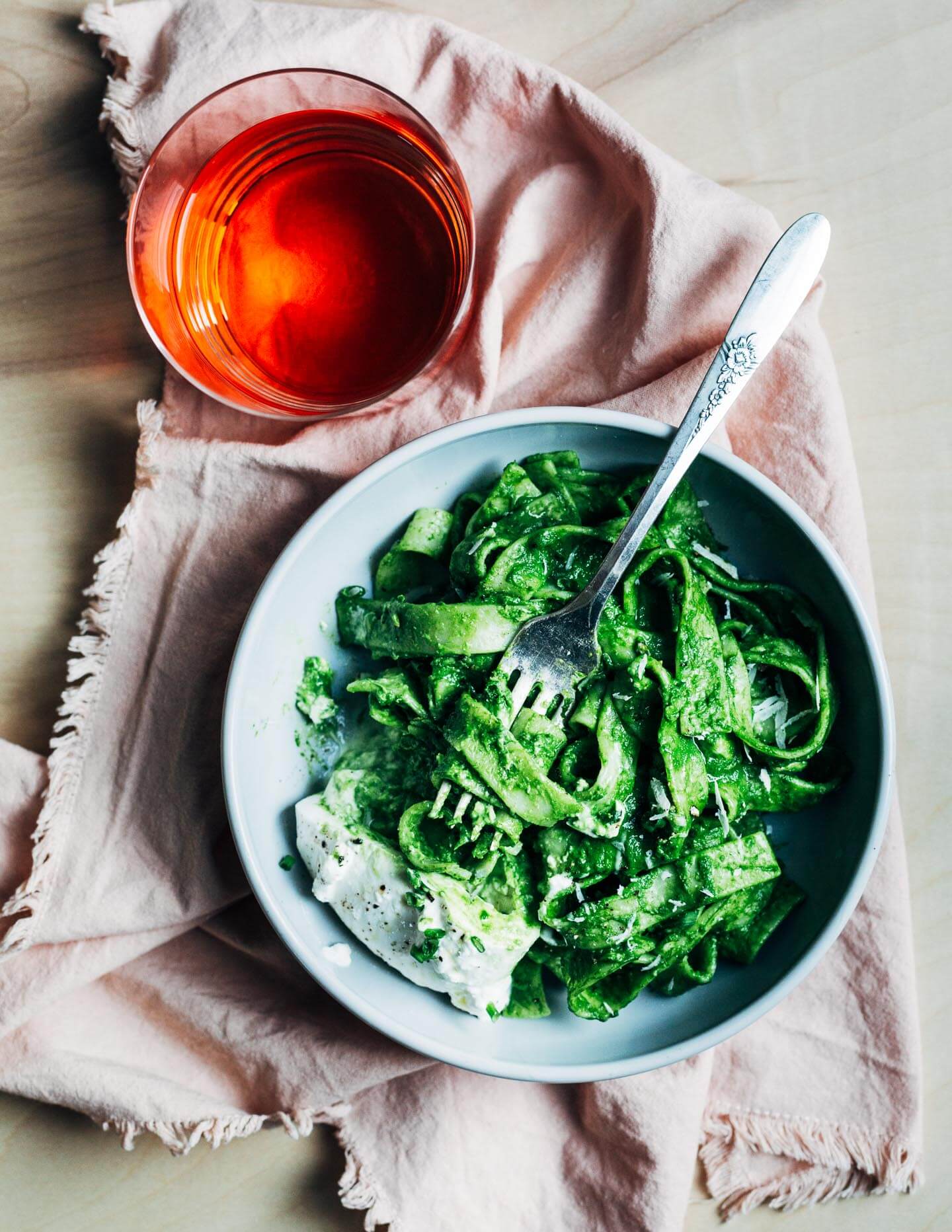 Finish with Herbs
A couple handfuls of fresh herbs gives this pasta a summery vibrance. Just before serving, top with a mix of basil, parsley, mint, chives, or tarragon.
A note: Inflation is hitting hard at grocery stores these days. Once typical quantities of vegetables are being reduced and sold at the same or higher prices. So while a bunch of kale may have typically been one pound in the past, now it might be a half pound or less. If possible, weigh your bunches at the market or store to get a sense of the actual amount.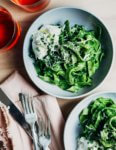 Kale Sauce Pasta with Burrata and Herbs
A simple, summery spin on kale sauce pasta made with burrata and fresh summer herbs. This recipe is adapted from Joshua McFadden's cookbook Six Seasons.
Keyword:
kale sauce pasta
Makes
:
6
generous servings
Ingredients
1

pound

kale leaves,

woody stems removed (or sub in other dark leafy greens)

Sea salt

1/4

cup

extra virgin olive oil,

plus more for drizzling

2

cloves

garlic,

peeled and thinly sliced

3/4

cup

shredded Parmesan,

divided

1

pound

wide,

flat pasta noodles like pappardelle or tagliatelle or big shapes like rigatoni

8

ounces

burrata or mozzarella

1/2

cup

mixed herbs

such as basil, parsley, mint, chives, or tarragon

Black pepper
Instructions
Bring a large pot of water to a boil. Once boiling, salt water generously. Add kale leaves and cook 4 - 5 minutes. Use tongs to move kale straight from the water to the pitcher of a blender. It's fine if a bit of water comes along with them.

Meanwhile, set a medium saucepan or skillet over medium heat. When hot, add 1/4 cup olive oil and the sliced garlic. As garlic sizzles, edge heat down to low and continue cook until the oil is fragrant and the garlic is toasty but not burned. (If things get too hot, remove the pan from heat.)

In the pitcher of the blender, along with the kale, add the olive oil-garlic mixture, 1/2 cup of Parmesan, and, if needed to blend, a few tablespoons of cooking water. Blend until mixture is completely smooth. Add sea salt to taste.

In the same water used to blanch the kale, cook the pasta to the firmer side of al dente. Scoop pasta out of the water and into a large bowl. Toss pasta with about half the kale sauce and the remaining Parmesan. Add more sauce and a splash of cooking water as needed. Add sea salt and black pepper to taste. Add fresh herbs and toss.

To serve, twirl or spoon pasta onto plates, tuck a bit of burrata alongside, and finish with a drizzle of olive oil and a few grinds of black pepper. Serve immediately.

Any leftover sauce will keep well sealed in the fridge for a couple days.