Buttery lemon poppy seed cookies with light, wonderfully bright Meyer lemon curd are a delightful holiday treat.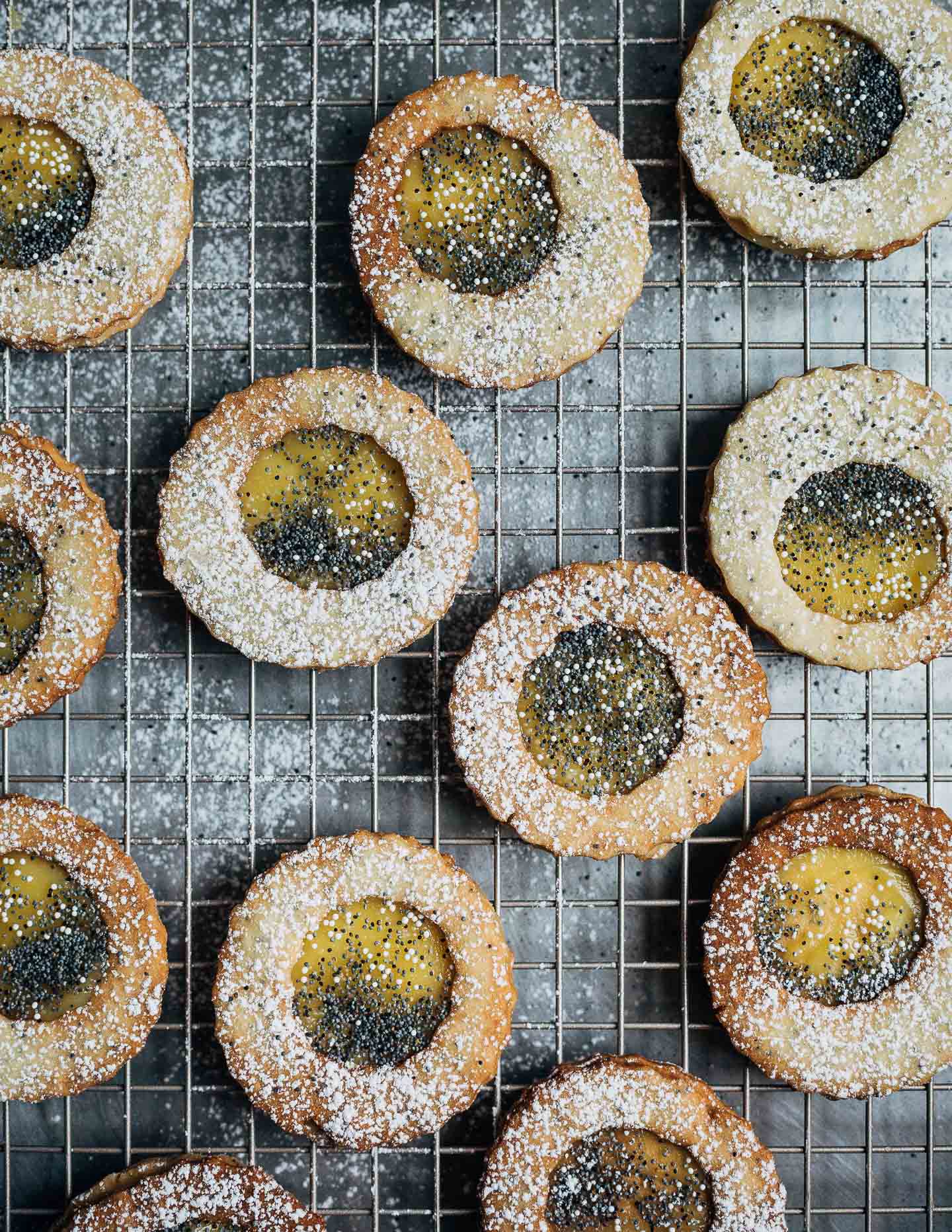 It's the season for making cookies, sure. But it's also a time to reconnect with family and dear friends, long unseen. Our levels of exhaustion suggest a life more "normal" and busy, but our uncertainty and anxiety belie a harder truth.
Though it used to be one of my very favorite things, I'm skipping my annual holiday party for the second year in a row. I'll wait another year to enjoy my small house brimming with my favorite people and lots of holiday cheer.
Our new holiday approach is cozier, smaller. That smallness gives us more time: time to enjoy the quiet side of the season, time to make cookies, even ones that take a few steps, and time to be in this moment together.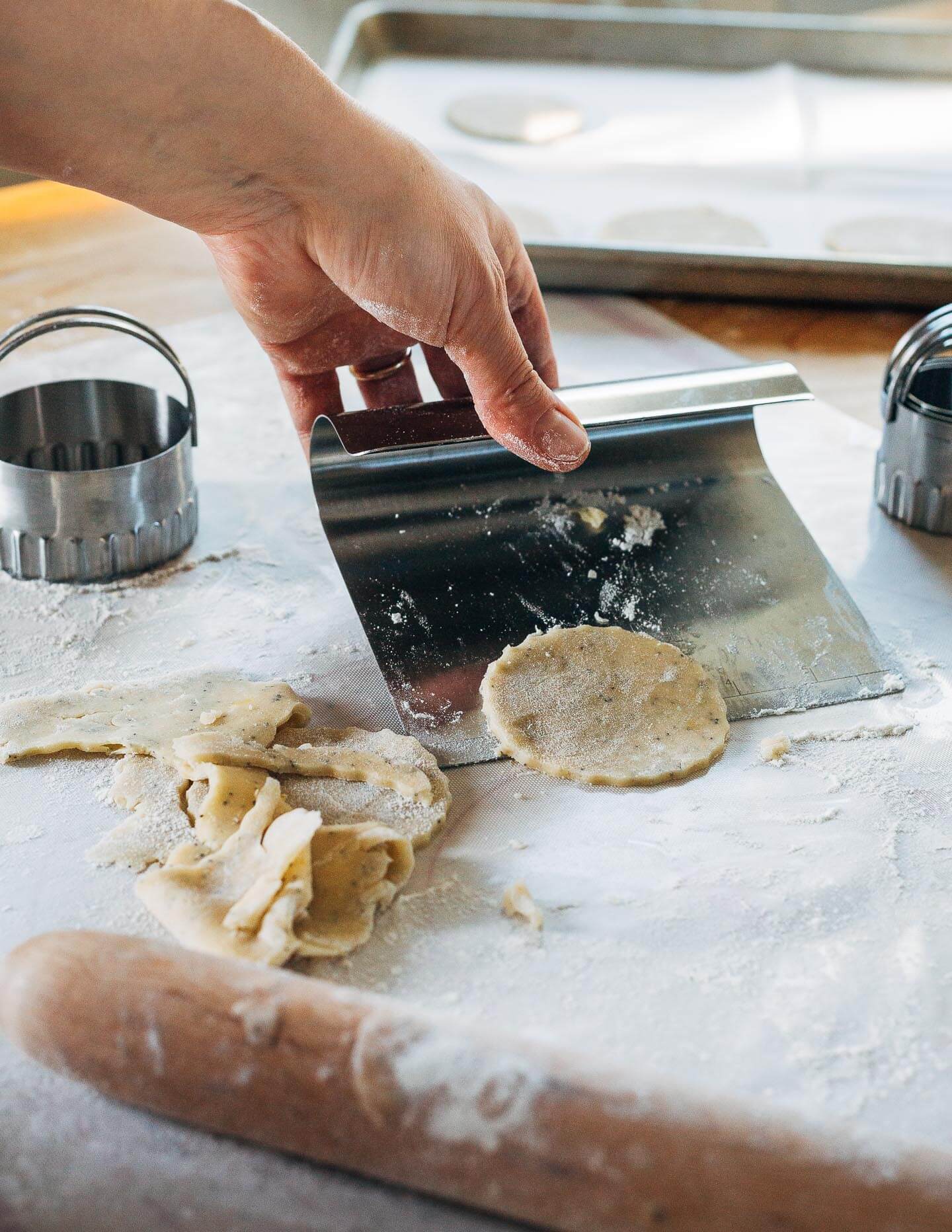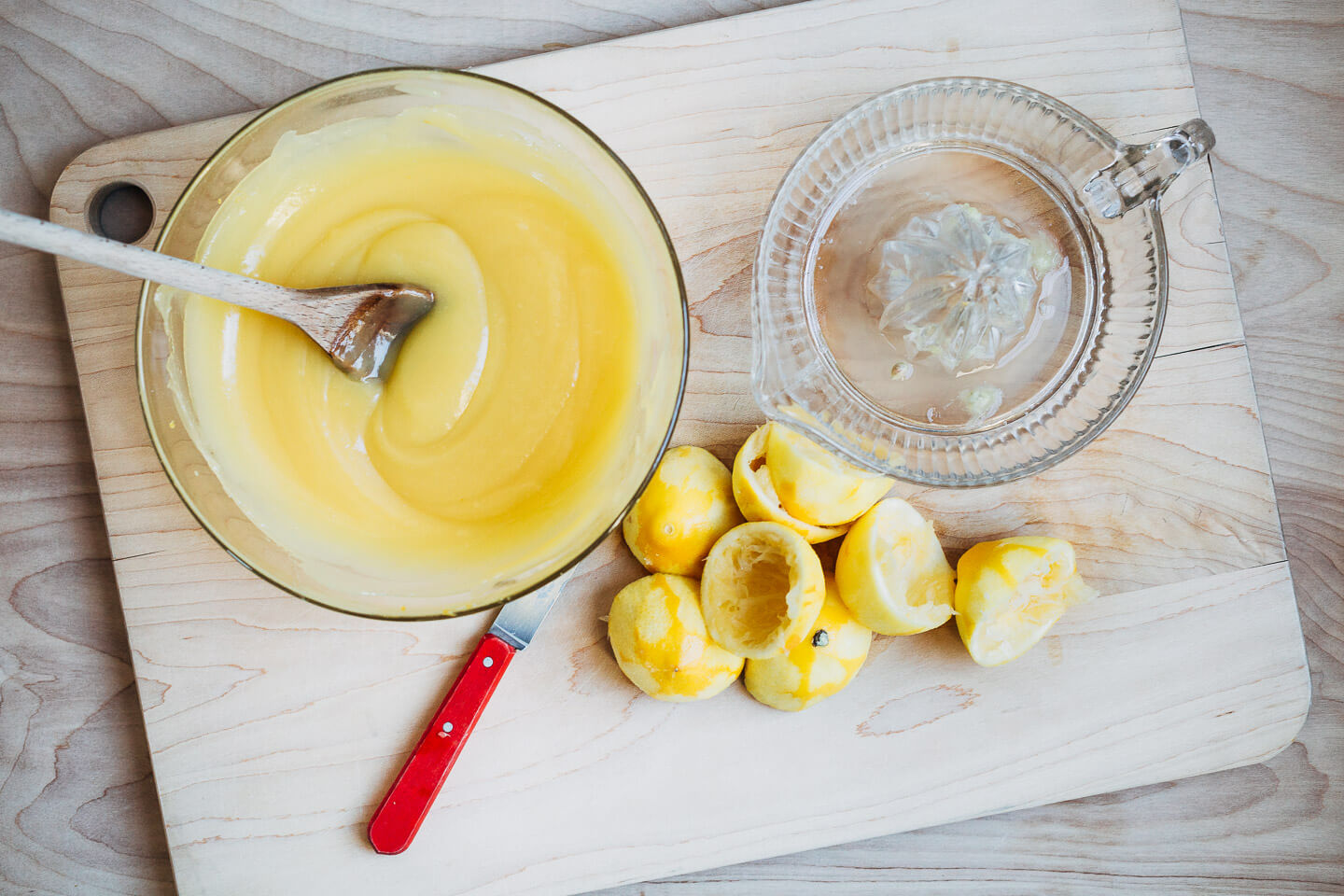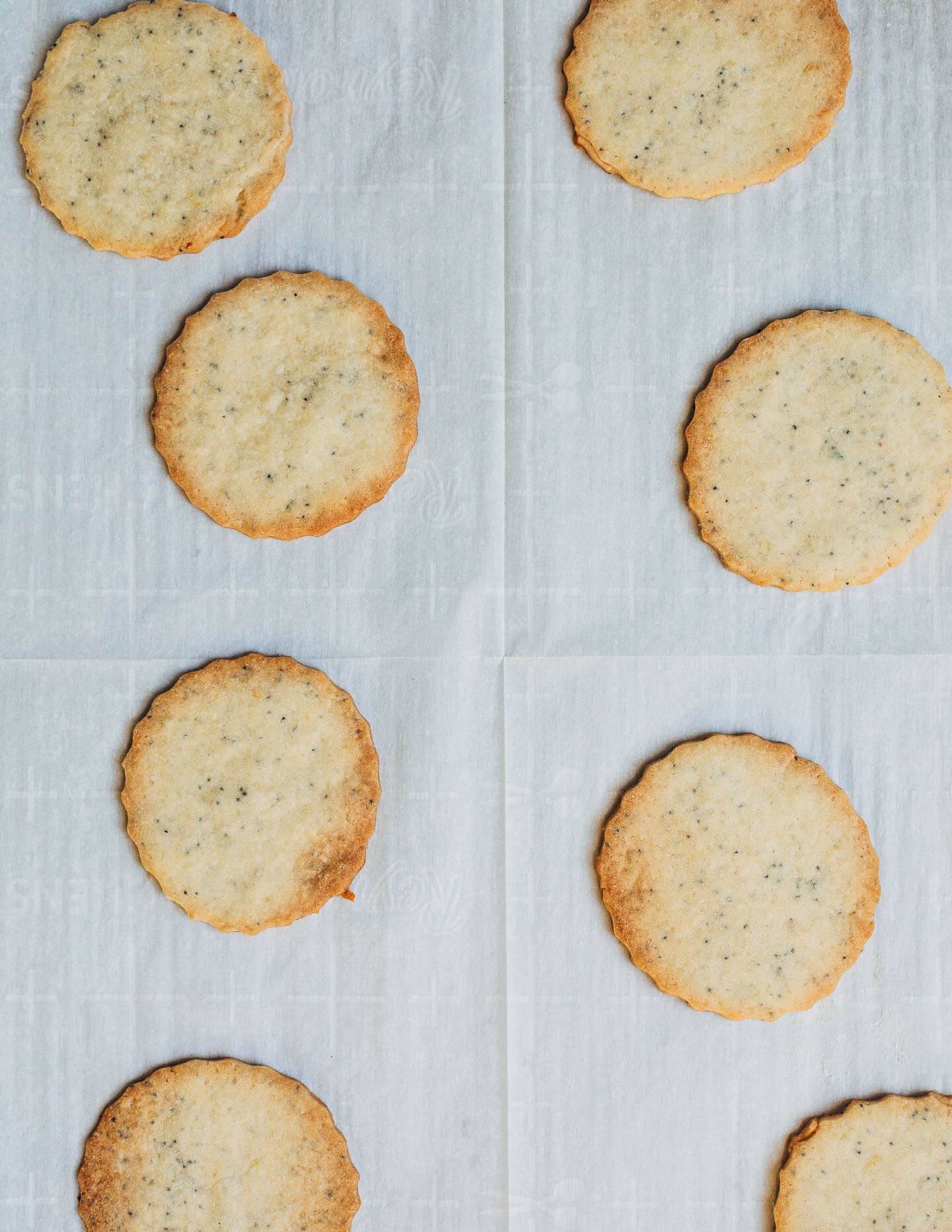 Poppy Seed Cookies
These poppyseed window cookies with lemon curd fit in nicely with that worldview. To start, they are delicious – layered with flavor and made with love in a way you just can't phone in. (Even so, you can totally use store-bought curd if you want!)
Light, buttery, and not overly sweet, these poppy seed cookies are a pleasure to eat. The dough has a hint of lemon zest for brightness and a smattering of poppyseeds, which lend their characteristic nuttiness with fruity undertones. The dough is easy to roll out and cut, but it needs to be chilled thoroughly to start, and then re-chilled after re-rolling once. Meaning: you can roll it out, cut some cookies, and then roll out the scraps once more, but after that, it will need to chill.
To make these, I fell into a nice rhythm of rolling and chilling the cookie bottoms, and then rolling and chilling the windows while the bottoms baked in the oven. I rolled my cookies on the thin side and baked them just until the edges started to edge golden. Once cooled, they have a pleasant bite followed by melt-in-your-mouth butteriness.
When baking the cookies, and especially the windows, keep a close eye. If you have an over that cooks unevenly (like mine!), you may want to turn the tray halfway through for a more even bake.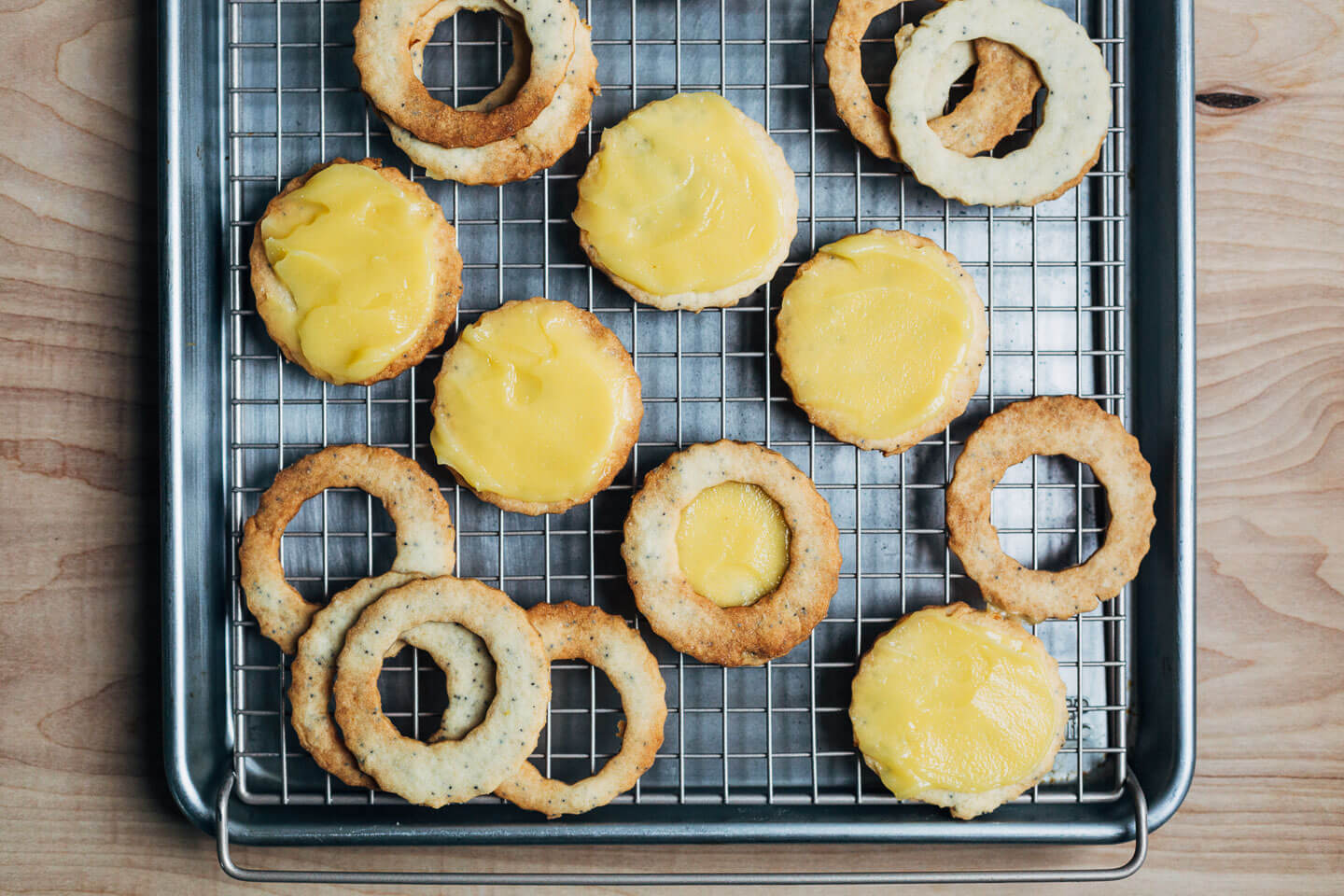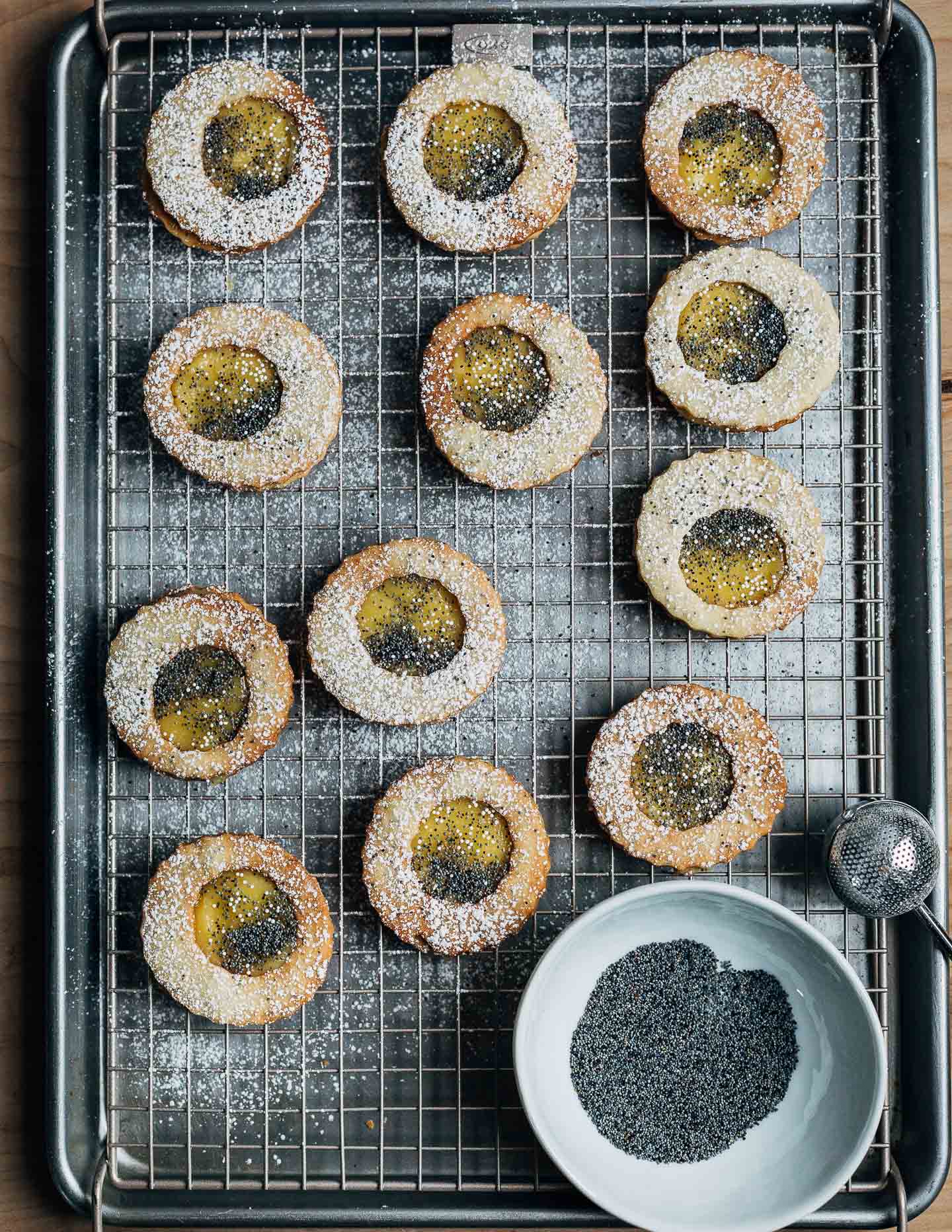 Meyer Lemon Citrus Curd
These poppy seed cookies are best with an assertive citrus curd. I made my Meyer lemon curd using this recipe and enjoyed the balance of sweetness and acid. I like the way the sharp notes in the curd play on the buttery sweet ones in the cookie. A sharp, not too sweet marmalade would be lovely too.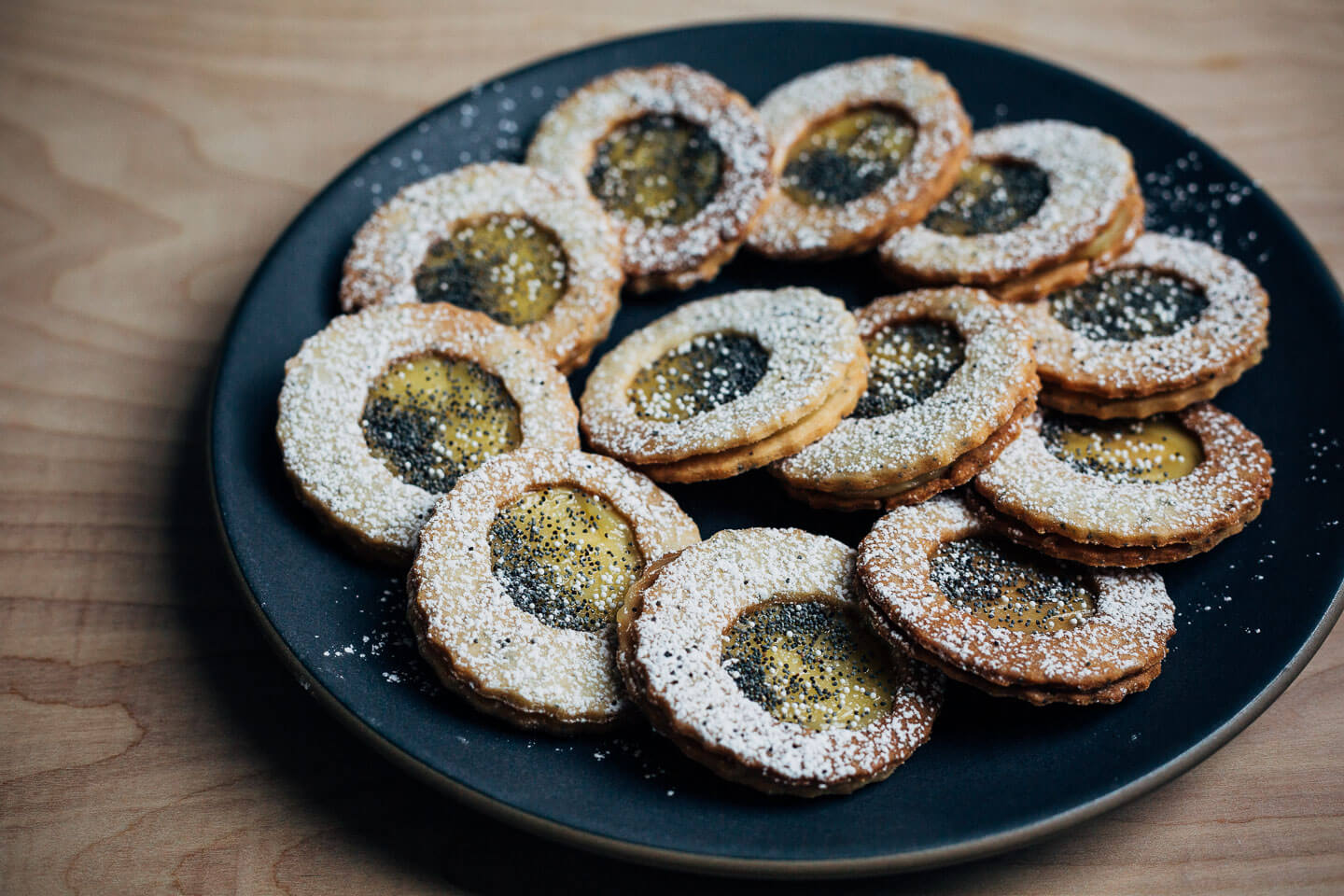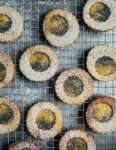 Lemon Poppy Seed Cookies with Meyer Lemon Curd
Buttery lemon poppy seed cookies with light, wonderfully bright Meyer lemon curd are a delightful holiday treat. Recipe inspired by these cookies from NYTimes. Sugar cookie recipes adapted from this one.
Keyword:
lemon poppy seed cookies
Ingredients
Cookies
16

tablespoons

unsalted butter,

room temperature (2 sticks)

3/4

cup

sugar

1

egg

1

teaspoon

vanilla extract

1

teaspoon

lemon zest

1/2

teaspoon

freshly grated nutmeg

1/2

teaspoon

sea salt

2 1/4

cups

all-purpose flour

2

tablespoons

poppy seeds
Decoration
1

cup

lemon curd,

store-bought or homemade

2

tablespoons

poppy seeds

¼

cup

powdered sugar

2

tablespoons

small,

white, round sprinkles (optional)
Instructions
Working ahead, make the lemon curd or source store-bought curd. I used this recipe, trading Meyer lemons for regular ones. If using homemade, chill curd overnight.

In the bowl of a stand mixer fitted with the paddle attachment, beat butter on medium-low speed until light and fluffy, about 2 minutes. Add sugar and beat 2 minutes more. Beat in egg, stopping to scrape down sides as needed. Beat in vanilla, lemon zest, nutmeg, and sea salt. Switch mixer to low and add flour in two batches, mixing just until incorporated. Fold in poppy seeds

Divide dough into 4 discs, wrap tightly with plastic, and chill at least 2 hours or preferably overnight.

Preheat oven to 350 degrees F. Line 2 cookie sheets with parchment. 

Set up a large piece of parchment dusted with flour. Working quickly, and using plenty of flour as you go, roll chilled dough into a 1/4-inch thick rectangle. Dip cookie cutters in flour, and cut out cookies. Arrange on cookie sheets, spacing 1/2-inch apart. Keep count and create an equal number of round bases and cut out window cookies.

Chill cookies in the fridge for 10 minutes before baking.

Bake 7 - 10 minutes, or until cookies have puffed up slightly and edges turn a very light golden hue. As they bake, keep a close eye, especially on the windows. If needed, rotate pan halfway through cook time.

Cool on cookie sheet 5 minutes, then remove to a wire rack to cool completely.

When ready to serve cookies, spread each round with 1 teaspoon curd, leaving 1/4-inch border near the edges. Place the window cookies on top. Dust cookies with powdered sugar and add poppy seeds and sprinkles to the middle.

Serve right away or keep cookies loosely covered in the fridge for up to three days.