A simple molasses apple cake with fragrant fall spices, crisp apples, and a toothsome spelt crumb that's ready in about an hour.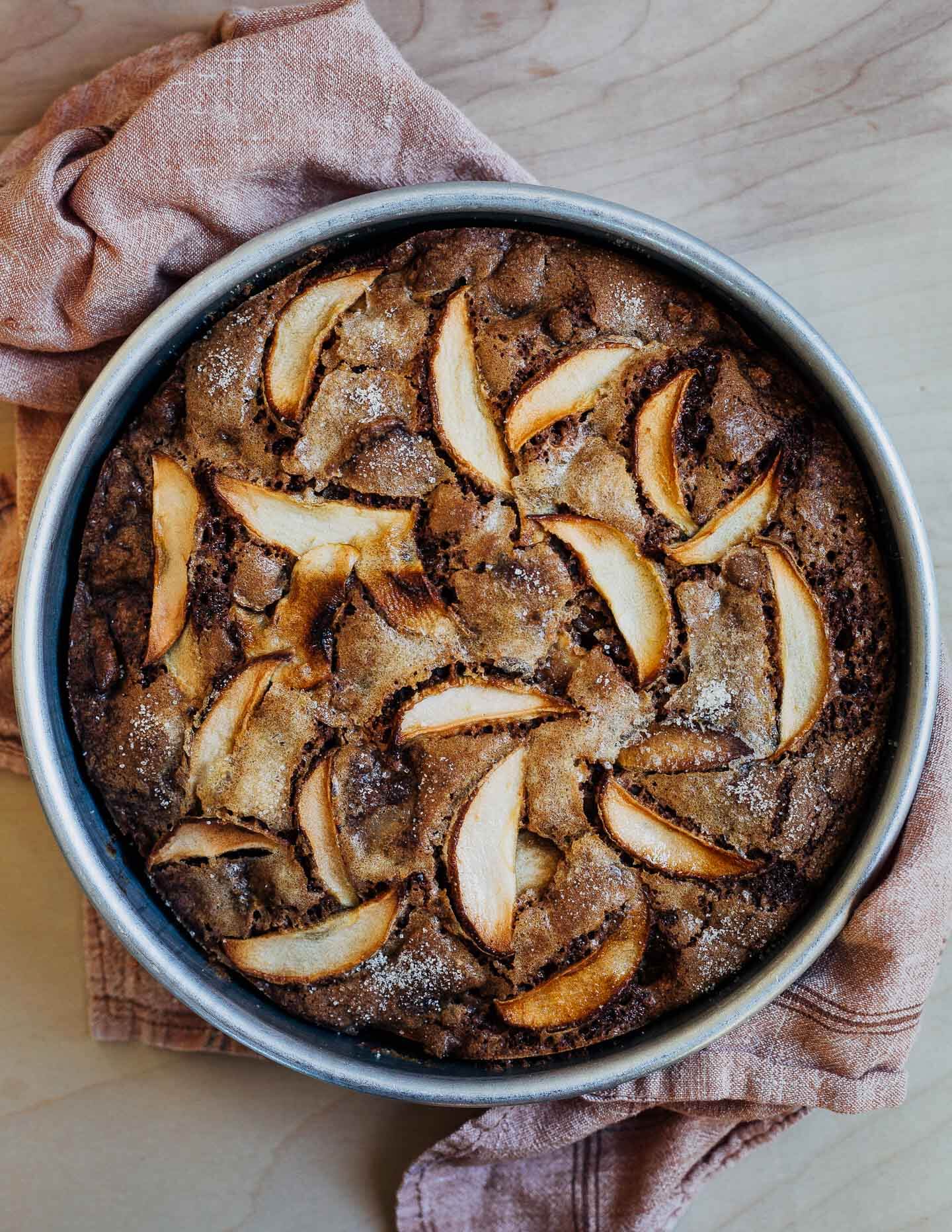 Molasses Apple Cake: Sugar, Spice, etc
We all know apple cake weather when we see it: clear, cloudless blue skies, the low thrum of crickets, and leaves blushing hues of red, orange, and yellow.
There are lots of apple cakes in the world and also on this site. Even so, this apple cake has a lot to recommend it. For starters, molasses, sugar, and spice. After my 50th bag of rock hard brown sugar, I mostly swore the stuff off and now just make my own by mixing sugar and molasses. This cake is heavy on the molasses, but with just enough smoky depth to let the pure and lovely flavor of the apples shine through.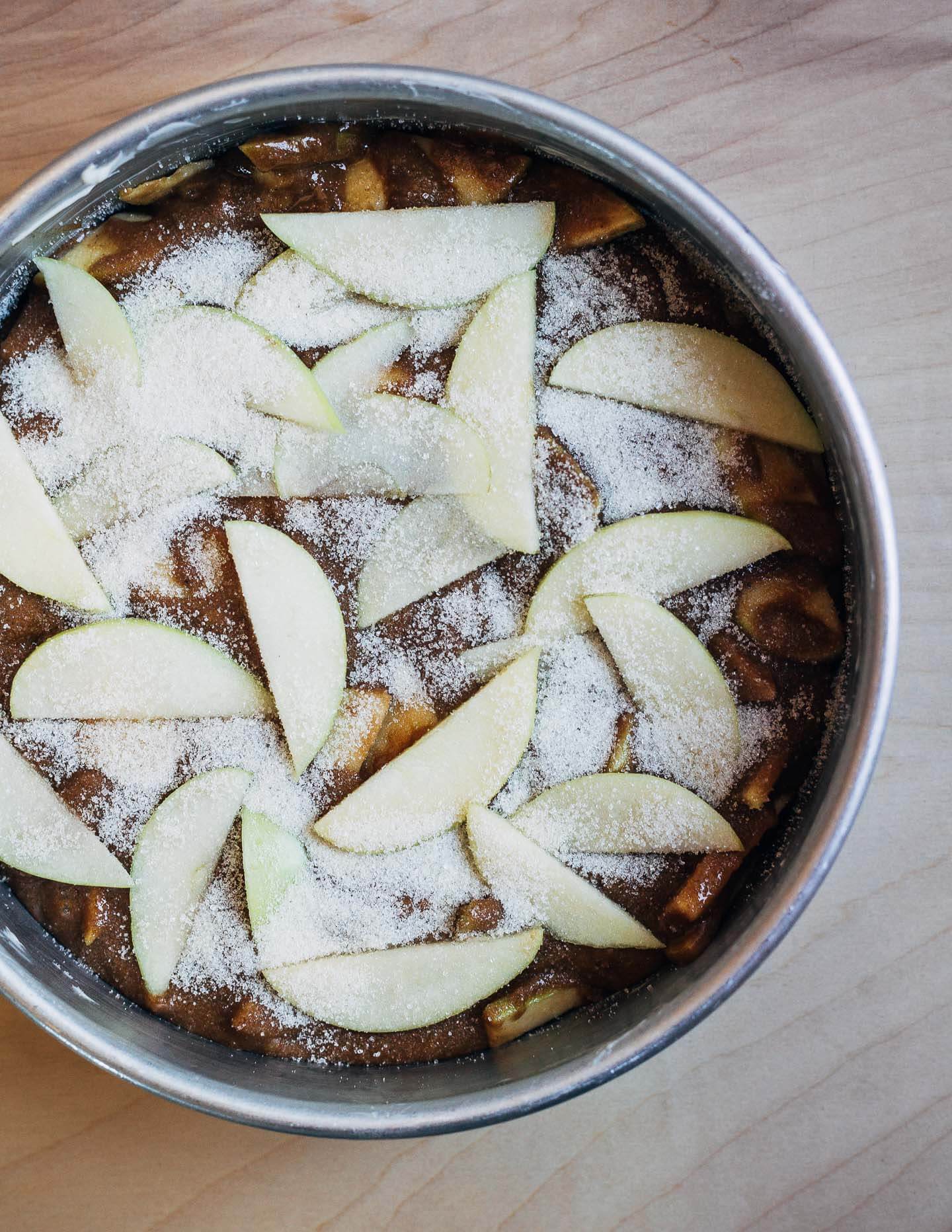 Fall Baking Prep: Check Your Pantry
I dreamed up this cake as a bit of a service piece. Please know that what I'm about to say is just about having what I need and making the most of the fall and holiday baking seasons, and not because I'm anything like Martha Stewart. 

That said, right now is a good time to refresh your pantry and stock up on spices, leavening, and flours. Chances are some of the spices on your rack have been hanging around for a while – their flavor dulled by the passing of time. It's time to toss things and get a fresh start. Check your pantry, smell your spices, and have a talk with yourself about just how delicious you want your baked goods to be.
I just ordered a batch of in-shell nutmeg and a beautiful, spicy single origin Peni Miris cinnamon, and more from Diaspora Spice Co. If you're feeling splurgy, check them out. If you're feeling frugal, check out the bulk spice department at a local specialty grocer.
Likewise, leavening can lose its punch over time, so pick up some fresh stuff. And if your flour isn't turning over frequently, consider getting a fresh bag and then storing it in the freezer. I'm extremely partial to King Arthur Flour. It's just the best!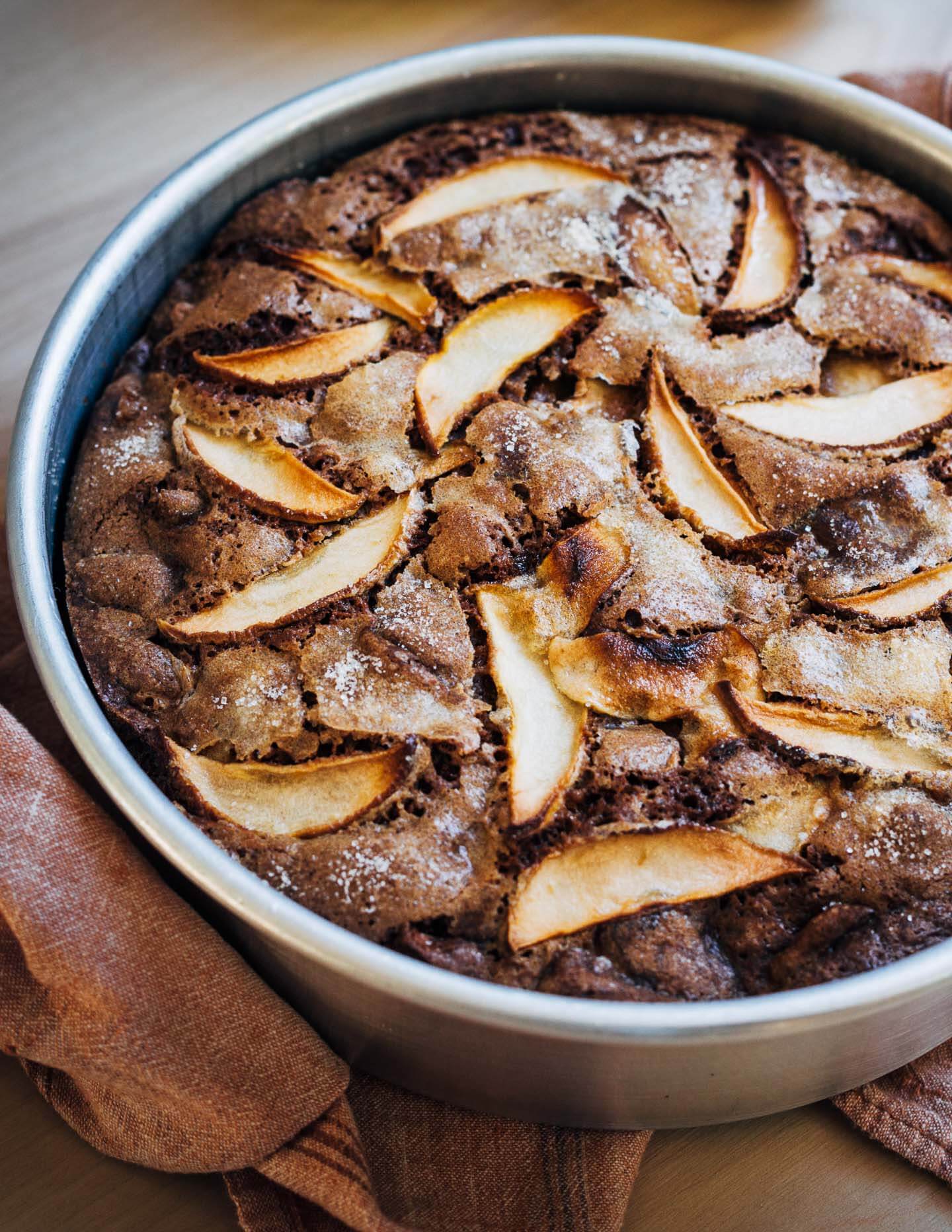 About the Apples
It's been years since I dragged my family to an actual apple orchard to pick apples, but we do still like to swing by Henley's in Crozet and enjoy the bounty of already picked apples (though they will kindly give you directions to their orchards if you have your heart set on picking). If you're in the NYC or Hudson Valley area, I highly recommend Fishkill Farms. They have all kinds of delicious apples and use low-spray methods, meaning your apple picking trip won't leave you covered in pesticides.
I dedicated some space to this in the October Seasonal Produce Guide (reader note: the guides are monthly now), but flavorful heirloom apples are a thing of true beauty and nearly every apple grower will be happy to talk you through the varieties they grow.
This recipe is best with firmer, flavorful apples. Here, I used the Crispin variety, also known as Mutsu, and they were delicious.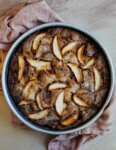 Molasses Apple Cake
A simple molasses apple cake with fragrant fall spices, crisp apples, and a toothsome spelt crumb that's ready in about an hour.
Instead of brown sugar, this recipe uses a mix of cane sugar and molasses. If you'd prefer, sub dark brown sugar for the sugar and molasses in the batter, and use cane or granulated sugar to sprinkle on top.
The spelt flour lends nuttiness and texture. Whole wheat, whole wheat pastry flour, or all-purpose can be swapped in here.
Ingredients
3/4

cup

all-purpose flour

3/4

cup

spelt flour

(or sub whole wheat or all-purpose)

1 1/2

teaspoons

baking powder

1/2

teaspoon

baking soda

1/2

teaspoon

sea salt

1

teaspoon

cinnamon

1/2

teaspoon

freshly grated nutmeg

1/2

teaspoon

ground ginger

1/4

teaspoon

ground cloves

6

tablespoons

vegetable oil

2

large eggs

2/3

cup

cane sugar,

plus 2 tablespoons for the top

2

tablespoons

blackstrap molasses

1

teaspoon

vanilla extract

2

cups

sliced apples cut 1/8-inch thick

(from 2 - 3 small apples)
Instructions
Preheat oven to 350 degrees F. Grease an 8-inch round cake pan and line with parchment.

In a medium bowl, combine the butter, eggs, sugar, and molasses (or use dark brown sugar – see headnote).

In a large bowl, combine the flours (see headnote for substitutions), baking powder and soda, sea salt, and spices. Fold the wet ingredients into the dry and mix just until all the flour is combined. Fold in apples, reserving a dozen or so slices for the top. Spoon into prepared cake pan. Scatter the apple slices on top and sprinkle with 2 tablespoons sugar.

Bake 40 - 50 minutes, or until the top is puffed up and golden and a toothpick inserted in the middle comes out with just a few crumbs attached. This cake is on the moist side, so do a few spot checks for doneness.

Let cake cool 20 minutes, then slice and serve. Cake will keep covered at room temperature for 2 or 3 days.