An October produce guide to what's fresh and delicious right now with tips and recipe inspiration. What's in season in October? Apples, carrots, cauliflower, greens, peppers, and all kinds of pumpkins and winter squash.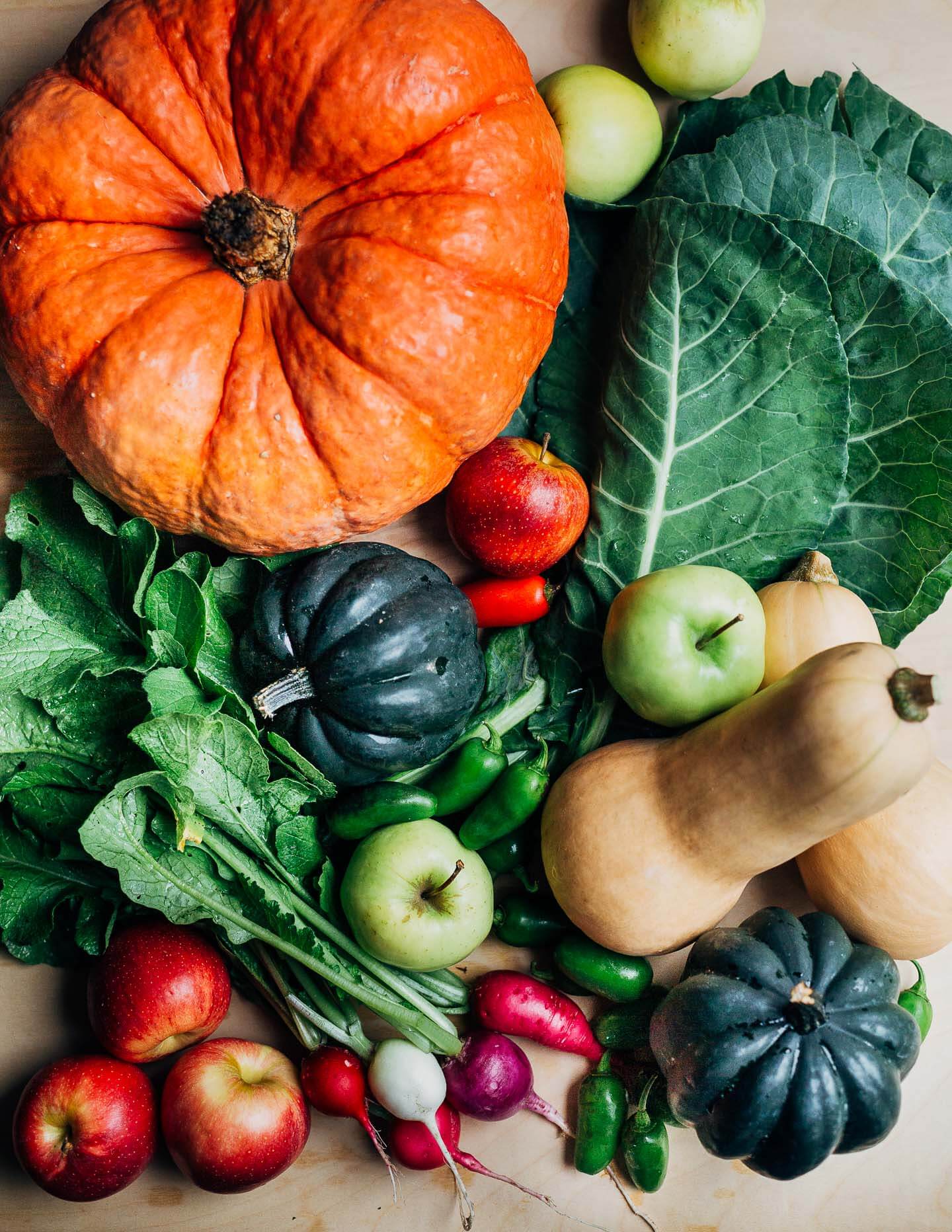 Updated: October 2023
What's in Season in October
October marks the definitive shift to fall. And like the leaves that are just starting to change color, what's in season in October is dictated by the weather. Late frosts can mean end-of-summer produce hangs on a bit longer than usual, while an early frost can bring an abrupt end to the growing season. No matter what the weather has in store, this monthly October produce guide will help you enjoy the best of what's fresh and delicious right now.
Here in the Mid-Atlantic, the first frost usually comes late in the month and marks an end to delicate produce like peppers and okra. But hardy vegetables like beets and carrots, broccoli and cauliflower, and leafy greens can withstand a bit of frost, and in some cases, even benefit from it. Ask your farmer about frost-sweetened beets, carrots, and collards!
Winter Squash and Pumpkins
Winter squash season is upon us! Some varieties of winter squash like butternut and kobocha will store well into the winter months, while others like delicata and acorn are best enjoyed in the fall.
If you're unfamiliar with all the varieties of squash, they are worth exploring. Varieties like butternut, fairy tale pumpkin, honeynut, and orange kabocha have a dense, silky texture and a hint of sweetness. Acorn, green kabocha, hubbard, and kuri, have more yellow flesh with less sweetness and a bit of texture. As the name suggests, Delicata squash has a delicate texture and edible skin, making it one of the easiest winter squash to cook with. If you have your heart set on a pumpkin, look for sugar pie or fairy tale pumpkins.
Apples and Pears
Apples and pears are at their peak in October, so right now is the best time to try heirlooms and other flavorful varieties that don't store well.
In-season heirloom and other varieties will vary by region and climate, but in the Mid-Atlantic, I look for apple varieties like Arkansas Black, Cameo, Crimson Crisp, Golden Russet (russeting is the kind of tough light brown skin that forms on some apples – many folks pass on apples with russeting, but I find they have wonderful flavor), Jonamac, Macoun, Northern Spy, Pippins, and Winesap. Apple growers each have their favorites and specialties, and they will often be glad to share their expertise and give you a taste.
Pears have a shorter season than apples and vary by region. Ask your grower about their favorites.
Beets, Carrots, and Radishes
In some ways, fall produce mirrors the spring, and vegetables like beets, carrots, and radishes enjoy a second season as the weather cools. When selecting fall roots, look for bunches with nice greens so you can make use of the whole plant.
Broccoli, Brussels Sprouts, and Cauliflower
The Virginia summers are too warm for crops like broccoli and cauliflower. But with the cooler weather of October, they thrive. Look for robust stalks and sturdy flowers without any brown edges or soft spots.
Leafy Greens and Lettuce
In New York, greens and lettuces often last all the way through the summer, but here in Virginia, they die off in summer's heat. Fall is an excellent time to get reacquainted with greens and lettuces. Brassicas like collards and kale are wonderful in the cooler weather. Bibb, romaine, and other hardy lettuces are excellent in October. It's also a great time to enjoy spicier greens like arugula, mizuna, mustard, or tatsoi.
Sweet and Spicy Peppers
Sweet and spicy peppers thrive in late summer and early fall, but die off quickly once the weather turns frosty. October is the perfect time to enjoy the late season array of sweet and spicy pepper before they're gone.