These springy glazed carrots are delightfully buttery and light with a vegetable broth-based glaze and are served alongside a bright carrot top chimichurri. I threw in a few baby radishes for color, but they're totally optional.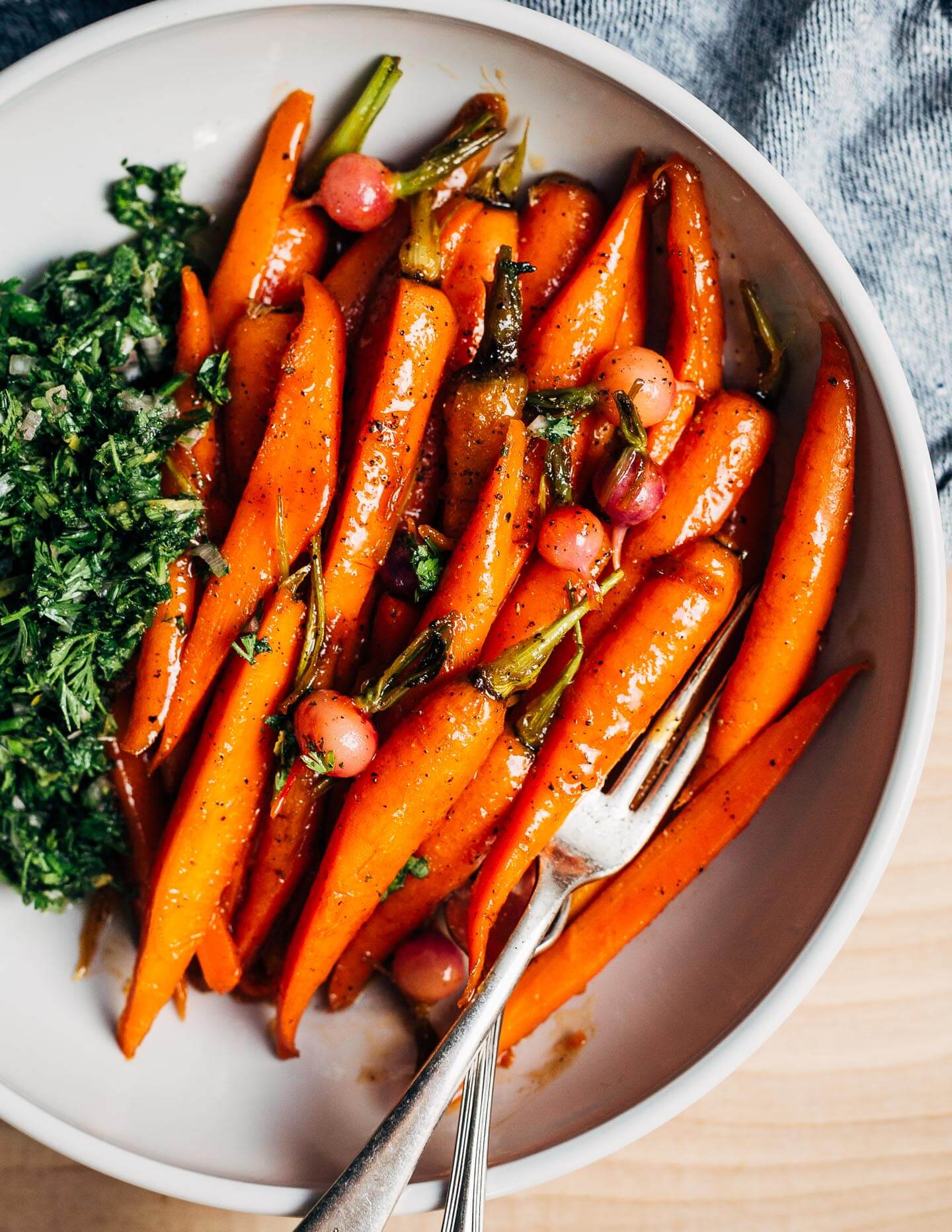 Here's the thing: these glazed carrots are incredibly, shockingly delicious. Like, my older daughter literally packed some for her lunch, putting them in the rare category of vegetables she's eaten not under parental duress.
In my mind, I'd thought of glazed carrots as sticky sweet and very mushy. And that's definitely a way they can be. But these glazed carrots aren't like that at all.
Perfectly Delicious Glazed Carrots
This glazed carrot recipe is rich and buttery, tender with some snap in the bite, and with a deeply flavorful vegetable broth-based glaze with just a little bit of sugar. They're served with a super simple, punchy chimichurri sauce made from carrot greens, red wine vinegar, shallots, and lemon zest that goes a long way to counter the richness of the carrots. They come together in about 20 minutes and are forgiving enough to sit around at room temperature (if need be!).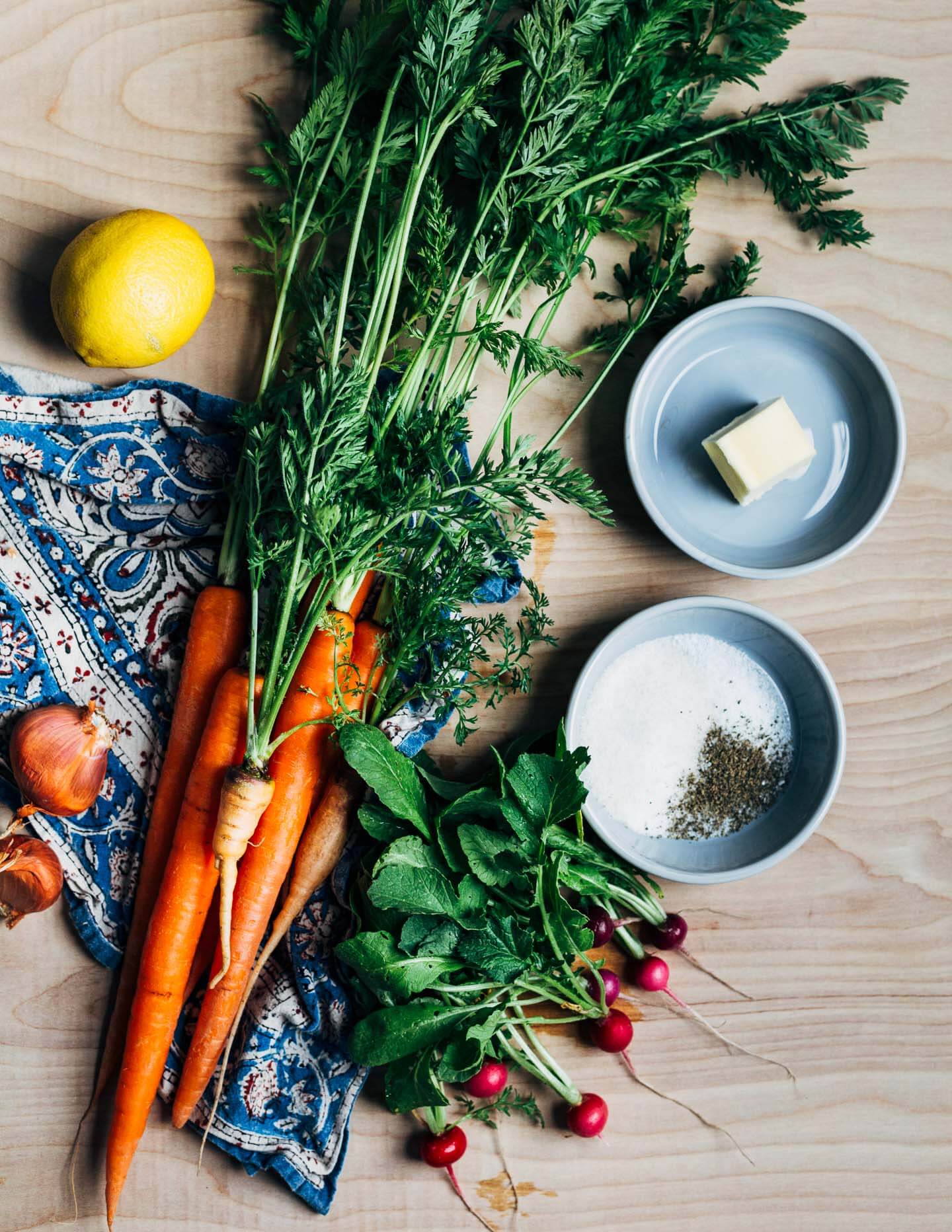 Know Your Carrots
An excellent carrot dish begins with excellent carrots. For this recipe, you'll want to source fresh carrots with their greens attached. Storage carrots – the big, dark orange kind that often come in bags at the store – are very different in taste and texture from the fresh kind. In a pinch, any carrots will do, but if possible, do try and source fresh ones.
I like the presentation of carrots that have been halved or quartered lengthwise and then sliced on the bias into 4-inch segments.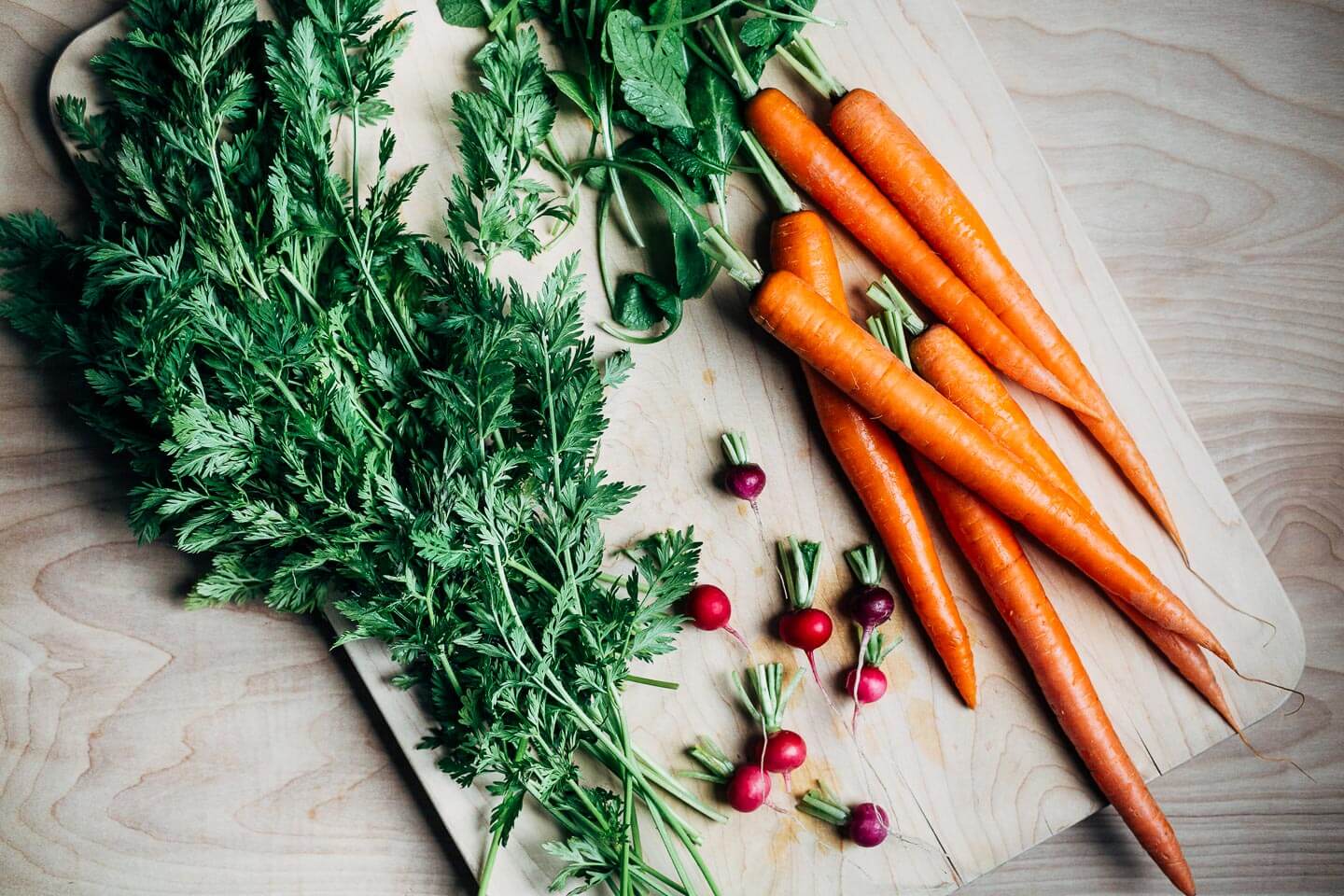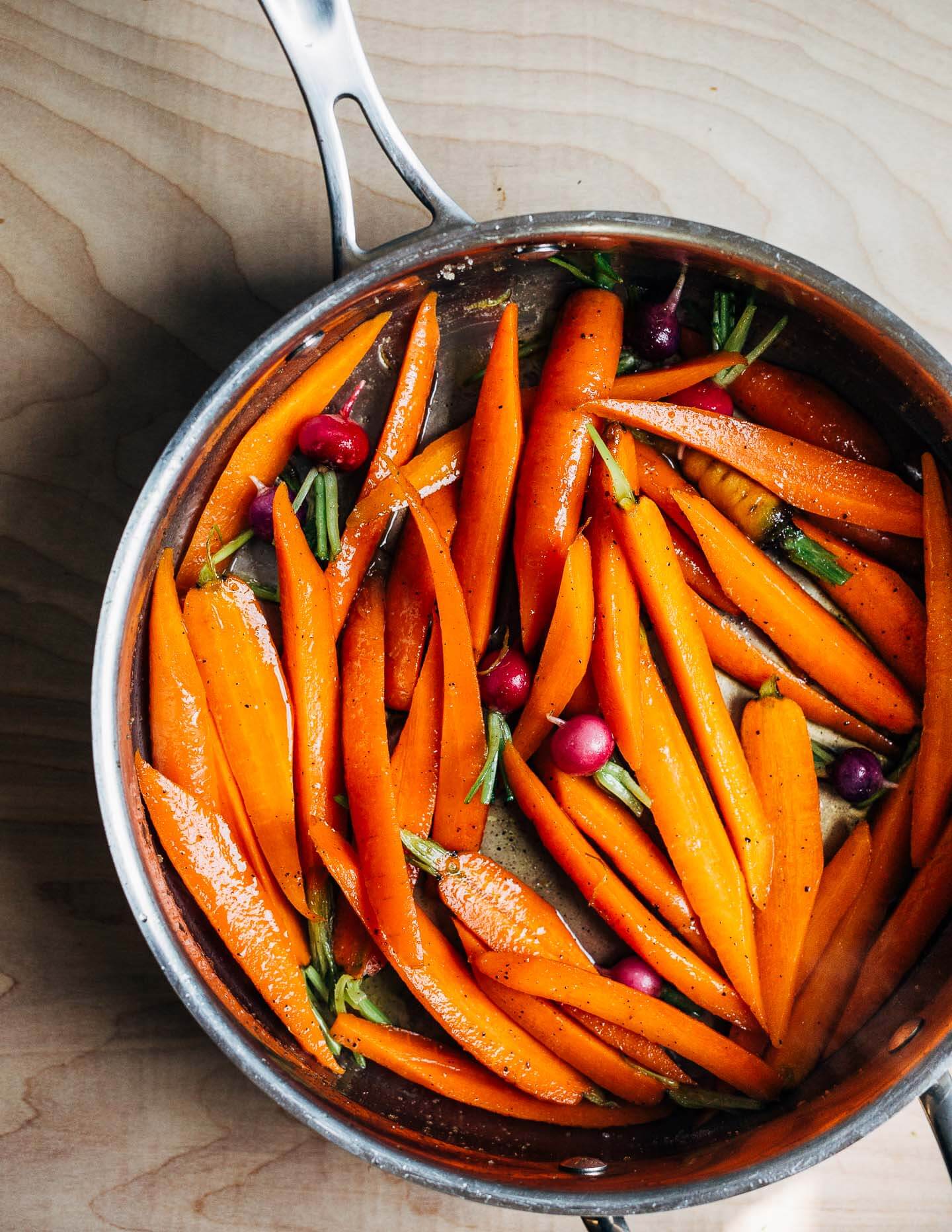 Radishes Add a Pop of Color
Out in my garden, I have a tiny plot of Easter egg radishes and some very tiny Nantes carrots, so I added a few of those into the mix. If you like radishes or just have some around, they can be halved or quartered (depending on the size) and added to the recipe. I liked the pop of color from my tiny radish babies, but they're not needed at all.
Eat Your (Carrot) Greens
If you're new to the world of carrot greens, this is a great way to try them. Carrot greens can be sandy, so I recommend giving them a couple good soaks in a full sink or washing them thoroughly in a salad spinner.
This chimichurri recipe is very greens and vinegar forward, since I wanted a nice counterpoint to the buttery carrots. I only used about half the olive oil I normally would which lands this chimichurri somewhere between and sauce and a relish.
If carrot greens are hard to find or you just don't like them, you can use a more traditional mix of parsley and cilantro. Check out my more traditional chimichurri recipe here.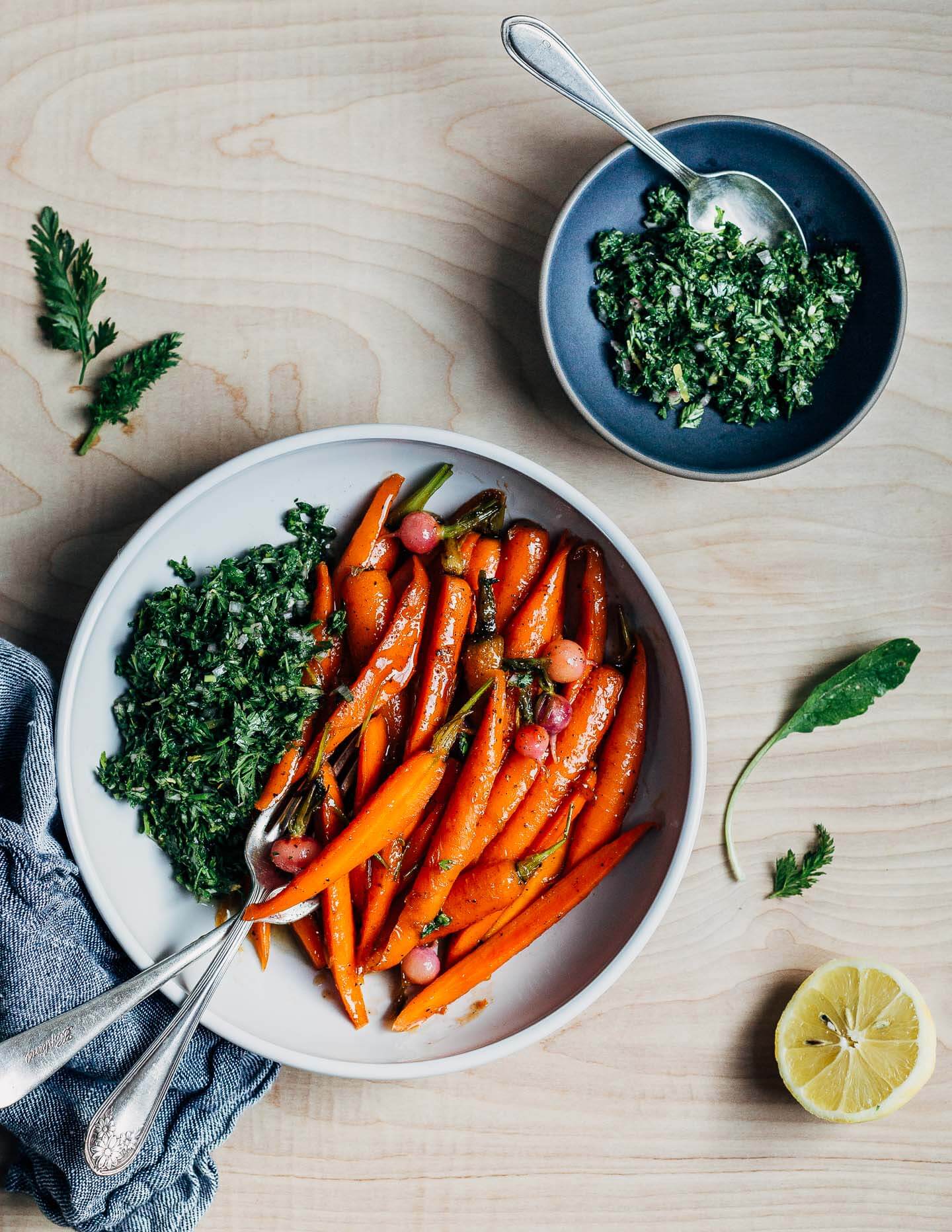 I thought these glazed carrots were just right for a side at an Easter feast. For more Easter menu inspiration, check out this simple quiche, these beet-pickled eggs, and this egg and asparagus platter.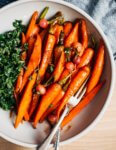 Glazed Carrots with Carrot Top Chimichurri
These springy glazed carrots are delightfully buttery and light with a vegetable broth-based glaze and are served alongside a bright carrot top chimichurri. I threw in a few baby radishes for color, but they're totally optional.
Ingredients
Carrots
1

pound

fresh carrots with greens attached

½

cup

quartered or halved radishes

(optional)

2

tablespoons

unsalted butter

1

tablespoon

sugar

1/2

teaspoon

sea salt.

plus more to taste

½

teaspoon

black pepper

½

cup

vegetable broth

2

tablespoons

lemon juice,

reserve zest for chimichurri
Chimichurri
2

tablespoons

finely minced shallots

3

tablespoons

red wine vinegar

¼

teaspoon

sea salt

Zest of 1 lemon

2

cups

finely minced carrot greens

¼

cup

finely minced radish greens

(optional)

3

tablespoons

extra virgin olive oil
Instructions
To prep carrots, cut all but the last ½-inch of greens. Carefully scrub the carrots and around the carrot base to remove any dirt. Slice the carrots into halves or quarters lengthwise, and then slice into 4-inch long segments with dramatic diagonal cuts.

Melt the butter in a 9- or 10-inch skillet with deep sides over medium heat. When butter is frothy and fragrant, add the carrots and cook, stirring often, for 7 minutes, or until carrots have softened a bit. Fold in the sugar, salt, pepper, broth, and radishes (if using). Cook carrots for another 7 - 10 minutes, or until the carrots are cooked through with a little snap in the middle and the glaze has cooked down. When the carrots are almost ready, fold in the lemon juice. Taste and add sea salt or pepper as needed.

Meanwhile, toss the shallots in a small mixing bowl with the vinegar, lemon zest, and sea salt. Set aside for 5 - 10 minutes. Fold in the greens and olive oil. Add sea salt to taste.

To serve, spoon carrots onto a platter and scrape any glaze from the pan on top. Add several spoonfuls of chimichurri on the side.