A shaved Brussels sprout salad with Parmesan and lots of lemon that has just six ingredients and all the brightness and crunch you could want in a cold weather salad.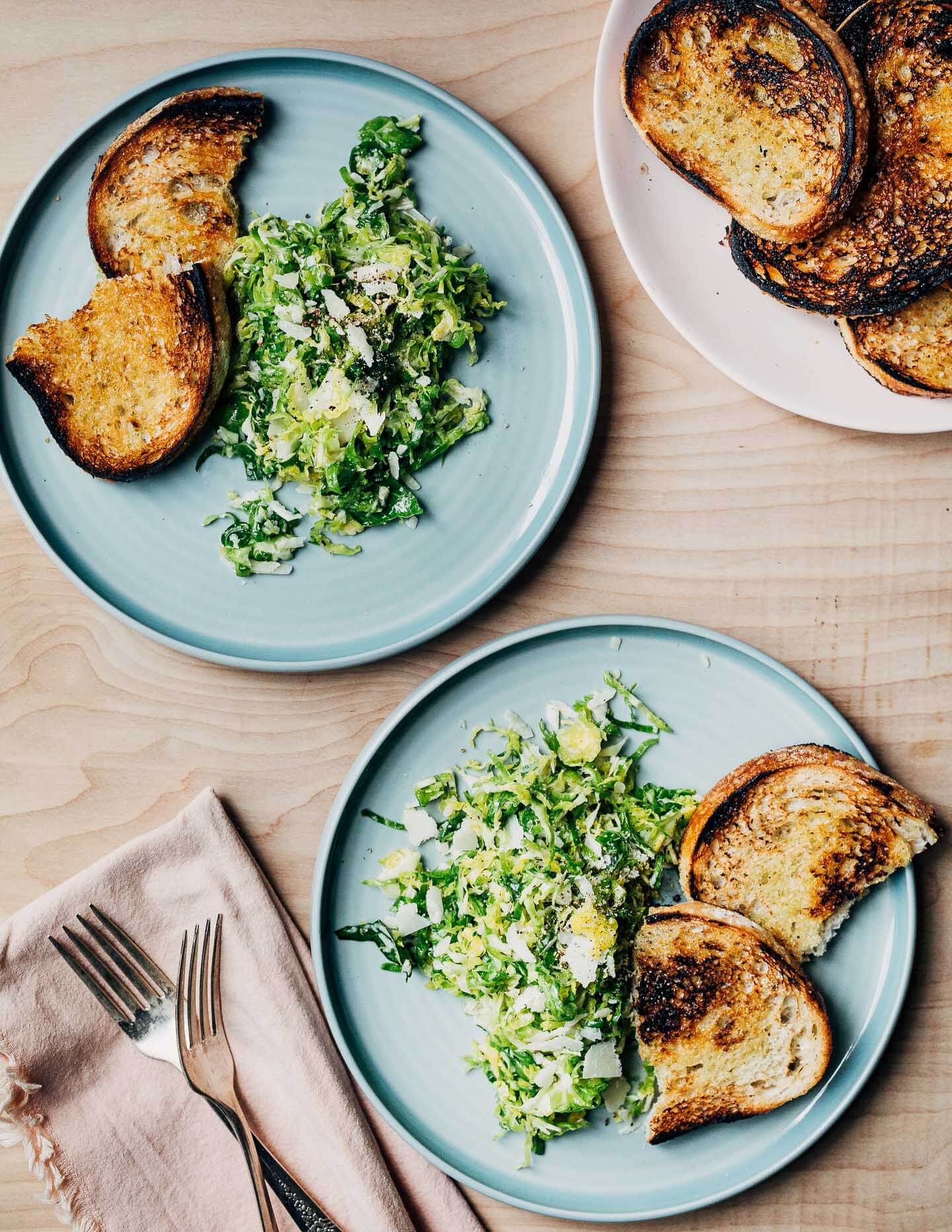 This post was originally published in 2010 and was updated 2022.
Originally shared all the way back in 2010, this recipe began with a visit to Frankies 457 Spuntino in Carroll Gardens and a taste of their revelatory shaved Brussels sprout salad. Now, as then, I'm struck by the way shaved Brussels sprouts, lemon, oil, and a bit of cheese become so much more than the sum of their parts. Then again, all the best simple recipes are like that.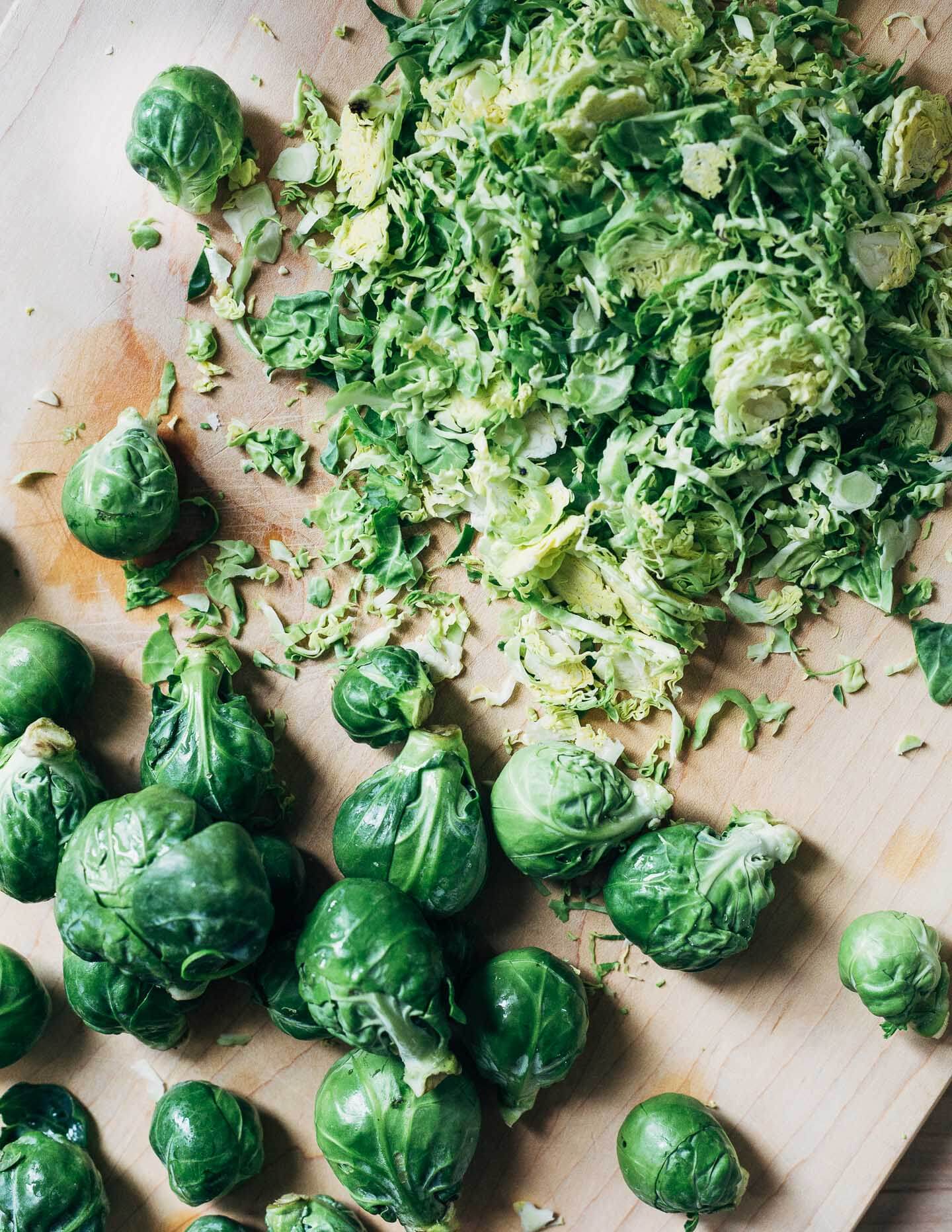 Shaved Brussels Sprout Salad
Like any good salad with a handful of ingredients, this shaved Brussels sprout salad with Parmesan hits all the right notes with just a few basic ingredients. You'll want to ensure that each element is delicious – use good-tasting olive oil and the freshest sprouts you can find.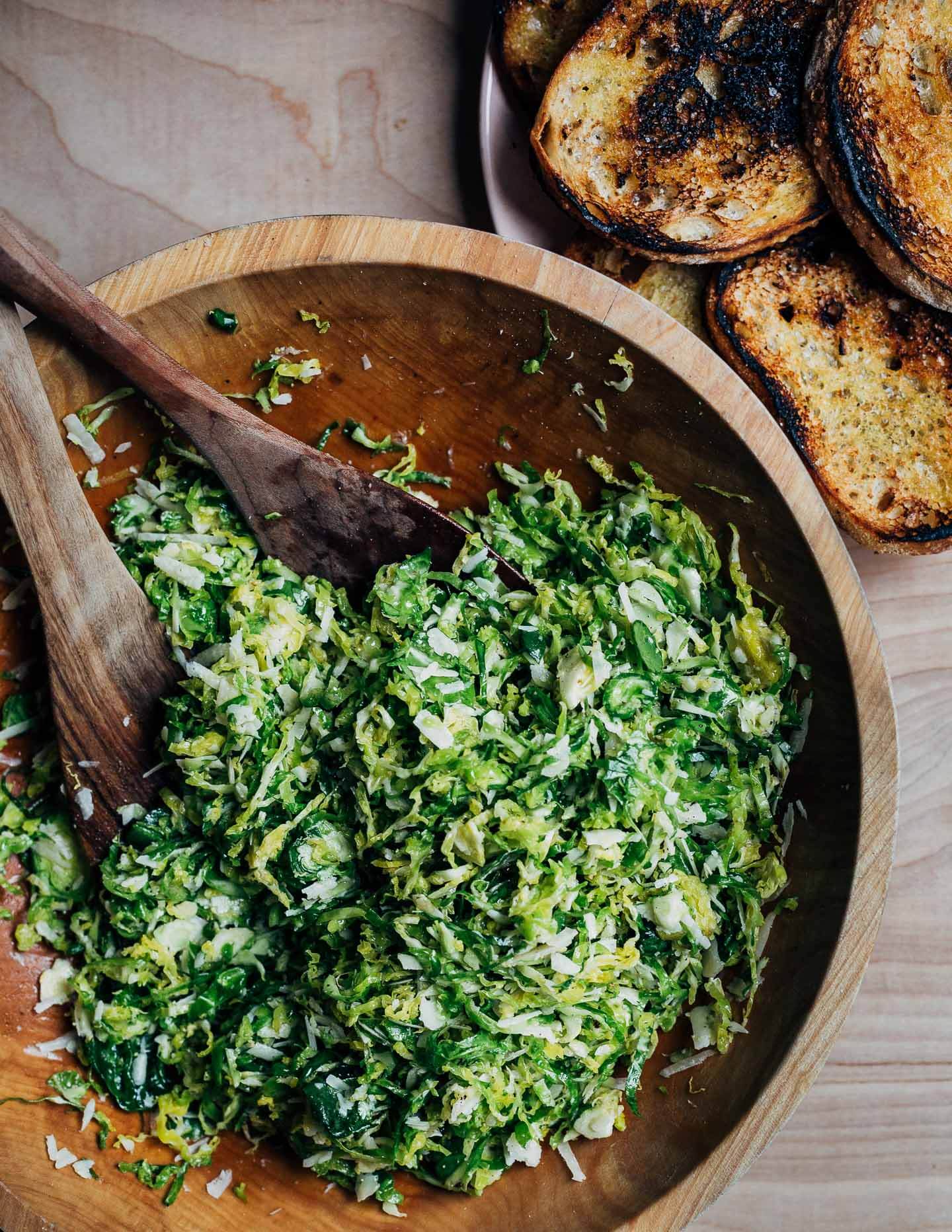 Getting the Best Sprouts
It used to be that on-the-stalk sprouts were only sold at farmers markets, but these days, at the height of Brussels sprout season, you can often find whole stalks in the produce aisle too. On-the-stalk Brussels sprouts are fresher and keep better, but cut sprouts are fine too – just make sure they have robust green leaves and good color.
Once you've got your spouts, you'll need to shave them, or really, slice them very, very thin. The best and easiest way to do this is with a mandoline slicer. I have a cut resistant glove that I use with my mandoline and it makes for very quick work. If you use a mandoline with any frequency, I highly recommend getting a glove. They cost about $11 bucks and all of your intact fingertips will thank you. You can also shave the sprouts with a sharp knife, but this method is more time-consuming.
After the sprouts are shaved, all that's left is to toss them with dressing, crumble in the Parm, and add lots of freshly cracked black pepper. I served my salad with skillet croutons, doused in olive oil and sprinkled with sea salt and pepper, and toasted in a hot cast iron skillet until golden.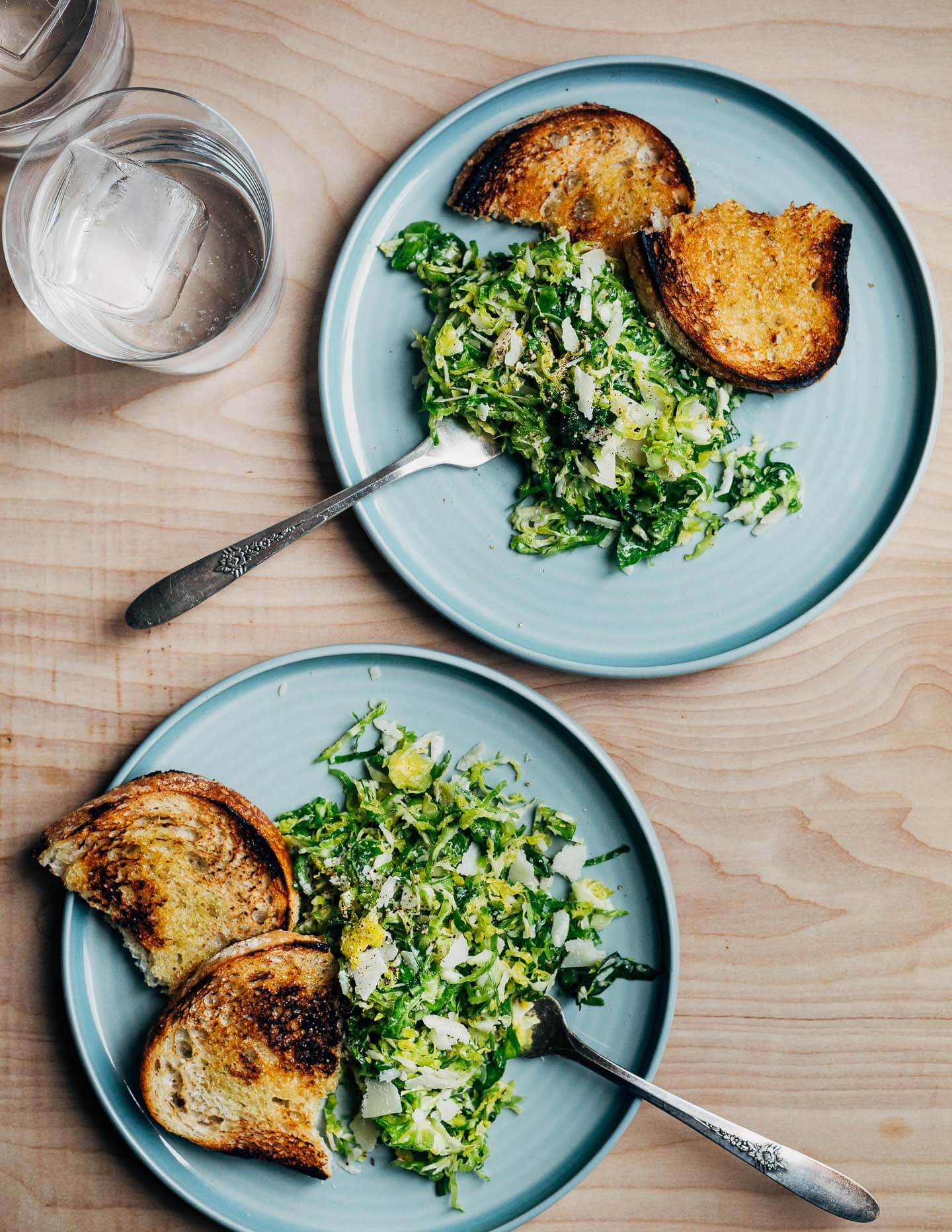 Change it Up
With all that color and crunch, shaved Brussels sprout salad makes a for a vibrant Thanksgiving side. If you'd like to punch things up a bit more, consider adding toasted seeds or nuts, dried cranberries, or sliced apples.
A note on timing: the sprouts can be shaved up to a day ahead and kept sealed in the fridge. The dressing can be made ahead too. Once dressed, the salad keeps just fine for a couple days, but is best about 30 minutes after it's dressed.
More Brussels Sprout Recipes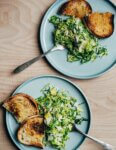 Shaved Brussels Sprouts Salad with Parmesan
A shaved Brussels sprout salad with Parmesan and lots of lemon that has just six ingredients and all the brightness and crunch you could want in a cold weather salad. Recipe adapted from The Frankies Spuntino Kitchen Companion & Cooking Manual by Frank Castronovo and Frank Falcinelli.
Keyword:
shaved Brussels sprout salad
Ingredients
1

pound

Brussels sprouts,

rinsed and trimmed

Zest of 2 lemons,

plus 1/4 cup juice

¼

cup

extra virgin olive oil

1/4

teaspoon

sea salt,

plus more to taste

1/2

cup

grated Parmesan

Black pepper to taste
Instructions
Use a mandoline slicer or a sharp knife to shave the Brussels sprouts to fine ribbons, about 1/16- or 1/8-inch thick. Sort through and slice up any sprout rounds. Place sprouts in a large bowl.

In a small bowl, combine the lemon zest and juice, salt, and olive oil. Whisk until everything is nice and emulsified. Drizzle half the dressing over the sprouts, toss, and wait five minutes. Taste and add more dressing as needed. When the sprouts are dressed to your satisfaction, toss in the parmesan and pepper, add sea salt to taste, and serve.

The shaved sprouts and dressing can be prepped up to a day ahead. Once dressed, this salad keeps well overnight, but is best the day it's made.