This paprika roasted Brussels sprout salad with crispy prosciutto and a smoky, rich pimentón aioli is lovely served as a shared small plate or a dinnertime side.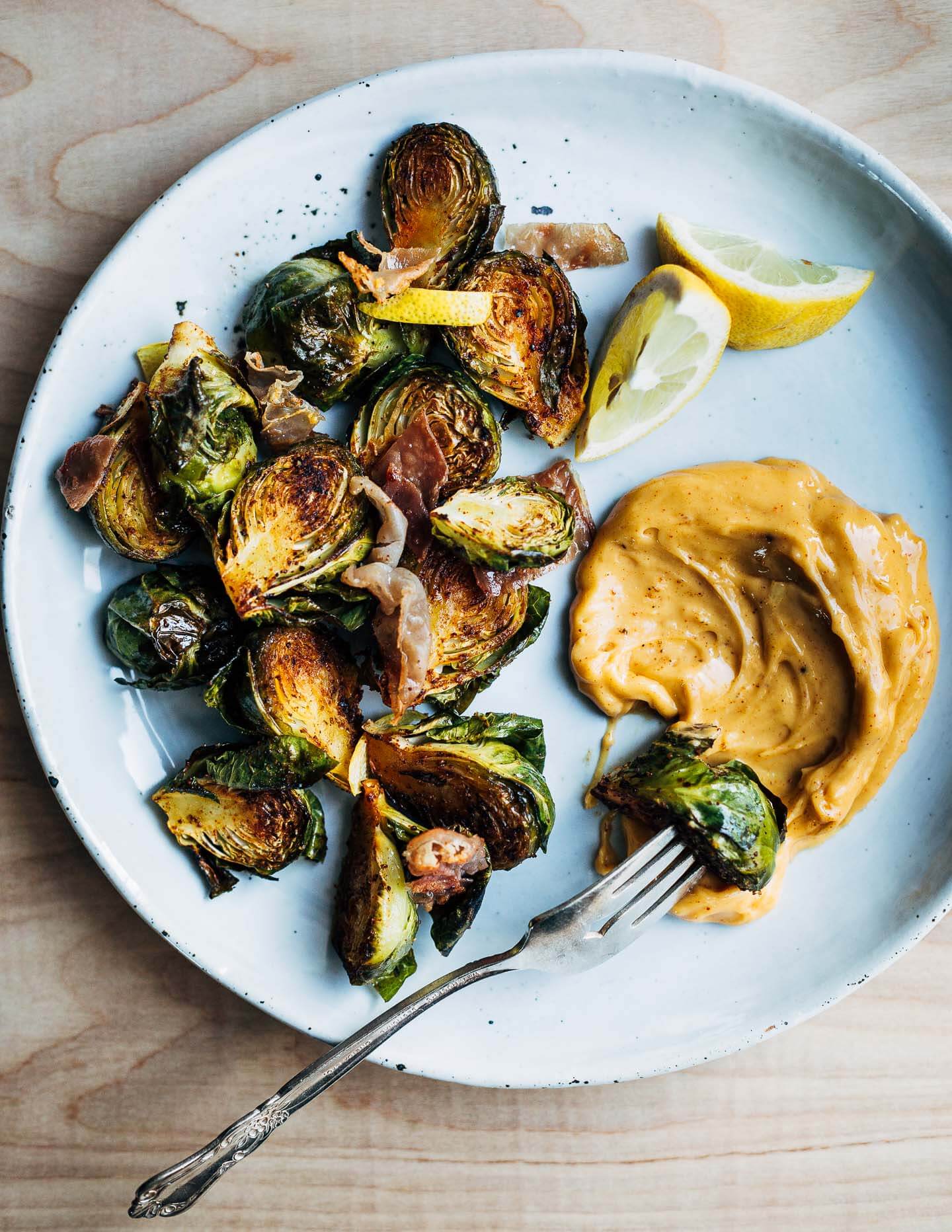 This time of year, when I see all the photos of beautiful decorations in immaculate homes and plates of perfect cookies, I always feel like I'm not doing enough. My plans for a perfect Christmas season crumble under the weight of real life pressures, like a messy house, virtual school, and an unceasing stream of meetings.
I haven't made any cookies yet. Or hung all the lights. Or put up a tree. Or ugly cried while watching It's a Wonderful Life. And that's fine. We'll have a festive weekend and enjoy the season in its own good time. It won't be perfect, but it'll be ours: uncomplicated and cozy. Some people delight in the extra-ness of the season, but I'd rather pare it down to the things I really love and leave everything else behind.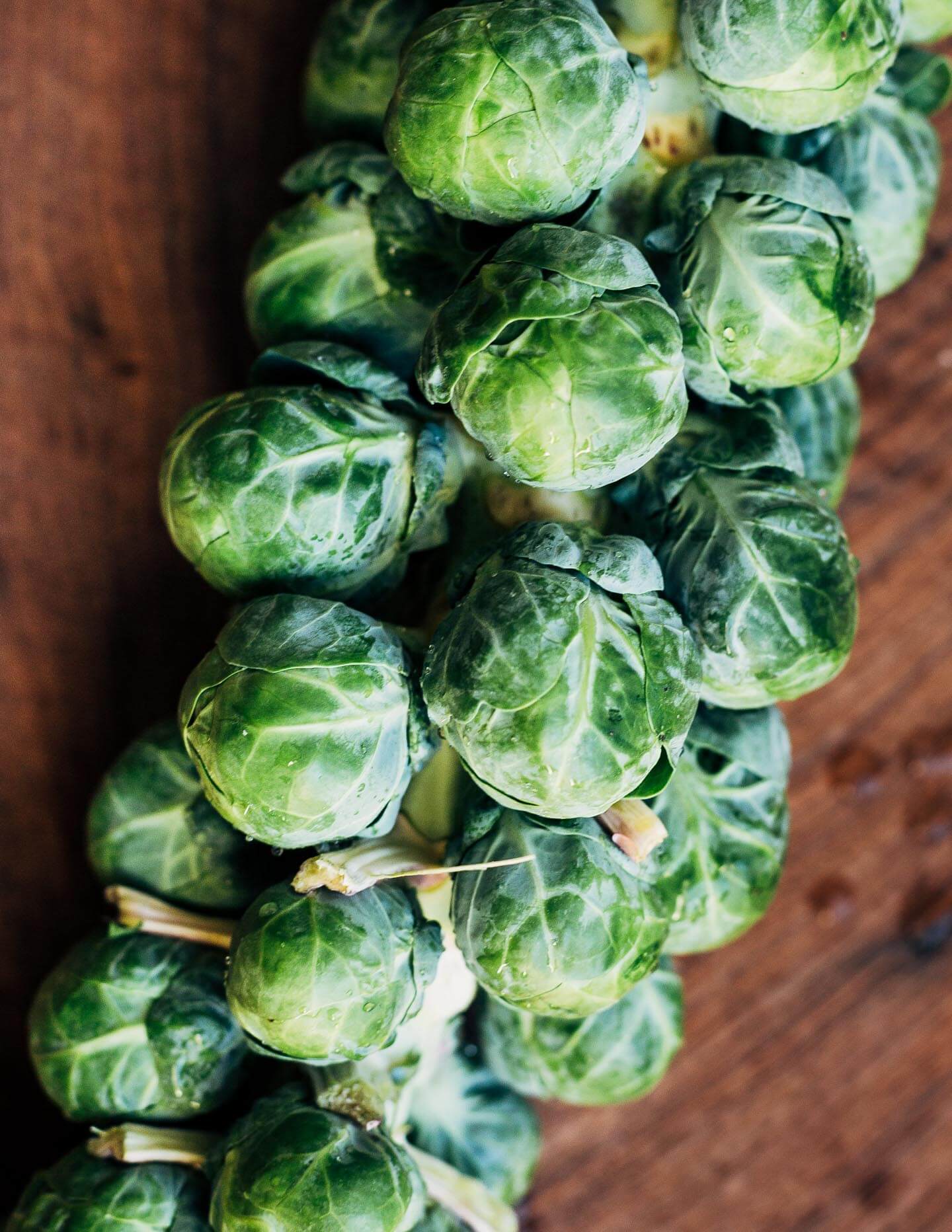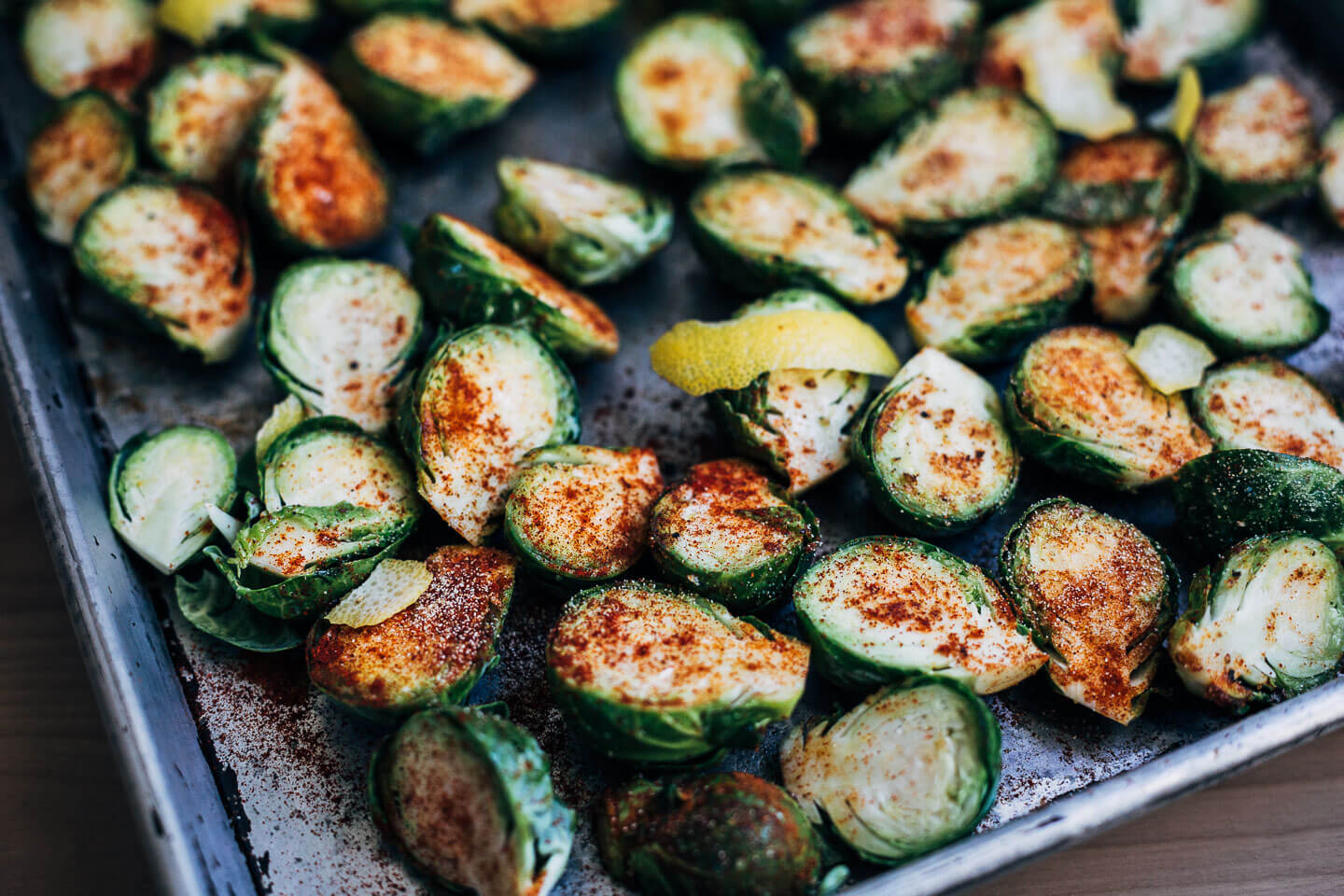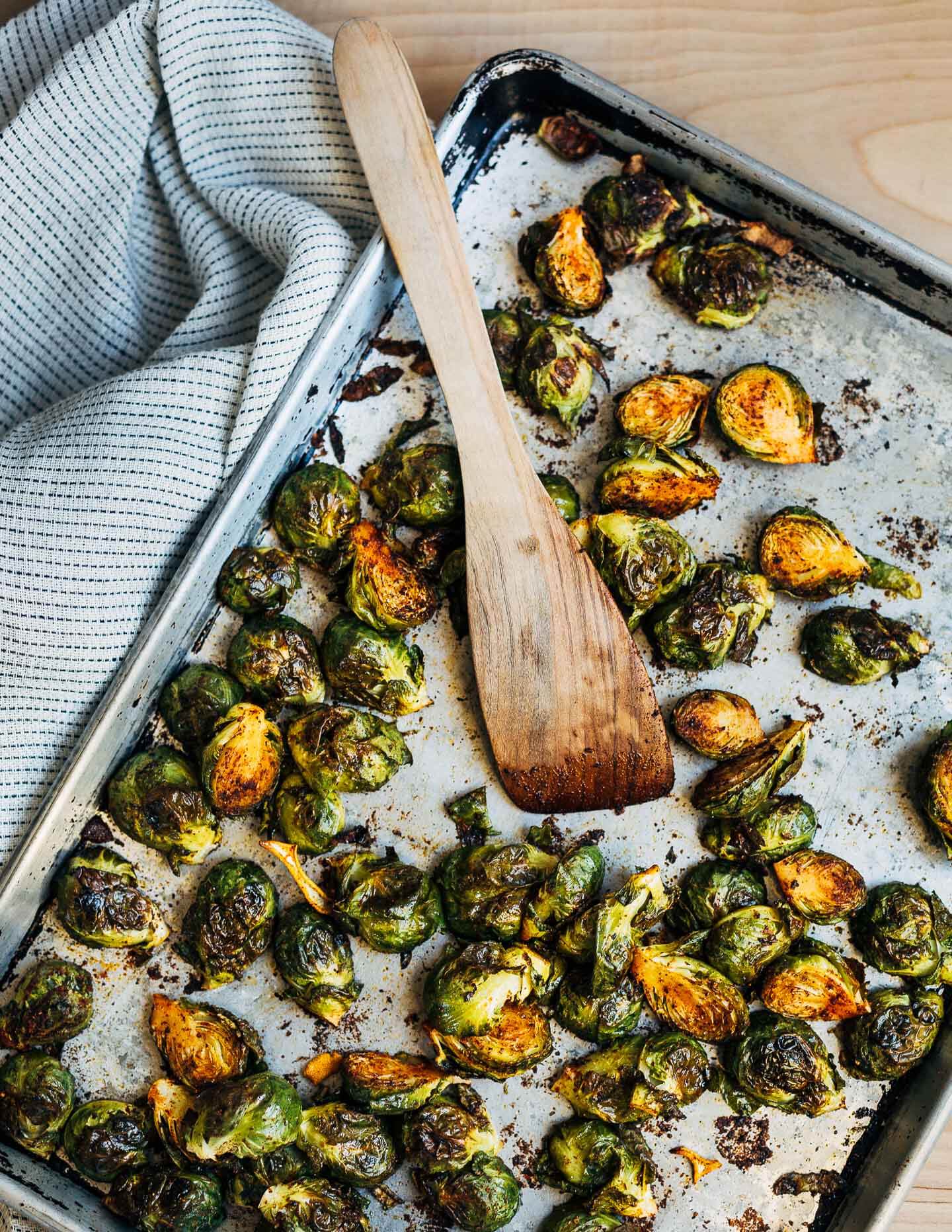 The Best Brussels Sprout Salad is Simple One
I had this same experience in miniature last week when I labored over a really elaborate Brussels sprout salad with fruit and pepitas and cheese and dressing. But it just didn't sit right. It felt too fussy. So I started over, looking to craft a simpler, better roasted Brussels sprout salad.
The second take was a triumph. There's nothing fussy here, just halved Brussels sprouts tossed with lots of paprika and lemon and roasted until they turn crispy and sweet under the heat of the oven. While the Brussels sprouts roasted, I fried up a little prosciutto, and made a batch of this sublime pimentón aioli. I served my roasted Brussels sprout salad as a shared small plate, but it's also lovely as a side or maybe served over a bowl of cheesy polenta for a nice dinner.
However you serve it, be generous with the aioli.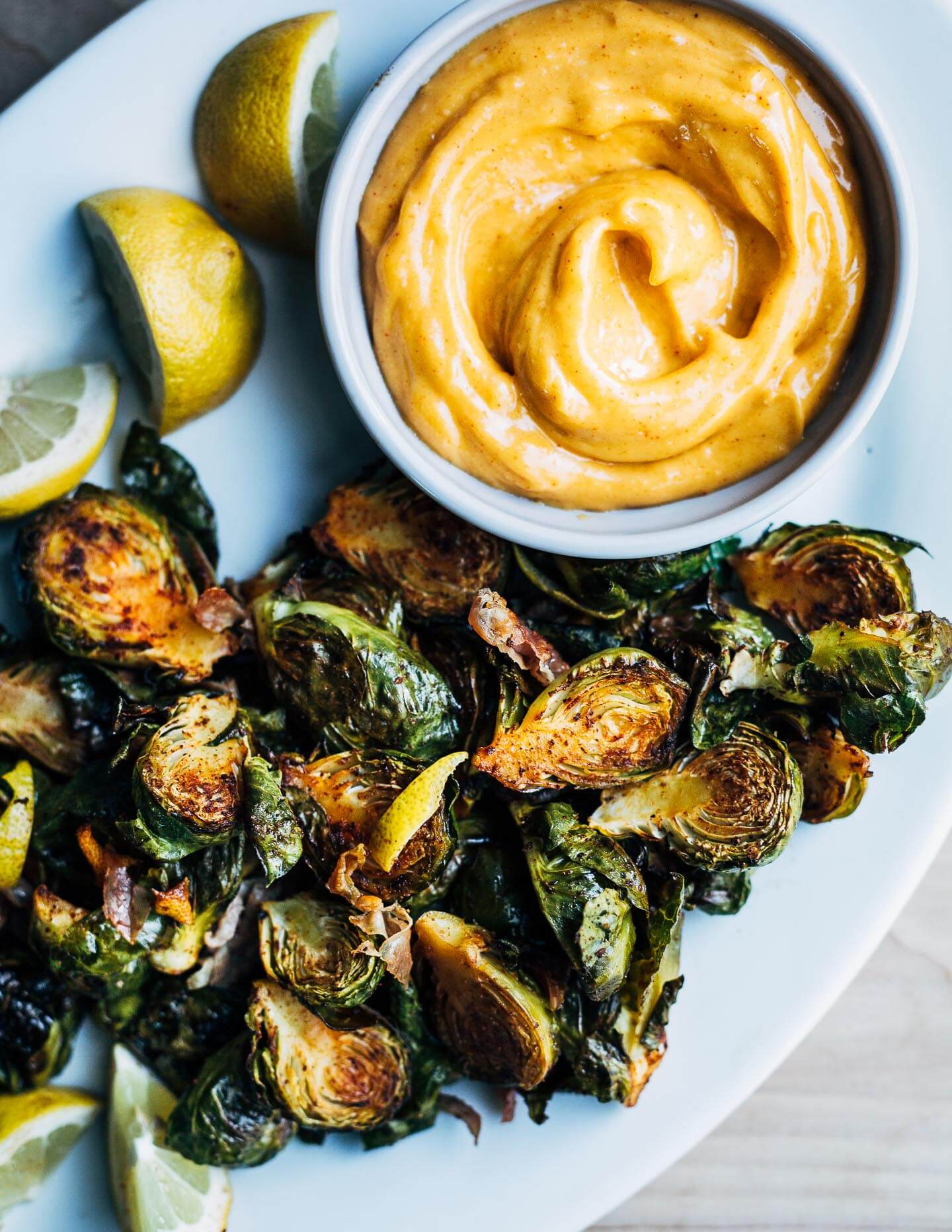 A Few Notes on Aioli
This warm Brussels sprout salad is served alongside my favorite aioli. If you're new to aioli, it can be very daunting. Start by whisking up the yolk, garlic, vinegar, pimentón, and sea salt really well, and then adding the olive oil in very small drizzles (like, a teaspoon at a time). There's a lot of whisking involved in the beginning, but once you've added about half the oil, you can add the rest in generous glugs. If your emulsion breaks, don't panic – just start with a fresh yolk and just as slowly as before, whisk the broken emulsion into the yolk. Other folks make their aioli in a blender or food processor, but those methods have never, ever worked for me.
Lastly, if that's all just too daunting, I have a cheater pimentón aioli recipe (made with store bought mayo) right here.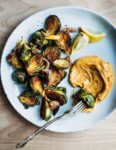 Paprika Roasted Brussels Sprouts with Prosciutto and Pimentón Aioli
This paprika roasted Brussels sprout salad with crispy prosciutto and a smoky, rich pimentón aioli is lovely served as a shared small plate or a dinnertime side.
I topped my salad with crispy prosciutto, but it can easily be left off.
This recipe makes use of spicy and smoked paprika (aka pimentón). If you prefer less heat, swap in sweet paprika.
Recipe Type:
Appetizer, Side Dish
Keyword:
roasted brussels sprout salad
Ingredients
1 1/2

pounds

Brussels sprouts

(preferably ones cut right off the stalk – they're fresher and keep better)

2

tablespoons

plus 1 teaspoon extra virgin olive oil,

divided

1

large lemon,

zested and then cut into wedges

1/2

teaspoon

sea salt

1/2

teaspoon

spicy paprika

1/2

teaspoon

smoked paprika

(aka pimentón)

1/4

teaspoon

garlic powder

4

ounces

prosciutto

1

batch pimentón aioli,

recipe here
Instructions
Preheat the oven to 400 degrees F. Halve the sprouts, or if they're very large, quarter them.

On a rimmed baking sheet, toss the sprouts with 2 tablespoons olive oil, lemon zest (reserve a little bit for plating), sea salt, paprikas, and garlic powder. Turn the sprouts so that they're all cut side up. (I know this step feels fussy, but it really helps them cook properly.) Roast sprouts 20 minutes. Then flip so they're all facing cut side down, and roast 5 - 10 minutes longer or just until the cut side is starting to brown on the edges.

While the sprouts roast, make the aioli and crisp the prosciutto, if using.

To crisp the prosciutto, heat a small skillet over medium/medium-high heat. Add a drizzle of olive oil and then enough prosciutto to fill the pan. Cook on both sides, just until golden, 1 - 2 minutes. Set on a paper towel lined plate to cool. Repeat until all the prosciutto has been fried. Once it's cool, cut into strips.

Arrange the warm Brussels sprouts on a plate or platter, toss with prosciutto and reserved lemon zest, and serve with generous dollop of aioli.