These brothy pinto beans with roasted poblano peppers are wonderfully creamy and rich. They can be made on the stove top or in an Instant Pot, and are served with crumbled Cotija, cilantro, and sliced avocado.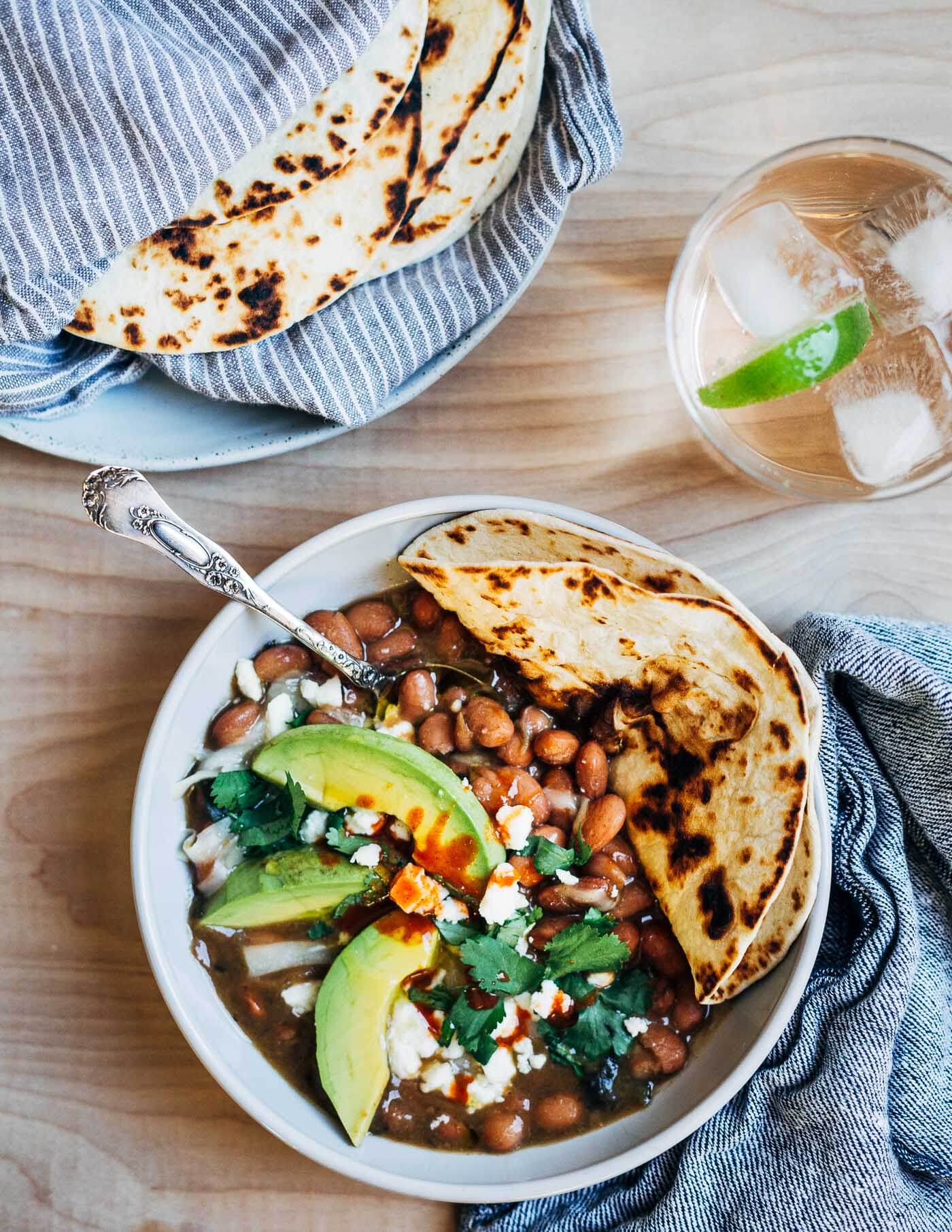 My family eats a big pot of pinto beans, in one form or another, at least once a week. So it's wild that I've never bothered to share a pinto bean recipe here.
My history with pinto beans is twofold. I moved to Chula Vista, CA when I was nine and was enthralled by all the delicious Mexican food there. It was so vibrant and fresh, especially compared with the very processed food I grew up on. I was also a vegetarian with a black bean allergy, and pintos became my staple. I taught myself to cook them in all kinds of ways; but with no grounding in traditional Mexican cooking and few teachers (aside from paying attention at restaurants or to what my friends' parents were cooking), it took me a long time to learn a lot of the essentials.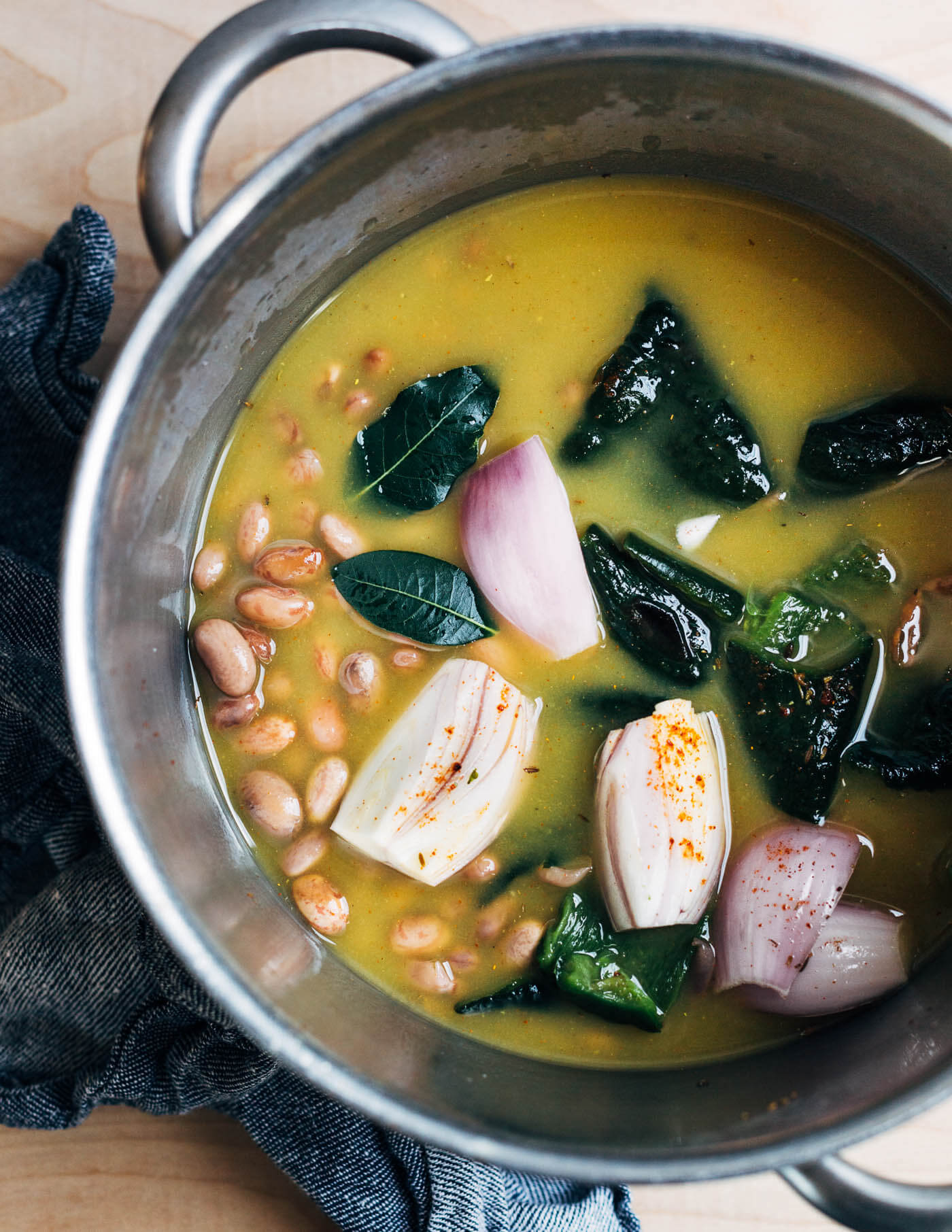 Since my early days of loving the pinto bean, my thinking has evolved considerably. For years and years, dried beans felt like too much hassle to take on and I cooked with pintos mostly from a can. Once I had an Instant Pot, I realized dried beans were a cinch to make and became part of our weekly menu. I found that dried beans gave me more control over the flavor and texture of the finished beans, and besides: they are much cheaper than canned. Now, after many iterations of quarantine bean cooking, I'm embracing the joys of stove top beans.
Stove Top Pinto Beans
These particular stovetop pinto beans come together simply, but take a bit of time to cook. The pinto beans simmer for about two hours in a pot along with rich vegetable broth (I really like Imagine No-Chicken Broth), shallots, roasted poblano peppers, fresh bay leaves, smoky chipotle chili powder, and cumin. The resulting brothy pinto beans are creamy and super flavorful. The broth is silky and incredibly delicious. Roasted poblanos play a quiet but important role in the finished dish – as they cook, they break up and suffuse everything with smoky chili flavor without adding an overwhelming amount of heat.
A pot of tender pintos is most often just a step on the way to frying them for frijoles refritos, but I've come to love the beans whole, submerged in their own broth, with a bit of cilantro, Cotija, and avocado on top. Add some stovetop-warmed flour tortillas, and you have a sating meal.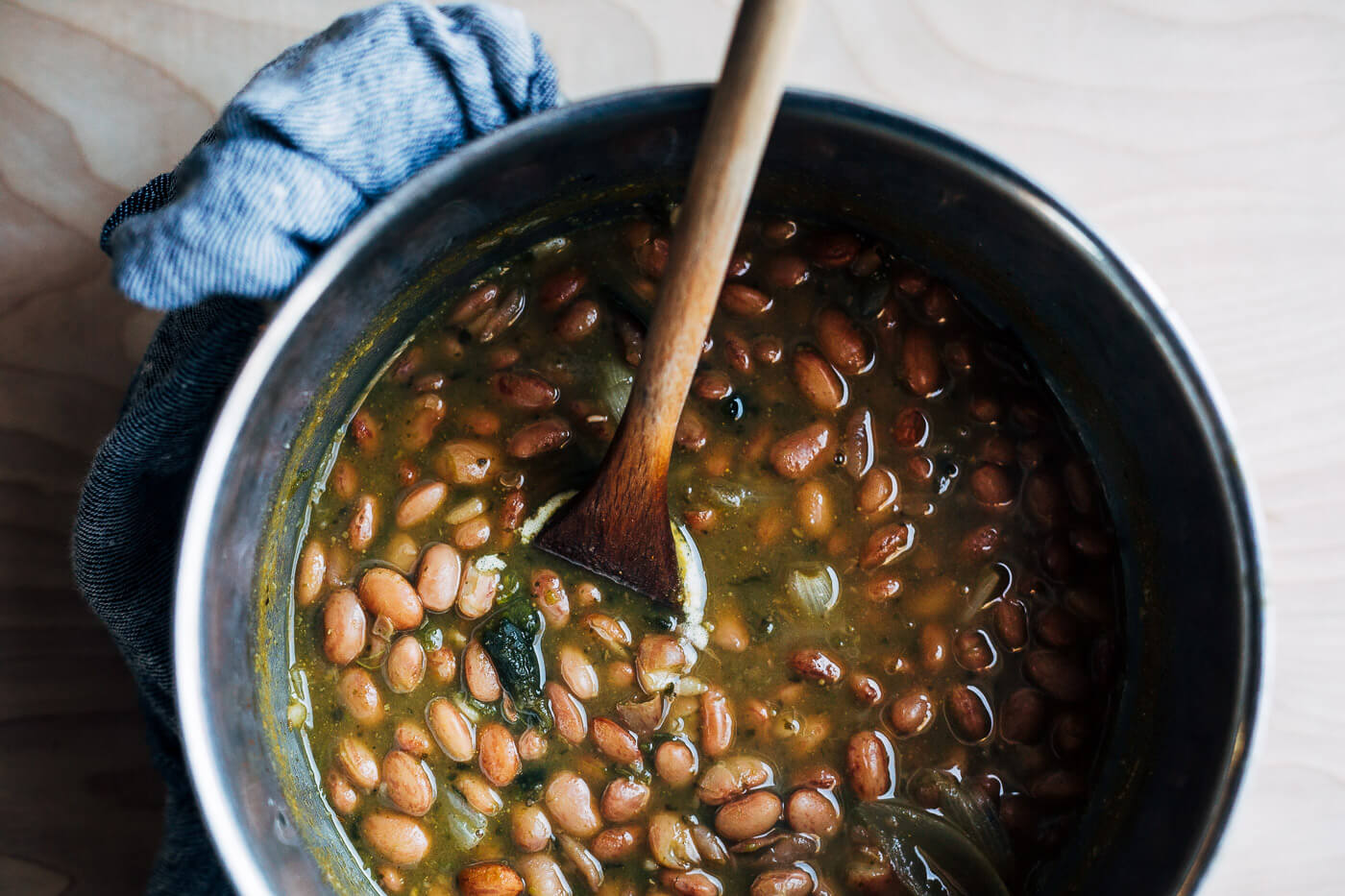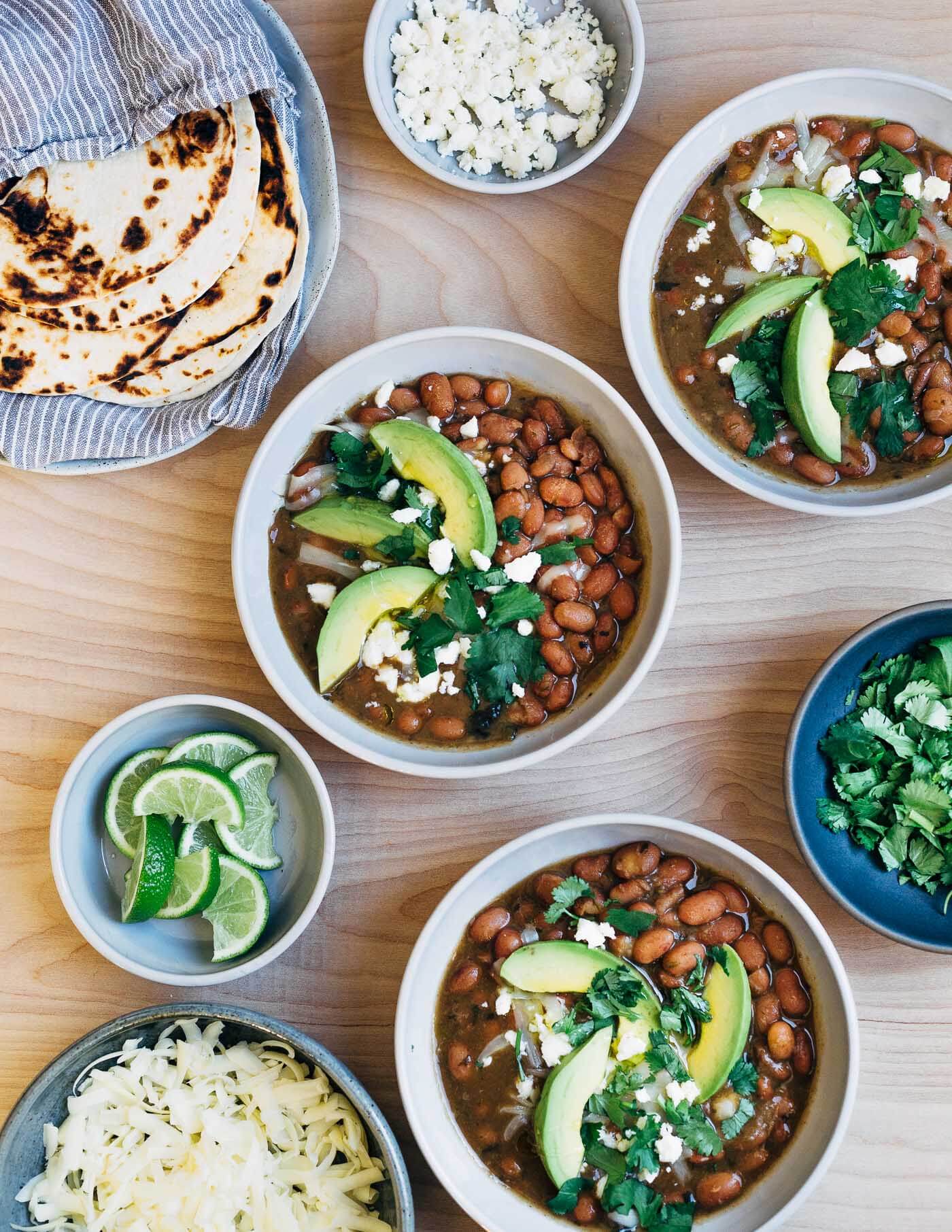 On Soaking Your Beans
I like to do it. Whether I'm cooking them in the instant pot or on the stovetop, I find it makes the beans more tender and more digestible. However, I never remember to soak until the day-of, so I usually just do a quick soak where I cover the beans with water, bring it to a boil with the lid on, then off the heat and let the beans sit for as many hours as I have.
On Sourcing
Old beans take much longer to cook and have inferior texture. After the great bean shortage of 2020, I know we all just feel lucky to be able to find beans at all. But if you want improved flavor and texture, Rancho Gordo is the gold standard. I've also had good luck with Whole Foods organic pintos. If you're getting them from a bulk bin, just be sure there's plenty of turnover.
On Soaking Water
Many folks think it's beneficial to use the soaking water to cook the beans. Go with whatever you, or your digestive tract, feels comfortable with. You can use cold water in place of soaking water as needed.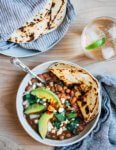 Brothy Pinto Bean with Roasted Poblanos
These brothy pinto beans with roasted poblano peppers are wonderfully creamy and rich. They can be made on the stove top or in an instant pot, and are served with crumbled Cotija, cilantro, and sliced avocado.
Keyword:
brothy pinto beans
Ingredients
Beans
1

pound

dried pinto beans

Pinch

fine sea salt plus 2 teaspoons,

divided

Pinch

baking soda

1

quart

rich vegetable broth

2

large shallots

2

bay leaves

1

teaspoon

chipotle chili powder

or chili powder of your choice

½

teaspoon

fresh ground cumin seed
To serve
½

cup

crumbled Cotija cheese

½

cup

grated Monterey Jack cheese

½

cup

chopped cilantro

1

lime,

cut into wedges

12 6-

inch

flour tortillas
Instructions
Pick over beans and discard shriveled beans or any stones. Rinse beans several times.

Set beans in a 4-quart pot and cover with cold water by 2 or 3-inches, add a pinch each sea salt and baking soda. If you have 12 hours or more, just let the beans sit overnight. If you're short on time, bring mixture to a boil with the lid on, remove from heat and let the beans sit for as long as you have with the lid still on.

When it's time to cook the beans, if cooking on the stovetop, add the broth, shallots, bay, chili powder, and cumin to the pot. Bring to a boil, add the remaining 2 teaspoons sea salt, and continue boiling for 10 minutes. Turn heat down to a bubbly but gentle simmer, add the poblanos, and cook 45 minutes - 2 hours, until beans are tender. Stir often and add more hot water as needed. Test a few beans at a time and make sure they are all tender and creamy. Add more sea salt if needed.

While the beans are boiling, roast the poblanos on a foil lined tray under your broiler, turning every few minutes until poblanos are charred all over. Remove the skins under cold running water, and chop into 2-inch sections.

To make beans in your Instant Pot, soak or quick soak as outlined above, then use a slotted spoon to set beans in the Instant Pot. Add 2 cups bean soaking liquid, plus a quart of broth, roasted poblanos, shallots, bay, chili powder, cumin, and sea salt to the pot. Add lid and switch valve to sealing. Cook on high pressure for 28 - 31 minutes, depending on how much soaking time you had. (I've gone straight from a quick soak to the Instant Pot, so don't worry if you didn't have time.) Let the pressure release naturally, for about 20 minutes, then serve.

Just before serving, set a cast iron skillet over medium/medium-high heat. Warm the tortillas for 1 - 2 minutes per side, until they're a little charred. Cover warm tortillas with a towel.

To serve, ladle beans and lots of broth into bowls. Top with a sprinkle of Jack and Cotija cheese, a tablespoon of cilantro, sliced avocado, lime, and hot sauce. Serve skillet-toasted flour tortillas on the side.