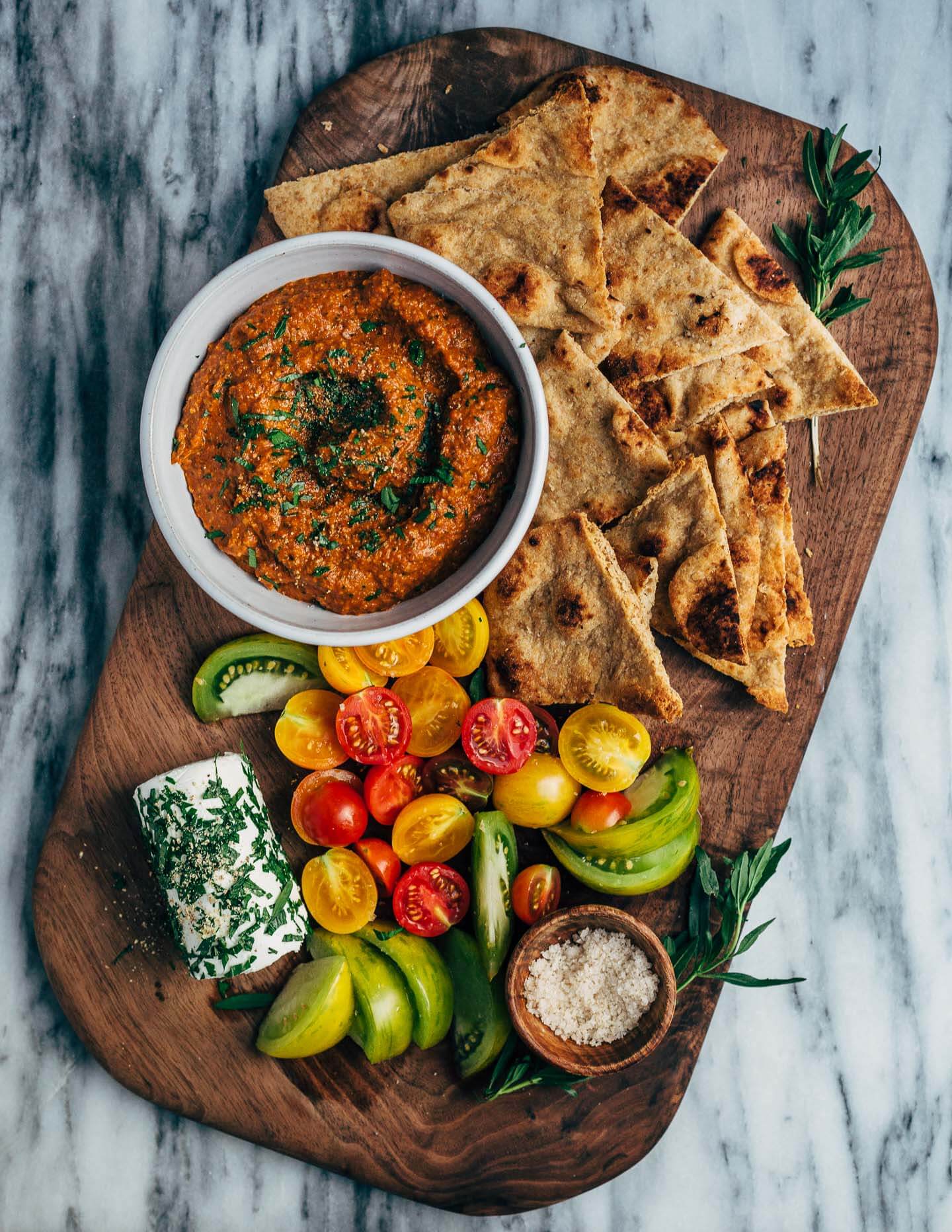 A velvety vegan roasted tomato and red pepper dip that bridges the seasons beautifully, and ways to help the victims of Hurricane Harvey. Jump to recipe.  
I'd planned to write this post about the bittersweet feeling of firing up the oven to roast still-perfect summer tomatoes even as temperatures hint at the coming chill. But right now, there is a slow-moving disaster affecting Houston and other parts of the Gulf coast and that's really all I can think about. I bet you feel the same way too.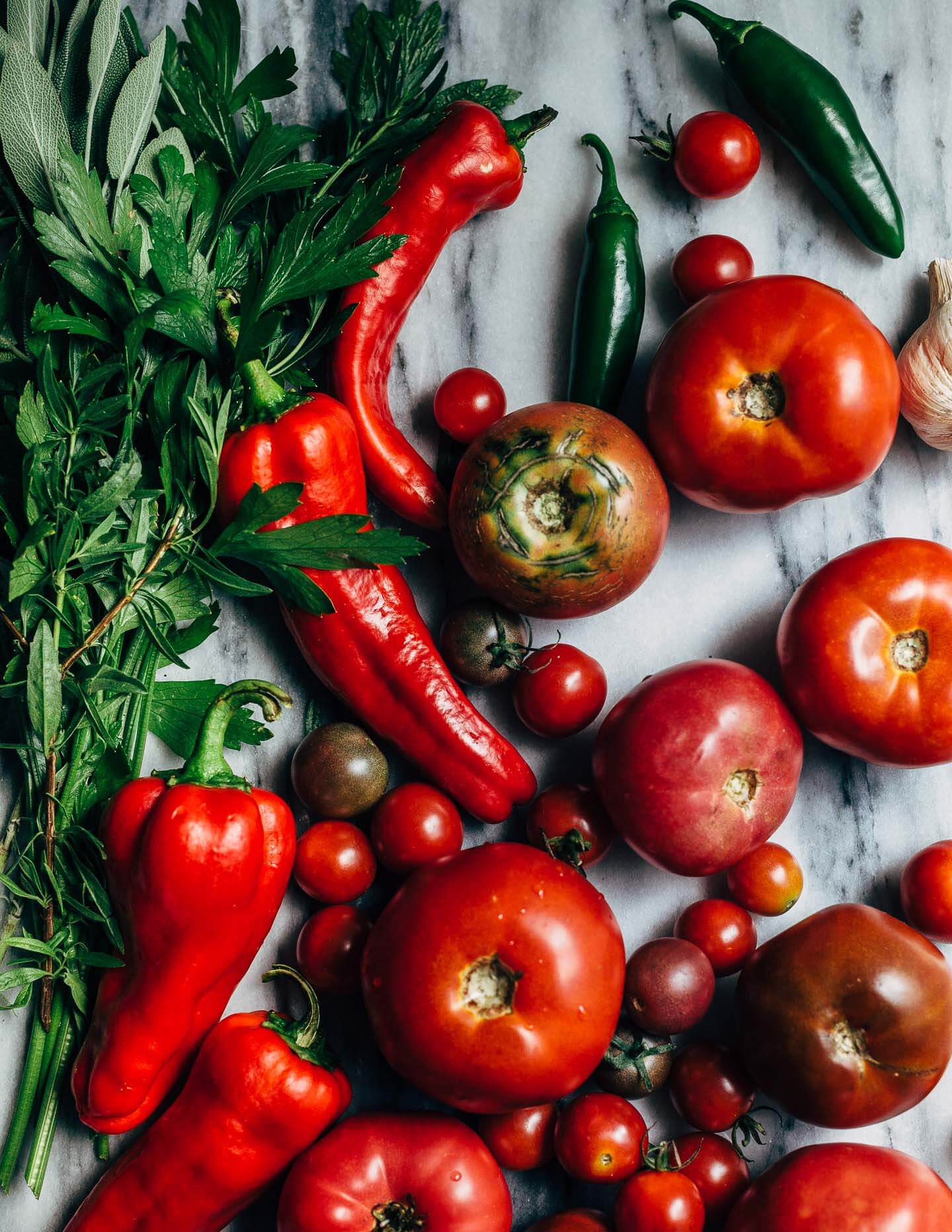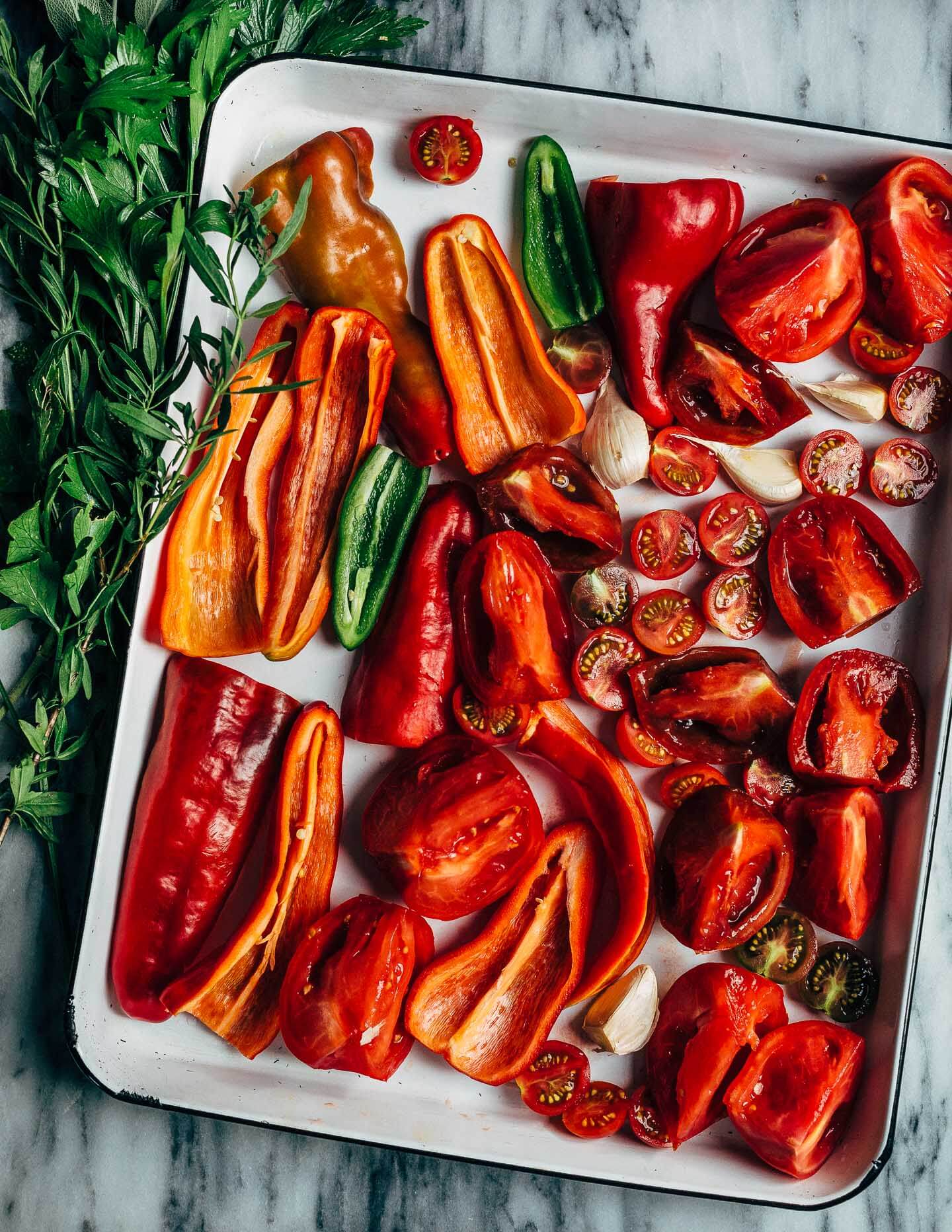 When Harvey eventually moves on, I fear we'll find this storm has been even more devastating than it seems now. Our little house sits very near a river and borders a 500 year flood zone. As I've read stories of families rescued off their roofs or pulled from their cars as they try to escape, I've thought: this could be us. These people in need could be any of us. Caught in the middle of a catastrophe. It's gut wrenching. If you're in Houston or along the Gulf right now, know that our thoughts are with you.
Over the past few days, I've heard of so many incredible acts of bravery, compassion, and grit. Regular people driving toward a disaster to help save lives and store owners opening their doors to people who need shelter. We need all the heroes we can get.
If you're far away like me, there are other ways to help. The Texas Diaper Bank provides diapers and other essentials to the youngest victims of Harvey and their families. For further resources, check out this list of organizations helping Harvey victims from the Texas Tribune. Note that, though I highly recommend donating blood to The Red Cross, I no longer support them financially due to a lack of effectiveness, transparency, and oversight, as well as some very troubling investigations.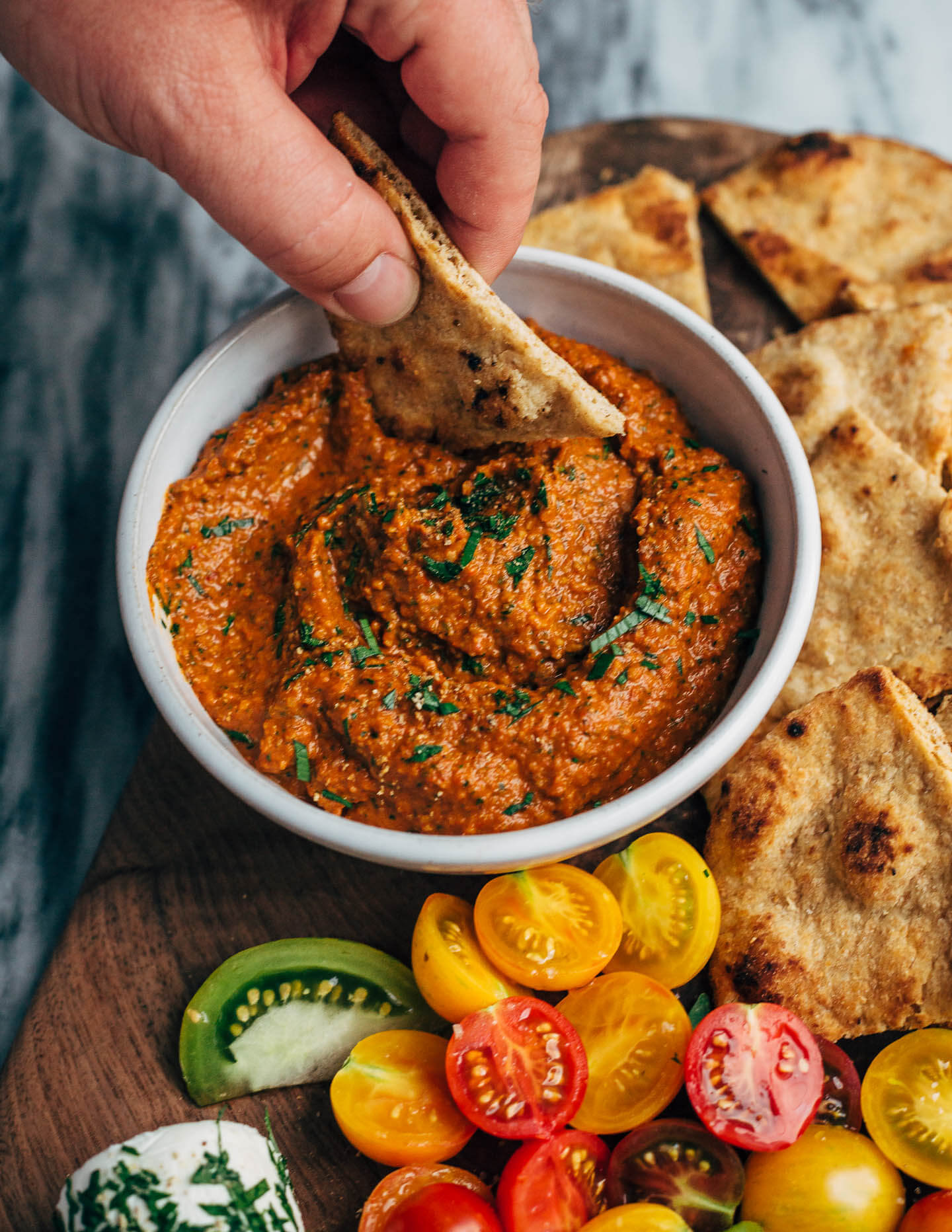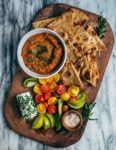 Roasted Tomato and Red Pepper Dip
This recipe came about spontaneously. Running late for a late summer potluck, I did the thing that comes most naturally to me in the kitchen – roast a bunch of vegetables and blend them into a delicious dip. (Further examples of the technique
here
and
here
.) The resulting roasted tomato and red pepper dip was rich and velvety, with concentrated tomato flavor and wonderfully sweet flecks of charred red pepper.
Ingredients
3/4

cup

raw

hulled pepitas soaked in cold water overnight or covered with boiling water for 15 minutes

5

medium tomatoes,

cored, quartered, and seeded

1

handful cherry tomatoes,

halved

3 - 4

medium red peppers,

cored, halved, and seeded

1

jalapeño,

cored, halved, and seeded

4

cloves

garlic

sea salt

fresh ground black pepper

1/2 cup

mixed fresh herbs

(such as parsley, basil, savory, thyme, marjoram, and sage)

1

teaspoon

sherry vinegar

2 - 3

tablespoons

extra virgin olive oil
Instructions
The night before, soak pepitas in a large bowl of cold water. If you're pressed for time, pour boiling water over pepitas and soak 15 minutes. (Keep in mind that while the boiling method is faster, it kills many of the beneficial enzymes in the seeds.)

Preheat oven to 450 degrees F and move baking rack to top third of oven.

Arrange tomatoes and peppers on a large baking sheet. Cut the woody end off the garlic cloves, but leave the papery skin on. Tuck cloves near the tomatoes on the baking sheet. Sprinkle with sea salt and pepper.

Roast vegetables 30 - 35 minutes, or until tomatoes are soft with bubbling juices and the edges of the vegetables have begun to char. Set aside the cool.

Squeeze garlic out of the papery skins. Set in the bowl of a food processor or blender. Scrape in roasted vegetables and any accumulated juices. Drain pepitas and add to bowl. Add herbs, vinegar, and 2 tablespoons olive oil, and process until mixture is smooth. Taste and add sea sat as needed. If mixture is very thick, add up to 1 more tablespoon olive oil and a splash of sherry vinegar to taste.

Dip can be served right away, but flavors will develop even more if left in the fridge overnight. Allow dip to come to room temperature before serving with pita triangles, sliced bread, or crackers or as a sandwich spread.

Dip will keep up to 5 days covered on the fridge.
SaveSave
SaveSave
SaveSave
SaveSave
SaveSave