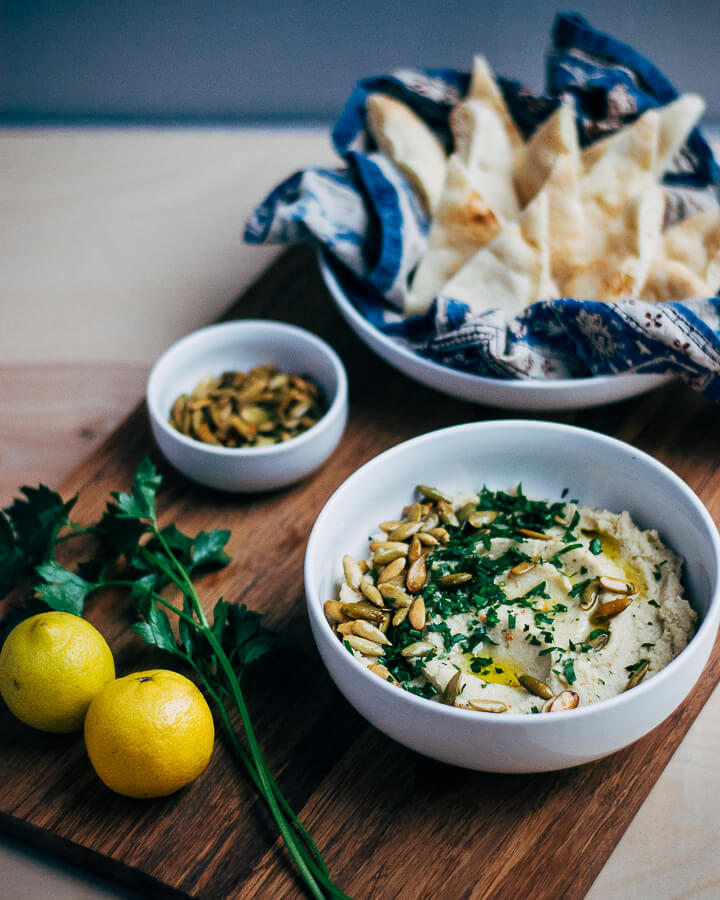 A vegan roasted garlic and cauliflower dip recipe made with crunchy toasted pepitas and freshly grated nutmeg. Jump to recipe. 
Years ago now, there was a fire in our building in Brooklyn. Nothing serious, but even so, the city cut electricity and gas to the building for six weeks and our family (then consisting of me, Brian, a single daughter, and a very cute dog) moved into the Affinia Hotel on 7th Avenue, directly across the street from Madison Square Garden. In February. Save one beautiful snowstorm, our days in that hotel were bleak – walking the dog in Midtown and needing to go blocks to find even a tiny patch of earth, making the long trek to the foreign world of the Madison Square Park playground, cooking for three in the tiny kitchenette, and other catastrophes major and minor. We'd occasionally get back to Brooklyn, and coming out of the subway I'd always be stunned by all the light there. The low-rise buildings that made up the Brooklyn skyline (especially back then) left more room for the sky. Even though it was frigid out, I started to bring my sunglasses.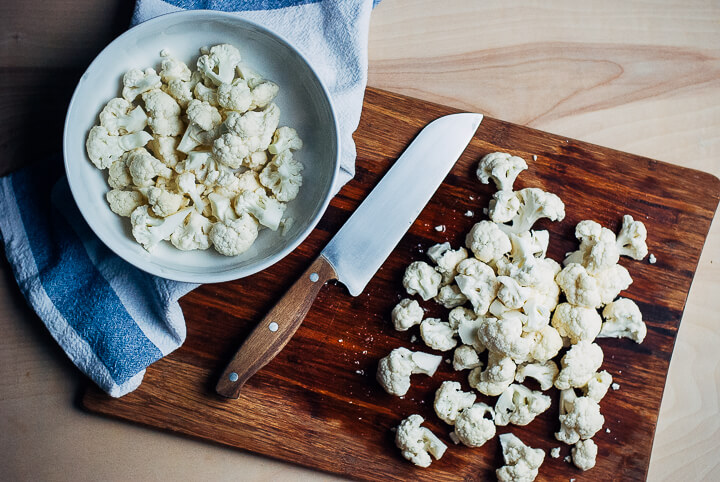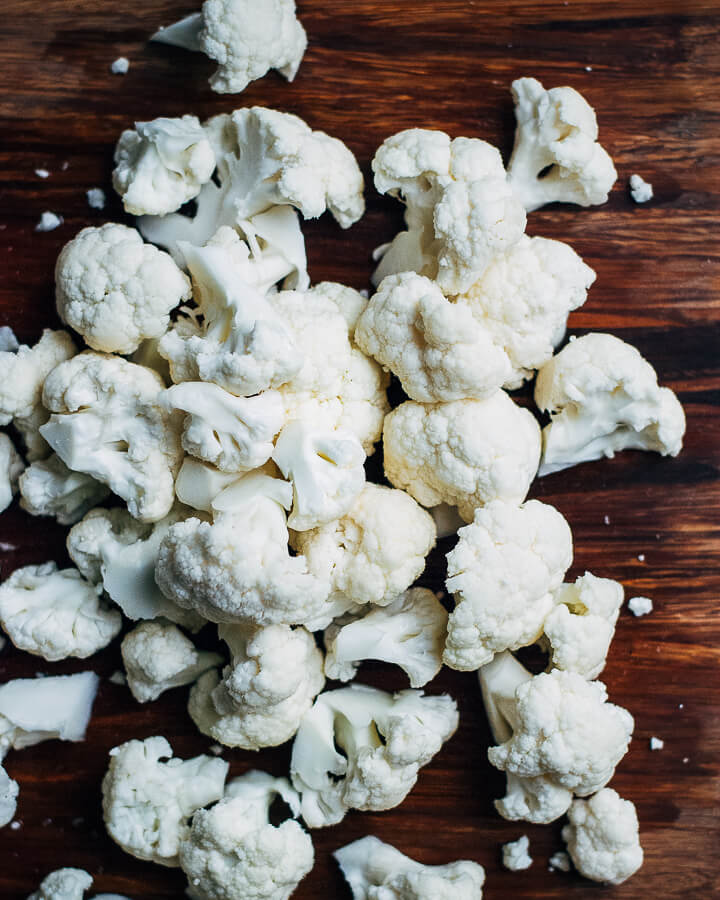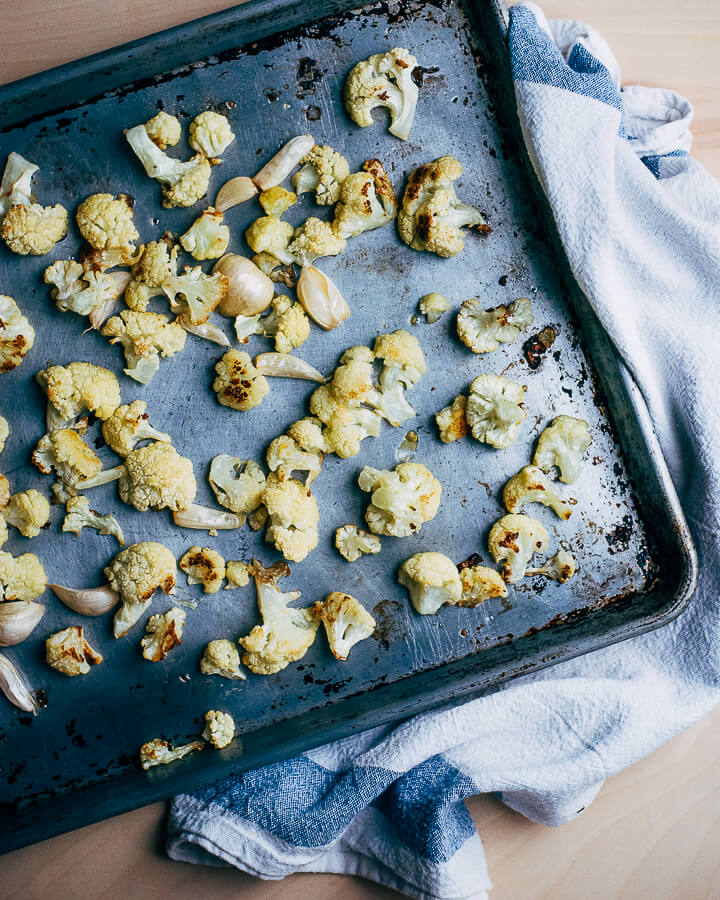 I often circle back to that time. A fire, followed quickly by a devastating layoff and the whole financial debacle of the late aughts. In many ways, we're still pulling ourselves out of that abyss. Recently, it's been on my mind for a different reason – the light. Last week, it rained nine days out of 10. On Wednesday, the clouds parted for an afternoon and we saw the sun and the waning moon briefly before the clouds gathered and a second round of rain started up. Just like those days stuck in Midtown, my eyes became accustomed to the gloom – brightness needed to be cultivated elsewhere.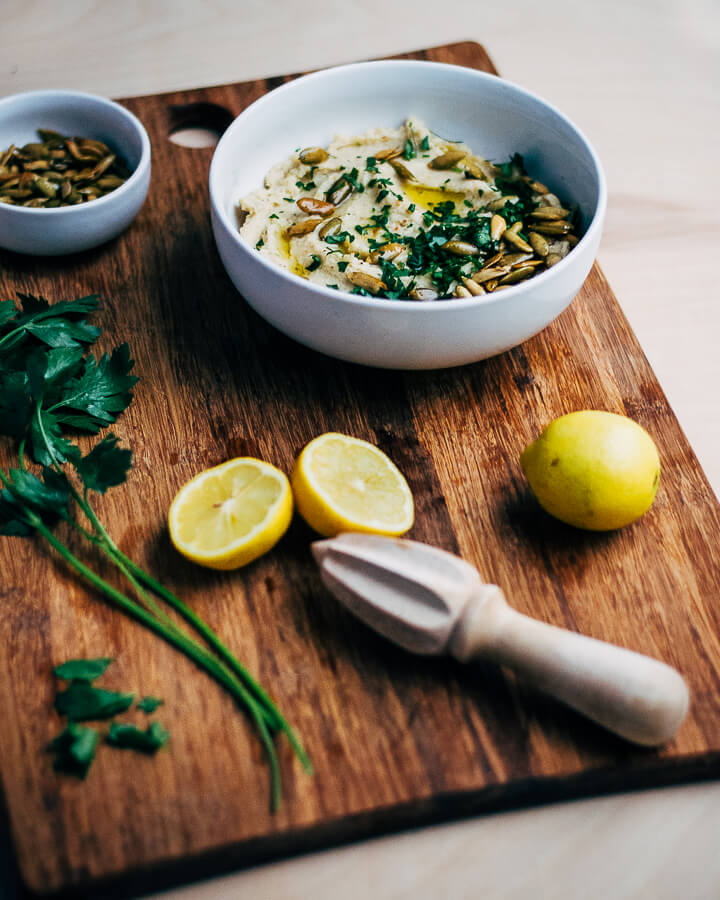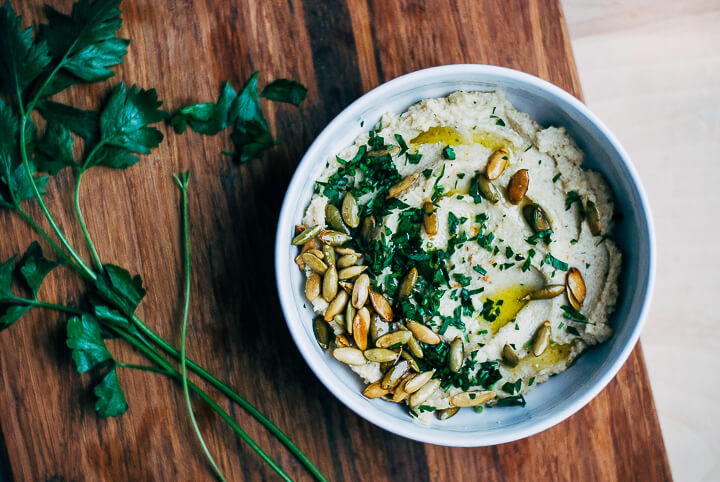 Over the weekend, that brightness came in the form of a friend's birthday party. For an appetizer, I made this lemony roasted cauliflower dip to suit the occasion. It's surprisingly creamy and very delicious, but I love it for other reasons too – the smoky blend of roasted cauliflower and garlic, salty pepitas, lemon juice, and just the right amount of freshly grated nutmeg make for a snack that fits the season perfectly. Vivid flavors contrast nicely with permanently gray skies and low-hanging clouds.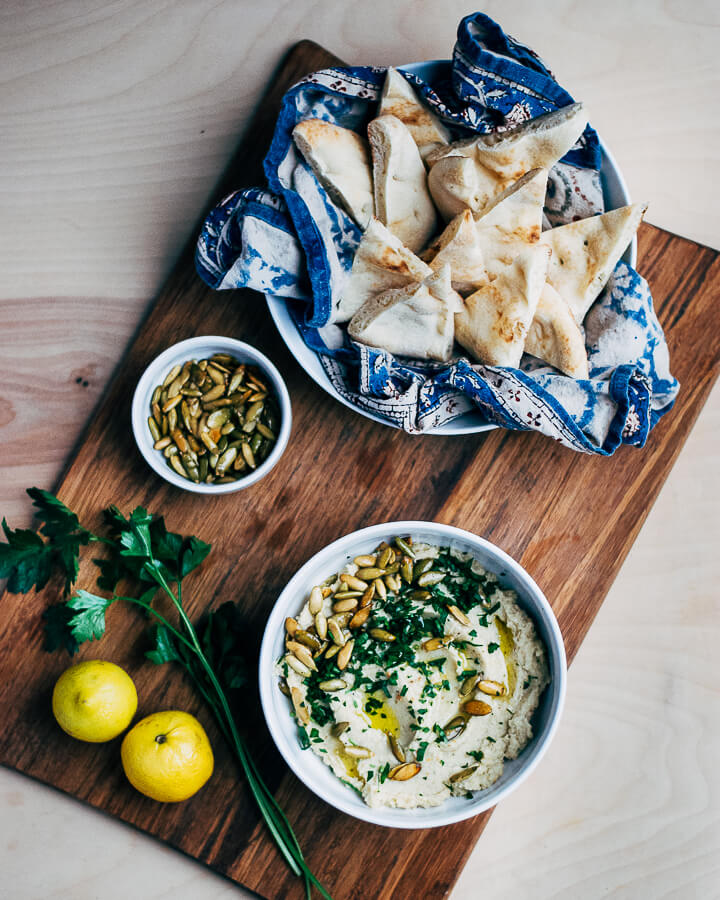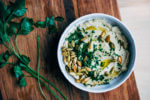 Roasted Garlic and Cauliflower Dip with Toasted Pepitas
A vegan roasted garlic and cauliflower dip recipe made with crunchy toasted pepitas and freshly grated nutmeg.
Ingredients
4

cups

3/4-inch thick cauliflower florets

1

head garlic

, root end trimmed and broken into cloves

4

tablespoons

plus 2 teaspoons extra virgin olive oil

, divided

sea salt

2

teaspoons

freshly squeezed lemon juice

1/2

teaspoon

freshly grated nutmeg

ground cayenne pepper to taste

3

tablespoons

pepitas

2

tablespoons

minced flatleaf parsley

flatbreads or crackers

, for serving
Instructions
Preheat oven to 425 degrees F.

In a medium-sized bowl, toss the cauliflower florets and garlic cloves (still in their papery skin) with 1 tablespoon olive oil. Spread out on a rimmed baking sheet. Sprinkle generously with sea salt. Make sure garlic is tucked up against the cauliflower florets to protect it from the heat. Flipping halfway through, roast until cauliflower is tender and golden, about 20 - 25 minutes. Set aside to cool.

Meanwhile, set a small skillet over medium heat. Add 1 teaspoon olive oil, then the pepitas. Toast 2 - 3 minutes, just until the seeds become fragrant and a few start to pop. Toss with sea salt and set aside.

When cool enough to handle, squeeze roasted garlic out of the papery skins.

In the bowl of a food processor, pulse to combine roasted cauliflower and garlic, 2 tablespoons toasted pepitas, lemon juice, nutmeg, and cayenne pepper to taste. With food processor running, drizzle in 3 tablespoons olive oil (for a creamier dip, add an additional 2 tablespoons olive oil). Taste and add additional sea salt, pepper, and lemon juice as needed.

Spoon dip into a wide bowl, drizzle with remaining teaspoon olive oil, minced parsley, and remaining toasted pepitas. Serve with warm flatbread triangles or crackers.