Spiced olive oil pumpkin bread is a wonderful way to harness the flavors of the season. Fresh roasted winter squash imbues this pumpkin bread recipe with rich, wonderfully of-the-moment flavor.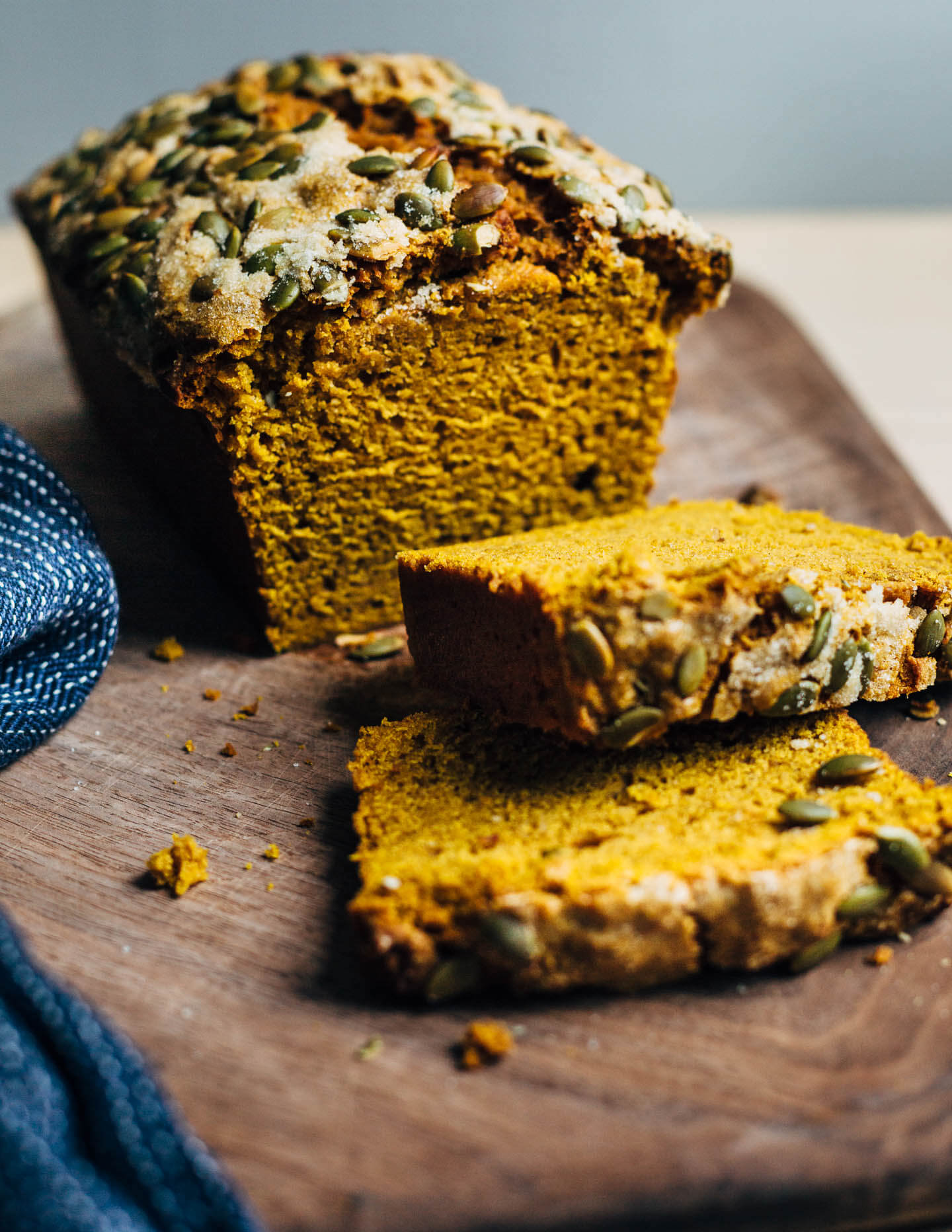 As trite as it is to say (and it's super trite!), in these really difficult times, moments spent baking, creating something familiar and delicious, bring a lot of comfort. Not enough to make me forget the world, which I wouldn't want anyway, but maybe enough to get me through.
It's hard to think of a recipe that's more perfect for fall than this olive oil pumpkin bread. It's got all the hits: ample cinnamon, ginger, and nutmeg, a toothsome crumb, and the just-sweet, earthy undertones of roasted squash.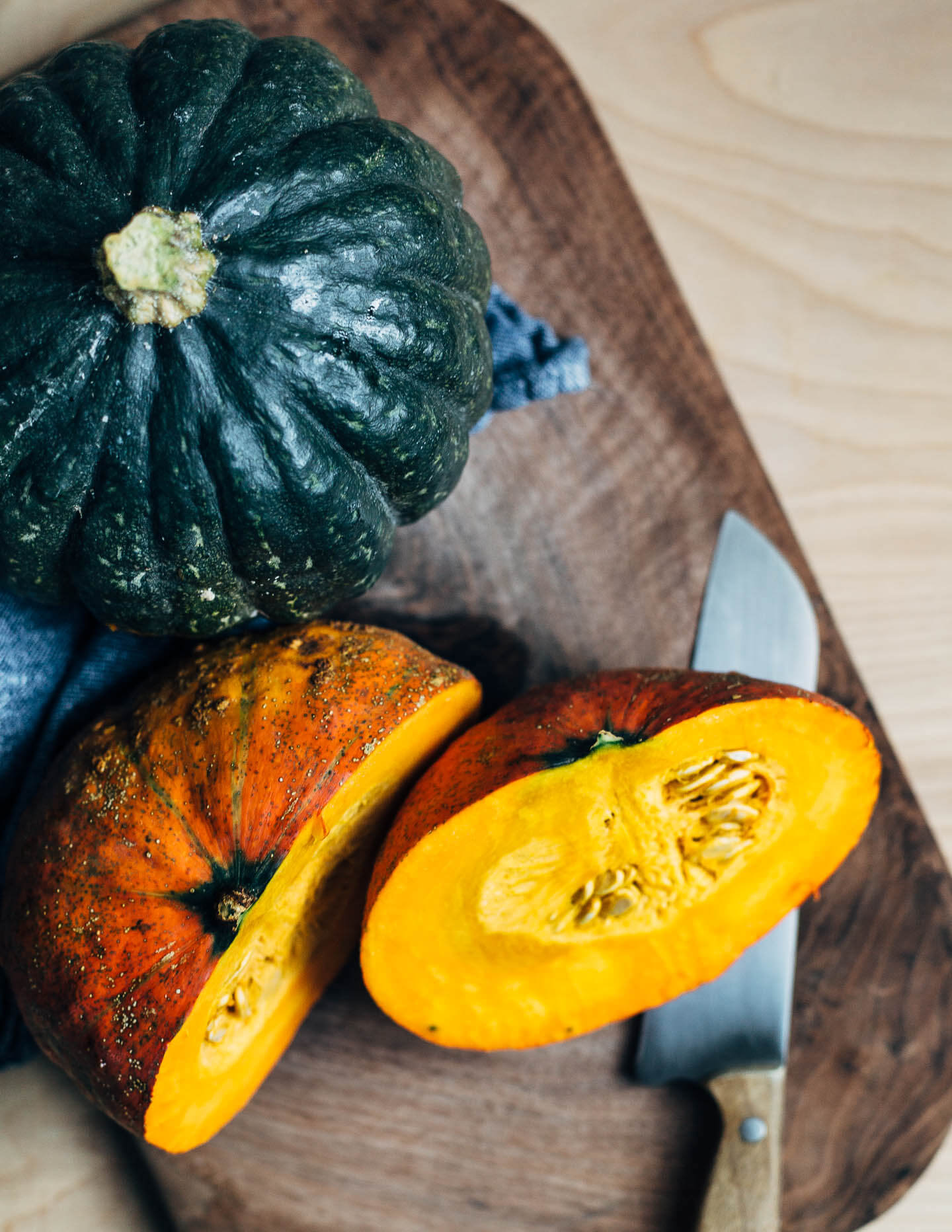 Fresh Roasted Winter Squash: The Perfect Pumpkin Puree
As I do every fall, I've been making my own pumpkin puree in anticipation of all kinds of baked goods – from quick breads to pie. Sometimes I'll do that with a proper pie pumpkin, but I prefer something with a little more flavor – kuri, kabocha, and butternut squash are my current go-tos. Roasting a squash for puree is super simple, just halve the squash, remove the seeds, rub with olive oil, turn both halves upside down on a sheet of parchment on a baking sheet, and cover with foil. If the squash is on the dry side, like a kuri or green kabocha, I add a little water, for extra steam.
A large kabocha squash made about double the amount of puree I needed for my pumpkin bread recipe. Any extra squash or pumpkin puree can be spooned into an airtight container and frozen for whenever you need it.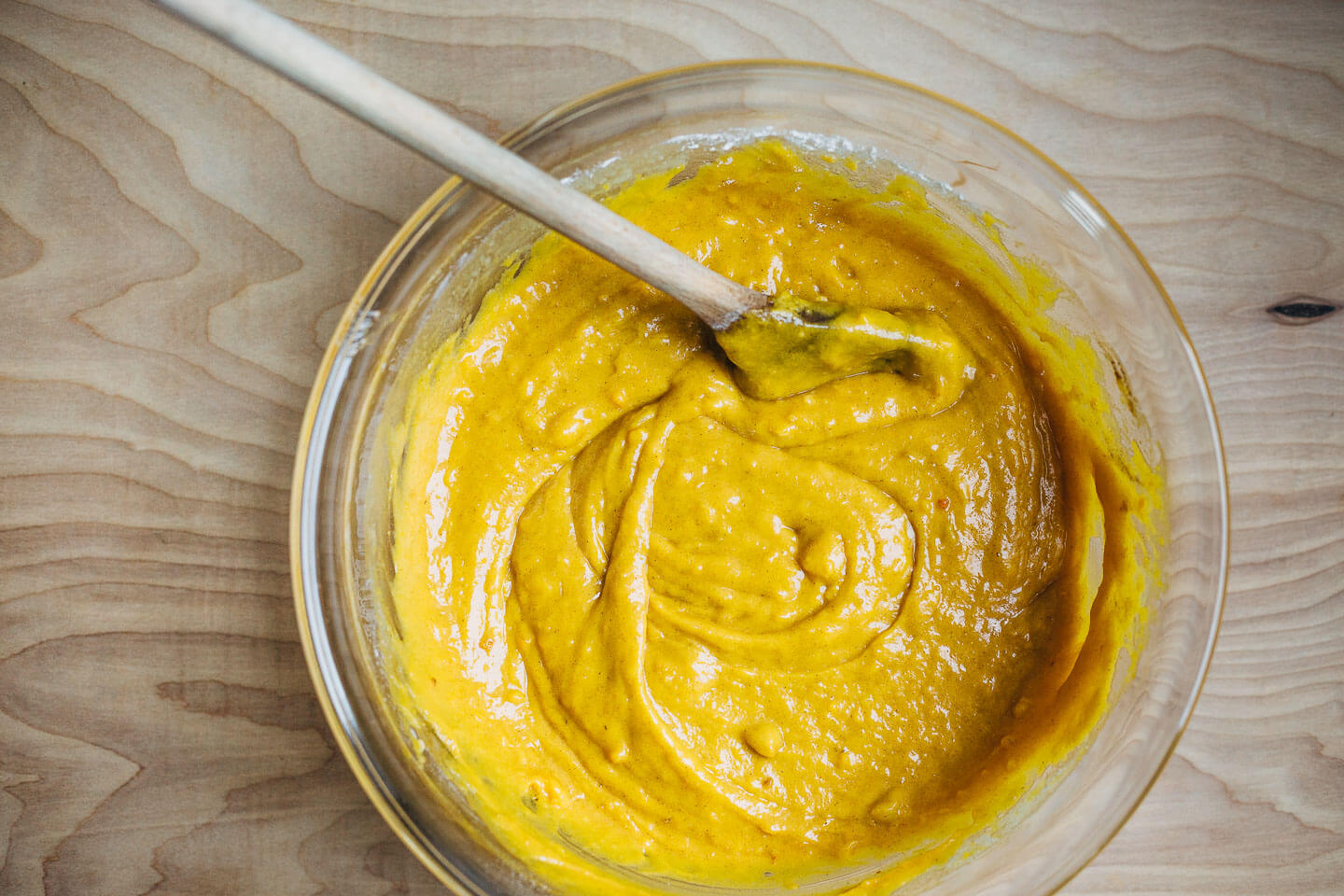 Perfect Pumpkin Bread: It's All About the Crumb
The perfect pumpkin bread has a little tooth and a springy crumb. I find many quickbreads, and especially pumpkin breads, to be overly moist and dense. But this pumpkin quick bread is not like that at all. The crumb is toothsome and suffused with the earthy sweetness of a roasted orange kabocha squash. It also has a touch of olive oil which adds texture and a bit of savory balance. When baking with olive oil, it's important that the oil you're using is fresh and tastes good. Raw pepitas (aka pumpkin seeds), a drizzle of olive oil, and a sprinkle of sugar give the pumpkin bread a crunchy, sweet top crust.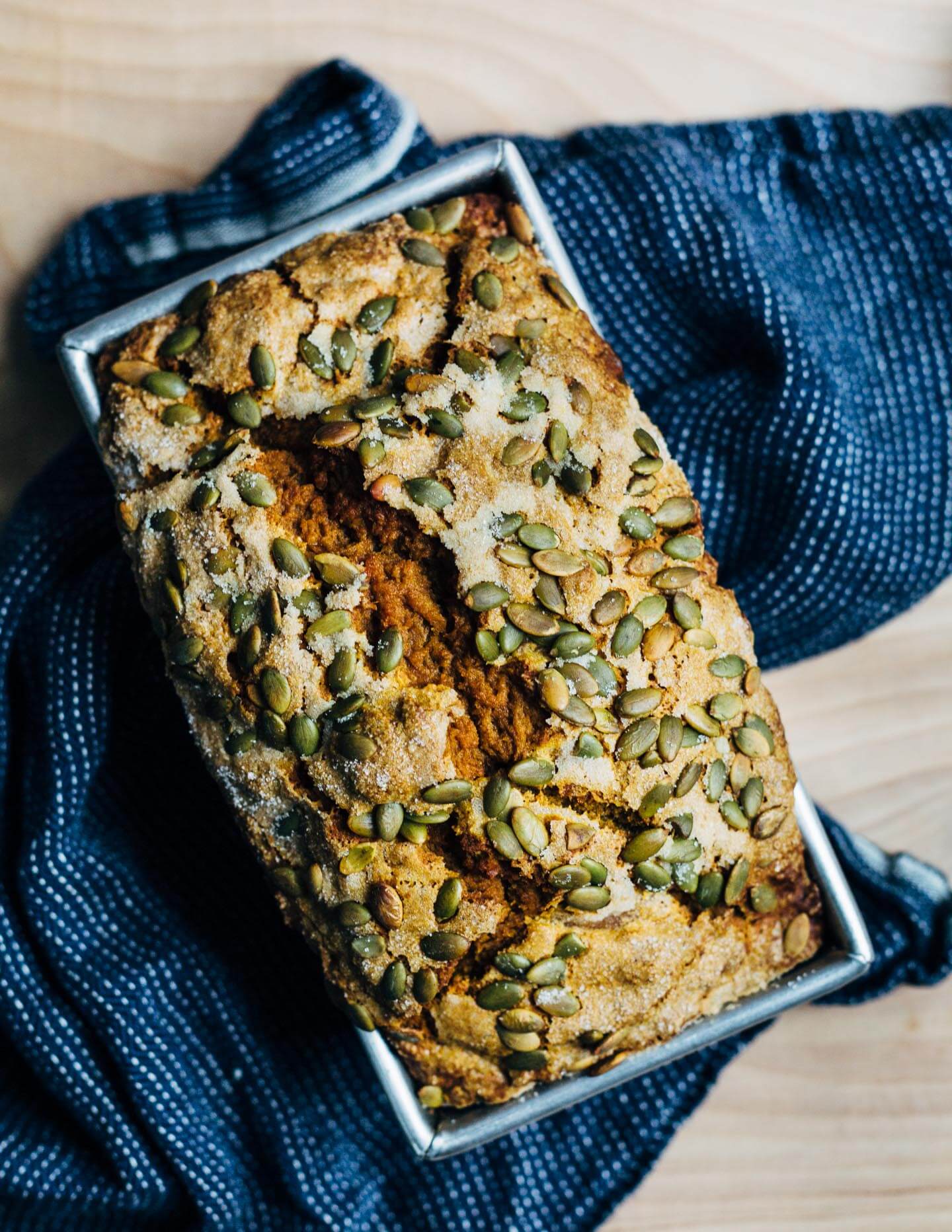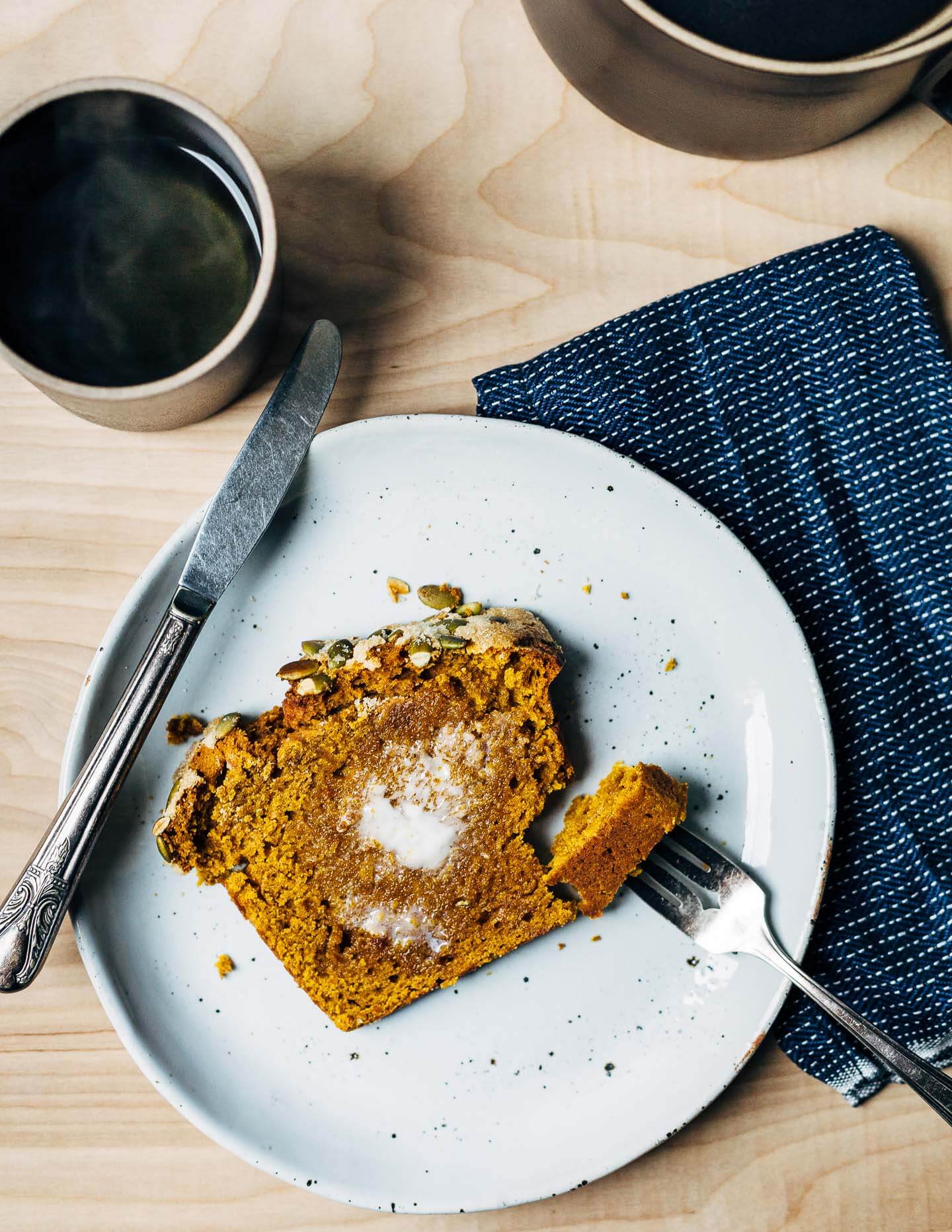 Olive Oil Pumpkin Bread
Spiced olive oil pumpkin bread is a wonderful way to capture the flavors of the season. Fresh roasted winter squash imbues this pumpkin bread recipe with rich, wonderfully of-the-moment flavor. Recipe adapted from Bon Appetit.
Ingredients
Squash Puree
1

medium winter squash

(such as a pie pumpkin, kuri, kabocha, or butternut squash)

1

teaspoon

olive oil
Pumpkin Bread
2 ½

cups

all-purpose flour

1

teaspoon

baking powder

½

teaspoon

baking soda

2

teaspoons

ground ginger

2

teaspoons

ground cinnamon

1

teaspoon

sea salt

½

teaspoon

freshly grated nutmeg

2

large eggs

1 ¼

cups

plus 2 tablespoons sugar

2

cups

pumpkin puree,

canned or fresh

1

teaspoon

vanilla extract

2

tablespoons

raw,

hulled pumpkin seeds

½

cup

extra virgin olive oil
Instructions
To make fresh pumpkin puree, preheat the oven to 400 degrees F. Halve and seed the squash, and rub all over with olive oil. Line a baking sheet or shallow baking dish with foil or parchment. Place the squash on the baking sheet cut side down. If the squash has a dry texture, add ¼ cup water. Wrap tightly with foil. Roast 60 -75 minutes or until squash is quite soft. Be careful of the steam plume when opening the foil.

Set aside to cool. Scoop the soft squash out of the skin and mash with a fork or puree in the food processor. You'll need 2 cups puree for the pumpkin bread.

To make the pumpkin bread, preheat the oven to 350 degrees F. Spray a 9 x 5-inch bread pan with cooking spray or coat generously with butter.

Combine the flour, baking powder and soda, spices, and sea salt in a large mixing bowl. In a medium bowl, beat the sugar with the eggs. Fold in the pumpkin puree and vanilla, whisking until smooth. Fold the wet ingredients into the dry, mixing until there are just a few dry spots. Finally, fold in the olive oil, mixing until the batter is smooth.

Pour batter into bread pan. Add pumpkin seeds, a drizzle of olive oil (about ½ teaspoon or whatever is leftover in the measuring cup), and sprinkle with 2 tablespoons sugar.

Bake bread, turning once halfway through, 65 - 75 minutes, or until a wooden skewer comes out with just a few crumbs attached.

Cool 3 hours on a wire rack. If you prefer, unmold the bread after 30 minutes. Bread will keep well, wrapped tight, for 3 days.