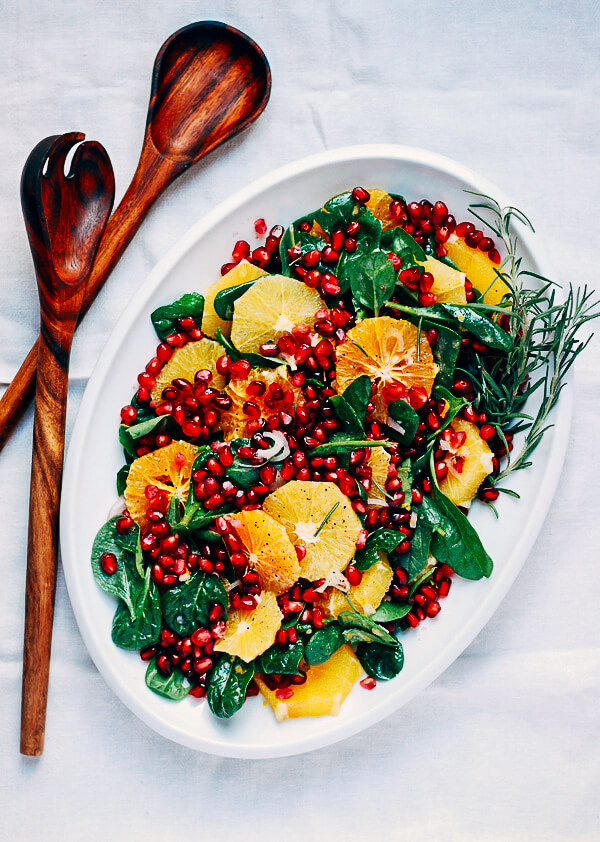 Food blogging can be a funny mix of reality and theater. Instead of buying a dazzling array of seasonal citrus, I went with what we had sitting around, three plain old (juicy, delicious) oranges and Thanksgiving ingredient leftovers (buttermilk, shallot, pomegranates, and rosemary included), which came together perfectly with tender spinach in a lovely jewel-toned plate. At the same time, to get the shot for this post, I had to place the salad on my hideous faux-marble, dark emerald green kitchen floor. And there it is, your perfect holiday salad, served, however beautifully, on the kitchen floor.
Though I knew I wanted a salad brimming with bright fruits and young spinach, I couldn't put my finger on the right kind of dressing. After some tinkering, I came up with a dressing that was light and a little creamy, with a hint of fresh rosemary, orange zest bitterness, and mustard-driven bite. Shallots, both in the dressing and scattered over the salad, deliver bracing, satisfying pops throughout.
Another way of saying that is, this salad is easy to make, nice to look at, and complex to eat. Let the holidays begin!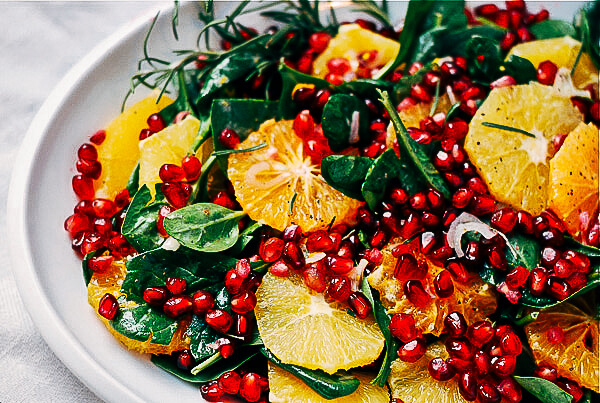 Regarding pomegranates, each one has lots and lots of arils and they stay fresh in their tailor-made pods for a good long while. It takes about three minutes to get the seeds out. Don't be lazy and buy the pre-packaged seeds – taking control of your kitchen starts with pomegranates.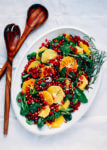 Orange Pomegranate Salad with Buttermilk Dressing
A vibrant orange and pomegranate salad recipe topped with creamy buttermilk dressing.
Ingredients
For the dressing

1/4

cup

olive oil

1

tablespoon

orange zest

2

tablespoons

orange juice

2

teaspoons

rice wine vinegar or white wine vinegar

2

teaspoons

Dijon mustard

2

tablespoons

buttermilk

1

teaspoon

shallot

minced

1/2

teaspoon

minced rosemary

1/4

teaspoon

sea salt

For the salad

1

large bunch spinach

3

oranges

or other sweet-tasting citrus

1

large pomegranate

1/2

shallot

sliced paper thin

1

tablespoon

fresh rosemary leaves

plus sprigs for garnish

sea salt and fresh ground pepper to taste
Instructions
To make dressing, one at a time, whisk zest, juice, vinegar, mustard, and buttermilk into olive oil. Add shallots, rosemary, and sea salt. Set aside while you prepare salad.

Cut very top and bottom off of oranges. Carefully slice off peel, removing white pith while sparing as much flesh as possible. Cut into 1/2-inch thick slices.

Pour most of the dressing over the spinach; turn with fingers to coat.

Spread spinach on a large platter and tuck oranges throughout. Scatter with pomegranate arils and shallots. Finish with a final drizzle of dressing, a scattering of rosemary leaves, a pinch of sea salt, and several twists fresh pepper.