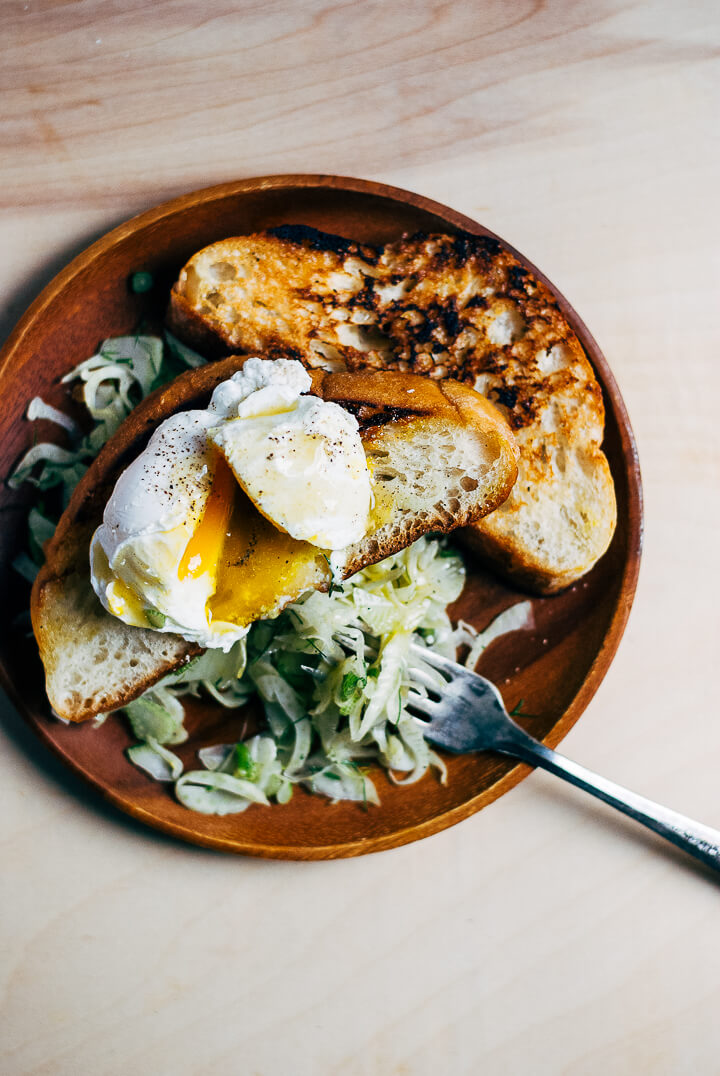 A simple stovetop brunch made with poached eggs, skillet toast, and an easy shaved fennel salad. This post is sponsored by Tabasco. Jump to recipe.
On a hot summer Saturday eight years ago, Brian and I went to Prune for brunch. Like every meal I ever had at Prune, it was epic. (Lots of places in NYC phone it in when it comes to brunch, Prune, however, is not messing around.) But the reason I remember that brunch in particular is that Prune is teeny tiny. And, well, I was not. I was 41 weeks pregnant with a baby girl who in short order would come into the world at an impressive 9 pounds 10 ounces. Being full-term and all, I needed to go to the bathroom at least twice during our brunch and this meant that literally half the tables in the restaurant had to stand up to let me through. After brunch, Brian and I went on a walk all the way around the southern tip of Manhattan, and back up through Tribeca and on to Union Square. (The adventure was an ill-fated attempt to walk myself into labor.)
All these years later, I'm glad we went to brunch that day and enjoyed our last childless meal at a restaurant. Sure, we've gone out without kids since, but it's always on a clock, or there's pressure for it to be AMAZING! The days of casual brunching were over. And pretty much since then, all our best brunches have been at home.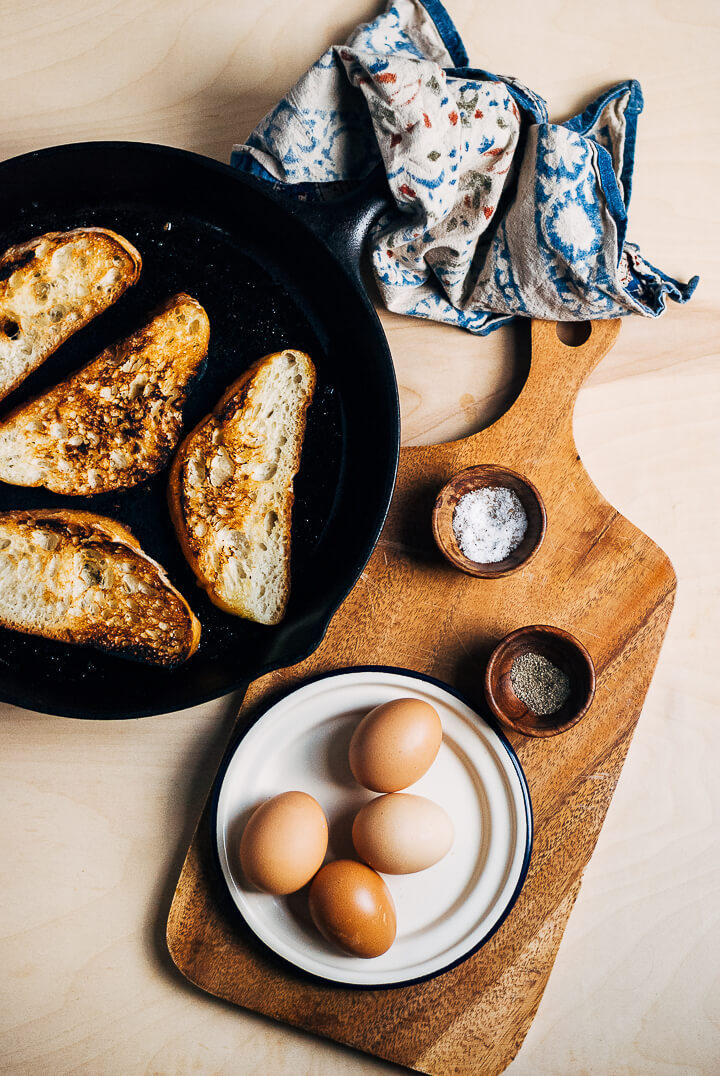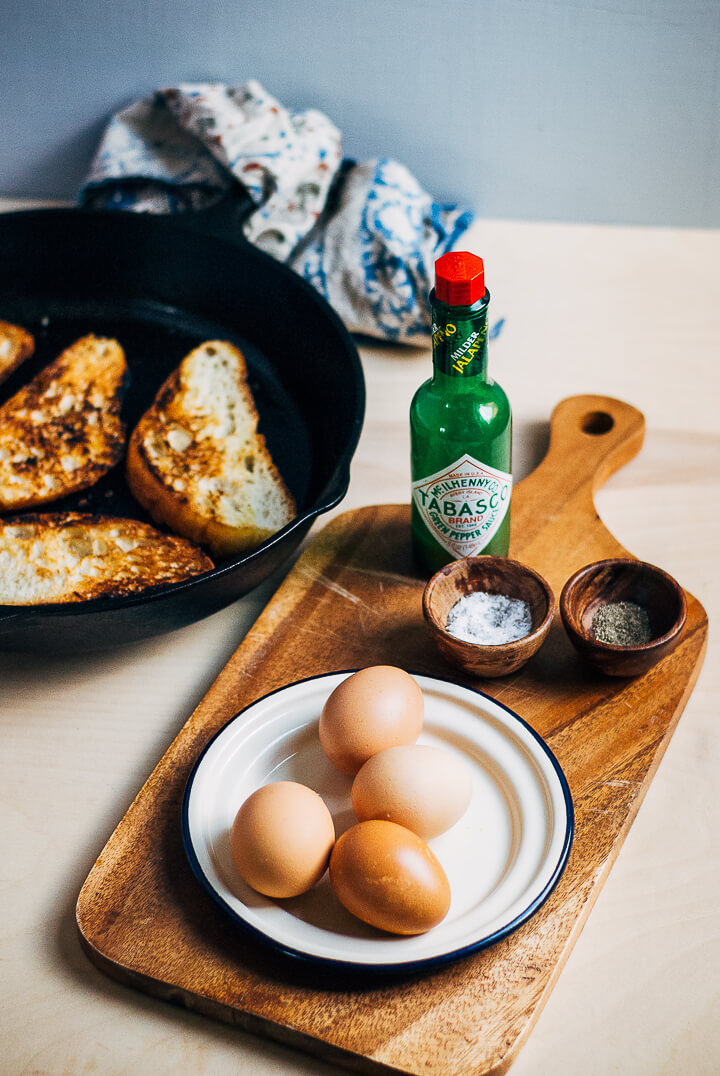 If you find yourself in a similar situation, you'll want to master a few standbys: perfectly cooked over-medium eggs, crisp waffles, and totally reliable poached eggs. The first two are the easiest – butter helps in both cases – but poached eggs take practice. Here's my method: add sea salt and lots of vinegar to the boiling water, lower whole eggs into boiling water for 10 seconds (more on the technique here), then crack eggs in a shallow dish, tip into the boiling water and cook for four minutes. Perfectly poached, every time.
To go with the great eggs, I've got simple skillet toast (think of it as bread fried in olive oil), and a quick and easy shaved fennel salad made with sea salt, olive oil, and Tabasco Green Pepper Sauce. Just don't forget the Bloody Marias.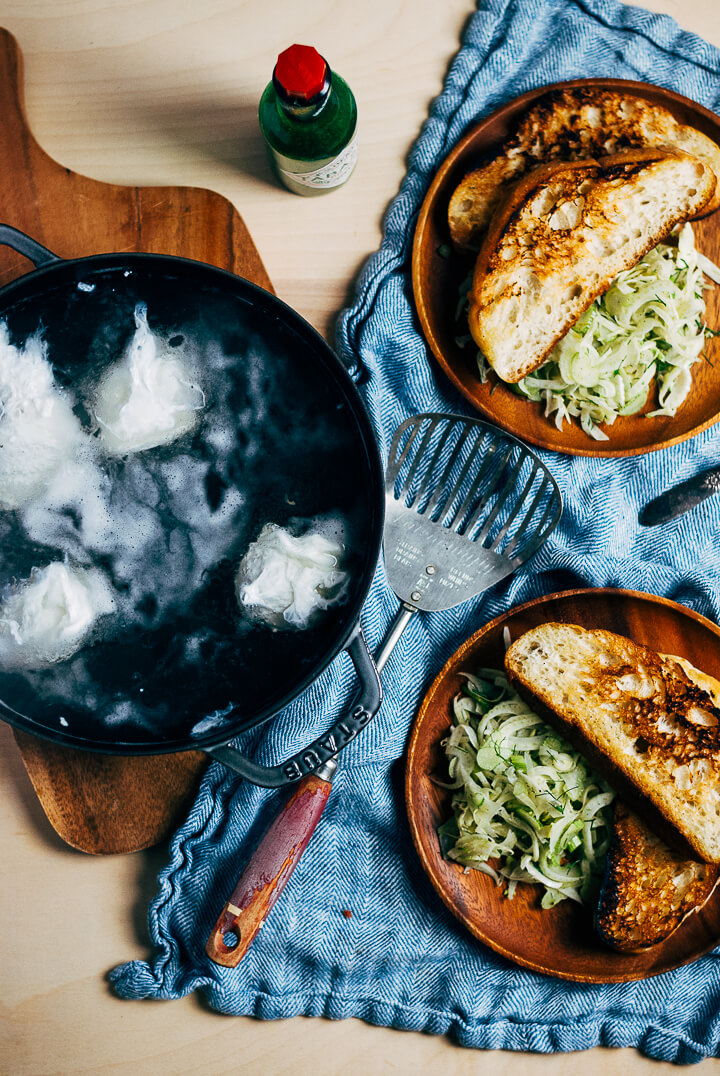 And hey! Today's the last in our series of five posts in the Tabasco 10 Ingredient Challenge! It's been so much fun to play with the 10 ingredients selected by Stephanie, the brilliant blogger behind i am a food blog! For reference, the ingredients are: Tabasco Original Red, Green Jalapeño, or Chipotle Sauce; chicken; eggs; mozzarella; fennel; zucchini; rice; rigatoni; ciabatta; and honey. (Salt, pepper, and oil are free ingredients.) Today, I'm pushing things just a tiny bit by adding a splash of vinegar to my recipe. It's not strictly needed, so I think it will be OK.
We hope you've enjoyed a week of creative, simple recipes here on BkS!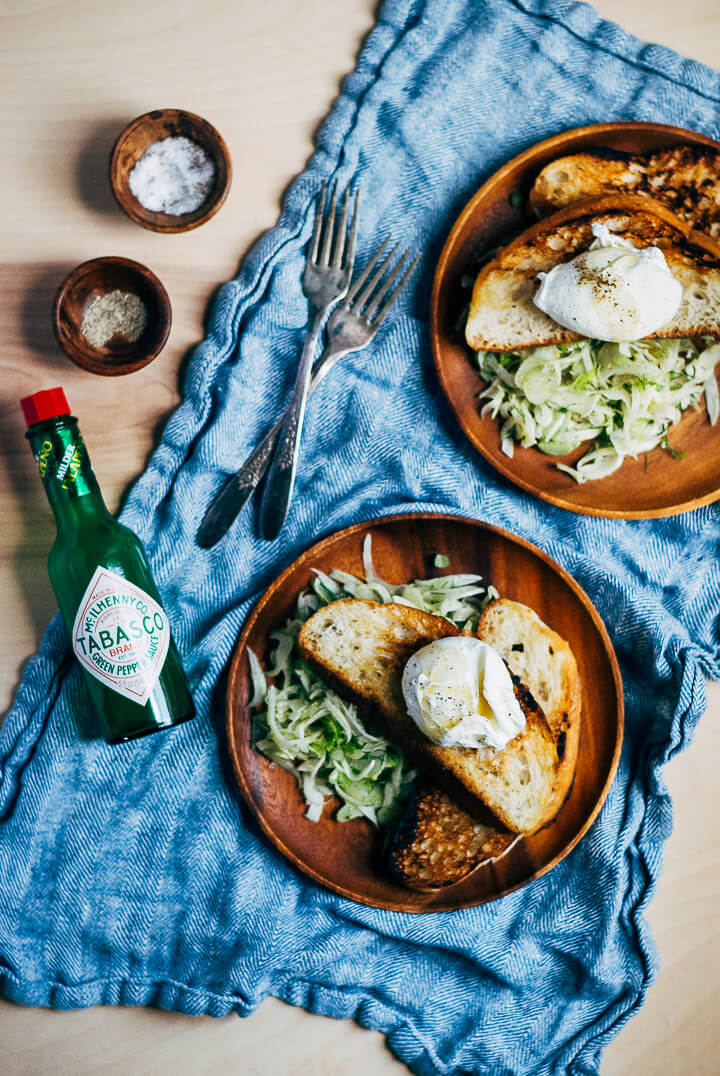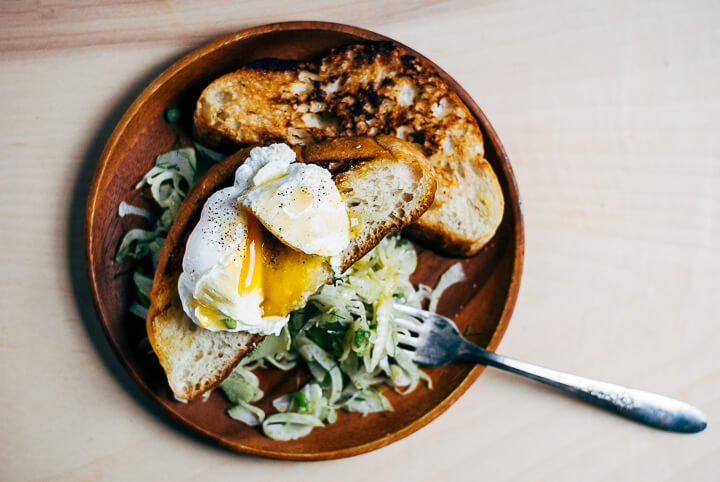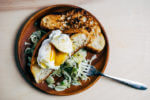 Poached Eggs, Skillet Toast and Jalapeño Fennel Salad
A simple stovetop brunch made with poached eggs, skillet toast, and an easy shaved fennel salad.
Ingredients
1 1/2

cups

shaved fennel

1

tablespoon

plus 1 teaspoon extra virgin olive oil

, divided

1

teaspoon

Tabasco Green Sauce

, plus more for serving

sea salt

apple cider vinegar

(optional)

4

thick-cut slices ciabatta

2

eggs

freshly ground black pepper
Instructions
Toss the shaved fennel with a generous pinch of sea salt, 1 teaspoon olive oil, and 1 teaspoon Tabasco Green Sauce.

Bring a wide, deep saucepan filled water to a boil.

Meanwhile, set a heavy bottomed skillet over medium-high heat. Add the remaining tablespoon of olive oil. Press both sides of the ciabatta into the hot oil, sprinkle with sea salt, and then cook each side until golden brown, about 3 - 4 minutes a side.

When water boils, add a teaspoon of sea salt and a 1 - 2 tablespoons apple cider vinegar. Gently lower eggs (still in the shell) into the water, cook for 10 seconds, and then remove with a slotted spoon. Crack eggs one a time into a small bowl, tip each into the boiling water and cook for 4 minutes – this cook time will yield set egg whites and runny yolks.

Meanwhile, divide the shaved fennel between two plates and top with two slices of toast. Top toast with a poached egg, sprinkle with sea salt and pepper, and drizzle with Tabasco Green Sauce. Serve immediately.
A huge thanks to Tabasco for sponsoring this post!