A celebratory, but simple dinner for peak fall, this recipe for bone-in pork chops with apples, onions, and herbs captures all the best flavors of autumn.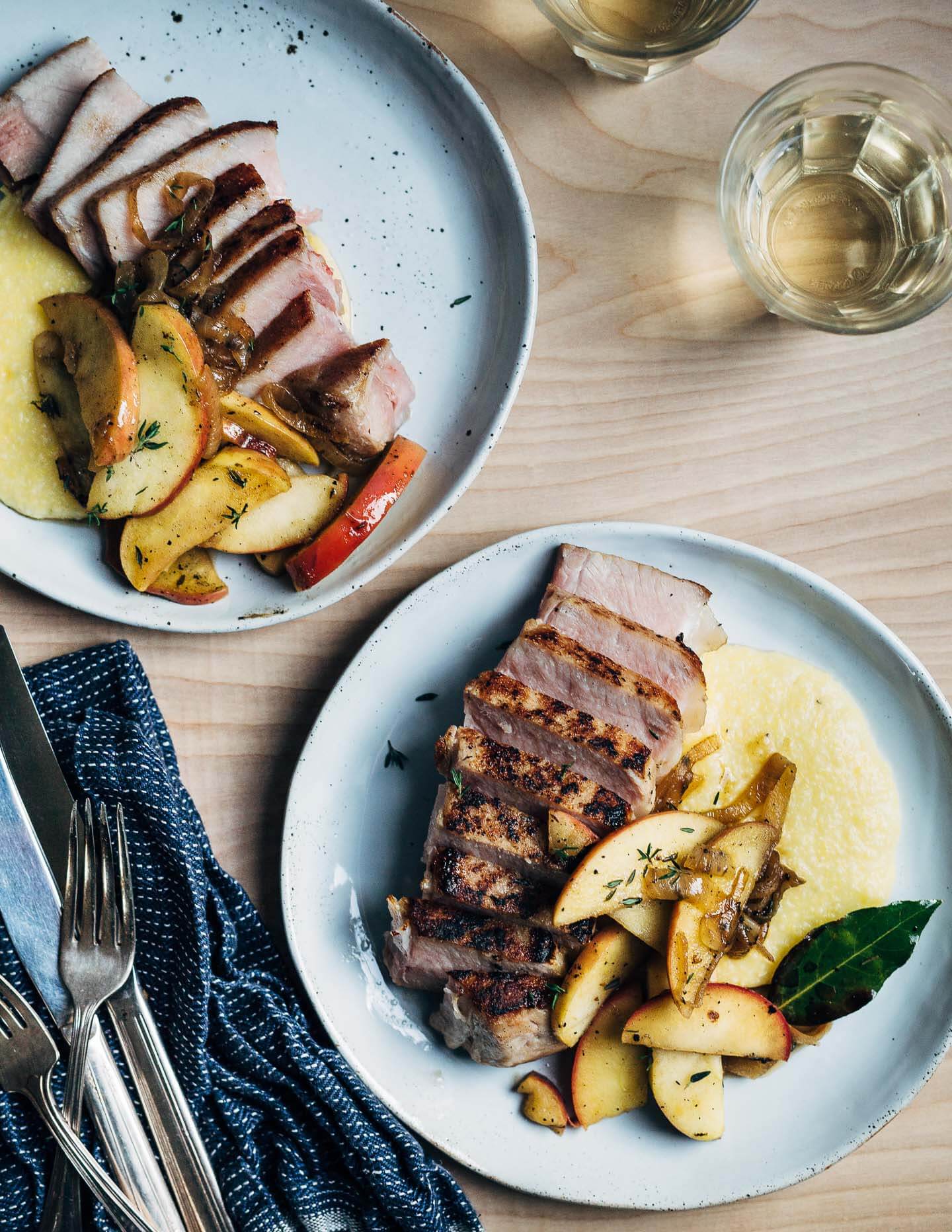 It's not really cold yet, but there's a chill as the evening sun dips behind the Blue Ridge Mountains. The smell of the natural world is changing – cool dirt and crisp leaves prevail, even though the goldenrod and all the other wildflowers and weeds are still thriving. (We all have the sniffles.) The first frost will come soon, but right now we have a stretch of clear days and mild, cool nights.
Onions, winter squash, and apples have edged out all the tomatoes, okra, and peppers on the counter.
Peak fall, here already. What can we do but go along?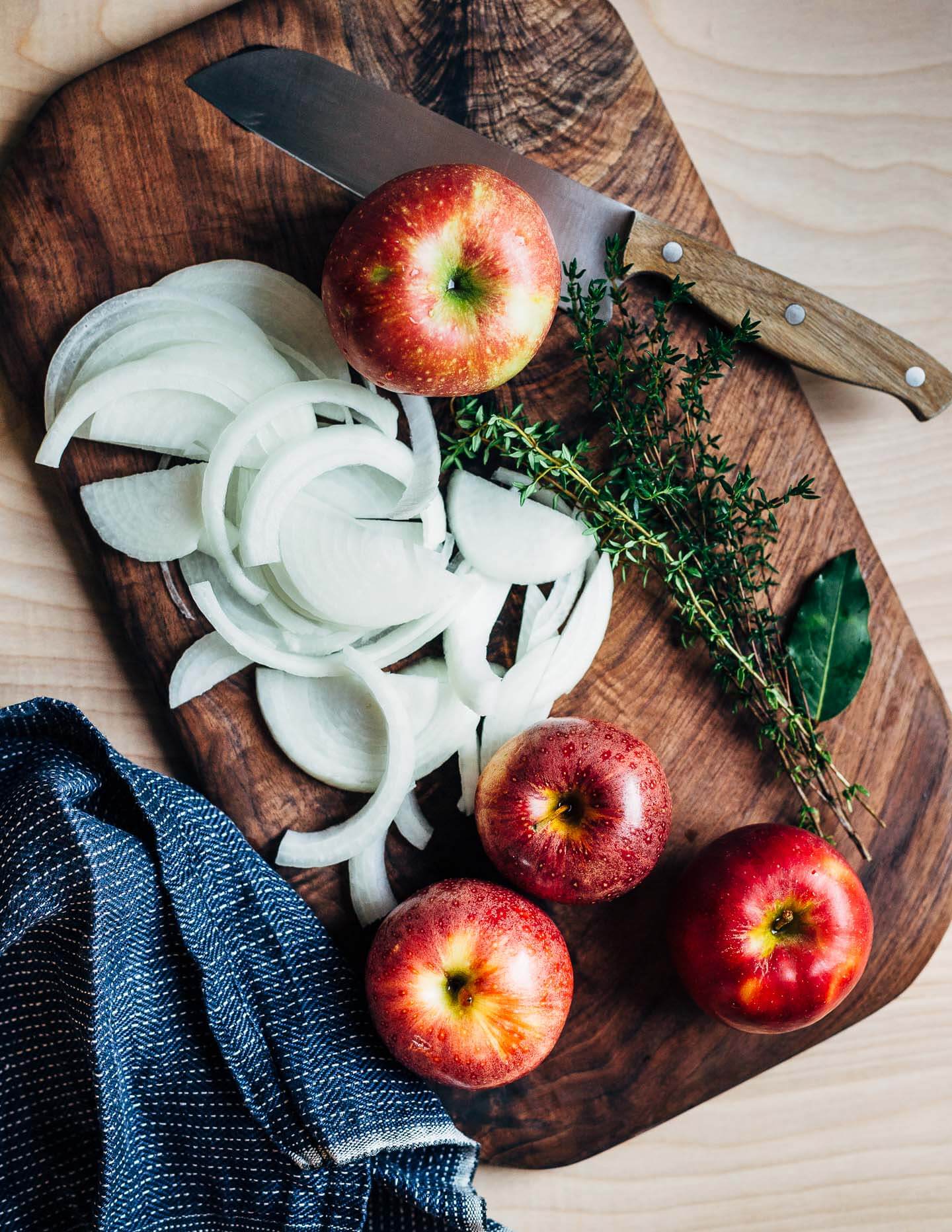 Pork and Apples: Quintessentially Fall
This recipe feels like the most autumnal dish I can think of. Rich and flavorful bone-in pork chops are cooked low and slow in the oven and then seared just enough to trigger a maillard reaction. Onions and apples are pan-seared with butter and wine, tossed with thyme, and tucked alongside the pork. I'm extremely partial to serving pork with polenta but you should feel free to go with any grain you'd like.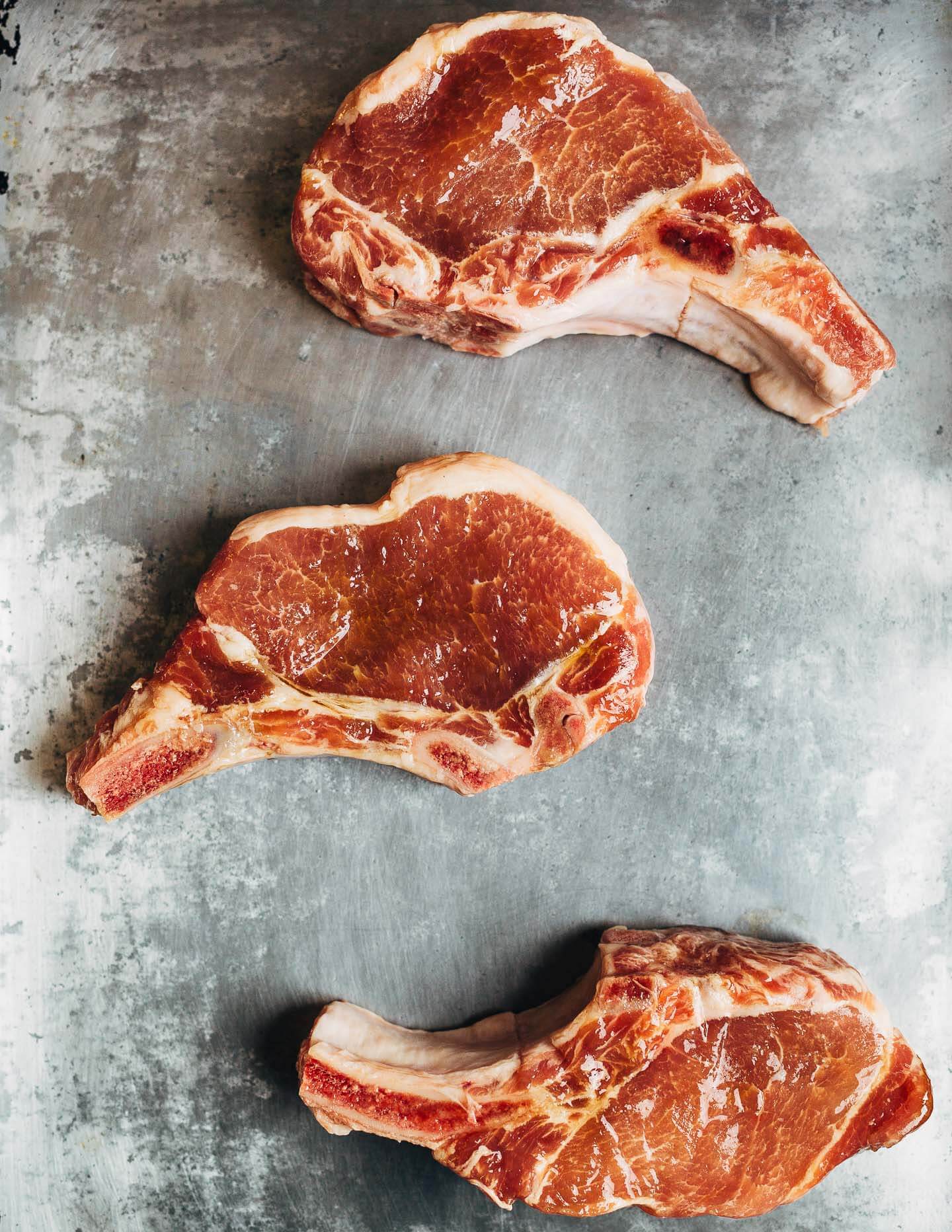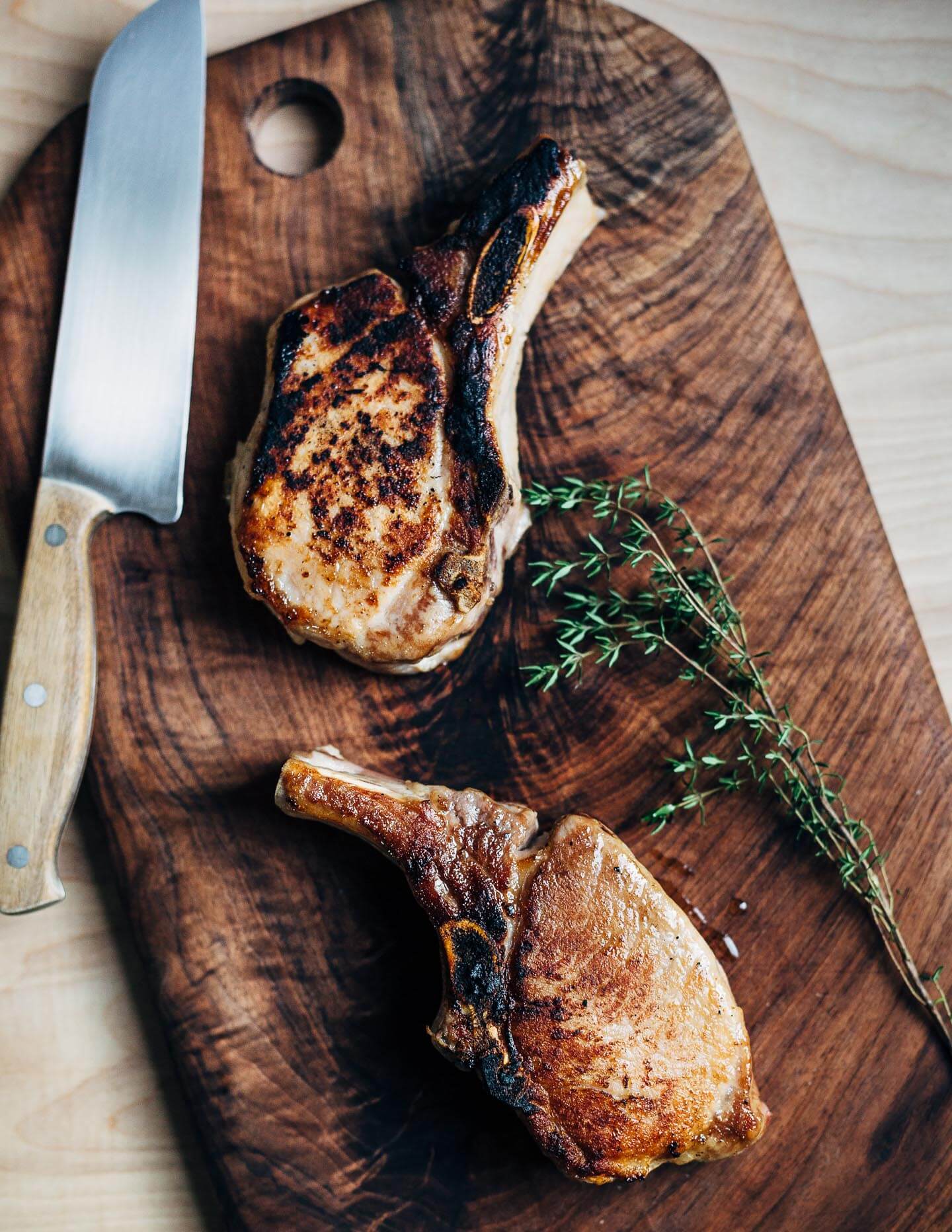 Mastering the Reverse Sear
This recipe uses the reverse sear technique which is ideal for a thick cut of pork or beef. Reverse sear simply means you cook the meat very gently in the oven first and then sear in a pan to finish. There are lots of advantages to this method. First, starting in the oven allows you to get the meat very close to temperature, And since it happens slowly, you have plenty of control. Because the cut of meat is already quite hot when it does get to the skillet, you can get a nice golden sear quickly and without all the smoke that comes from cooking over very high heat. And lastly, the low and slow heat renders fat nicely, meaning fatty chops or marbled steaks cook up perfectly.
To master the reverse sear, you'll want to get to know your oven and whether it runs hot or cold. You'll also want to take note of the temperature of the meat. For best results, I like to start with room temperature meat. Letting it sit on the counter for about 30 minutes ahead of cooking should do the trick.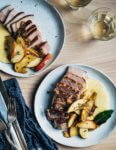 Bone-In Pork Chops with Apples
A celebratory, but simple dinner for peak fall, this recipe for bone-in pork chops with apples, onions, and herbs captures all the best flavors of the season.
Keyword:
pork chops with apples
Ingredients
2 - 3

bone-in center cut pork chops,

about 1-inch thick and 3/4 - 1 pound each

2

teaspoons

sea salt

1

tablespoon

brown sugar

1

large yellow onion,

sliced into thin half moons

2

tablespoons

unsalted butter

2

fresh bay leaves

1/2

teaspoon

black pepper

1

tablespoon

canola oil

1/2

cup

dry white wine

3

apples,

corder and sliced 1/4-inch thick

4

sprigs of thyme
Instructions
Working up to 24 hours, or at least 1 hour ahead of time, rub the pork all over with sea salt and brown sugar. Cover and set in the fridge.

When ready to cook, set pork chops on a rimmed baking sheet on the counter 30 minutes ahead so they can come to room temperature. Preheat the oven to 250 degrees F.

Set a cast iron or other heavy 9-inch skillet over medium heat. Melt the butter and then fold in the onions, bay leaves, and a pinch of sea salt. When onions start to sizzle, turn heat down to medium-low. Cook, stirring often, for 20 minutes while the pork cooks.

Meanwhile, slide the baking sheet with the pork chops into the oven. Cook 20 minutes, then check the temp. You're aiming for about 110 degrees F or slightly lower. Keep cooking and checking every 5 minutes until the chops hit 100 - 110.

When chops are ready, spoon onions out of the skillet. Turn heat up to medium/medium-high – the skillet should be hot, but not incredibly smoky. Add the canola oil and the chops, and sear on each side for 2 - 3 minutes, or until there's a golden sear and the internal temp hits 140 degrees F. Working quickly, use tongs to hold chops up in the skillet fatty edge down for a minute to render some of the fat. Remove chops to a cutting board to rest 5 -10 minutes.

Add wine to the same skillet and use a wooden spatula to scrape up any brown bits. Turn heat to medium. Add the apples, thyme, and cooked onions back to the skillet and sauté until yielding and golden, about 5 minutes.

To carve, cut the meat away from the bone and slice 1/2-inch thick.

Serve pork over polenta, or the grain of your choice, with apples, onions, and any pan juices spooned over top. Garnish with fresh herbs, if desired.