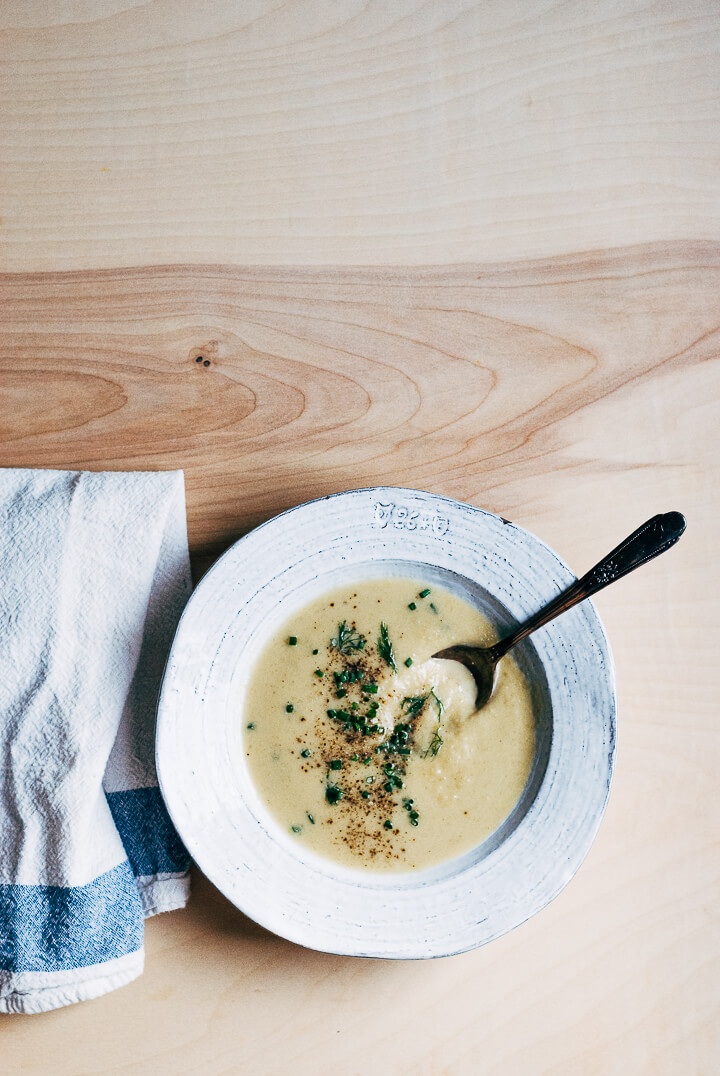 A light, lemony potato, leek, and fennel soup recipe that's perfect in any weather. Jump to recipe.
I've had soup on my mind for a while. A few weeks back, I made and froze a batch of rich vegetable stock (made with the first yellow onions of the season from our CSA). Since then, I've been plotting. Though hot soups aren't typical summer fare, there are plenty of great soup ingredients out there right now – young fennel bulbs, leeks, potatoes – and so I've abandoned tradition. To give things a more summery feel than a typical potato-leek soup, I've tweaked my standard recipe and riced the potatoes for a silky texture, added sliced fennel bulb and a big squeeze of lemon, and used milk instead of cream. Leek-y, light, and lemony, this soup's good enough to make August soup lovers out of us all.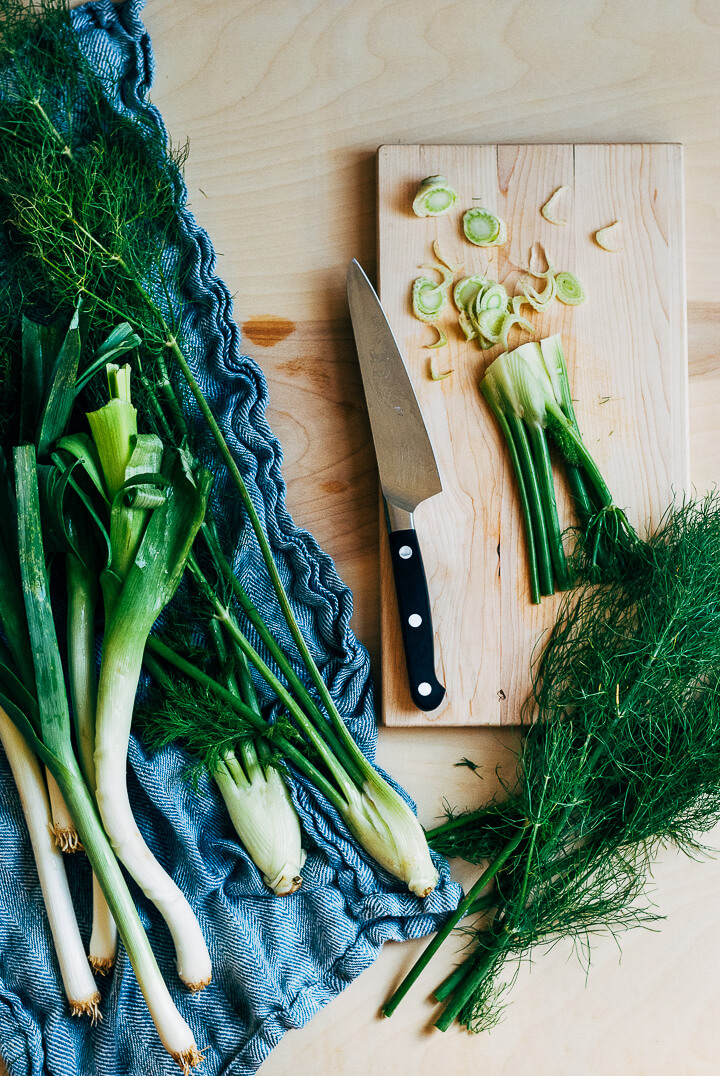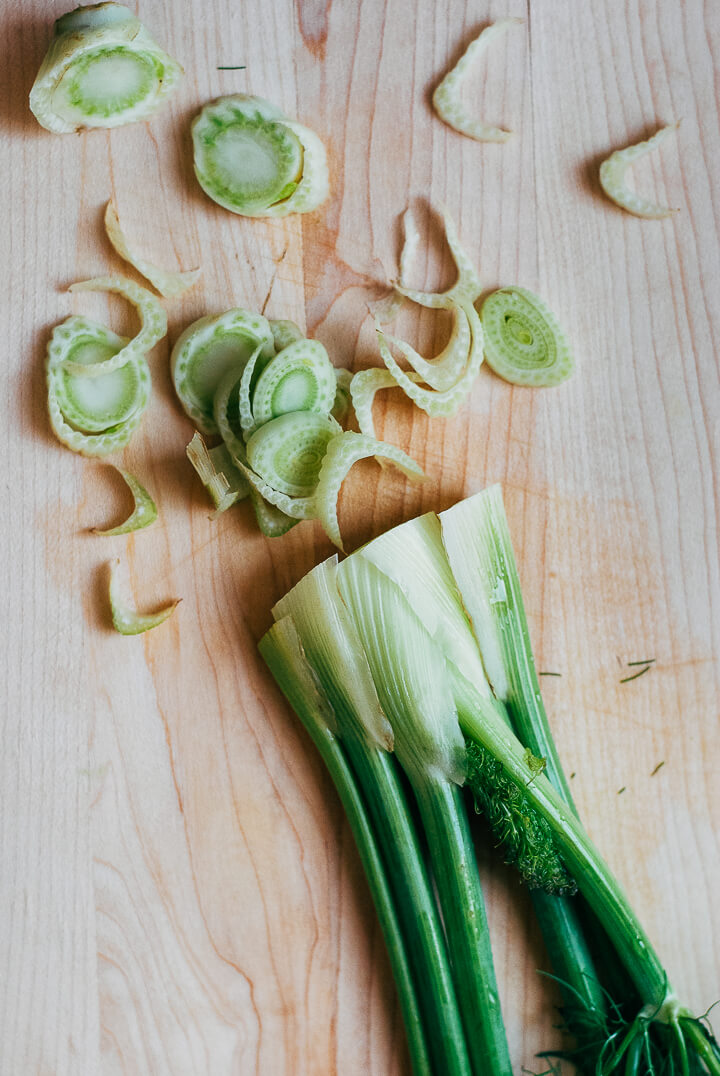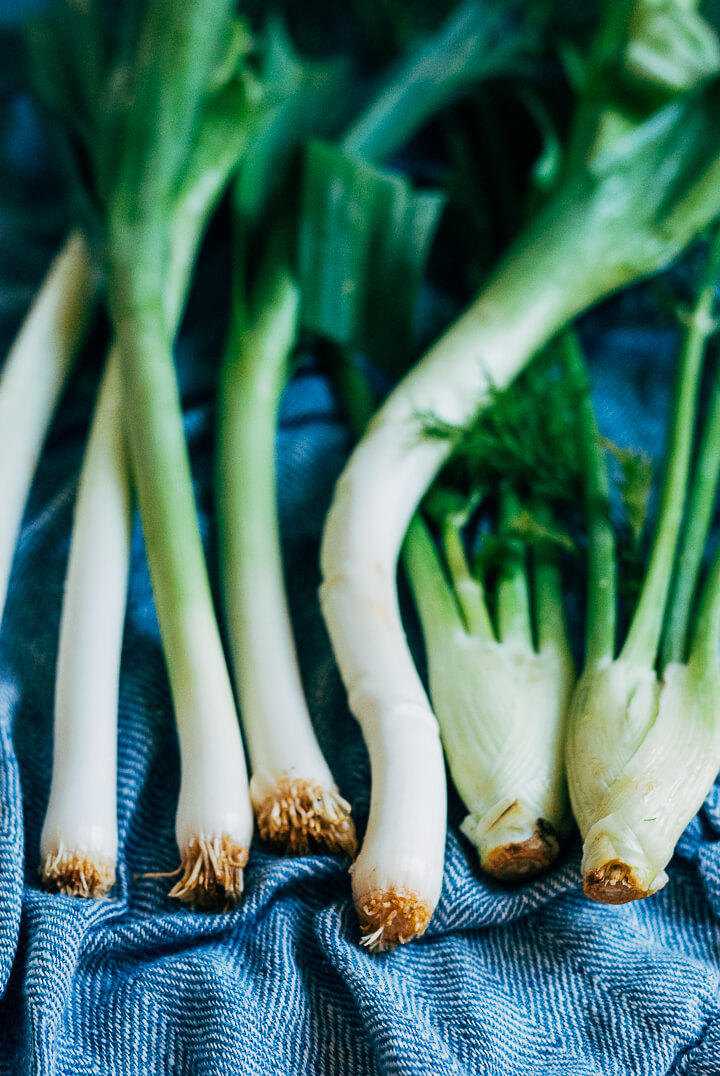 On to the obvious question – why not make vichyssoise? The simple answer is: with the sole exception of gazpacho, I don't like cold soups. I also don't like cold pasta. Or even coffee, really. If you're not similarly disposed, feel free to make the recipe as is, cool soup to room temperature, cover, and chill.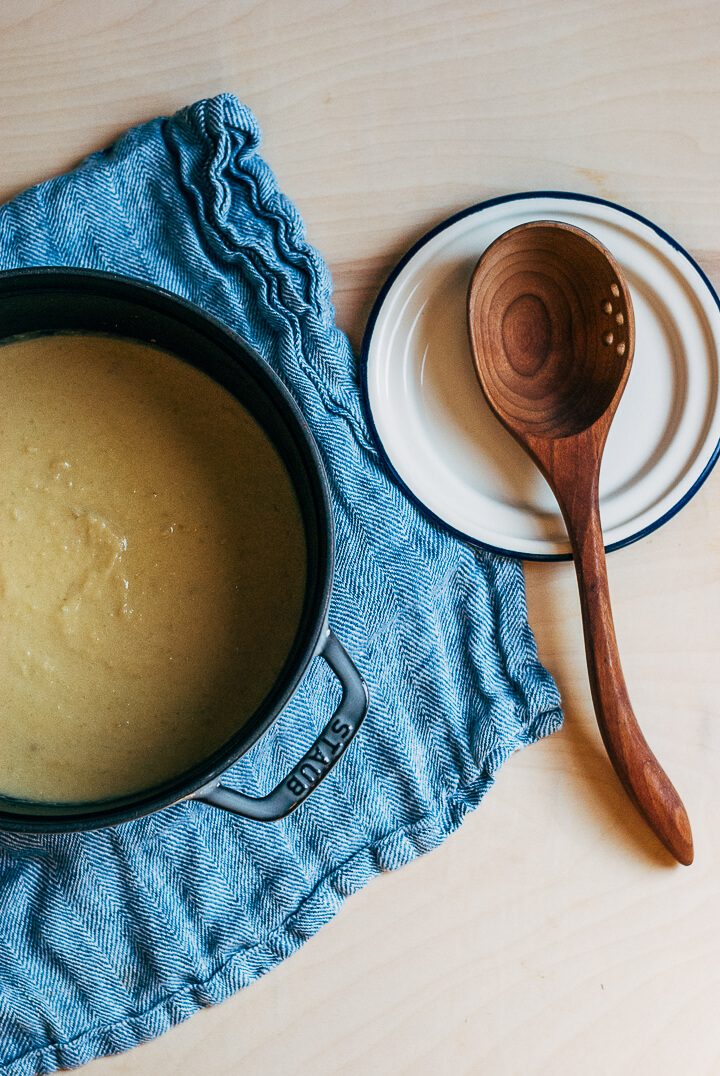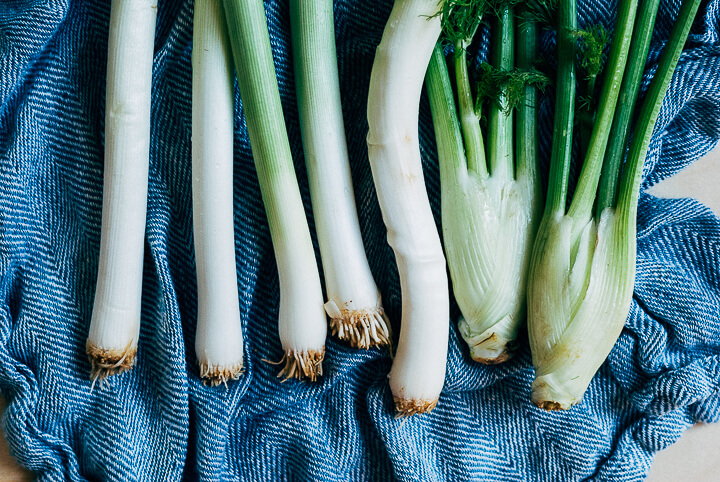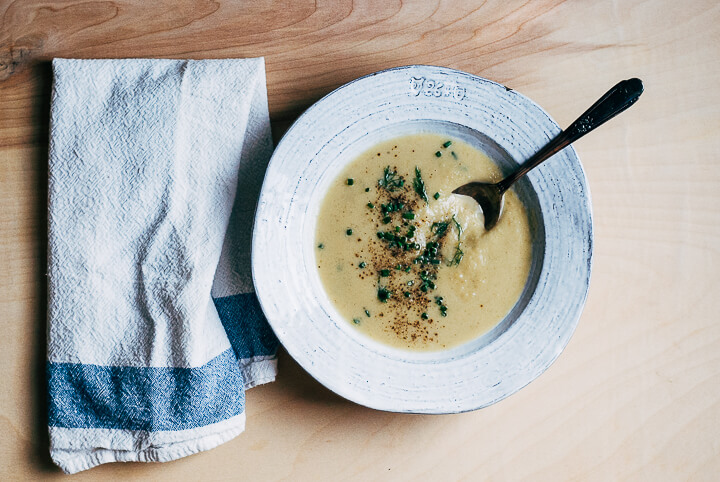 A few notes on the recipe: I'm a big fan of everything J. Kenji López-Alt does over at Serious Eats, and my interest was piqued by his suggestion that riced potatoes have a superior texture to blended ones. I hate to add another step (and more dishes), but ricing the potatoes really did make for an exquisite texture that melded beautifully with the rich vegetable broth, hint of lemon, and bit of milk.
Regarding broth: especially where vegetable broth is concerned, homemade is best. Broth supplies much of the flavor here and starting with a good one makes all the difference. My basic recipe (from the way, way back) is here. I'm also a devotee of Laura's recipe, as well as her general vegetable broth wisdom.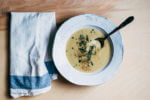 Potato, Leek, and Fennel Soup
A light, lemony potato, leek, and fennel soup recipe that's perfect in any weather.
Ingredients
3

tablespoon

unsalted butter

4

medium leeks

(pale green and white parts only), sliced and rinsed (about 2 cups chopped)

1

cup

thinly sliced fennel bulb

(for larger bulbs, cut out and discard core), reserve fronds for garnish

8

fingerling potatoes

, cut into 1-inch chunks (about 2 heaping cups)

1

quart

vegetable broth

2

bay leaves

sea salt

black pepper

1/2

cup

milk

1

tablespoon

lemon

2

tablespoons

minced chives
Instructions
Set a heavy-bottomed soup pot over medium heat. Melt butter, add fennel and leeks, and turn heat to medium-low. Cook, stirring often, until fennel and leeks are tender and translucent – about 20 - 30 minutes. Vegetables should be cooked thoroughly, but not at all browned – edge heat lower as needed.

Add potatoes, bay leaves, broth, and a generous pinch of sea salt. Bring to a boil, then turn down to simmer until potatoes are fork tender, 20 - 30 minutes more.

Use tongs to remove potato chunks, and push through a ricer or food mill. Carefully puree the remaining soup in a blender. (Always use caution when blending hot soup. Divide soup in to batches if your blender is small.) Return riced potatoes and blended soup to the pot. Warm soup over medium-low heat. Add sea salt and black pepper to taste. Finally, stir in the milk and lemon juice.

Serve soup with minced fennel fronds, chives, and a twist of freshly ground black pepper.