A roasted cauliflower salad recipe with fresh figs, Kalamata olives, and a bright chimichurri sauce.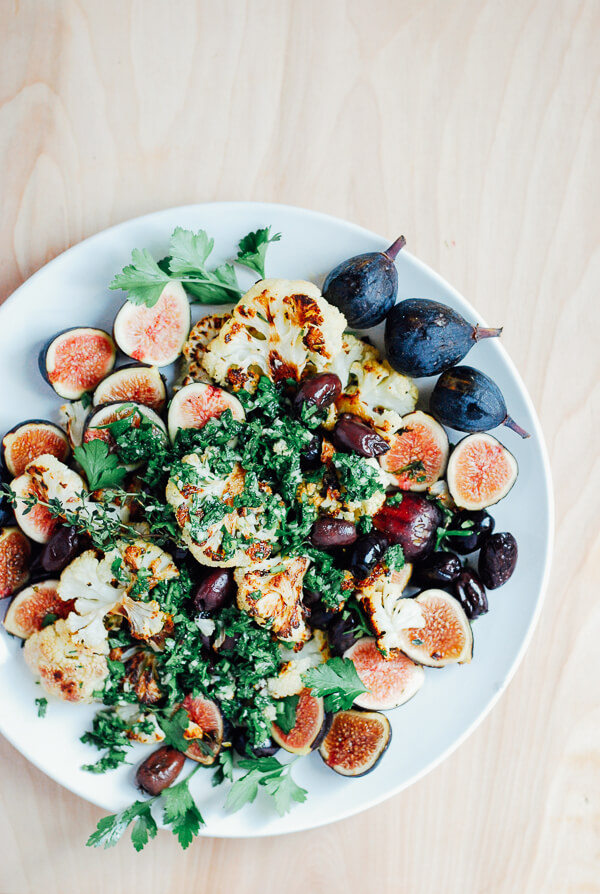 Like many people out there – whether they are quietly stoking a fulfilling career in the industry or just trying to hold down a day job while creating a little something in the evenings, or both – I went to art school. For painting. Learning of my degree might lead a polite conversationalist to ask, "So, what do you do now?" This is usually followed by an explanation of what and how I write on the internet, which nearly always raises questions of varying levels of intrusiveness about whether these pursuits generate, you know, income?, then the equally inevitable reference to Julie and Julia, and finally my polite demurral that no, I don't follow Julie's career or writings so closely, but yes, of course I love Julia.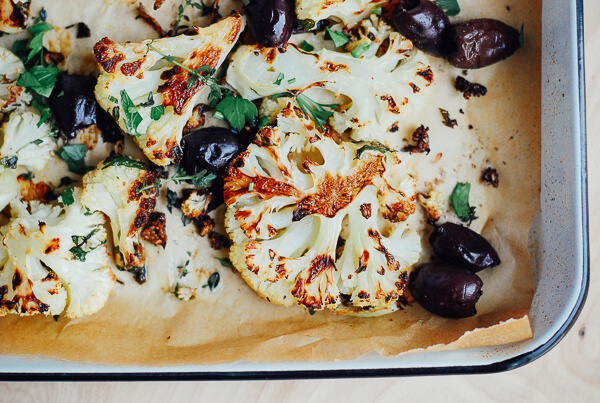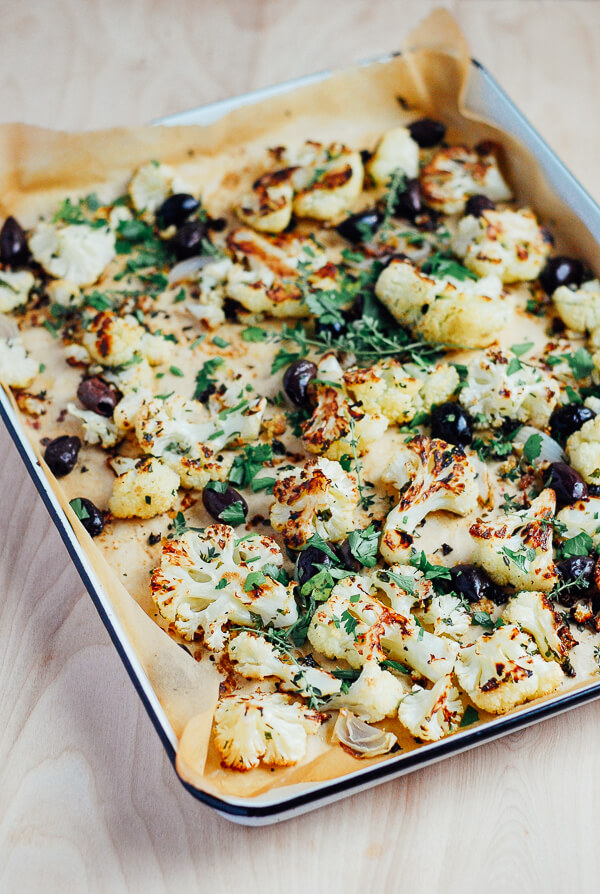 But my art training does come up a lot in blogging (and not just, ahem, in how beautifully my shots are styled). For example, I learned from my MFA advisor John Walker the centrality of parable and anecdote (true or otherwise) in catching an audience's imagination. I remember how he once told a rapt class that the day before Matisse's iconic The Red Studio was red, it had been green. A trip to the MoMA and a close inspection of the painting revealed the tale was most likely untrue. But even if the story's not true, its point was – don't be afraid of drastic change. Try something, and if you don't like it, change it back. Be bold.
And the very best advice I got in art school, which came to me in the midst of a brutal critique, is that you can't think about a painting problem, you can only paint about a painting problem. As I sat down today, and found myself with a post teetering on the edge of cliché (fall weather and all that), I thought of this advice and just began writing through my writing problem. Experience trumps the cerebral every time.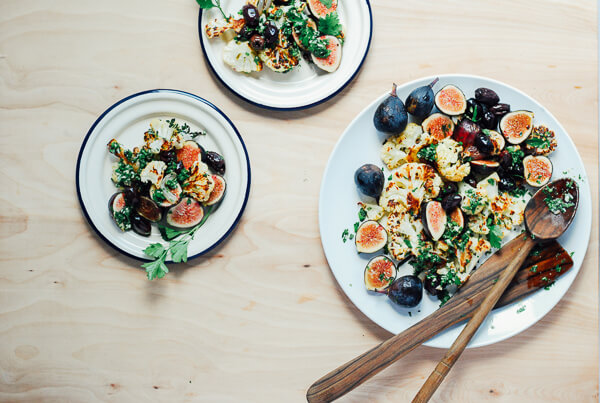 On that note, I'll urge you toward the experience of figs and olives, along with herbs and garlic in this warm roasted cauliflower salad. I'll even say, I think this is a delightful salad. Playing on brine and sweetness, it's a joy to consume. I love it best right out of the oven, just as the hot roasted cauliflower absorbs the chimichurri, but even out of the fridge, this autumnal creation holds up beautifully.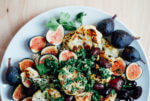 Roasted Cauliflower Salad with Figs, Olives, and Chimichurri
A warm roasted cauliflower salad with fresh figs, Kalamata olives, and a bright chimichurri sauce.
Recipe Type:
Dinner, Salad
Ingredients
Salad
1

head cauliflower,

cored and cut into 1/2-inch thick florets

1

yellow onion,

sliced

2

tablespoons

extra virgin olive oil

sea salt and pepper to taste

1/2

cup

pitted kalamata olives

6

fresh figs,

halved
Chimichurri
1

clove

garlic,

peeled

1/4

cup

extra virgin olive oil

1/2

cup

finely minced mixed herbs,

(mostly parsley with some thyme, oregano, and tarragon mixed in)

1

tablespoon

fresh squeezed lemon juice

sea salt and pepper to taste
Instructions
Preheat oven to 450 degree F. If desired, line a large rimmed baking sheet with parchment.

Arrange cauliflower on baking sheet and drizzle with olive oil. Tuck sliced onion throughout. Sprinkle with small pinch of sea salt (keep in mind that olives will lend plenty of saltiness). Slide into oven and roast 20 minutes.

Meanwhile, make chimichurri – use a mortar and pestle to smash garlic and a pinch of sea salt into a paste. Scrape garlic mixture into a bowl, and use a fork to whisk in olive oil, followed by herbs and lemon juice. Taste, and adjust salt or acid levels as needed.

Remove tray from oven and carefully flip each cauliflower floret. Scatter olives on baking sheet. Slide back into oven and roast another 10 - 15 minutes, or until olives are sizzling and cauliflower edges are golden brown.

Toss roasted cauliflower and olives with halved figs and chimichurri. Garnish with sprigs of herbs and whole figs. Serve immediately.

Salad will keep fairly well in the fridge for a day or two. (Make extra for lunch!)