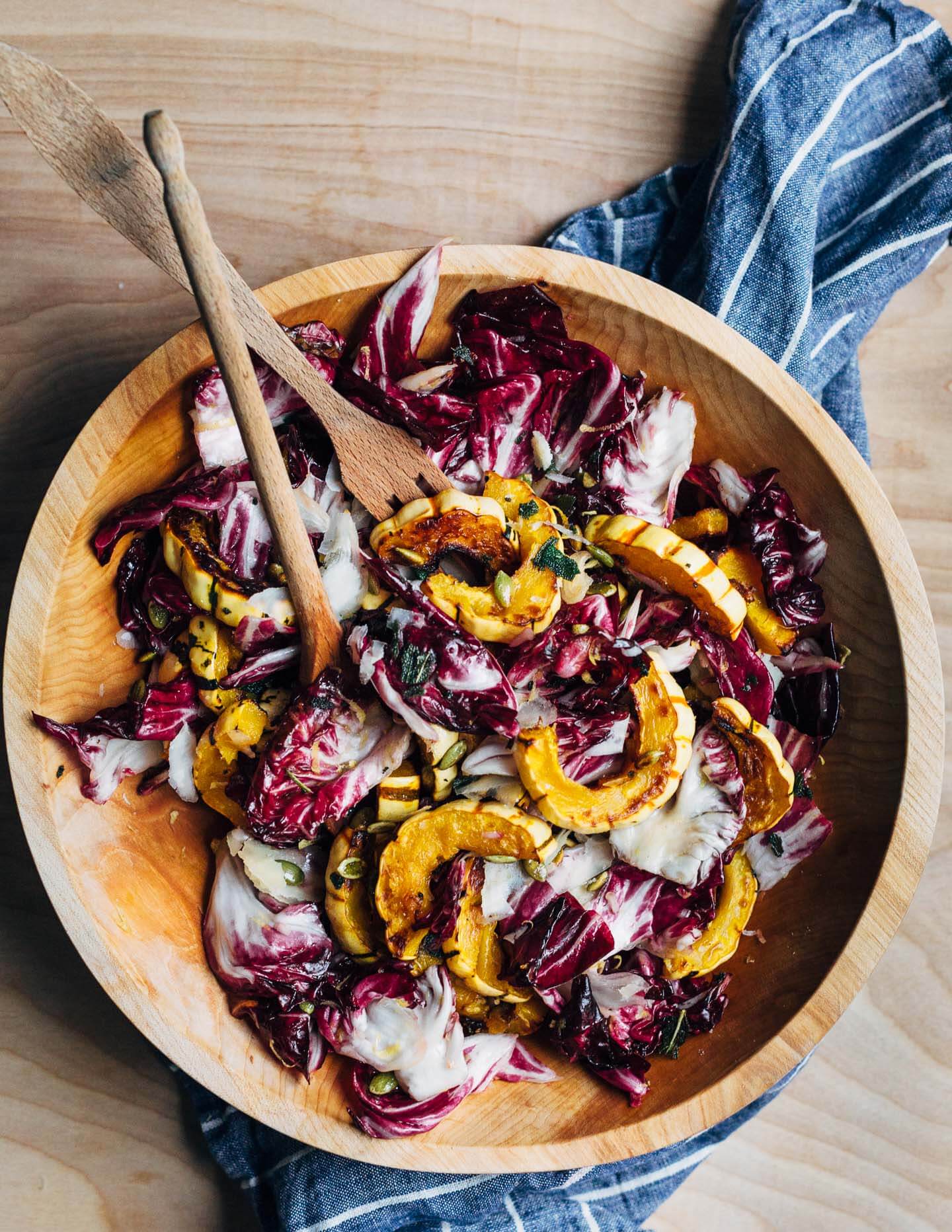 An autumnal radicchio and roasted delicata squash salad tossed in a lemon-maple dressing, and topped with salty pepitas, fried sage leaves, and Parmesan. Jump to recipe.
After a summer spent dressing greens in a minimal combination of oil, lemon, and salt, I've been reacquainting myself with roasted vegetable salads. The oven concentrates flavors, creating crisp, caramelized edges and soft, yielding interiors. Fall salads can come together nicely right there on the roasting pan (a trick I learned from my friend Emilie). Tossed in the pan, the dressing picks up all the brown bits and melts into the warm vegetables, while hardy leaves soften and wilt just enough.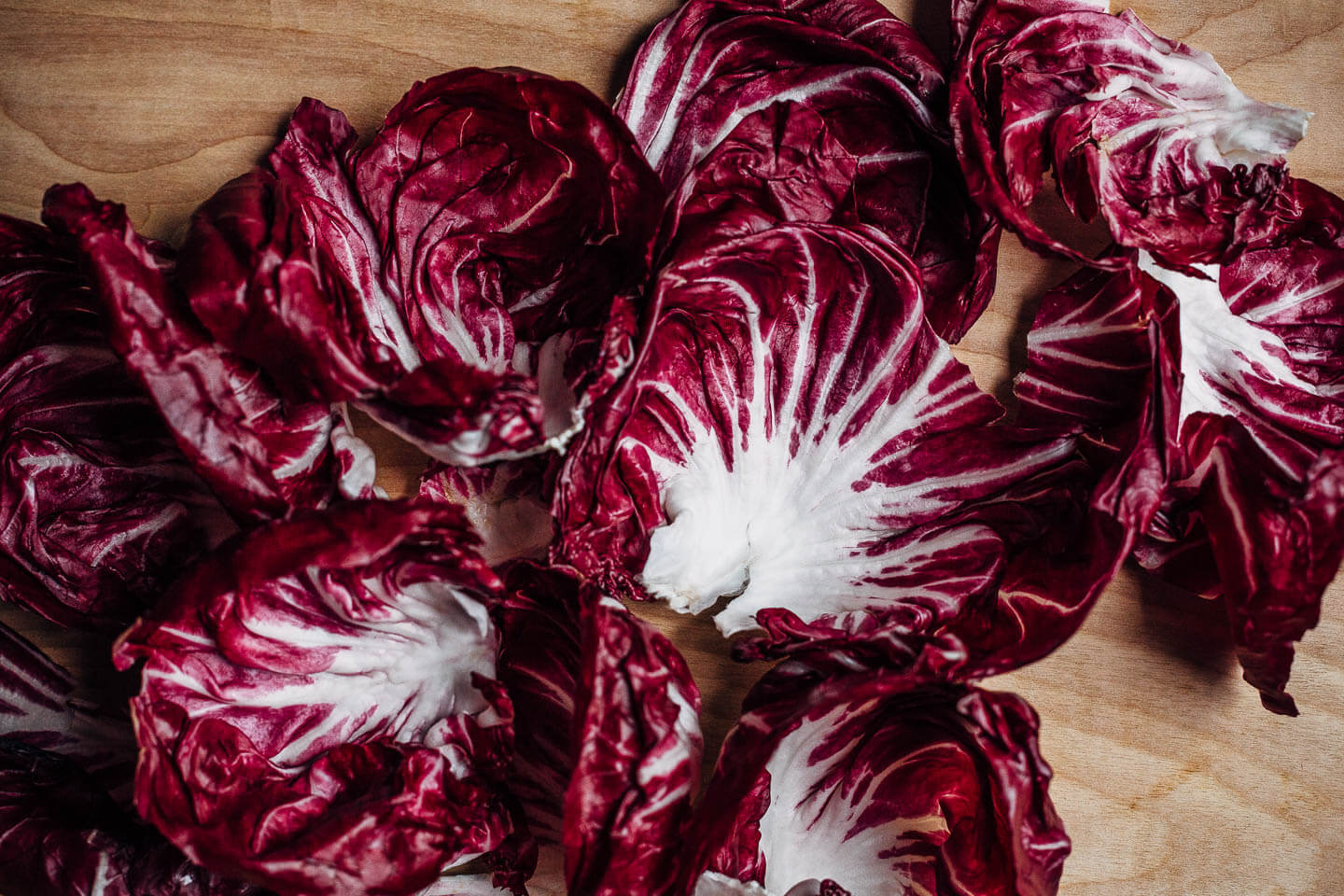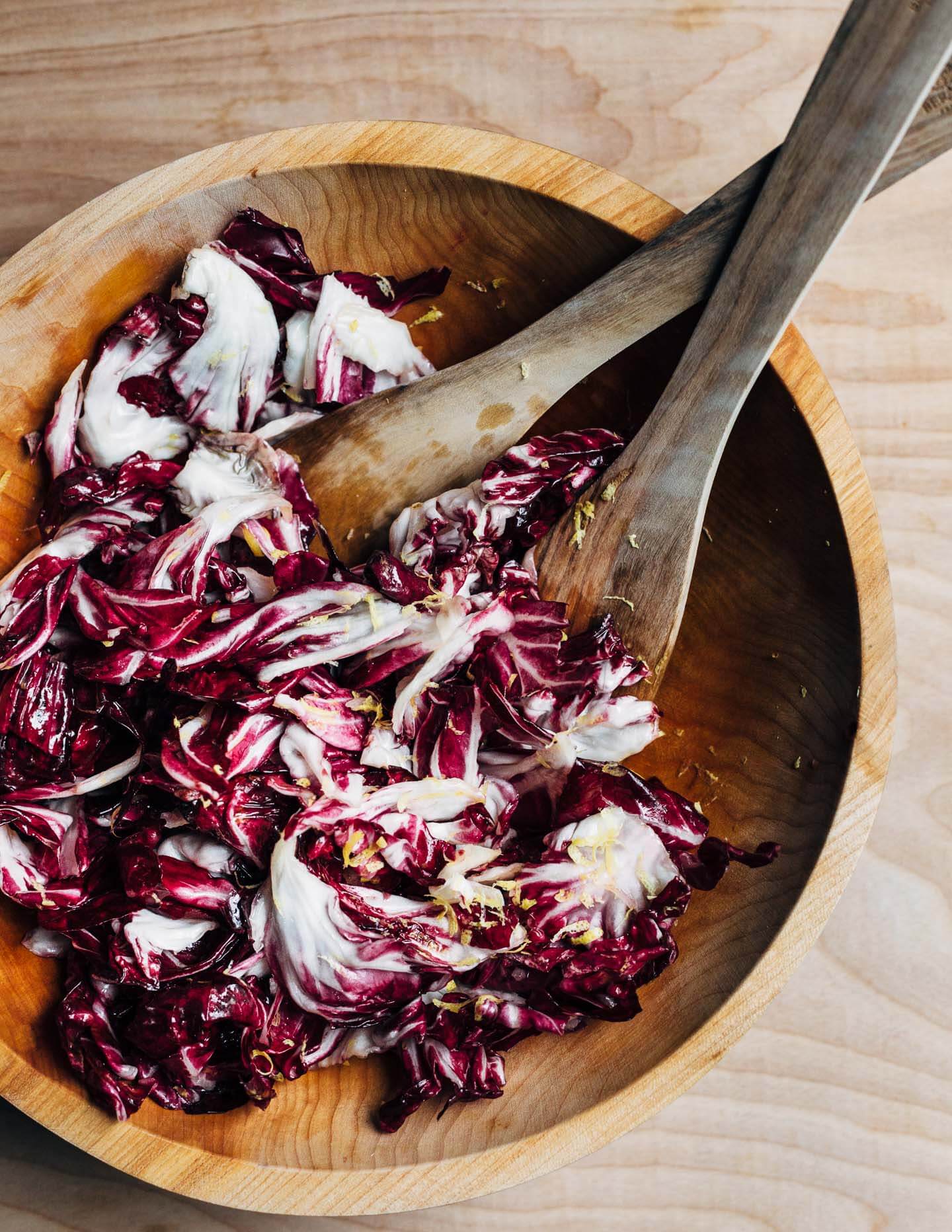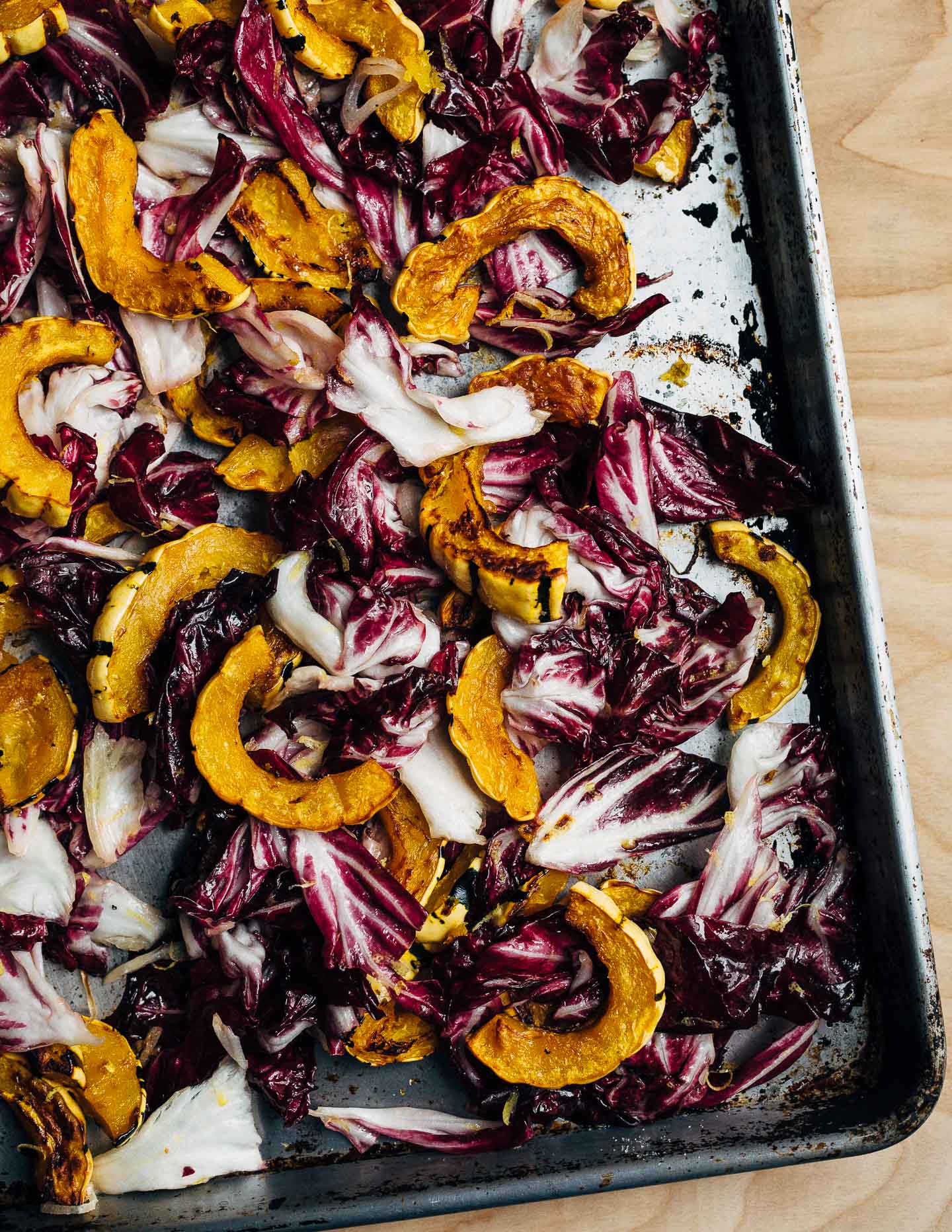 This particular fall salad combines caramelized roasted delicata squash and wilted radicchio. The vegetables are tossed with a lemon-maple dressing and topped with toasted pepitas and fried sage. Delicata squash lives up to its name, cooking up buttery and faintly honeyed – not nearly as sweet as some other winter squash. The sweetness and acid in the dressing temper radicchio's bitter edge, and the pepitas and sage lend crunch and depth to each bite.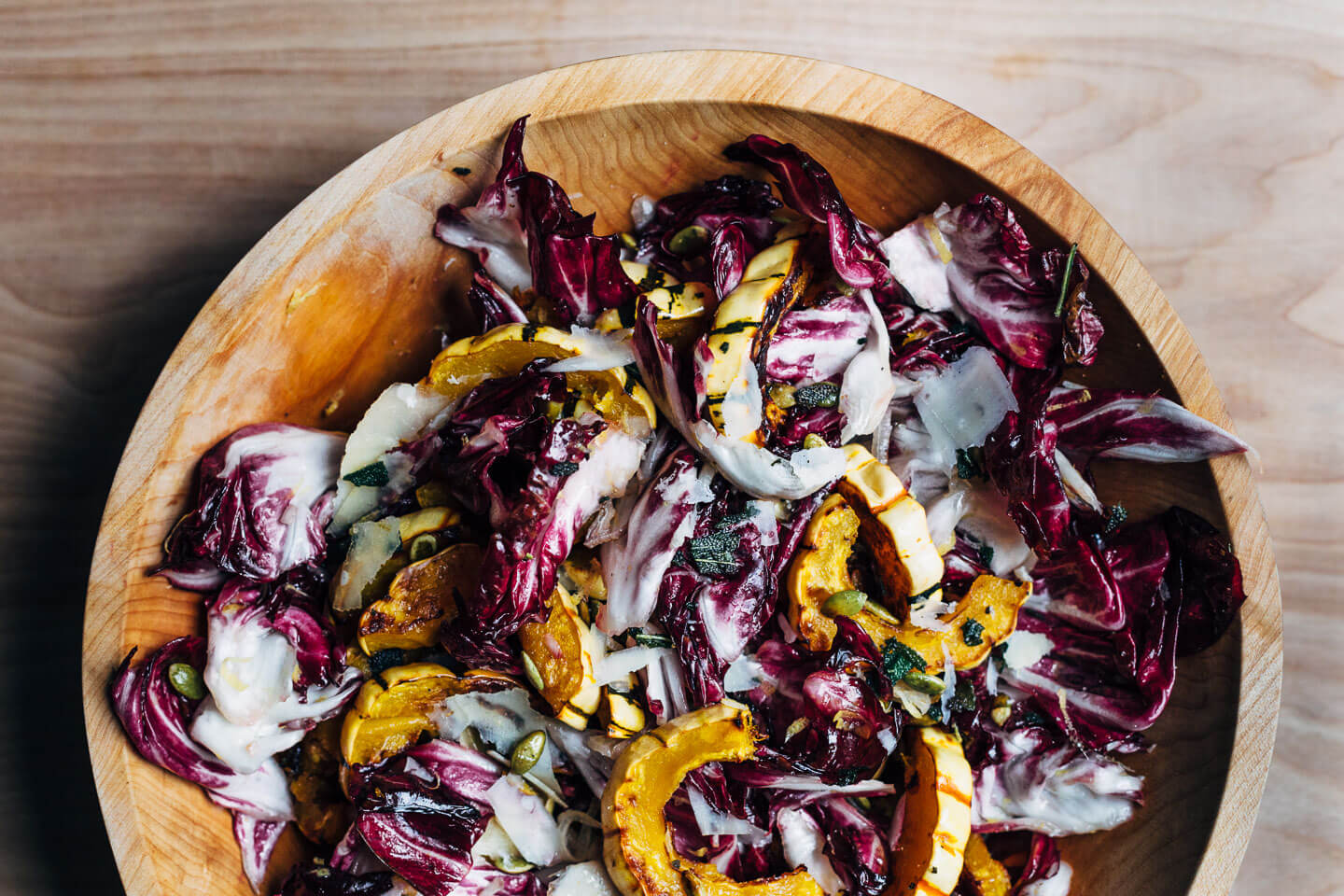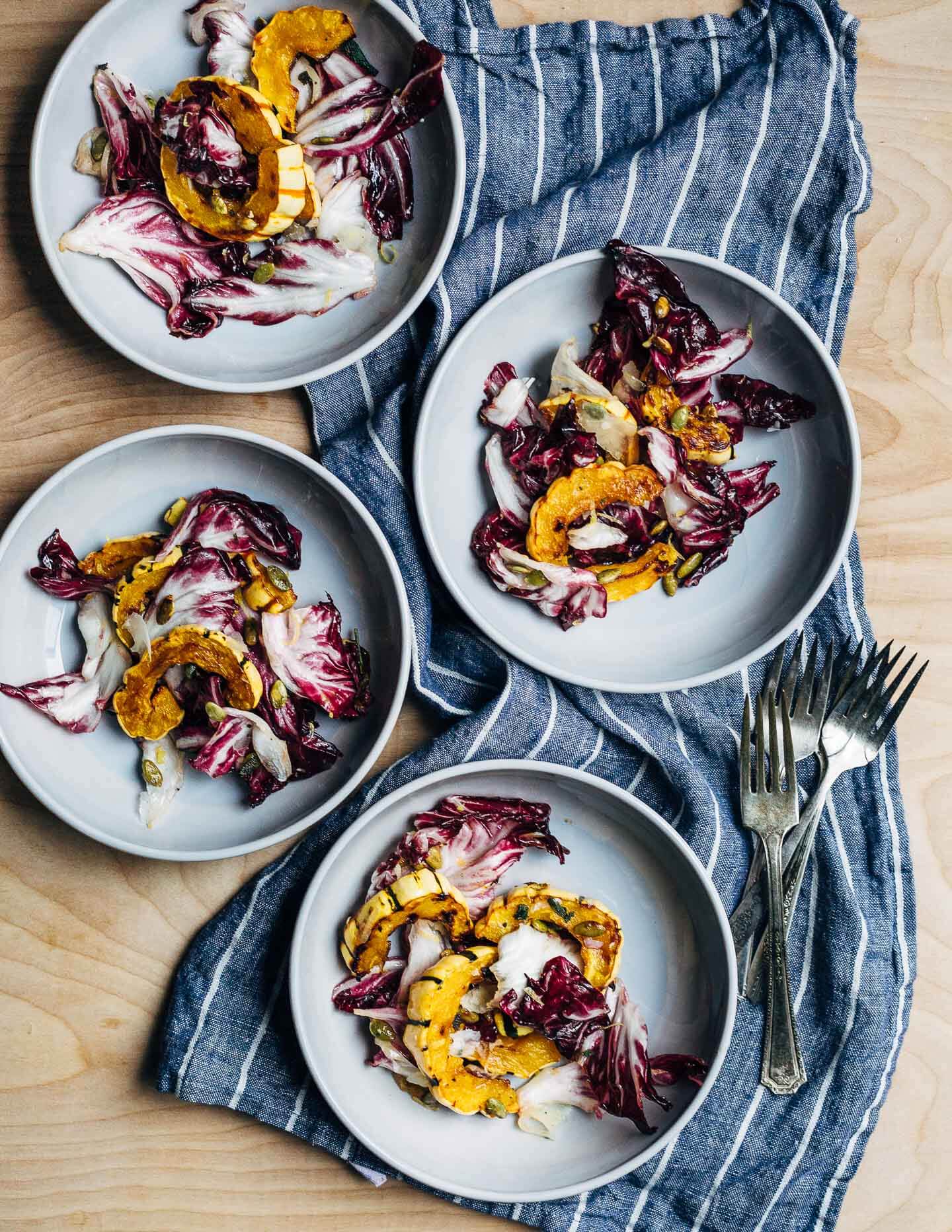 This delicata squash salad is at its best right out of the oven. Leftovers will hold up for a day in the fridge; allow them to come to room temperature before eating. 
A note on radicchio: It's bitter, and some radicchio heads are more bitter than others. I like bitter flavors and think they're well balanced in this recipe. If bitter isn't your thing, try subbing in a mix of robust greens (such as baby kale, chard, and beet greens) or regular spring mix.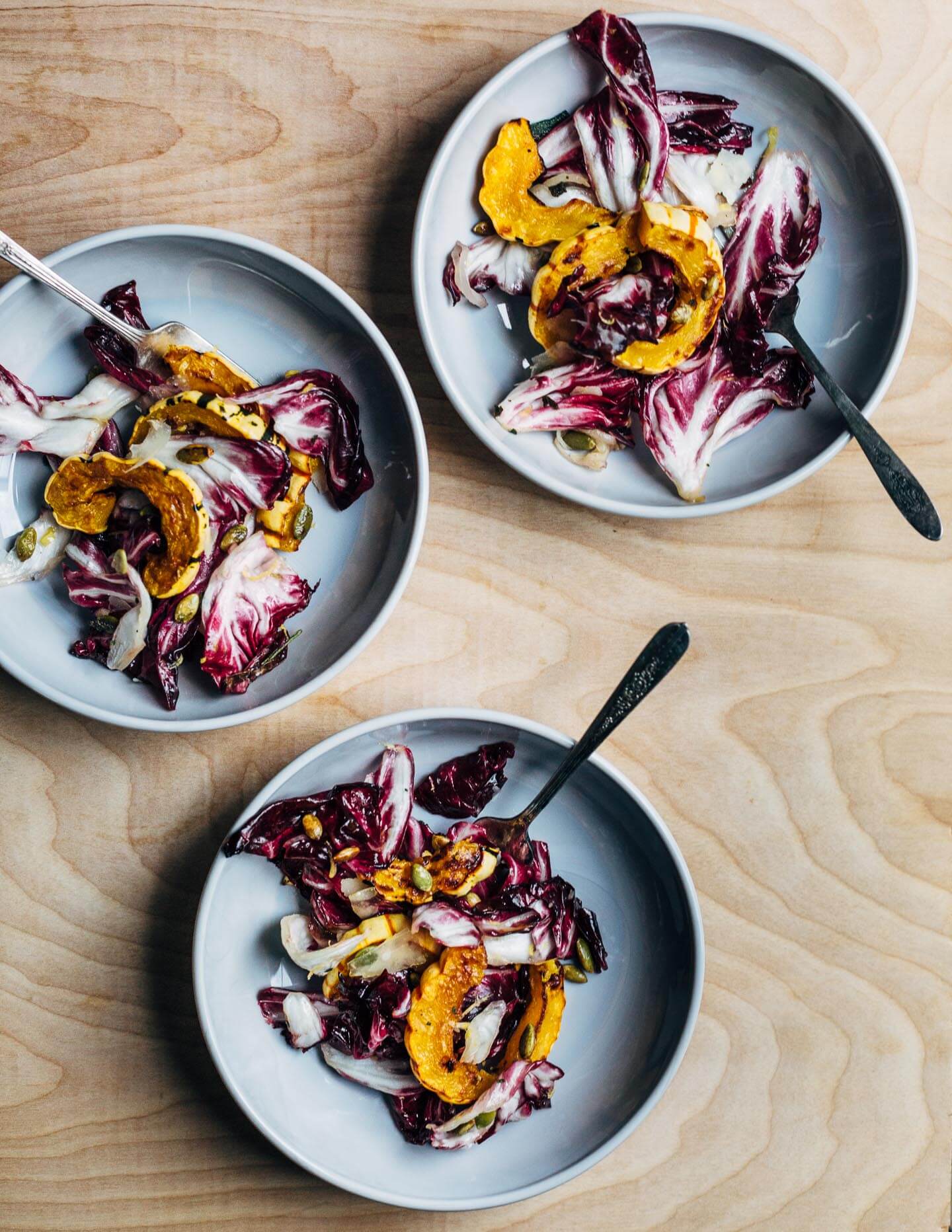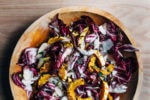 Radicchio and Roasted Delicata Squash Salad with Fried Sage
An autumnal radicchio and roasted delicata squash salad tossed in a lemon-maple dressing, and topped with salty pepitas, crisp sage leaves, and Parmesan.
Ingredients
Roasted Squash
2

medium delicata squash

, halved, seeded, and cut into 1/2-inch thick slices

1

teaspoon

heat tolerant, neutral cooking oil

(such as grapeseed)

sea salt
Salad and Dressing
1

small head radicchio

, cored with leaves torn into bite-sized pieces

zest of 2 lemons and 2 tablespoons juice

, divided

sea salt

2

shallots

, divided

1

tablespoon

maple syrup

3

tablespoons

extra virgin olive oil
Toppings
1/4

cup

raw, hulled pepitas

heat tolerant neutral cooking oil

(such as grapeseed)

10

sage leaves

, rinsed and patted completely dry

1/4

cup

shaved Parmesan cheese

fresh ground pepper
Instructions
Preheat oven to 425 degrees F. Move oven rack to the top third of the oven. Set out 2 rimmed baking sheets. (If both trays fit on a single rack in the oven, all the better. If not, move second oven rack to top third of oven and roast with pans on 2 oven racks, rotating shelves halfway through.)

Toss sliced delicata with oil and arrange on baking sheets, avoiding overcrowding. Spinkle both sides with sea salt. Roast 25 - 30 minutes, flipping squash halfway through, until squash is tender with crisp, golden brown edges.

While squash roasts, in a large mixing bowl, toss radicchio leaves with lemon zest and a big pinch sea salt. Set aside.

Thinly slice shallots. Mince 1 tablespoon for the dressing; reserve the rest.

To make dressing, whisk to combine 1 tablespoon minced shallot, lemon juice, maple syrup, and a pinch sea salt. Whisk in olive oil until mixture is emulsified.

In a small skillet, heat 1 tablespoon oil over medium heat. Add sliced shallots, sprinkle with sea salt, and cook until golden, about 5 minutes. Remove from pan. Toss pepitas in the same pan and, shaking constantly, toast 1 minute or just until a few seeds start to pop. Remove and toss with sea salt. Add 2 tablespoon oil to the same pan and when hot, add sage. Fry just until crisp, about 1 minute. Set sage on a paper towel and sprinkle with sea salt.

As squash comes out of the oven, drizzle radicchio with 3 tablespoons dressing and toss with squash on hot baking sheet. Transfer salad to a large bowl, toss with shallots and Parmesan; scatter pepitas and crumble sage on top. Finish with a drizzle of dressing and a few twists pepper.
Recipe Notes
To make recipe Whole30 compliant, make the dressing with 3 tablespoons fresh squeezed orange juice in place of the lemon juice and omit maple syrup. 
SaveSave
SaveSave
SaveSave
SaveSave
SaveSave
SaveSave
SaveSave
SaveSave
SaveSave