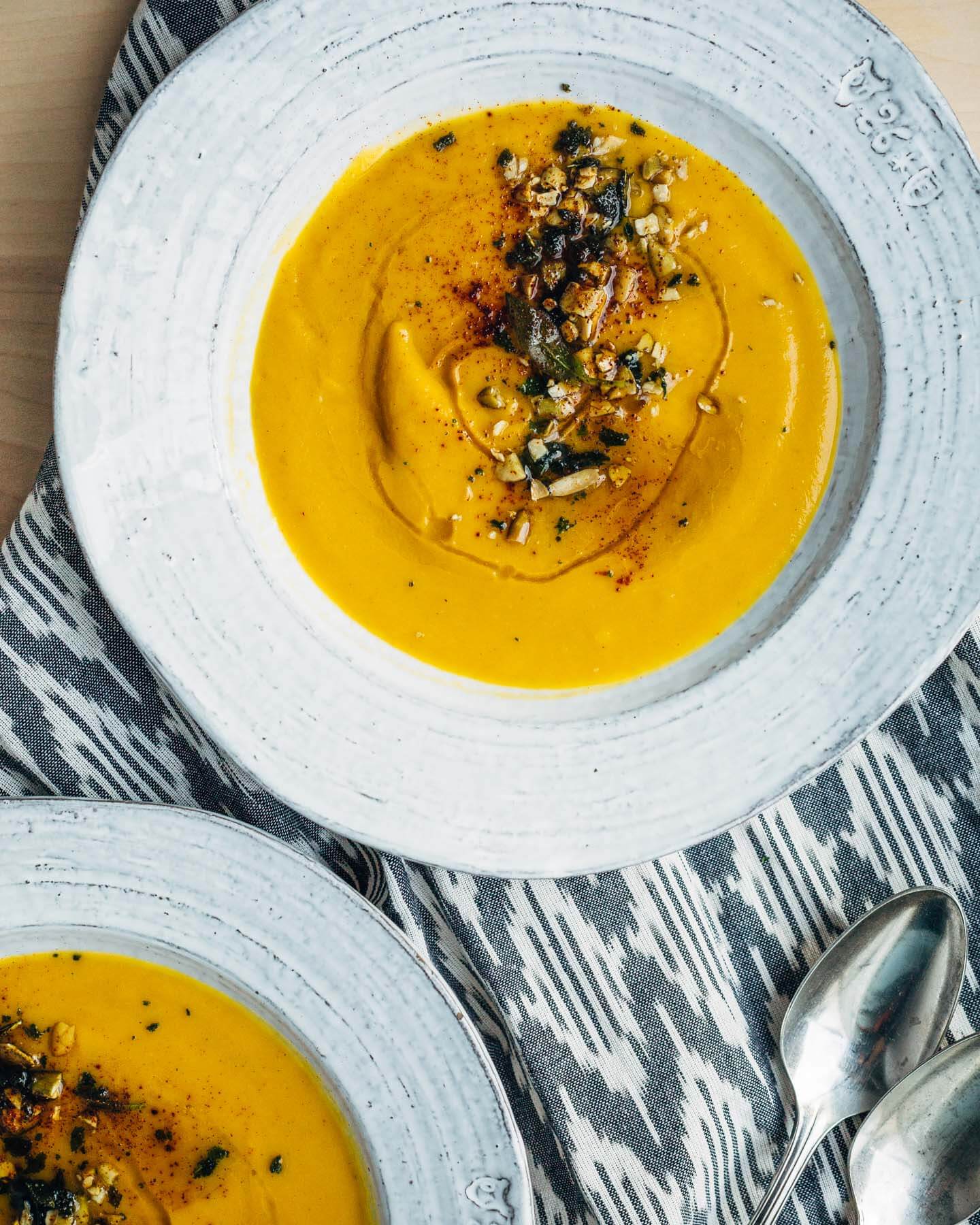 We've partnered with Wolf to share a dependable, delicious vegan roasted pumpkin soup recipe with spicy pumpkin seeds and fried sage.
Encouraging home cooks to make something delicious regardless of their skill level is one of Brooklyn Supper's central missions. As our partners at Wolf discovered in a recent survey for its Reclaim the Kitchen initiative, one in five 18 – 34 year-olds have never boiled an egg and a quarter don't cook because they can't put together a meal with the ingredients in their pantry. With that in mind, I'm excited to share a delicious recipe that doesn't require much in the way of skill or pantry items.
Behold, the tried and true soup recipe that's never let me down. Nearly all my favorite soups are a variation on the following techniques: roast vegetables, sauté alliums, add broth and said roasted vegetables to the pot, and puree. The resulting soup is velvety, wonderfully complex, and really delicious. It's simple enough that even novice cooks can get it right and tasty enough to make a case for home cooking.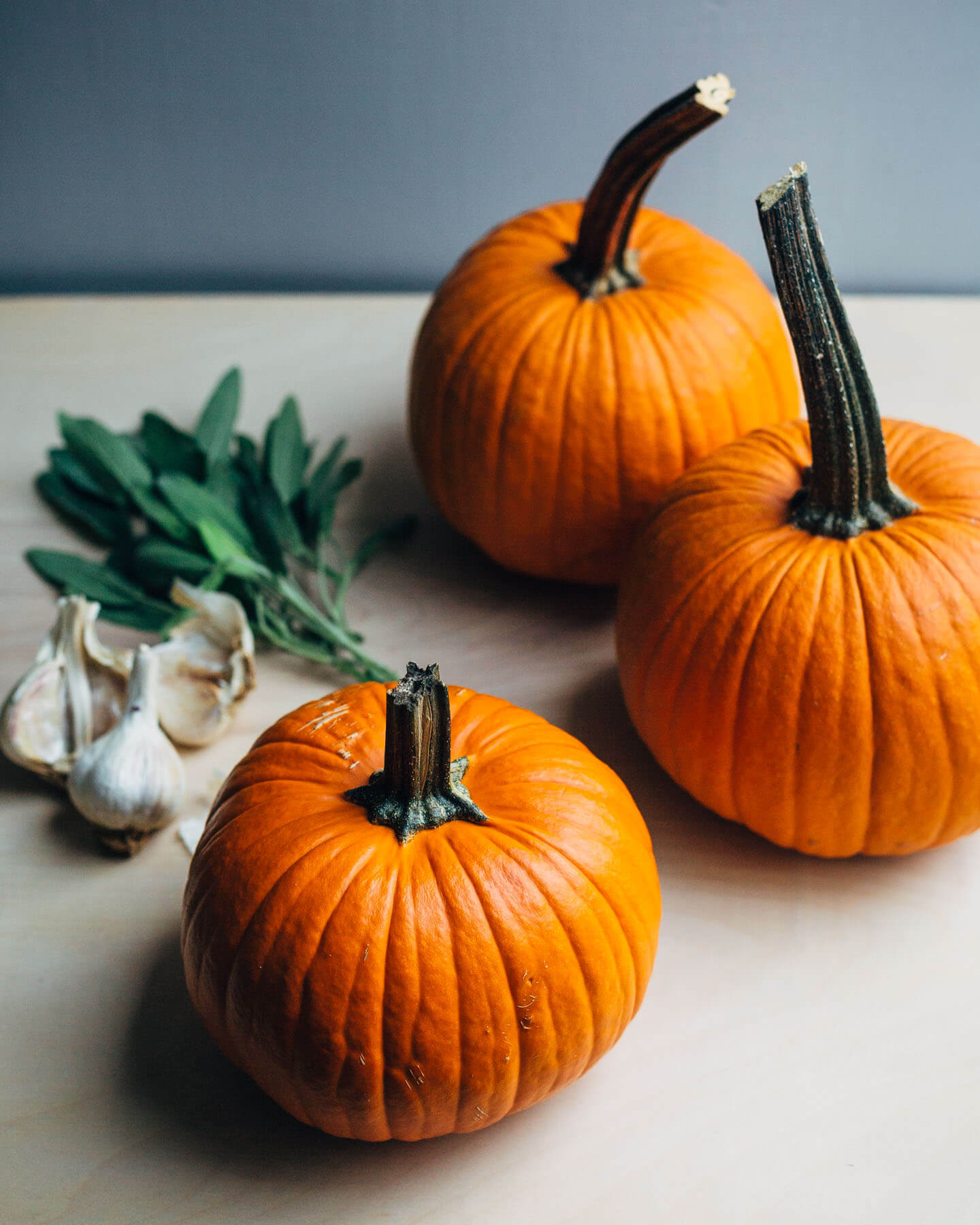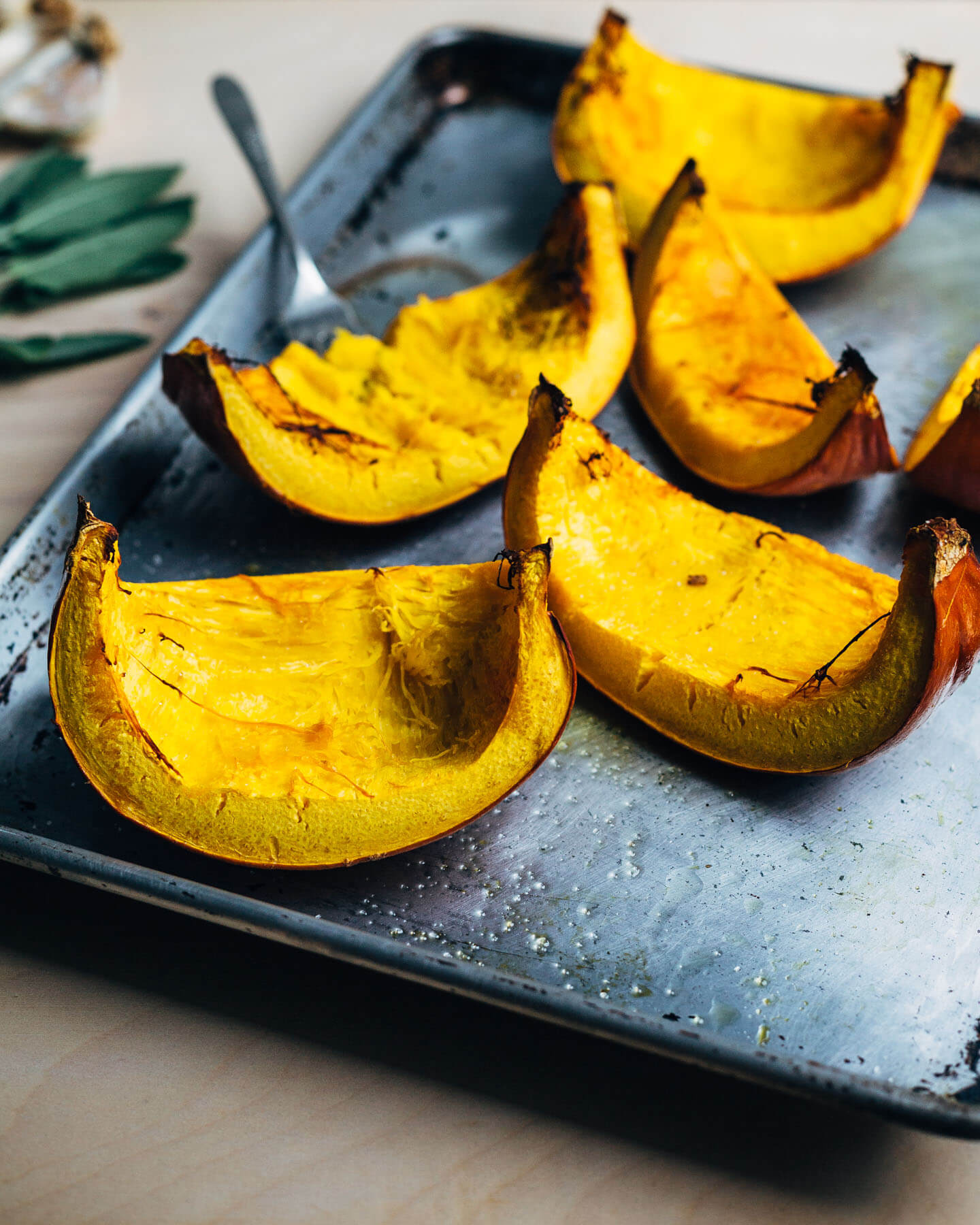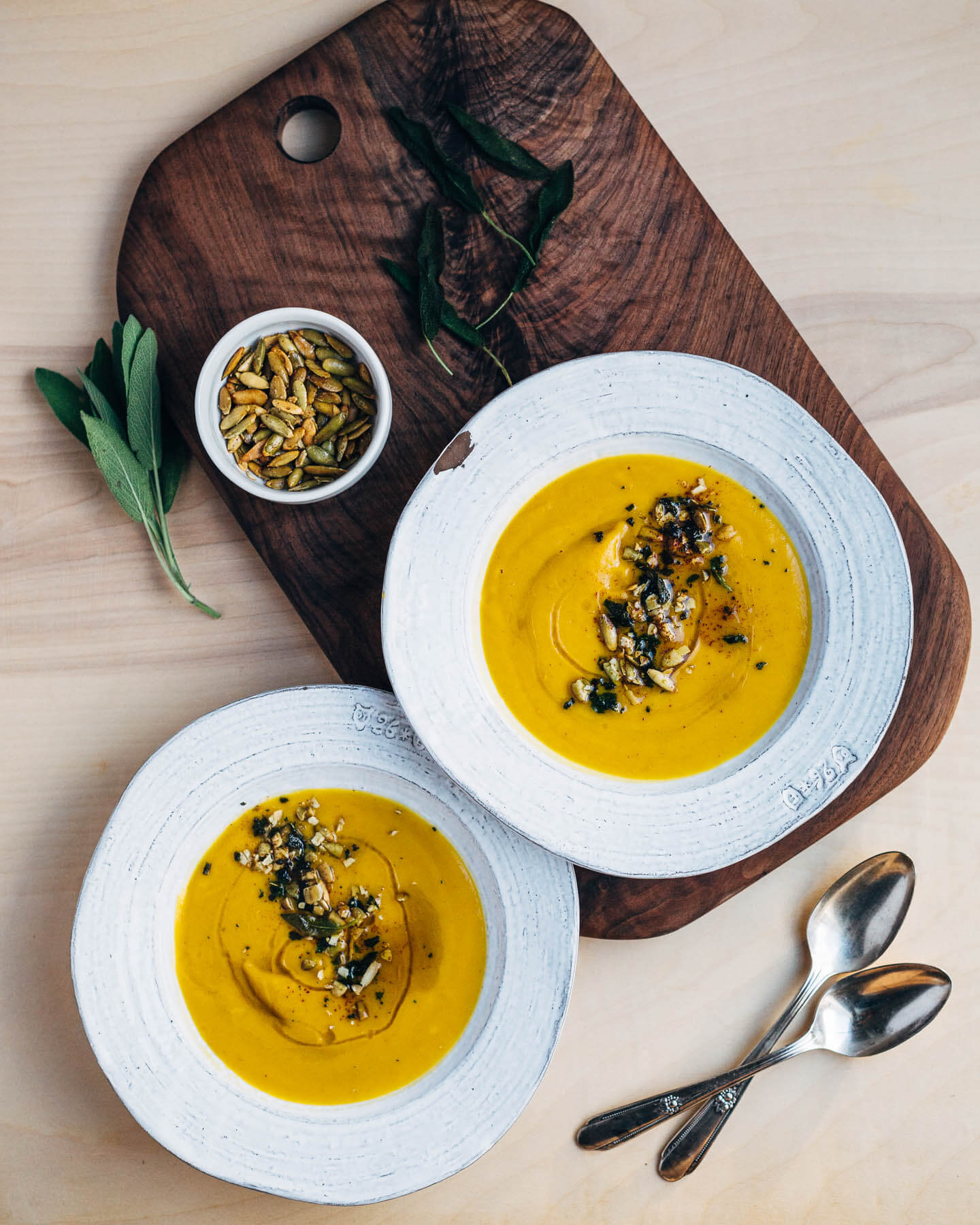 The base of this particular soup is a roasted sugar pumpkin, but I've made variations with everything from tomatoes to cauliflower to carrots. Roasting caramelizes the edges and enhances vegetables' flavor – especially tough roots and brassicas.
While the vegetables roast in the oven, set a pot on the stove and gently cook an onion until it's fragrant and translucent, then add garlic, spices, and finally, the broth. Once the vegetables have roasted up tender, add those to the pot and simmer. Carefully puree the soup, reheat, and adjust seasonings. Once you've mastered the basics, try adding creative toppings or adventurous spices. It's nearly impossible to go wrong.
And if your soup success leaves you feeling inspired, visit the Reclaim the Kitchen site where Wolf has helpful info on fundamental cooking techniques, must-have pantry items, essential kitchen tools and simple recipe ideas.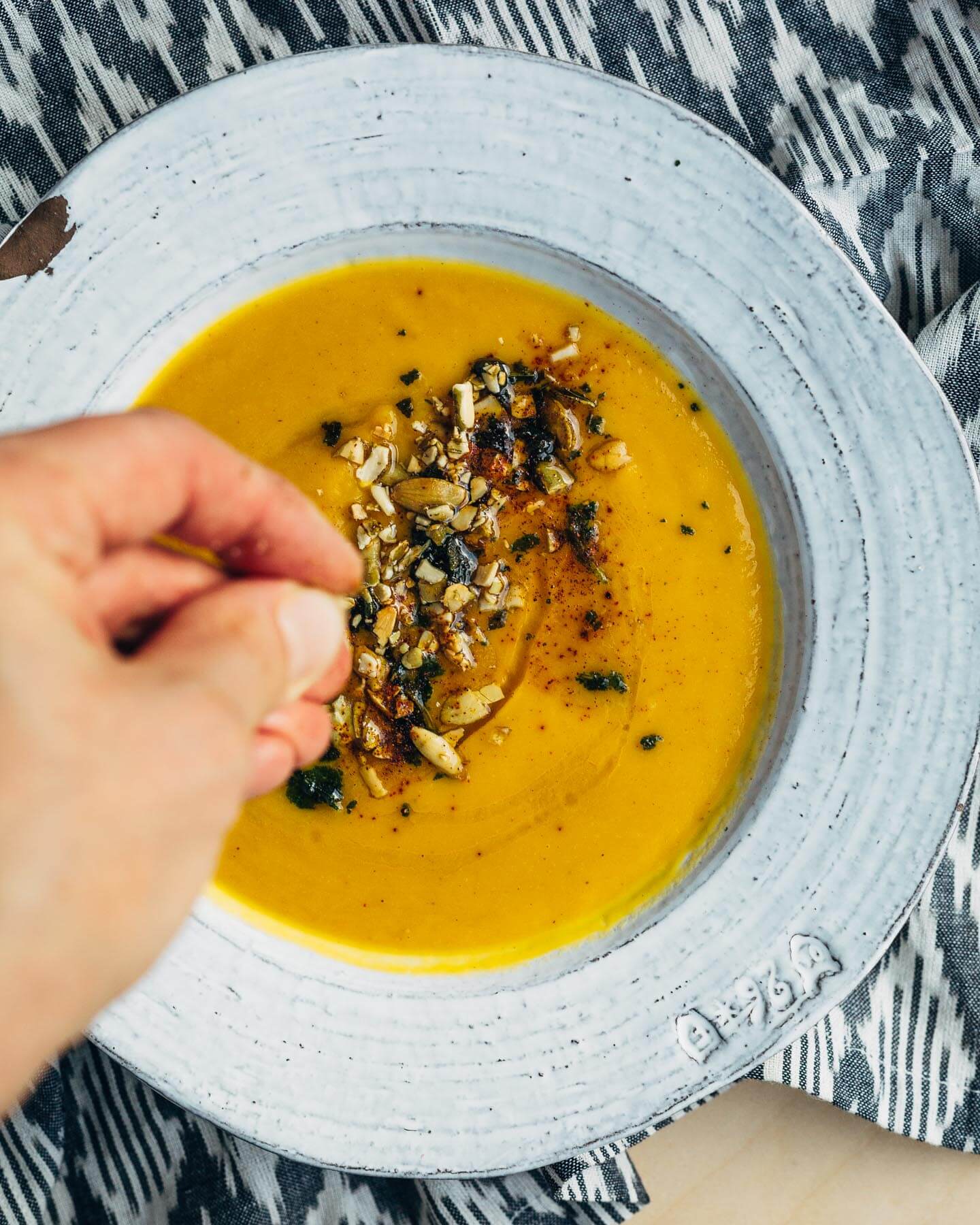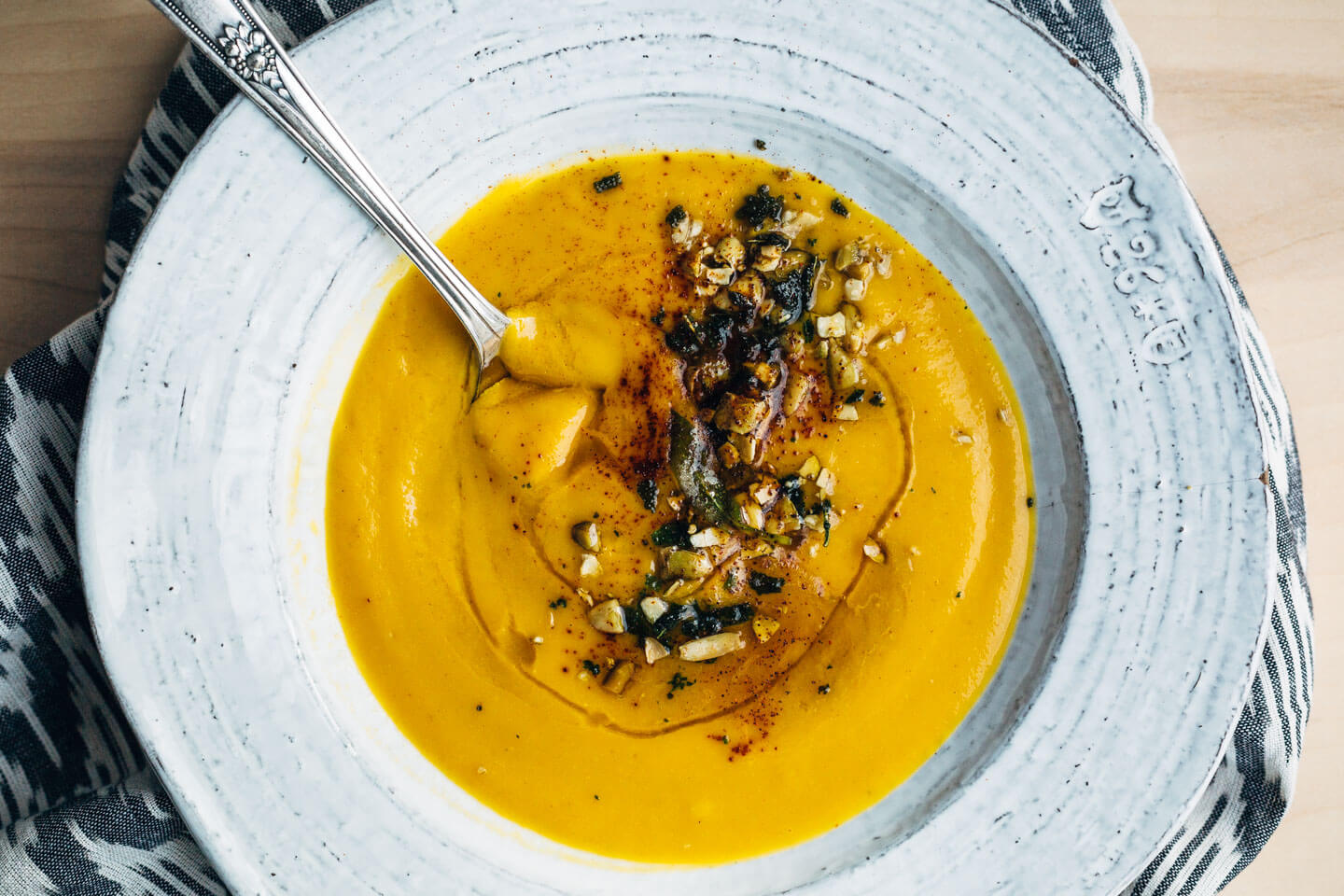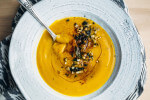 Roasted Pumpkin Soup with Chipotle Pepitas and Fried Sage
A dependable, delicious vegan roasted pumpkin soup recipe with spicy toasted pumpkin seeds and fried sage.
Ingredients
1

sugar pumpkin,

halved

6

tablespoons

extra virgin olive oil,

divided

sea salt

1

yellow onion,

trimmed and quartered

6

cloves

garlic,

smashed and peeled

1/2 - 1

teaspoon

chipotle chili powder or other flavorful chili powder

4

cups

vegetable broth

1 - 2

cups

water

1/4

cup

raw,

hulled pepitas

8

leaves

sage,

rinsed and patted completely dry
Instructions
Preheat oven to 425 degrees F. Use a spoon to clean out seeds and strings from the pumpkin's center. Slice pumpkin halves into 2 - 3 equal pieces. Brush all over with 2 tablespoons olive oil and sprinkle with sea salt. Arrange skin side down on baking sheet. Roast until squash is fork tender with brown edges, 30 - 35 minutes. When pumpkin is cool enough to handle, scoop flesh from skins, mash pumpkin with a fork and set aside.

Meanwhile, set a large stockpot over medium heat. Add 2 tablespoons olive oil, and when hot, toss in onions. Cook, stirring often, until onions are translucent, 5 - 7 minutes. Add garlic, chili powder, and a pinch sea salt, and sauté 1 minute. Stir in broth, 1 cup water, and mashed pumpkin. Bring mixture to a boil, then turn heat to medium-low, simmer 20 minutes.

Working in batches, puree soup in a blender until very smooth. If needed, add up to 1 cup more water. 

Pour pureed soup back into stockpot and warm soup over medium-low heat. Taste, and add sea salt or chili power as needed.

Meanwhile, set a small skillet over medium heat and add 2 tablespoons olive oil. When oil's hot, add sage leaves, cook 15 - 20 seconds, flip with tongs, and cook 15 - 20 seconds longer. Set sage on a paper towel-lined plate.

In the same skillet, still over medium heat, add pepitas and a pinch sea salt. Cook just until pepitas pop, 1 - 2 minutes. Set pepitas in a bowl and toss with sea salt and chili powder.

Ladle soup into bowls. Garnish with crumbled fried sage leaves, toasted pepitas, and a drizzle of olive oil. Serve immediately.
This post is sponsored by Wolf. Thanks for supporting the companies that help us do what we love here on BkS.