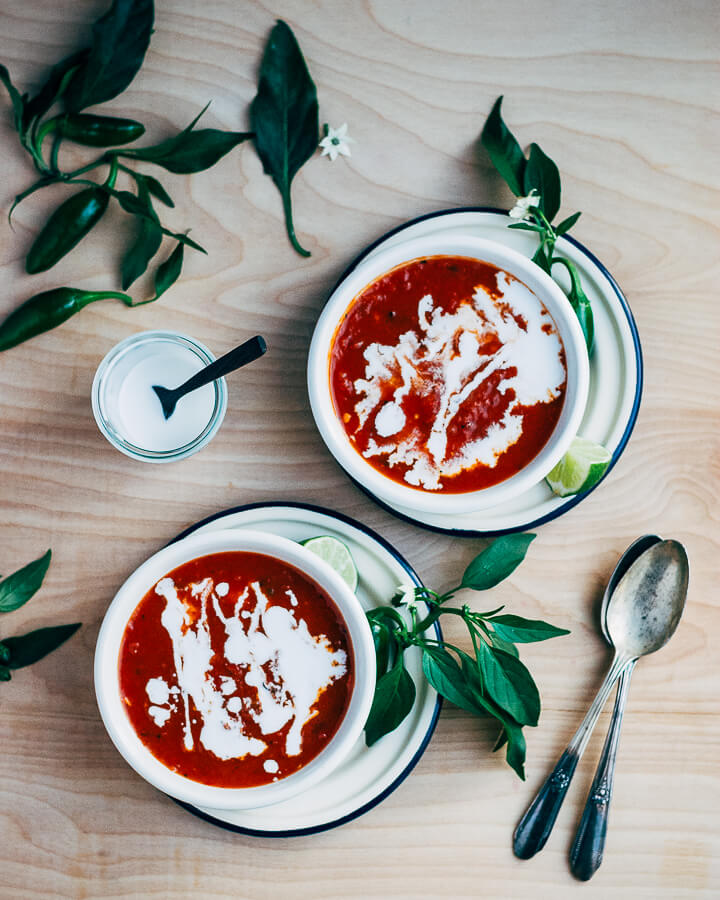 A bright, warming roasted red pepper and tomato curry soup with fresh jalapeños, lime, and coconut milk. Jump to recipe.
Last night, I pulled up my tomato plants. The growing season is winding down as the autumn chill creeps in. That chill coupled with the East Coast deluge a few weeks back mostly put an end to tomato season and peppers will follow shortly. And while greens, squash, and roots are all abundant, for the first time in months, my fridge holds a manageable amount of produce. It's nice to have a little calm.
I've been preparing in my own way for cold weather. I made a giant vat of chicken stock and a smaller one of vegetable broth the other day (16 quarts, people). We've been bolstering our pantry with grains, fresh spices, pickles, and canned tomatoes.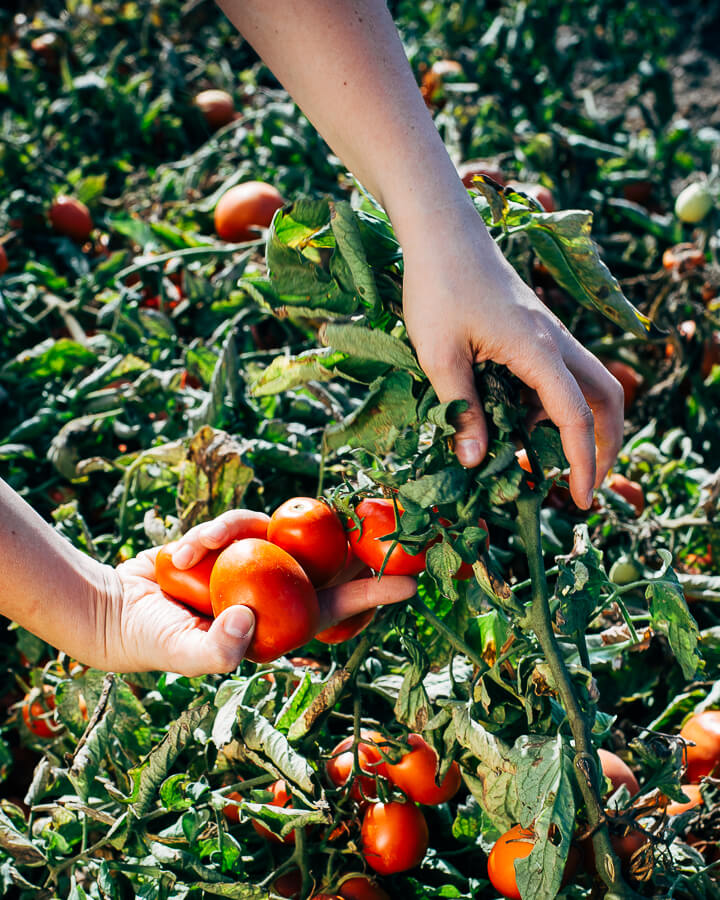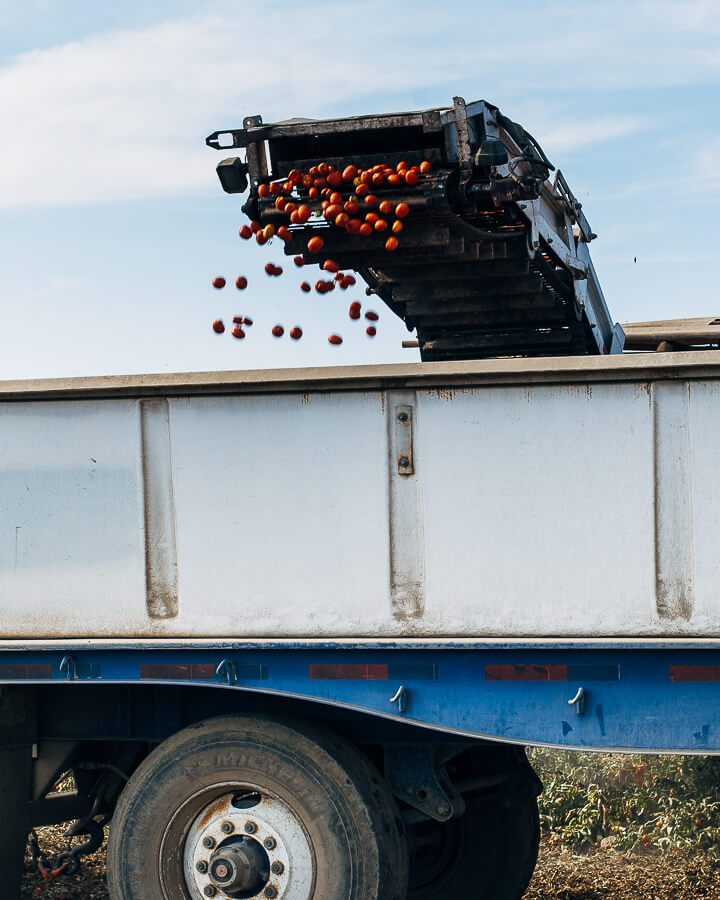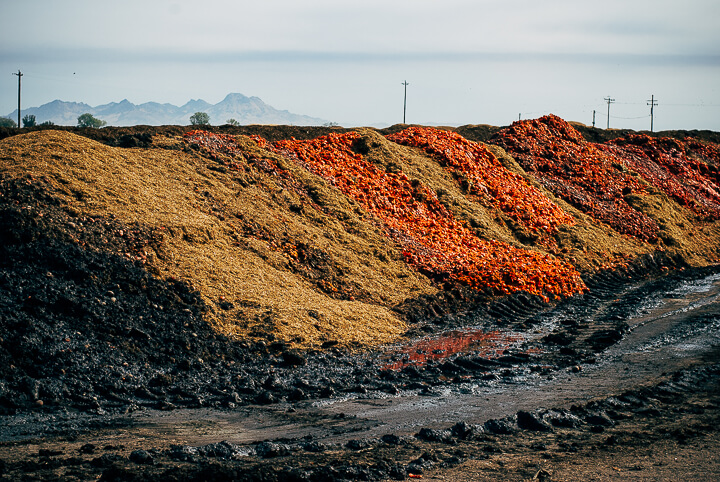 Canned tomatoes, in particular are a staple of mine in cold winter months. I always put up some on my own, but my garden is geared toward slicing tomatoes rather than canners, so preserving at home means buying huge box of paste tomatoes and spending a few weekend afternoons in the kitchen. Altogether, it's an inefficient process and I supplement with store-bought to get through the winter. Sometimes, I skimp and get the cheapest ones available, but a few weeks back, I flew out to California's Sacramento Valley to tour the Muir Glen tomato fields, cannery, and compost facility and came back convinced of something I already knew in my heart: using quality canned tomatoes makes a big difference.
In California, I walked the fields and watched a tomato harvest at the historic Rancho Llano Seco, near Chico, and tasted the Muir Glen tomatoes right there in the field. Later, I toured the cannery and saw how quickly freshly picked tomatoes are steam peeled, processed, and canned. Seeing the care with which Muir Glen's tomatoes are handled and put up, I realized that their commitment to quality – each can of Muir Glen has six organic tomatoes in it, and many varieties are robust and flavorful enough to eat right out of the can – made a convert out of me. A good tomato sauce or soup starts with good tomatoes and it's worth seeking out a quality product like Muir Glen.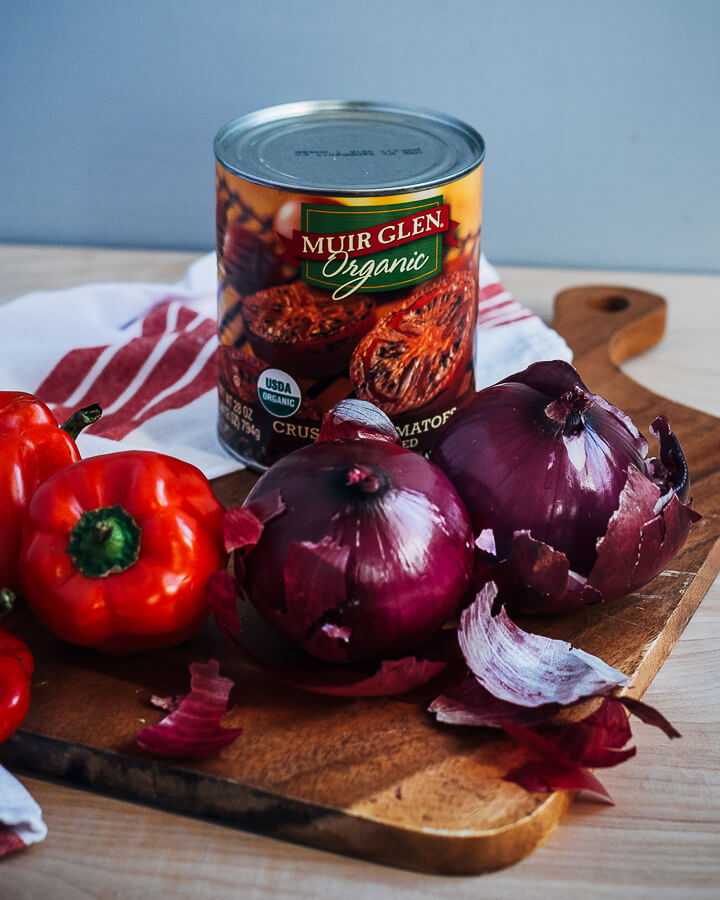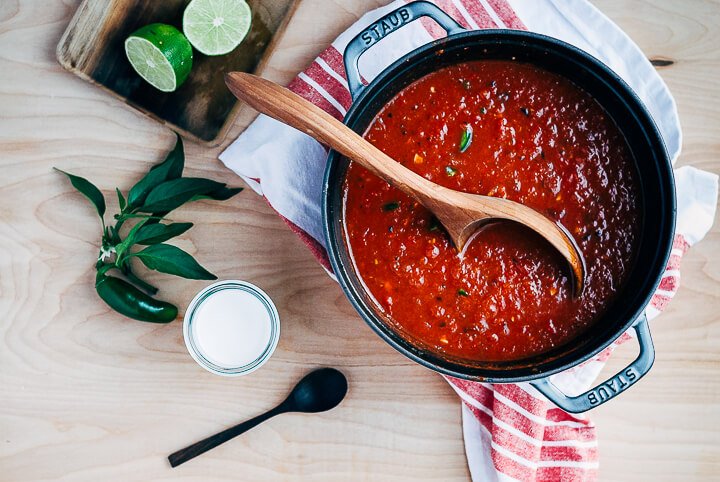 This red pepper and tomato curry soup plays on a basic tomato soup recipe I turn to again and again – just sautéed onion and garlic, a can of tomatoes, and a cup of stock if you have it, water if you don't. This recipe takes cues from that one, but elevates things substantially. First, red peppers are roasted until yielding and smoky. These get blended with fire-roasted tomatoes and vegetable broth, stirred into a mixture of garlic and green curry paste, and simmered until perfect. Just before serving, the soup gets a pour of coconut milk, lending some sweetness and balance to the bright acidity of the tomatoes.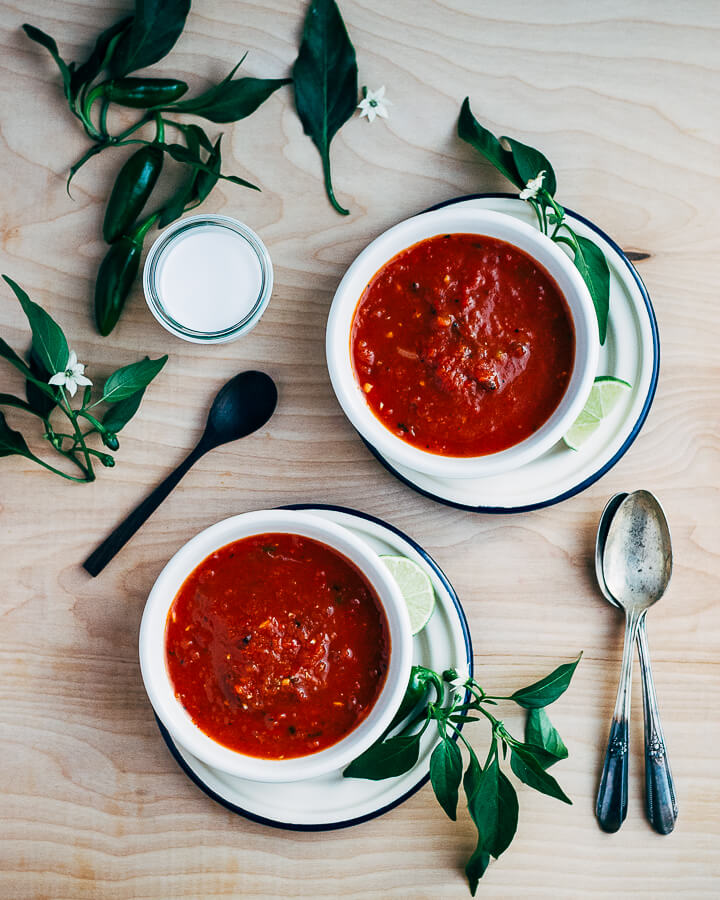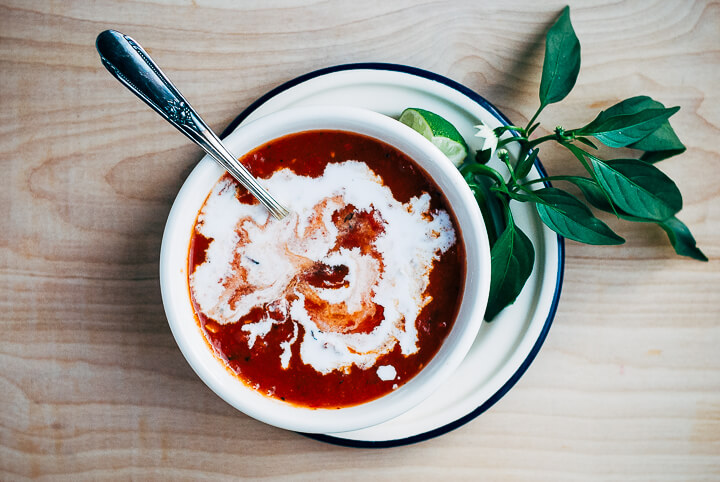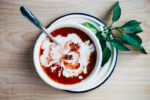 Roasted Red Pepper and Tomato Curry Soup with Coconut Milk and Lime
A bright, warming roasted red pepper and tomato curry soup with fresh jalapeños, lime, and coconut milk.
Makes
:
6
generous servings
Ingredients
4

medium red peppers

1

red onion

2

cups

vegetable broth

, divided (homemade or low-sodium)

1 28-

ounce

can Muir Glen Crushed Fire Roasted Tomatoes

2

tablespoons

extra virgin olive oil

5

cloves

garlic

, smashed, peeled, and minced

3

tablespoons

green curry paste

sea salt

2

tablespoons

minced jalapeno

juice of 1 lime

1 1/4

cup

full-fat coconut milk

, well shaken and warmed
Instructions
Turn broiler to high heat.

Trim roots from the onion, taking care to leave core intact. Trim top, peel, and cut onion into eights. Arrange on a rimmed baking sheet with whole red peppers. Slide under broiler. Onions should be cooked until soft and the edges have browned. Checking every 4 minutes, use tongs to turn peppers so that all sides blacken. Set cooked peppers in a paper bag, seal, and let peppers steam for 10 minutes. Under cold running water, peel off blackened skin, and remove core and seeds. Pat peppers dry; rough chop.

In the pitcher of a blender, combine chopped roasted peppers, roasted onions, canned tomatoes, and 1 cup broth. Pulse until mixture is nicely broken down, but still has a chunky texture.

Meanwhile, heat olive oil over medium heat in a generous soup pot. Add garlic and a generous pinch sea salt, and cook for 1 minute. Stir in curry paste, followed by 1 cup vegetable broth. Next, carefully pour in the blended soup. Bring mixture just to a boil, then turn heat down to a gently bubbling simmer and cook for 20 minutes, stirring occasionally. Taste and add sea salt as needed. When there are about 5 minutes left, add minced jalapeño and lime juice.

Ladle into bowls. Pour several tablespoons warmed coconut milk into each bowl. Serve immediately.
Disclosure: Muir Glen paid for my trip to California and provided me with canned tomatoes. No other compensation was provided for this post and all opinions expressed are wholly my own. Thanks for supporting the brands that make our work possible!