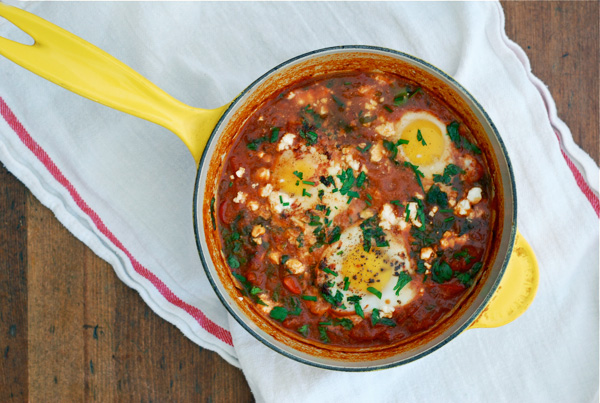 A simple, flavorful saffron shakshouka recipe. Jump to recipe.
While complicated techniques, all-day cooking, and special ingredients can make for some fantastic meals, good pantry meals are essential to eating well. Because you need something economical and easy for those nights when your kitchen fantasies are disrupted by your actual life.
Shakshouka has been a favorite family dish for a few years now, and I'm always enchanted by it's mix of smoky peppers, slowly building heat, rich tomatoes, and of course, poached eggs.
Somewhere between a stew and sauce, shakshouka is forgiving, incredibly adaptable, and just as suitable for brunch as it is for dinner. It sits happily on its own or atop a bowl of grain, polenta, couscous, or rice. But the real thing about shakshouka is it's intangible soul-soothing qualities. A big bowl of this stuff and suddenly, all is right with the world.
For this version, I played up winter staples like fresh eggs, canned green chilies, and tomatoes, and added fresh red peppers (from some distant shore, no doubt), creamy goat's milk feta, and saffron. Easygoing and fast, I'd be happy eating this for days. Shakshouka takes on spice beautifully, and if I had been cooking only for the grown-ups on the house, I'd have added a bit more, but this version needed to please kids too, and as such has just a mild kick. Saffron adds depth to the stew that plays on the mix of flavors nicely.
And if you're feeling adventurous, check out this intriguing recipe for green shakshouka from the always gorgeous blog Dolly and Oatmeal.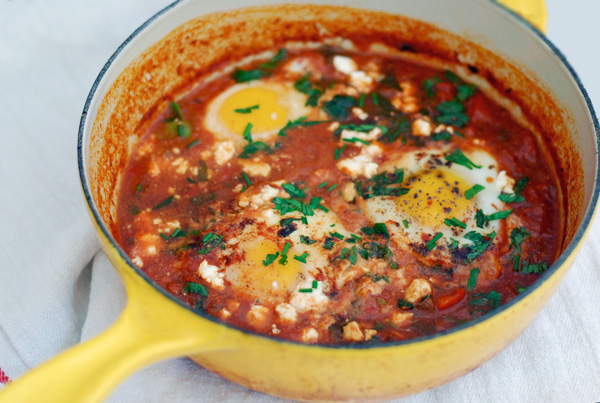 If you have the time and inclination, grind the spices fresh. It smells/tastes really great that way.
Also, you may notice that the recipe calls for 6 eggs, while only 3 are pictured. That's because I made the shakshouka for a recent family dinner and then squirreled a bit away for daylight photography (and excellent leftover lunch) purposes.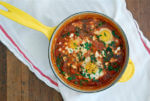 Saffron Shakshouka
A simple, flavorful saffron shakshouka recipe.
Ingredients
2

tablespoons

extra virgin olive oil

1

yellow onion

, minced

2

red bell peppers

, cored, seeded, and rough chopped

1 - 2

poblano peppers

, seeded and chopped

6

cloves

garlic

, smashed, peeled, and minced

1/4

cup

canned green chilies

1

quart

canned whole

, peeled tomatoes

1

tablespoon

spicy Hungarian paprika

sea salt to taste

ground black pepper to taste

1

teaspoon

ground cumin seed

1/2

teaspoon

ground coriander seed

5

threads saffron

splash rice wine vinegar

1/4

cup

goat's milk feta

1/4

cup

minced parsley

2

tablespoons

minced chives

6

eggs
Instructions
Heat a large 4 quart skillet with 2-inch deep sides over medium-high heat. Add olive oil, and when hot, the onions. When onions are soft and translucent, add red pepper and poblano; continue to sauté for 4 minutes or so. Add garlic and sauté 1 minute more. Next, stir in canned chilies and tomatoes with their juice, crushing each whole tomato with your hand as you go. Stir in sea salt, pepper, and spices. Bring mixture up to a gentle boil, and then turn heat to low. Simmer 20 minutes, stirring occasionally.

Add rice wine vinegar, feta, parsley, and chives. Check salt levels and adjust as needed.

Edge heat up to medium-low. Working one at a time, crack each egg into a small bowl, and then transfer the egg to the shakshouka by dipping it into the stew and giving it a careful tip. Repeat for each egg. Add a pinch of sea salt to each egg. Cover and allow eggs to poach 6 - 8 minutes –– just until the whites have set up.

To serve, ladle into a bowl or spoon shakshouka over a grain, polenta, or rice. Garnish with a pinch of fresh herbs, a dash of paprika, and a sprinkle of feta.
SaveSave
SaveSave