I've partnered with Blurb to create a cookbook dedicated to my favorite seasonal dinner recipes. And in the spirit of delicious dinners, I'm also sharing an easy recipe for sausage and Brussels sprout flatbread pizzas.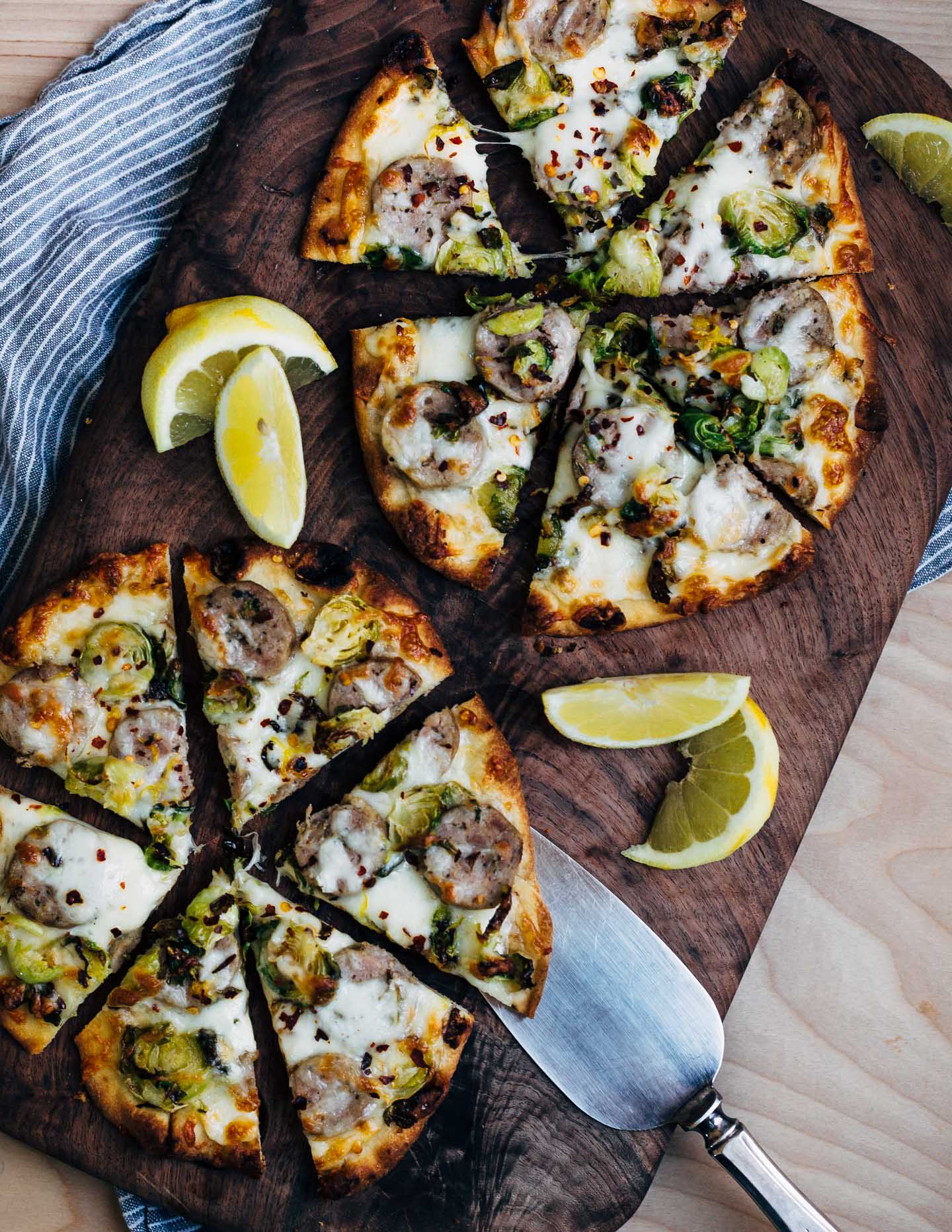 A few weeks back, a miracle happened. My daughters – ages 11 and 7 – made a family dinner. The menu was heavy on the classics: spaghetti with meat sauce, buttery garlic bread, and a big green salad. And for dessert? Chocolate cake.
We made most everything without a recipe, but for the cake, I cracked open The Joy of Cooking and watched my daughter learn to bake from the same book that had taught me years ago. It got me thinking about my own literary legacy. Of course, I have this site and I hope that someday they'll look up recipes here, but I also love the idea of capturing this moment in time, our favorite ingredients and meals, in a book, so I started planning a DIY cookbook featuring our most beloved dinner recipes.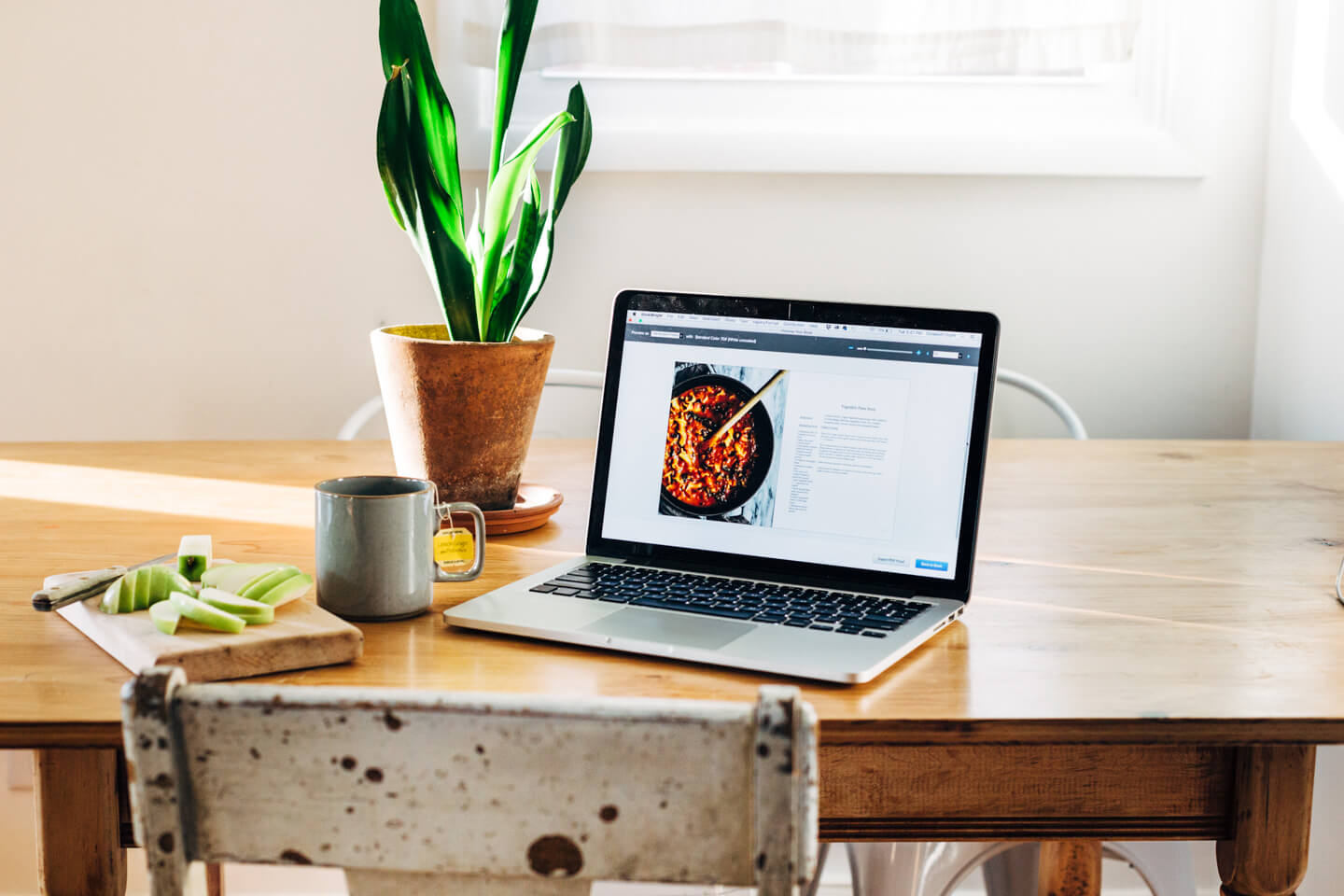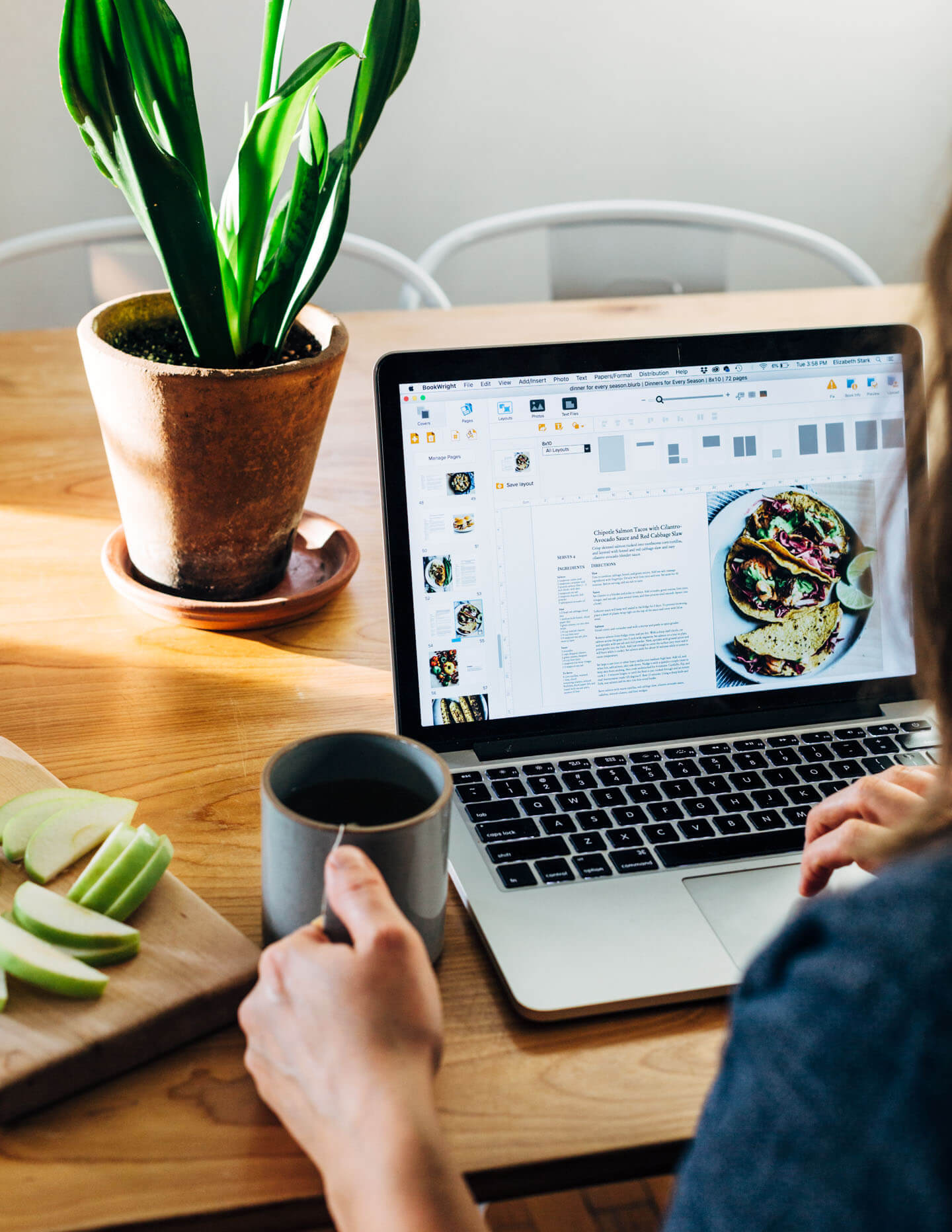 I've made Blurb books before, so I knew they'd have everything I needed to create something beautiful. I'm not a great designer, so I opted to use Blurb's BookWright program, a free desktop publishing program from Blurb that comes complete with a host of downloadable templates, including a beautifully designed cookbook template that makes laying out my recipes simple.
Because I want my book to hold up to splashes and drips over time, I went with a matte casewrap hardbound cover and matte finish Standard Trade Paper pages that have a nice heft between your fingers. Blurb offers a range of papers and bindings, including softbound and layflat designs, as well as papers ranging from semi-gloss to matte, so you can always find a format that's right for your project, whatever it is. Once all I had all the recipes and images plugged in, I printed out a black and white copy to proofread. Then I added my changes, uploaded the book to Blurb, and just like that, my book was on its way to the printer.
After about 10 days, my Blurb book arrived on my doorstep, just as beautiful and vibrant as I'd imagined. I was so excited to give my girls something that I hope they'll have for years to come.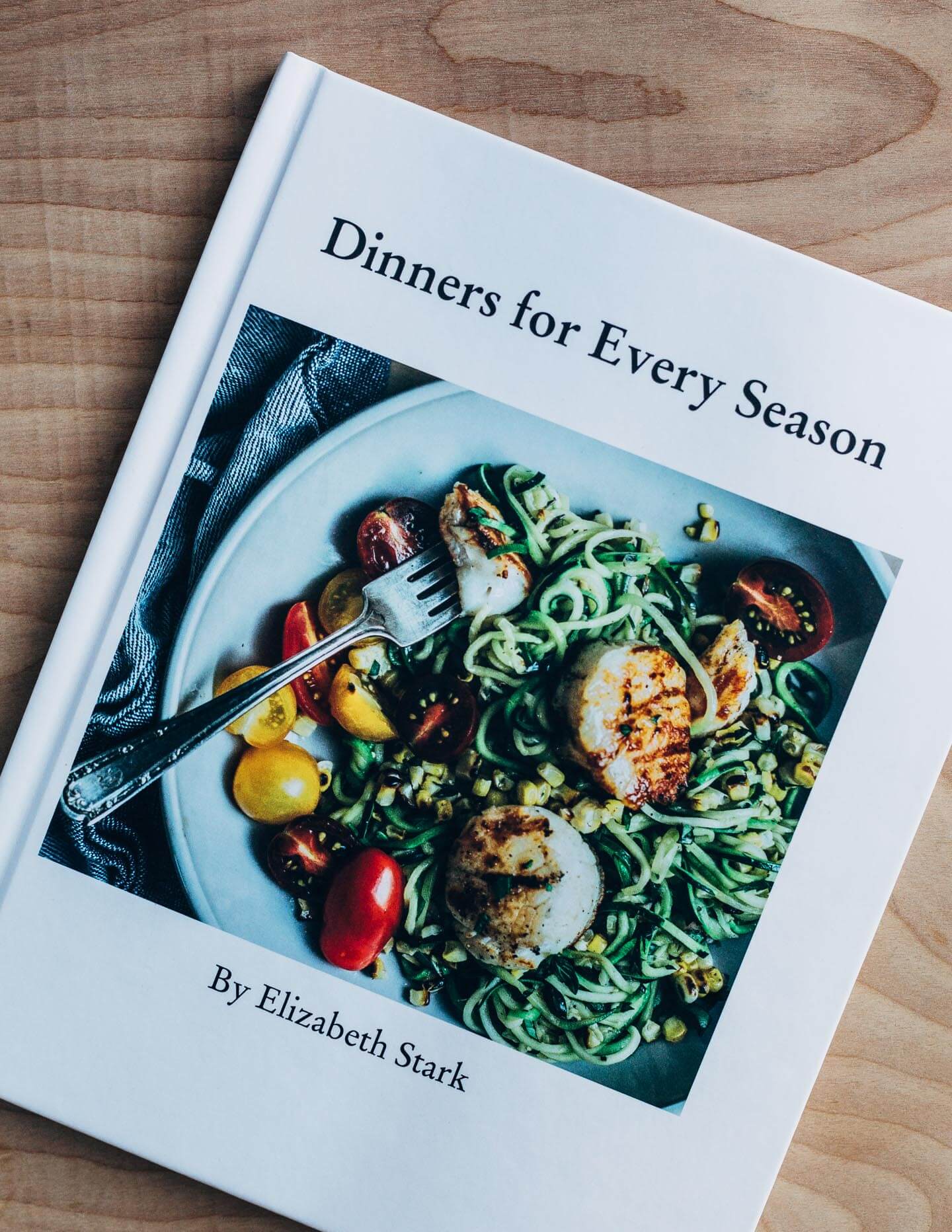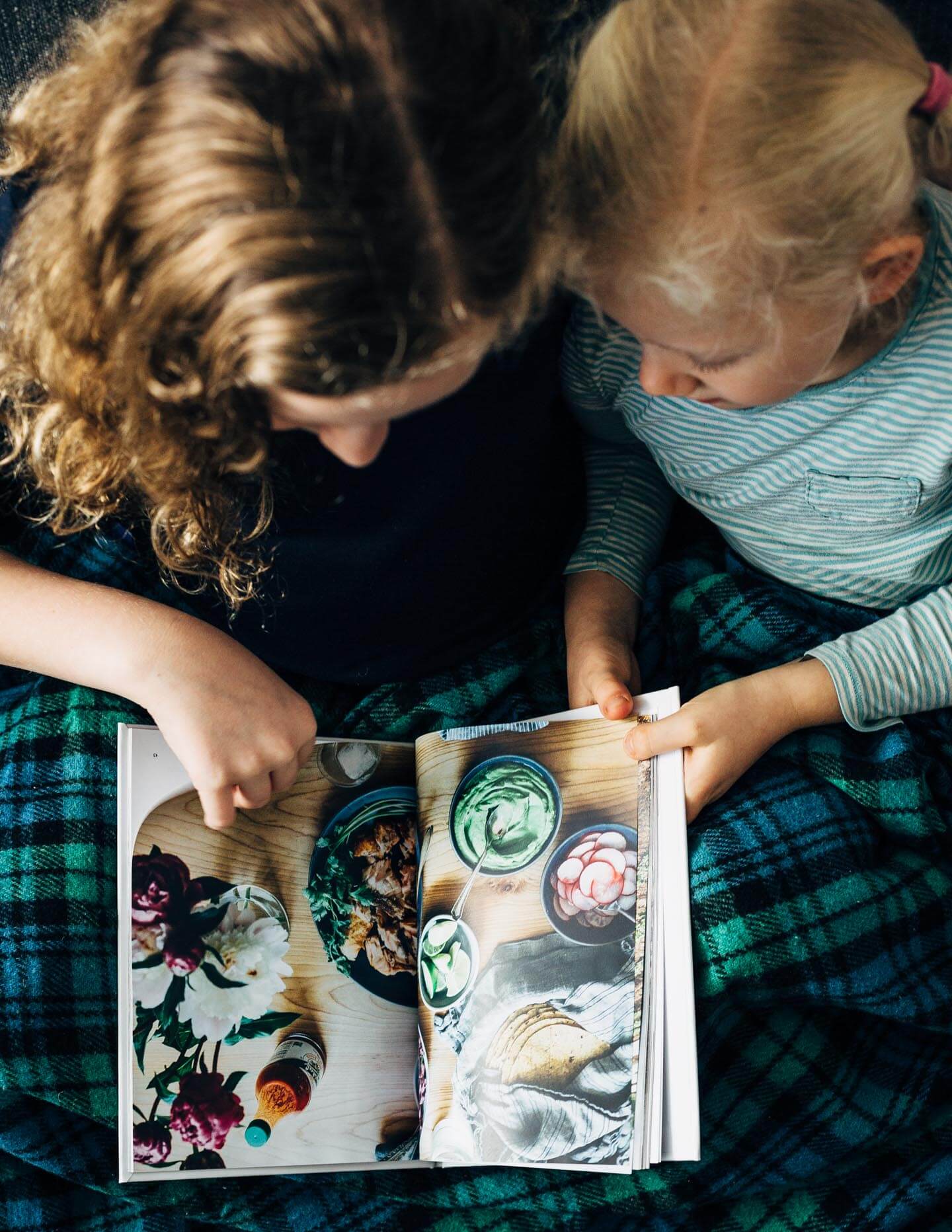 I haven't always been great about making and creating keepsakes for my girls, but I'm already dreaming up future book projects to create for and with them, like a cookbook of their favorite dishes or hardbound book featuring their artwork over time. Blurb makes it incredibly simple to turn family memories, artwork, or photos into gorgeous books – the possibilities are endless. Have you ever created a book project for family or friends? I'd love to hear about books you've made, especially ones with kids at the focus.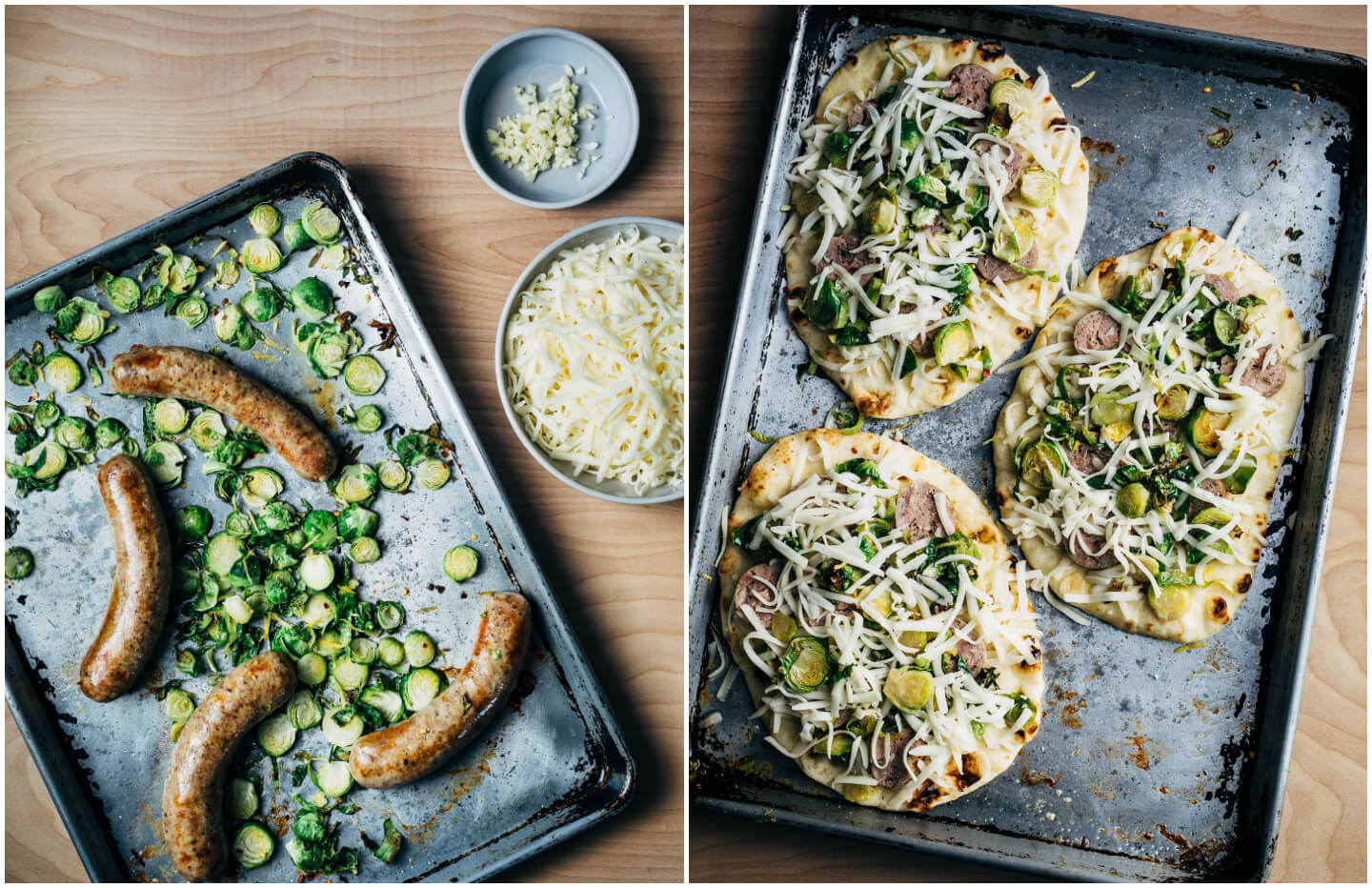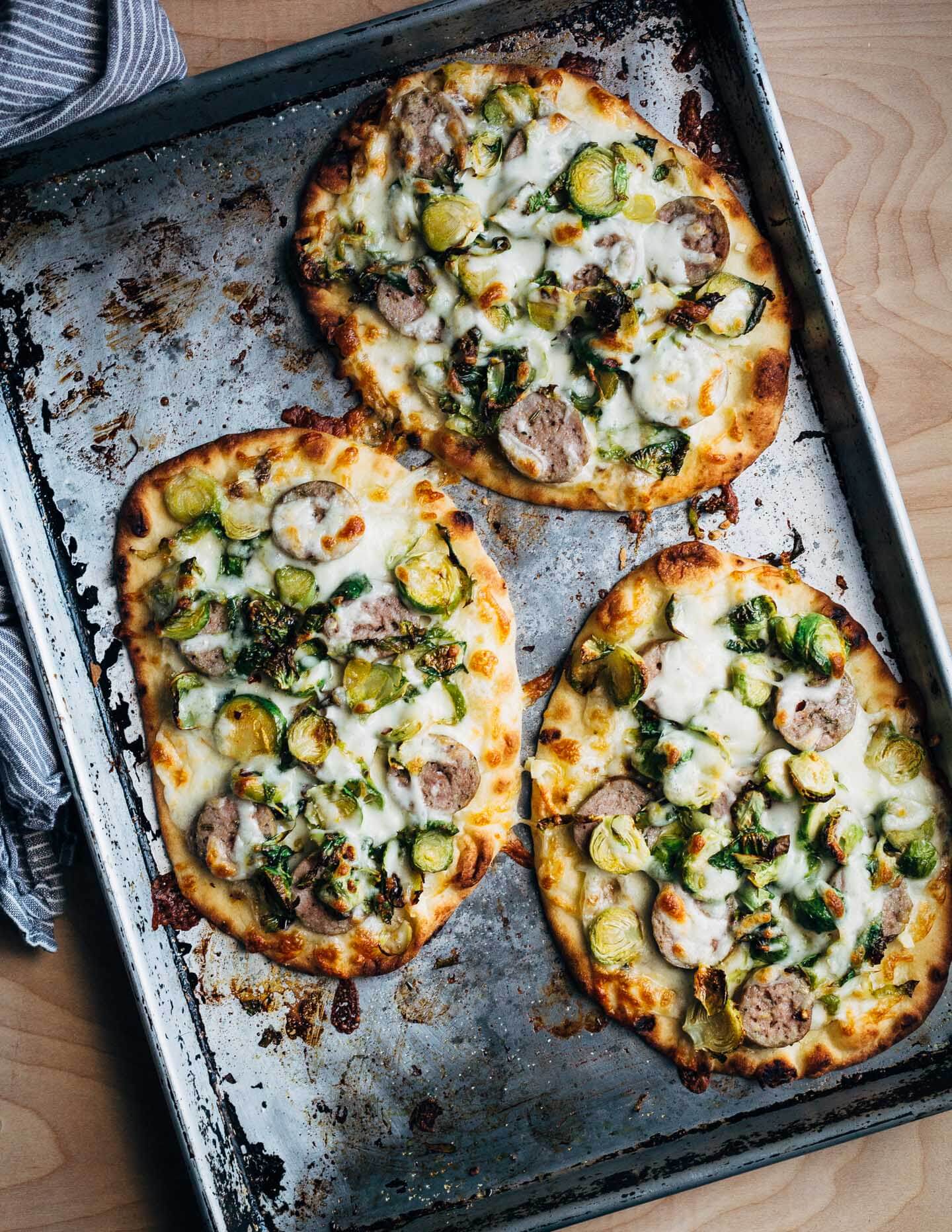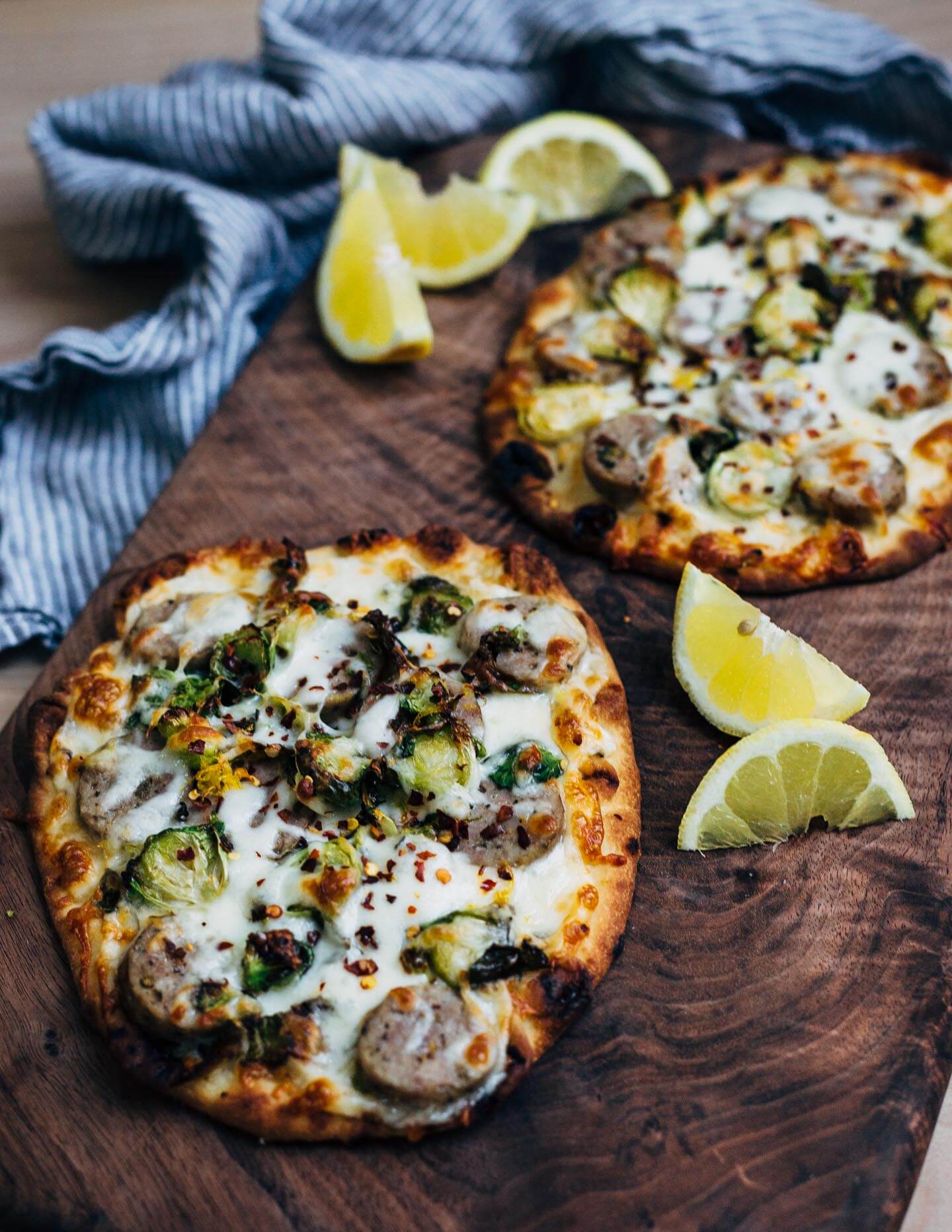 Lastly, because my book is about simple, seasonal dinner recipes, I wanted to share a recipe in that spirit. These sausage and Brussels sprout flatbread pizzas are the perfect dinner for busy times. The sausage and sprouts cook ahead on a sheet pan. Next, slice up the sausage, assemble the pizzas, and bake. Dinner is ready to go in about 40 minutes (but most of that is hands-off cooking time). Finished with a few grates of lemon zest and lots of red pepper flakes, these Brussels sprout and sausage flatbread pizzas are layered, rich, and deeply satisfying.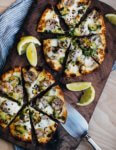 Sausage and Brussels Sprout Flatbread Pizzas
These sausage and Brussels sprout flatbread pizzas feature golden-edged roasted Brussels sprouts alongside tender sausage and melty mozzarella. Lemon zest and red pepper flakes punctuate the pizzas with brightness and heat, and lend a delightful complexity to this weeknight-friendly dish.
Keyword:
brussels sprout pizza
Ingredients
4

Italian sausages,

mild or spicy

12

medium-sized Brussels sprouts,

ends trimmed and sliced 1/8-inch thick

sea salt

3

cloves

garlic,

smashed, peeled, minced

4

flatbreads

2

tablespoons

olive oil

1/2

teaspoon

red pepper flakes,

or to taste

10

ounces

low-moisture mozzarella,

shredded

1

tablespoon

lemon zest,

plus 4 lemon wedges
Instructions
Preheat oven to 425 degrees F.

Arrange sausages on a large rimmed baking sheet. Bake 15 minutes (depending on size). Scatter sliced sprouts between sausages, tossing them a bit in the accumulated sausage fat. Sprinkle with sea salt. Roast 10 - 15 minutes, or until the internal temp of sausage reaches 160 degrees F.

Turn oven up to 450 degrees F. Cool sausages briefly, then slice. Scrape sprouts into a bowl.

Wipe sheet pan clean and arrange flatbreads (I cook them in groups of 2 or 3). Drizzle each flatbread with about 1/2 tablespoon olive oil, sprinkle with sea salt, and scatter garlic and red pepper flakes. Next, add a light layer of cheese, scatter sliced sausage and Brussels sprouts. Top with another light layer of cheese, lemon zest, and a few more red pepper flakes.

Bake 8 - 10 minutes, or until cheese is melted and bubbly and just starting to brown. Slice and serve!