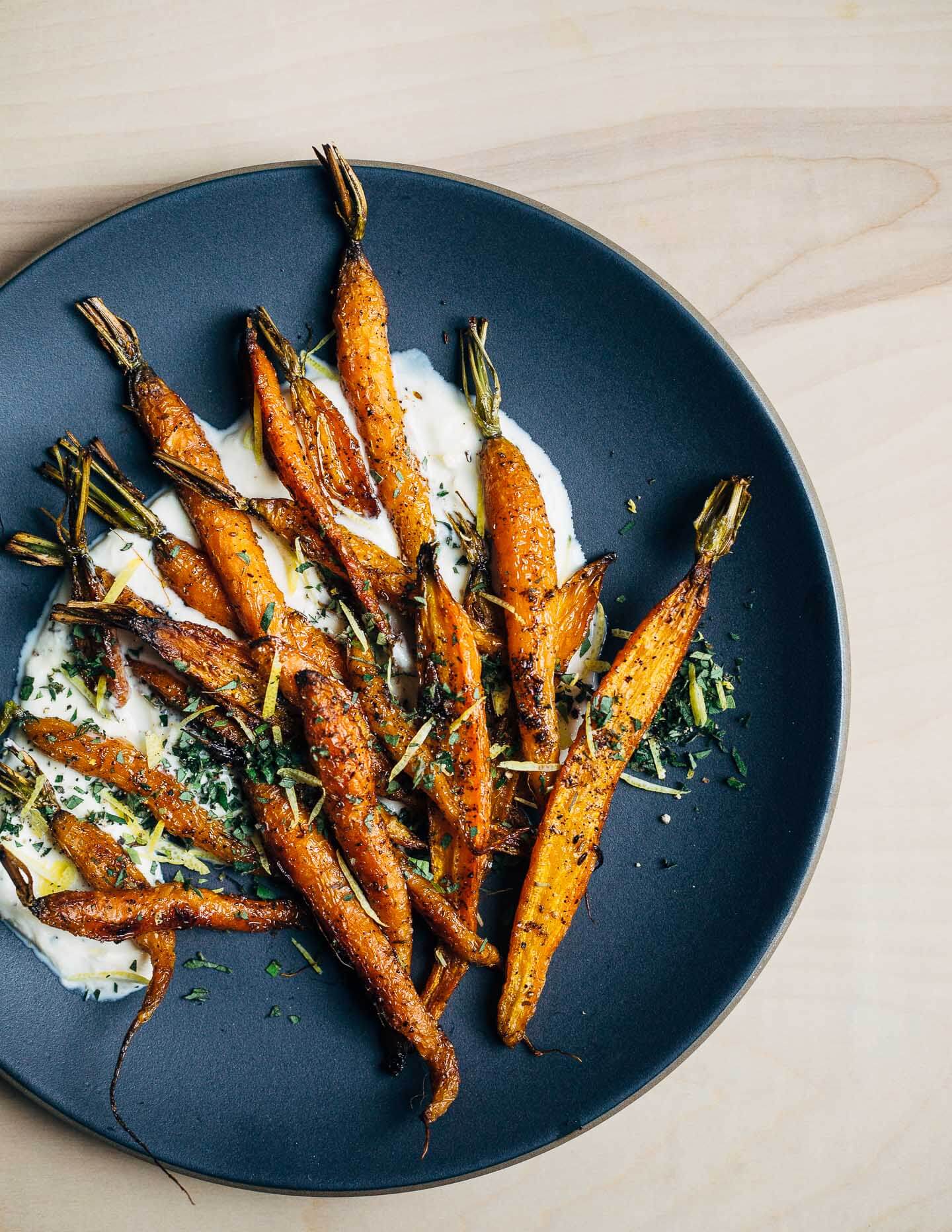 A cookbook dedicated to seasonal salads, created in partnership with Blurb, and an autumnal roasted carrot salad recipe with cracked pepper and cumin crème fraîche. 
There can be no question that the season stretching from November 1 through the end of the year is not salad season. Salads and vegetables generally return in January when collective guilt and hasty resolutions lead us to eat like rabbits for two weeks (longer if you have the willpower). But I don't see salad as a culinary punishment or means of atonement. Rather, I see salads as what they are: a means to eat healthful vegetables, preferably in the most delicious way possible. Afterwards, there will be no judgment whatsoever if you eat a cookie too.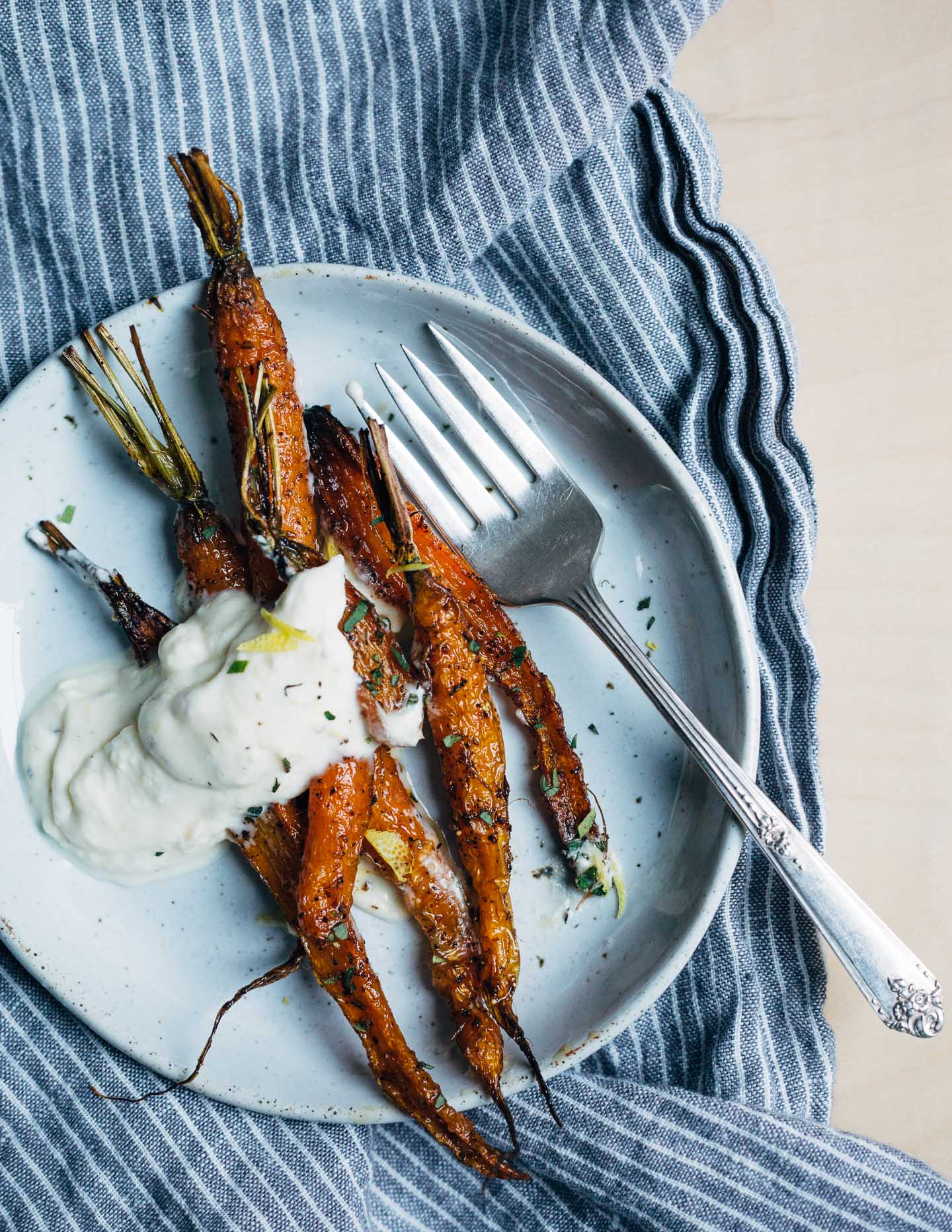 Recently, my love of salads, even in the produce wilderness of November and December, inspired a collaboration with Blurb Books – Salads for Every Season: 25 Inventive Recipes. I loved my last collaboration with Blurb and wanted to recreate the magic again – except this time, my book is available for you to purchase!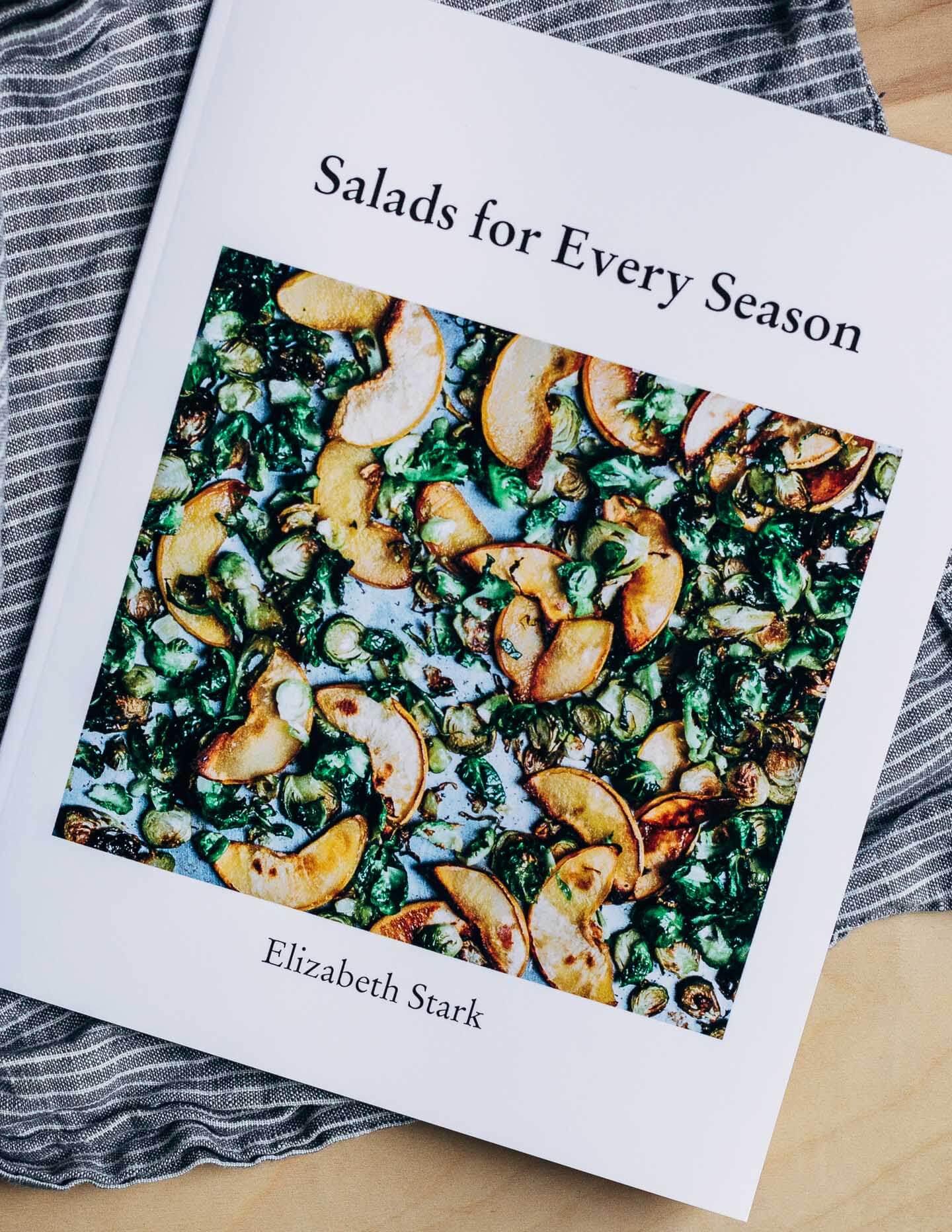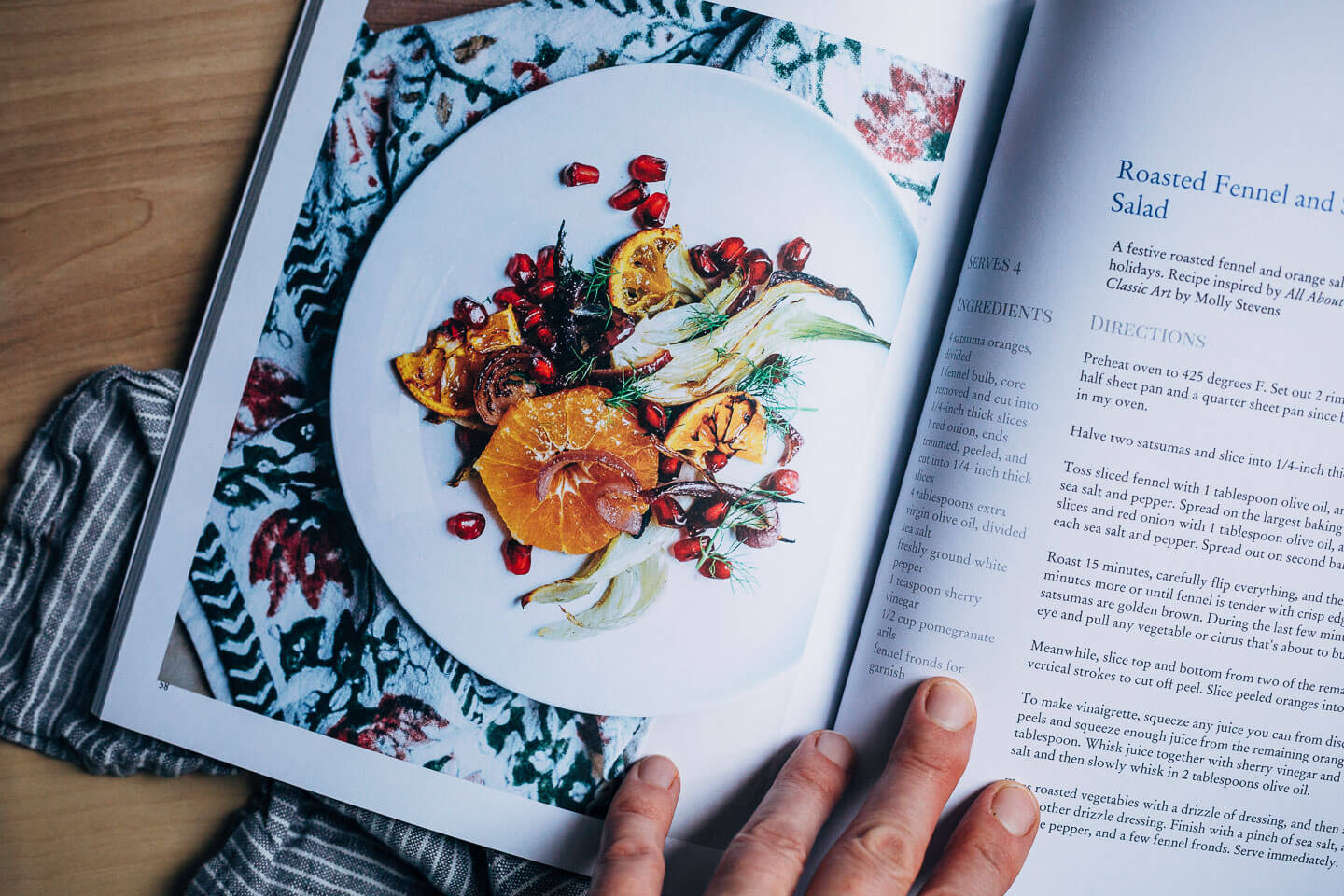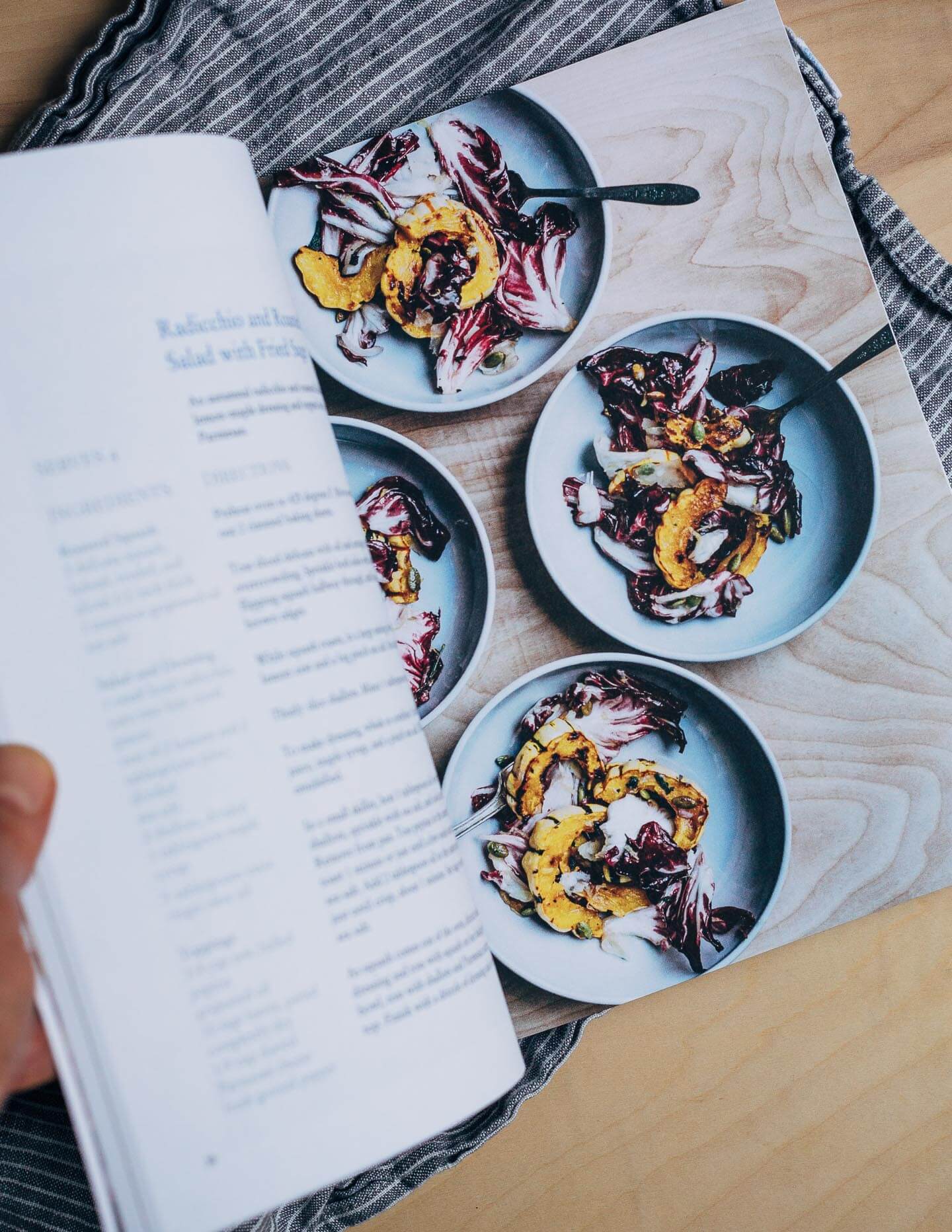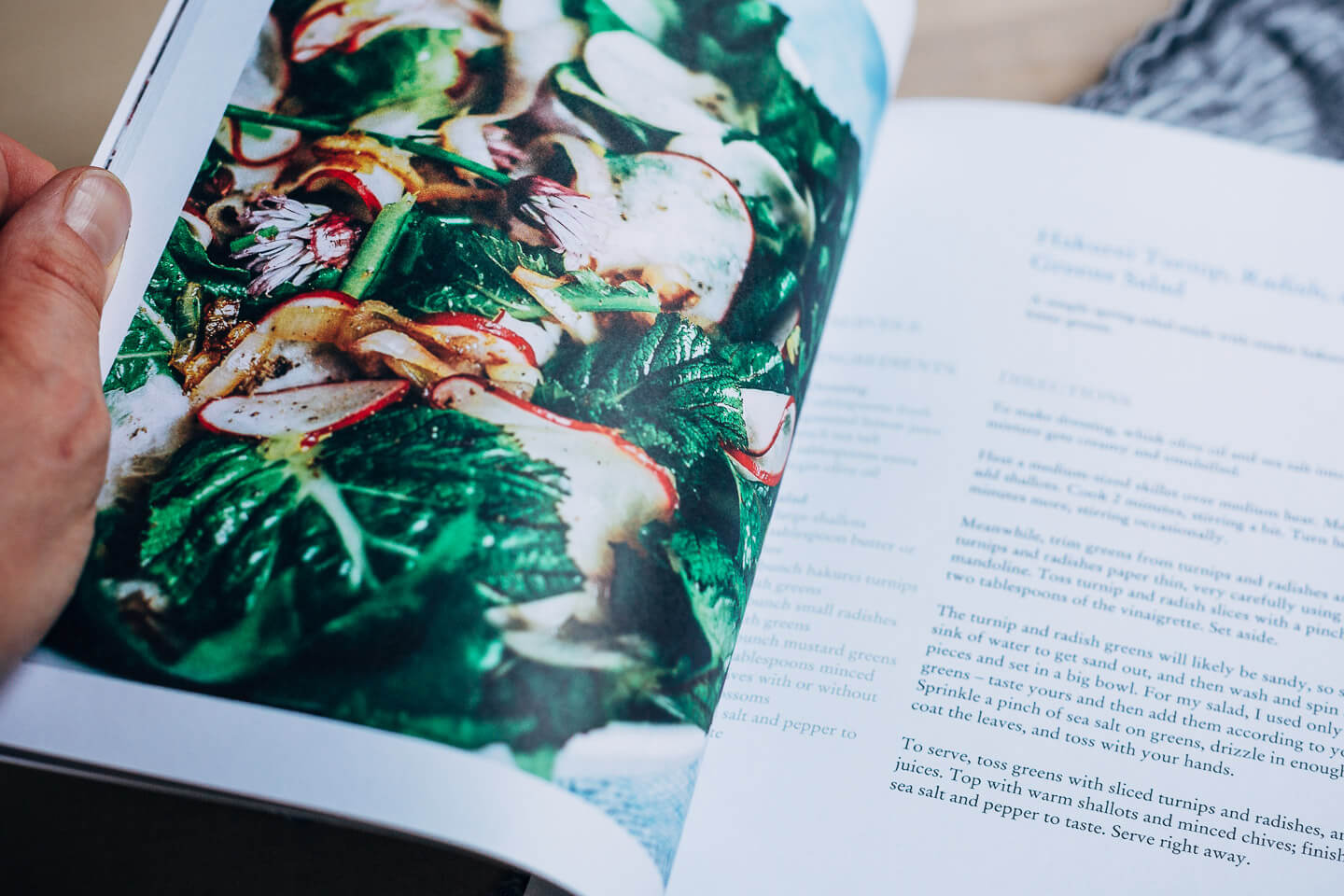 This recipe collection (aka cookbook) features my favorite salad recipes – those recipes that I turn to again and again on busy nights, as well as a few special salads worthy of a holiday meal of dinner party. As you may have inferred, the book is divided by season and highlights whatever's fresh and delicious at any given time of the year. Most of the recipes are vegetarian and plant- based, although a couple of recipes feature a crumble of bacon.
Working with Blurb to create my book was incredibly straightforward. Using Blurb's BookWright editing software, I was able to select my book type, size, and paper, and use their beautifully-designed cookbook template to bring my recipes to life. With Blurb's help, I crafted a book that met my standards in both design and photo quality – it was such a thrill to receive it in the mail a few days later.
Brooklyn Supper has always been about bringing great, seasonal food to everyone's table, and now, I'm so excited to let you know that Salads for Every Season is available for purchase in the Blurb Bookstore. I hope you'll check it out!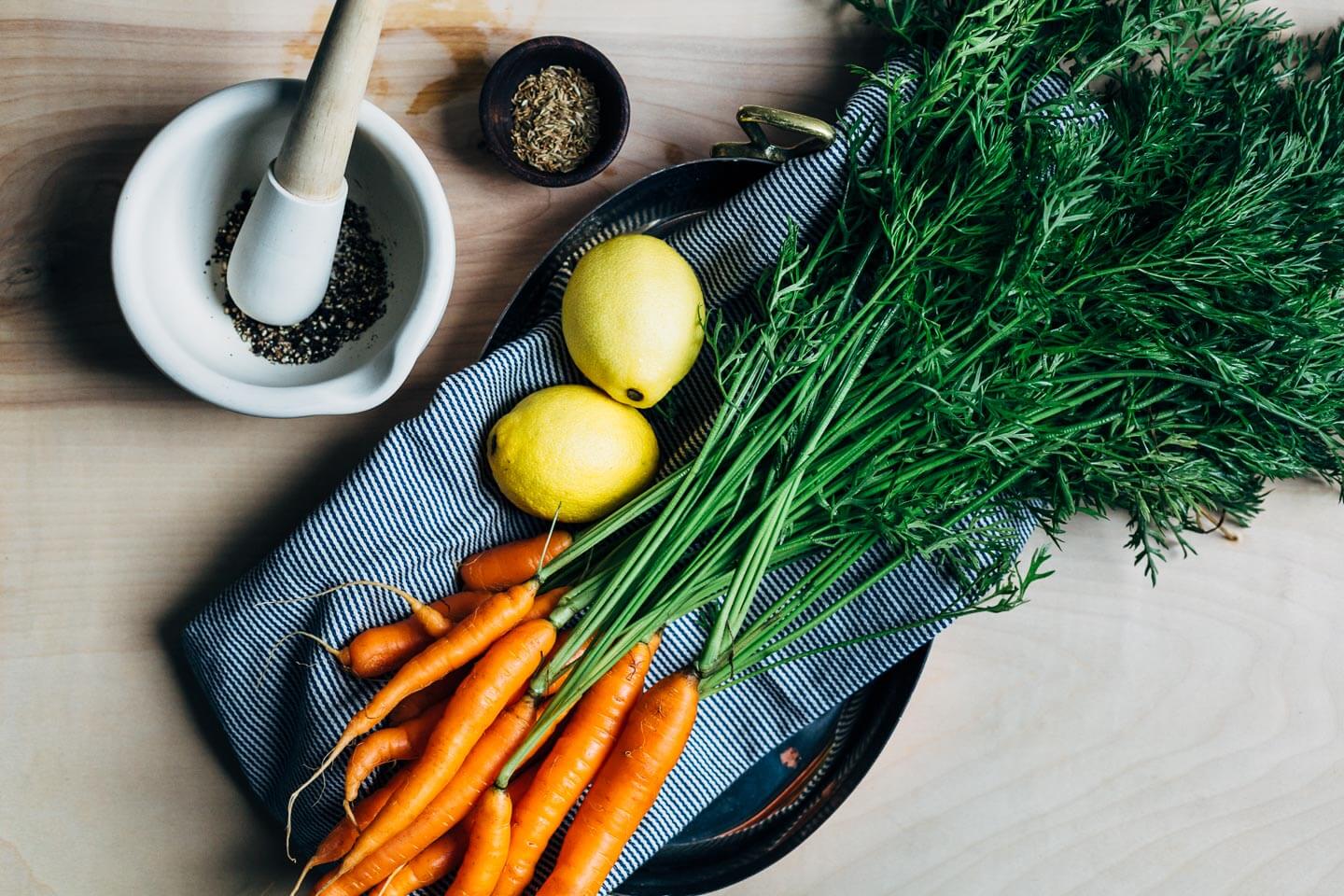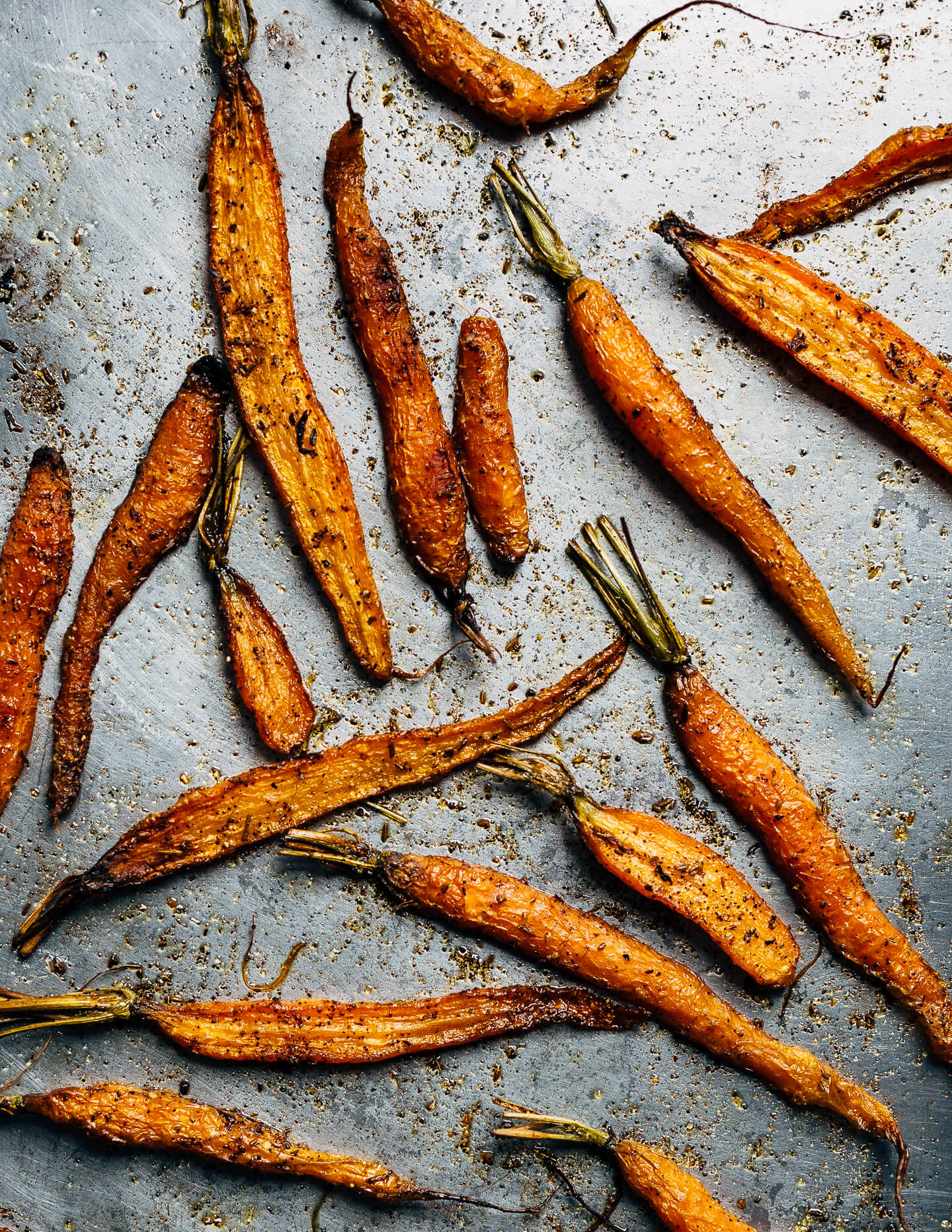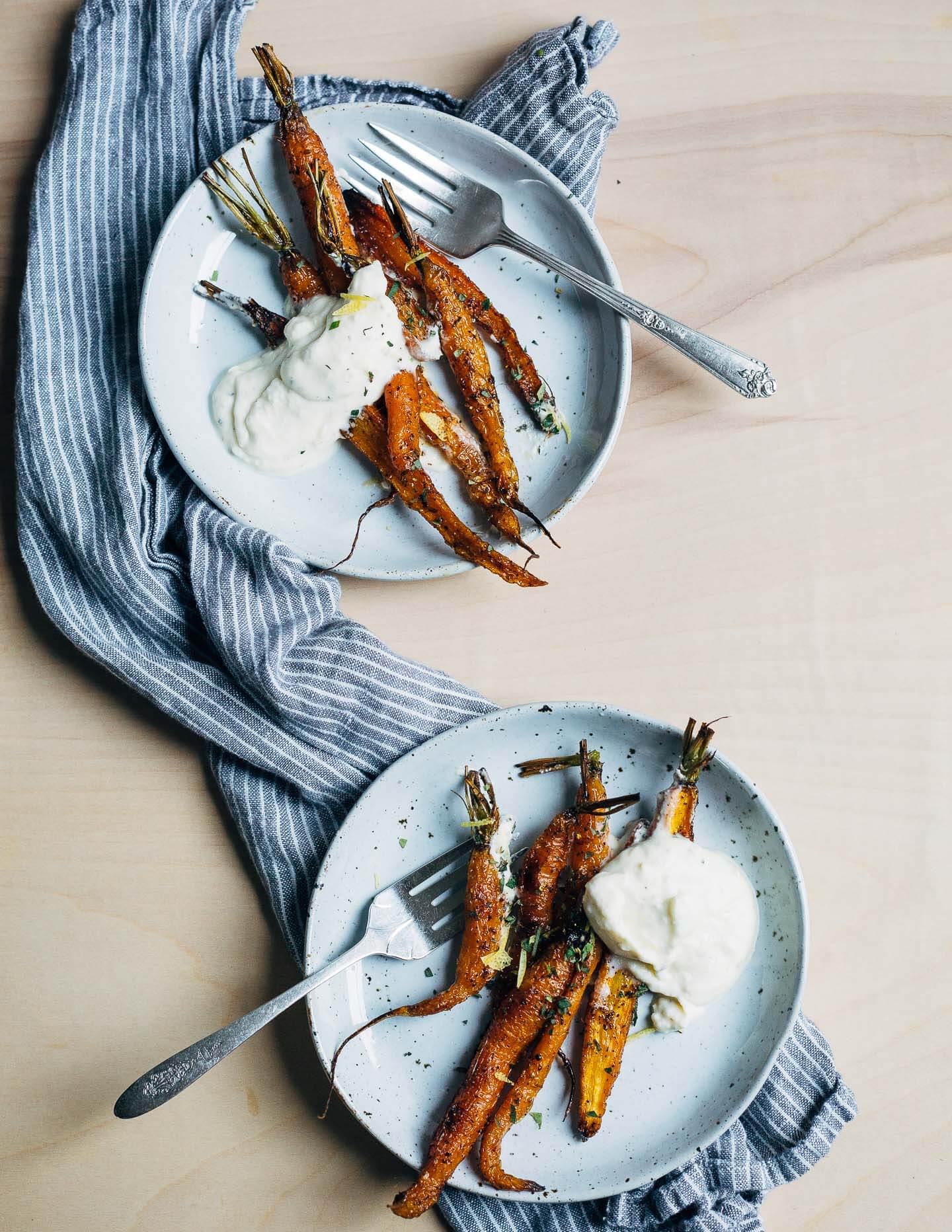 Salads for Every Season: 25 Inventive Recipes would make a great holiday gift for those looking for that more unique and meaningful gift this holiday season. Additionally, check out Blurb's Holiday Gift Guide for more ideas on how to create your own book to gift, including order-by dates so your book arrives in time for the holidays!
To celebrate a book dedicated to salads, I've come up with one more to share today. This roasted carrot salad with cracked pepper and cumin crème fraîche is everything I love about salads. It comes together simply, the carrots are rubbed olive oil and spices and roasted until supple and then served atop spiced crème fraîche, and topped with fresh oregano and lemon zest. If you're thinking about including this roasted carrot salad in your holiday plans, know that the cracked pepper crème fraîche can be made ahead of time and the carrots roast in 30 minutes.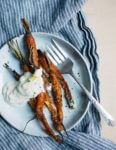 Roasted Carrot Salad with Cracked Pepper and Cumin Crème Fraîche
This roasted carrot salad is all about the contrast between crispy-edged, supple carrots and pillowy crème fraîche with flecks of pepper, freshly ground cumin, and lemon zest. The cracked pepper crème fraîche and fresh ground spices can be prepped up to a day ahead of time.
Recipe Type:
Dinner, Salad
Ingredients
1

bunch carrots,

greens attached

1

tablespoon

extra virgin olive oil

3/4

teaspoon

peppercorns,

divided

3/4

teaspoon

cumin seed,

divided

1/2

teaspoon

chili powder

1/4

teaspoon

sea salt,

plus more to taste

1/2

cup

crème fraîche

zest of 1 lemon

2

tablespoons

minced fresh oregano leaves
Instructions
Preheat oven to 425 degrees F.

Trim all but 1/4-inch of the greens from the carrots. Halve larger carrots lengthwise. Use a mortar and pestle or spice grinder to crack the pepper and grind the cumin (this can be done at the same time).

To make cracked pepper crème fraîche, stir in 1/4 teaspoon each cracked pepper and cumin, and most of the lemon zest (reserve a few pinches as a garnish) into the crème fraîche and refrigerate.

On a large baking sheet, toss carrots with olive oil, remaining 1/2 teaspoon each pepper and cumin, chili powder, and sea salt. Roast 30 - 35 minutes or until carrots are tender with crisp edges, flipping carrots halfway through.

Add a generous dollop of spiced crème fraîche to the serving plate and top with roasted carrots. Finish with fresh oregano and reserved lemon zest and serve.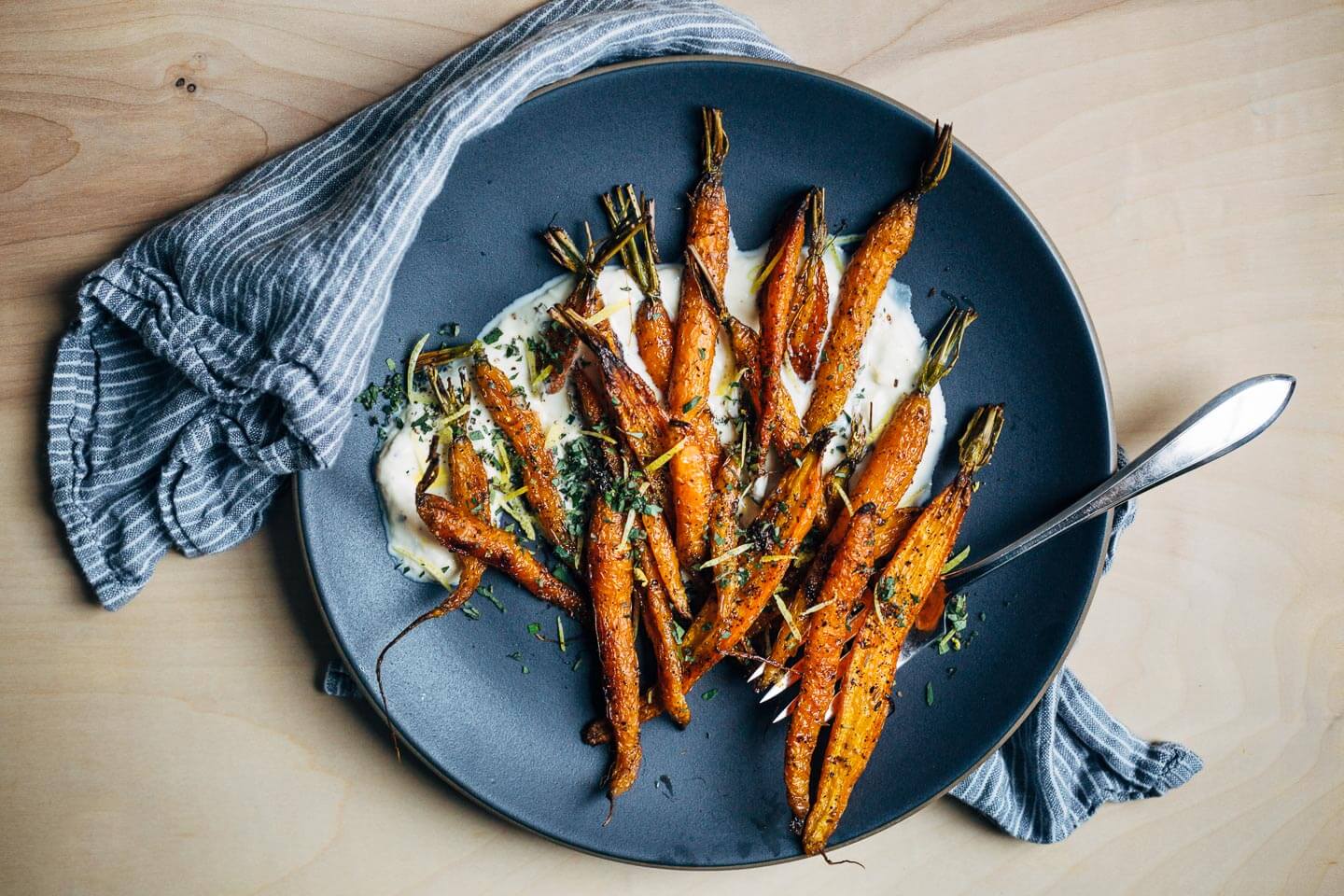 SaveSave