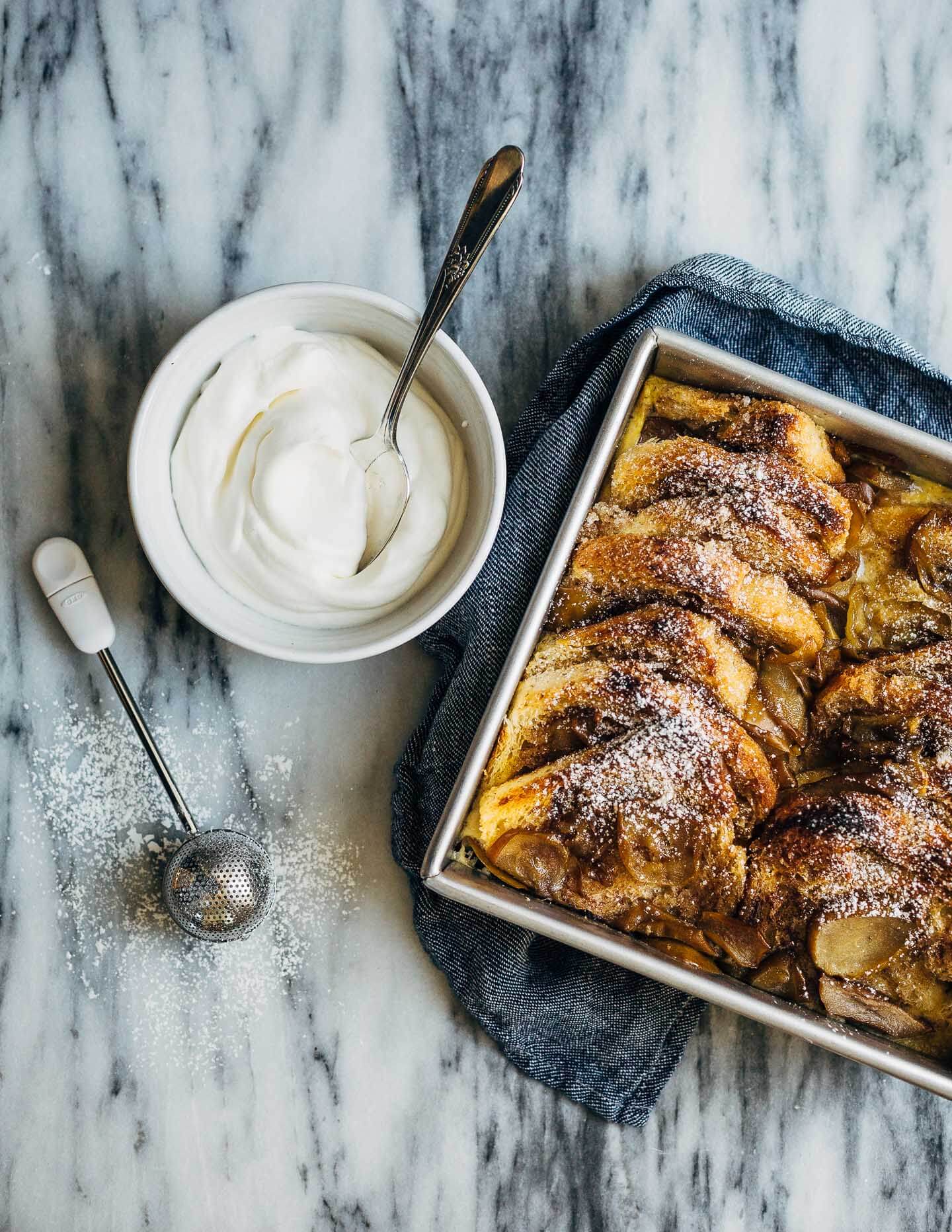 Seckel pears sautéed in brown butter syrup and slices of brioche dipped in cinnamon sugar elevate this simple seckel pear bread pudding recipe. 

This seckel pear bread pudding recipe is everything I want in a comforting fall dessert. Made with buttered brioche slices dipped in cinnamon-spiced brown sugar and tender seckel pears cooked in a golden brown butter syrup, this bread pudding is more than the sum of its parts. I'd like to think that this dessert might be a welcome addition to your Thanksgiving dessert spread or just a forgiving holiday dessert to have in your back pocket as the season intensifies.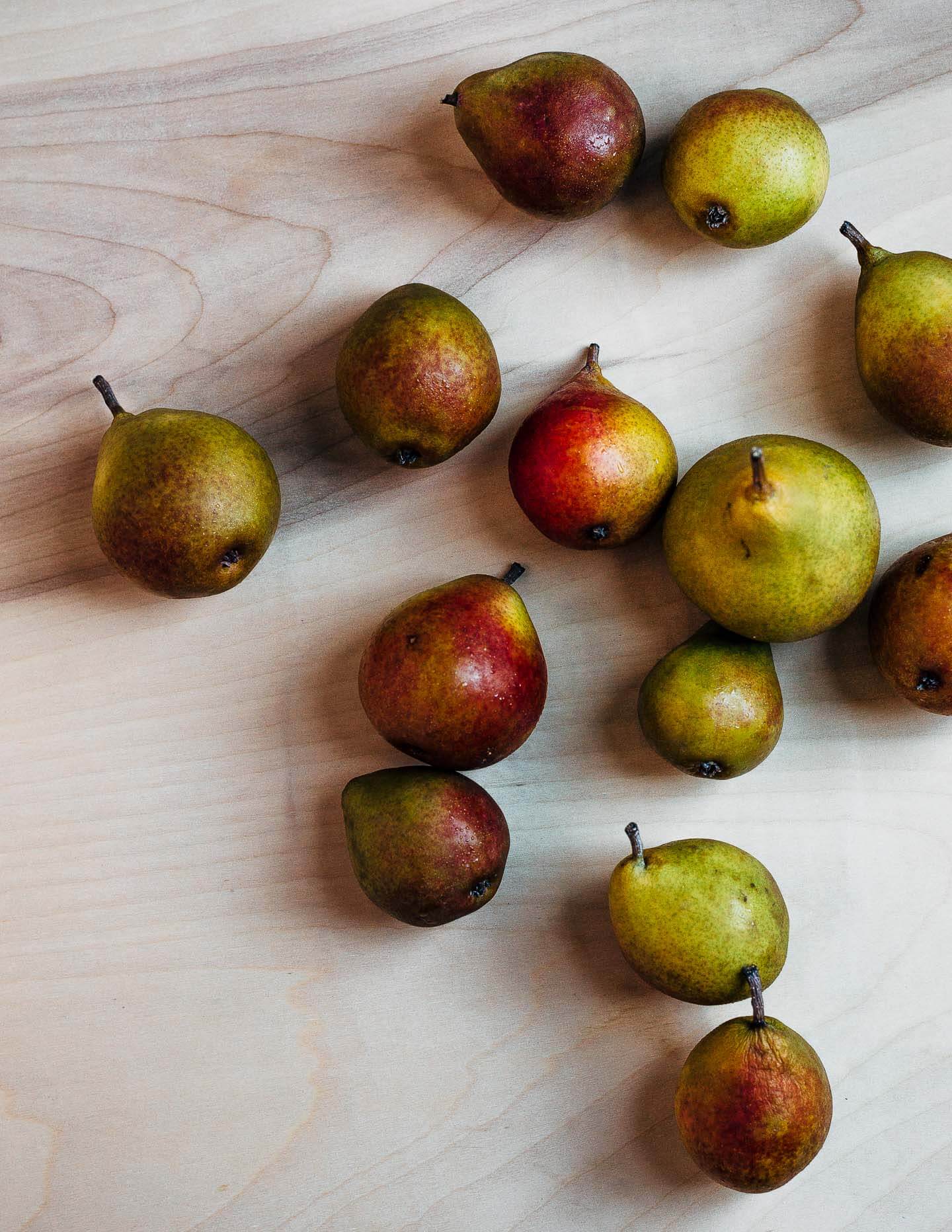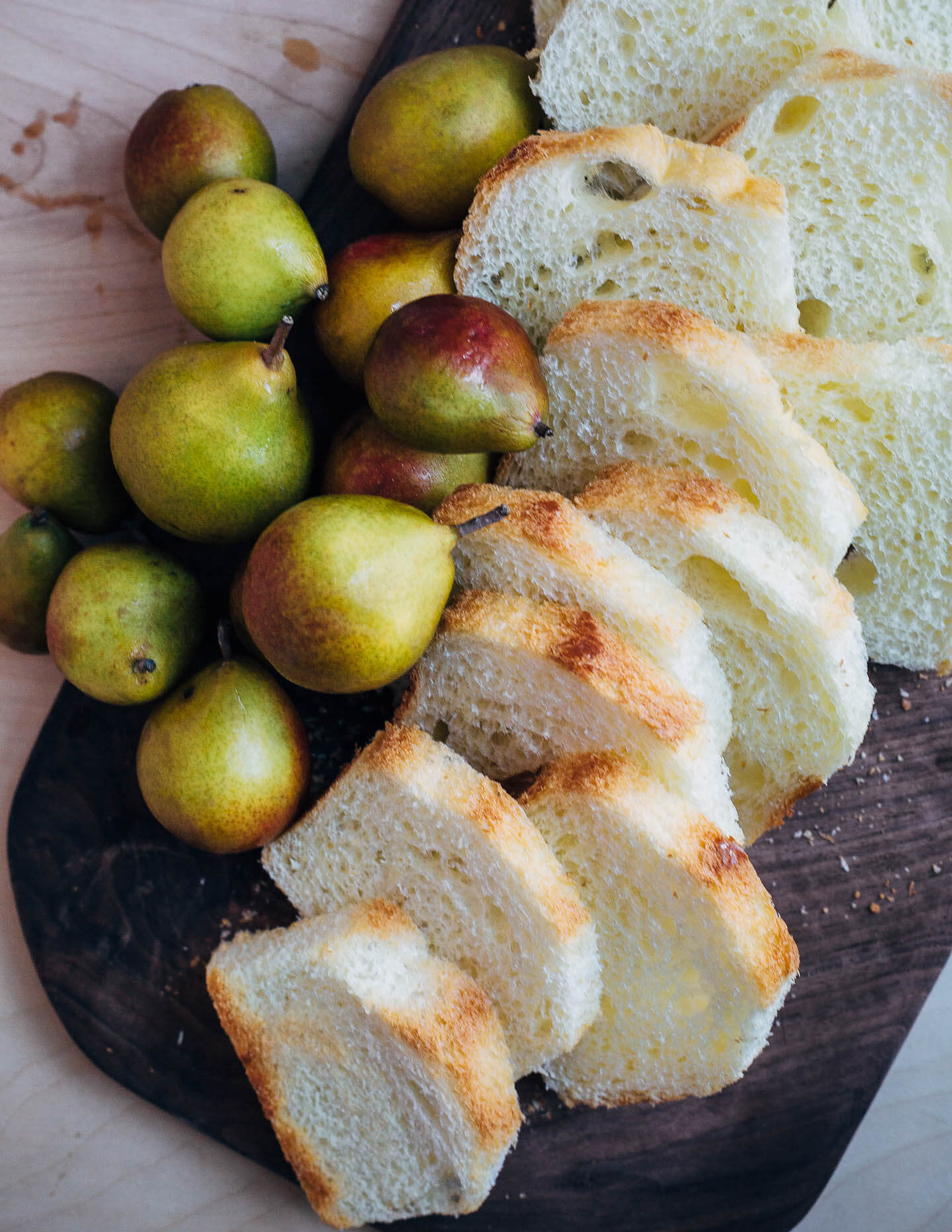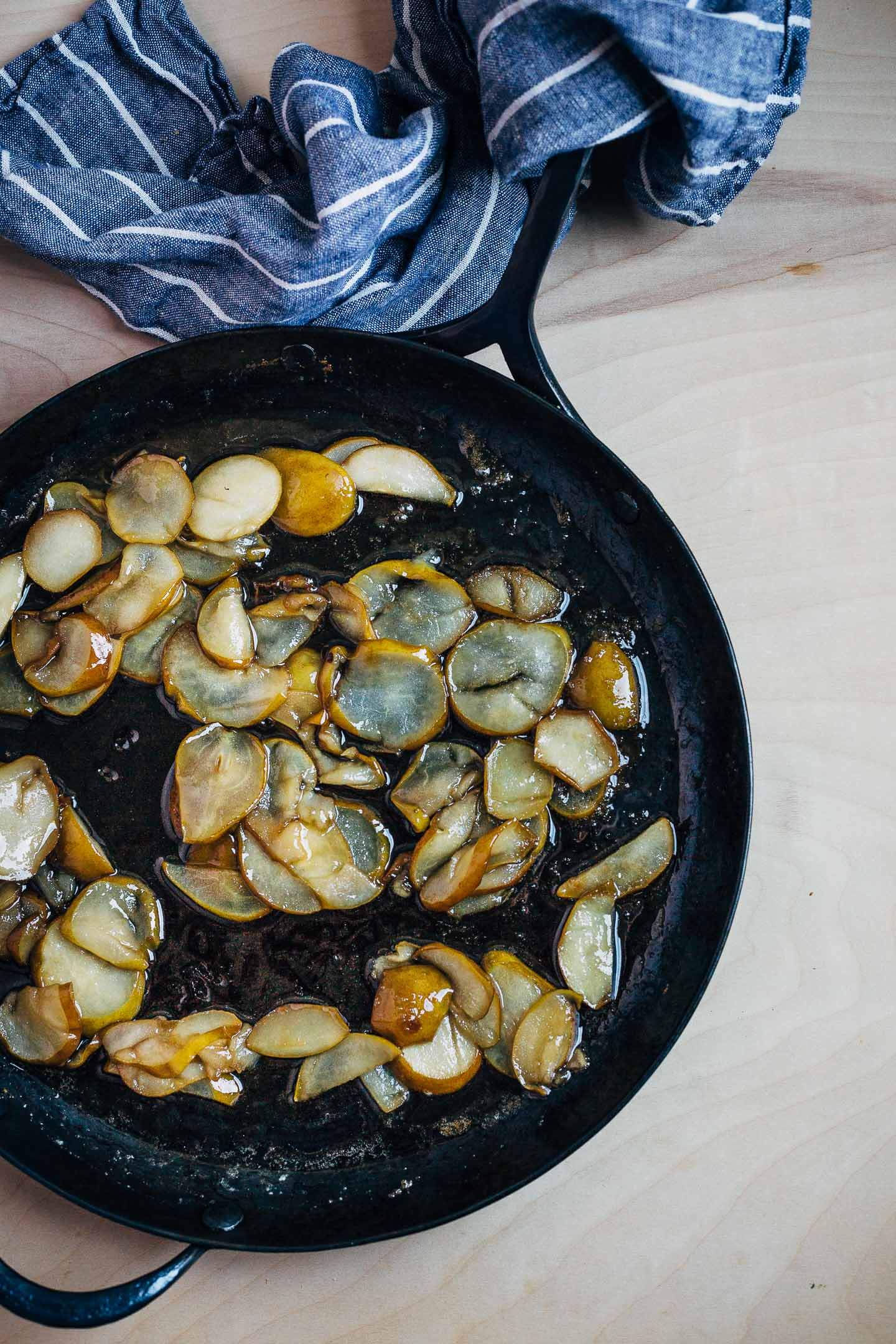 The recipe is inspired by a bread and butter plum pudding from Hugh Fearnley-Wittingstall's River Cottage Cookbook. I break the recipe out whenever I have a seasonal fruit that's flavorful, but not quite up to the pie treatment. Here, I needed to make use of a quart of seckel pears from the farmers' market. Seckel pears are both subtly flavored and delicately textured, making them the perfect fruit to meld into a bed of pillowy sweet bread.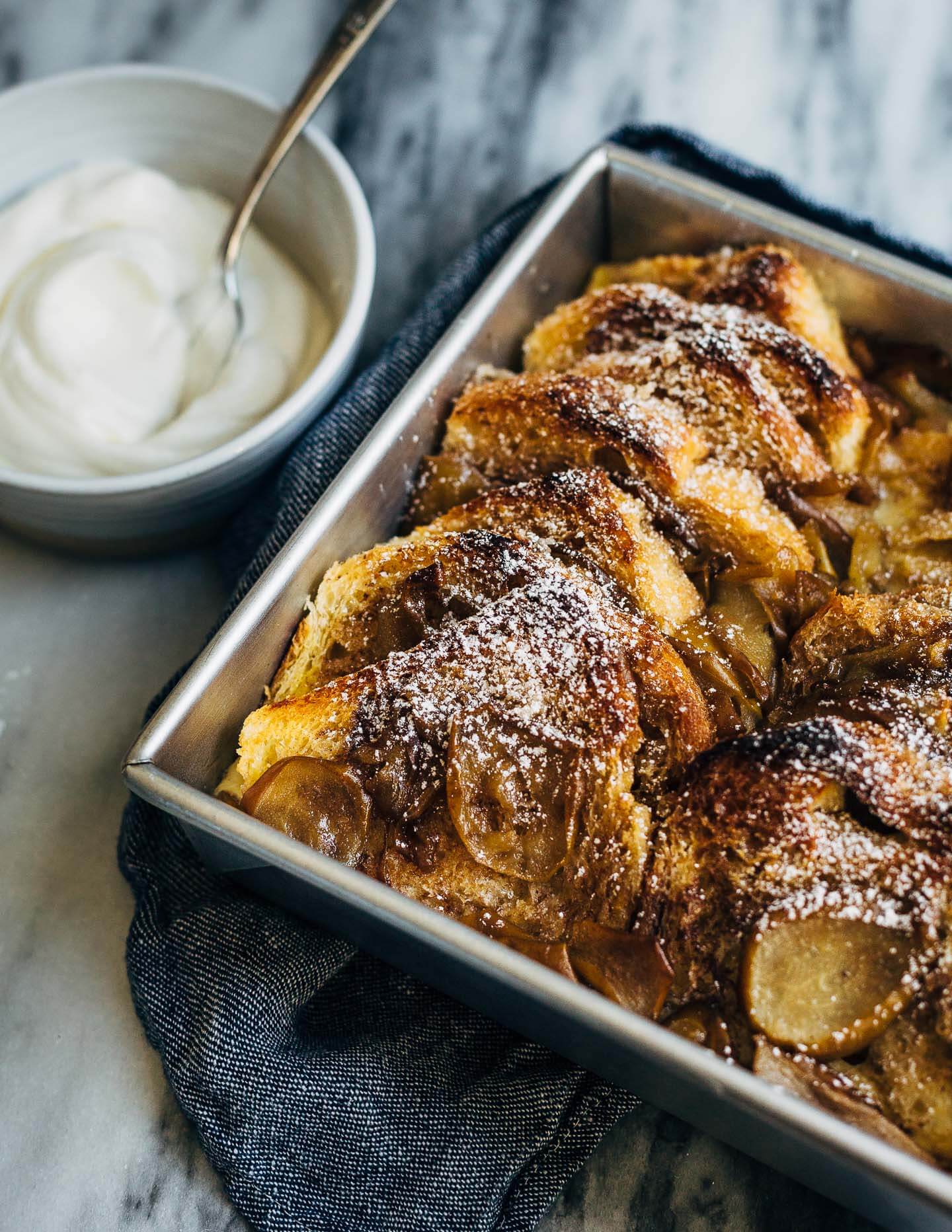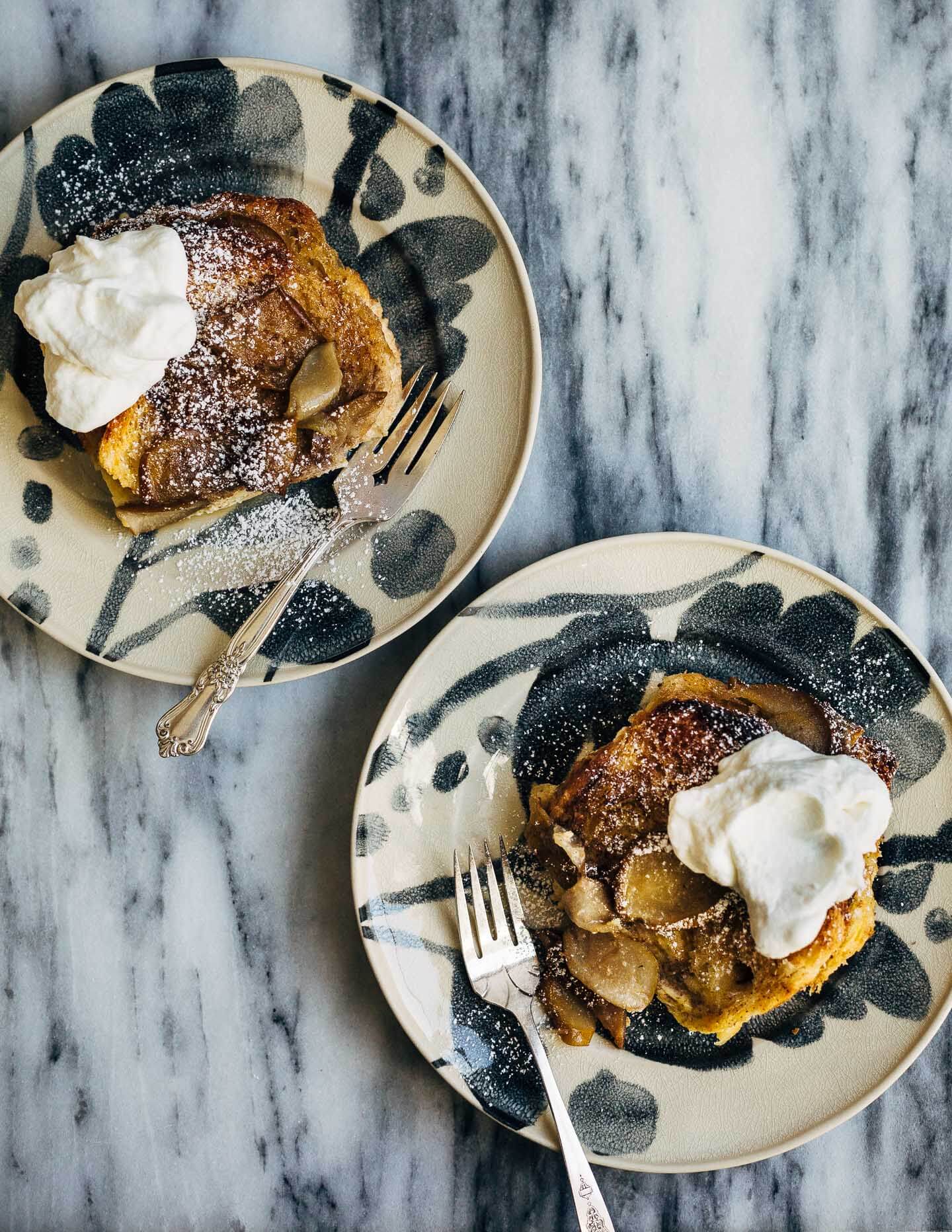 In addition to sublime deliciousness, this seckel pear bread pudding is relatively forgiving and can be made ahead. The bread pudding should be made at least a night ahead of baking, though can sit in the fridge for up to three. For those of you who really plan ahead, it can also be assembled and then frozen. Allow 1 day in the fridge for it to thaw before baking.
Finally, to keep things pretty, I like to alternate the slices between the round top and angled bottom of the brioche loaf – the alternating pattern creates contrast, especially when it's dusted with powdered sugar.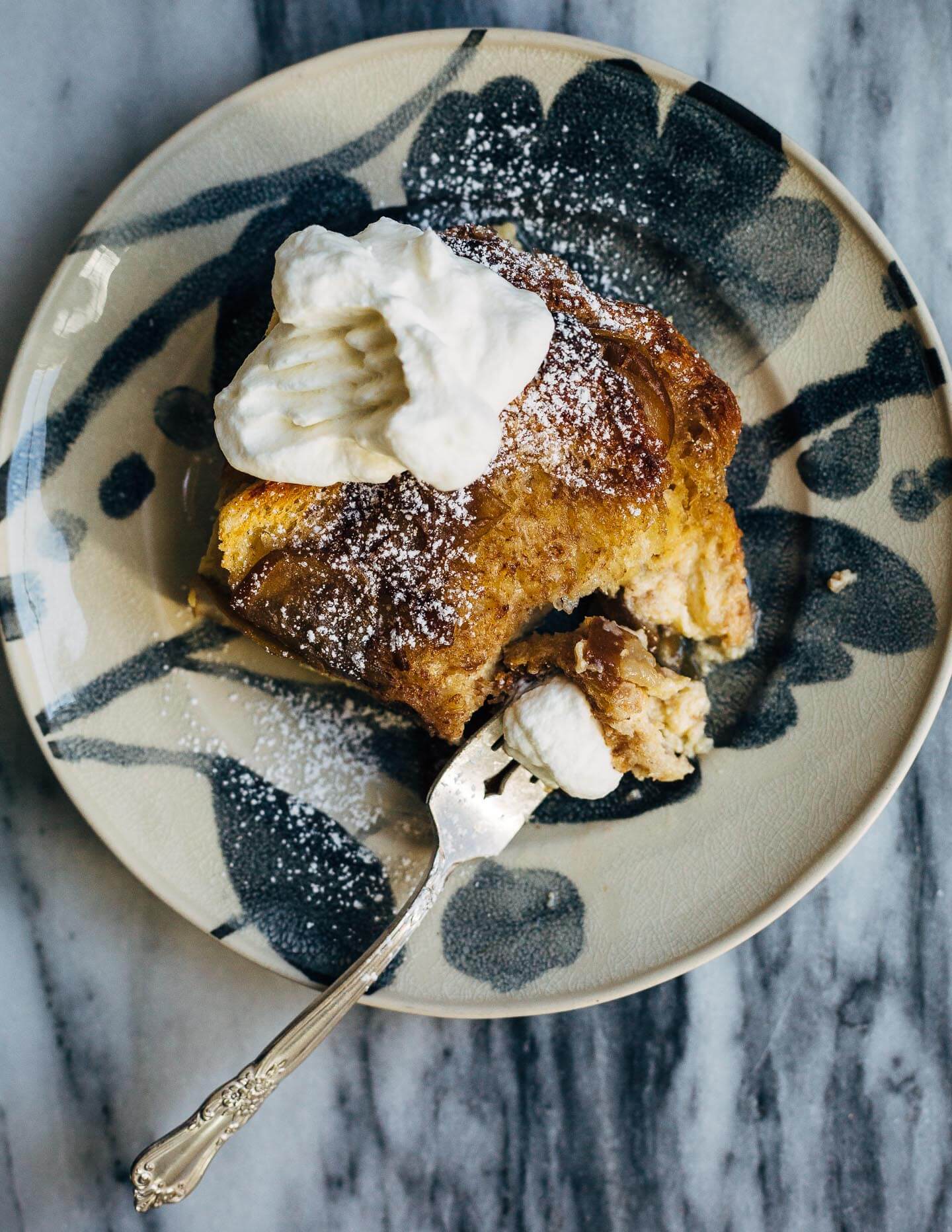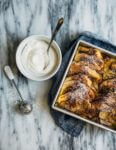 Brown Butter Seckel Pear Bread Pudding
Seckel pears sautéed in brown butter syrup and slices of brioche dipped in cinnamon sugar elevate this simple seckel pear bread pudding recipe.
Ingredients
6

tablespoons

room temperature unsalted butter,

divided

2

cups

sliced seckel pears

1

loaf stale brioche loaf

crusts removed and cut into 1/2-inch thick slices

1/2

cup

brown sugar, plus 2 tablespoons for topping,

divided

2

teaspoons

ground cinnamon

1/2

teaspoon

ground allspice

4

large eggs

2 1/4

cups

whole milk

1/4

teaspoon

sea salt

powdered sugar,

for dusting

lightly sweetened whipped cream,

for serving
Instructions
Set a wide skillet over medium heat. Add 2 tablespoons butter, allow it to melt and than cook to a golden brown hue, about 5 minutes. Add pears and sauté until pears are tender and butter turns into a thick, deep golden sauce, 5 minutes more. Fold in 1/4 cup sugar brown sugar; cook until sugar is dissolved, 3 - 4 minutes. Remove from heat and set aside.

In a shallow dish, combine remaining 1/4 cup brown sugar, cinnamon, and allspice. Spread remaining 4 tablespoons butter on both sides of sliced bread. Press each side into cinnamon and sugar mixture, enough to lightly coat each slice. Arrange in 8 x 8-inch baking pan.

In a small bowl, whisk to combine eggs, milk and sea salt. Fold cooked pears, and all accumulated juices and syrup, into the mixture, and carefully pour over bread. Set in fridge overnight (or a minimum of 2 hours). Sprinkle the remaining 2 tablespoons brown sugar on top.

Preheat oven to 350 degrees F. Bake 40 - 50 minutes or bread pudding is set and starts to pull away from the sides. Cool 30 minutes.

Dust with powdered sugar and serve with a dollop of lightly sweetened whipped cream.
SaveSave