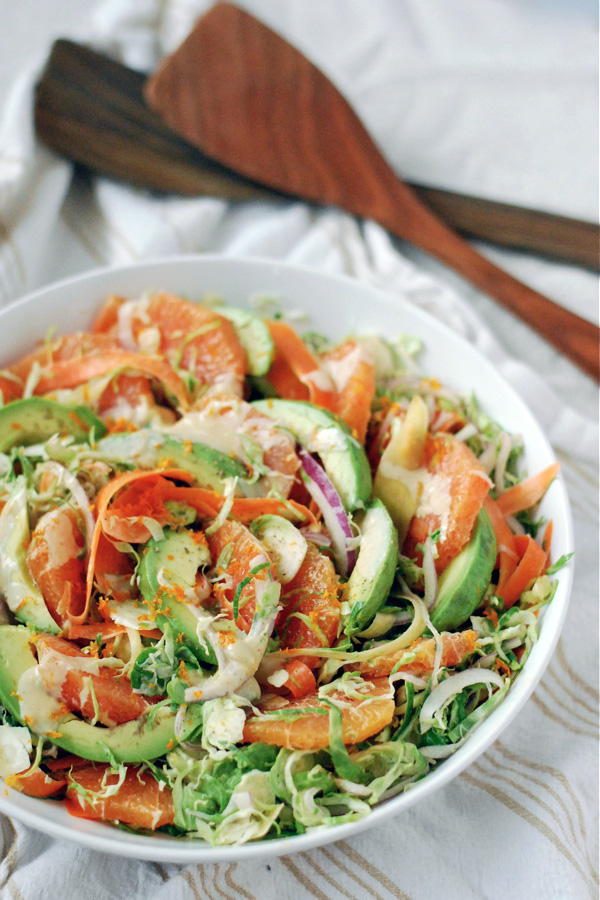 Not so long ago, I worked in an office. The kind with little cubes and a computer monitor too small to display the spreadsheets I needed to use and a chair hierarchy that provided peons like me a work week of spinal pain and florescent lights hovering way too close. On my last day, I had only a small tote of things to collect. After nearly two years, I hadn't moved in. I wish I'd thought to take a picture. It would be a great reminder as I try to balance mothering and writing and creative food and family food, that even on the worst days, I'm better off than I was in that awful gray cube.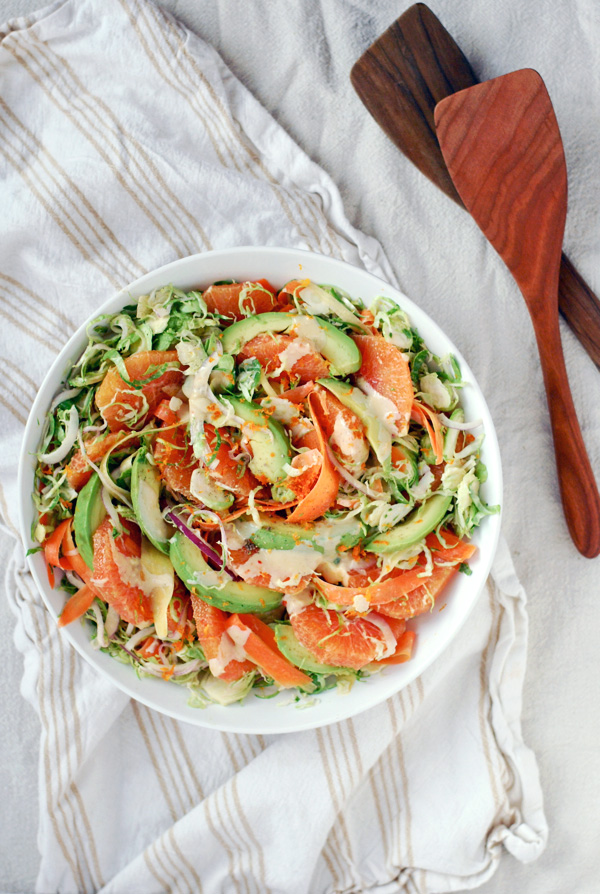 The cube and the idea of work in general have been on my mind lately because our youngest (very) recently started attending preschool a couple days a week. So far, it has increased my productivity, but my big hope is that I'll eventually get some time to just think. Whether it's the bright sunlight, unmediated by even a single drop of moisture, or the bracing air, there's a distinct clarity to January that makes it an excellent month for contemplating the future.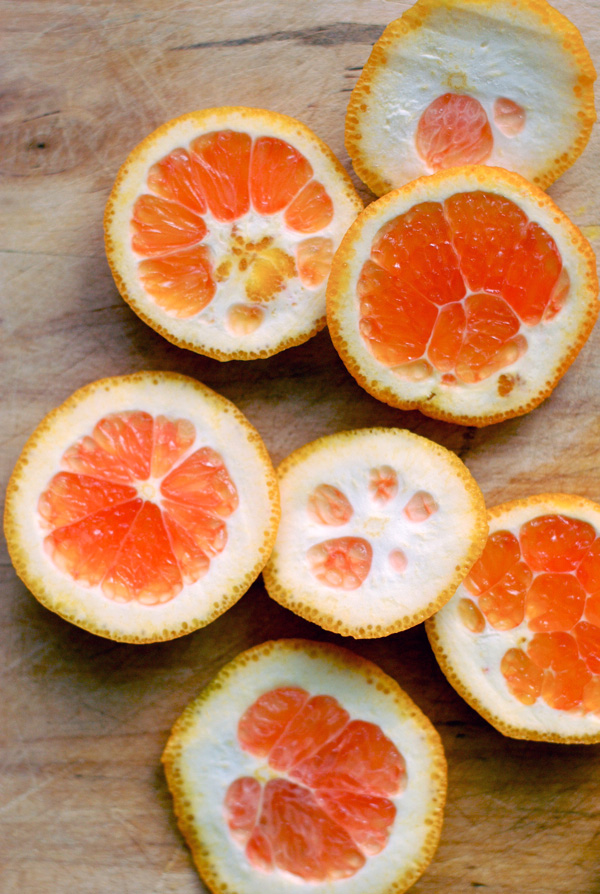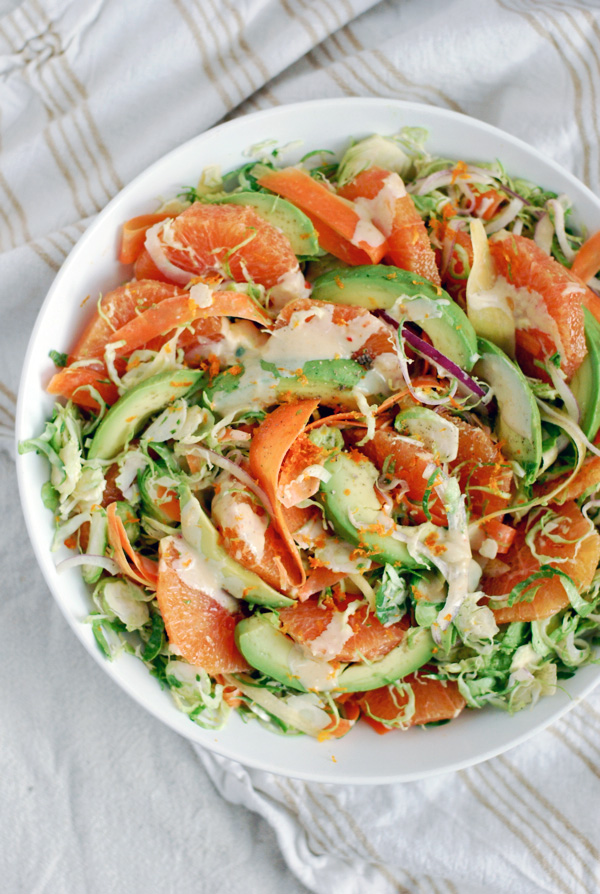 But apart from a better chair and lights and the prospect of time to think, one of the most tangible benefits of working steps from my own kitchen is that the lunch options are way better. When afternoon rolls around, I can up and make this lovely pastel-hued winter salad with crunchy shaved vegetables, bright (and pink!) Cara Cara oranges, and creamy avocado. And those things are really, really good, but the real star of this salad is the dressing––a tahini and orange concoction that's so good I'm planning to drizzle it on everything. The creamy tahini gets brightness from fresh squeezed orange juice and the tiniest bit of heat from chili paste. I've given instructions for just enough to dress the salad, but I advise you to go ahead and double the recipe because you're going to want more.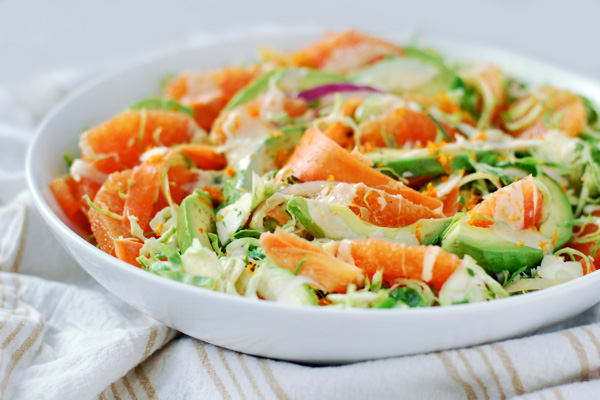 Brussels Sprout and Carrot Salad with Cara Cara, Avocado, and Orange Tahini Dressing
serves four to six as a side
A note on shaving Brussels sprouts––it's best done with a mandoline or with a very sharp knife. Either way, be very, very careful because I like you and your fingers. The carrots are easily cut into ribbons with a peeler.
for the orange tahini dressing (inspired by Edible Perspective and The First Mess)
3 tablespoons tahini
2 tablespoons olive oil
1/4 cup fresh squeezed orange juice (Cara Cara or otherwise)
1 teaspoon maple syrup
1/2 teaspoon sea salt
1/2 teaspoon red chili paste
1/4 teaspoon ground coriander
Either in a blender or with a fork, whisk the olive oil into the tahini, and then blend in the orange juice, maple syrup, sea salt, chili paste, and coriander. Thin with water or more orange juice if needed.
for the salad
2 cups shaved Brussels sprouts
3 carrots, trimmed and peeled into ribbons
1/2 a red onion, sliced paper thin ( I used my mandoline)
3 Cara Cara oranges
1 avocado, peeled and sliced
Place the shaved Brussels sprouts, carrot ribbons, and red onion in a bowl and drizzle with half the dressing, turning to combine. Set aside while you prepare the remaining ingredients.
Zest one of the oranges and set aside. Use a sharp knife to trim the top and bottom off the oranges, and then, working your way around, slice off the peels. Slice oranges into 1/2 inch thick rounds. Slice the avocado.
Layer the orange and avocado slices into the shaved vegetables. Drizzle with the remaining dressing, using your hands to better incorporate it, and finish with the reserved orange zest.