Ideal for Mother's Day brunch or spring gatherings, this sheet pan spinach quiche, made with ramps, green garlic, and chives, is a delicious way to feed a crowd.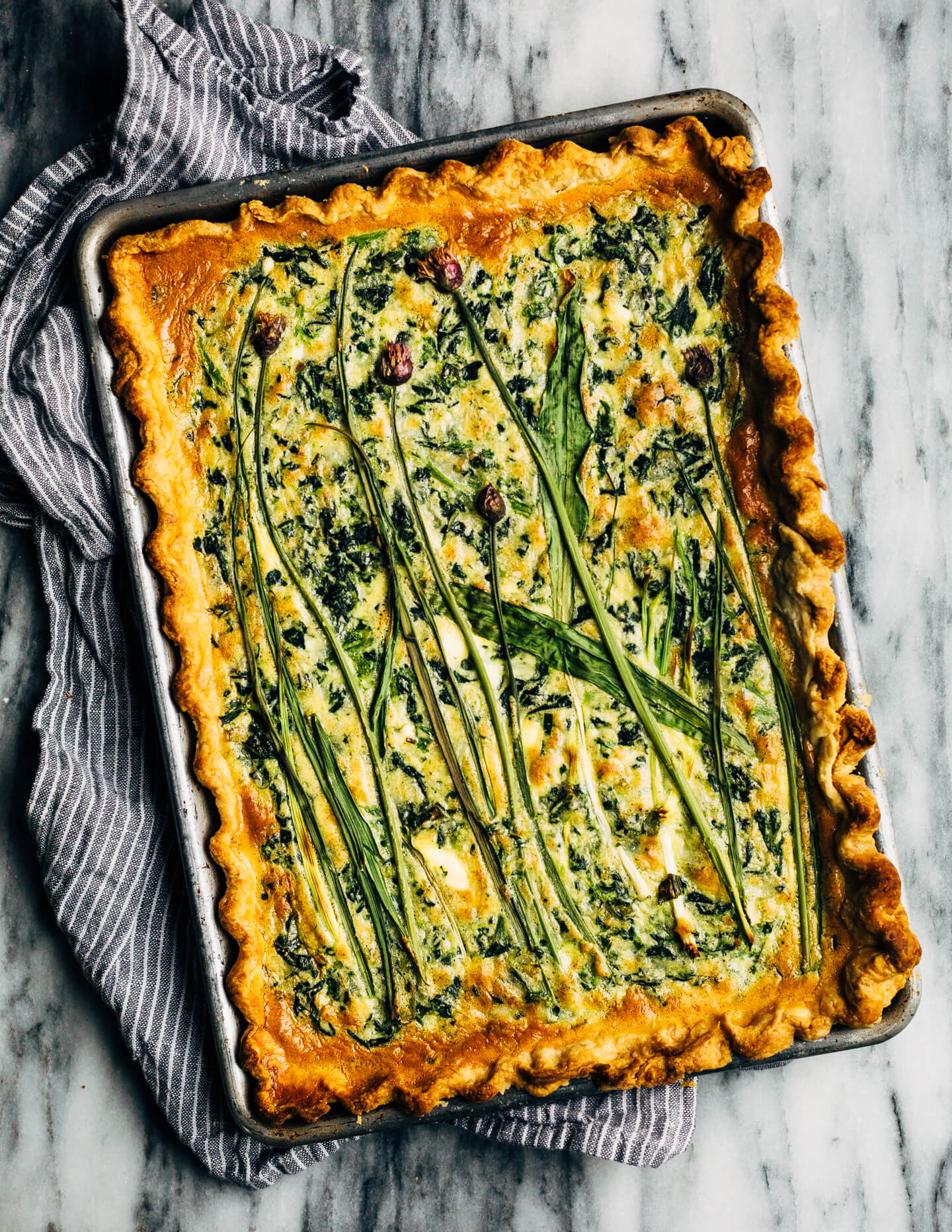 Jump to recipe.
There are lots of reasons to get excited about spring produce, but spring eggs also deserve their due. Eggs, of course, are available year round, but spring eggs are special. The anemic, pale yolks of winter are traded for electric orange yolks that reflect the vibrancy of the season. Eggs cozy up beautifully to all kinds of produce, not to mention cheese or bacon, but I like to think they have a special affinity for spring greens – from tender spinach to punchy alliums.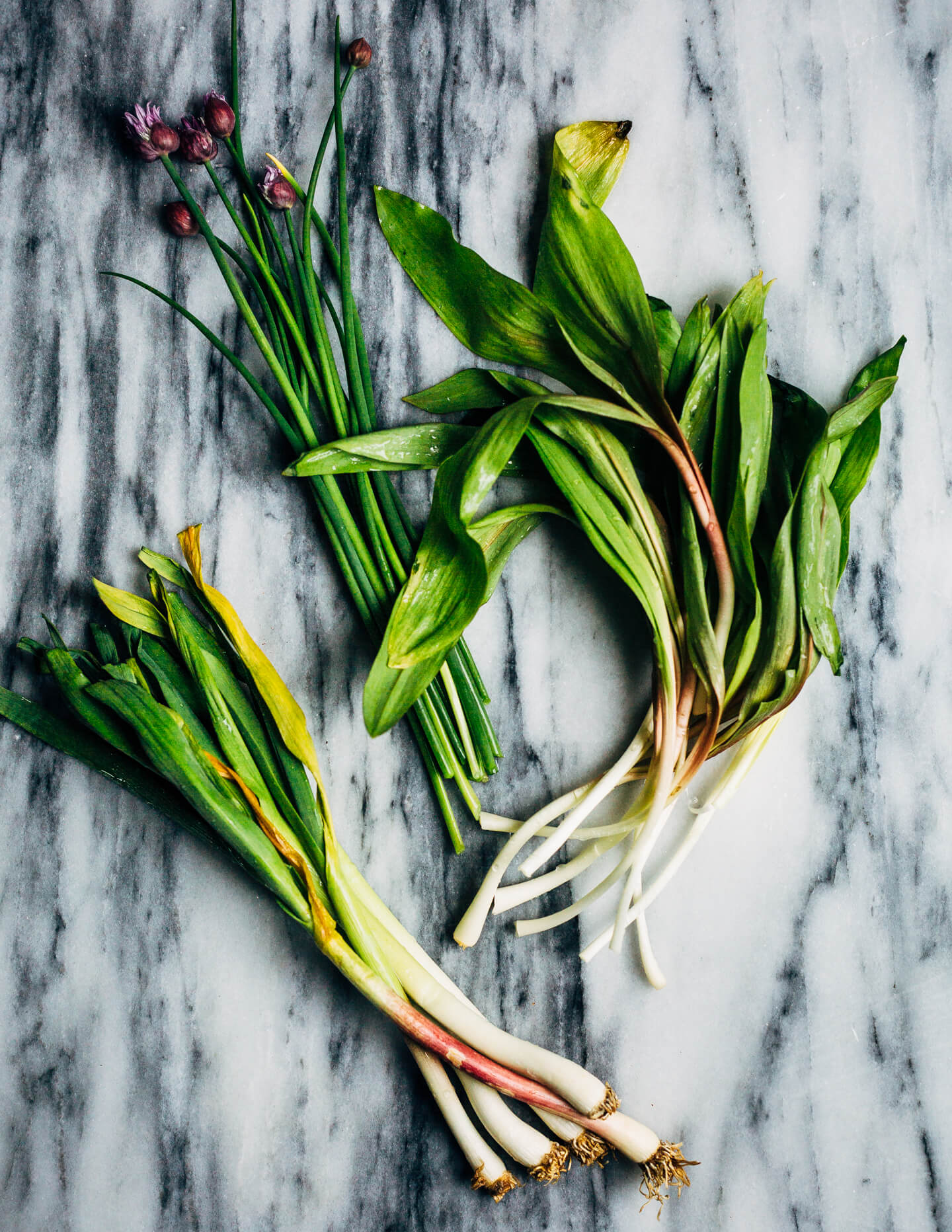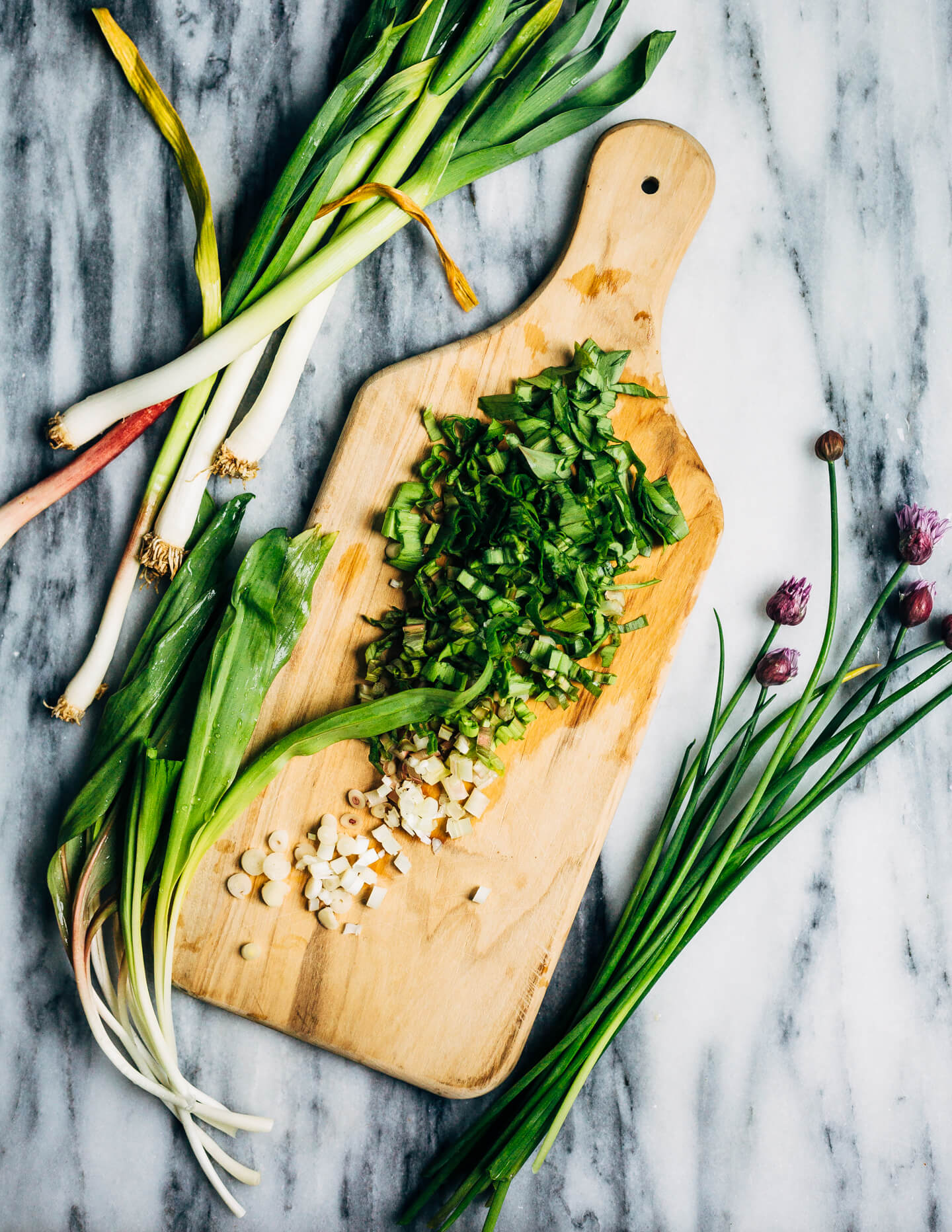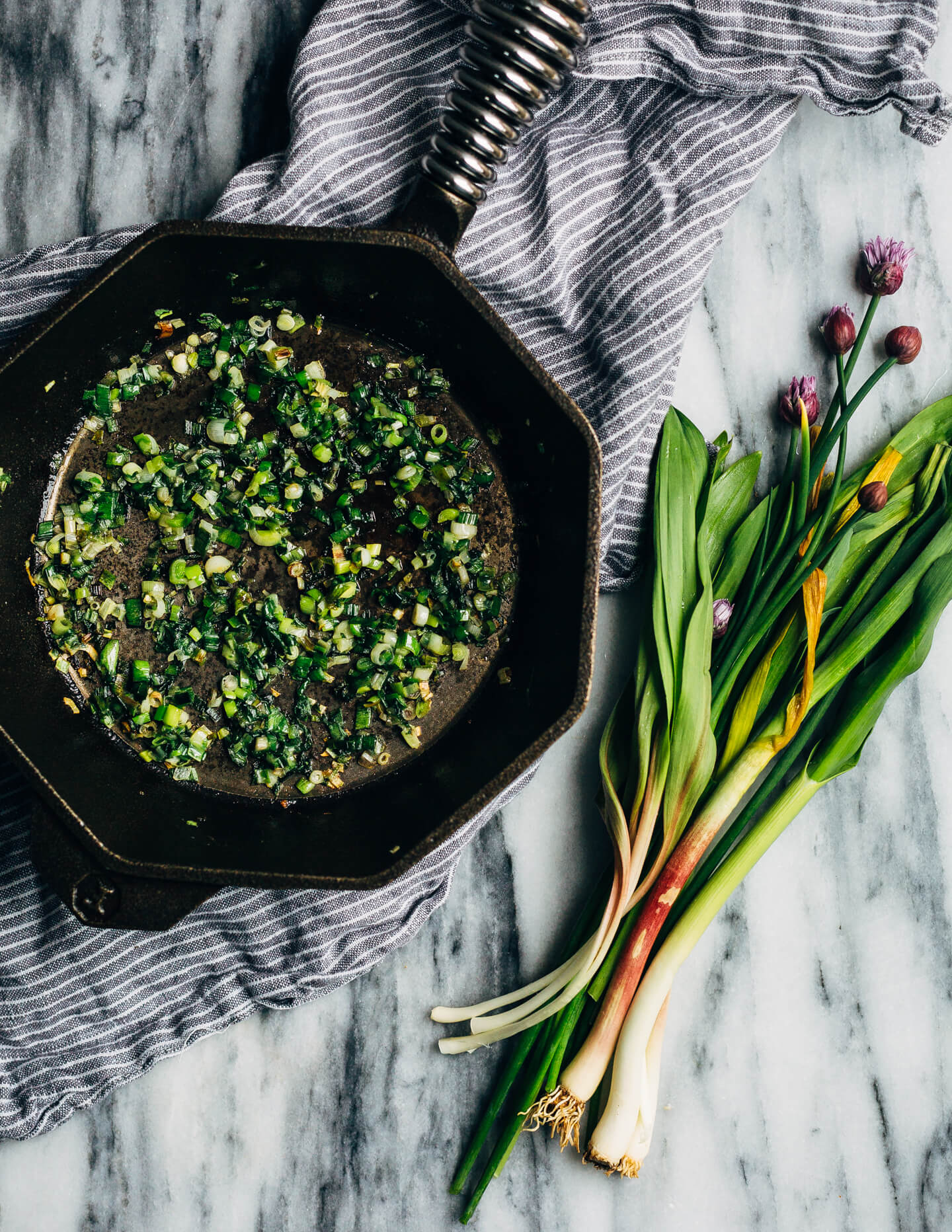 After weeks of stalling, spring has finally done its thing, and here in Virginia, we have ramps, just-blooming chives, and green garlic. Supple spinach dots the Farmers Market, but I went with the frozen kind here to save a few steps. All of these green, intensely spring-y ingredients are excellent reasons to stockpile local eggs. I decided to bring it all together in this sheet pan spinach quiche with ramps, green garlic, and chives.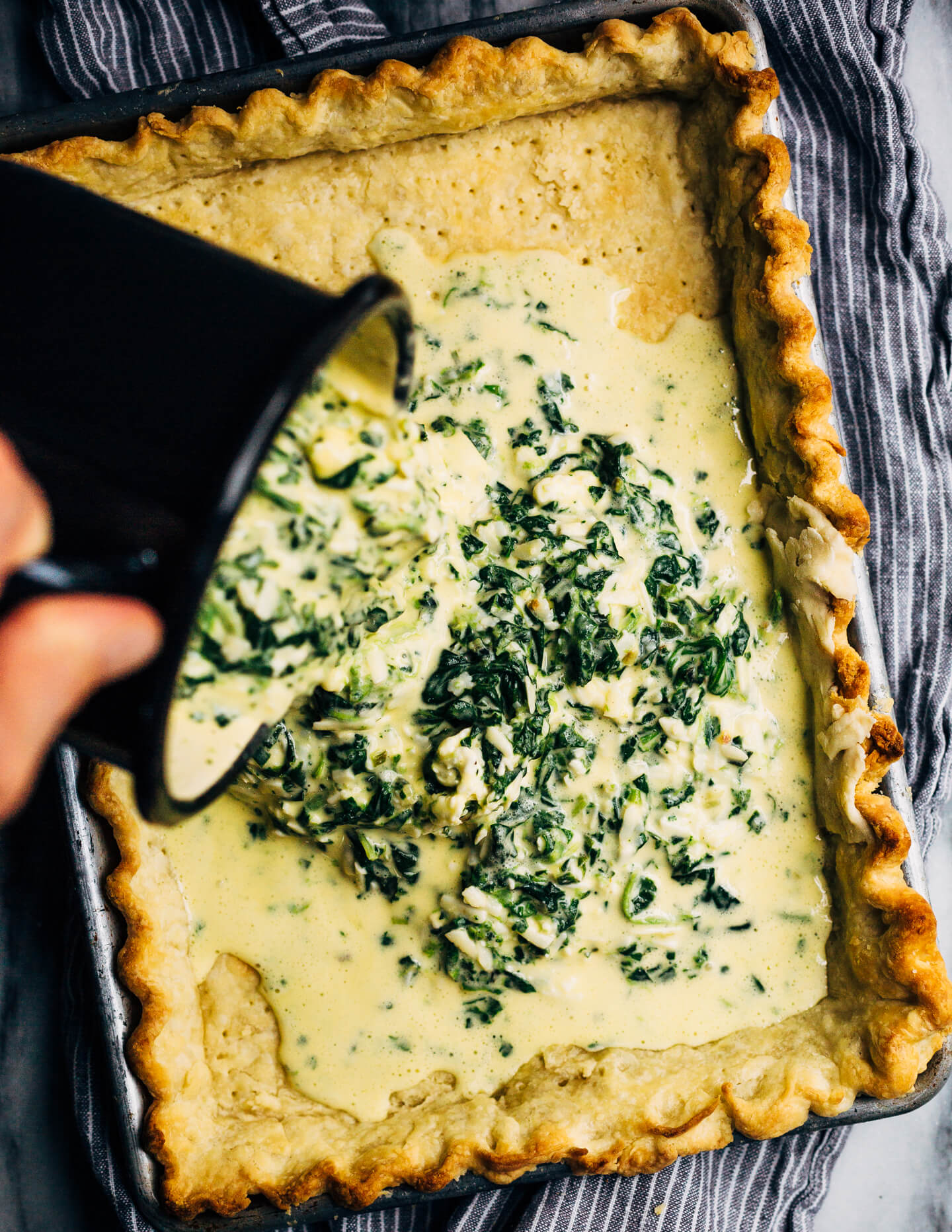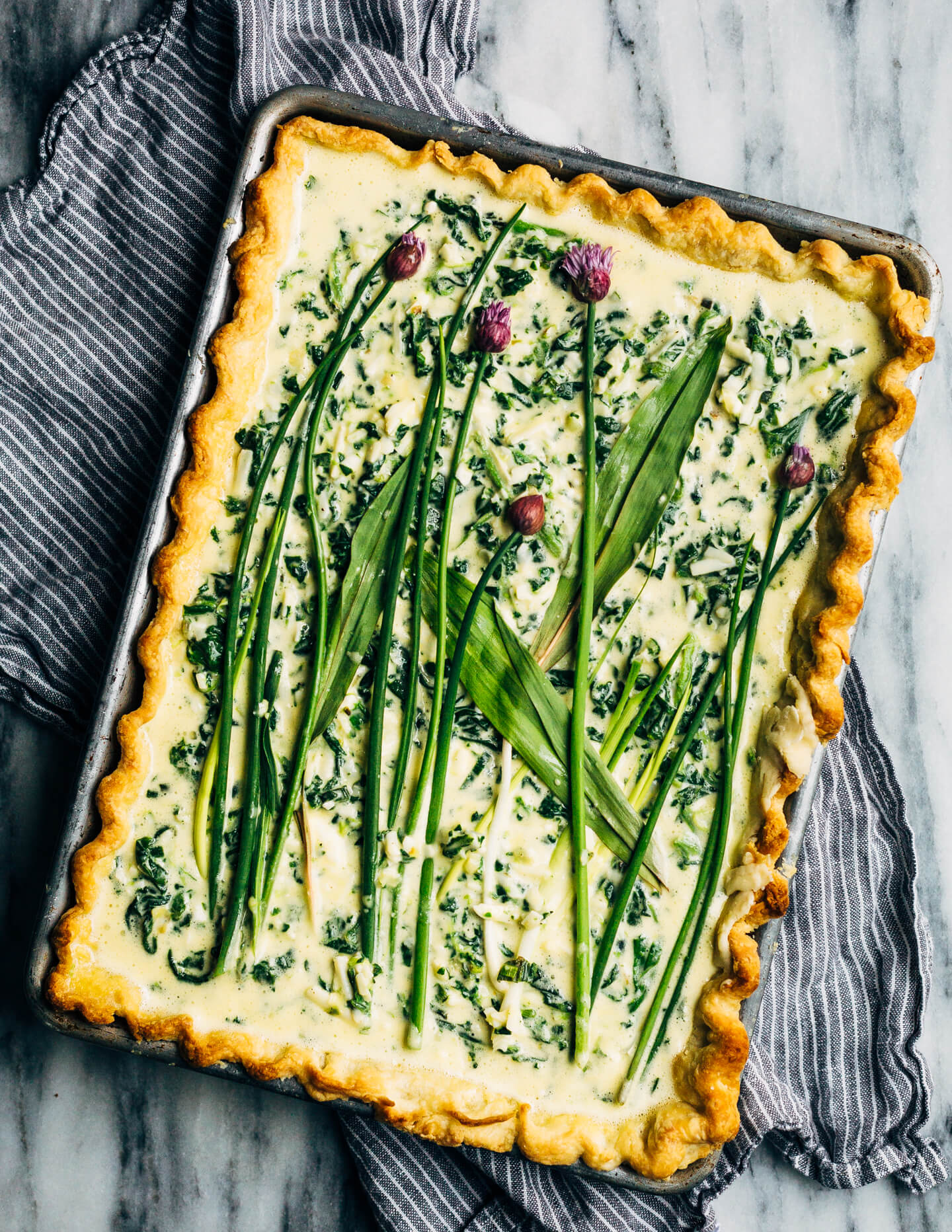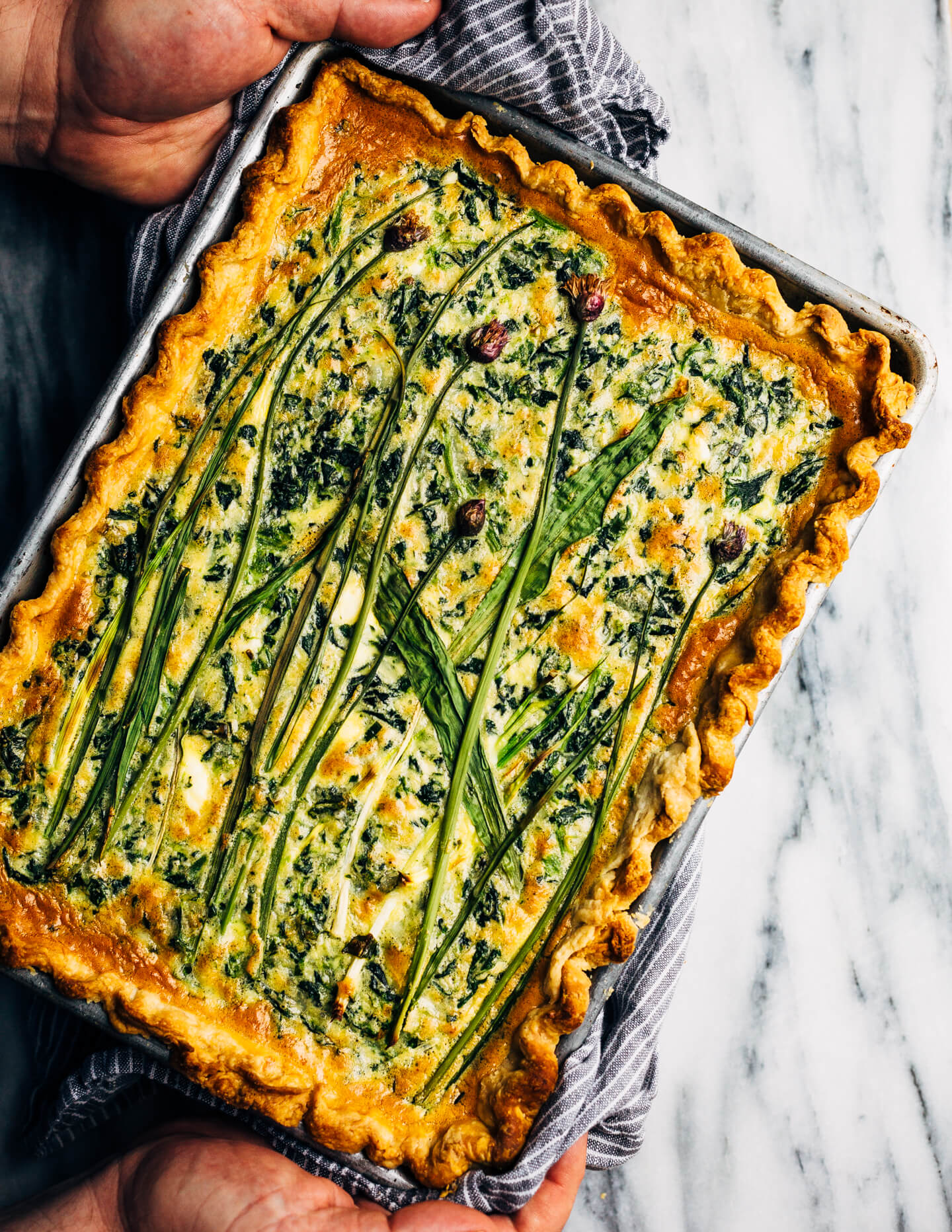 This sheet pan spinach quiche made it's debut a couple weeks back at a potluck brunch, and again this week as an easy family dinner, and I am certain it would be an excellent centerpiece for Mother's Day brunch. The sheet pan thing is great for feeding a crowd, and in my humble opinion, offers an ideal crust to filling ratio.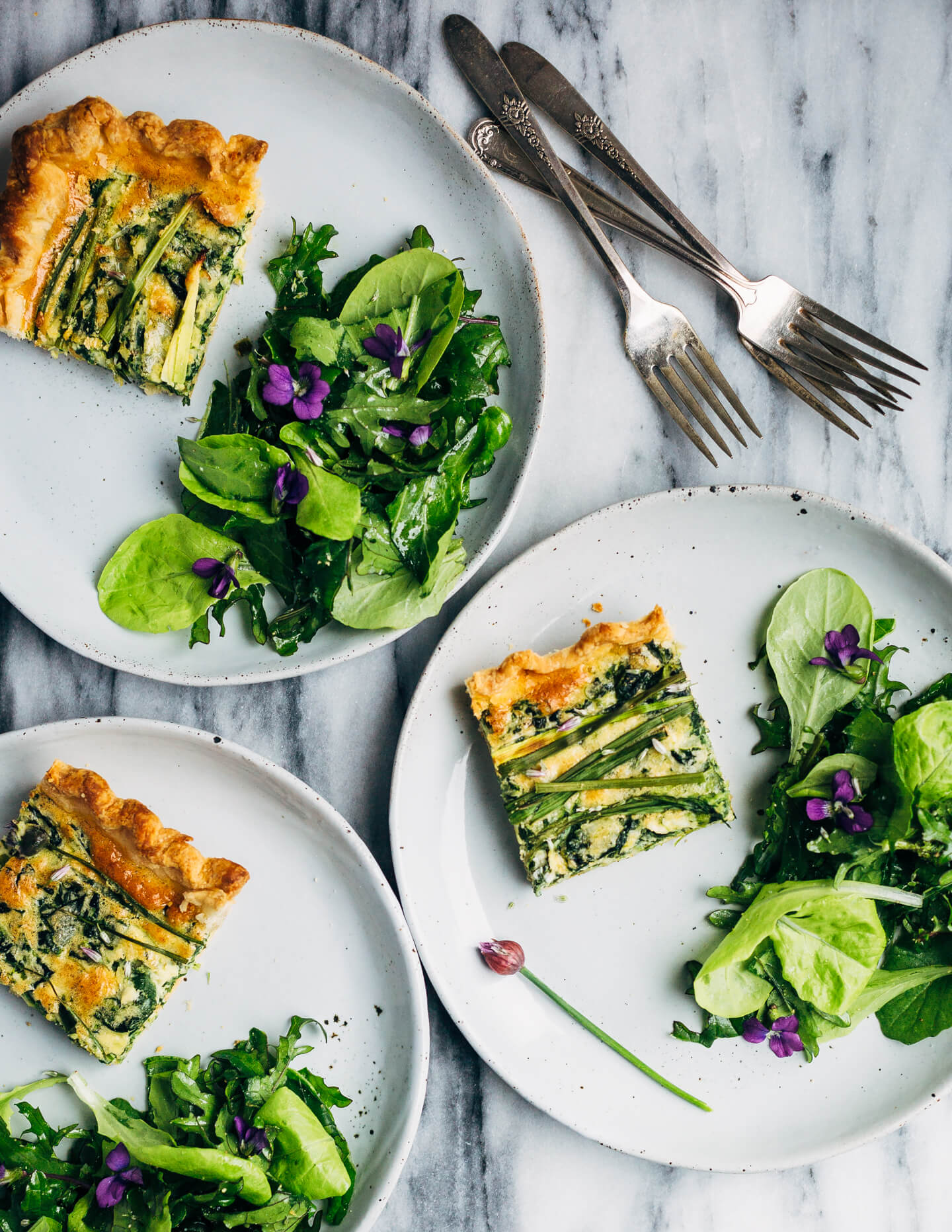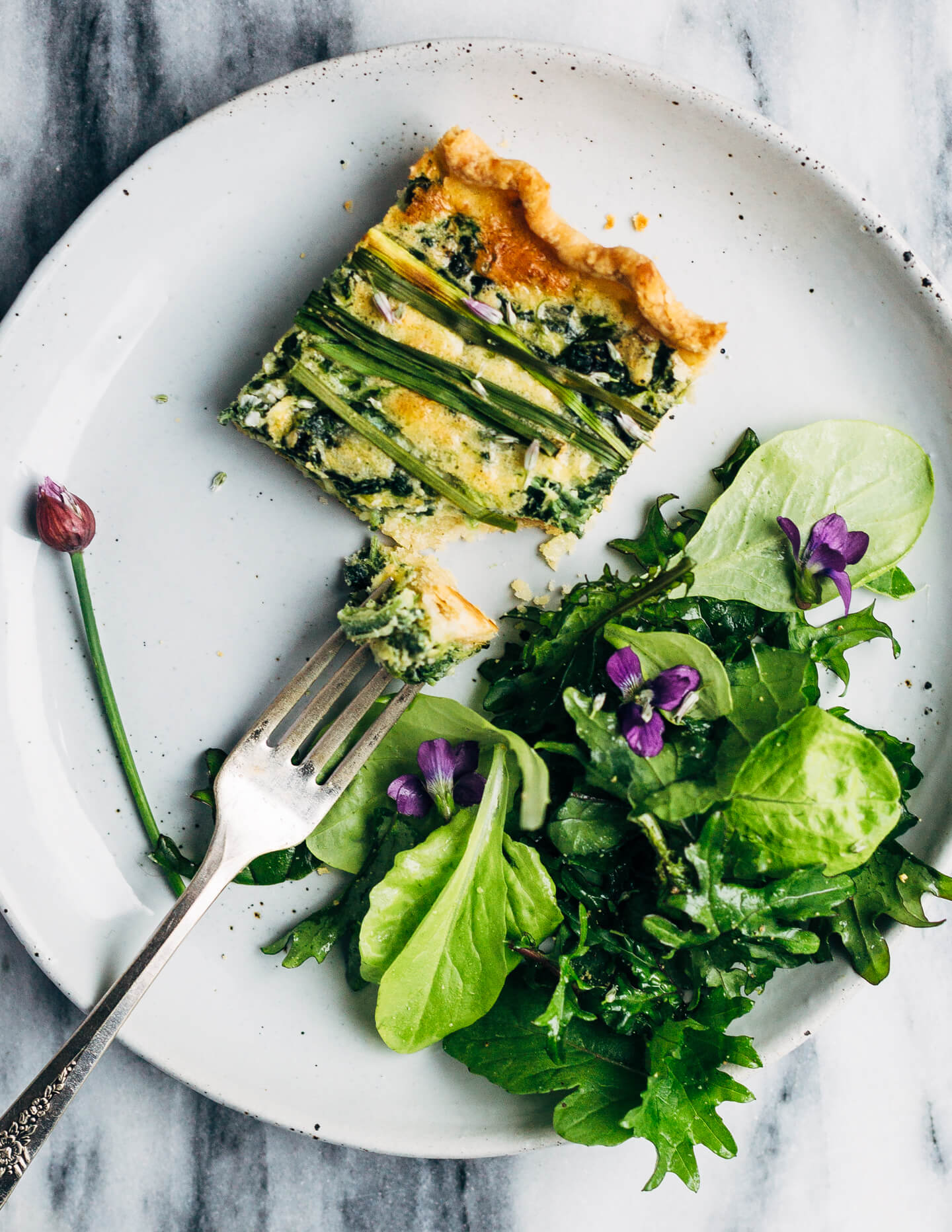 I've made this quiche with just chives and green garlic, but loved the added oomph of ramps. I tend to see spring alliums as interchangeable, so feel free to switch in whatever you have access to – green garlic, garlic scapes, ramps, leeks, and chives all work well.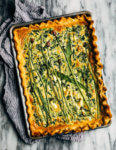 Sheet Pan Spinach Quiche
This sheet pan spinach quiche makes use of frozen spinach along with fresh ramps, green garlic, and chives. Fresh spinach can be substituted – see note below. Likewise, store-bought pastry can be used instead of homemade; use 1 1/2 thawed sheets. 


Ingredients
Crust
2

cups

all-purpose flour

14

tablespoons

unsalted butter

cold

3/4

teaspoon

sea salt

6 - 7

tablespoons

ice water
Filling
Cooking spray or neutral oil

1

tablespoon

butter

2

stalks green garlic

chopped, plus 1 stalk cut into long thin strips

2

stalks ramps

chopped, plus 1 stalk cut into long thin strips

4

ounces

cream cheese

room temperature

1/4

cup

cream

6

large eggs

10

ounces

frozen spinach

thawed, with as much water as possible squeezed out

3/4

cup

grated cheddar or gruyere

3 ounces

1/2

cup

grated Parmesan

2 ounces

1

teaspoon

kosher salt

1/2

teaspoon

freshly ground black pepper
Instructions
Crust
Whisk to combine flour and sea salt in a large bowl. Using a large hole grater, grate in butter. Mix butter into flour with fingertips until mixture appears crumbly. Fold in 6 tablespoons ice water, mixing just until combined. Mixture should easily hold together when pressed. If needed, add an additional tablespoon water.

Tip out onto a lightly floured surface or a large sheet of plastic wrap and gather into a rough 5 x 7-inch rectangle. Press to flatten. Wrap tightly with plastic wrap; chill in fridge 30 minutes or as long as 5 days.
Quiche
Set cream cheese out several hours ahead of time so it can come to room temperature – it needs to be very soft.

Spray a 9 x 13 x 2-inch baking sheet with cooking spray, line with parchment, and spray that too. Set aside.

On a lightly floured surface, roll chilled dough into an 11 x 15-inch rectangle. Set in prepared pan and tuck any overhanging dough into the edges. Flute and push edges up so they rest on the lip of the pan (this will ensure the crust is deep enough even if it shrinks a bit when baked). Prick all over with the tines of a fork and set in freezer for 20 minutes. Reserve leftover dough scraps – you'll likely need them to patch holes.

Preheat oven to 425 degrees F.

Line frozen crust with foil and add pie weights of choice (beans and rice work well, just don't plan to eat them after). Bake 20 - 25 minutes, or until the crust edge is light golden brown. Remove pie weights and foil, and bake 5 minutes longer. Set aside to cool.

While crust bakes, prepare filling.

Melt 1 tablespoon butter in a small skillet over medium heat. Add chopped ramps and green garlic; sauté until tender, about 4 minutes. Set aside to cool.

In a stand mixer fitted with the whisk attachment, beat cream cheese until soft and fluffy, scraping sides as needed. Add cream; beat until mixture is silky with no lumps of cream cheese, 2 - 3 minutes more. Add eggs one at a time. Switch mixer to low and fold in sautéed ramps and green garlic, spinach, cheeses, sea salt, and pepper.

Pour filling into crust, making sure spinach is evenly distributed. Arrange chives and reserved ramps and green garlic strips on the surface. Bake 20 - 25 minutes, or just until the filling is set.

Cool at least 30 minutes, slice, and serve.

Leftovers can be kept covered in the fridge. Warm uncovered in a 200 degree oven for 15 minutes before serving.
Recipe Notes
If using fresh spinach, blanch 1 pound spinach in boiling water for 1 minute then plunge into ice water. Press into a fine mesh sieve to remove water, then in batches, squeeze water from spinach with your hands. Pat dry with paper towels.
SaveSave
SaveSave