A supremely delicious strawberry crumble pie with all the jammy sweetness of in-season strawberries and a toothsome, buttery oat crumble topping.
Mother's Day is upon us and I want to say that if you're struggling with the loss of a mother or if your dreams of becoming one aren't going the way you want, my heart is with you. I hope you're able to find a bit of solace during the next few days.
My years of motherhood have been – not quite rocky – but maybe challenging? And at some point in caring for two human individuals, I began to feel I'd lost myself; as though I'd traded my sense of wonder and discovery for a grumpy grocery store mom persona. It was not cool. But recently, a missing bit mysteriously reconnected. After almost 12 years of parenting, I feel like myself again. And besides, I have these two nice small humans and a wonderful husband, and am grateful to have found this bit of ease somewhere in all that chaos.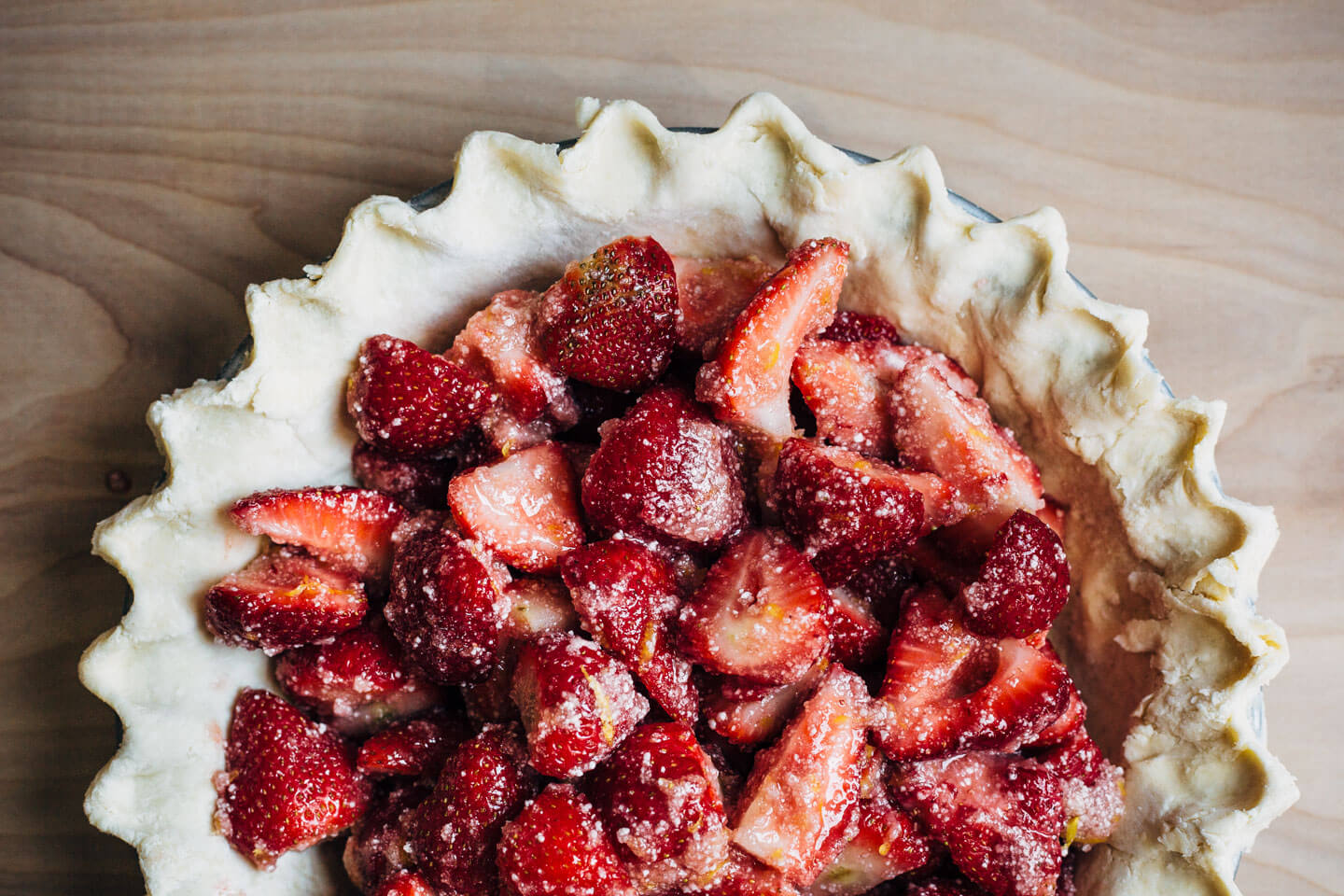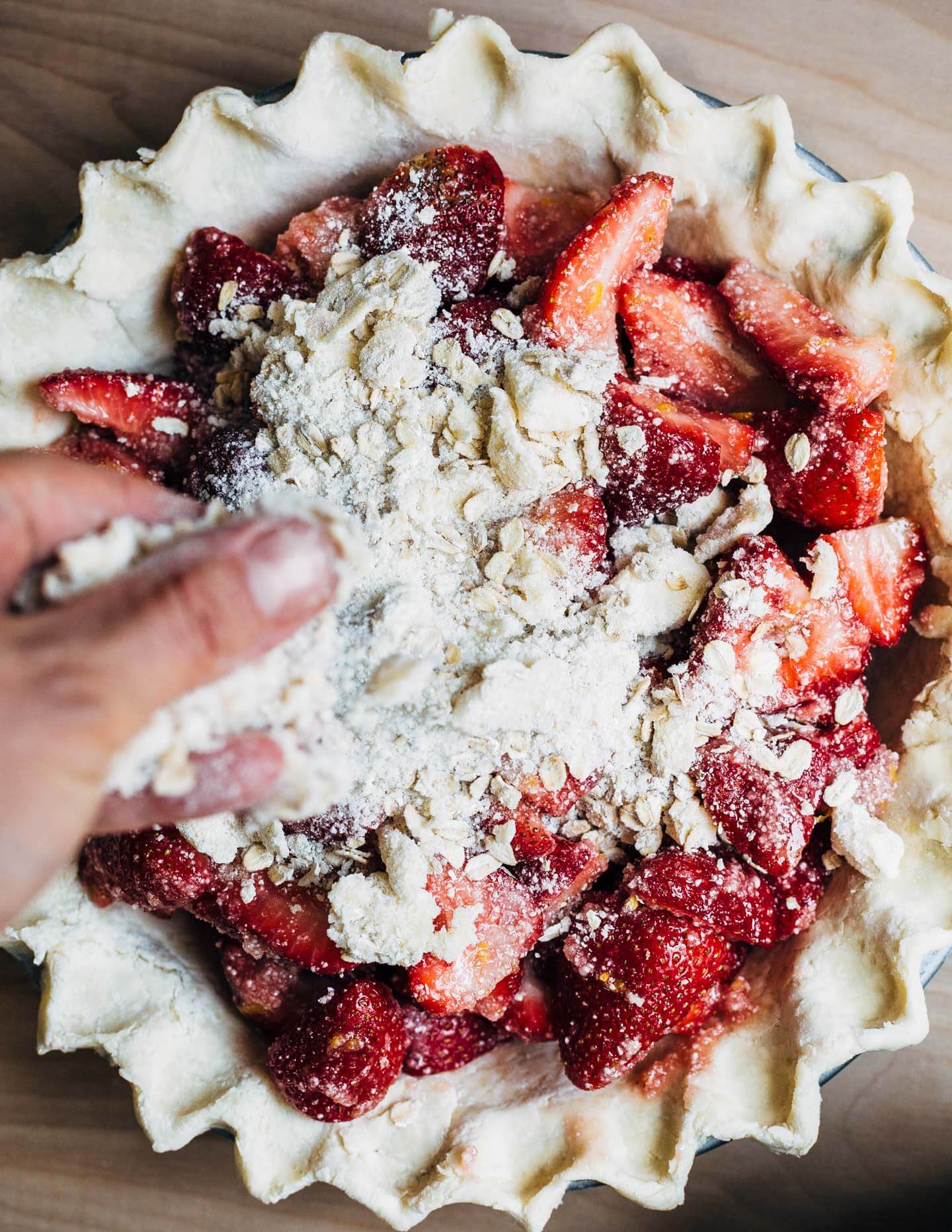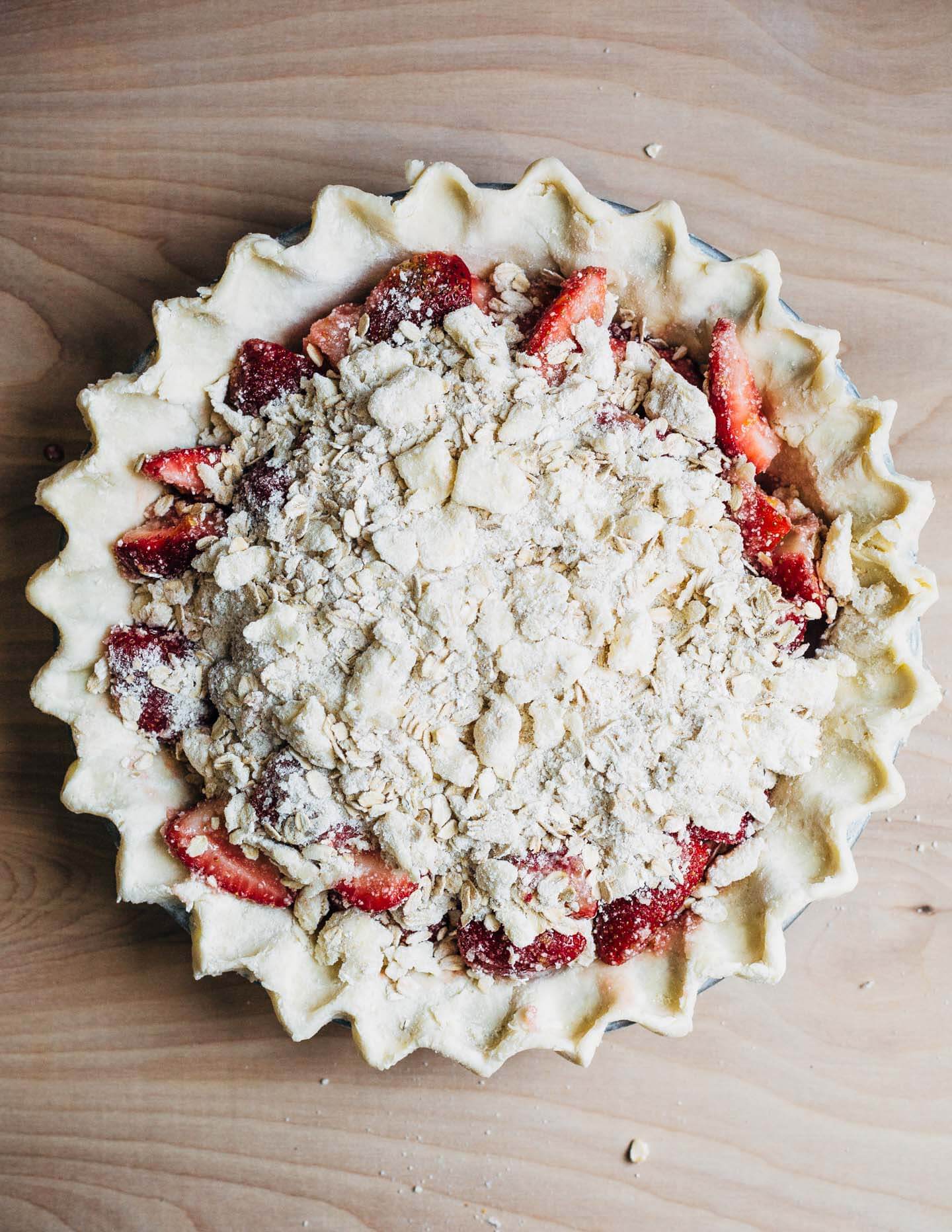 This Mother's Day, my hope is to wake up and make a big brunch with my girls. Drink a lot of coffee and maybe something fizzy, then force everyone to go for a long walk. There's a part of me that will want to hurry things along, check each activity off the list. But I'm going to do my best to stay right along side the girls, noticing and delighting in all the beauty of the Virginia spring.

I hope wherever this Mother's Day finds you, it's lovely. Be kind to yourselves.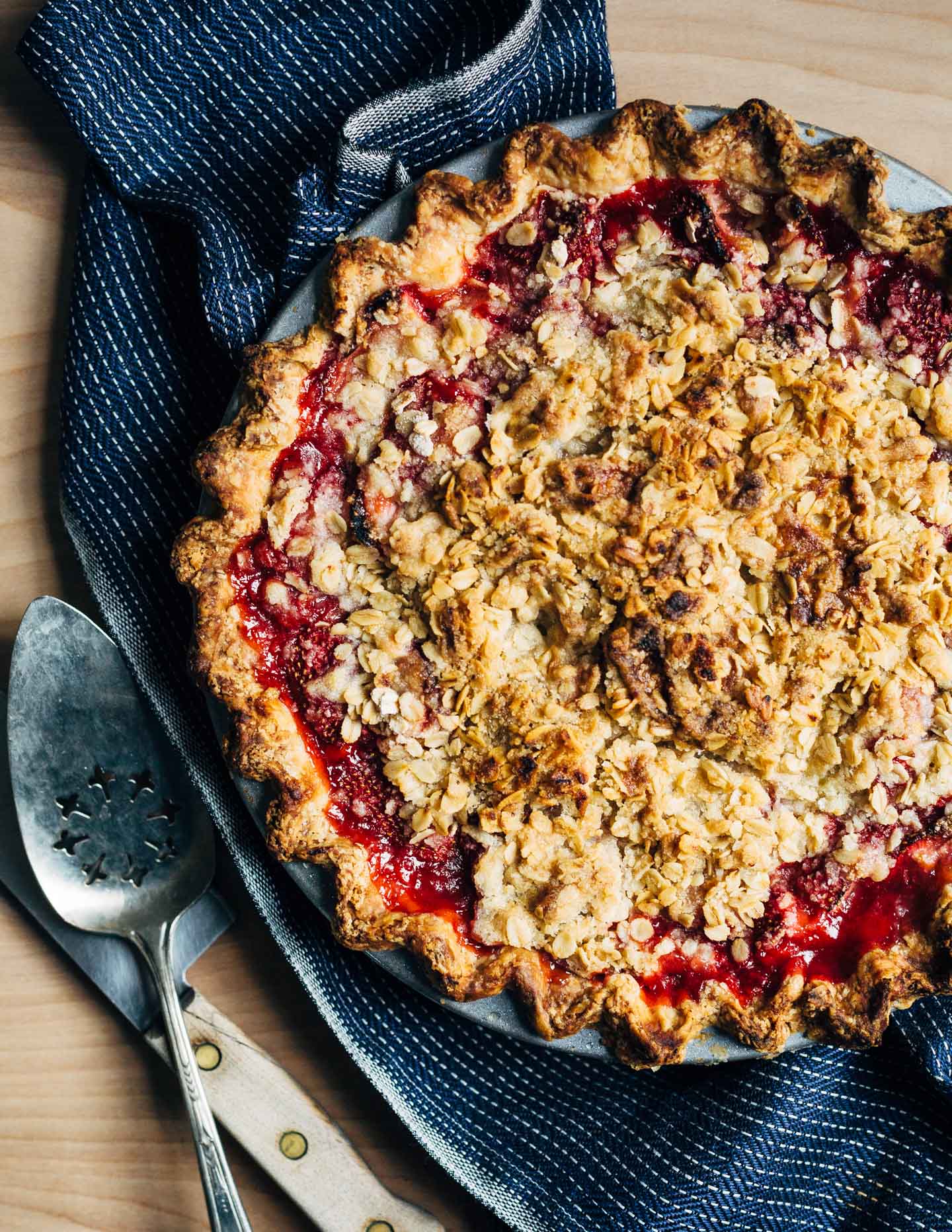 A better writer might have woven strawberry crumble pie into the tale above, and maybe we'll have it for dessert after a nice Sunday dinner. The thing you need to know is that this strawberry pie is very, very good. Strawberry crumble pie combines all the best parts of a crumble and the best parts of a pie. The filling is jammy with bright, concentrated strawberry flavor (deep red, not at all soggy), and the topping is crunchy and toothsome and wonderfully sweet with just the right amount of sea salt to balance it all out. It's baked up in a flaky, deep golden crust, and is absolutely perfect with a single scoop of vanilla ice cream perched on top.
This strawberry crumble pie was adapted from my sour cherry crumble pie recipe here.
Don't miss a recipe! Follow Brooklyn Supper on Instagram, Facebook, and Pinterest.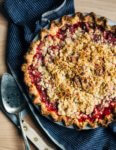 Strawberry Crumble Pie
A supremely delicious strawberry crumble pie with all the jammy sweetness of in-season strawberries and a toothsome buttery oat crumble topping.  This pie is best the day it's baked, but makes for a very decent breakfast the next morning.
Keyword:
strawberry crumble pie
Ingredients
Crust
1 1/4

cup

all-purpose flour

1

tablespoon

sugar

1/2

teaspoon

sea salt

5 - 6

tablespoons

ice water

8

tablespoons

unsalted butter,

cold
Filling
2

pounds

strawberries,

hulled and halved

1/2

cup

sugar

Zest of 1 lemon

2

tablespoons

ground instant tapioca,

store-bought or ground in a coffee grinder

pinch

sea salt
Crumb Topping
3/4

cup

old fashioned rolled oats

1/3

cup

all-purpose flour

1/2

cup

sugar

(I used cane sugar)

1/2

teaspoon

sea salt

1

teaspoon

ground ginger

6

tablespoons

unsalted butter,

cold
Instructions
To make the crust, whisk to combine flour, sugar, and sea salt in a large bowl. With a course grater, grate in the butter. Rub into flour mixture with fingertips until well combined. Drizzle in ice water a little at a time, folding into flour mixture with a silicone spatula. Add just enough so that the mixture holds together in a rough, floury ball.

Turn dough out onto a lightly floured surface and gather into a disk. Cover tightly with plastic wrap. Chill dough in fridge for 30 minutes or as long as 5 days.

On a lightly floured piece of parchment paper, roll crust into a 14-inch circle. Fold into quarters and then unfold in a 10-inch metal pie pan. Press dough into pan. Trim crust to a 1-inch overhang, tuck edges under along the rim and crimp. Set pie crust in freezer for 30 minutes or longer.

Preheat oven to 425 degrees Set a large rimmed baking sheet in oven to preheat as well.

In a large bowl, fold to combine strawberries, sugar, lemon zest, ground tapioca, and sea salt. Set aside while you prepare crust.

To make the crumb topping, in a medium-sized bowl, combine oats, flour, sugar, and sea salt. Chop butter into little pieces; rub into mixture with fingertips. Set crumb topping in the fridge until needed for the pie.

To assemble pie, take crust out of the freezer, and working quickly, spoon filling into pie shell, and mound crumb topping in the center (it will seem like a lot, but cooks down considerably).

Set pie on preheated baking sheet, slide into oven, and bake about 60 minutes or until crust is a deep golden hue and the filling is bubbling. If needed, tent sides with aluminum foil to prevent crust from burning.

Cool 2 - 3 hours, slice, and serve with a scoop of vanilla ice cream.