A simple, from-scratch strawberry pie recipe with a buttery lattice-top crust.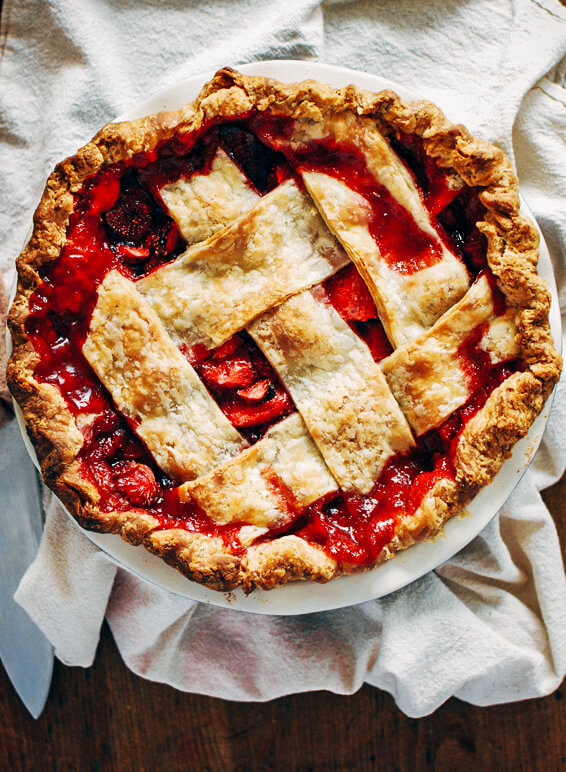 A few mornings each week, I take a long walk through the woods. Nothing really happens on these long walks, which might be what makes them notable. My youngest and I stroll along the path, stopping to see what there is to see along the way. The vines have entered full attack mode, determined to drag every tree, however massive, back into the ground. The chartreuse leaves have gone emerald. And every street and path is filled with the sweet smell of late spring––floral and green. The grace in these warm last days of May has me wishing time could stand still.
And to accompany these gentle days are strawberries. Perfectly ripe, abundant at our farmer's markets, and even dotting lawns and a few fecund sidewalk cracks; this is their time. And I should say here, that I'm generally against cooking strawberries. Their perfect short-lived sweetness should be enjoyed fresh. Except, this year, this week, I wanted a pie. Rhubarb is out due to my food allergies, so I set about making a just-strawberry pie, and it came out perfectly.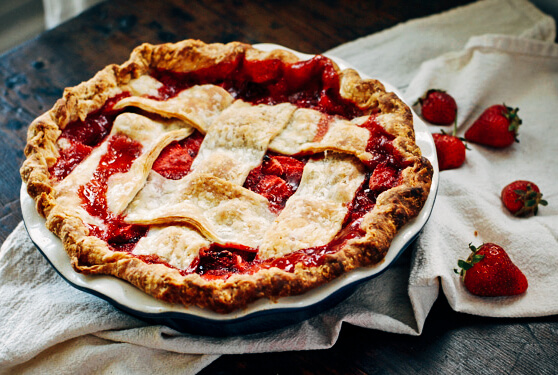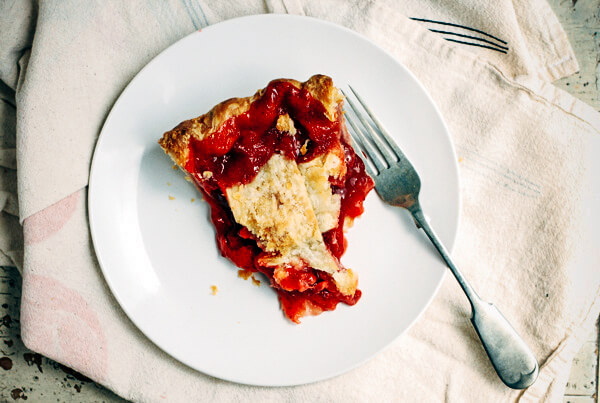 Being cornstarch averse, and with the help of some of the fine ladies of Twitter, I put a plan into action using a mixture of ground tapioca (my favorite pie-thickening agent) and arrowroot. As I poured the somewhat chalky-looking berries into the pie pan I was a bit worried, but the strawberry pie came out vibrant as ever. The flavor is quiet, as cooked strawberries are. I've added orange zest and a touch of cinnamon for extra zing. The pie is lightly sweet and lets the strawberries speak for themselves. Which is good, because they have a lot to say.
I like my pie plain, but if you're a fancy sort, serve with a dollop of very, very lightly sweetened whipped cream (if you add too much sugar though, I'll never forgive you).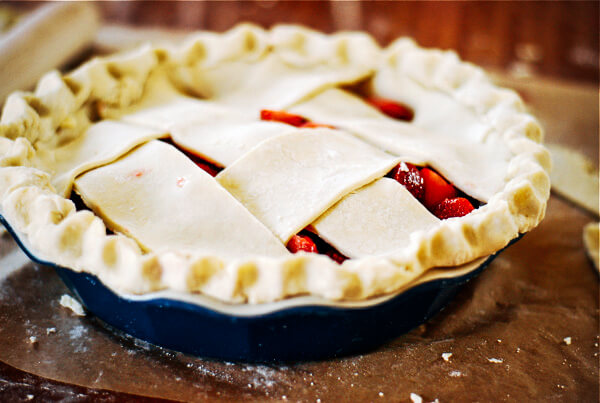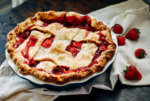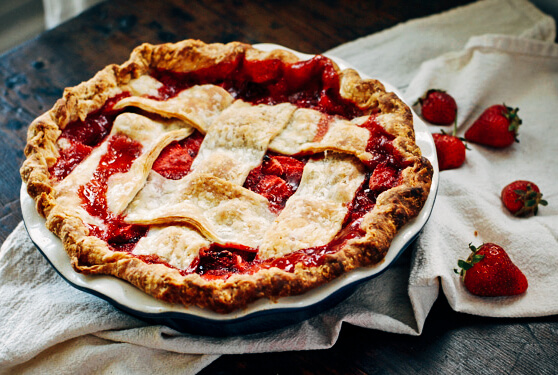 Lattice-Top Strawberry Pie
A simple, from-scratch strawberry pie recipe with a buttery lattice-top crust.
Ingredients
Filling
3

quarts

strawberries,

washed, hulled, and halved

1/2

cup

arrowroot

4

tablespoons

ground instant tapioca,

ground fine in your coffee grinder

1/2

cup

sugar

zest of 1 orange

2

tablespoons

fresh-squeezed orange juice

1/2

teaspoon

sea salt

1/2

teaspoon

ground cinnamon
Instructions
Make pie dough. Divide dough in two, wrap in plastic and chill in fridge 1 hour.

Preheat oven to 425 degrees F. Set a rimmed baking sheet in oven to preheat as well. Butter a deep dish 9-inch pie pan and set aside.

Prepare berries and set in a large bowl. Fold in remaining filling ingredients and set bowl aside while you roll crusts. This gives berries time to release their juices and thickening agents time to work.

Remove the first disc of dough from the fridge. On a lightly floured sheet of parchment, roll into a 14-inch circle. Press into the pie pan and trim all but 1 – 2-inches of overhanging dough. Set shell in freezer while you prepare top layer.

Next, remove second dough disc from fridge and roll it out. Cut 5 or 6 (2 1/2-inch wide) strips.

Use a slotted spoon to add filling to pie pan. Pour in all but 3/4 cup of the remaining juices. Lay 3 strips of dough over pie, and then the other 2 or 3 strips in the other direction. Weave

according to these instructions

, trim any excess dough, and crimp edges. You can brush with an egg white and sprinkle on sugar for an extra presentable crust, but I left mine plain this time around.

Set pie on preheated tray in oven, and bake 50 - 60 minutes. Check after 40 minutes and tent crust if it's getting too brown. The pie is finished when the crust is golden and the filling is bubbling and thick. Set aside, and allow pie to cool completely – 5 hours or more.
SaveSave
SaveSave
SaveSave