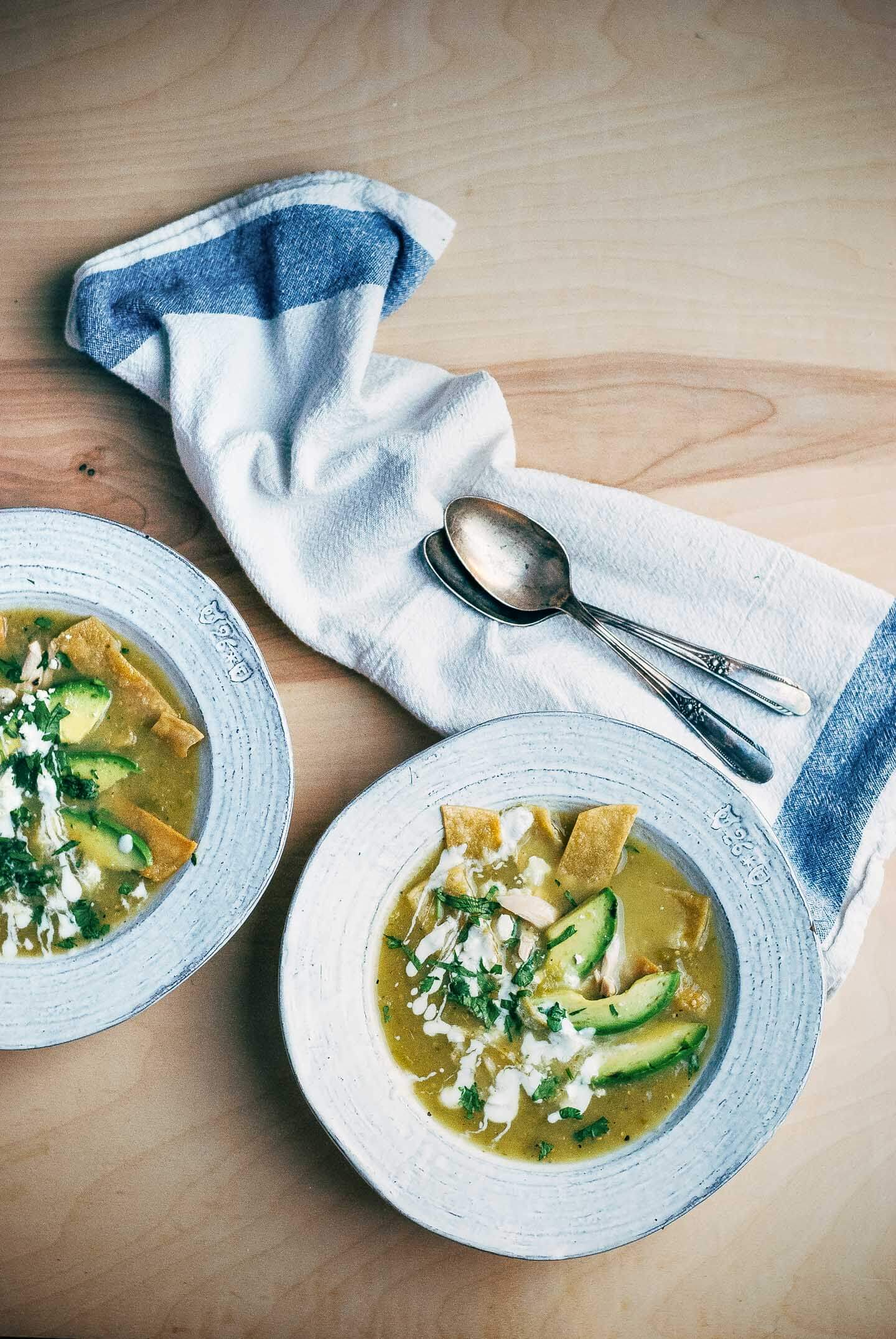 A smoky roasted tomatillo tortilla soup recipe made with charred tomatillos, hot peppers, and a rich homemade chicken stock. Jump to recipe. 
Summer soups are weird, I know. But when all the tomatillos or tomatoes or zucchini are ripe at once, soup can be a savior, especially if you find yourself with a string of rainy, not completely sweltering August days, where pants, socks, and real shoes almost seem like normal clothes to wear. But even on a hot day, the interplay of tangy tomatillos, velvety chicken stock, crispy tortillas, tender chicken, and herbs is pretty great.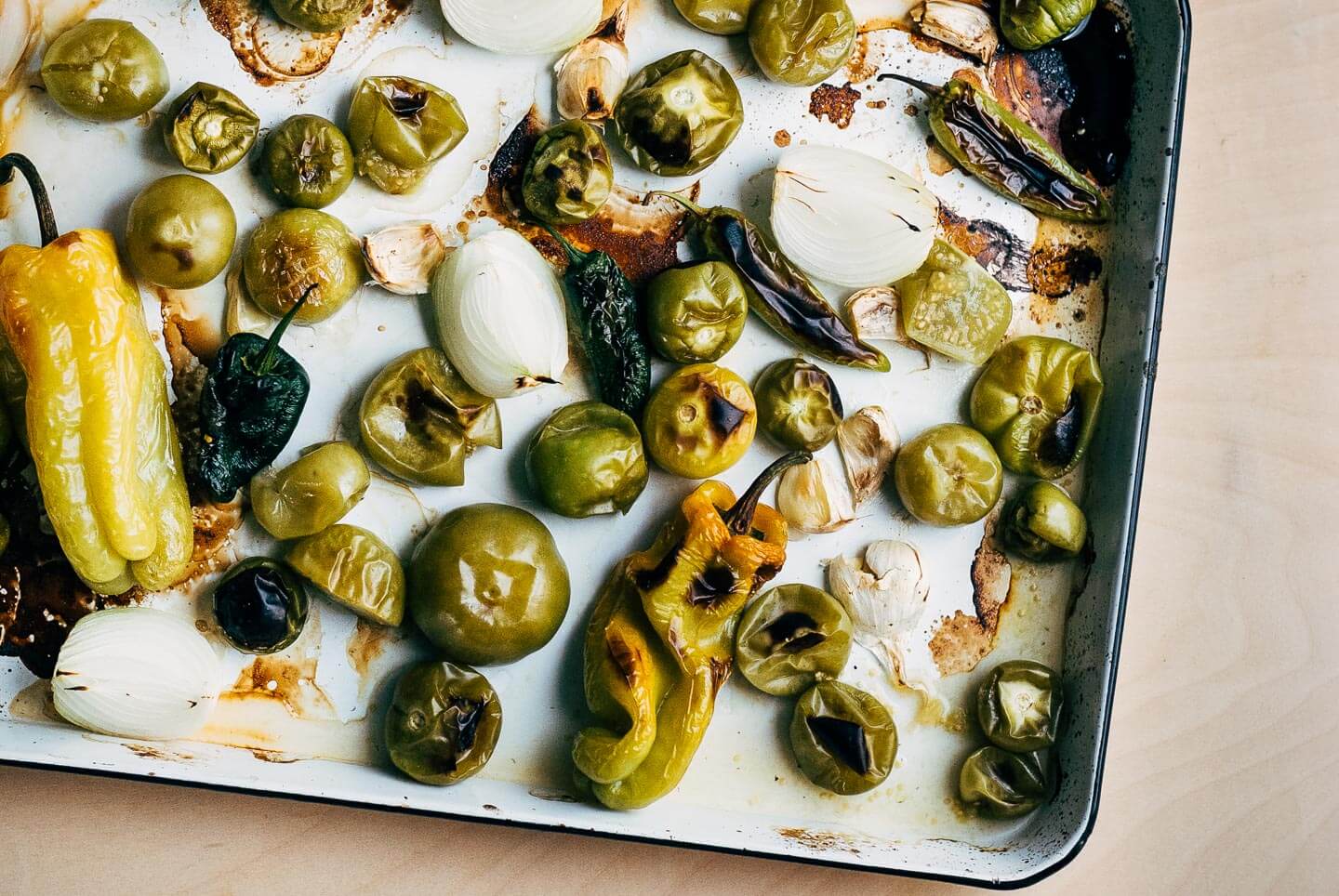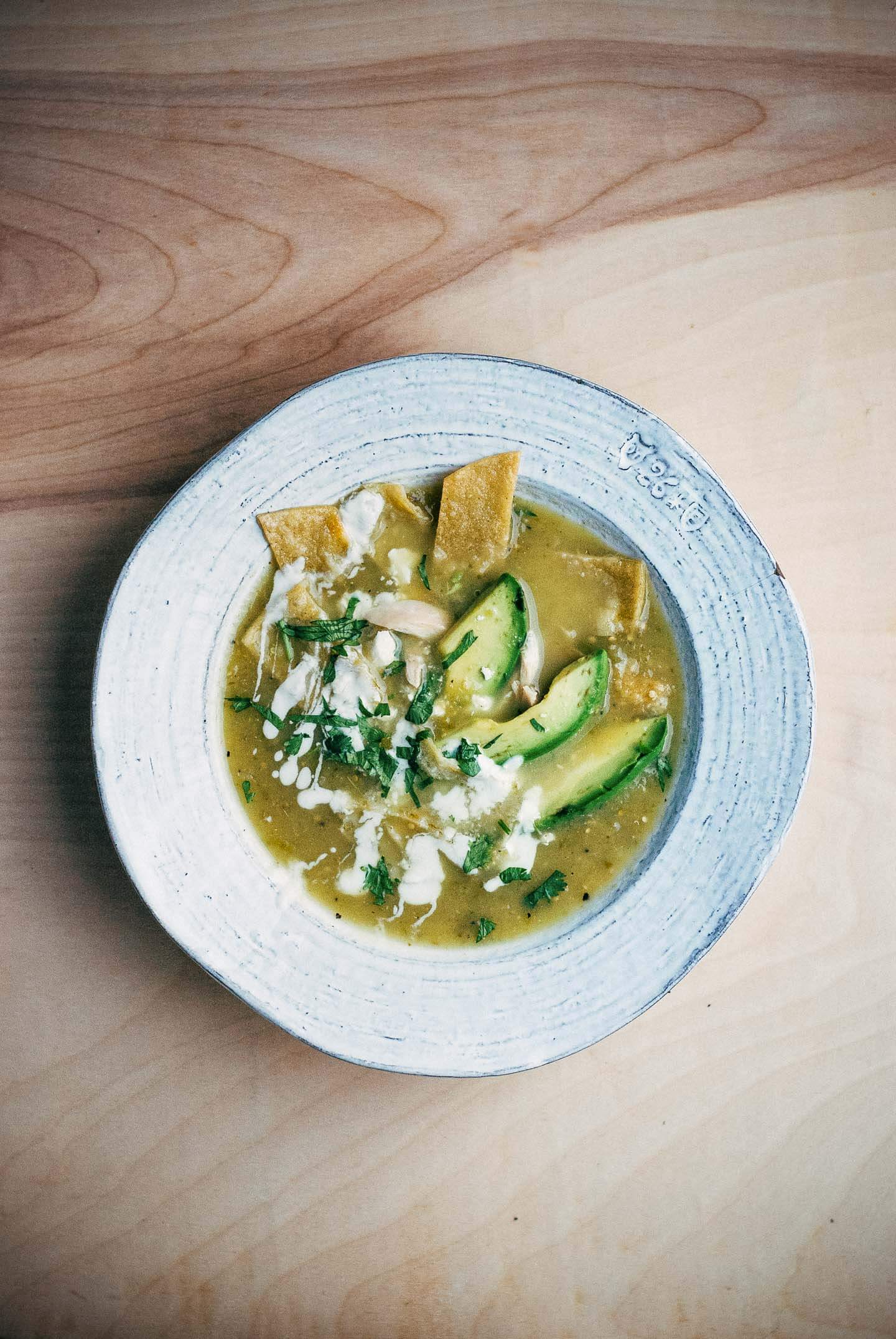 This roasted tomatillo tortilla soup is made in two parts. First, there's a simple but incredibly rich chicken stock made from roasted chicken legs. A bit of the roasted chicken is reserved for the finished soup and the rest is simmered a few hours until chicken stock perfection is achieved. Next, a mess of peppers, alliums, and tomatillos are roasted under the broiler until it's all blistered and bubbling. Finally, the vegetables and stock are pureed and garnished with bits of chicken, fried tortilla strips, lime juice, crema, avocado, cotija, and herbs.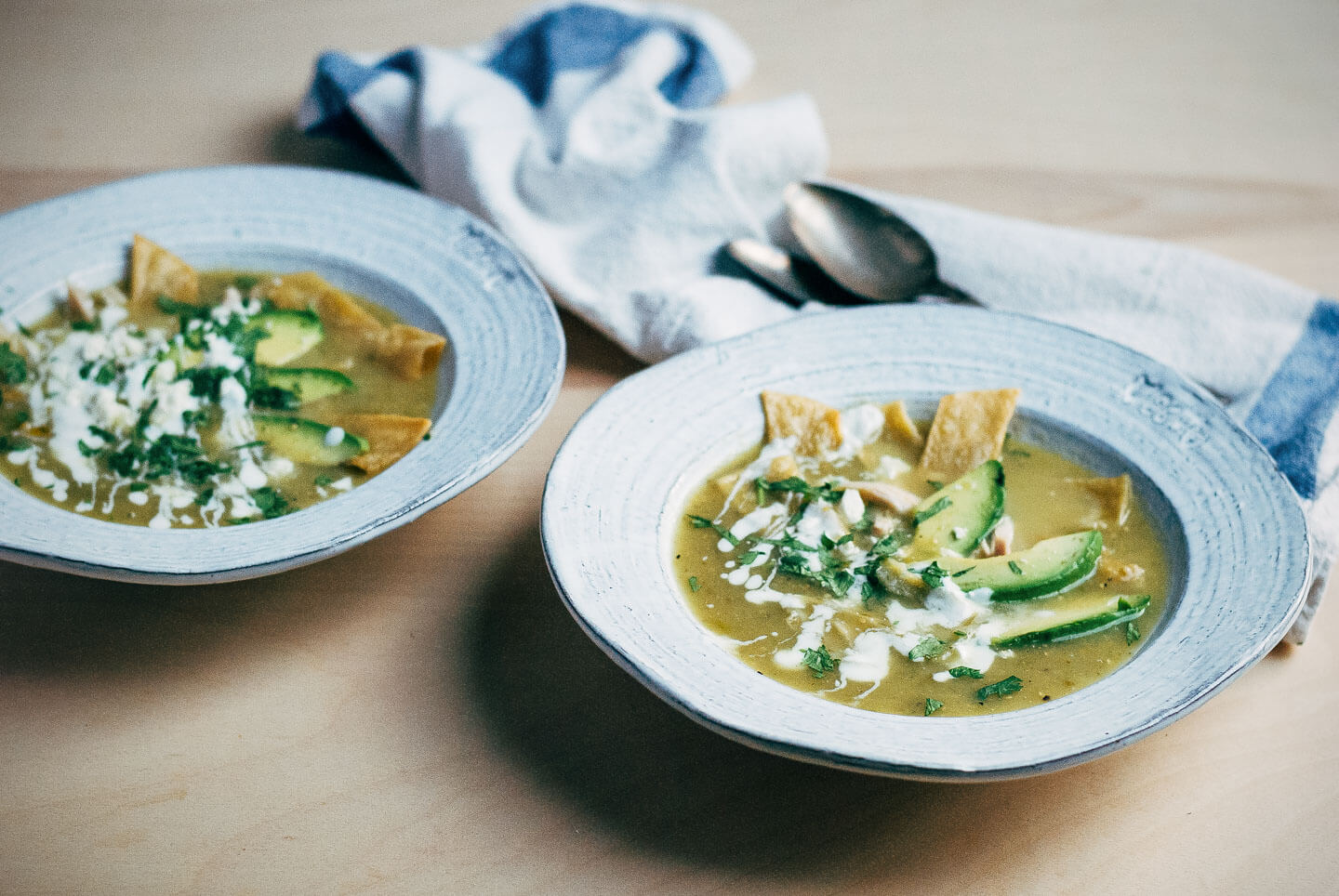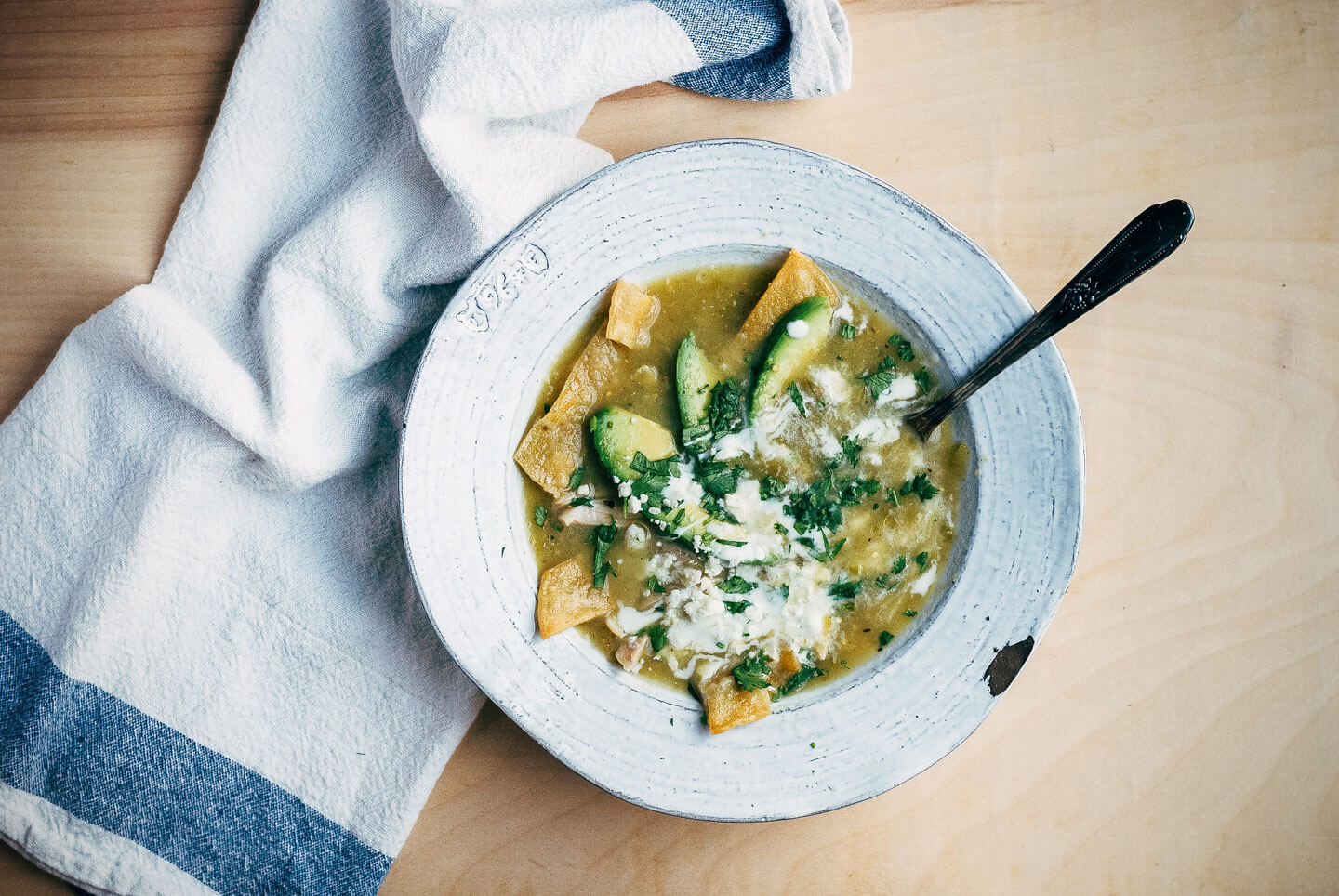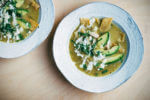 Roasted Tomatillo Tortilla Soup
A vibrant green tortilla soup recipe made with smoky roasted tomatillos, hot peppers, and a rich chicken stock.
Ingredients
6

cloves

garlic

1

quart

tomatillos,

husks removed, rinsed well

1

yellow onion.

trimmed, peeled, and quartered

2

Cubanelle or Anaheim peppers

1

jalapeño pepper

1

serrano pepper

4

cups

chicken stock and 1 pound roasted chicken legs

(recipe for both below)

sea salt

6

corn tortillas,

cut into thin strips

neutral heat-tolerant oil for frying tortillas

1

avocado,

sliced

1/4

cup

crema (Mexican sour cream)

2

tablespoons

minced fresh cilantro

1/4

cup

crumbled cotija cheese

(optional)
Instructions
Set broiler to high.

Trim woody base from garlic cloves, then lightly smash with the side of a knife. Leave papery skin intact. Arrange garlic, tomatillos, onion, and peppers on a rimmed baking sheet. Set under the broiler. Check every few minutes. Use tongs to set any tomatillos that have burst in a bowl, turn the peppers, and grab any garlic that's starting to blacken. Continue until all the vegetables have roasted nicely, 10 - 15 minutes total.

Set pan aside to cool. Under cold running water, remove the skin, stems, and seeds from the peppers.

Place all of the roasted vegetables in the pitcher of a blender (you may need to do this in two batches), add 2 cups chicken stock, and pulse until mixture is well blended, but still has a bit of texture. (Use caution if mixture is hot.)

Pour into a sturdy pot and set over medium-low heat. Add 2 cups remaining chicken stock, stir, and then add sea salt to taste. Pull chicken meat from reserved roasted drumsticks, set in a small dish, and warm in the oven.

Meanwhile, set out a deep-frying pan and pour in neutral oil to 1-inch depth. Set over medium/medium-high heat. Fry tortilla strips until golden and crisp, about 3 minutes. Set cooked strips on a stack of paper towels and sprinkle with sea salt. (You can also skip the frying and use high-quality tortilla chips instead—but be mindful that store-bought chips can be very salty.)

Ladle soup into bowls, garnish with tortilla strips (or chips), chicken, avocado slices, a drizzle of crema, cilantro, and cotija. Serve soup with a lime wedge.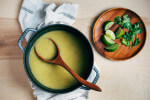 Rich Chicken Stock
A velvety rich chicken stock recipe made from roasted chicken legs.
Ingredients
5

pounds

chicken drumsticks

sea salt

3

tablespoons

heat-tolerant oil like grapeseed,

divided

2

medium yellow onions,

peeled and quartered

4

cloves

garlic,

smashed and peeled

4

carrots,

peeled and rough chopped

4

celery stalks,

rough chopped

1

bunch parsley stems

(if you have them)

2

bay leaves

(fresh, if possible)

10

peppercorns

4

quarts

water
Instructions
Preheat oven to 425° F.

Sprinkle chicken legs all over with sea salt. Drizzle 1 tablespoon grapeseed oil in a roasting pan and arrange chicken legs on top. Roast chicken 20 - 25 minutes, or until a thermometer inserted parallel to the bone reads 165° F. (Check chicken for doneness at the 20-minute mark.)

Reserve 1 pound cooked chicken for the soup – cover and put in the fridge until needed. Set roasting pan aside to cool.

Meanwhile, set a large stockpot over medium-high heat. Add remaining 2 tablespoons grapeseed oil, and then onions. Sauté until soft, about 7 minutes, then add all remaining ingredients but the water. Continue to sauté, stirring often, until vegetables soften and wilt, about 10 minutes. Add roasted drumsticks, scraping any accumulated juices or brown bits in as well. Add the water. Bring mixture to a boil, then turn heat to medium-low (enough heat to produce a gently bubbling simmer). Add sea salt sparingly – just enough to bring out flavors. Cook until chicken meat falls off the bone, 2 to 3 hours.

Using a fine mesh strainer, strain mixture into jars. Set aside to cool, then seal and refrigerate for up to 5 days. Stock can also be frozen for up to 6 months.
This recipe originally appeared on Food52.