We've partnered with Mirassou Winery on a rich, sating vegetarian Friendsgiving menu and a plant-based, gluten-free recipe for wild rice and cornbread stuffing.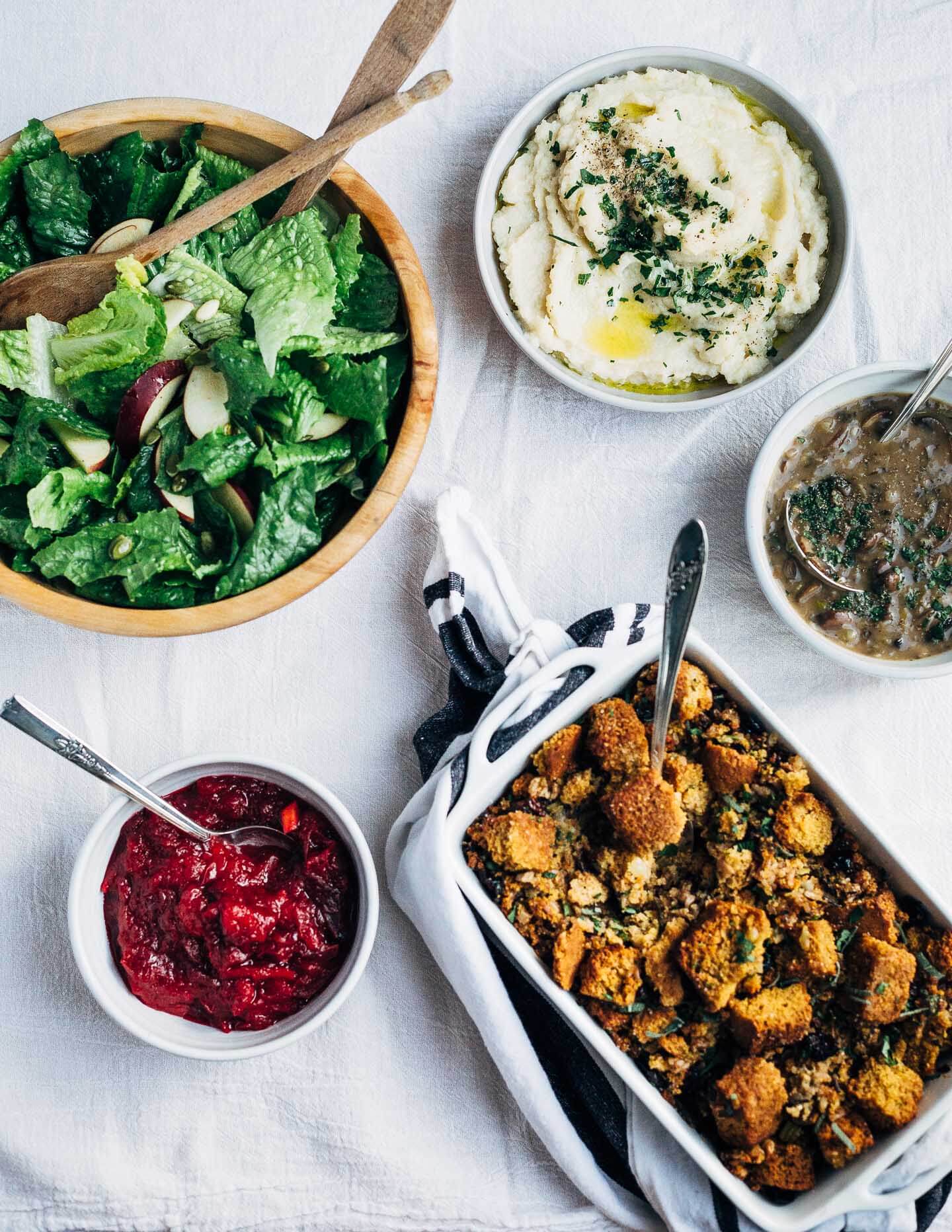 Years ago, our Friendsgiving began as a necessity. Leaving New York City at the same time as 4 million other people proved incredibly taxing – cue memories of 4-hour standing-only Amtrak rides and 8-hour traffic jams. Besides, back then Brian had to work on the Friday after Thanksgiving, so we decided to avoid travel altogether by celebrating right where we were.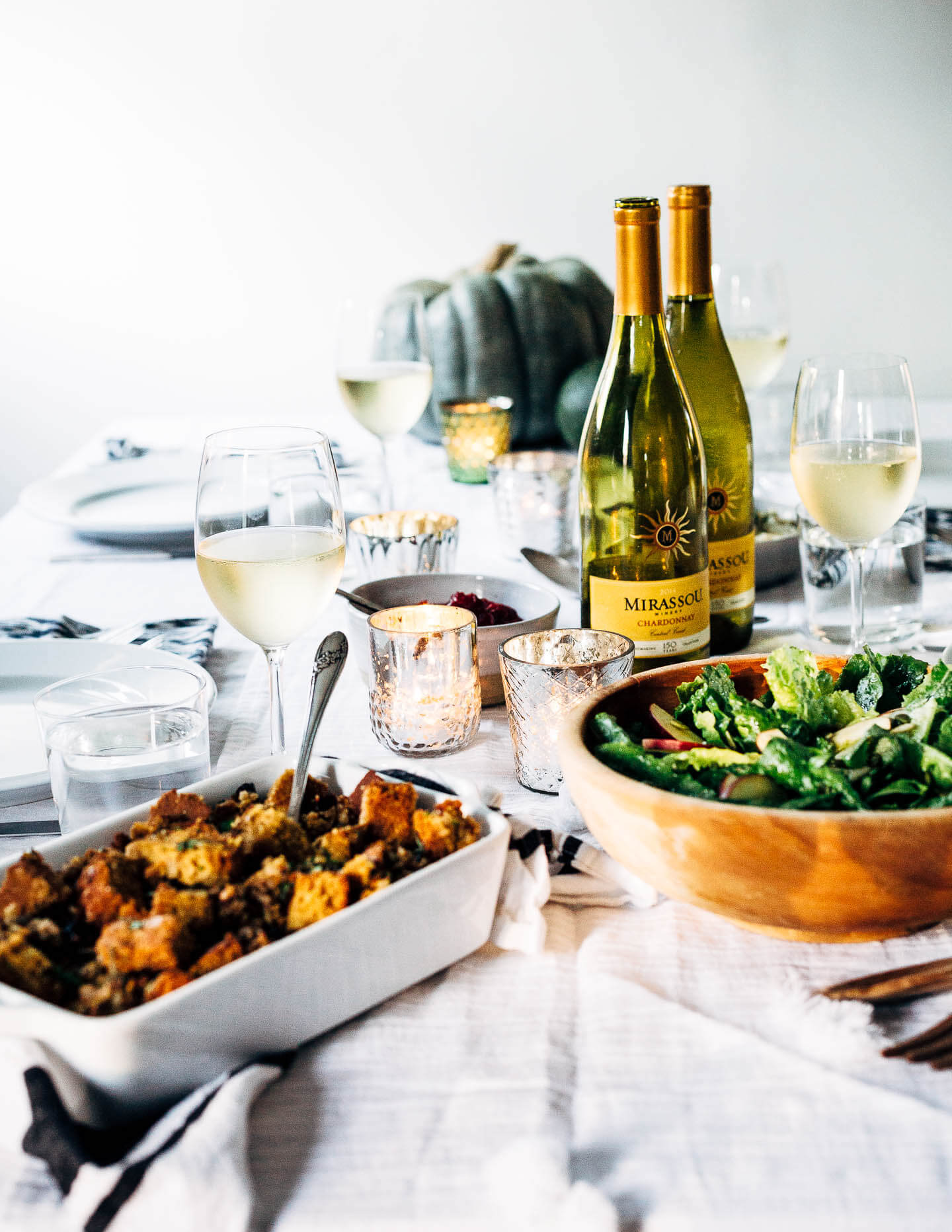 Sometimes we'd host on Thanksgiving proper, other times, a few weeks before. As we settled in to our routine, I discovered I loved Friendsgiving. It was a meal with nods to tradition, but stripped of convention or the need to serve classics whether anyone wanted them or not. We ate an autumn feast, sure, but the specifics of that feast were negotiable. The only tradition that mattered was that we had a house (or apartment) full of beloved friends and family, and a welcoming, festive atmosphere.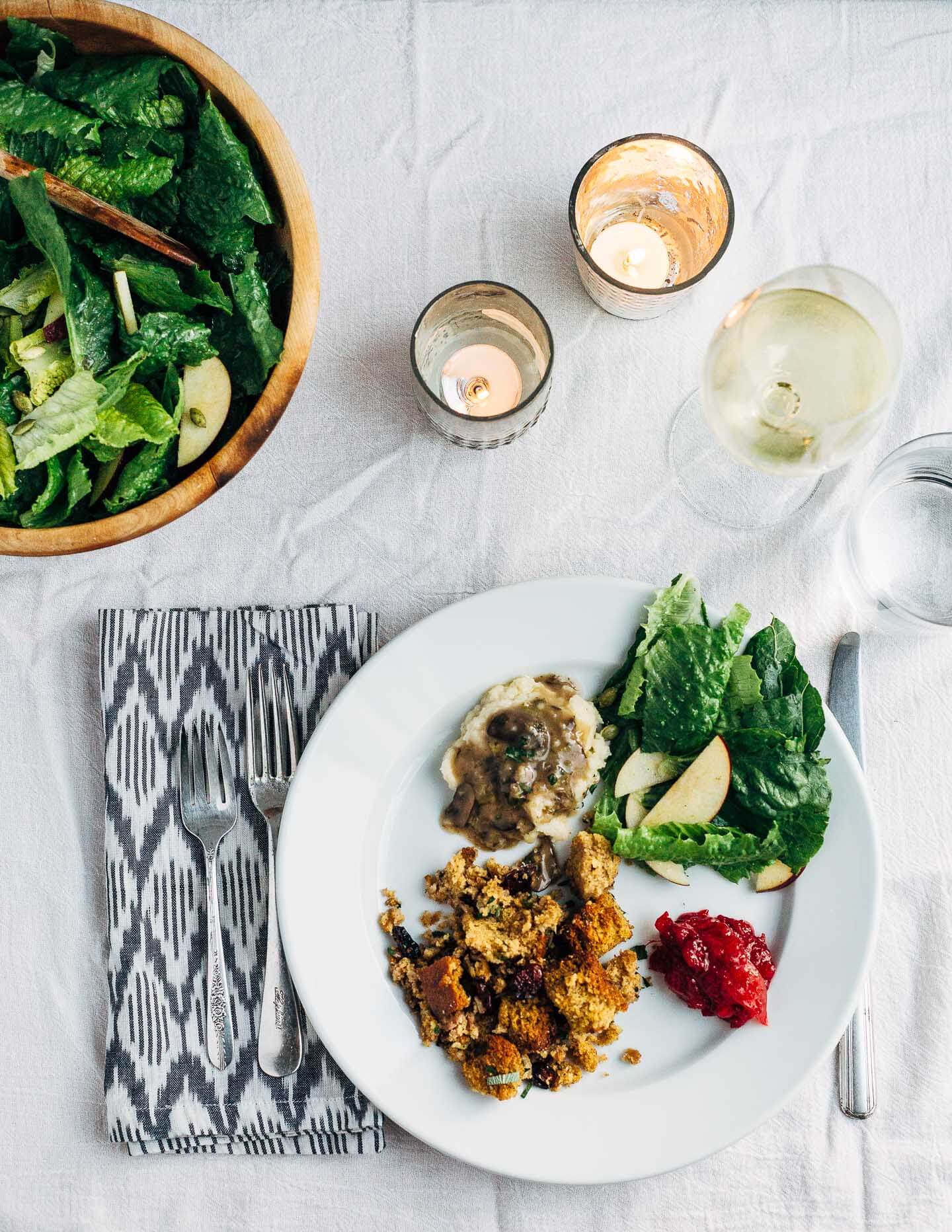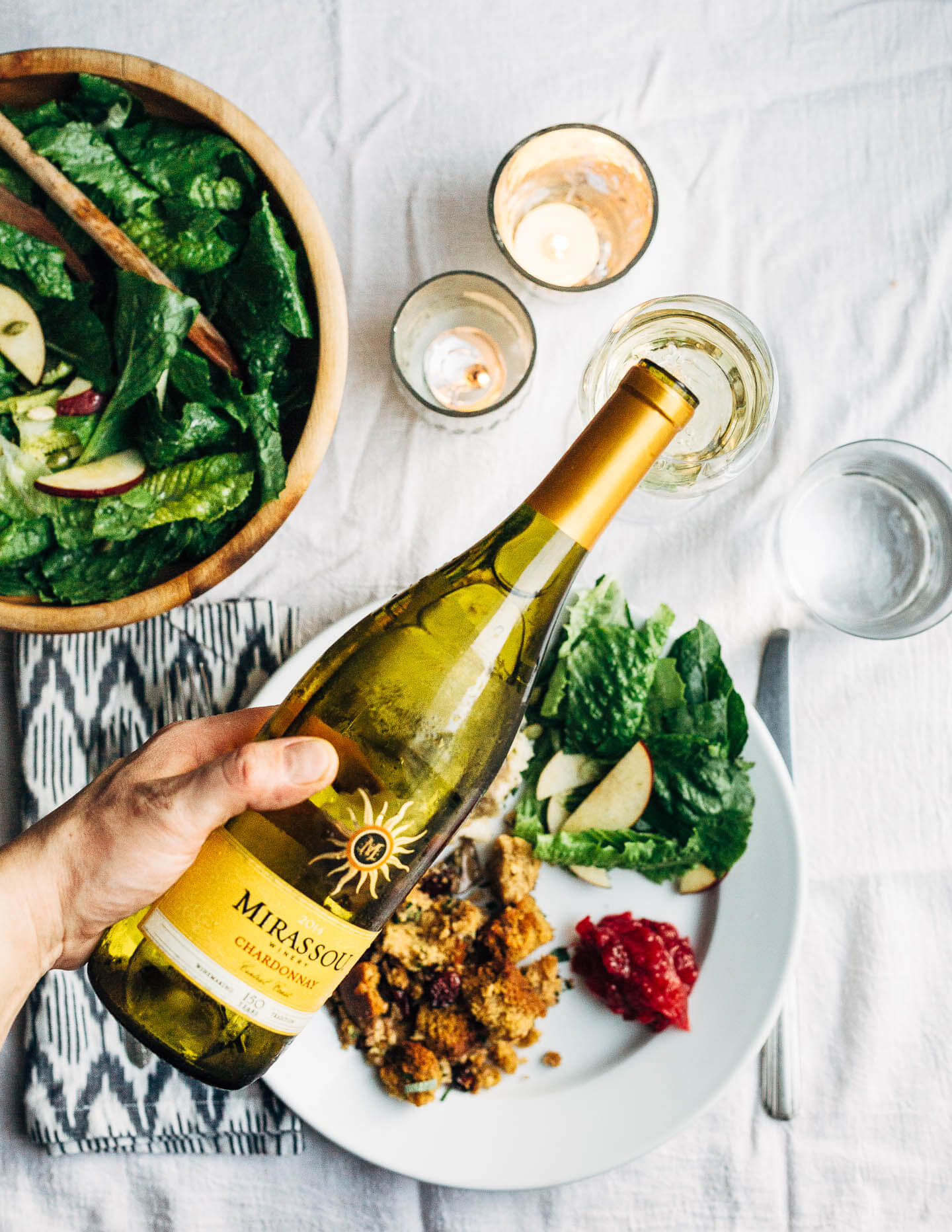 Right now, we're sharing inspiration for a host of easy dishes for your own Friendsgiving feast. Our menu was a simple one. The centerpiece was a vegan and gluten-free wild rice and cornbread stuffing tossed with fresh herbs and dried cranberries, while supporting sides included mushroom gravy, cauliflower puree (instead of mashed potatoes), an effortless citrus-forward cranberry sauce, and a green salad with crisp apples.
Our table was brimming with rich, earthy flavors, all of which were enhanced by the approachable tastes of Mirassou Chardonnay. Fruity, floral notes complemented the nutty wild rice and cornbread stuffing without overwhelming it, while the Mirassou Chardonnay's creamy finish proved a cleansing counterpoint to the menu's robust fall flavors.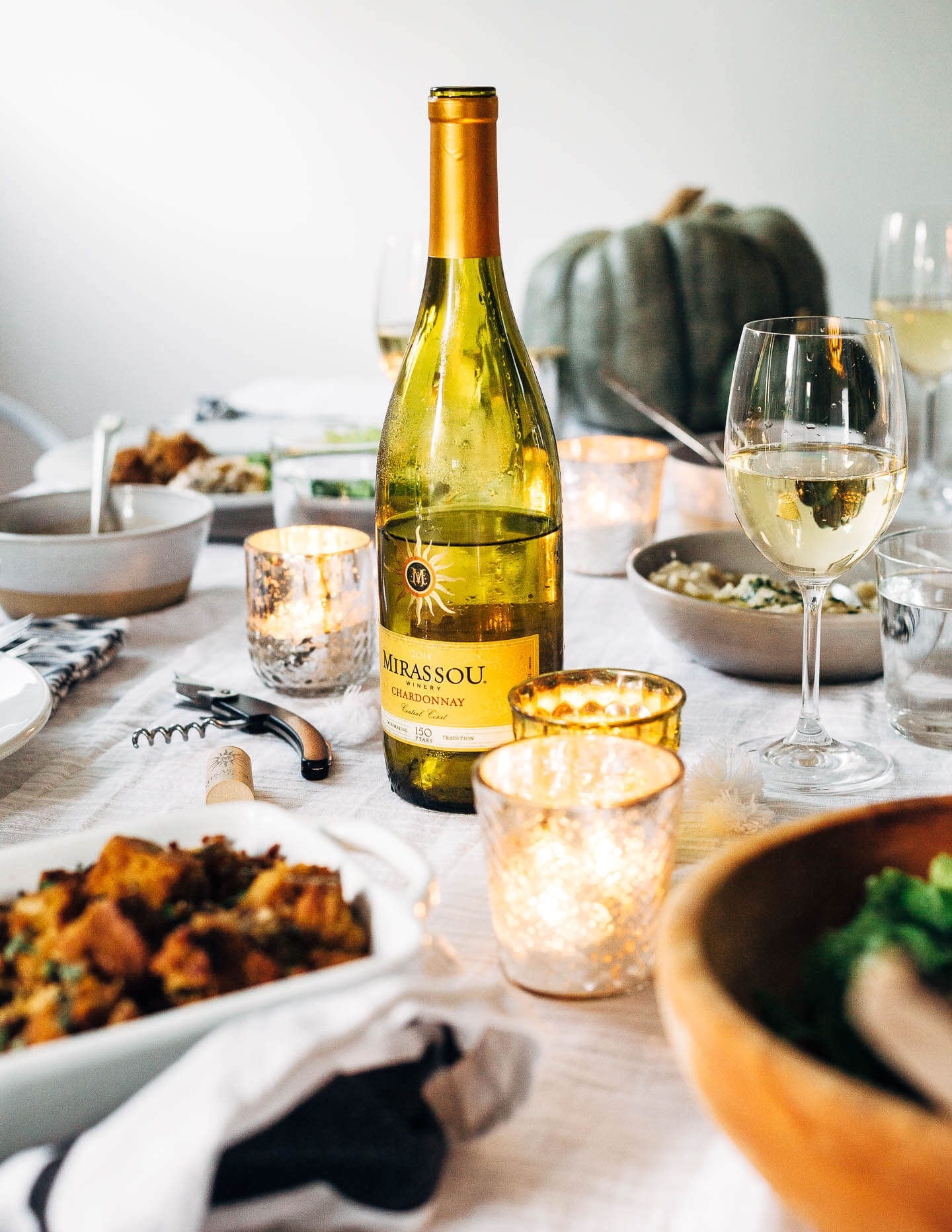 Though my family eats an omnivorous diet, I always make sure to include a few show stopping vegetarian dishes on my menu. When I can, I'll make things vegan, too. I've found that the best route to a flavorful vegetarian Friendsgiving meal is a great vegetable broth. Sometime in the weeks before, I'll spend a day simmering a pot of stock for use in everything from stuffing to gravy to purees. Store bought broth will do in a pinch, but a robust homemade vegetable broth lends tons of flavor.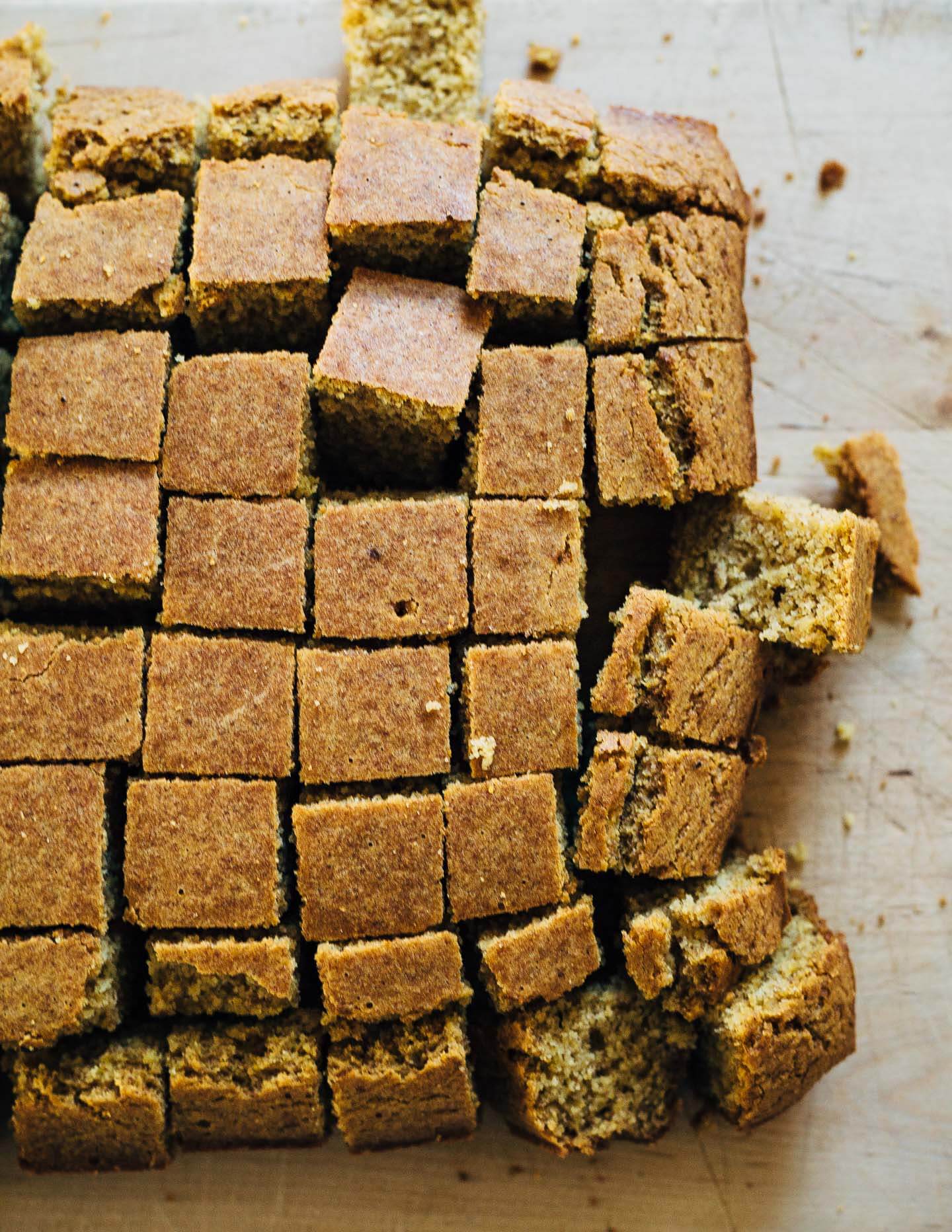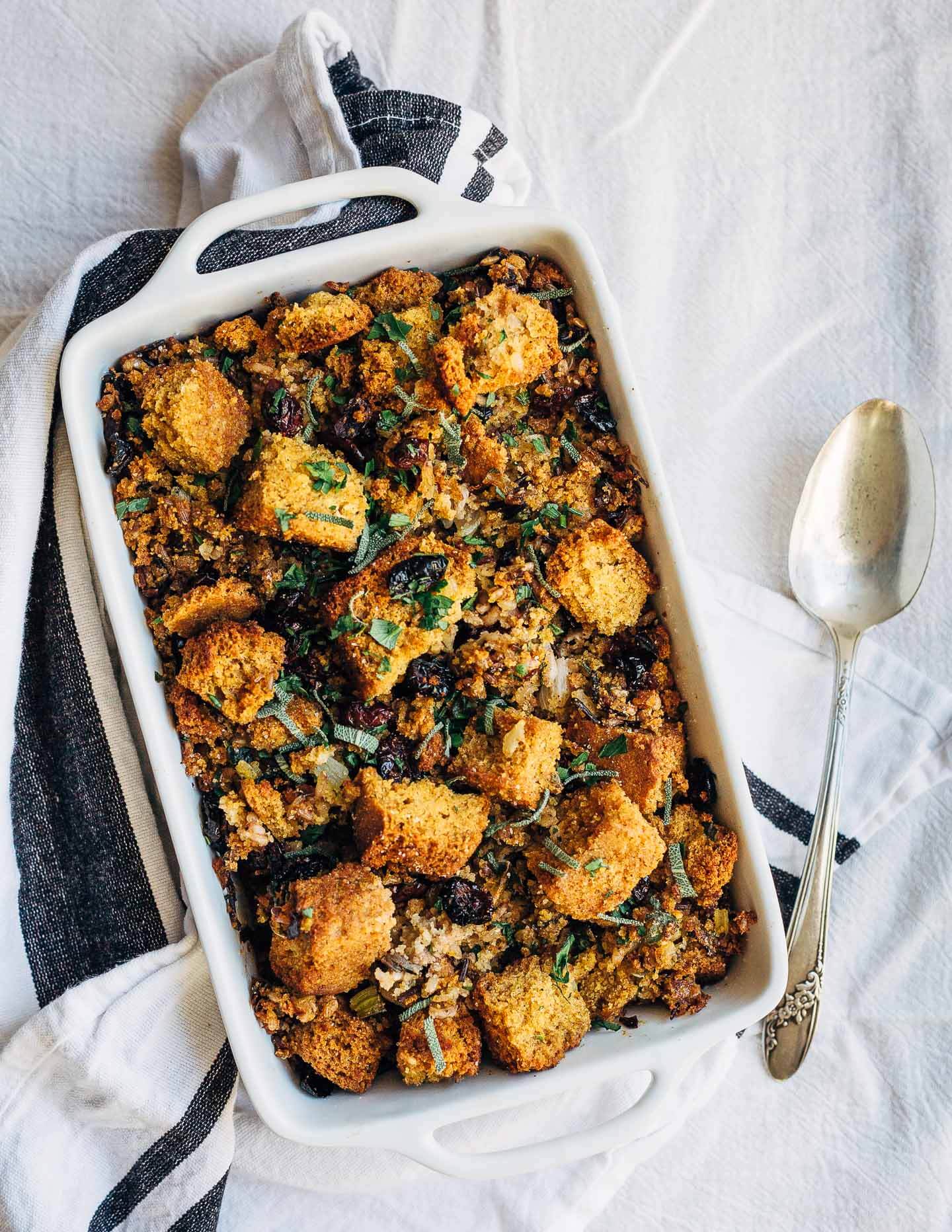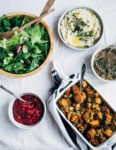 Wild Rice and Cornbread Stuffing (Vegan and Gluten-Free)
Ingredients
Stuffing
6

cups

cubed cornbread

(1-inch cube)

2

cups

cooked wild rice

4

tablespoons

olive oil,

plus more for greasing pan

1

yellow onion,

minced

1

celery rib,

minced

1/2

teaspoon

sea salt

1/2

teaspoon

fresh ground pepper

2

tablespoons

minced sage leaf

2

tablespoons

minced parsley leaves

1/2

cup

dried cranberries

2

cups

homemade vegetable broth
Instructions
Preheat oven to 375 degrees F. Generously grease a 9 x 13-inch deep sided baking dish.

To make the rice, follow package instructions, subbing homemade vegetable broth for water, or bring 1 3/4 cups homemade stock to a boil and stir in 1 cup wild rice or wild rice blend, bring back up to a boil, then stir, cover, and turn heat down to a gentle simmer. Cook 45 - 50 minutes or until rice is al dente and the liquid is absorbed. Fluff and set aside to cool uncovered.

Meanwhile, arrange cornbread cubes on 1 - 2 large baking sheets. Slide into oven and toast 20 - 25 minutes or until cubes are crisp and golden, turning cubes halfway through. Lower heat to 350 degrees F.

To make stuffing, set a medium-sized skillet over medium heat. Heat olive oil and then add onion, celery, sea salt, and pepper. Sauté, stirring often, until vegetables are tender and translucent, about 10 minutes. Remove skillet from heat.

In a large mixing bowl, combine sautéed vegetables, toasted cornbread cubes, wild rice, sage, parsley, cranberries, and broth. Spoon into greased baking pan. Bake 35 - 40 minutes or until stuffing pulls away from the sides and is a deep golden hue.

Serve immediately.
Recipe Notes
Note*: the linked vegan cornbread recipe contains a gluten-free option. If you don't need a vegan recipe but do want a gluten-free one, I'm very partial to Ronni Lundy's all-cornmeal, southern cornbread. I haven't tried it, but Ronni Lundy's recipe would probably work with vegan butter, flax eggs, and plant-based milk.
SaveSave
SaveSave
SaveSave
SaveSave
SaveSave
SaveSave