This savory cornbread and sausage stuffing with fried sage leaves and fresh herbs is the ultimate classic stuffing recipe for your holiday feast.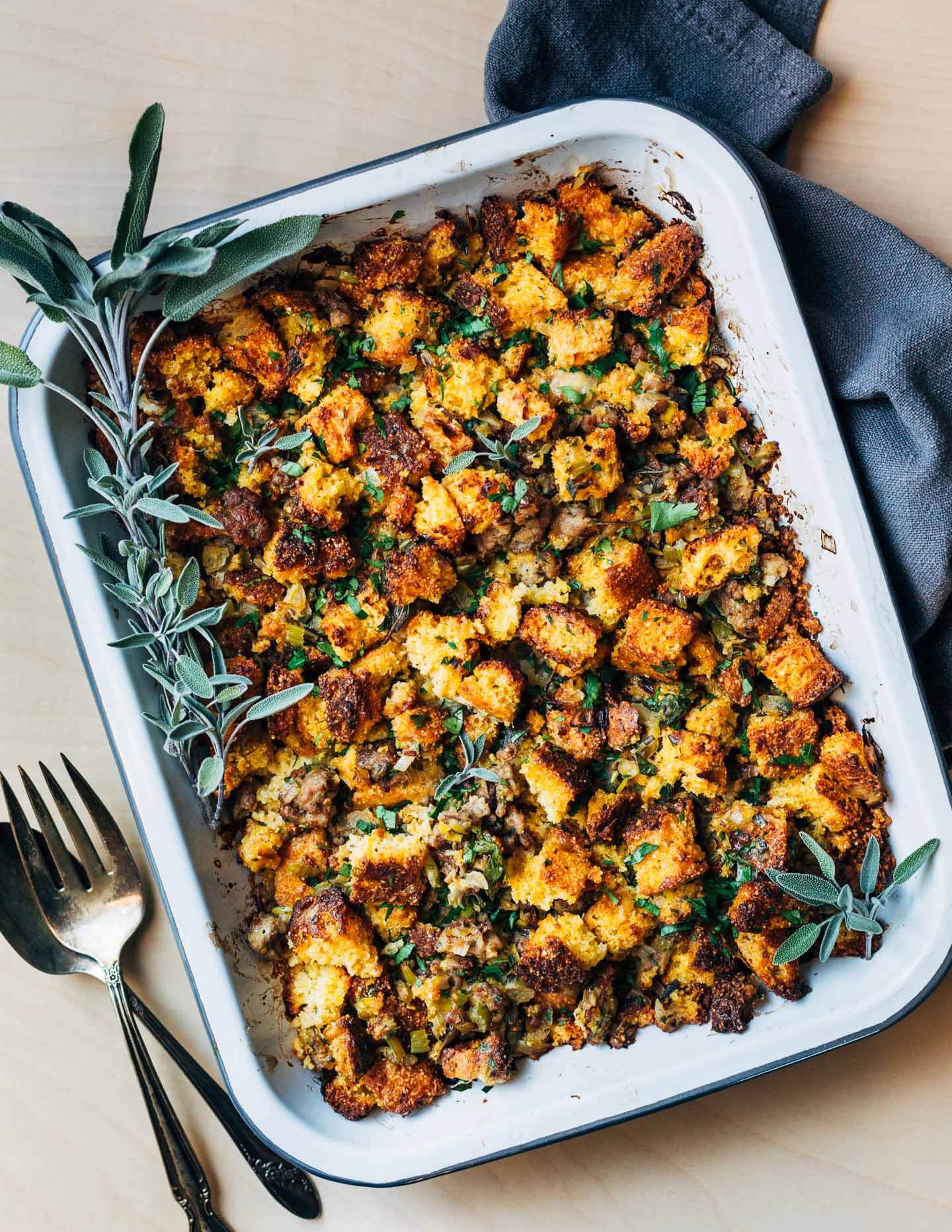 I've reached the point in my Thanksgiving prep where I can make a few of the core recipes by feel. Mashed potatoes are always the last thing, and I relish my recipe-free approach (skin-on Yukon gold boiled in salt water until tender and then mashed with warm butter, lots of sour cream, and plenty of sea salt and pepper).
Stuffing is another one that's easy to make by feel once you have the elements down. Butter, broth, and the amount of alliums and vegetables can all be added to taste and adjusted in the moment.
The savory cornbread stuffing with sausage recipe that I'm sharing today is a less free wheeling version of the dish I make every year, but is flexible enough for you to riff on the recipe and make it your own.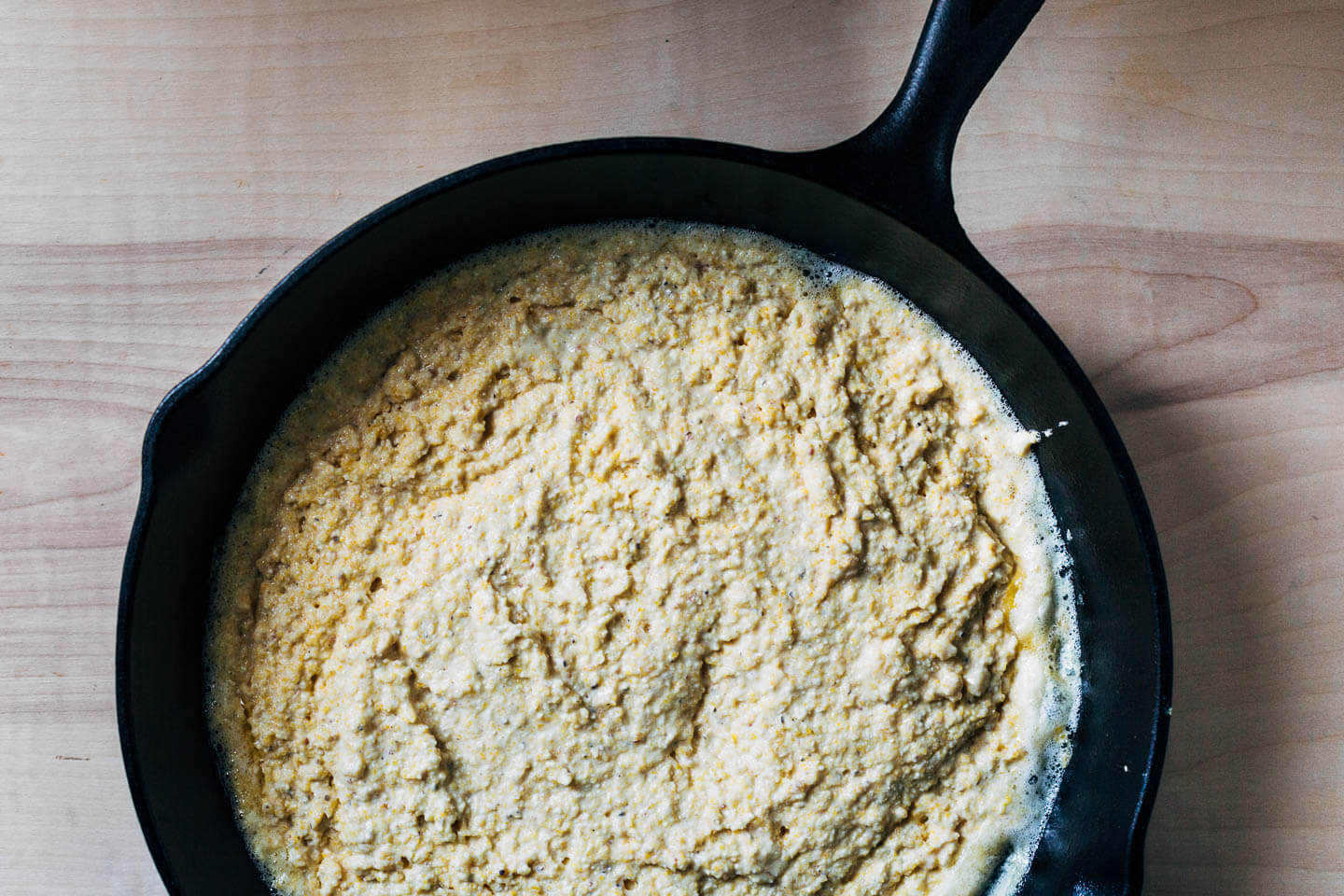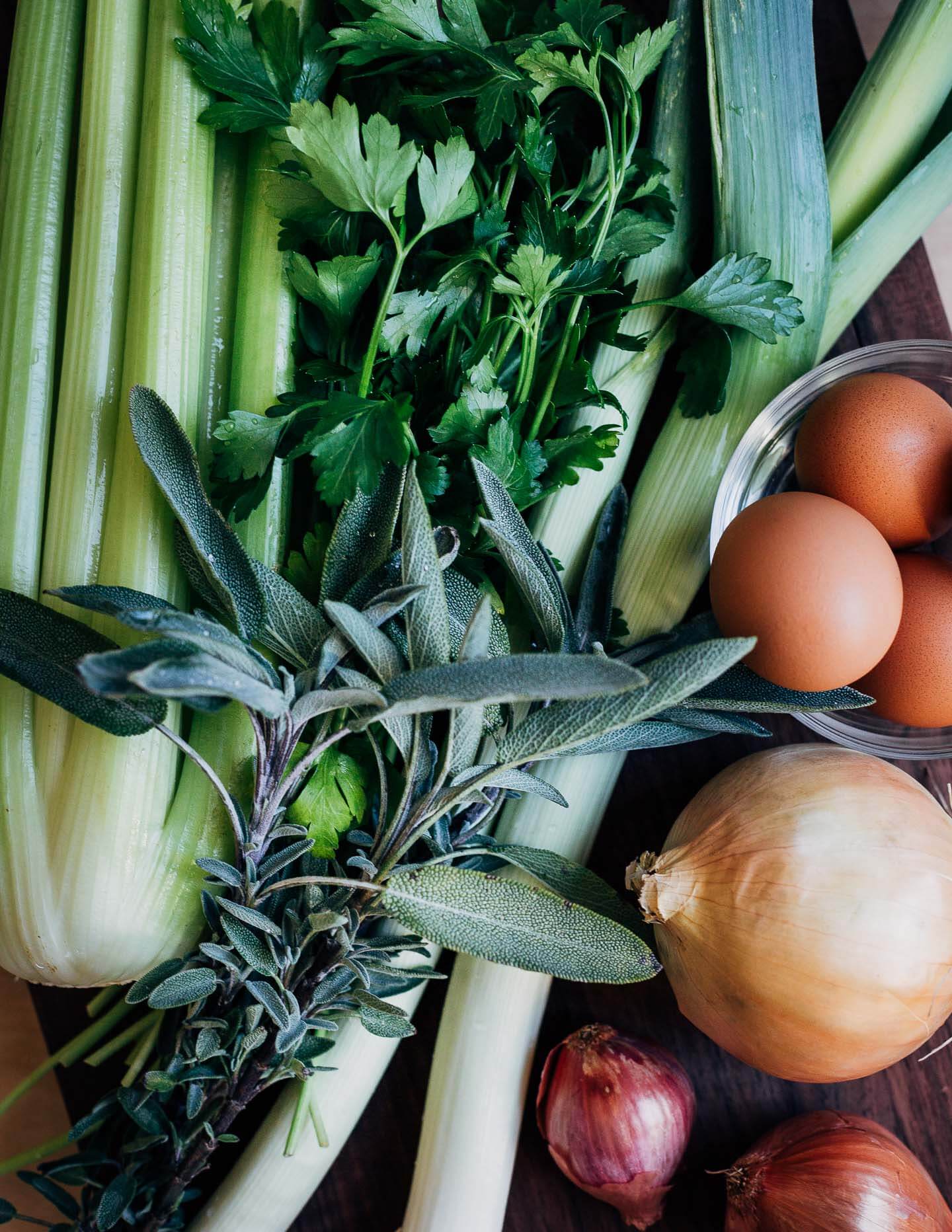 Sausage and Broth: The Building Blocks of Flavor
The fat and flavor of your sausage will have a big impact on the flavor of your stuffing, so go with something you love. I generally stick with either spicy, sweet, or mild Italian, depending on the crowd, though specialty butchers may have an even more Thanksgiving-appropriate flavor profile available. The sausage cooks outside of its casing, so if possible, purchase the sausage in loose form and save you and your butcher a step.
Similarly, the broth you use will impact flavor. If possible, use a rich homemade chicken or turkey stock. You can give the store bought broth a flavor boost by simmering it with onions, garlic, celery, and herbs. I'm also very fond of the full array of Beyond Bouillon products and highly recommend the low-sodium chicken flavor.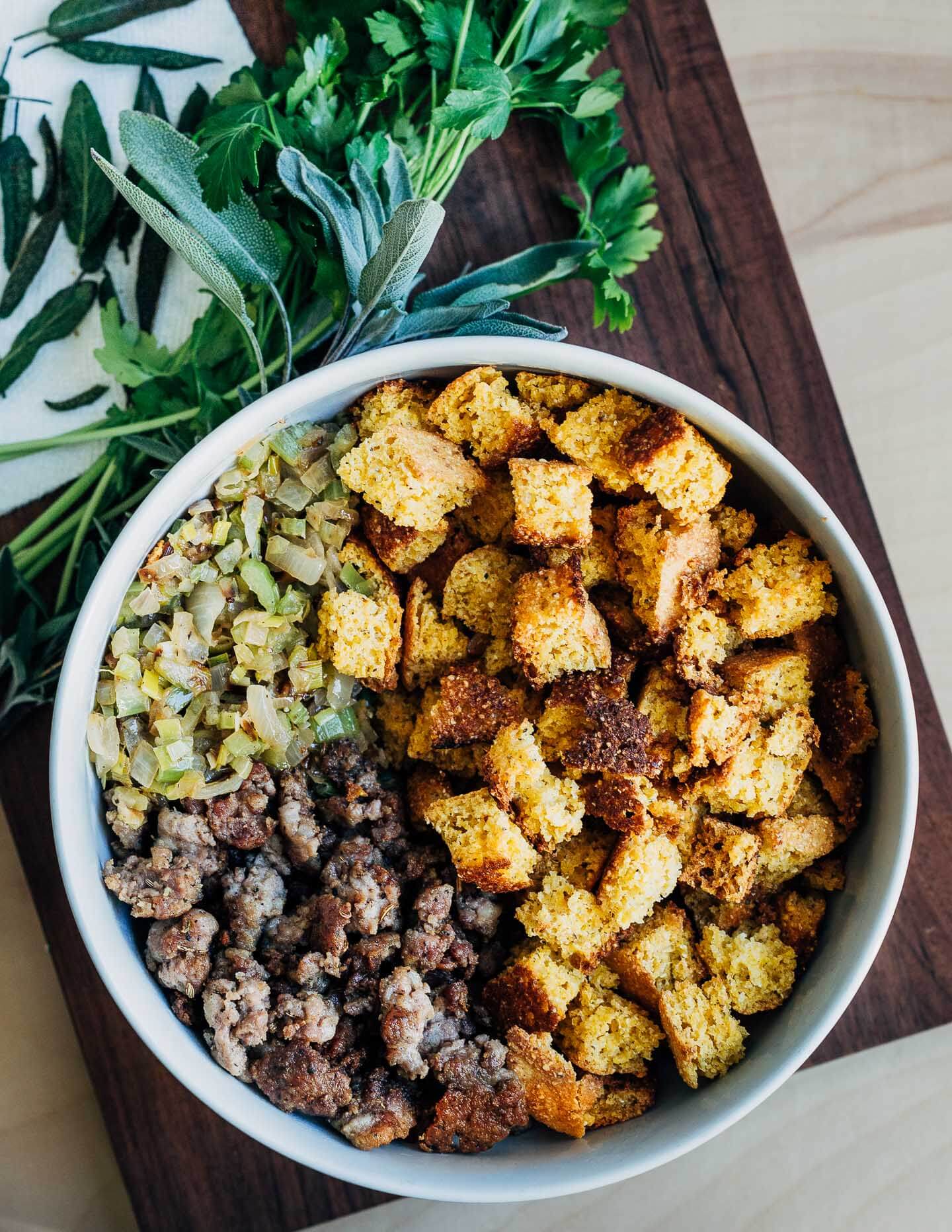 Making the Best Cornbread
I swear by Ronni Lundy's excellent cornbread recipe in her gorgeous book Victuals. It's tender, toothsome, and made with all cornmeal. It's best with buttermilk, but regular milk will do in a pinch. There's also no sugar – the only good and correct way for cornbread to be. Use a nice medium grind, stone ground cornmeal like Anson Mills for the best flavor and texture. Bob's Red Mill or Arrowhead Mills are also solid options.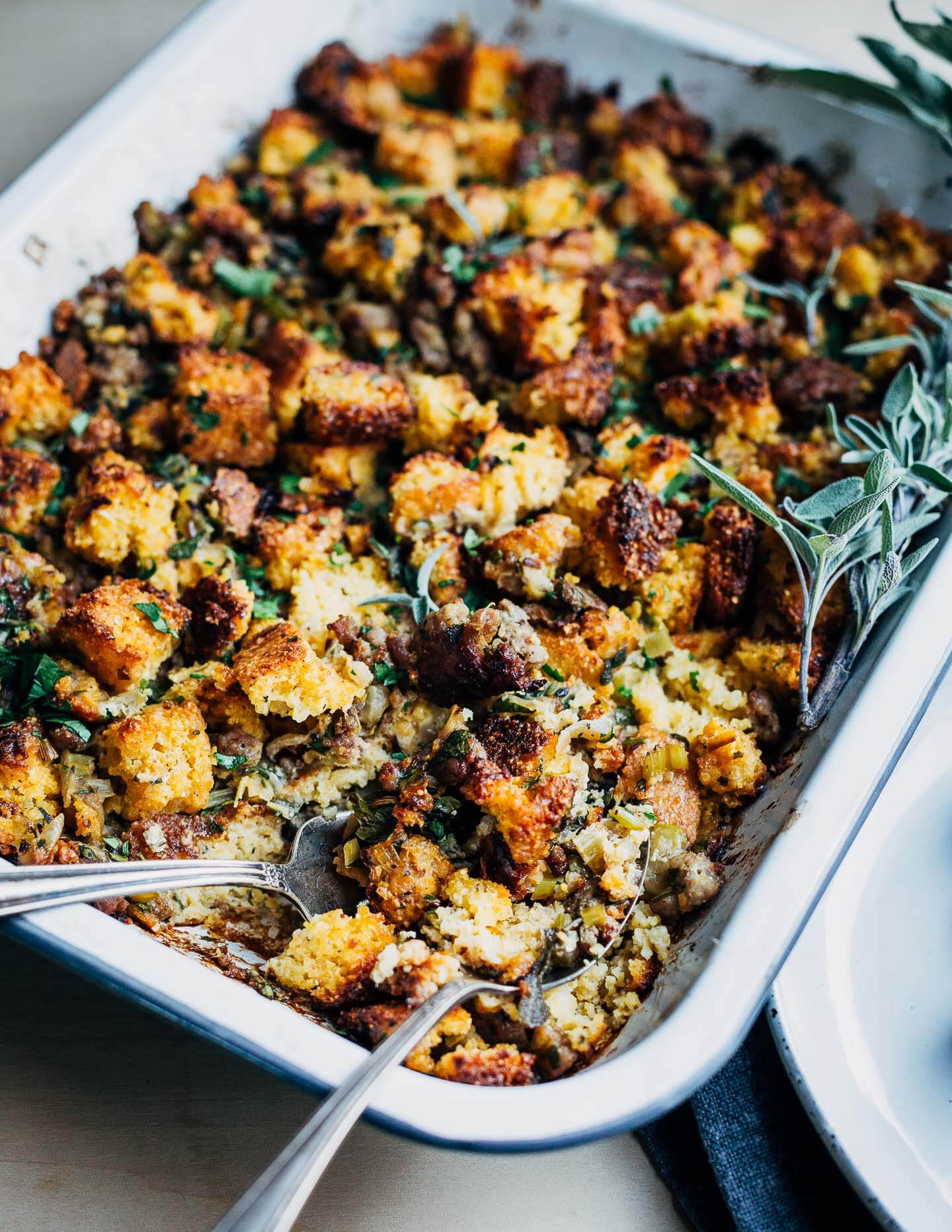 Everything Else
Use any combination of onions, leeks, garlic, or shallots to build out the flavor of your stuffing. My recipe keeps the herbs simple to highlight the fried sage, but there's lots of room to play with flavors.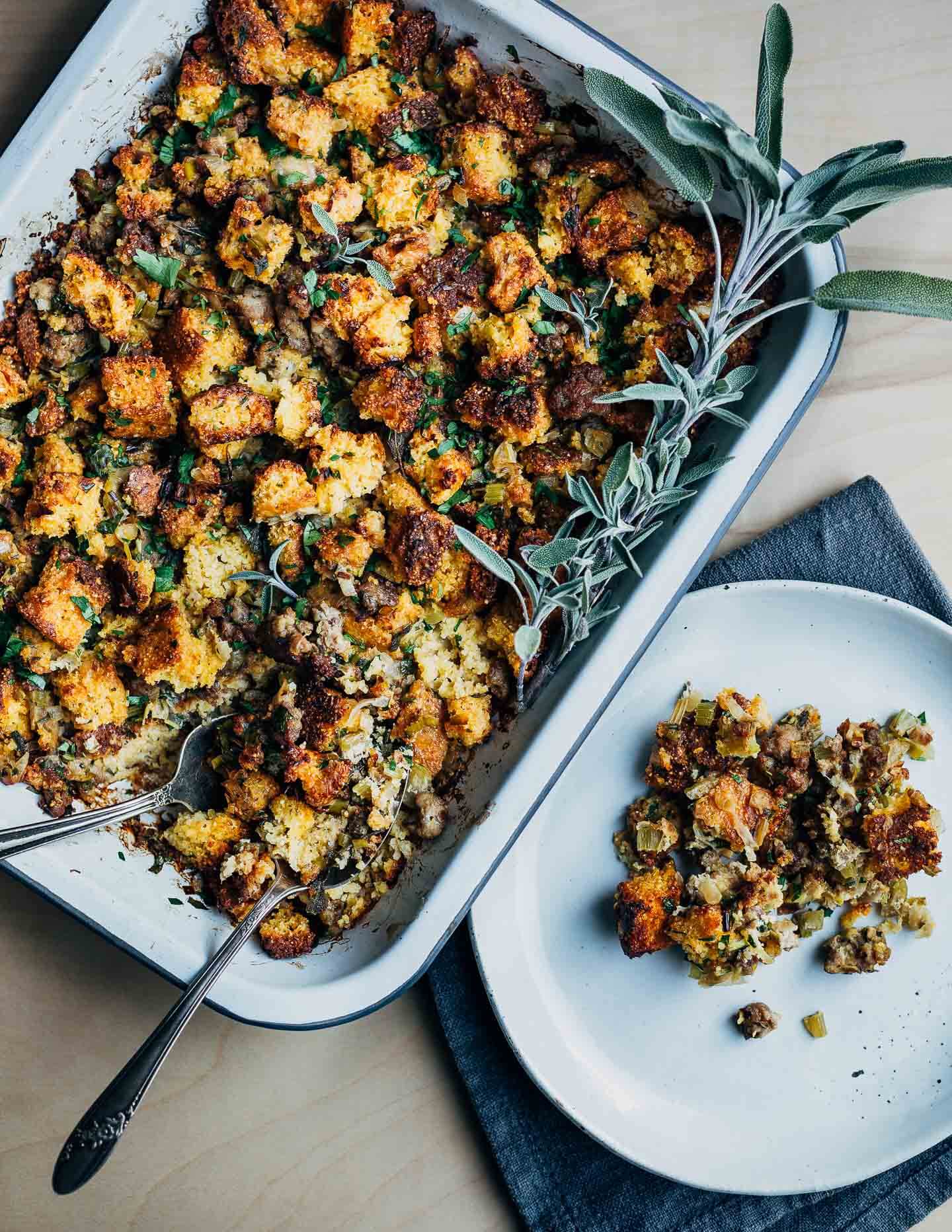 Stuffing or Dressing?
I never cook my stuffing inside the turkey (especially since I'm not making a turkey this year), and because of that, I guess the dictionary or whatever would want me to call it dressing. But I come from a people that always call it stuffing and I'm not going to change now.
For a vegan spin on cornbread stuffing, check out my wild rice and cornbread stuffing recipe here.
And check out this roundup of my favorite Thanksgiving menu ideas.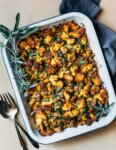 Cornbread Stuffing with Sausage and Fried Sage
This savory cornbread and sausage stuffing with fried sage leaves and fresh herbs is the ultimate classic stuffing recipe for your holiday feast. Cornbread recipe very slightly adapted from Ronni Lundy's beautiful and essential book Victuals.
Keyword:
cornbread stuffing
Ingredients
Cornbread
2

cups

medium-grind cornmeal

1/2

teaspoon

baking powder

1/2

teaspoon

baking soda

1

teaspoon

sea salt

1

egg

3/4

cup

shaken buttermilk or milk mixed with 3/4 teaspoon white vinegar
Stuffing
4

tablespoons

butter

1

large yellow onion,

diced

2

leeks,

white and light green parts only, diced

2

cloves

garlic,

smashed, peeled, and minced or 2 tablespoons minced shallot

4

stalks celery,

diced

4

eggs,

lightly beaten

2

cups

rich chicken or turkey broth

25

sage leaves,

rinsed and patted completely dry

⅓

cup

minced parsley
Instructions
Cornbread
Working up to two days ahead, make the cornbread.

Preheat the oven to 450 degrees F. In a large mixing bowl, combine the cornmeal, sea salt, and baking powder and soda. Whisk in the egg and buttermilk, mixing until everything is well combined.

Add the grease or butter to a cast iron skillet and set in the oven for 5 minutes. Keep a close eye – you want the skillet hot and the fat melted and bubbly. Remove skillet from oven. Carefully tilt the pan and use a measuring cup to scoop out about 2 tablespoons hot grease. Carefully swirl grease into batter, then pour batter into the hot pan with the remaining grease. Bake 20 - 25 minutes, or until cornbread is golden and just pulling away from the pan edges.

Cool completely and slice into 1/2-inch cubes.
Stuffing
To make stuffing, preheat oven to 350 degrees F. Arrange cubed cornbread on a baking sheet. Slide into the oven and toast cubes for 20 minutes, turning once halfway through. Set aside to cool.

Turn oven up to 425 degrees F and butter a 9 x 13-inch baking dish.

Meanwhile, in a wide, deep skillet over medium heat, melt the butter. When butter is hot and bubbly, add the sage leaves and cook 30 - 60 seconds – leaves should deepen in color slightly but not turn at all brown. Remove to a paper towel-lined plate and sprinkle with sea salt. 

Add the onions, leeks, and garlic or shallots to the hot butter, and sauté 5 minutes. Add the celery and sauté 7 minutes more. Add a pinch of sea salt and pepper as things cook. Scrape vegetables into a large mixing bowl.

Set the skillet back on the burner and turn heat to medium-high. If needed, remove sausage from casings and sear until cooked through (work in batches to avoid crowding). Use a slotted spoon to remove cooked sausage from the pan, allowing the grease to drip off.

Add cooked sausage to the mixing bowl with vegetables. Fold in the cornbread cubes, crumble in half the sage, add remaining herbs, and mix well. Taste the mixture and add salt if needed. Mix in the eggs. Spoon mixture into prepared baking dish. Pour the broth over the stuffing. Cover dish with foil and bake 25 minutes. Remove foil and bake 20 minutes longer, or until the edges are crisp and golden and the stuffing is piping hot.

Crumble remaining fried sage over stuffing, and serve.