A delicious selection of Thanksgiving menu ideas inspired by what's delicious and in-season in the late fall, plus tips and tricks for easier Thanksgiving meal prep.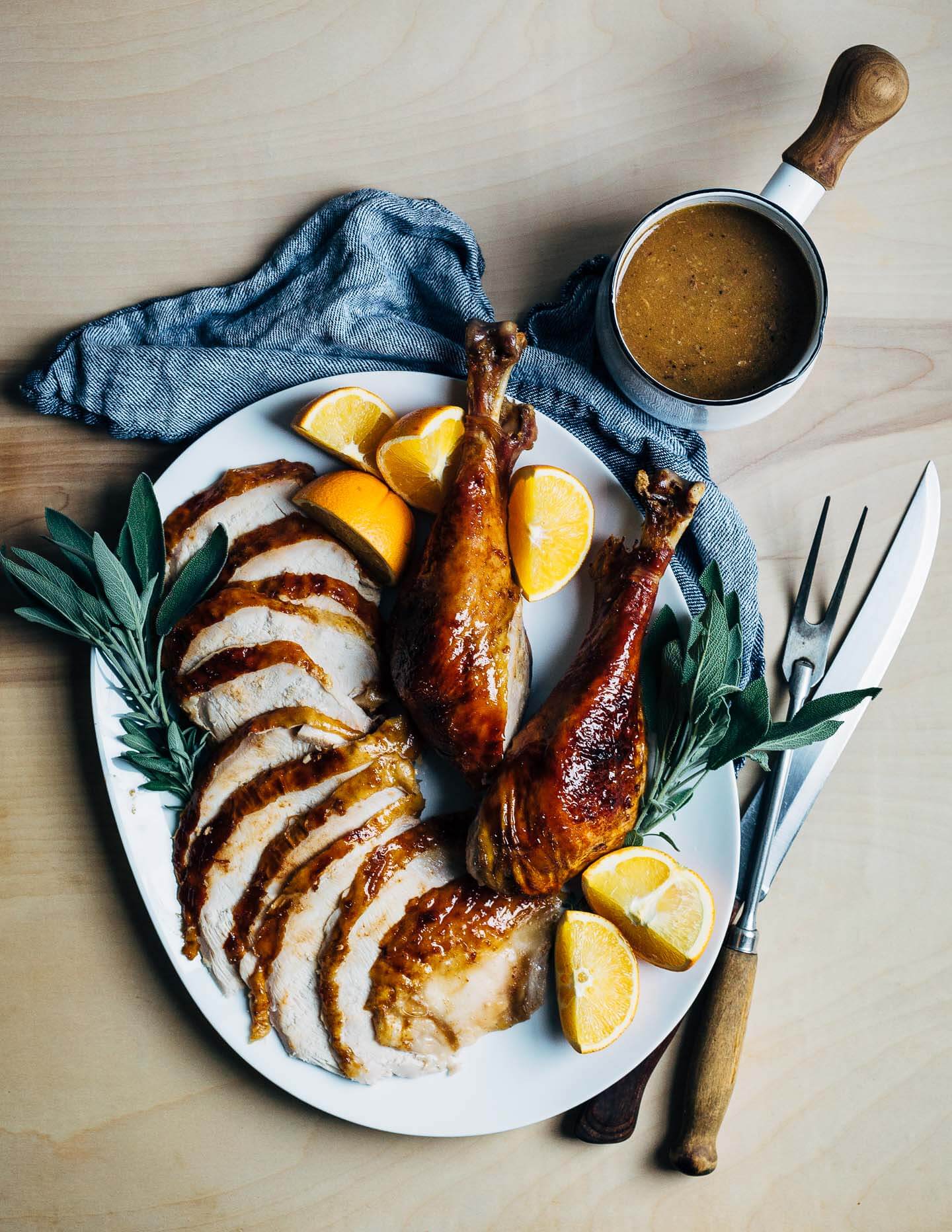 Thanksgiving week is upon us and many home cooks are waking up this morning, making a plan, and beginning their prep. As soon as I get this post up, I'll do the same.
Creating a Menu
Keep your menu simple. If there are dishes that you or others simply must have, make those. But if you feel some obligation to have an orange vegetable or green bean casserole just to hold on to an idea of tradition, skip it.
Thanksgiving is a feast and you should make what you want. If that's a big old turkey, great. But if it's some other special food, make that. Below, I have a few ideas for turkey, but also a host of feast-worthy proteins and vegetarian dishes.
Make Ahead
Stagger your Thanksgiving prep so you're not cooking everything at the last minute. Broth, pumpkin puree, pastry dough, and gravy can all be made ahead. The day before, casseroles and stuffing can either be assembled or prepped in parts. Cut up all the onions, carrots, and celery that you'll need and divide them into containers, so you can grab what you need as you cook.
My schedule is something like this:
Up to five days ahead: Make at least 4 quarts of turkey or chicken stock; make vegetable stock; make pumpkin puree; thaw turkey if needed
Four days ahead: Dry rub turkey; make pastry dough and other dessert element like ice cream; make cranberry sauces or relish
Three days ahead: Make cornbread for stuffing; make gravy (make the base and stir in drippings day-of)
Two days ahead: Put the dry rub on non-turkey proteins; prep and chop all vegetables; assemble casseroles
Day-of: Freak out and wish I'd done even more prep; try not sweat the small stuff; try to remember to get everything I made to the table.
Fitting It All Together
The day-of is always chaotic. I start by baking my pies, and then proceed down a detailed list. I always hope to have a little downtime, and someday, if I can actually keep myself to a simple menu, maybe I will? Until then, me and my fellow Thanksgiving maximalists will be cooking all day – a little stressed but loving every moment.
Our Best Thanksgiving Menu Ideas
Mains
Sides
Desserts