Silky, intensely flavorful cauliflower purée topped with garlicky sautéed mushrooms and frizzled shallots.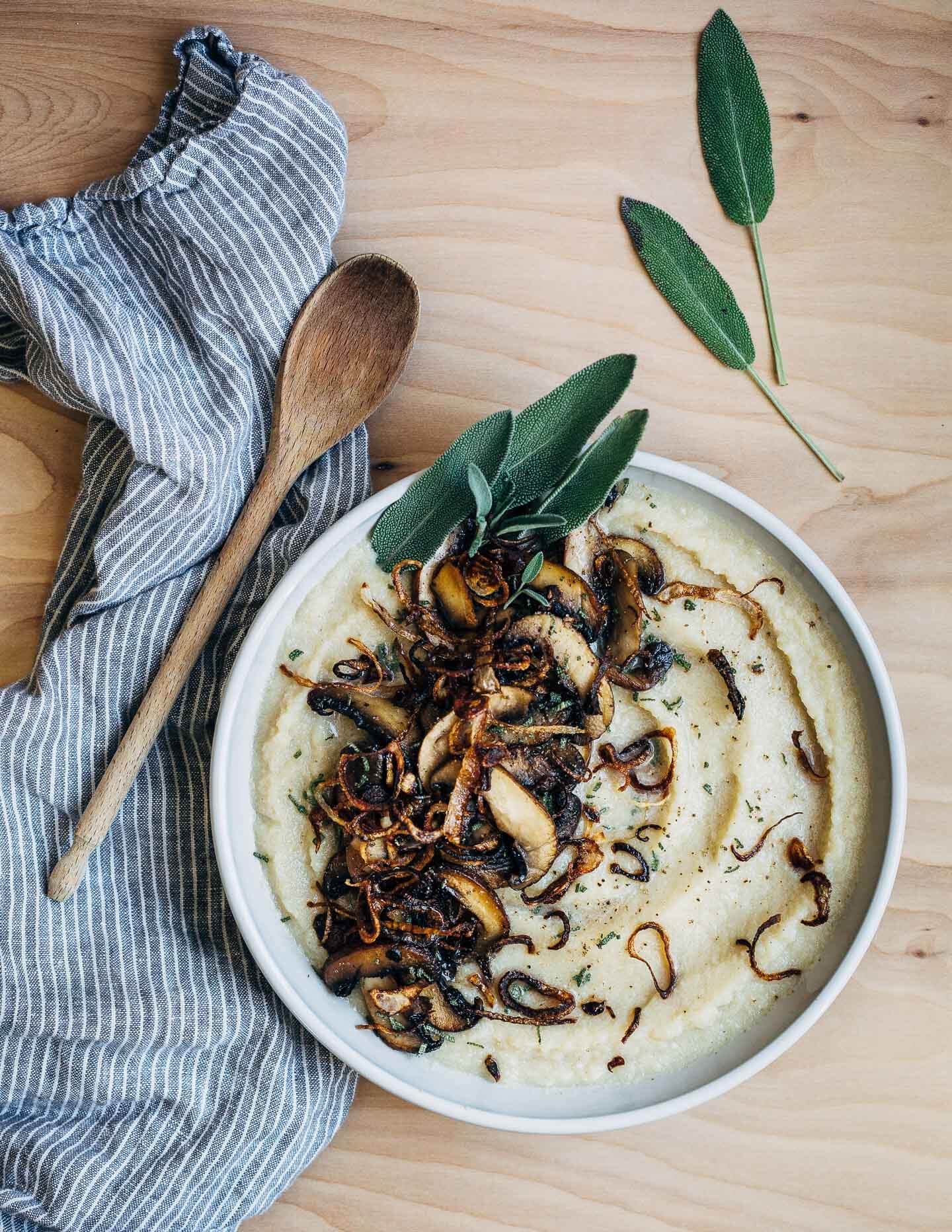 Cauliflower purée is often billed as a good substitute for mashed potatoes, and it is, but it can also be rich and delicious in its own right. The base puree is incredibly simple, you need only sauté an onion or shallot, steam the cauliflower with broth, and purée. That base will work fine as a side on it own, but to coax a bit more flavor from the dish, I added frizzled shallots and sautéed mushrooms. These additions transform the dish into something hearty and delicious – one protein away from a sating meal.
Flavorful Broth is Key
This gluten-free recipe can easily be made entirely vegan by using olive oil and vegetable broth, or you can amp up the flavor with butter and a rich chicken stock.
I like my cauliflower purée with maximum flavor, and since it's thinned with broth, you'll want to make sure it's the most flavorful broth possible. If you're vegan or vegetarian, a rich homemade vegetable broth with lots of herbs is the way to go; omnivores should consider a quality chicken bone broth.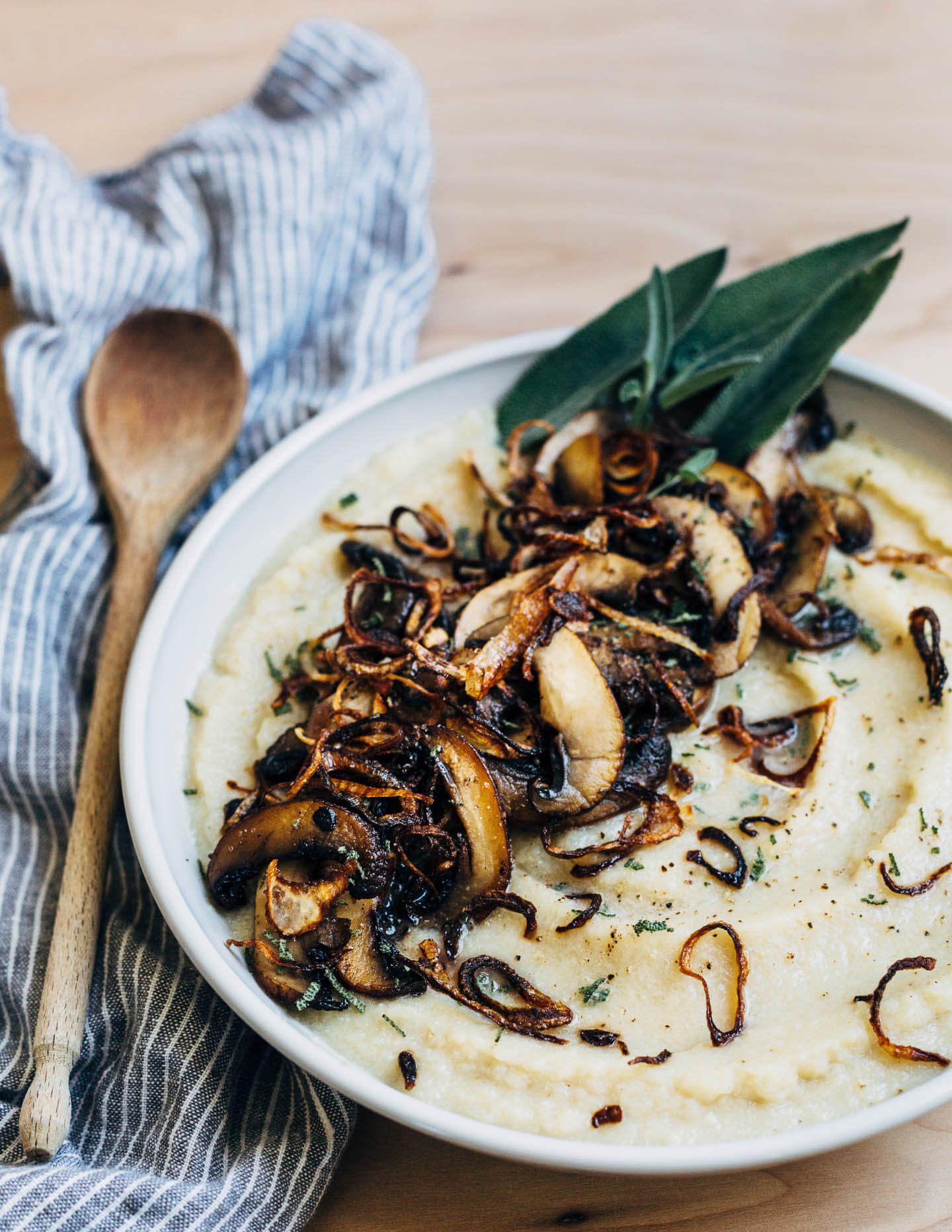 A Great Thanksgiving Side
Cauliflower puree has quickly become a favorite side dish for family dinners, but this recipe would also round out a Thanksgiving feast nicely, especially if that feast includes plant-based eaters. If you, like me, will be hosting plant-based folks, here's one of my favorite vegetarian stuffing recipes (and honestly, I make a sausage version too. It's so good!).
No matter what you serve or where you celebrate, I want to send you off into this American Thanksgiving week with my warmest wishes. The world is a harrowing, tough place, and I hope that this Thanksgiving finds you surrounded by people you love, enjoying really delicious food, and at least three kinds of pie. Happy Thanksgiving, friends. As always, I'm grateful for you.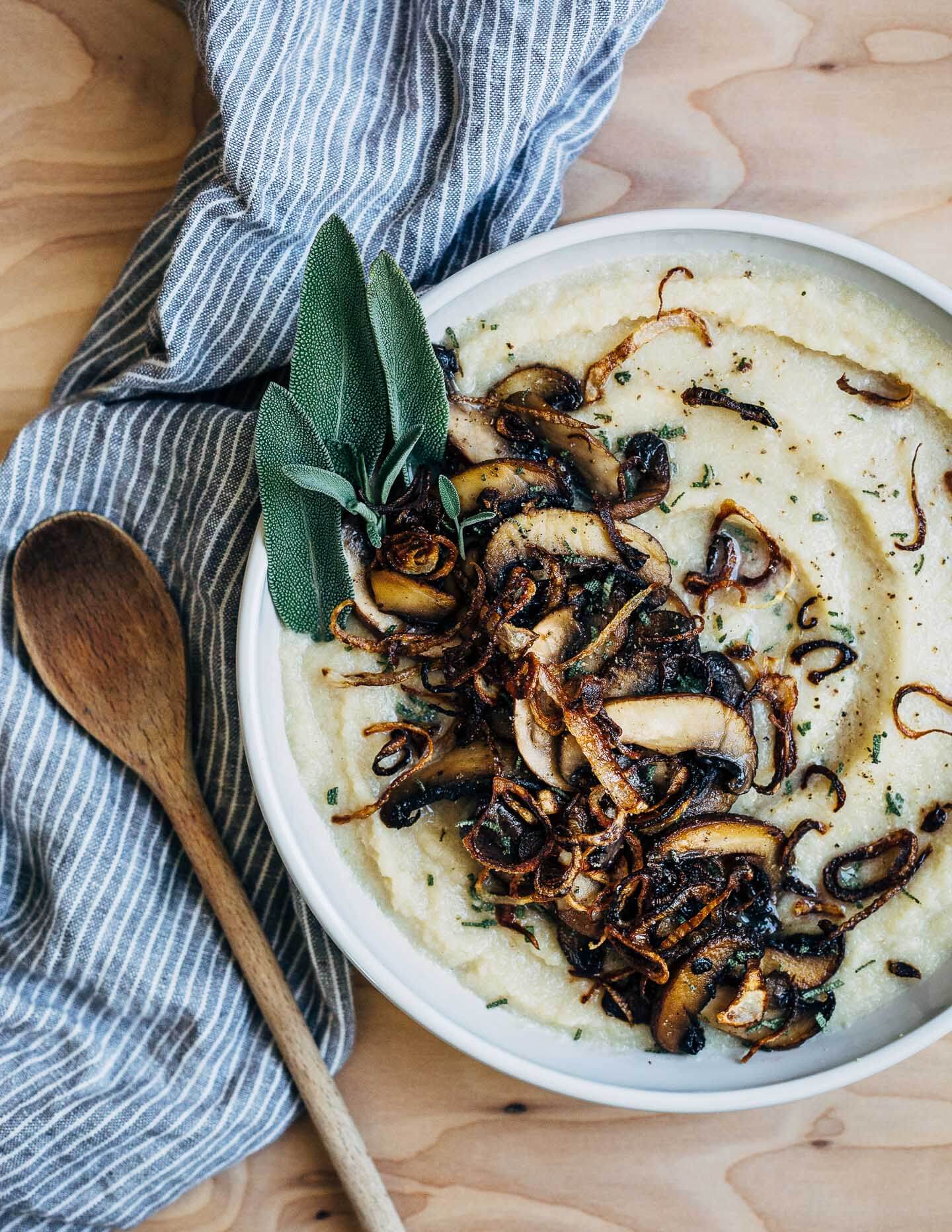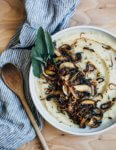 Cauliflower Puree with Crispy Shallots and Mushrooms
Silky, intensely flavorful cauliflower puree topped with garlicky sautéed mushrooms and frizzled shallots.
Recipe adapted from Serious Eats.
Keyword:
cauliflower puree
Ingredients
Cauliflower
2

tablespoons

butter or extra virgin olive oil

1

yellow onion,

minced

Sea salt

1/2

teaspoon

freshly ground black pepper

4

cloves

garlic,

smashed, peeled, and minced

2

cups

rich chicken stock or vegetable broth,

divided

1

head cauliflower,

cut into rough 1-inch florets

2

bay leaves
Toppings
2

tablespoons

extra virgin olive oil

2

shallots,

sliced paper thin

Sea salt

1/4

teaspoon

red pepper flakes

2

cups

sliced shiitake mushroom caps

2

cloves

garlic,

minced

1

tablespoon

lemon zest

1

tablespoon

fresh sage leaves,

minced plus more for garnish
Instructions
Heat butter or olive oil in a 4-quart Dutch oven or other large saucepan over medium heat. Add the onion, a pinch of sea salt, and black pepper. Cook, stirring often, until onions are translucent and very supple, 10 - 12 minutes. Add garlic and cook 1 minute more. Add 2 cups stock or broth, cauliflower, and bay. Bring mixture to a gentle simmer, cover, and cook until cauliflower is tender, about 10 minutes. Uncover pot and cook at a gentle simmer for about 20 minutes longer, until liquid has reduced by about three-quarters. Remove bay leaf.

Meanwhile, sauté shallots and mushrooms. Set a large skillet over medium-high heat. Add 1 tablespoon olive oil and the shallots. Sprinkle with a pinch of sea salt and red pepper flakes. Stirring frequently, cook until shallots are a rich golden brown and crispy, 10 - 12 minutes. Edge heat down if things starts to get smoky. Remove shallots to a paper towel lined bowl.

Add remaining olive oil to the same skillet over medium/medium-high heat. Add half the mushrooms, half the garlic, and half the zest. Sauté until mushrooms release their water and the edges crisp up. Remove to a bowl and repeat for second batch.

In a blender or with an immersion blender, puree the cauliflower mixture until quite smooth and velvety. Spoon back into the Dutch oven and set over low heat. Add sea salt and black pepper to taste. If mixture is too thick, thin with a splash of stock or broth.

To serve cauliflower puree, top with sautéed mushroom, crispy shallots. Top with minced sage and garnish with a few leaves.