A beautiful cranberry pear pie with an incredibly flaky decorative rye crust. Pears and cranberries complement each other wonderfully, the pears with their subtle sweetness and the cranberries with their bright tang.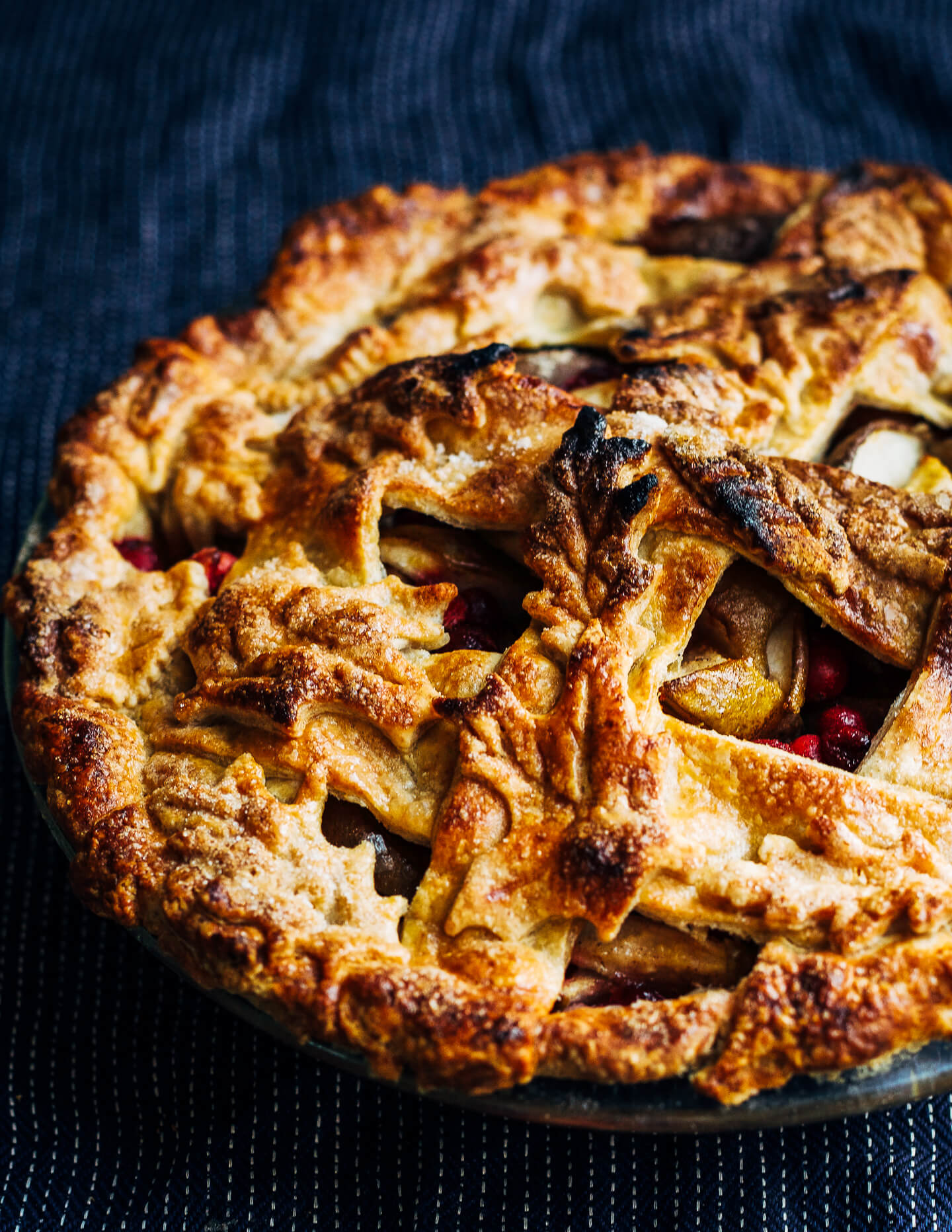 The past couple of months have been intense. It's been a head down, work work work kind of vibe. As a reward for months of endless work, I came down with a six week long sinus infection and a little one who's seemed to channel all of my stress. But last week, things shifted. Deadlines met, final edits handed in, and just like that, I was free again to do all the regular stuff like clean the house or go to the playground or get a second round of antibiotics (they're working!).
And this weekend, at long last, I'll have time to plan my Thanksgiving menu and prep. We'll be keeping our feast small with only ourselves to please. Even so, the tastes and preferences of this family of four require a somewhat ridiculous list of dishes: a roasted turkey and giblet gravy, mushroom gravy for the vegetarian in the house, this cornbread stuffing (vegan and sausage versions), this cranberry relish plus regular old cranberry sauce, this pumpkin pie (or maybe this sweet potato one?), and since my youngest really doesn't like pie, I've decided to make this apple cake, too. It's Thanksgiving, and finally, Brian and I have the time and energy to make a feast everyone will love.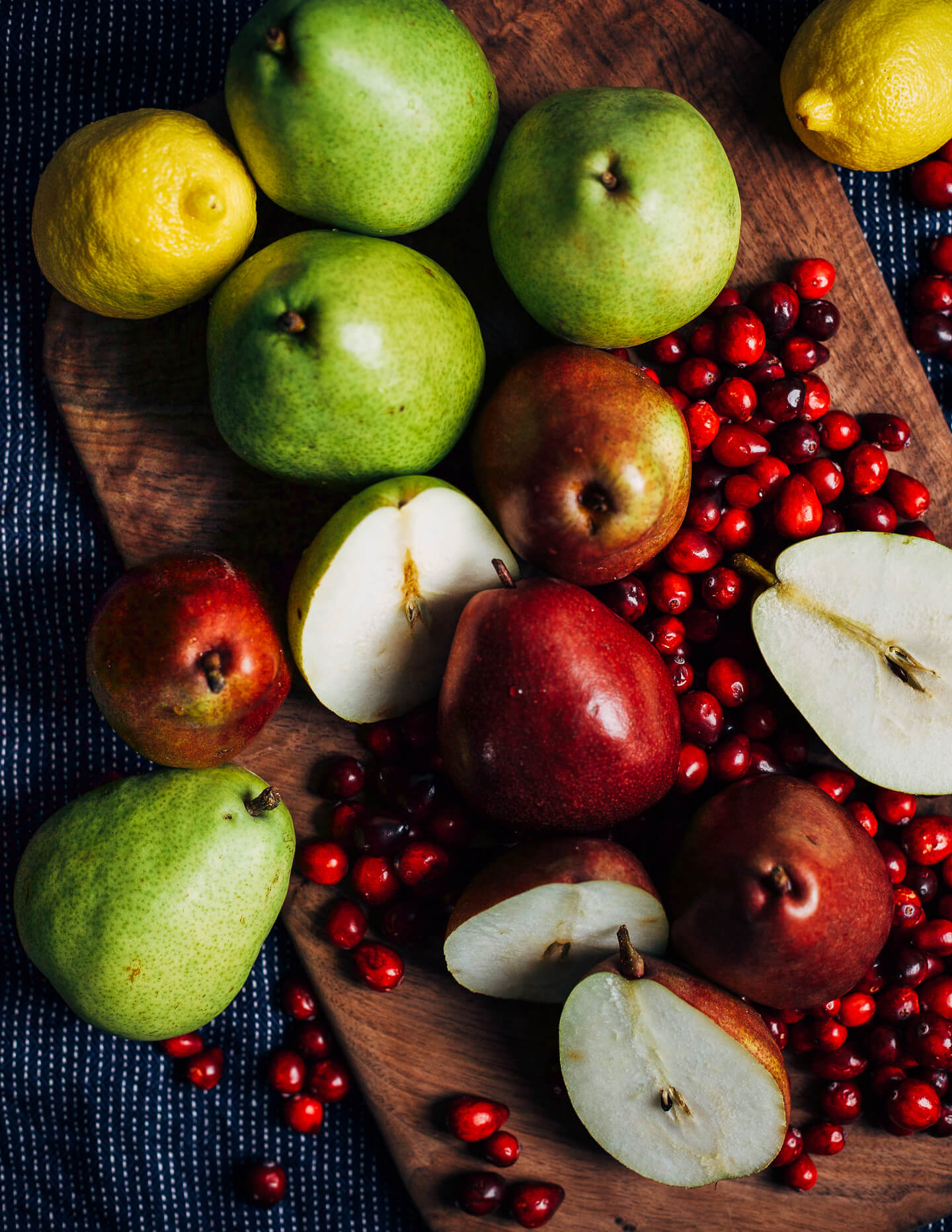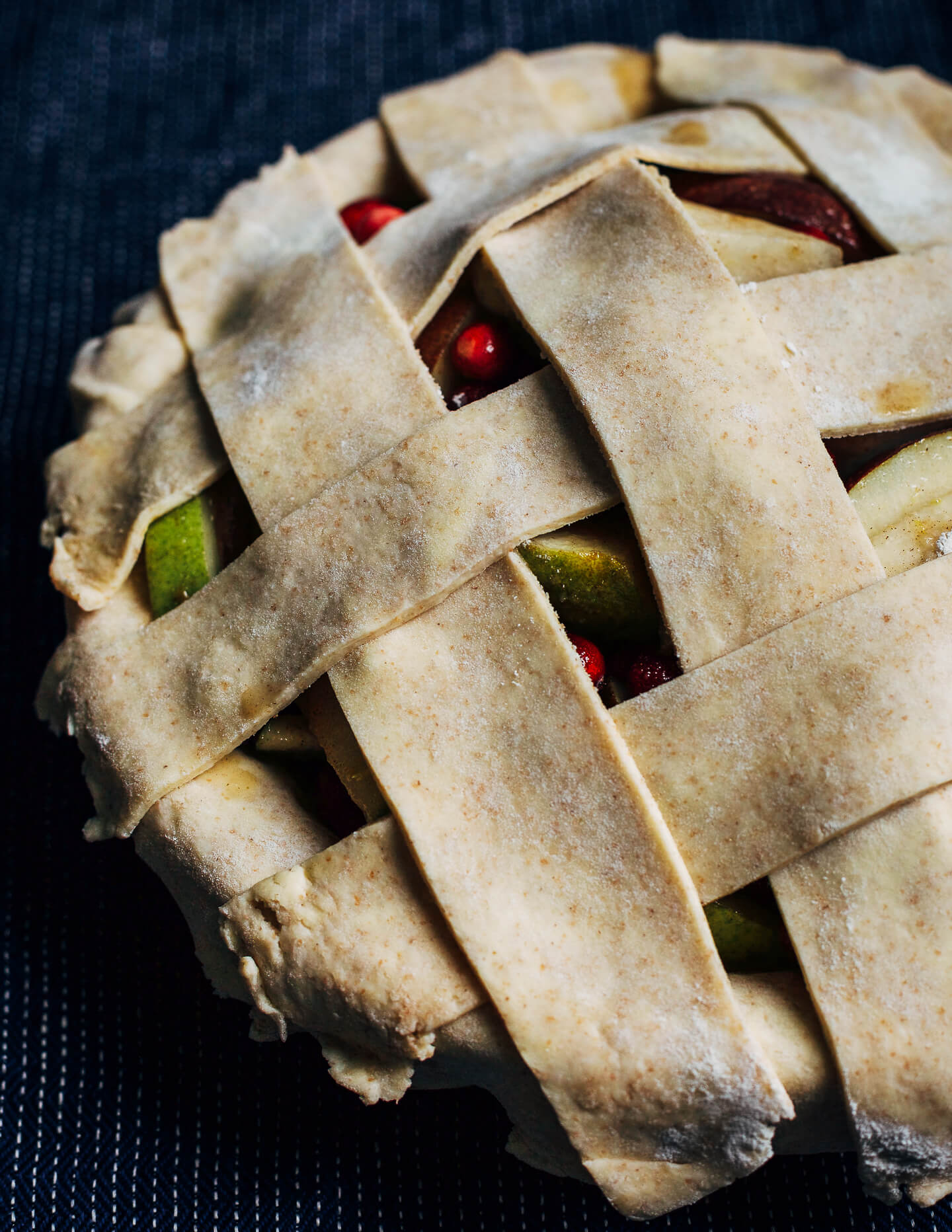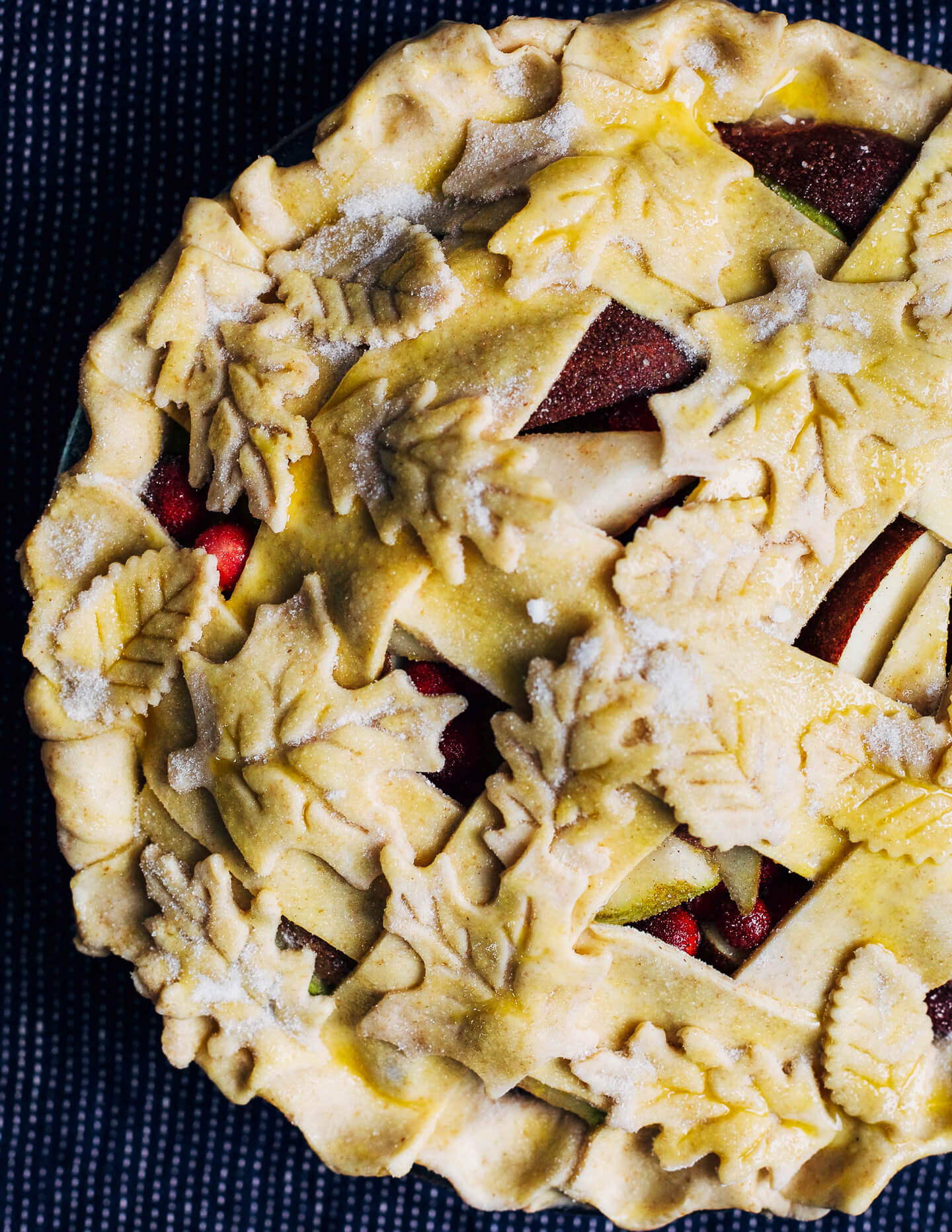 We usually also have an apple pie, but the above list is already excessive. Cranberry pear pie will likely need a place on the menu, too. It's based on this cranberry apple pie from years ago, but has been updated with pears and a hint of rye flour which gives the crust a rustic edge. For the leaf decorations, I used a set of spring-loaded embossing cookie cutters and really liked how they turned out. If you don't have a set yourself, you can just cut leaf shapes with a sharp knife and lightly score the tops.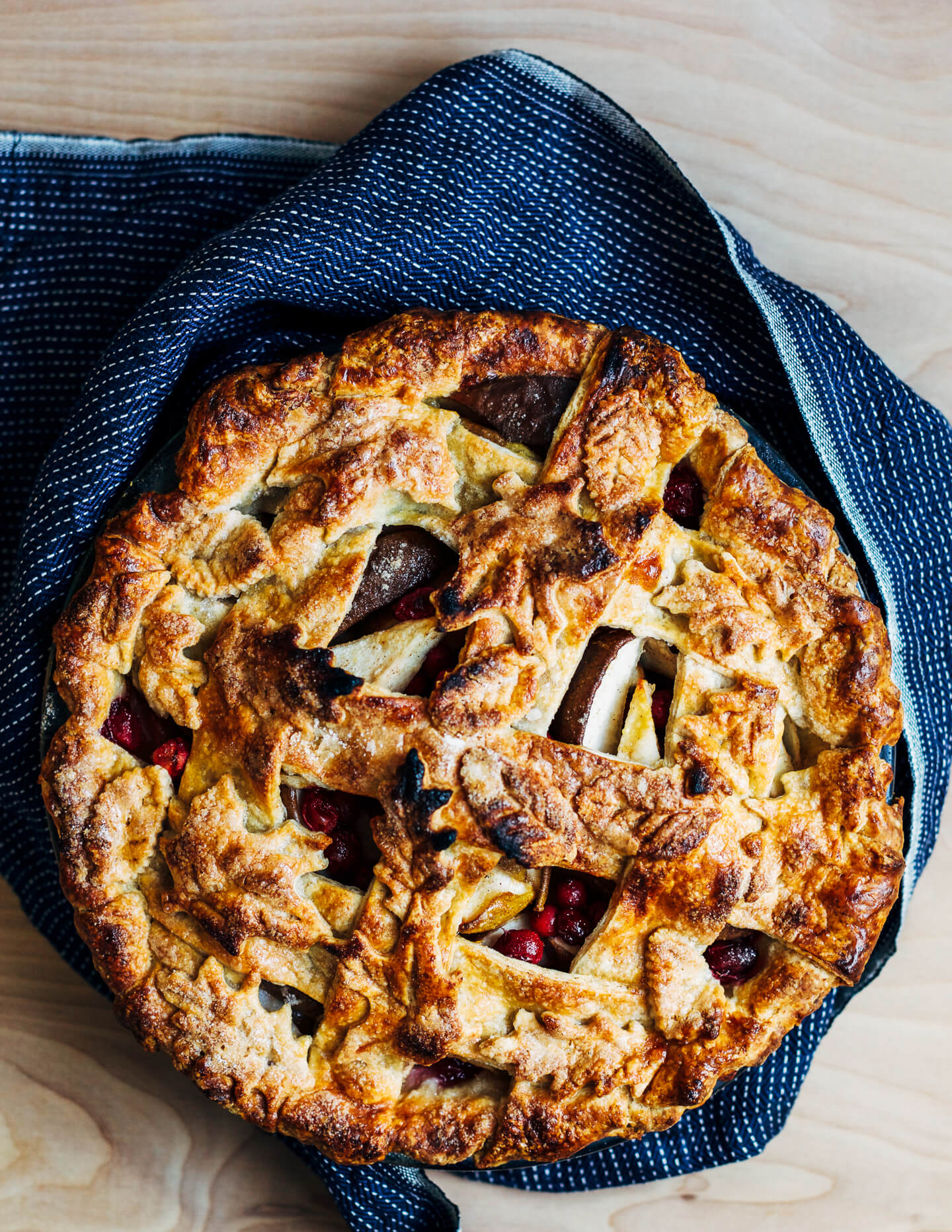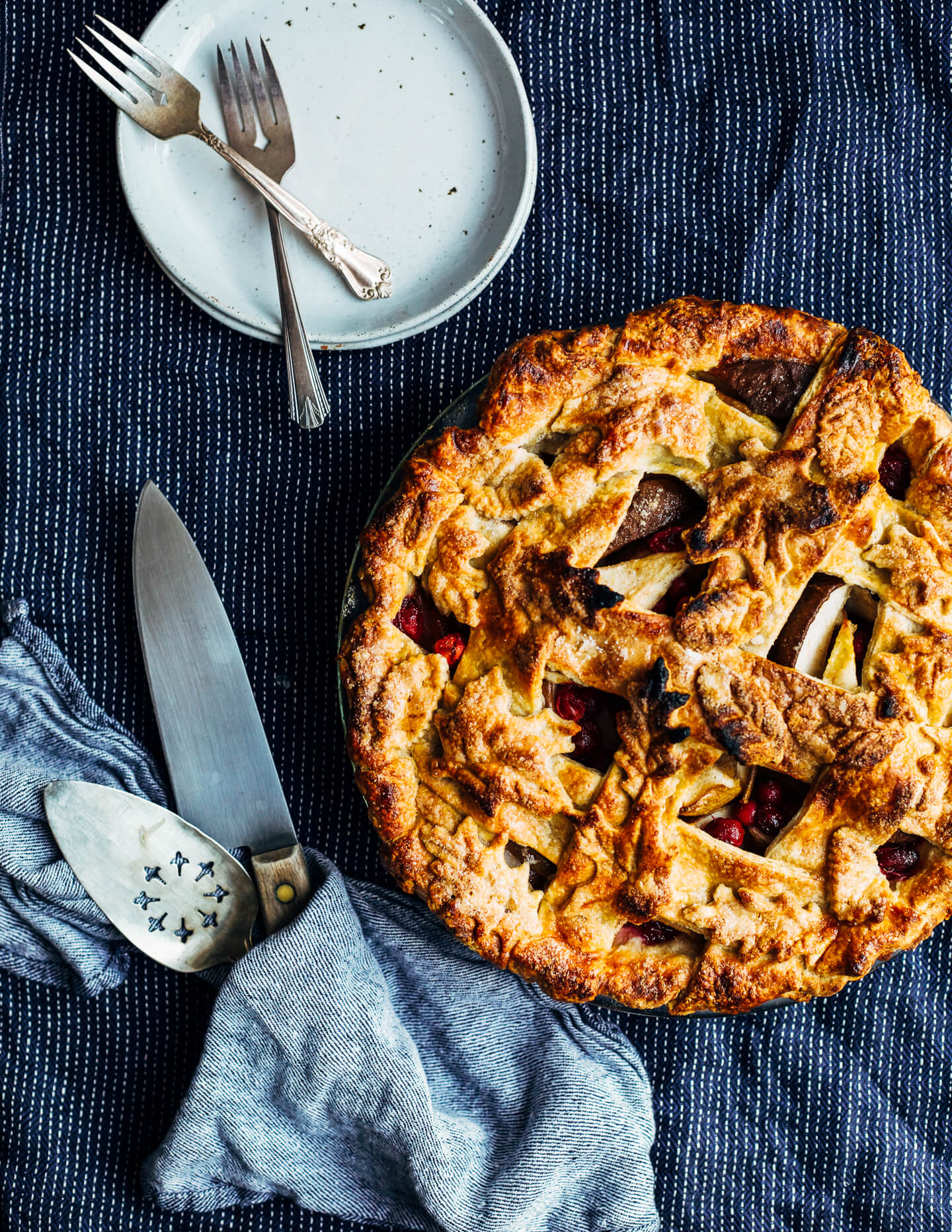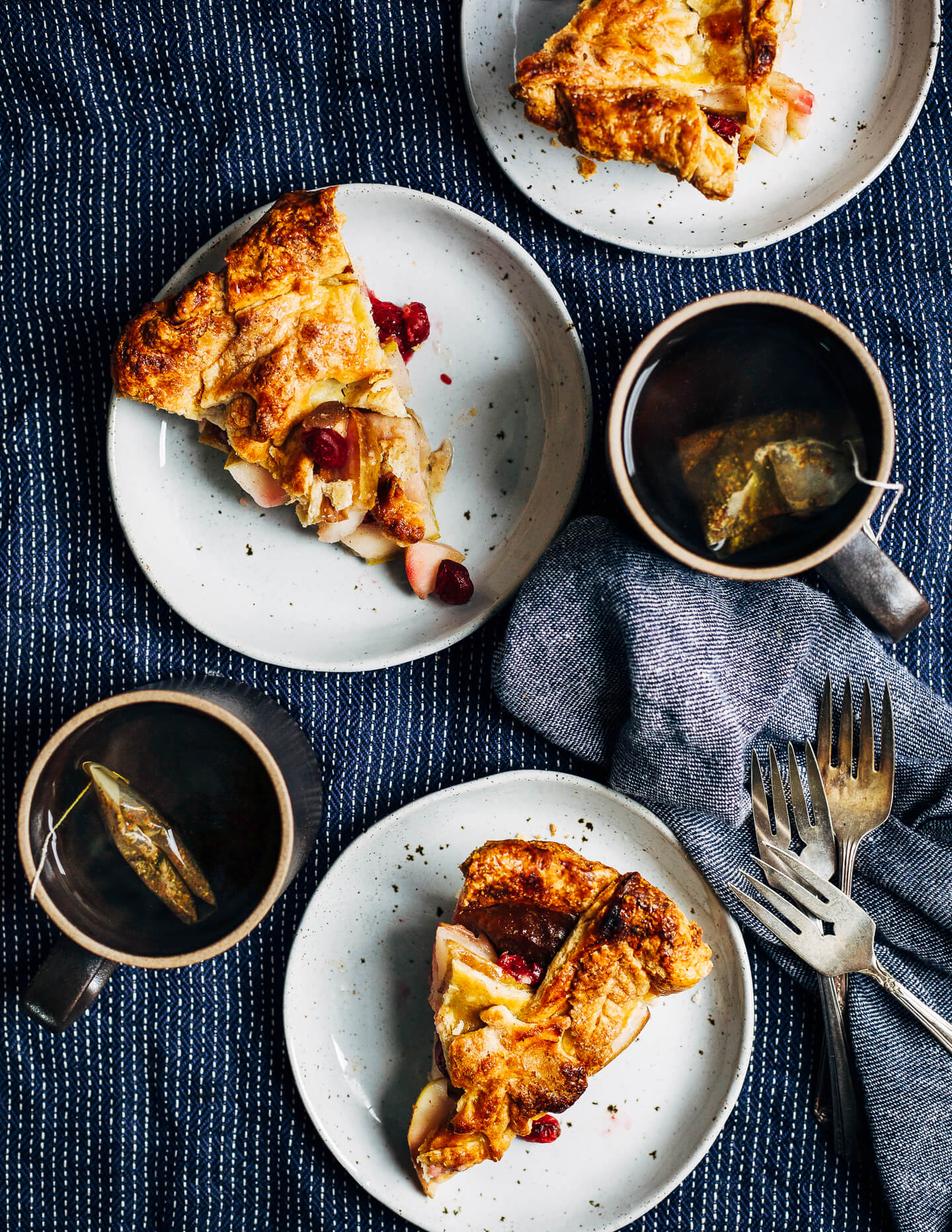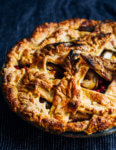 Cranberry Pear Pie with Decorative Leaf Crust
A beautiful cranberry pear pie with an incredibly flaky decorative rye crust. Pears and cranberries complement each other wonderfully, the pears with their subtle sweetness and the cranberries with their bright tang.
Keyword:
cranberry pear pie
Ingredients
Crust
2

cups

unbleached all-purpose flour

1/2

cup

rye flour

(or sub all-purpose flour)

1

teaspoon

salt

1

tablespoon

turbinado or cane sugar

16

tablespoons

unsalted cold butter

2/3

cup

ice water
Filling
6

large,

firm pears, cored and sliced 1/4-inch thick

1

cup

fresh cranberries,

rinsed

3/4

cup

turbinado or cane sugar

2

tablespoon

corn starch

Zest of 1 lemon

Zest of 1 orange plus 2 tablespoons fresh squeezed orange juice

1

teaspoon

sea salt

1

teaspoon

ground cinnamon

1/2

teaspoon

nutmeg

1/2

teaspoon

allspice

1/4

teaspoon

ground cloves
To Assemble
1

egg,

lightly beaten

2

tablespoons

turbinado or cane sugar
Instructions
Working ahead, make and chill crust. In a large bowl, whisk together the flours, sugar, and sea salt. Use a large hole, coarse grater to grate in the butter. Use your fingertips to blend butter into the flour. Using a silicone spatula, drizzle water over the mixture, using just enough flour so the dough easily holds together. Divide dough into two equal discs, flatten, cover with plastic wrap, and chill for at least 30 minutes or up to 5 days.

When ready to cook the pie, preheat oven to 425 degrees F, slide a rimmed baking sheet into the oven, and let that get nice and hot too. On a lightly floured surface, roll out bottom crust to a 14-inch circle. Press into buttered pie pan (preferably metal or heat and cold resistant glass) and trim all but 1-inch of overhanging dough. Set pie pan into the fridge while you prepare the filling. (Reserve, wrap, and chill any leftover dough for leaf decorations.)

In a large bowl, toss together all filling ingredients and set aside.

Roll out top crust into a 14-inch circle. For my pie, I created a wide lattice and added leaves. To do this, cut the circle of dough into 2-inch wide strips. If you'd like to add leaves, use cookie cutters or a sharp knife to cut 12 or so leaf shapes out of excess dough, lightly score each down the center, and add lines on the sides to mimic veins. 

Once dough is ready, remove bottom crust from fridge. Working quickly, spoon filling into crust (leaving out juices at the bottom will help to avoid a soggy bottom crust). Weave lattice according to these instructions and crimp edges. Bush lattice with egg and sprinkle with sugar. Pace leaves along the lattice, brush each with egg, and sprinkle with sugar.

Place pie on preheated baking sheet. Bake 25 minutes at 425 degrees F. Rotate pie and turn heat down to 350 degrees F. Bake another 30 - 35 minutes, or until pie is golden and filling is hot and bubbly. If crust seems to be baking too quickly, shield edges with tin foil.

Cool pie 3 - 5 hours before slicing. If you can't wait that long, prepare for the filling to seep a bit.