A tangy, bright buttermilk pumpkin pie recipe with hints of ginger and spice and topped with decorative leaves. Use butternut squash, kabocha, kuri, or sugar pie pumpkins to make your own pumpkin puree from scratch or go with store bought puree.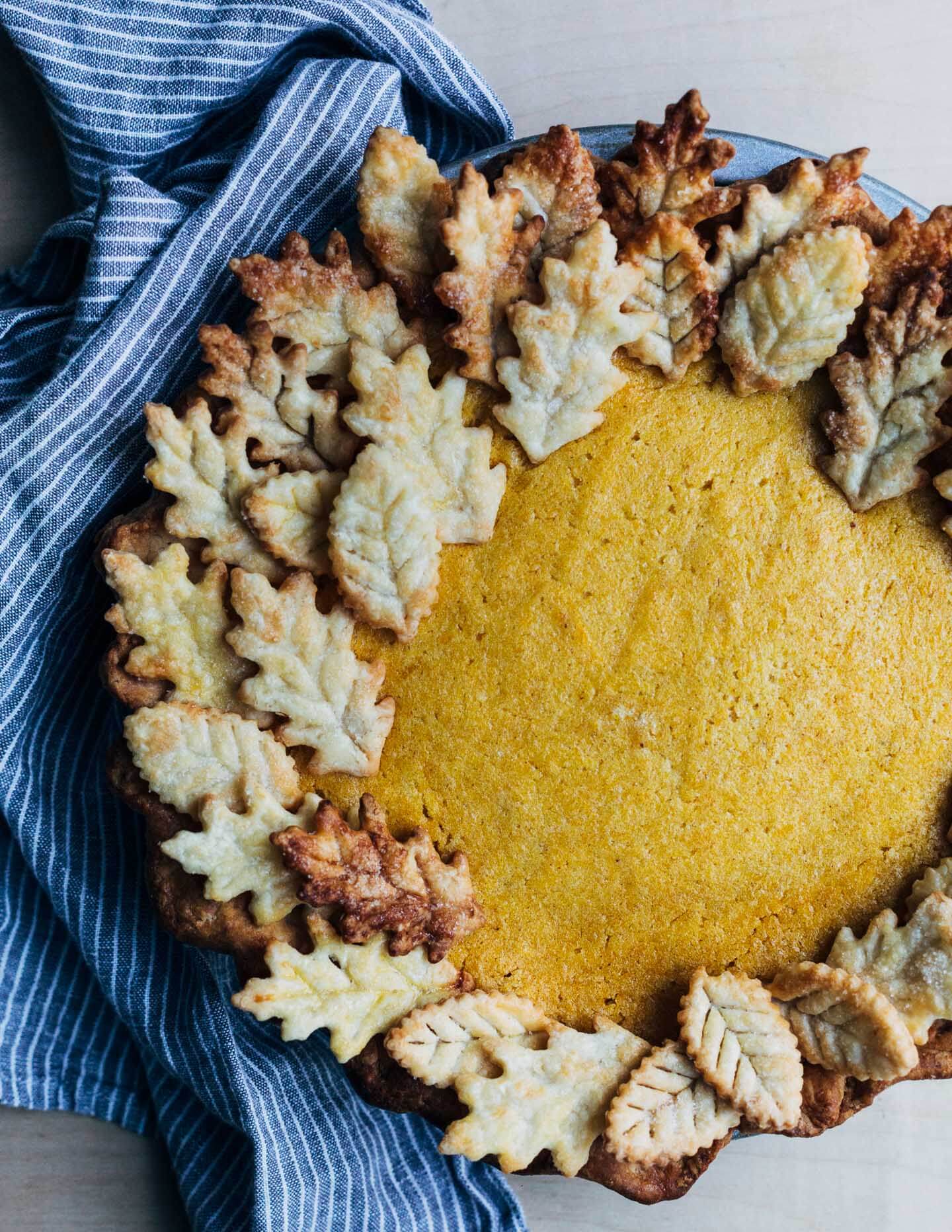 This post was originally published in 2012 and was updated in 2022.
Jump to Recipe

Creating Tradition
Growing up, my family's holiday traditions seemed fixed and immutable. My mom's green jello ring? A sacred Thanksgiving custom. The mint green plastic tupperware bundt pan in which the jello ring was made? A family heirloom.
And now, Brian and I have built our own life and traditions, weaving our family traditions with new ones of our own. I've watched our daughters come to see these as timeless, ancient rites – even as I've had my eyes opened to how alive and changing they are. It's a delight to watch the kids form their own holiday memories and nostalgia with familiar foods and flavors.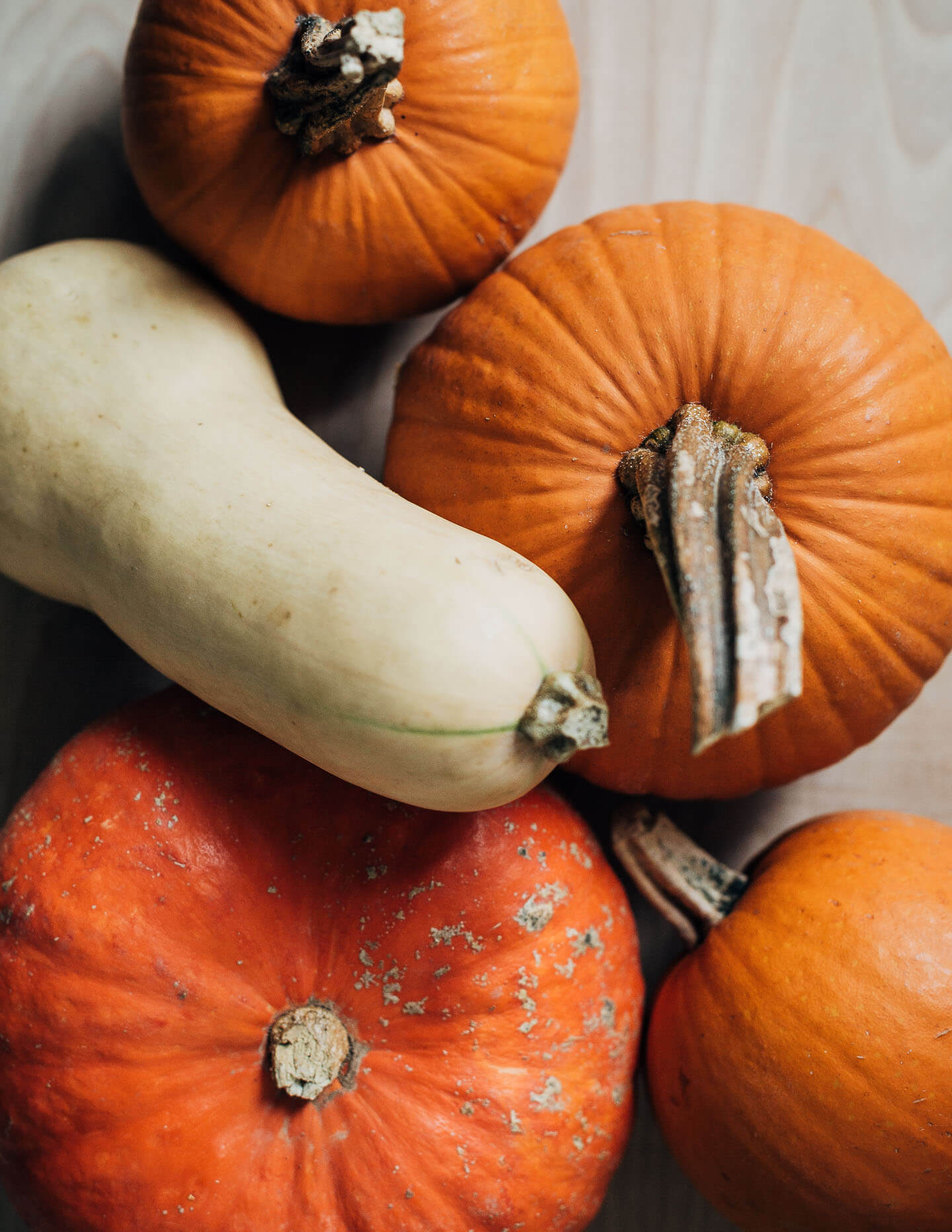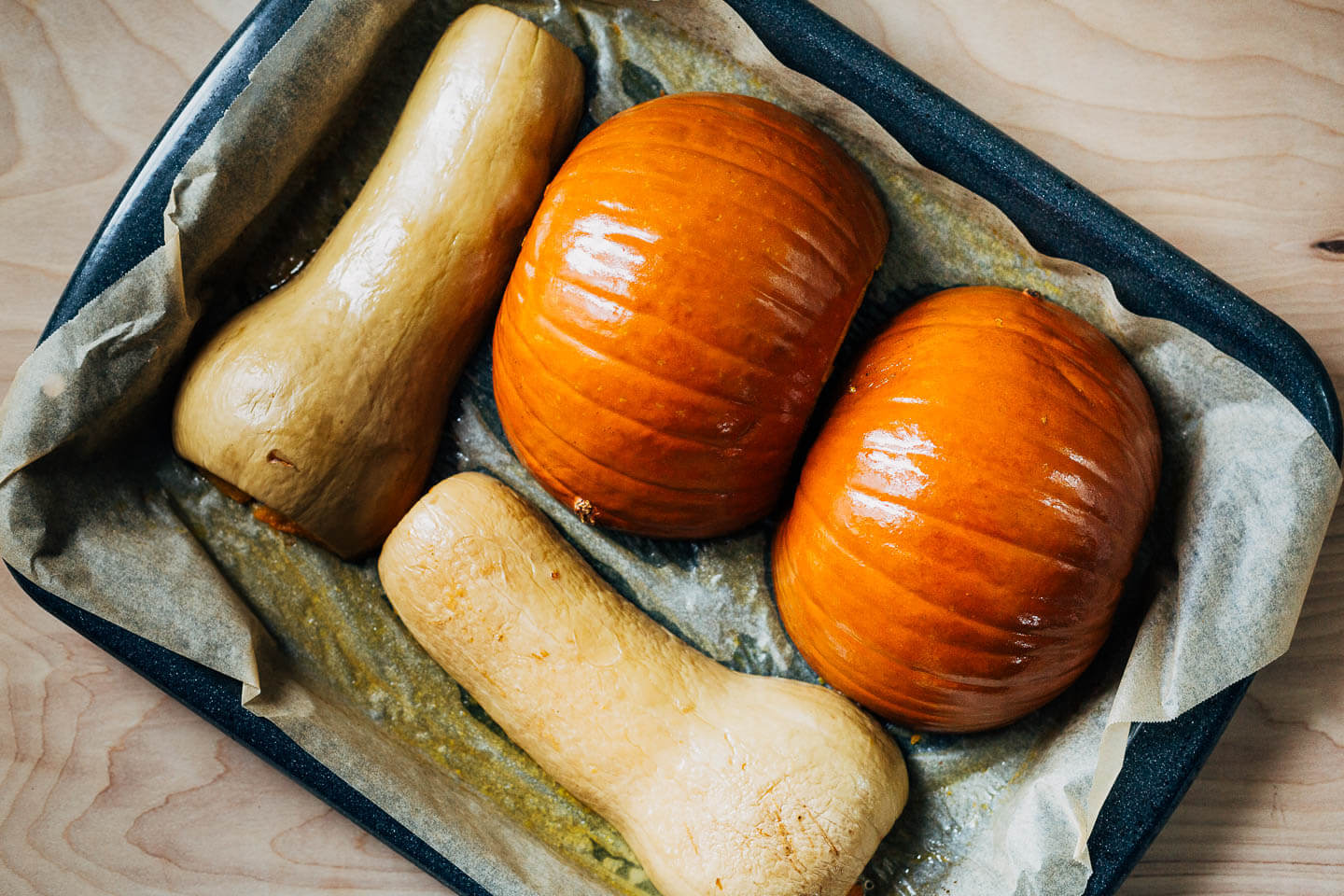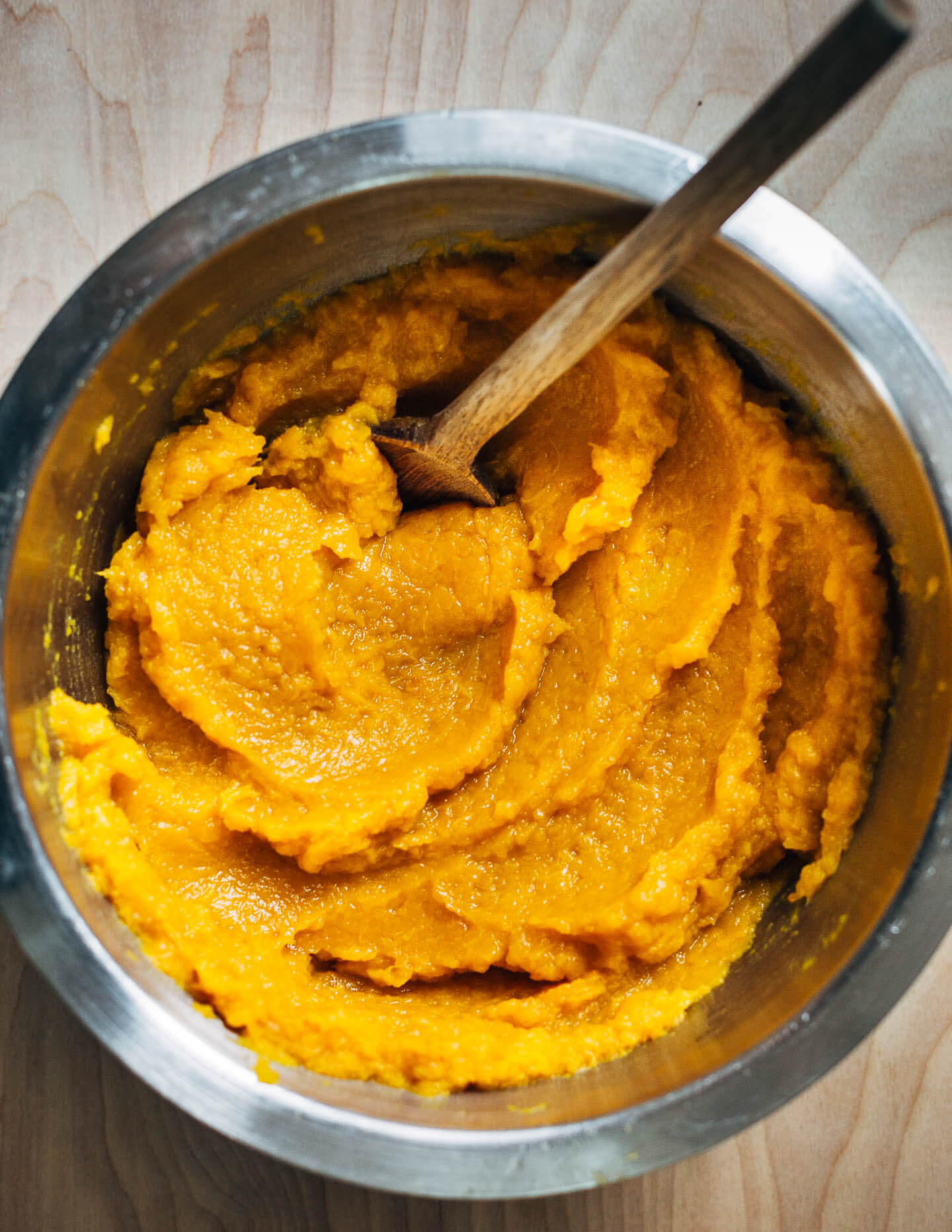 Brian and I began hosting our own Thanksgiving dinners pretty early on in our relationship and have been tinkering with traditions ever since. We usually get a heritage breed turkey, we make traditional cranberry sauce (for Brian) and super tangy cranberry relish (for me), and always, always there's pumpkin pie.
I love selecting a sugar pumpkin, kabocha, kuri, or butternut squash, roasting it, and then making my pumpkin pies. I prep the puree a week or two ahead of time (homemade puree freezes wonderfully). Then, first thing on Thanksgiving morning I make my pies so we can get them out of the oven in time for the turkey.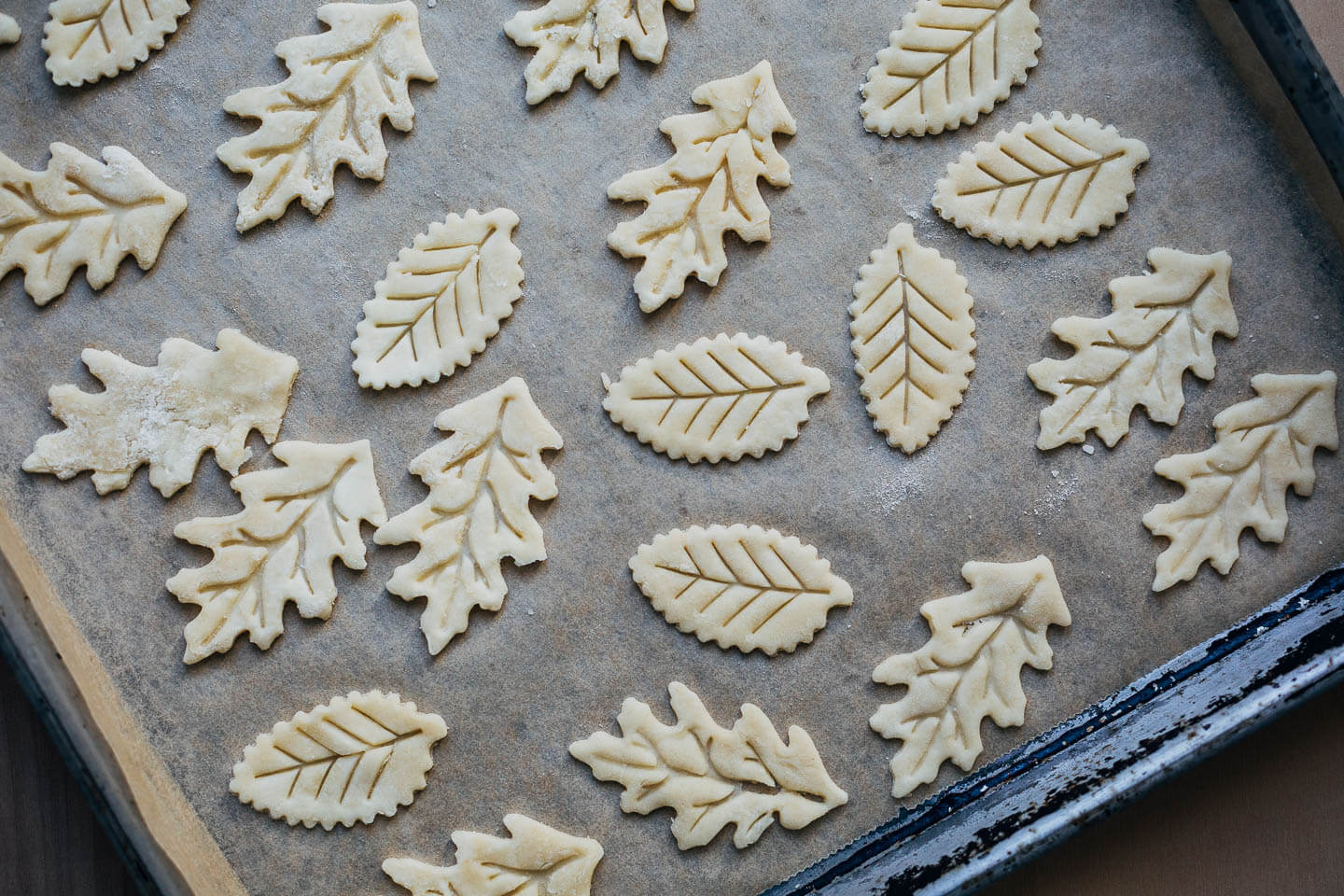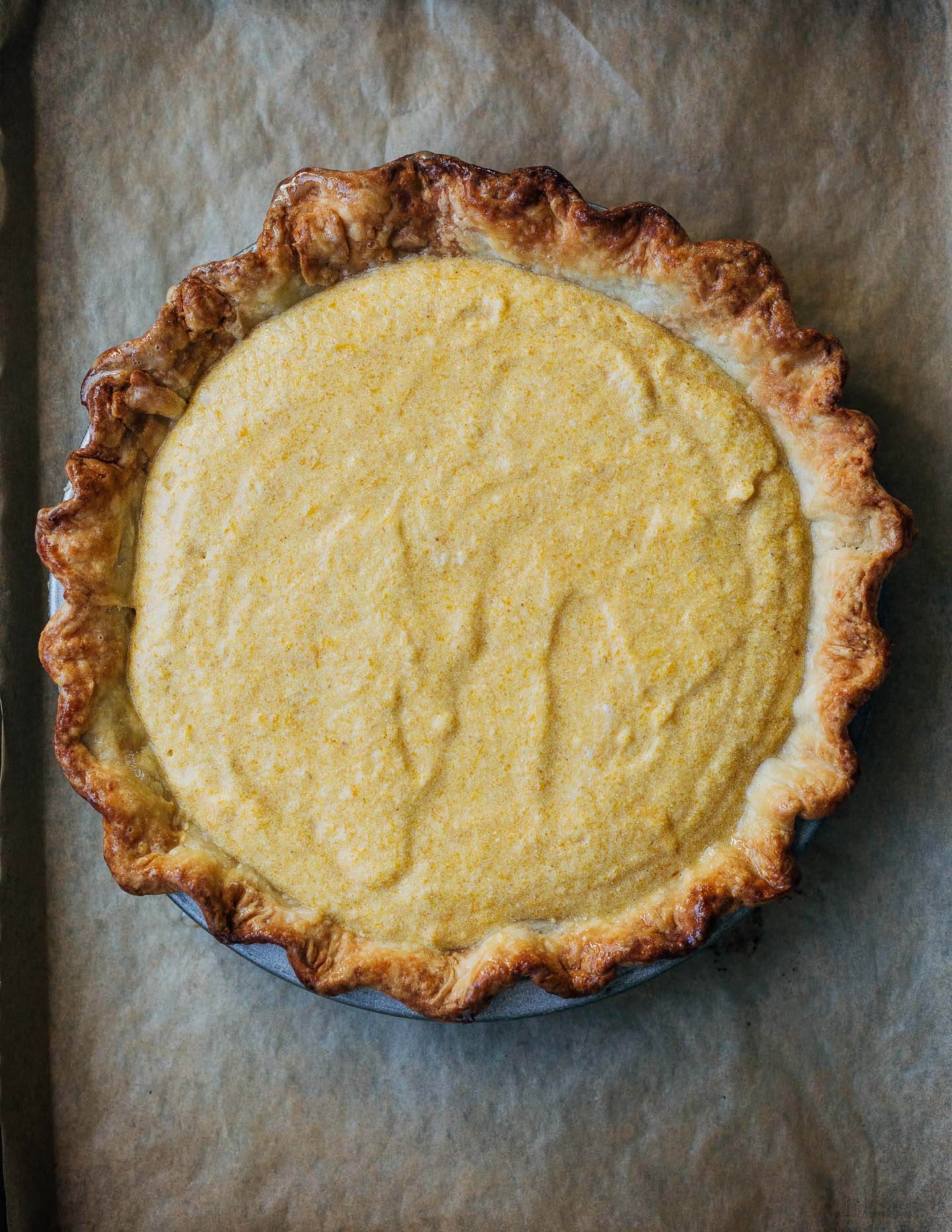 Buttermilk Pumpkin Pie: A Fresh Spin
I inherited my love of pumpkin pie from my mom and its place on our Thanksgiving menu is non-negotiable. But sometimes, it's ok to change things up a little. Like with this beautifully flavored buttermilk pumpkin pie.
The filling is light and velvety, with hints of buttermilk and fresh lemon juice, and the subtle flavor of fresh pumpkin puree. Somewhere between a mousse and a cheesecake, it has a distinct brightness that traditional pumpkin pie lacks.
This buttermilk pumpkin pie comes together with relative simplicity. You'll need to prep your pie dough and do a blind bake. Once the crust is cool, whisk the filling ingredients together, whip the egg whites, and fold it all together. The pie cooks in about 45 minutes and then all that's left is to let it cool.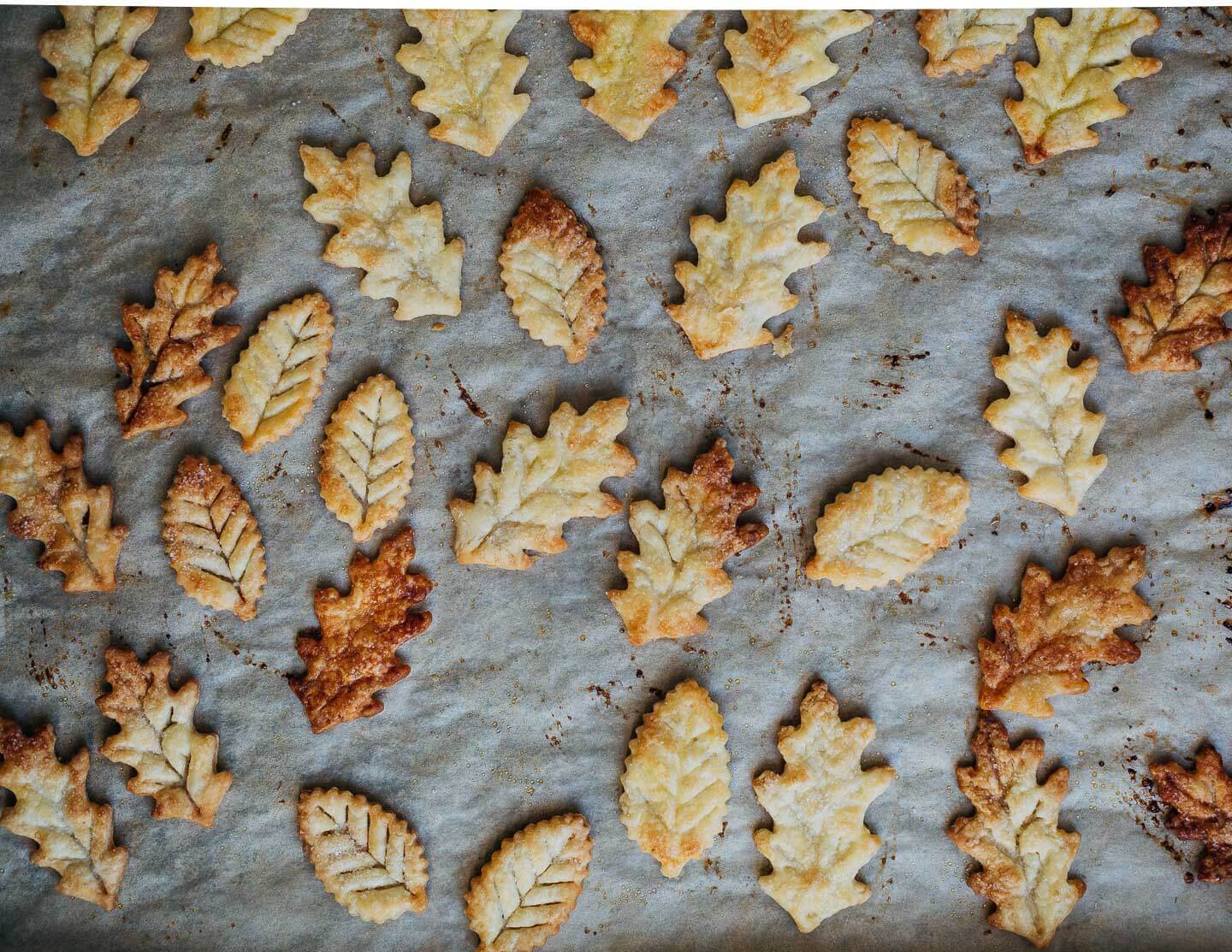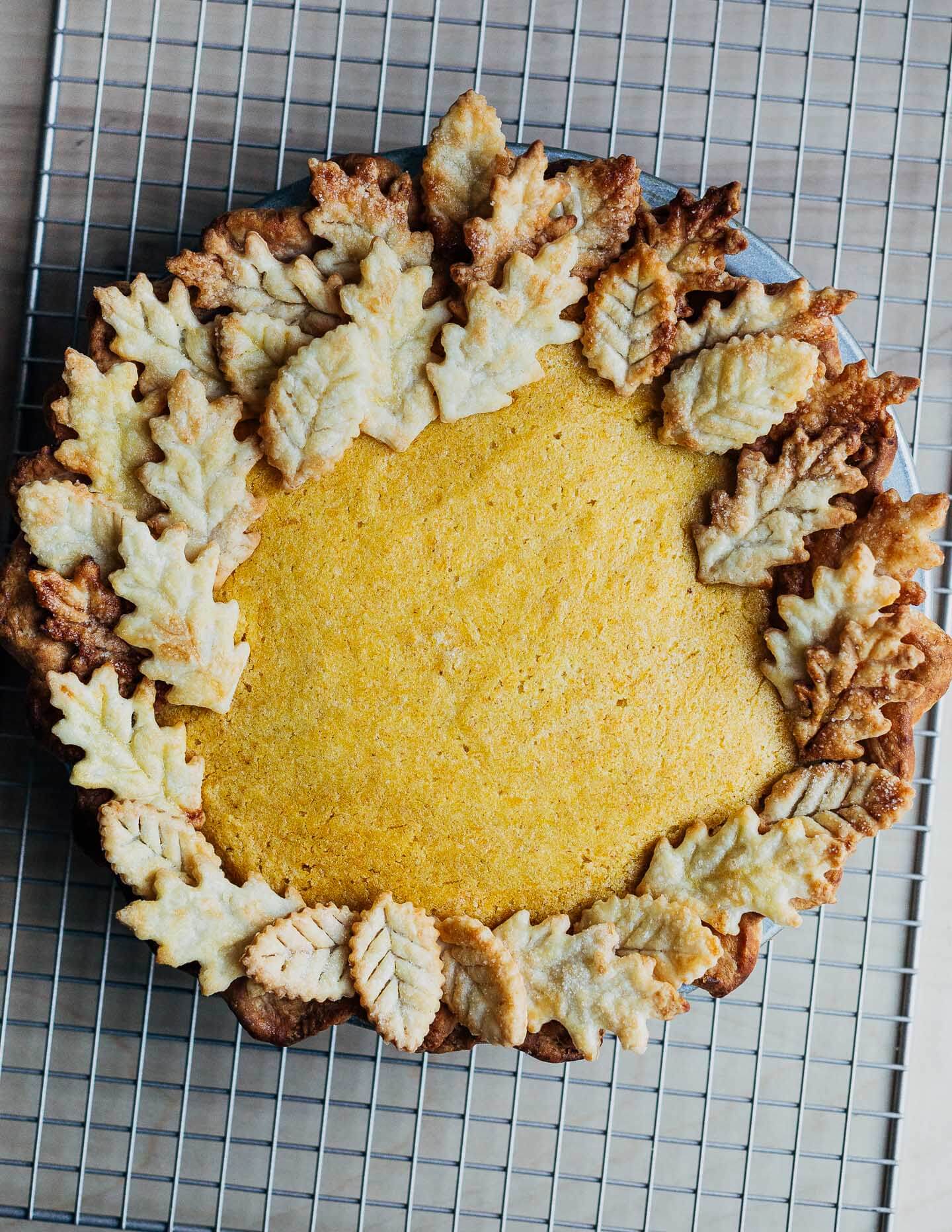 Decorative Pastry Leaves
This is the internet, and because of that, I included decorative pastry leaves with my pie. I made a classic single crust pie and then just kind of tucked the leaves up along the edges. These buttery little leaves are a lovely addition to any custard pie you might make. Especially since custard pies can be prone to cracking, pastry leaves can be deployed strategically to hide any cosmetic defects. I used a set of leaf-shaped stamps similar to these.
For best results, and especially if you're transporting it, add the leaves just before presenting and serving the pie.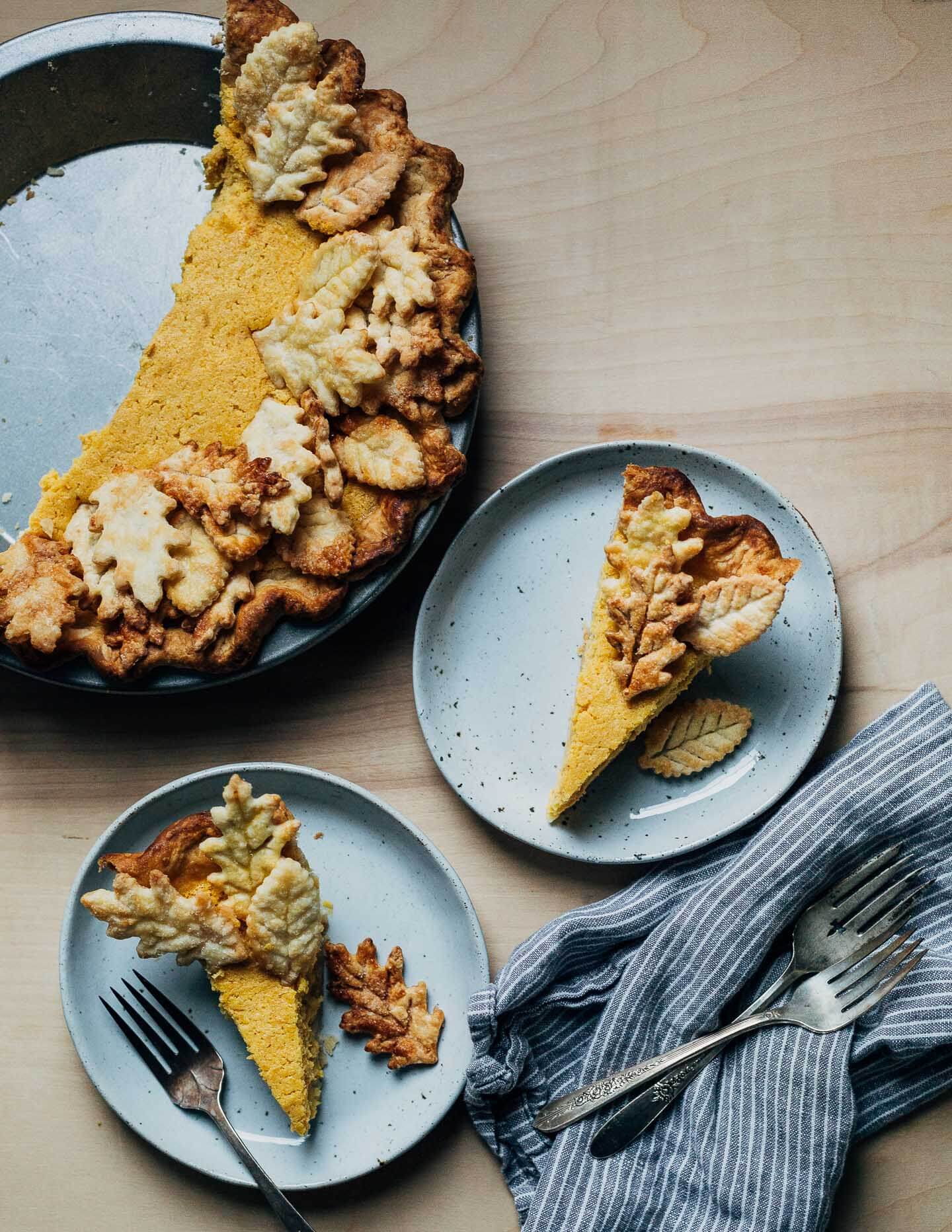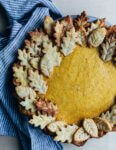 Buttermilk Pumpkin Pie with Decorative Leaves
Keyword:
buttermilk pumpkin pie
Ingredients
Pumpkin Puree
1

large sugar pie pumpkin,

or butternut, kabocha, or kuir squash

1

teaspoon

olive oil

pinch

sea salt
Dough (See Note*)
2

cups

all-purpose unbleached flour

1 1/2

tablespoons

sugar,

plus more for sprinkling

1/2

teaspoon

sea salt

12

tablespoons

cold unsalted butter

cut into ½ inch cubes

6

tablespoons

ice water
Filling
1 1/4

cups

pumpkin or squash puree

(homemade or store bought)

4

tablespoons

unsalted butter,

melted

2

tablespoons

freshly squeezed lemon juice

1

teaspoon

ground ginger

1/2

teaspoon

freshly grated nutmeg

1/4

teaspoon

ground cinnamon

1/2

teaspoon

sea salt

3

eggs,

separated

1/2

cup

sugar

2

tablespoons

all-purpose flour

3/4

cup

buttermilk,

shaken
Instructions
Pumpkin Puree
If using and working up to a month ahead of time, make the pumpkin puree.

Preheat oven to 375 degrees F. Line a large, shallow baking pan with parchment. Remove the stem, halve the squash (or pumpkin), and remove seeds. Rub squash all over with olive oil and sprinkle with sea salt. Set face down in baking pan and cover tightly with foil. Bake 60 - 70 minutes or until squash is very soft and tender.

Scoop cooked squash out, mash with a fork, and spoon into a jar with a tight-fitting lid. Puree will keep in the freezer for a month or the fridge for 3 days.
Pie Crust and Cutouts
Working up to 3 days ahead of time, make the dough. In a large mixing bowl, use a fork to combine the flour, sugar, and sea salt. Add the cold butter, toss to coat with flour, and then cut the butter in by pressing each cube flat with your fingertips. Mixture should be shaggy with some chickpea-sized butter clumps. Make a well in the center, add several tablespoons ice water, and fold it into the dough just until it holds together.

Turn dough out onto a layer of plastic wrap and gather into a rough disc. Divide the dough into thirds, combine 2 of the thirds (this will be the crust), and wrap tightly with plastic. Wrap the remaining third with plastic (this is for the leaves) and place both discs of dough in the fridge. Chill 30 minutes or up to 3 days.

On a lightly floured surface, roll the large dough disc into a 14-inch circle, move dough to pie pan, and gently press into place. Cut away all but a 2-inch overhang, fold it under along the edge, and crimp. Set pie pan in the fridge to chill for 30 minutes.

To make the leaves, line a large baking sheet with parchment. Roll the small dough disc along with any scraps into a thin layer. Using a cookie cutter or a knife, cut out your leaf shapes and arrange on baking sheet. Chill cutouts for 30 minutes.

Preheat oven to 425 degrees F.

Make a light egg wash by beating one egg with 1 tablespoon water.

Lightly brush cutouts with the wash, sprinkle each leaf with a pinch of sugar, and bake 8 - 12 minutes, or until cutouts are puffed up and golden.

Once the pie crust is chilled, poke pie dough all over with the tines of a fork. Line shell with parchment and fill with pie weights or dry beans or rice. Bake 15 minutes, remove weights and parchment, and bake 7 - 10 minutes more or until crust is set and the edges are just turning golden. Set aside to cool completely.
Filling
To bake the filling, preheat oven 375 degrees F.

In a large bowl, combine pumpkin or squash puree, butter, lemon juice, ground ginger, nutmeg, cinnamon, and sea salt. Beat with a whisk until well-combined and fluffy.

In a small bowl, combine egg yolks and sugar, and whisk vigorously for one minute. .

Fold egg yolk mixture into the puree mixture; beat with a whisk until smooth and light. Slowly fold in flour, followed by the buttermilk.

Meanwhile, with clean, dry beaters, whisk reserved egg whites to soft peaks, and fold into filling.

Set baked and cooled pie shell on a large, parchment-lined baking sheet. Brush the crimped part of the crust with egg wash. Pour filling into the shell. Bake 35 - 40 minutes or just until the center is set – it should have some movement, but not still seem like a liquid. If the edges of the pie get too dark, tent them with a foil ring.

Cool pie 3 hours, slice, top with leaves, and serve.
Recipe Notes
Note*: This dough recipe makes enough for 1 pie crust and the decorative leaves (1 1/2 times my usual recipe). If you don't want to make the leaves, follow same instructions for the dough, but use 1 1/4 cups all-purpose flour, 1 tablespoon sugar, 1/2 teaspoon sea salt, 8 tablespoons butter, and 4 tablespoons ice water.