A simple, make-ahead recipe for from scratch grapefruit-cranberry sauce with fresh rosemary.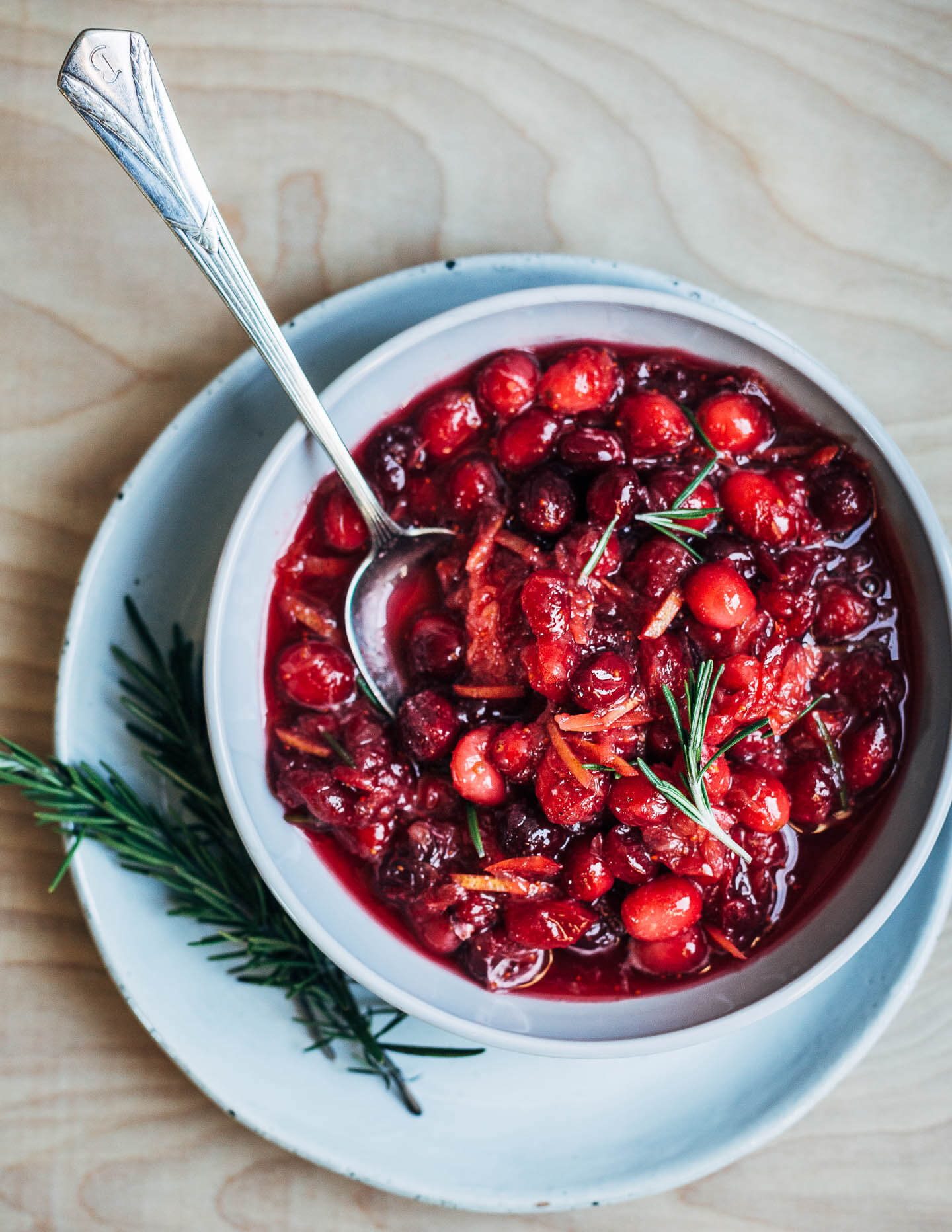 This grapefruit-cranberry sauce recipe was originally published in November 2010. Since it's a seasonal favorite, I've updated the recipe and photos.
Creating a Thanksgiving Menu
Each member of my family has a different must-have Thanksgiving dish. For my littlest, it's mashed potatoes; my oldest, both this cranberry relish AND the grapefruit-cranberry sauce recipe posted here; for me, this cornbread stuffing; for Brian, gravy. And at least three of us insist on pumpkin (or squash) pie.
That's six must-have dishes, and we haven't even addressed turkey or a vegetarian alternative for our oldest. So much for a simple Thanksgiving. Even so, I'm hoping that with a solid plan, and by making the things I can ahead of time, we'll have a relatively chill day of watching the parade, enjoying a relaxed meal, and then welcoming the Christmas season after. (We always listen to the first Christmas music of the season right after Thanksgiving dinner.)
It's important to mention that these are scary times with unchecked spread of Covid in many communities. Please do what you need to to keep you and yours safe this holiday season.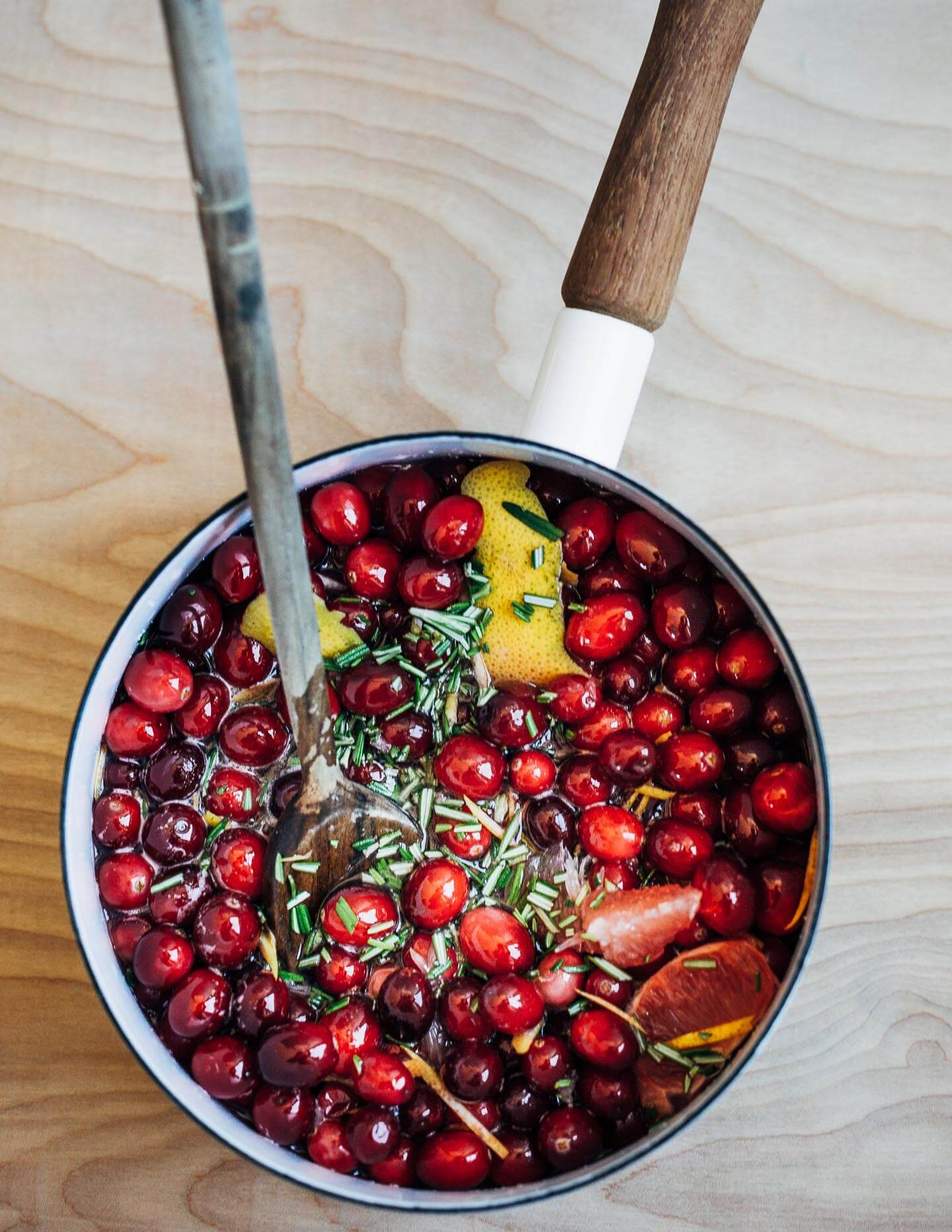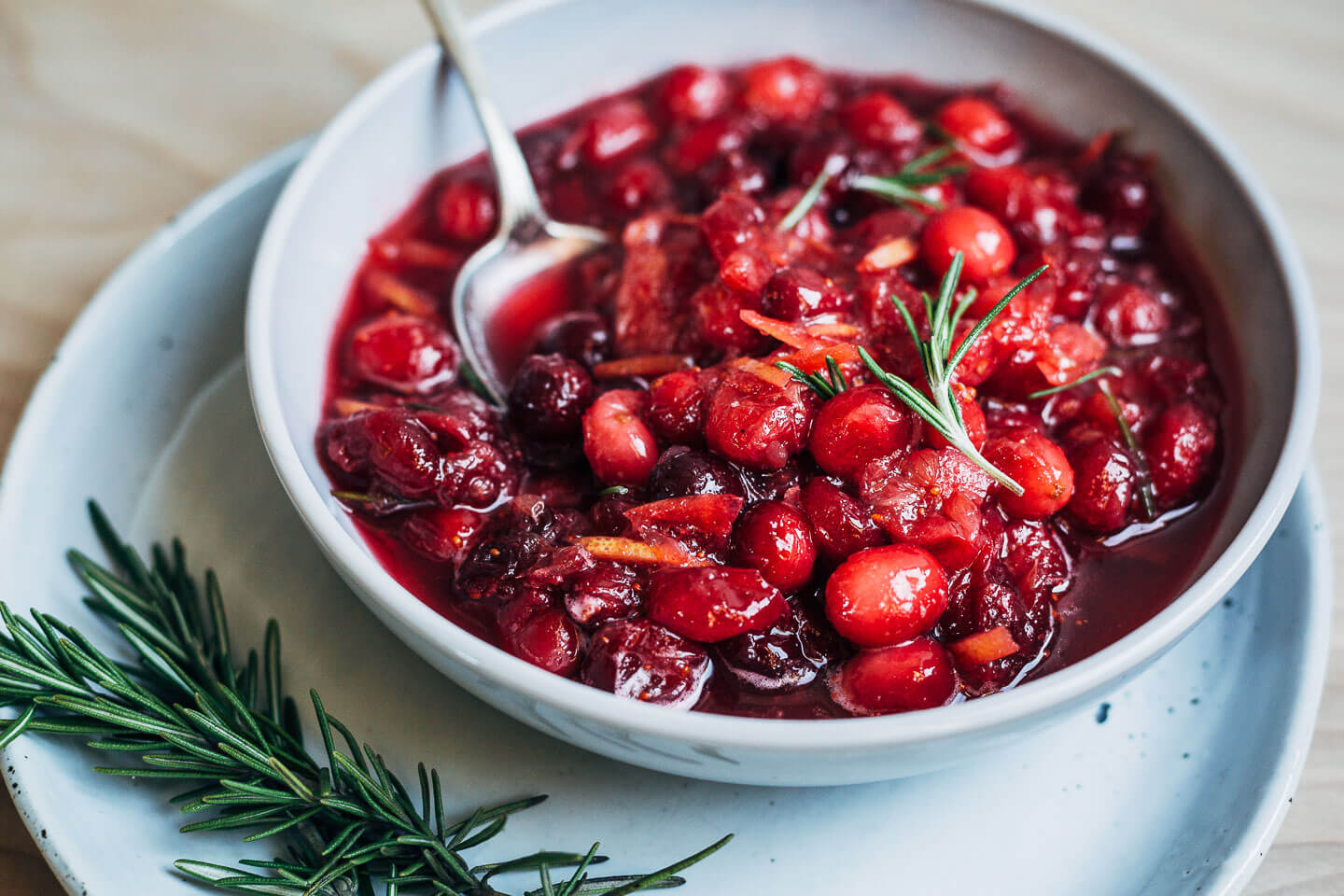 Fresh Grapefruit-Cranberry Sauce: Simple and Delicious
Now, on to this simple grapefruit-cranberry sauce with rosemary. I love making cranberry sauce because it's so easy to pull together and makes the house smell amazing. This cranberry-grapefruit sauce combines the sour punch of fresh (or frozen) cranberries with fresh squeezed grapefruit zest and juice, plus a nice bit of fresh rosemary. It's sweet and sour and bitter and herbaceous, and is just wonderful tucked up against whatever else makes its way to your Thanksgiving plate.
My grapefruit-cranberry sauce recipe has a little give and is not completely gelled up. It's also less sweet than other kinds. If you're after a very well-set cranberry sauce, make it a few days ahead so it will have time to chill completely, it also just tends to thicken after a day in the fridge.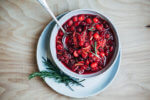 Grapefruit-Cranberry Sauce with Rosemary
A simple, make-ahead recipe for from scratch grapefruit-cranberry sauce with fresh rosemary. This fresh cranberry sauce is juicy with a light set; for a thicker set, see note below.
Keyword:
Grapefruit-Cranberry Sauce
Ingredients
1

(12-ounce) bag of fresh cranberries

3/4 - 1

cup

sugar

2

grapefruits,

preferably ruby red

2

tablespoons

fresh rosemary leaves,

diced, plus more for garnish

1/4

teaspoon

sea salt
Instructions
Rinse and pick over cranberries, removing any soft ones, and set aside. Remove zest and supreme the flesh from one of the grapefruits. Juice the other until you have 1/2 cup grapefruit juice.

If desired, cut the strips of zest into thin 1- or 2-inch strips. (You can also just added the larger strips of zest.)

In a large, non-reactive sauce pan, combine sugar (start with 3/4 cup and add more to taste, or use the full cup for a sweeter sauce), and grapefruit zest and juice. Cook over high heat, stirring, until sugar has dissolved. Then add cranberries, grapefruit flesh, rosemary, and salt. Simmer over medium heat 5 minutes, or until most of the cranberries have split. Transfer to a non-reactive dish, bring to room temperature and serve. Or, wrap tightly and keep in the refrigerator for up to 5 days.

Serve with a twist of grapefruit and a few sprigs of rosemary.
Recipe Notes
Note: This recipe originally included the zest of 1 lime. For simplicity, I've omitted it here. If you'd like to include it, add the zest of 1 lime along with the grapefruit zest. 
For a thicker set, use 1 cup sugar and cook the sauce for 20 minutes over medium/medium-low heat, stirring frequently.