Unfussy, super delicious sour cream mashed potatoes that you can make at the very last minute. Just boil, mash, mix, and serve!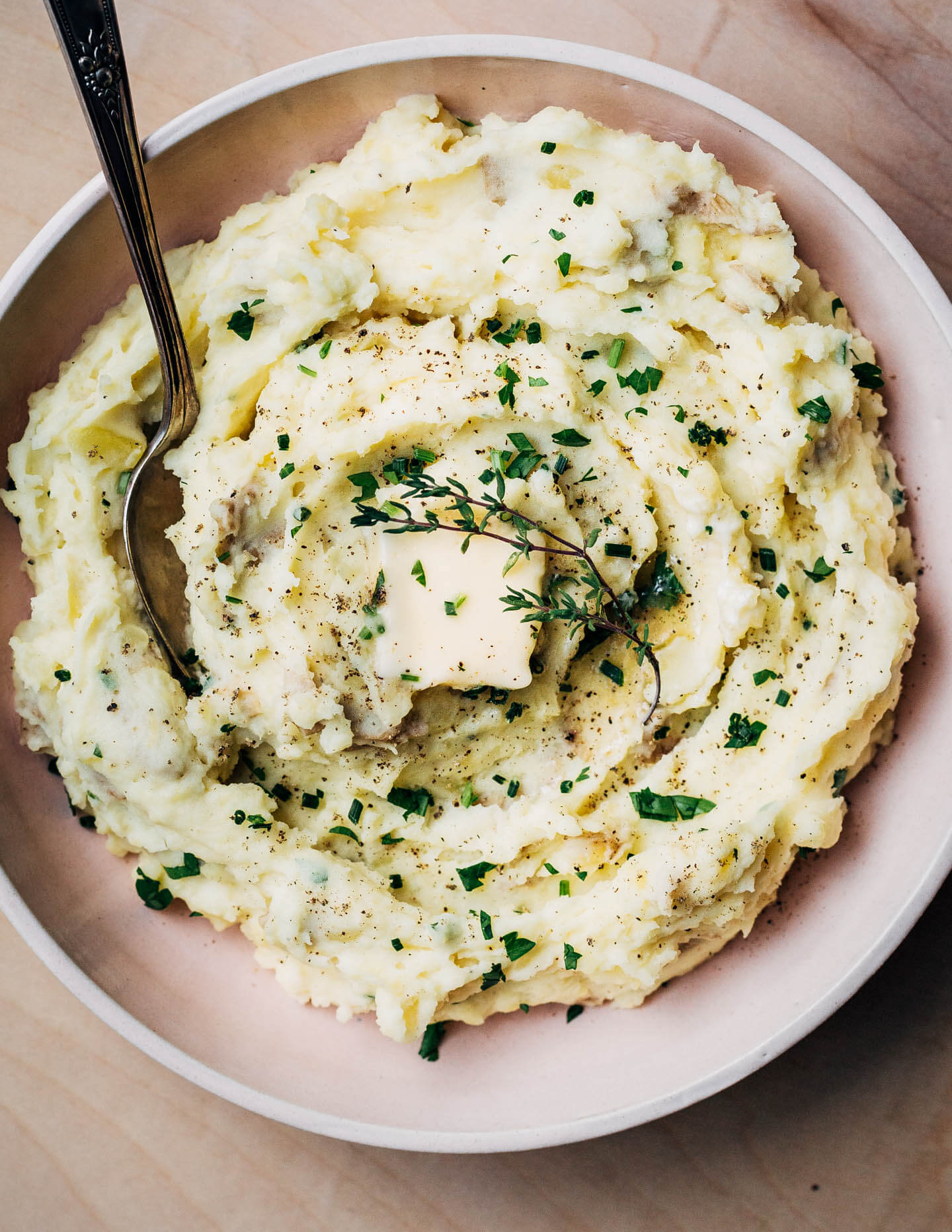 Get the newsletter
Are you signed up for the Right Now newsletter? It hits inboxes twice a week with exclusive recipes and seasonal ingredient inspiration. Subscribe today!
Sour Cream Mashed Potatoes
At my house, mashed potatoes are the very last thing to make for our Thanksgiving meal. A big pot of Yukon Gold potatoes goes on the stove just as the turkey is ready to come out of the oven, and the potatoes are cooked, mashed, mixed and served at the last minute. I like my mashed potatoes just-mashed and piping hot.
After years of watching my sister Amy make her signature sour cream mashed potatoes – creamy and buttery with a perfect hint of tang – it finally dawned on me that I could also have such delicious mashed potatoes. And now you can, too.
These easygoing sour cream mashed potatoes are wonderfully rich, with bright and herby notes to balance things out.
Thanksgiving Menu Ideas
Planning a Thanksgiving meal? Head over to my Thanksgiving Menu Guide for recipe inspiration! Or check out the BkS Thanksgiving recipe index right here.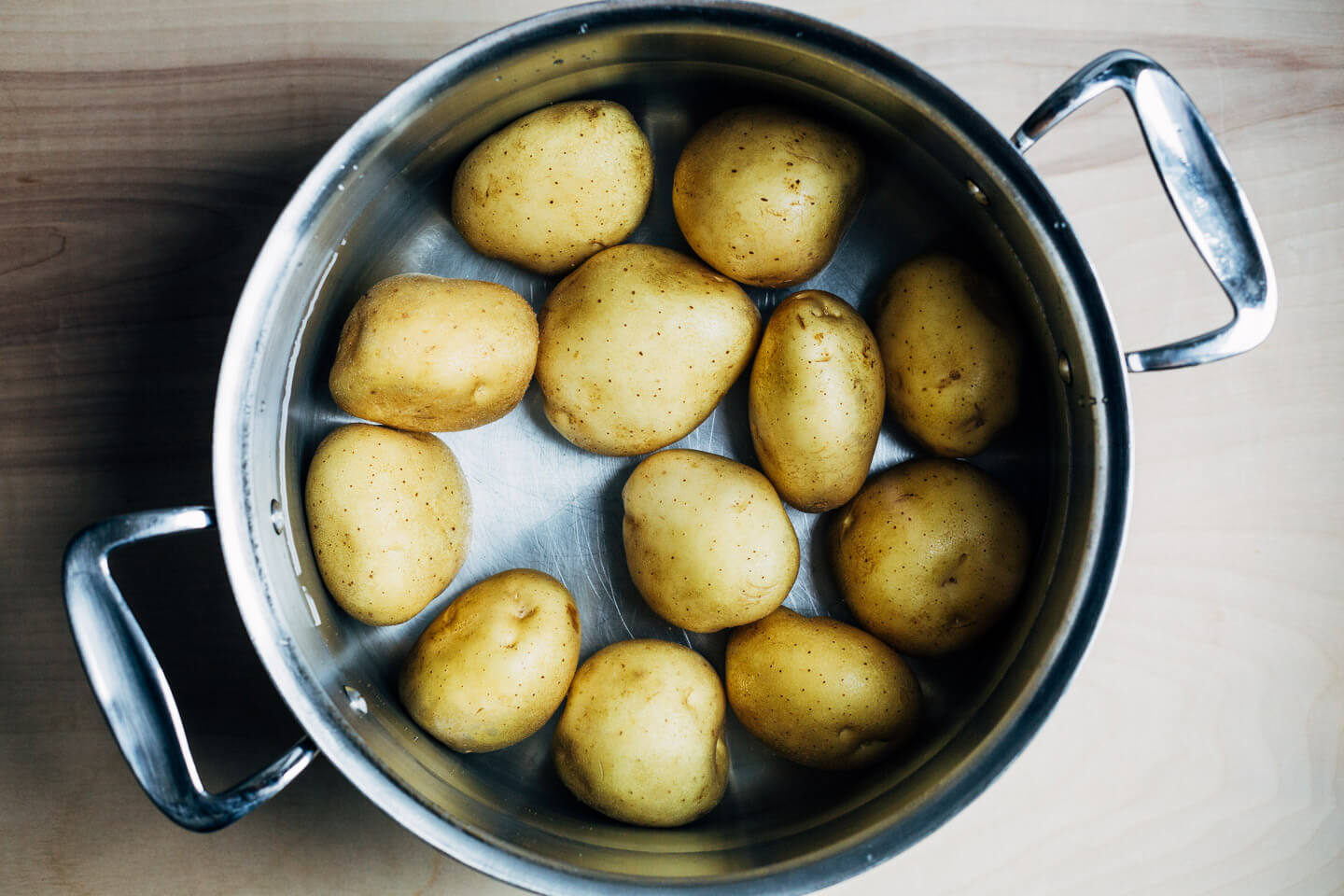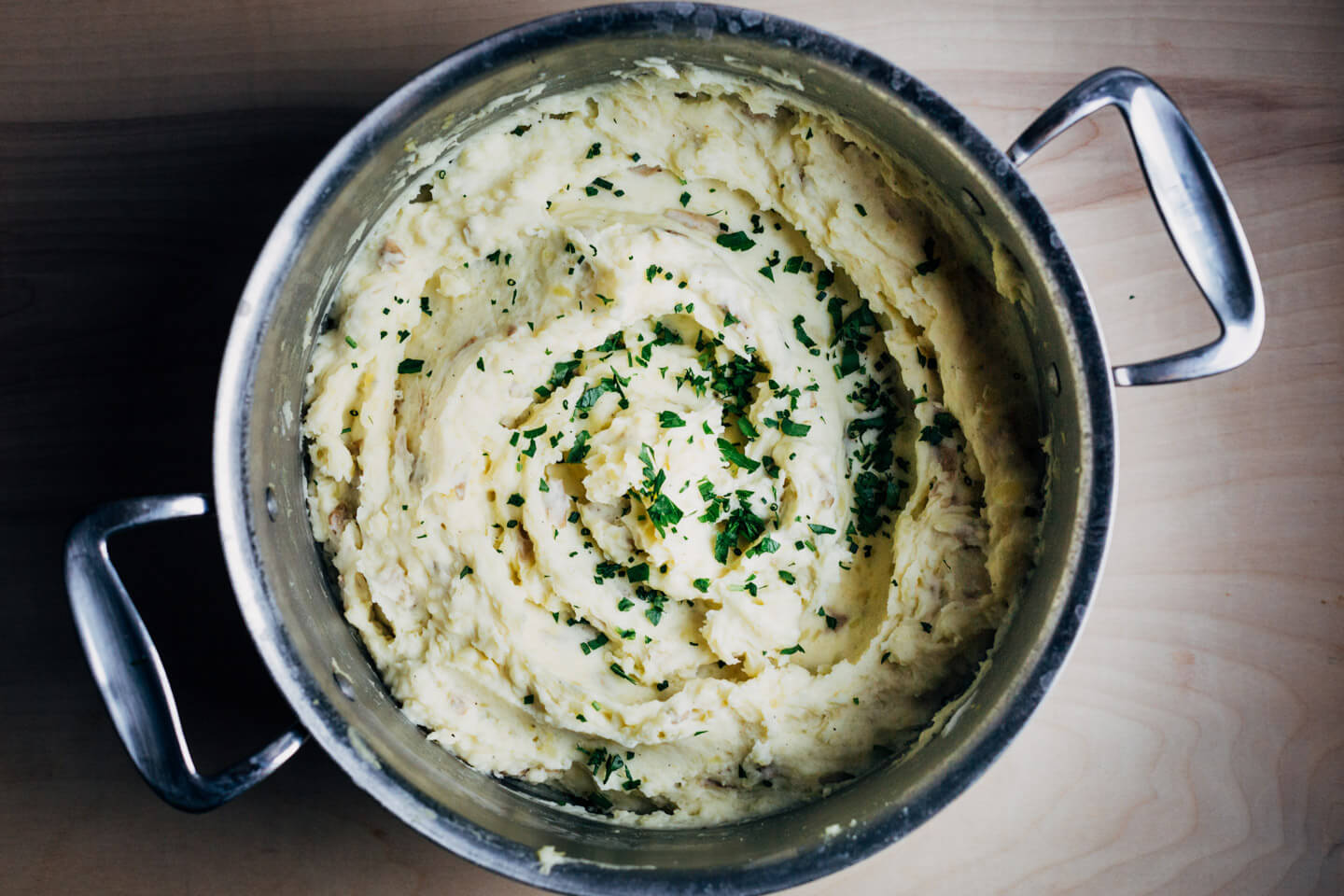 Big Flavor
Fresh chives, parsley, and thyme are still growing in my garden, and they were the perfect flavors for these sour cream mashed potatoes. You can also swap in a few leaves of fresh rosemary, tarragon, or sage, but use these flavors sparingly.
As you mash and mix the potatoes, layer the salt. Potatoes are extremely salt thirsty, and you'll want to continually taste and add salt as you go. I use Diamond Crystal kosher salt – it's lighter than other kinds and really lends itself to layering.
Don't forget the pepper – mashed potatoes really pop with lots and lots of fresh ground pepper.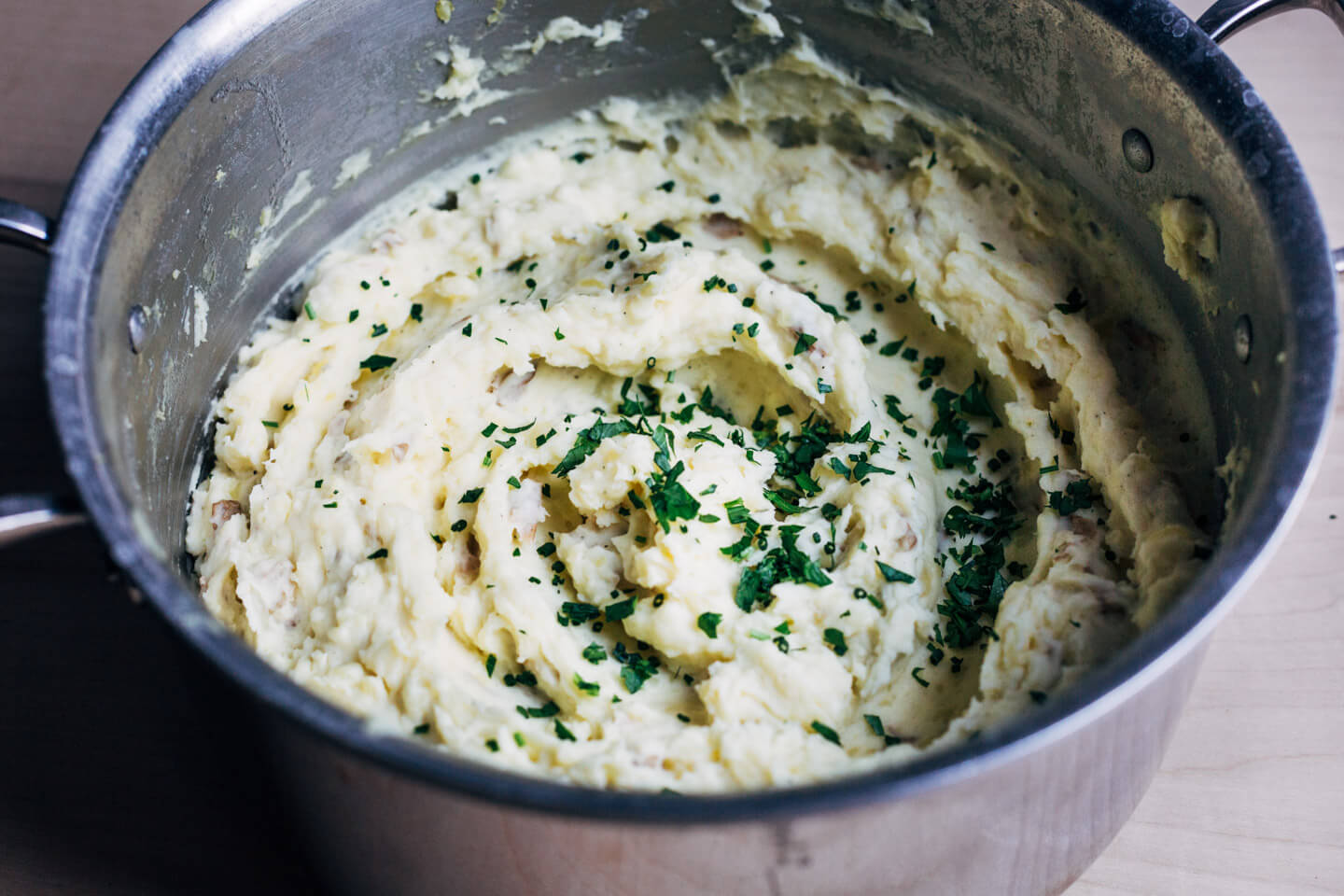 Peel Your Potatoes (Or Don't!)
I like a little texture in my mashed potatoes, and never peel my potatoes. If you prefer a smoother mashed potato or just want a more formal dish, go ahead and peel them.
Peeling potatoes can be done ahead of time. Once peeled, keep potatoes completely covered in cold water in the fridge as long as overnight (otherwise, they'll turn brown).
Boiling the Potatoes
Start your potatoes in a cold pot and set over high heat. Once the water is at a rapid boil, add the salt, and set a timer for 20 minutes. Use a table knife to check the potatoes for doneness as they cook – you want them to be very tender. It's better to err on the side of over- rather than under-cooked.
Once you've drained the potatoes, act fast. Add the butter and sour cream, and mash vigorously. I like the texture and ease of potatoes mashed and whipped by hand.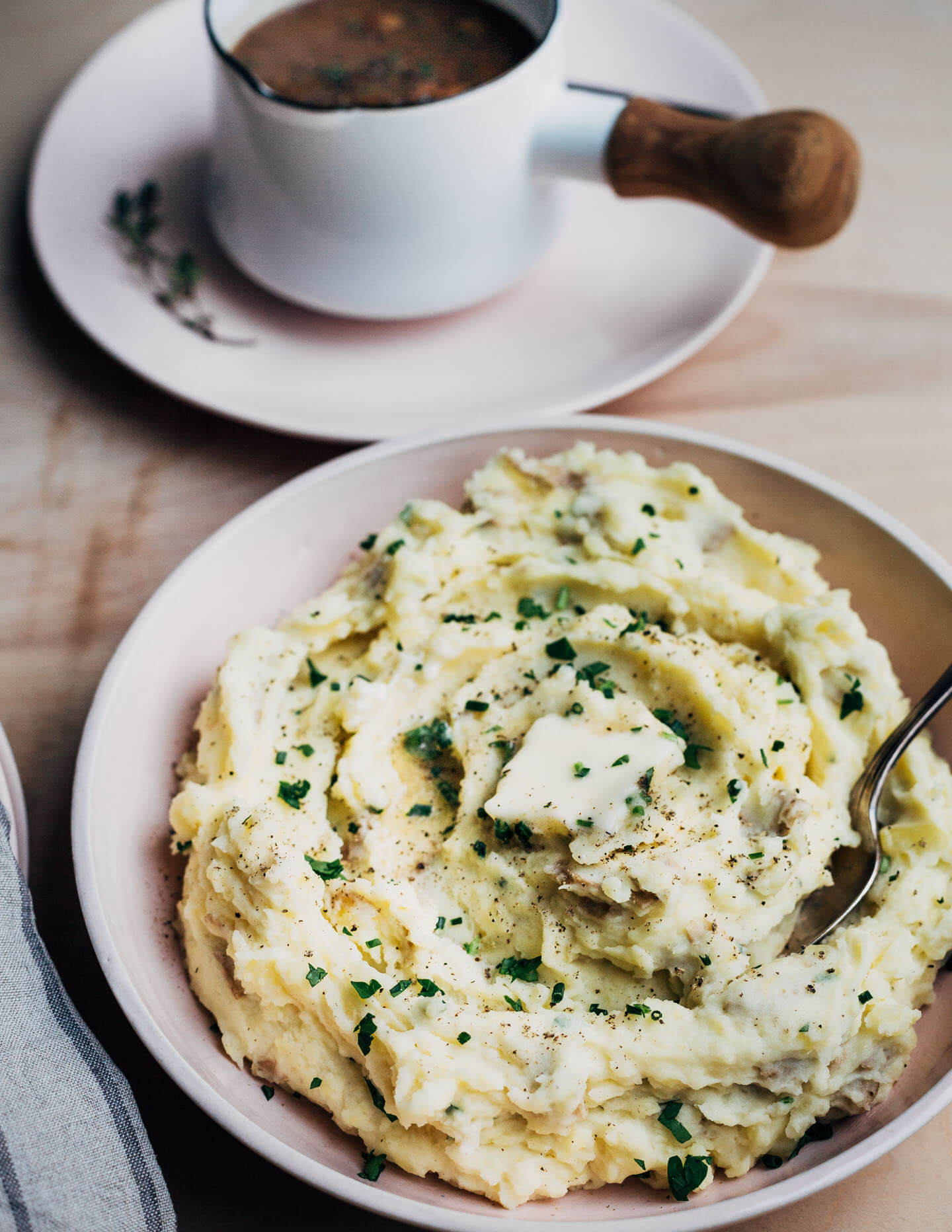 Mash and Mix
Room temperature or warm add-ins are best here. Set the butter and milk close to the hot stove so they warm up. Keep the sour cream at room temp until needed.
If you're after very smooth and fluffy mashed potatoes, use a ricer on the hot potatoes and then mix in the other ingredients. Or whip the potatoes with a handheld mixer or a stand mixer fitted with the paddle attachment.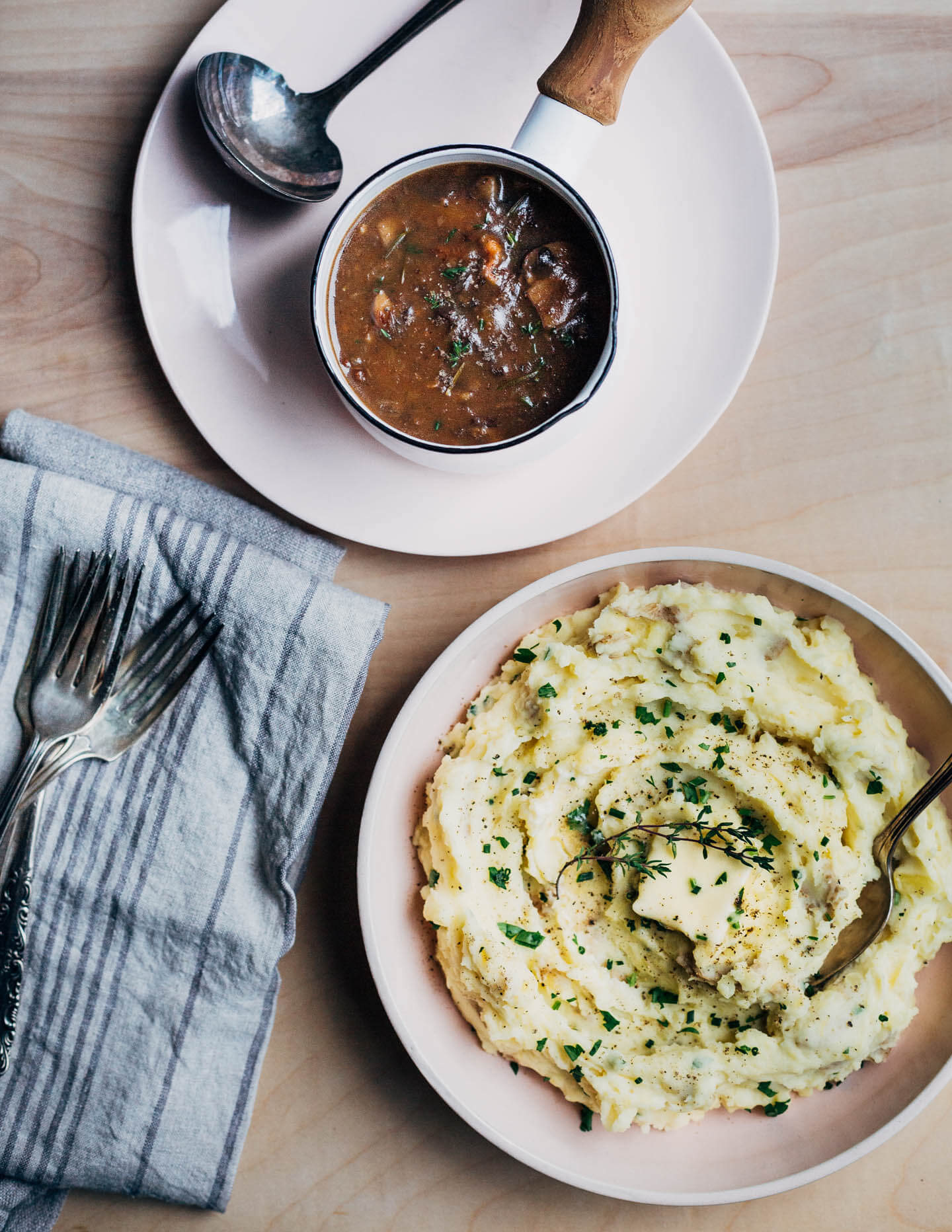 Make Mashed Potatoes Last
There's no getting around the fact the mashed potatoes are at their best right after they're made. If you need to, keep them loosely covered warm in a 200 degree F oven for no more than 30 minutes.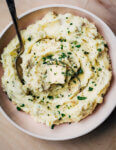 Sour Cream Mashed Potatoes
Unfussy, super delicious sour cream mashed potatoes that you can make at the very last minute. Just boil, mash, mix, and serve!
Ingredients
4

pounds

Yukon Gold potatoes

(12 - 14 medium potatoes)

1/4

cup

Diamond Crystal kosher salt,

plus more as needed (reduce by half for other salts)

8

tablespoons

softened unsalted butter,

plus more for dotting

1 1/2

cups

full-fat sour cream

1/4

cup

warm whole milk,

as needed

Freshly ground black pepper

2

tablespoons

minced chives,

parsley, and/or thyme
Instructions
Scrub potatoes. Use a sharp paring knife to cut out any bad spots. Arrange the potatoes in a single layer in the bottom of a wide, deep pot. Cover the potatoes with cold water by 2 inches. Bring to a boil, then add 1/4 cup Diamond Crystal kosher salt (reduce by half is using another salt). Once water boils, set a timer and cook until potatoes are very tender, 20 - 25 minutes.

Meanwhile, set out the sour cream, butter, and milk to come to room temp. Gently warm the milk so it's just steaming (or just set a dish of it on/near the hot stove).

Drain potatoes. Working quickly, add butter and sour cream, plus a big pinch salt. Use a potato masher and then a large spoon to mash and then whip the potatoes (see note for other mixing methods). Add milk, 1 tablespoon at a time, until potatoes are smooth and fluffy. Taste as you go, adding salt and several twists of black pepper. Fold in the herbs.

Spoon into a serving dish, and if desired, garnish with a pat of butter and more herbs.
Recipe Notes
Note:
Mash and mix mashed potatoes by hand or use one of these methods:
Use a ricer to mash the potatoes and then mix in other ingredients. 
Use a handheld mixer or stand mixer fitted with the paddle attachment to mix potatoes