How to make basic pizza bagels at home! Customize your pizza bagels with pesto, sausage, greens, or whatever vegetables and toppings you have on hand.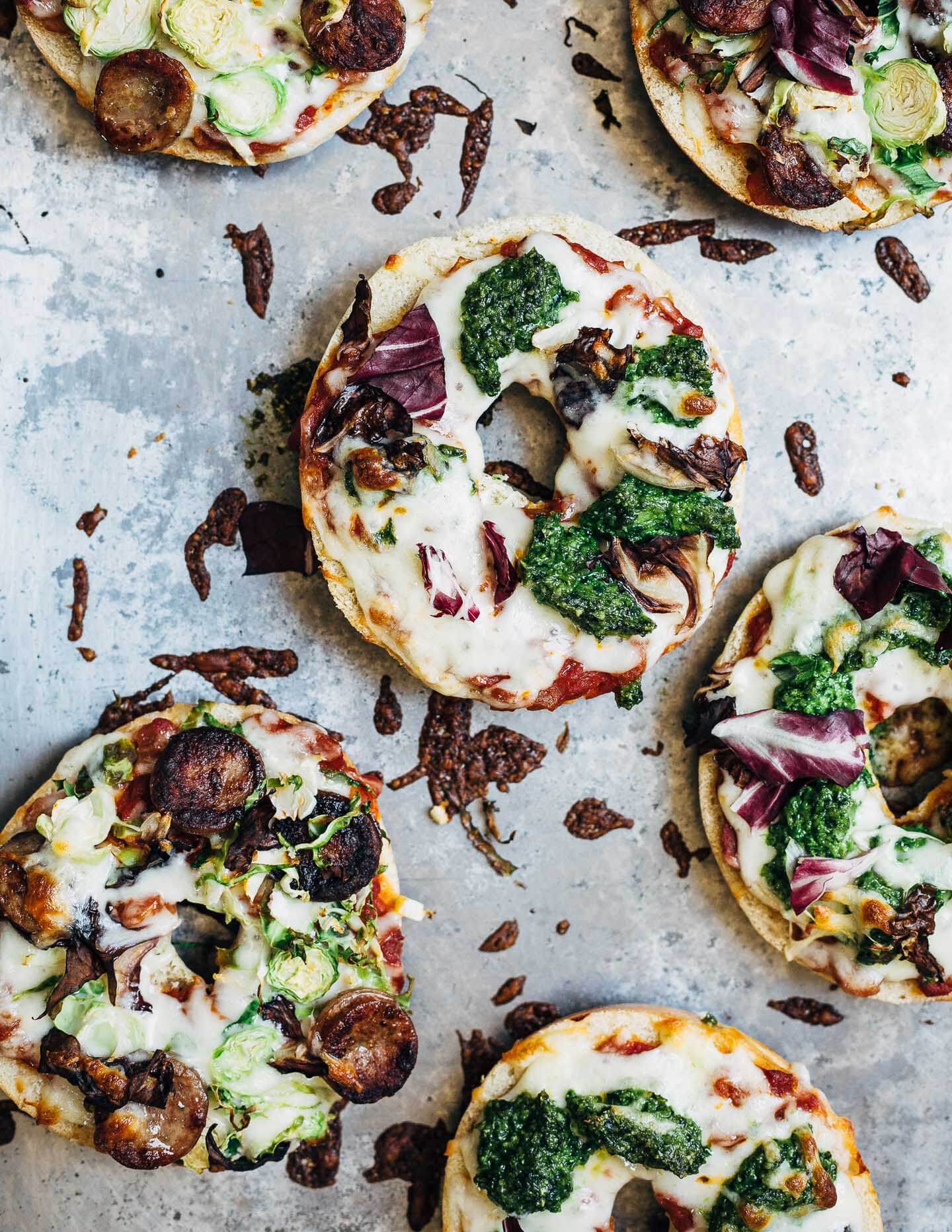 Since we're all shopping as infrequently as possible, in the coming weeks, I'll try to highlight versatile recipes that handle substitutions easily, as well as more pantry focused cooking projects. I'm still finding my way in this new normal. I know many of you are cooking more than ever, and I hope in the coming weeks I can be a useful resource with practical recipes and reliable advice.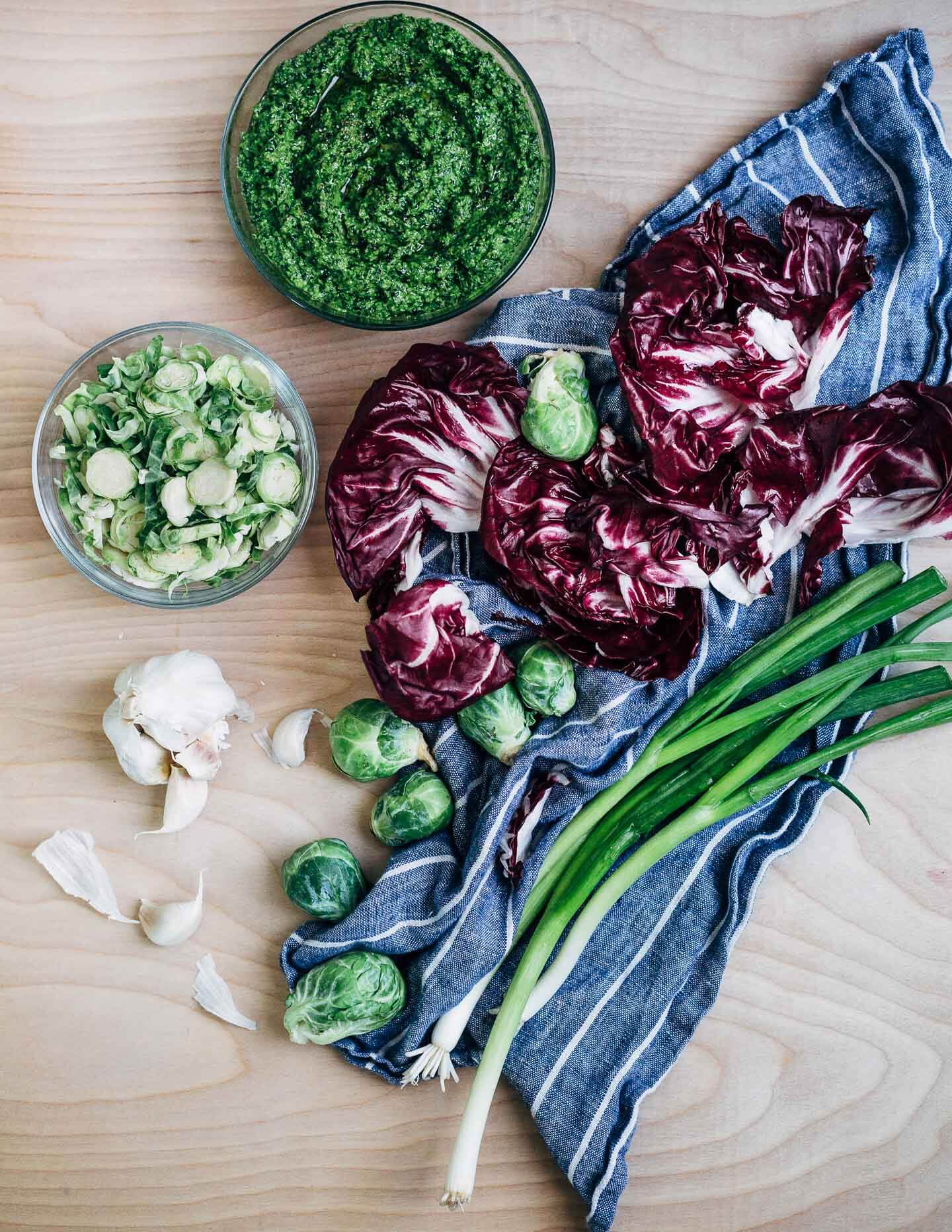 My current vegetable stores are a mishmash of sturdy basics like onions, potatoes, cabbage, and carrots, less hardy staples like lemons and celery, and a smattering of things we just like, like Brussels sprouts, radicchio (lasts forever – highly recommend), lettuce, and green onions. Chances are high that the produce assortment piled on your counter and crammed in your fridge differs wildly.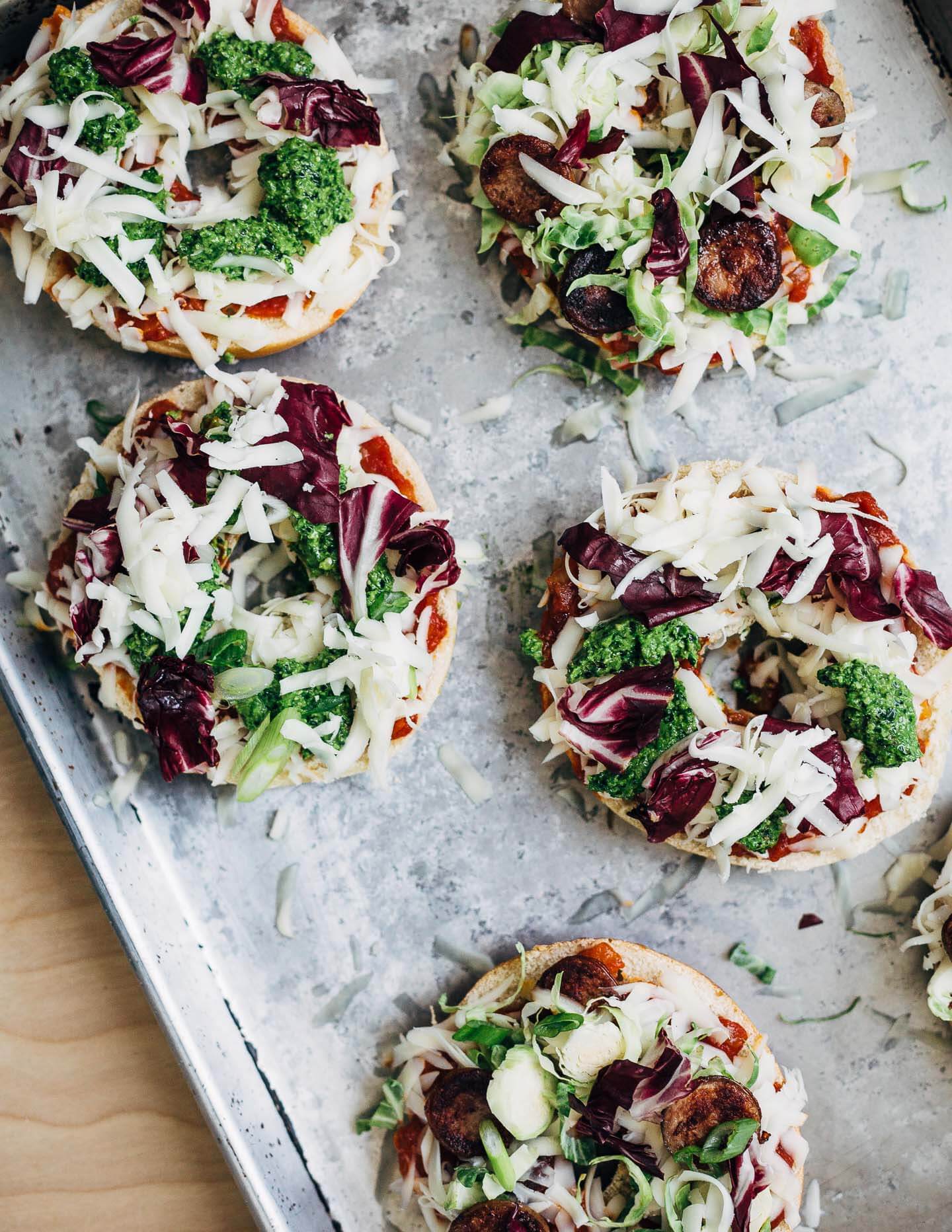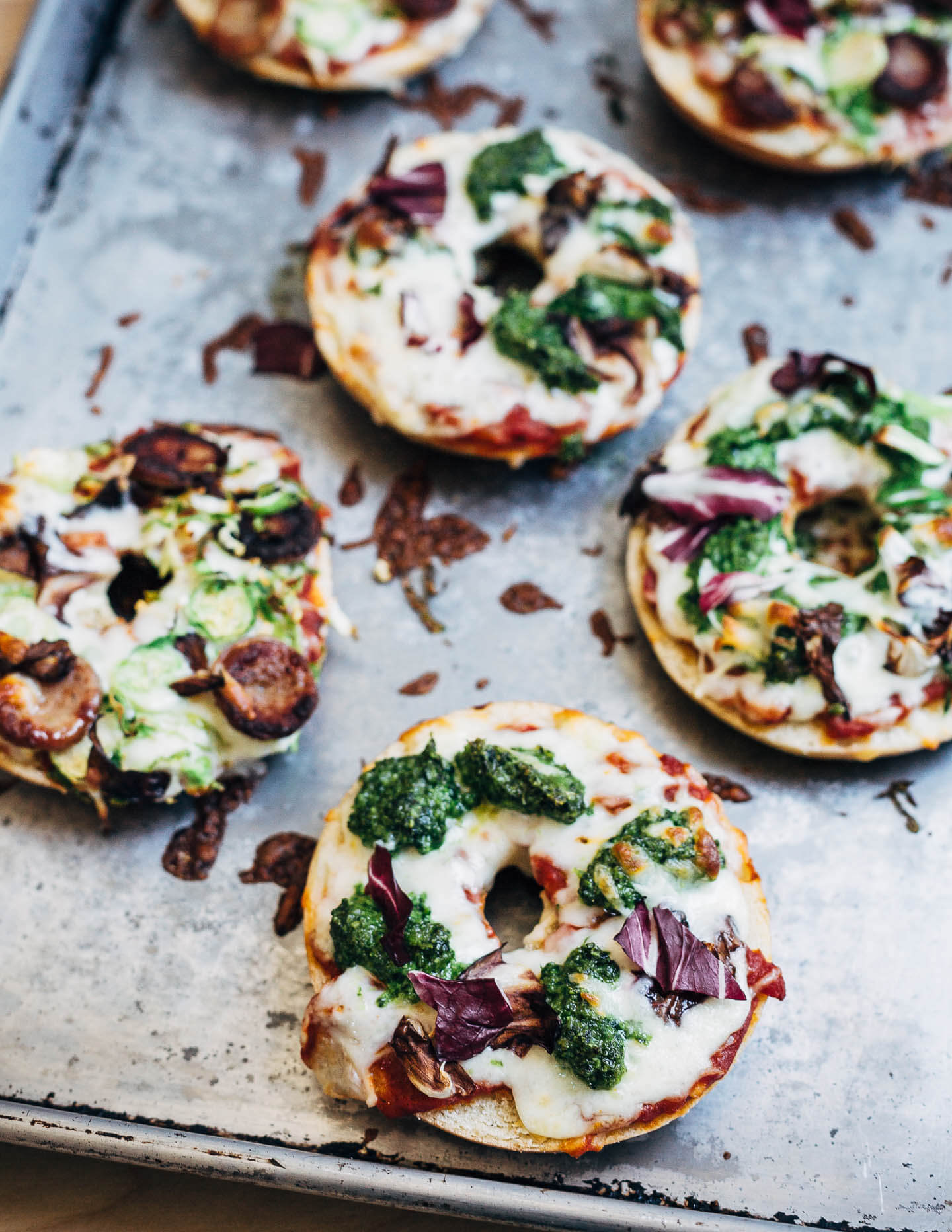 I don't know if pizza bagels qualify as practical exactly, but they're definitely versatile. The basics are easy enough – bagels, pizza sauce, and mozzarella – but the toppings make 'em both fancy and delicious. Here, I used kale pesto (truly and honestly my favorite kind of pesto), sautéed sausage, thinly sliced Brussels sprouts tossed with lemon and sea salt, torn radicchio, and sliced green onion. Toppings like sautéed mushrooms or asparagus, olives, chopped sun-dried tomatoes, canned artichokes and red peppers, minced anchovies, or sautéed green garlic or ramps, Whatever else you have on hand and have literally ever eaten on a pizza will work.
Pizza bagels are not the most refined recipe I've ever offered, but they are tasty and fun, and right now I think that's something we could all use.
I hope that you and yours are taking care and staying home, if you're able. I'm so grateful to all the frontline workers making sure we have basic supplies and groceries, caring for the sick, and doing all the under-appreciated jobs out there. Thank you.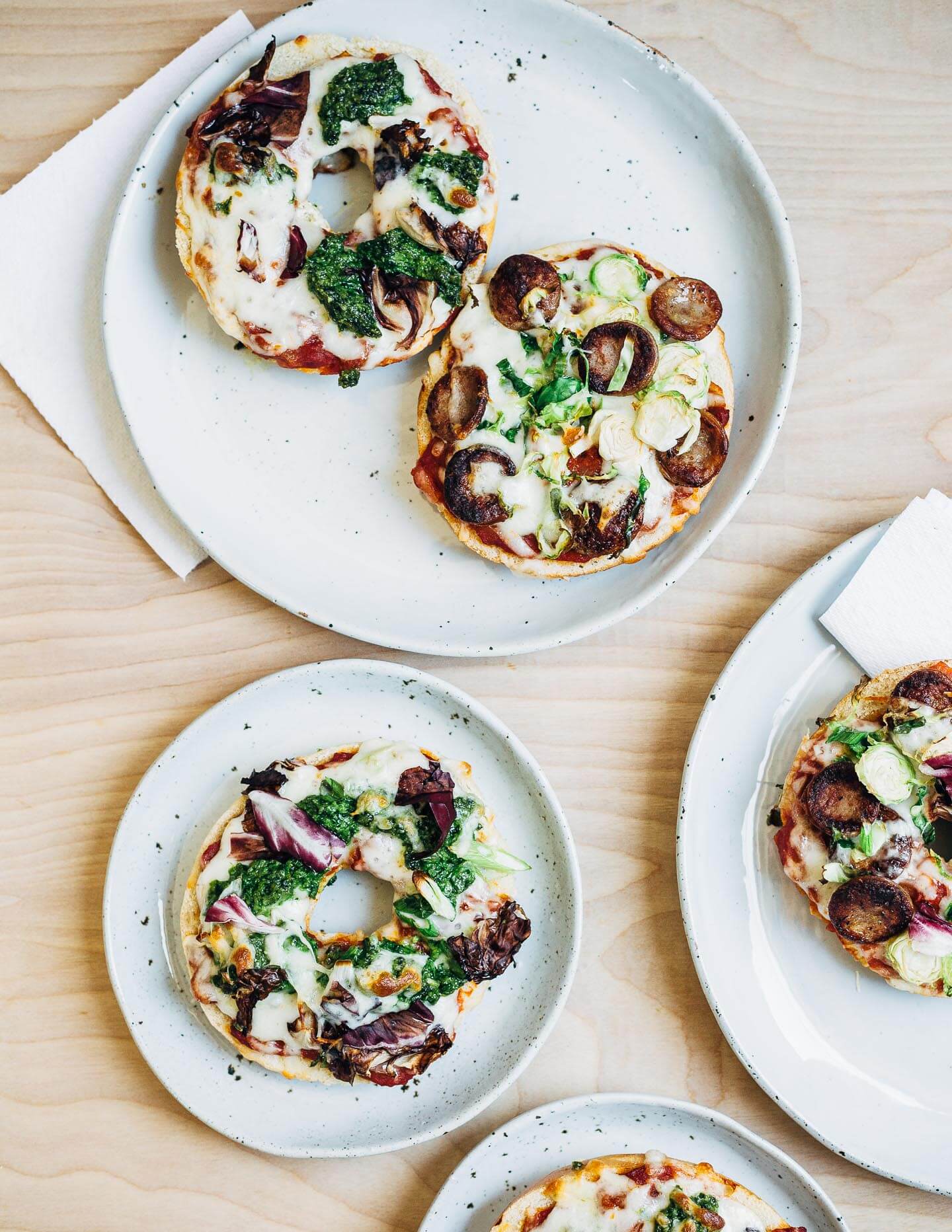 Basic Pizza Bagels with Customizable Toppings
How to make pizza bagels at home! Customize your pizza bagels with pesto, sausage, greens, or whatever vegetables and toppings you have on hand.
Ingredients
Optional Toppings
Sautéed sausage

Thinly sliced Brussels sprouts

tossed with lemon and sea salt

Radicchio or other greens

torn into bite-sized pieces

Green onions

thinly sliced
Instructions
Prep desired toppings. Pizza bagels need to be assembled quickly, so it's best to have your mise en place all set.

Preheat oven to 400 degree F.

Arrange bagels on a rimmed baking sheet (if desired, line with parchment). Working quickly, spoon marinara onto bagels, cover with cheese, and dot with optional toppings of your choice. (I like to sort of tuck my toppings into the cheese, so they get a little char but also get covered with melty goodness.)

Bake until toppings have golden edges and cheese is bubbling, 10 - 12 minutes. Serve immediately.