Make a Christmas feast to remember with this sumptuously flavored pomegranate-glazed roasted chicken and a host of colorful sides. This post was created in partnership with Farmer Focus.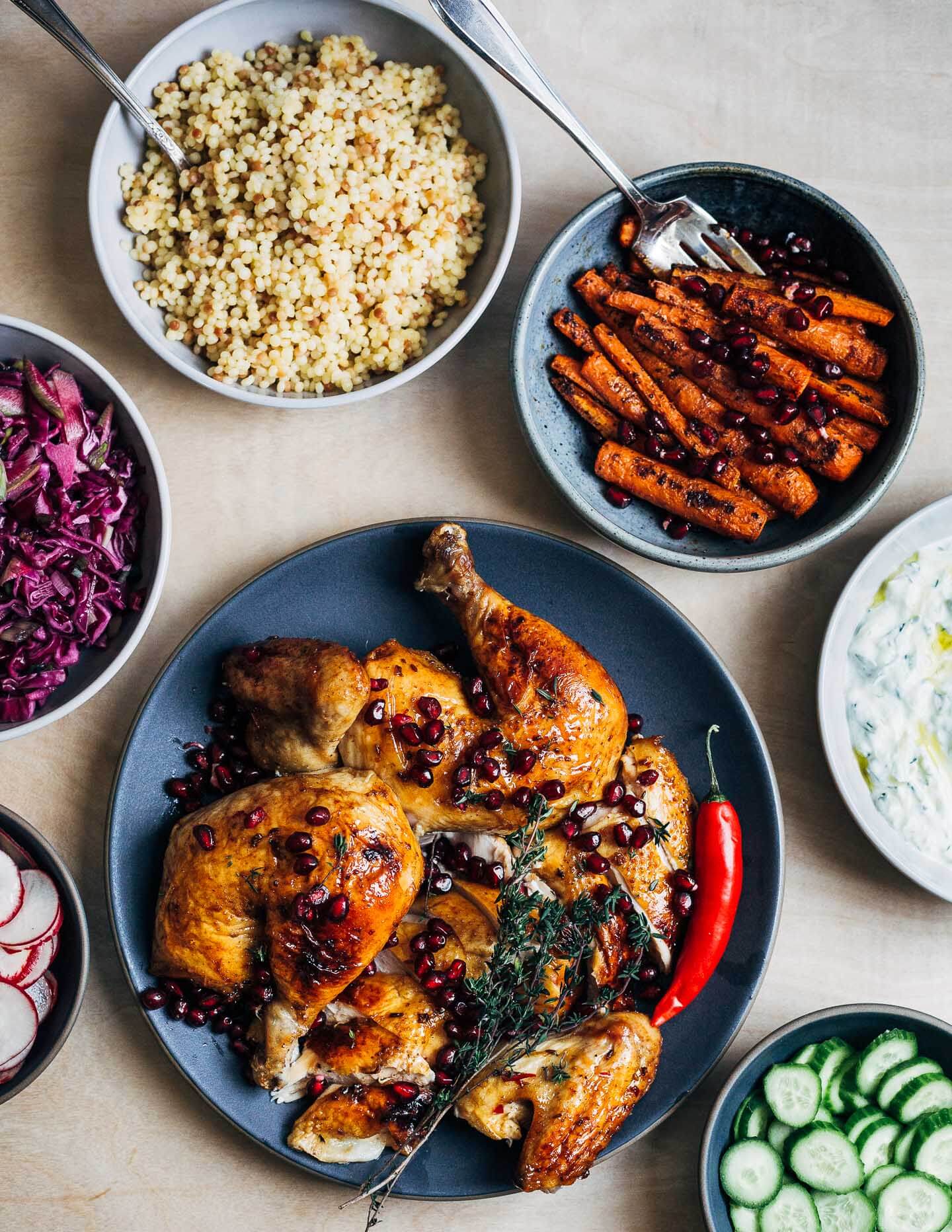 I'm unaccustomed to holiday calm. The usual tempo in my house this time of year careens from frantic to hysterical. This year's different, and the frenetic pace and frazzled nerves of Christmases past are nowhere to be found.
Instead, we're taking our time with the holiday. Spacing out projects and traditions and enjoying the extra time as best we can.
Slower days have also given us more time for holiday cooking and baking. Brian and I have been delighting in planning our Christmas menu over the past weeks, and now I think we have a winner – pomegranate-glazed roasted chicken. This whole roast chicken begins with a dry rub of garlic, fresh chilies, allspice, cumin, and sea salt; it's glazed with pomegranate molasses as it roasts to a beautiful golden hue. The chicken is served with fresh pomegranate arils and fresh thyme. Alongside the deeply flavorful roasted chicken, we have nutty toasted pearl couscous, warm flatbreads, tzatziki, a red cabbage salad, and roasted carrots. I love the mix of jewel tones, seasonal ingredients, and sumptuous flavors – perfect for a holiday feast.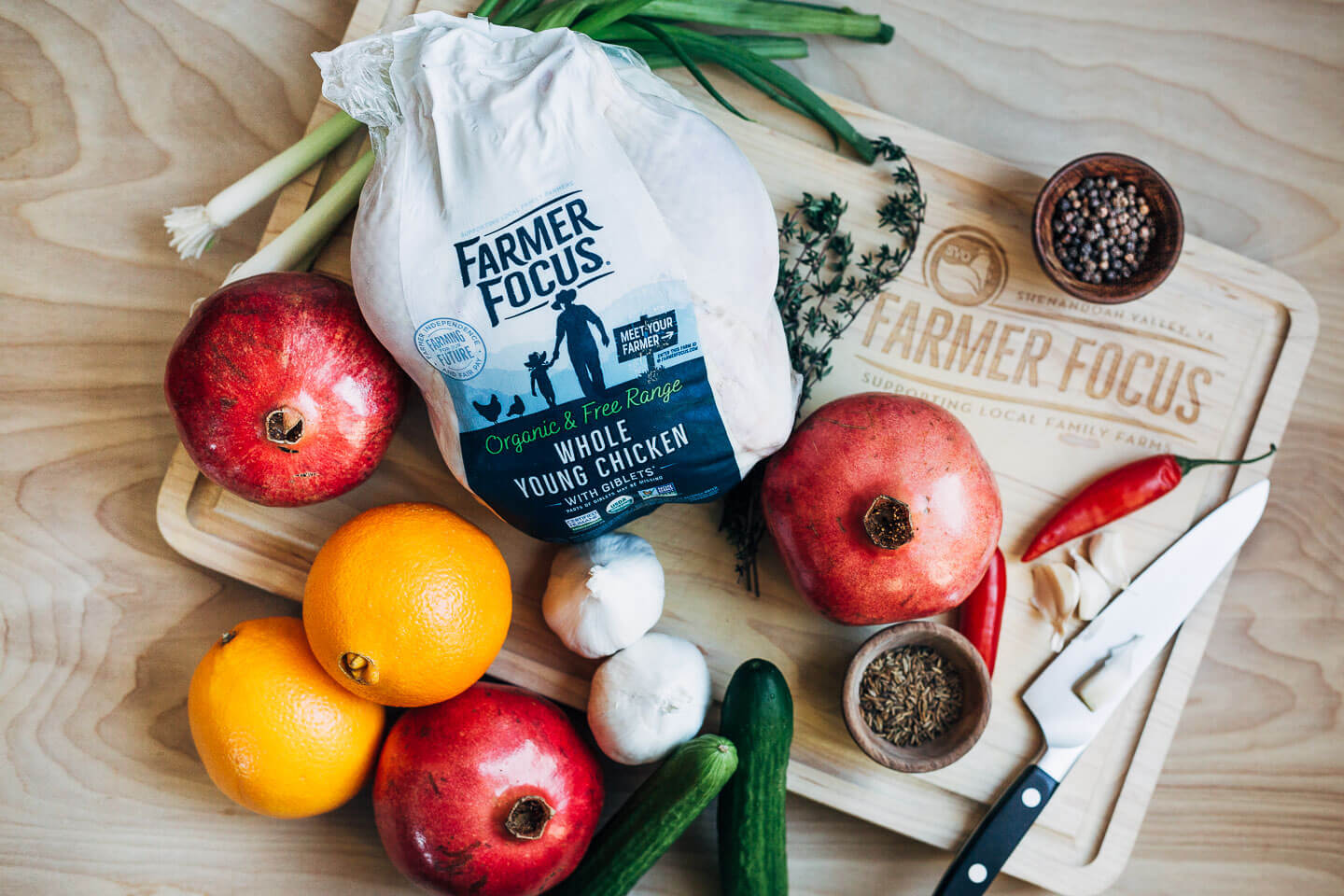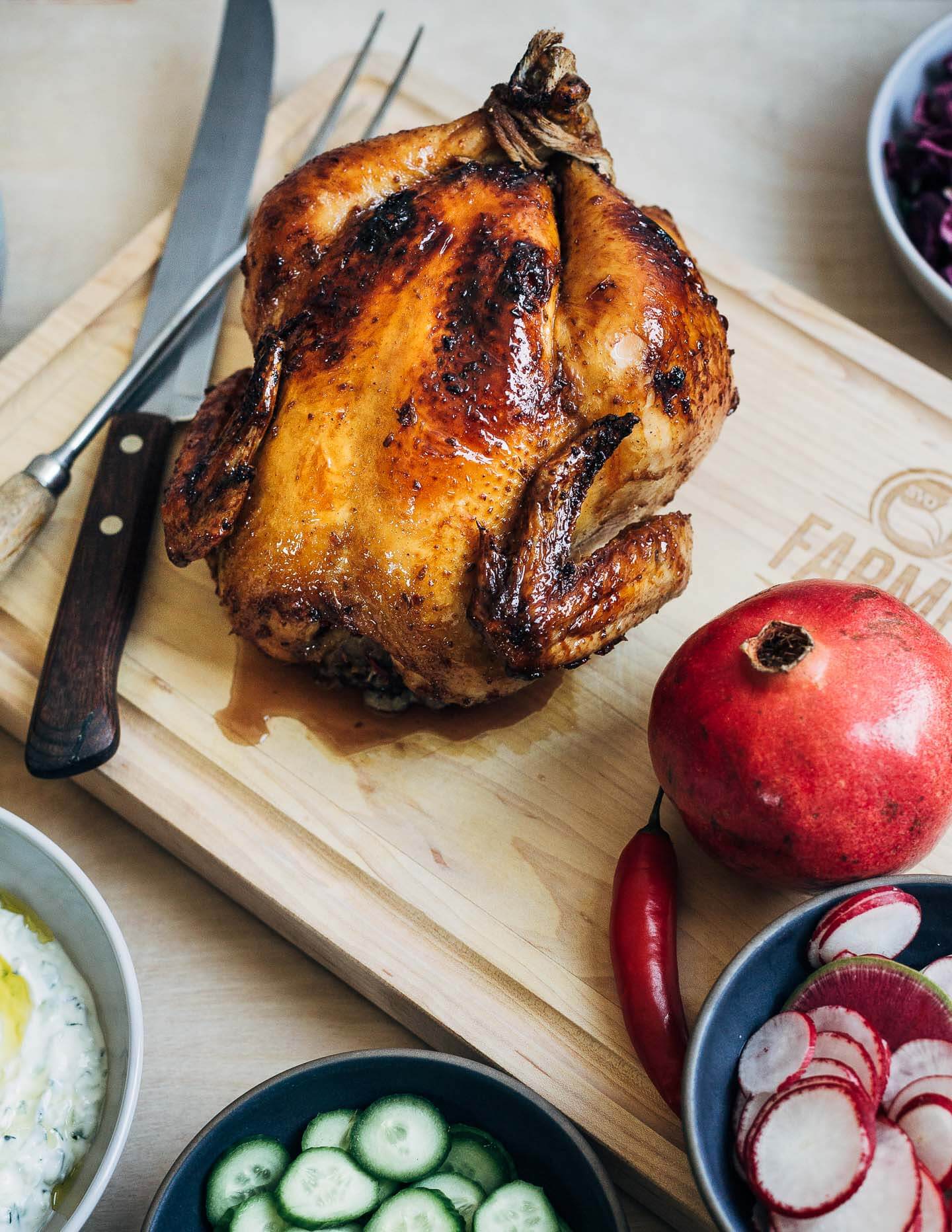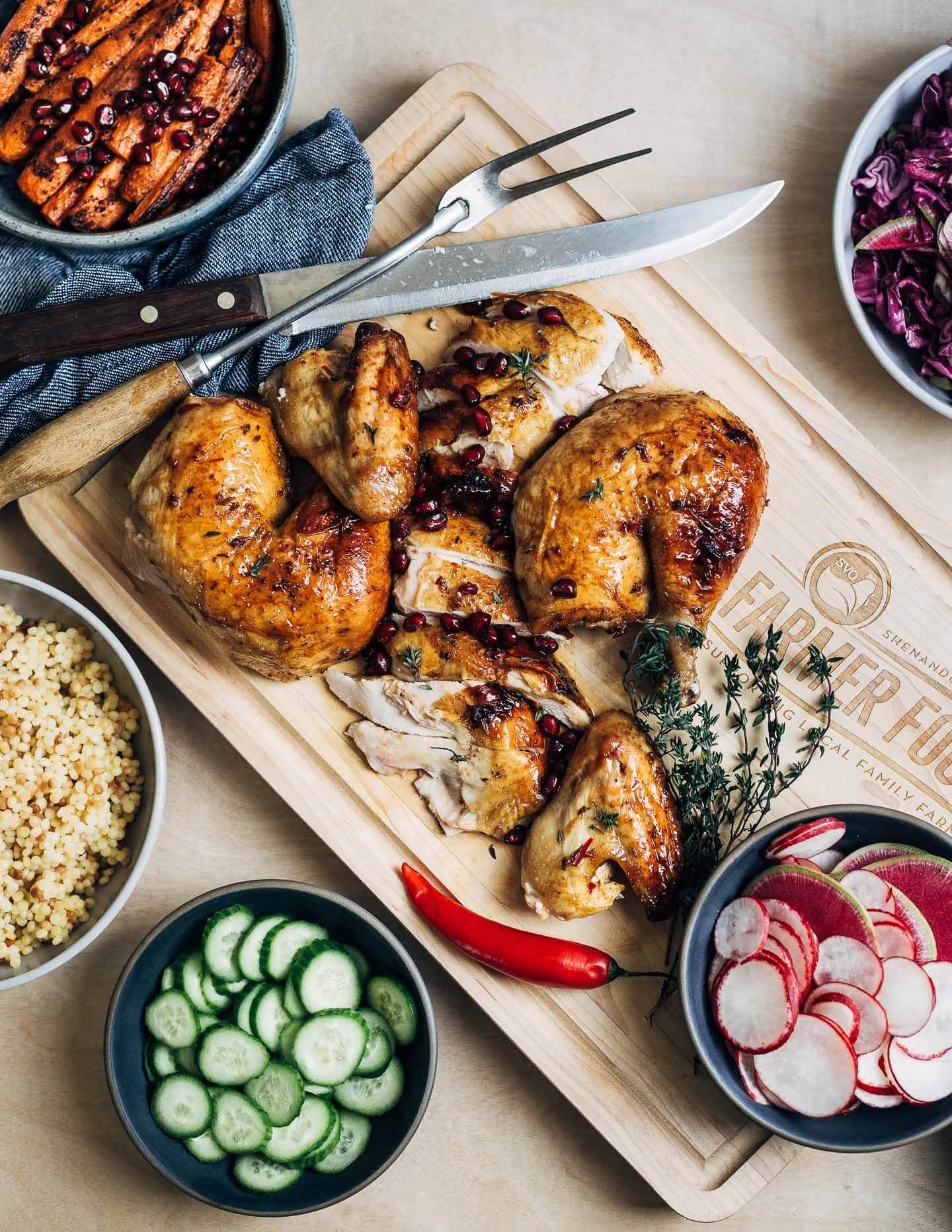 This meal brings together seasonal ingredients that come from further afield, like pomegranates and cucumbers, with ingredients sourced closer to home, like carrots, cabbage, thyme, and Farmer Focus chicken. Farmer Focus chicken is raised on family farms located throughout the Shenandoah Valley. They're a longtime partner of mine and I'm lucky to have visited their partner farms on a couple occasions. As their name suggests, Farmer Focus chicken puts farmers first. Partner farmers own their chicken and their farms and are compensated at rates well above industry standards. Farmer Focus works closely with farmers to ensure high-quality feed and better conditions for their chicken.
I love this farmer-centered approach and the fact that Farmer Focus backs their commitment to quality up with measurable standards. Farmer Focus chicken is Certified Organic, Certified Humane, and has a Step 3 Global Animal Partnership rating. And now, Farmer Focus is widely available! Find it online or at a retailer near you right here.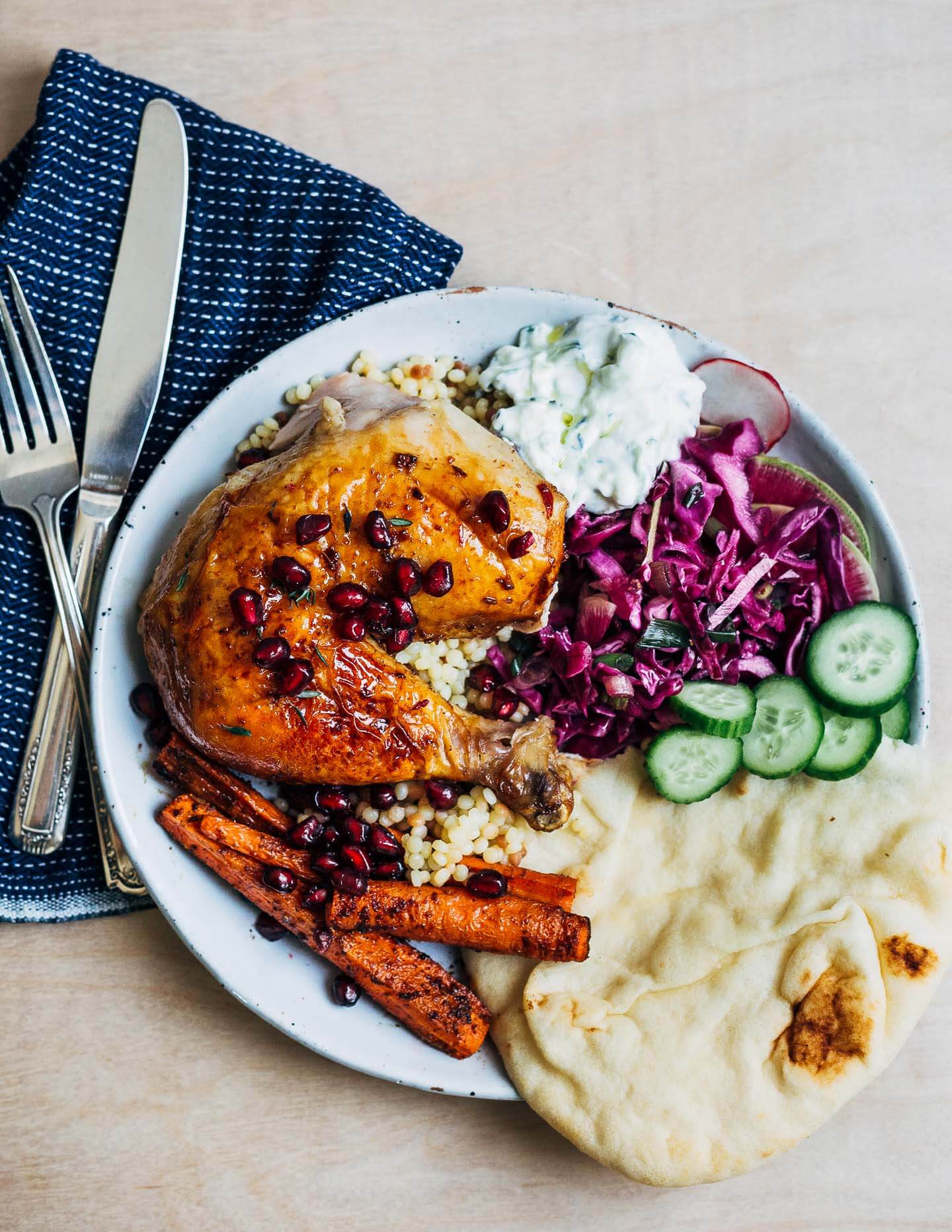 Making a Great Whole Roast Chicken
For best results pat dry, inside and out, and season the chicken at least 12 hours ahead of time. This gives the aromatics and spices time to fully absorb into the meat and makes for a more flavorful roasted chicken with nicely crisped skin.
Menu for a Christmas Feast
The sides you serve alongside are totally optional, but I went with toasted couscous, roasted carrots, warm flatbreads, tzatziki, and a cabbage and lime slaw.
Pomegranate-Glazed Roast Chicken
Make a Christmas feast to remember with this sumptuously flavored pomegranate-glazed roasted chicken and a host of colorful sides.
Keyword:
Pomegranate-Glazed Roast Chicken
Ingredients
Chicken
1 3 - 4

pound

Farmer Focus Whole Young Chicken

4

cloves

garlic,

peeled and smashed

1

teaspoon

cumin seed

1/4

teaspoon

ground allspice

1/2

teaspoon

fresh ground black pepper

1 - 2

red chilies,

minced

3

teaspoons

sea salt

1

tablespoon

extra virgin olive oil

3

tablespoons

pomegranate molasses
To serve
1

cup

pomegranate arils

2

tablespoons

fresh thyme
Instructions
The night before, or at least 2 hours ahead of time, make the dry rub. With a mortar and pestle, smash the garlic, cumin, allspice, and black pepper into a thick paste. Set the chicken in a pan and blot dry inside the cavity and all over the skin with paper towels. Rub a third of the sea salt, a third of the seasoning mixture, and a third of the minced chilies over the back of the chicken, focusing on the thighs and wings. Flip the bird and rub the remaining salt, seasoning, and chilies into the skin. Refrigerate uncovered.

When ready to roast the chicken, preheat oven to 425 degrees F. Swipe any large bits of the spice mixture from the breast and legs, since they may burn in the oven. Set the chicken back side down on a rack in a roasting pan and brush all over with olive oil. Let the chicken come to room temperature while the oven heats.

Roast chicken for 20 minutes, but check after 15. Once chicken is nice and golden, turn heat down to 350 degrees F and set a timer for 20 minutes. Pull chicken, brush with pomegranate molasses (take time to brush the sides of the bird too; no need to flip it, though). Roast another 15 - 25 minutes, or until an instant read thermometer inserted between the breast and thigh reads 165 degrees F. If the skin gets too dark, tent very loosely with foil.

Set chicken on a cutting board to rest for 10 - 15 minutes, then carve.

Top with pomegranate arils and fresh thyme leaves, and serve alongside your choice of sides.