Savory crepes with mushrooms, leafy greens, and garlic make for a lovely spring-inspired vegetarian meal. Made with all-purpose flour, these savory crepes are surprisingly easy to make and cook up quickly. The options for filling your savory crepes are nearly endless.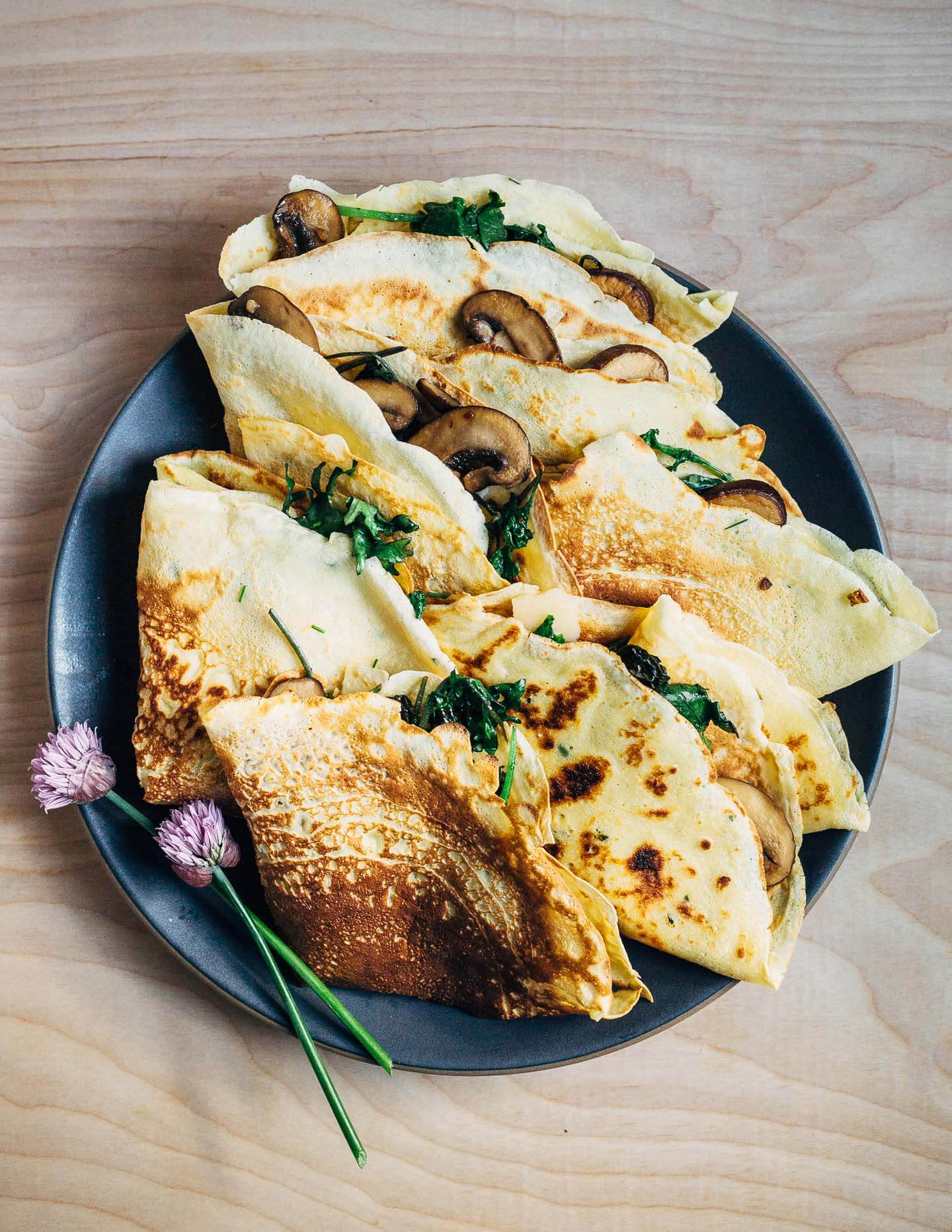 Homemade Crepes: Easy to Make
Here's the thing about crepes: they are no big deal to make. I don't know where the idea came from that they are hard or fussy and require some kind of innate Frenchness to make them, but it's all absolutely untrue. In fact, I find crepes to be simple to make and exceedingly forgiving.
I'd been planning to share (yet another) pasta recipe here, but out of the blue felt a calling to make crepes. This deep in the quarantine, odds are you've eaten a lot of pasta, but aren't even close to hitting your crepe quota yet. The batter is simple: just flour, eggs, milk, butter, and salt. Crepes can be sweet or savory, and filled with endless combinations of vegetables, cheeses, or meats.
Savory Crepes: So Many Filling Options
Traditional savory crepes are usually made with buckwheat flour, but in the interest of focusing on things likely to be in your pantry, I've stuck with all-purpose. Traditional fillings include a combination of mushrooms, leeks, caramelized onions, spinach, ham, eggs, and Gruyere. Untraditional fillings include any kind of cheese, any kind of sautéed greens or brassicas, fresh herbs, sausage, sauerkraut, pesto, pickles, peppers, roasted garlic, or whatever else sounds delicious.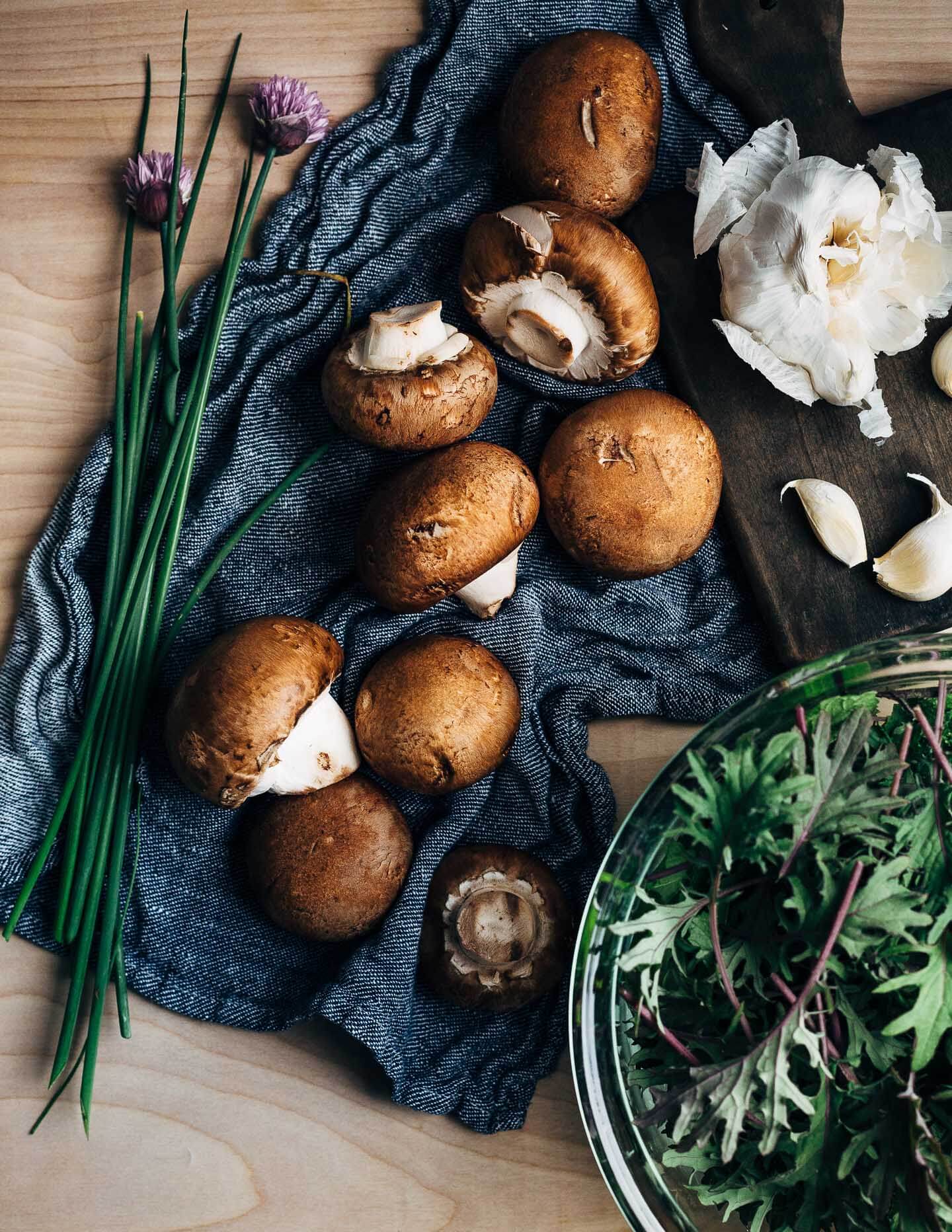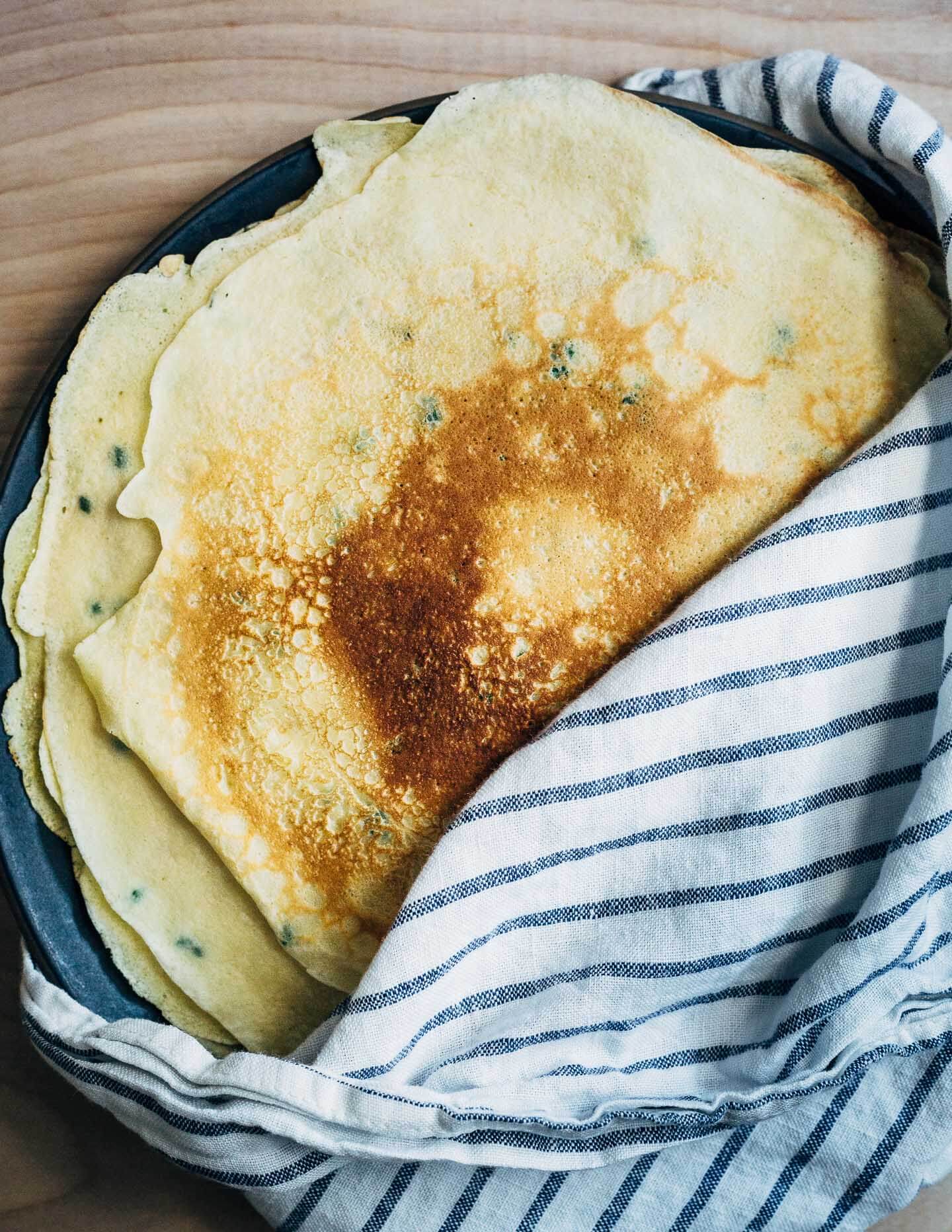 These savory crepes have chives swirled into the batter and are filled with Parmesan, garlicky sautéed mushrooms and spicy garden greens. (The greens – kale, turnip and mustard greens – are the early results of a sustenance garden I panic-planted a little more than a month ago.) I served the crepes alongside sautéed asparagus and a big green salad, and it made for a really nice spring meal. Simple, flavorful, and beautifully of the moment – pandemic or no.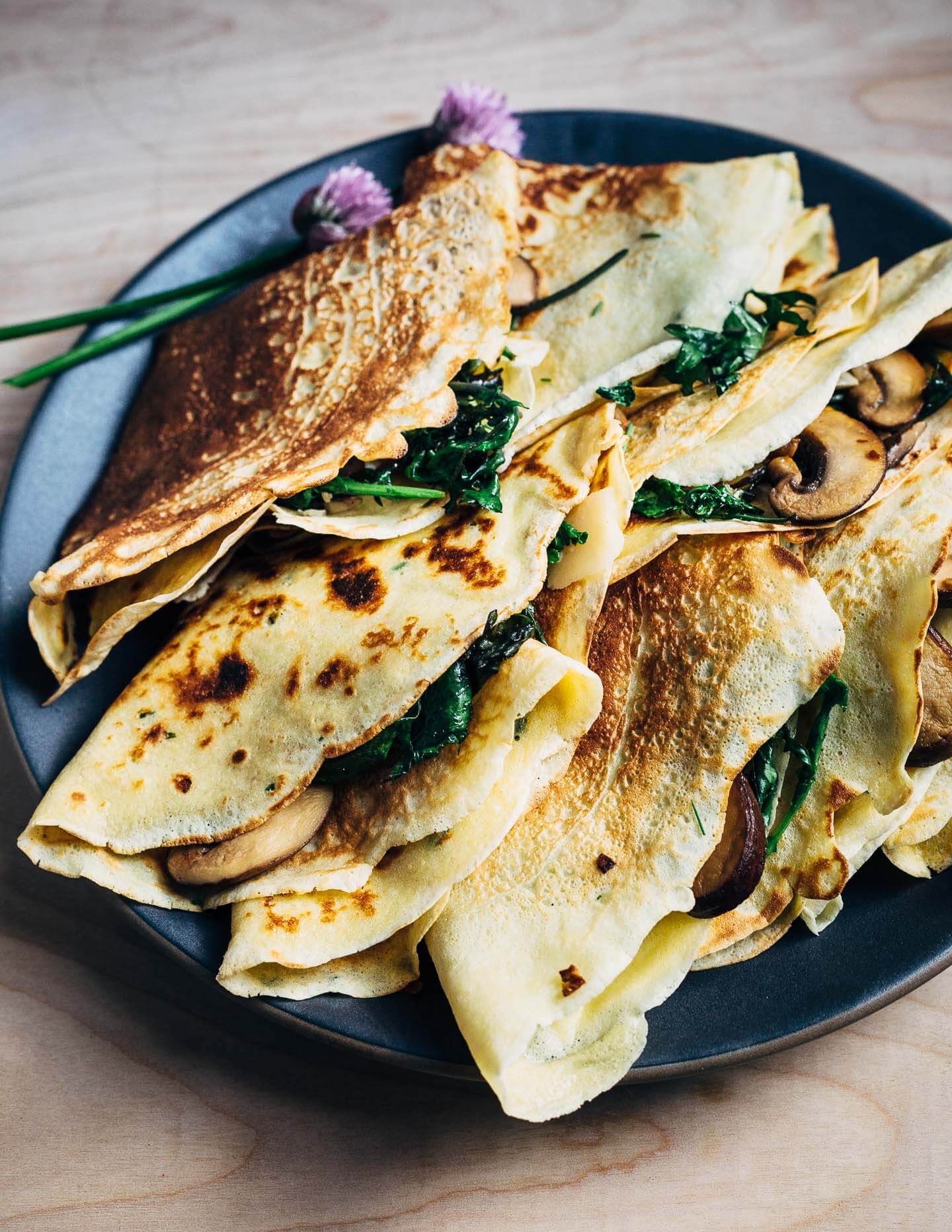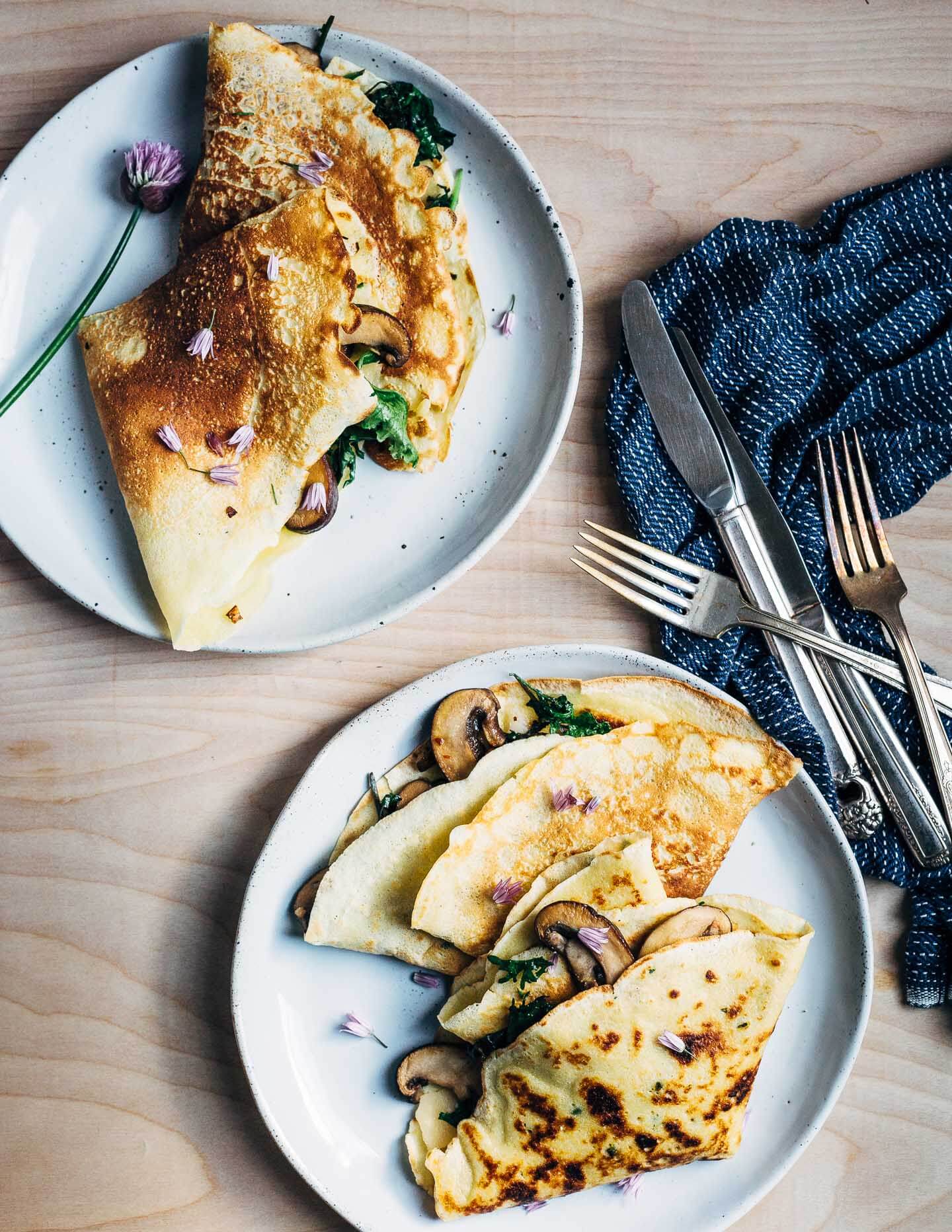 Cooking Crepes: The Basics
A non-stick or carbon steel pan is ideal, but a quality stainless or cast iron skillet will do just fine. The secret is to have the pan fully heated (over medium heat). Lightly oil the pan, then, working quickly, drizzle the batter in a circle. Pick up the pan, using hot pads as needed, and tilt the pan so that batter spreads out to form a 10 – 12-inch circle. When the crepe is ready to be flipped, it will start to pull up along the edges. Flip the crepe, either with a large spatula or a flat or offset crepe turner. Cook the second side just until golden. It may take a couple of crepes to get the hang of it, but I promise that it's no harder than making pancakes.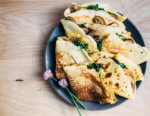 Savory Crepes with Mushrooms and Greens
Vegetarian savory crepes with mushrooms, garden greens, and garlic capture the flavors of spring. Made with all-purpose flour, these savory crepes are surprisingly easy to make and cook up quickly. And the options for filling your savory crepes are nearly endless.
Ingredients
Batter
4

tablespoons

butter,

melted and cooled slightly

6

eggs

2

cups

whole milk

2

cups

all-purpose flour

Heaping 1/4 teaspoon sea salt

2

tablespoons

minced chives,

or whatever herb you have on hand

Neutral oil for cooking
Filling
Extra virgin olive oil

8

ounces

mushrooms,

wiped clean, stems removed, and sliced 1/4-inch thick

Sea salt

4

cloves

garlic,

smashed, peeled, and minced, divided

2

cups

greens,

I used a mix of young kale, mustard and turnip greens

4

ounces

Parmesan cheese,

shredded or sliced paper thin
Instructions
To make the batter, melt butter and set aside to cool. Break eggs in a large mixing bowl. Whisk in milk, flour, and sea salt. Beat batter until it's uniform, pale, and frothy. Stir in chives (or other herbs) and cooled butter, and then set in the fridge to chill for at least 20 minutes.

When ready to make the crepes, be sure to have all of your filling ingredients prepped and ready. Set a 12-inch skillet over medium heat. Add a drizzle of olive oil and a handful of sliced mushrooms; sprinkle with sea salt. Cook until mushrooms are tender with golden edges, about 5 minutes. About a minute before you remove mushrooms from the pan, add 1/2 teaspoon minced garlic and stir. Remove from skillet, and repeat for remaining mushrooms (adding more oil as needed).

Scrape the pan clean, add another drizzle of oil and the greens. Sauté 2 - 3 minutes. Just as greens begin to wilt, fold in the remaining garlic (about 1 teaspoon) and sprinkle with sea salt. Spoons greens into a bowl and set aside.

While cooking the filling ingredients, cook the crepes in another skillet. Heat a 12-inch non-stick, carbon steel, stainless, or cast iron skillet over medium heat for 4 minutes. When skillet is fully heated, wipe skillet with a thin layer of oil. Working quickly, drizzle about 1/4 cup batter in the center of the pan. Then, using hot pads as needed, pick up the pan and tilt so that batter runs out to form a 10 - 12-inch circle. Cook undisturbed about 2 minutes, or until the crepes have tiny bubbles all over and the edges begin to pull up from the pan. Use a large, flat spatula or crepe turner to flip the crepe, and then cook just until golden about 1 - 2 minutes longer.

Remove cooked crepes to a large plate and keep covered with a kitchen towel.

If eating crepes right away, add a sprinkle of cheese, mushrooms and greens to a quarter of the circle just after it's been flipped. Cook 1 minute, then fold crepe in half, then half again, to make a little triangle. Serve right away, or keep on a platter in a warm oven.

Crepes can also be made ahead. Cover the cooked crepe stack with a kitchen towel and wrap loosely in plastic. When ready to heat, warm crepes one at a time in a skillet over medium heat. Add cheese and other fillings as detailed above.