Caramelized Brussels sprout and cabbage pasta with crispy panko and parsley is a wonderful way to counter the February gloom. It's versatile, weeknight-friendly, and quite delicious.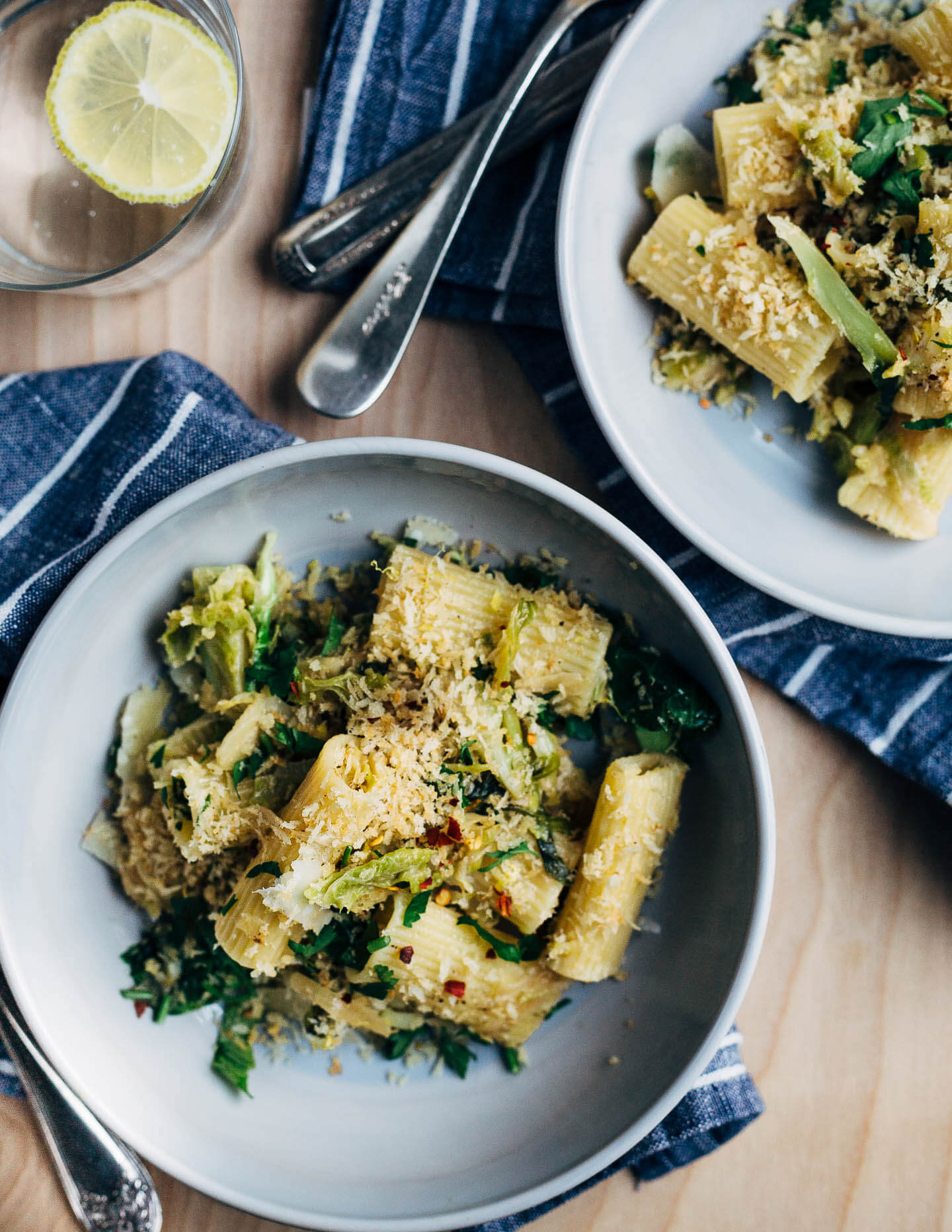 Here in Charlottesville, the winter's been a mild one. I slept with the windows cracked last night and fell asleep dreaming of all the greens I'm going to go ahead and plant in my garden this weekend. (I can always cover the crops if a cold snap strikes.)
Tender greens and open windows aside, the early spring also arouses a sense of foreboding. Is this the new normal? Spring blooms on Groundhog Day? Climate change is sewing chaos and it's frightening. (And clearly whatever small changes are happening in my backyard, there are catastrophic changes happening in Australia and many other places right now.)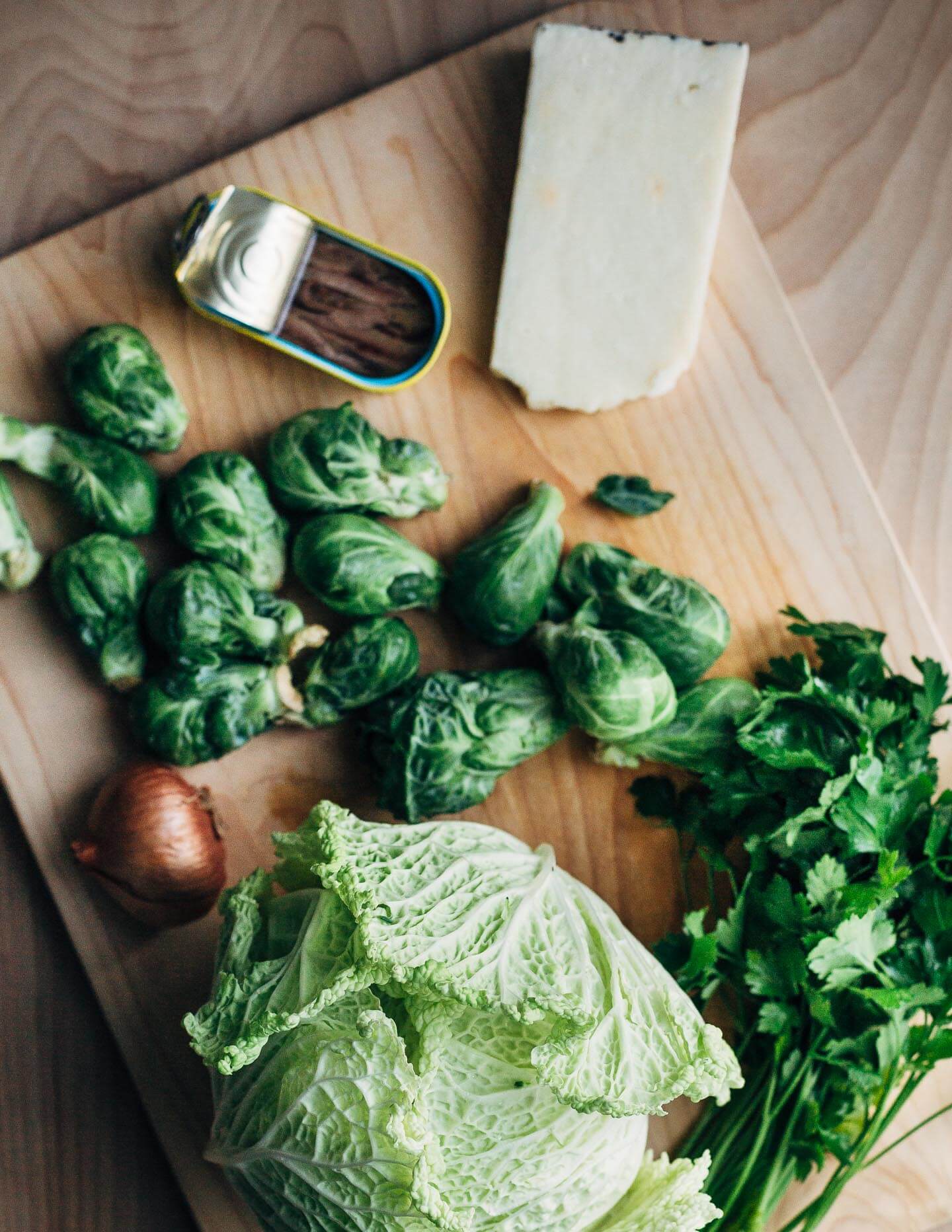 Taking Action
If you've noticed this site hasn't been as active as usual, that's because I've been doing another kind of work on the side. The Virginia legislature is in session for two short months in Richmond and I've been traveling there to organize and lobby around the issues I care about most. I've been speaking with my legislators and sitting in on committee hearings and rallying outside the Capitol. It's exhausting work, but it's also incredibly empowering to dig in and figure out how this stuff works. I do all this hoping they'll pass legislation that leads to real change, including the Virginia Green New Deal and a host of other bills related to halting climate change.
Turning my helpless/hopelessness into action has been personally transformative. If you feel the same but aren't sure where to start, team up with local organizations and get to know your local government. Go to the meeting of your city or county's governing body. Meet with state reps. Government is opaque by design and there's a huge learning curve, but now that I'm plugged in, I see very clearly all the ways I can effect change and make a difference. (Many of these local meeting are livestreamed, too. That's a great way to get informed even if you can't spend long hours at meetings.) Here's to making a better world, one meeting at a time.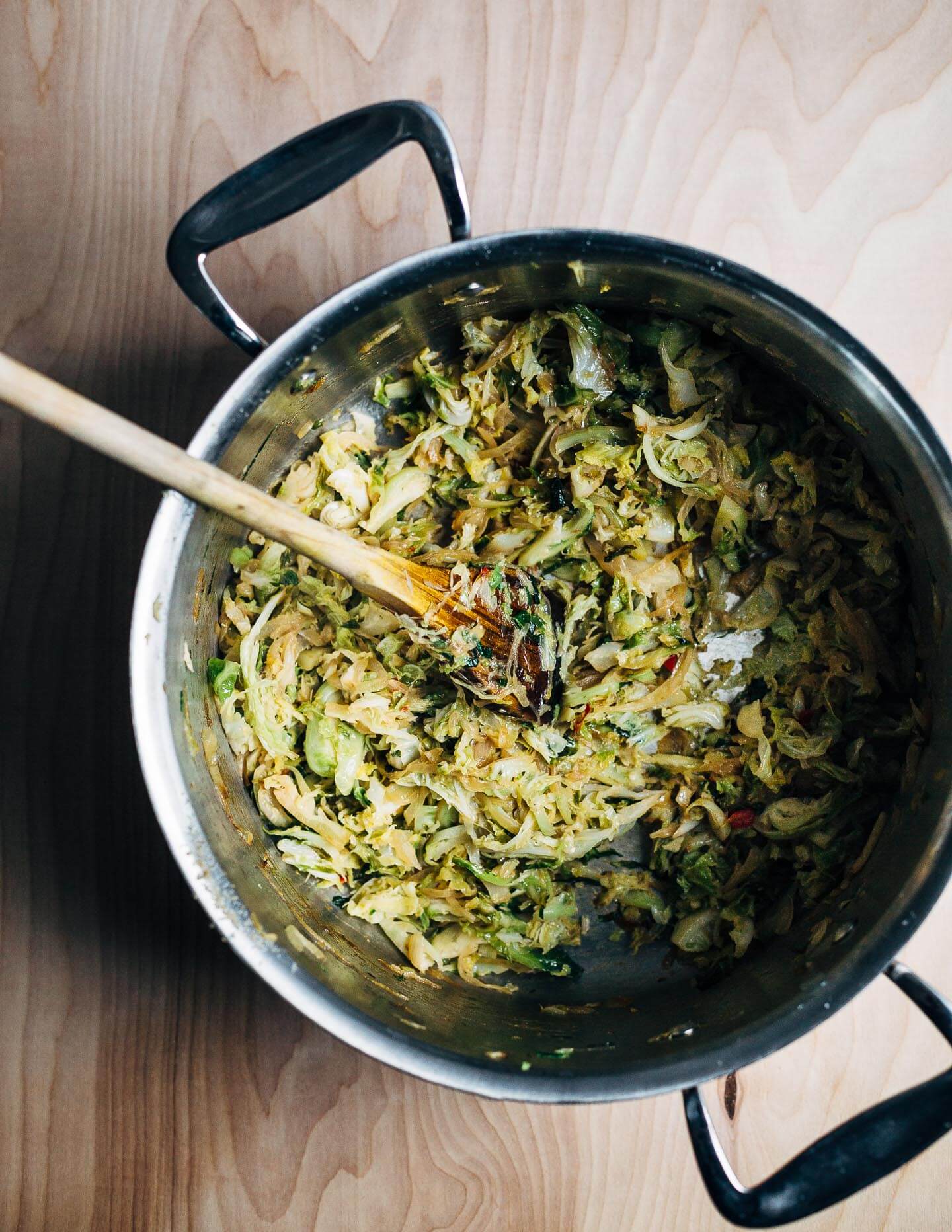 A Versatile Dish for Weeknights
Now, about this Brussels sprout and cabbage pasta.
Even with the warmer temperatures, the busier days, I still crave the foods that usually get me through February's gloom. I love the comfort of a really good pasta dish – especially one that comes together quickly. This Brussels sprout and cabbage pasta is layered with caramelized vegetables, anchovies, Pecorino, and crispy panko. Cutting through the richness are fresh Fresno chilies and literal handfuls of parsley.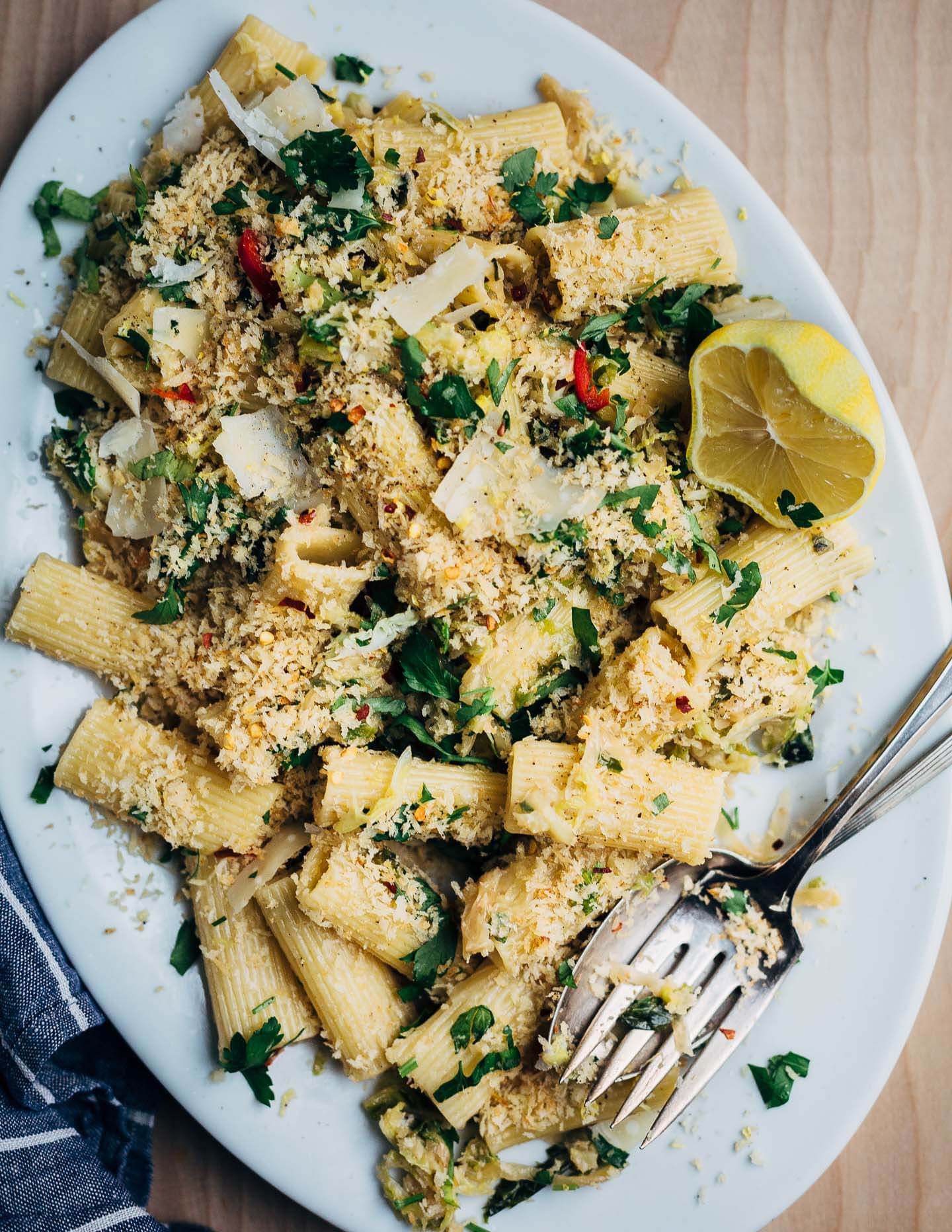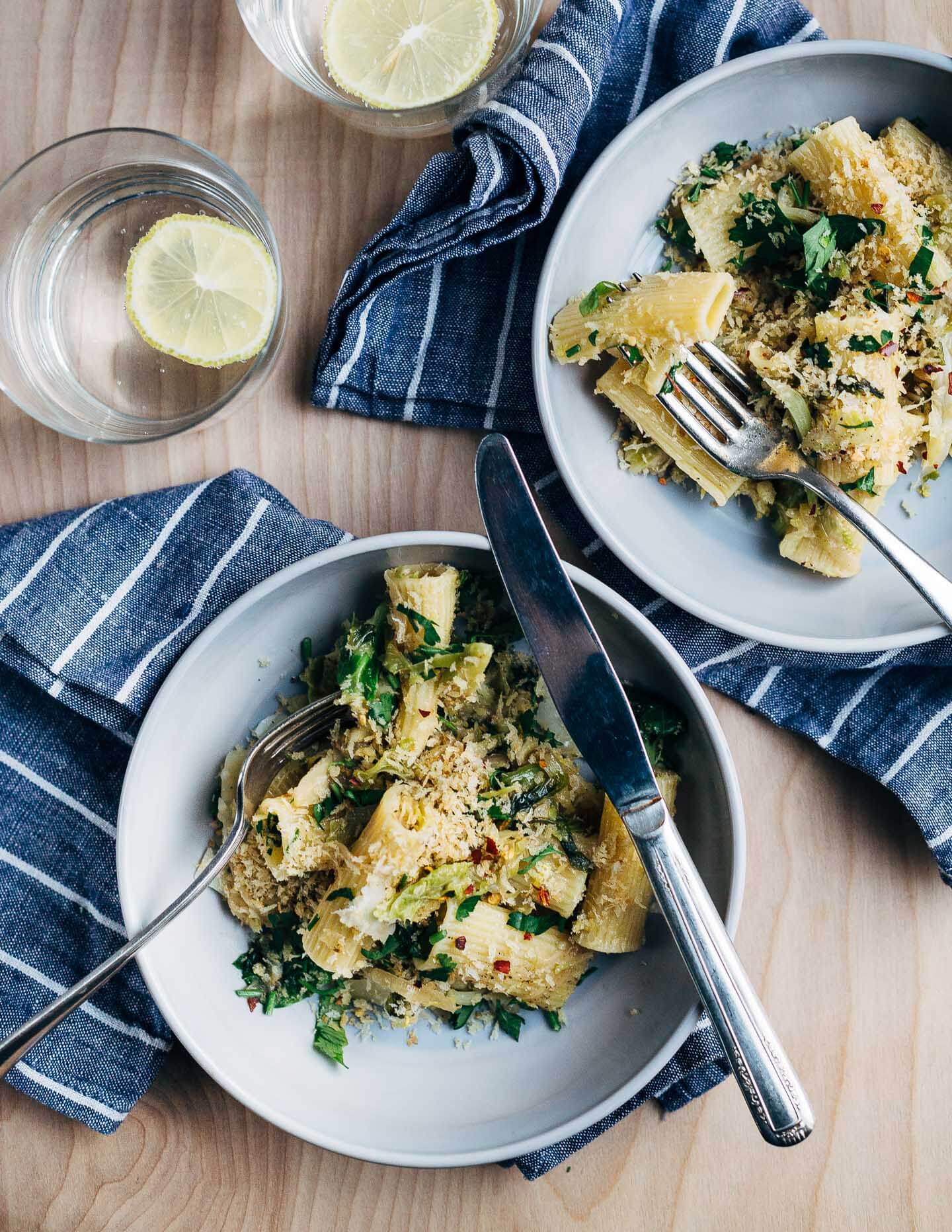 It's the kind of meal you can make for a quick weeknight dinner. It's perfect with a zippy salad alongside and maybe a bright white wine to complement the richness. It's also incredibly versatile – most any brassica will do in place of the cabbage and sprouts and any assortment of seasonal herbs would be delicious.
Caramelized Brussels Sprout and Cabbage Pasta with Panko and Herbs
Caramelized Brussels sprout and cabbage pasta with crispy panko and parsley is a wonderful way to counter the February gloom. It's versatile, weeknight-friendly, and quite delicious.

Adapted from Melissa Clark via The New York Times.

Ingredients
Vegetables
6

tablespoons

butter,

divided

1

cup

panko breadcrumbs

Sea salt

Pepper

1

medium yellow onion,

sliced thin

5

cloves

garlic,

smashed, peeled, and minced, divided

4 - 8

oil-packed anchovy fillets,

chopped

1/2 - 1

hot chili such as Fresno or Thai Bird's Eye,

seeded and sliced thin

1/2

medium head green cabbage,

sliced into thin ribbons (about 4 cups sliced)

1/2

pound

Brussels sprouts,

ends trimmed and sliced thin (about 2 cups sliced)
Pasta
1

pound

rigatoni or other large shaped pasta

Sea salt
To Assemble
4

ounces

Pecorino or Parmesan,

coarsely grated

1/2

cup

chopped parsley,

stems and all

Pepper to taste

Red pepper flakes to taste
Instructions
Heat 2 tablespoons butter in a large, deep-sided pot over medium heat. Add 1 clove garlic and the panko, and sprinkle with sea salt and pepper. Toast, stirring often, until panko is a light golden hue. Scrape out of pot and set aside.

To the same pot, add the remaining 4 tablespoons butter; when melted, stir in the onion, 1/4 teaspoon sea salt and several twists of pepper. Cook onion until tender, about 5 minutes. Fold in garlic, chili, and anchovies, and cook 1 minute more. Add the cabbage and Brussels sprouts in batches, sprinkling with sea salt as you go. Once vegetables have wilted, cook, stirring often, until they're a deep golden hue, 20 - 25 minutes.

Meanwhile, bring a large pot of water to a boil. Add several tablespoons sea salt and cook pasta to al dente. Reserve about 2 cups pasta water, and drain.

Toss cooked pasta with the vegetables. Add cheese and all but 2 tablespoons parsley. Taste and add sea salt or pepper as needed. Drizzle in about a cup pasta water so that things are creamy and a little saucy. Spoon onto a large platter and top with toasted panko, parsley, and a pinch of red peppers flakes. Serve right away.