These irresistibly delicious seeded cheese straws have it all: vivid color, unexpected flavor, buttery texture, and the nutty crunch of your favorite seeds. Mix and match flavors and seeds to create your own!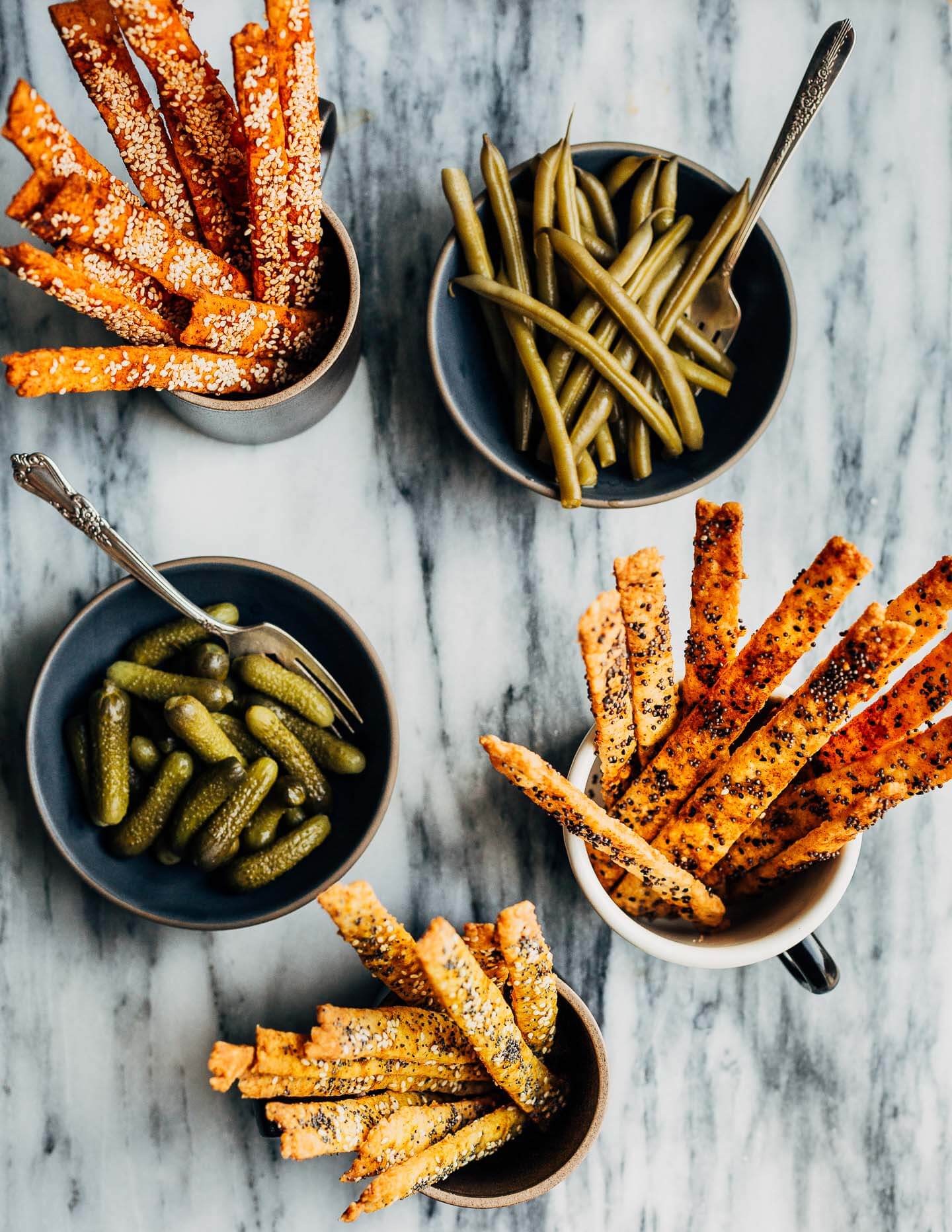 I've often envied families with set holiday menus and traditions. My own family has a much more fluid approach. Our motto seems to be only: be together and make good food.
While the menu for our holiday celebrations is never set, we do like our Christmas Eve fare to be decidedly southern. In the before times, when house guests were common, we'd order half an Edward's Country Ham and have that with buttermilk biscuits and pimento cheese, and set it all out with a big plate of mustards, Duke's mayo, pickles, crackers, cheeses, and of course, cookies. Such an easygoing spread was just the thing for a day when people come and go, as the day shifts from last minute errands and running around, toward friends, family, and real deal Christmas.
Whatever we end up making, these very seeded cheese straws will be a part of the menu. Crowd pleasing cheese straws are a staple of southern holiday celebrations – our own family's beloved Mama E made delicious ones with a big kick of spice. Along with her famous Chex mix, cheese straws were always a highlight of Christmas Eve.
Wonderful as a standalone app, but also nice served alongside a festive stew or braise, these cheese straws are the perfect holiday snack.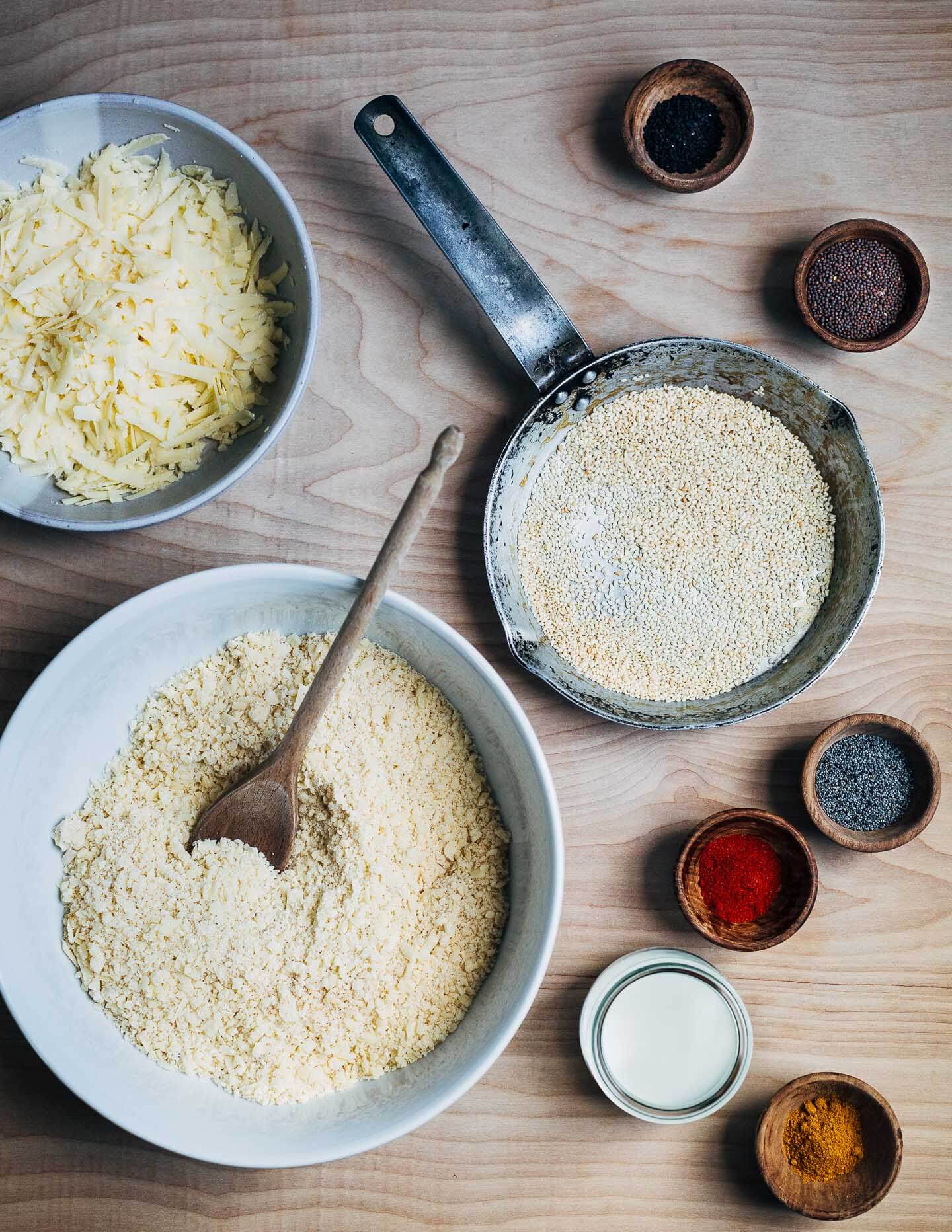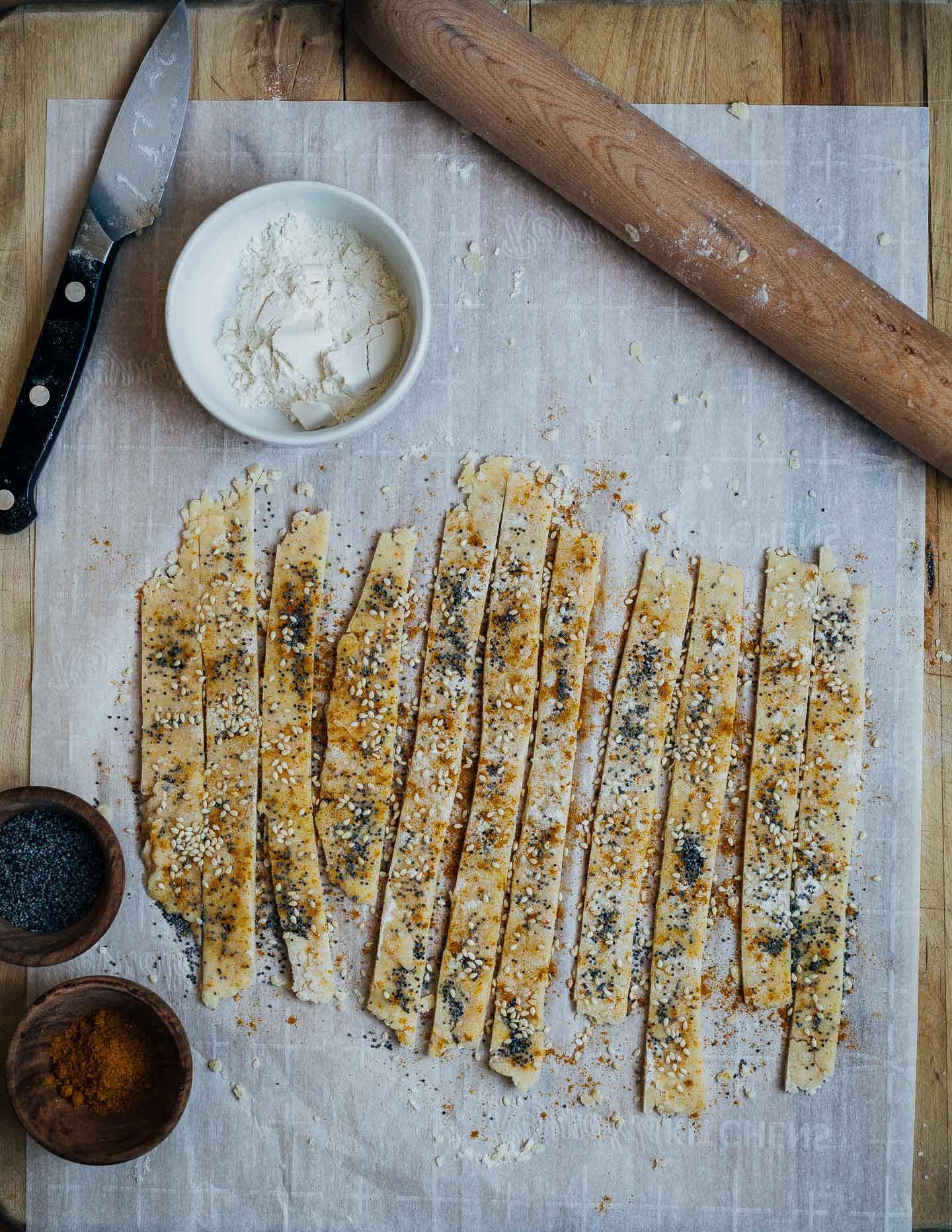 Seeded Cheese Straws: A Playful Spin on the Classic
Seeded cheese straws take the southern classic just a little further, adding layers of flavor and a bit of crunch to the classic snack. I made my cheese straws in three distinct flavors: Poppy seed and sesame with curry powder; nigella and mustard seed with spicy paprika; and sesame and smoked paprika. Each flavor is totally unique and a pleasure to eat.
With the poppy seed and sesame cheese straws with curry powder, it's the fragrant curry powder that hits first, while the seeds lend a nutty finish. The nigella and mustard seed cheese straws are deeply savory with the nigella seeds lending an onion-y pop and the black mustard seeds lending a kick of heat. The sesame and smoked paprika are the simplest of the bunch, and probably hew most closely to the flavor of a traditional cheese straw. But the addition of smoked paprika and lightly toasted sesame seeds give the flavors a playfulness that makes them extra fun to eat.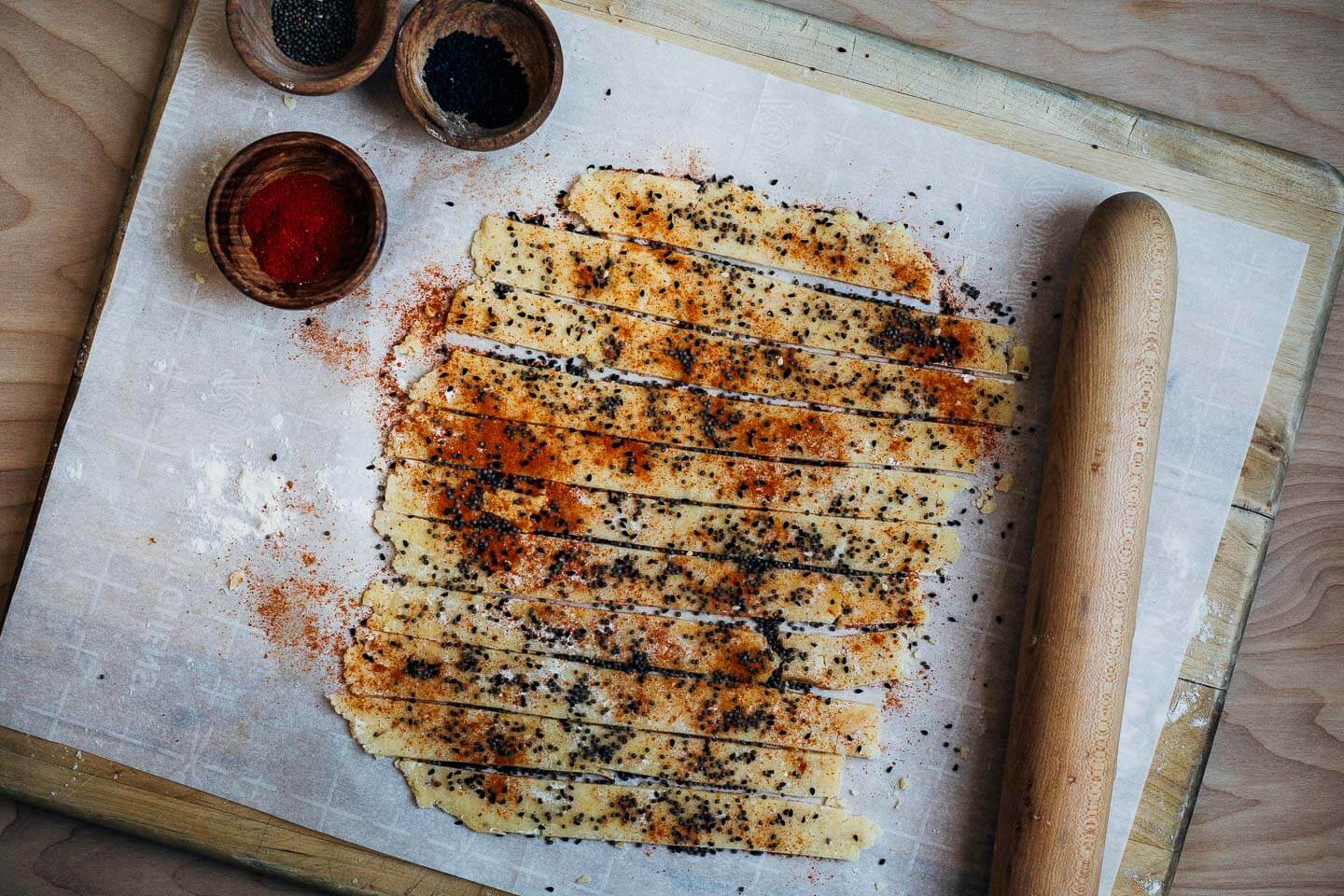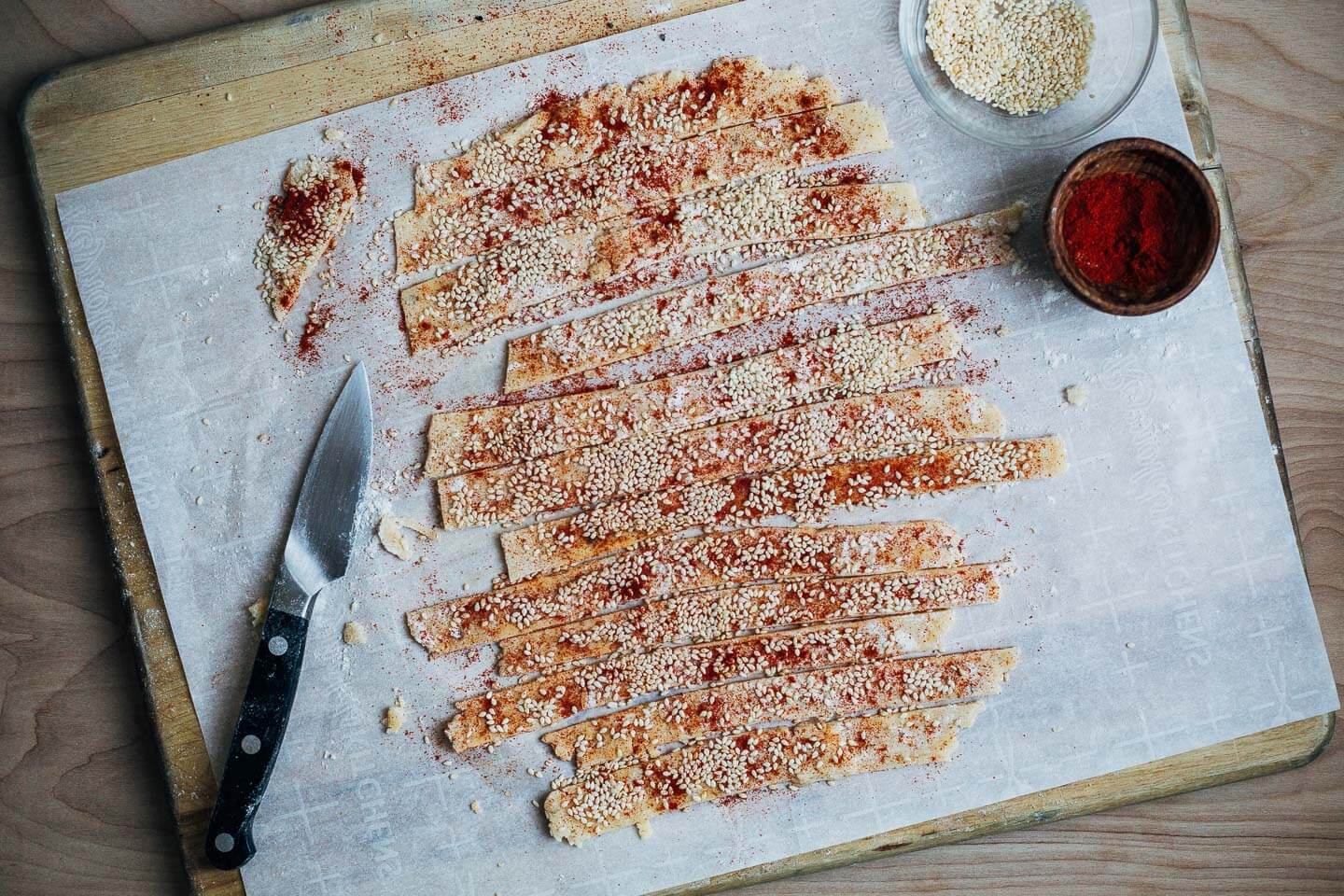 Mix and Match Your Own Flavors
You can make your cheese straws just like I did, or use the flavors above as inspiration to create your own multi-flavored seeded cheese straws. Just make the base cheese straw recipe, and add the seeds and spices to each batch.
Aside from the chia and poppy, the seeds below are best lightly toasted. Since they'll toast further as the cheese straws bake, toast them in a small pan over medium heat, just until they blush with color or turn fragrant. For the mustard seeds, remove from heat as soon as the first couple start to pop, then gently shake the pan to distribute the heat.
Try mixing and matching these seeds:
Poppy seeds
Nigella seeds
Black and White sesame seeds
Black, brown, and yellow mustard seeds
Chia seeds
Cumin seeds
And play with these spices:
Curry powder
Chinese five spice
Ground cumin
Ground coriander
Smoked, sweet and/or spicy paprika
Red pepper flakes
Ground cayenne
Black pepper
Chili powder
Cheese Straw Dough: Surprisingly Forgiving
Cheese straw dough can be a bit crumbly, but it's also very forgiving. If the straws break apart or cracks form, just patch the dough as best you can. Roll the dough out on floured parchment. As you cut the straws, use a bench scraper to make sure the dough isn't sticking underneath, and keep both the scraper and the knife clean and well-floured. Once the straws are cut, gently press the seeds into the dough and dust with the spices of your choice. Use the bench scraper to move a couple straws at a time to the parchment-line baking sheet.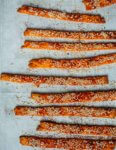 Seeded Cheese Straws
These irresistibly delicious seeded cheese straws have it all: vivid color, unexpected flavor, buttery texture, and the nutty crunch of your favorite seeds. Mix and match flavors and seeds to create your own! Base cheese straw recipe adapted very slightly from The Lee Brothers Southern Cookbook.
Keyword:
cheese straws, seeded cheese straws
Ingredients
Dough
4

ounces

unsalted butter,

room temperature, sliced

3/4

cup

all-purpose flour

4

ounces

good cheddar,

shredded

½

teaspoon

fine sea salt

½

teaspoon

fresh ground black pepper

½

teaspoon

ground cayenne

1 - 1 1/2

tablespoons

whole milk
Nigella and Black Mustard Seed with Spicy Paprika
1

tablespoon

nigella seeds,

lightly toasted

1

tablespoon

black mustard seeds,

lightly toasted

1

teaspoon

spicy paprika
Sesame and Smoked Paprika
2

tablespoons

white sesame seeds,

lightly toasted

1

teaspoon

smoked paprika
Poppy Seed and Sesame with Curry Powder
1

tablespoon

poppy seeds

1

tablespoon

white sesame seeds,

lightly toasted

1

teaspoon

curry powder
Instructions
Working ahead, lightly toast seeds in a small skillet over medium heat. Shaking often, toast just until seeds take on color, become fragrant, and start to pop. Remove from heat and let seeds cool.

In the bowl of a food processor, pulse to combine the butter, flour, cheddar, salt, and spices, just until mixture is uniformly crumbly. Drizzle in 1 tablespoon milk and pulse twice. Pinch mixture: if it holds together easily, it's ready. If it still feels crumbly, add another ½ tablespoon of milk, pulsing once or twice.

Turn out onto a lightly floured surface, and divide dough into 3 sections. Wrap each tightly with plastic wrap and chill for 30 minutes.

Dough can be made ahead and chilled for 3 days; set very cold dough on the counter for 20 minutes before rolling.

When ready to bake, preheat oven to 350 degrees F. Line a baking sheet with parchment.

On a lightly floured surface, roll out one of the dough sections into an 8 x 10-inch rectangle, about ⅛-inch thick. If dough cracks or breaks, just patch the holes with extra dough, pressing it in gently. As you work, use a floured bench scraper or large spatula to make sure dough isn't sticking underneath. With a very sharp, floured knife, parallel to the short side of the dough, cut the straws into ⅓-inch wide strips.

Gently press seeds into the dough and dust with spices.

Working in batches with your bench scraper or spatula, lift straws onto the prepared baking sheet.

Bake until the edges are golden, 12 - 15 minutes. Cool on baking sheet for 5 minutes, then carefully remove to a rack to cool completely. Cooled cheese straws keep in a sealed container at room temperature for up to 3 days.