These vegetarian shiitake mushroom and tahini veggie burgers with a savory sweet red cabbage and carrot slaw, quick-pickles, and beet microgreens are a super flavorful, wonderfully satisfying dinner option.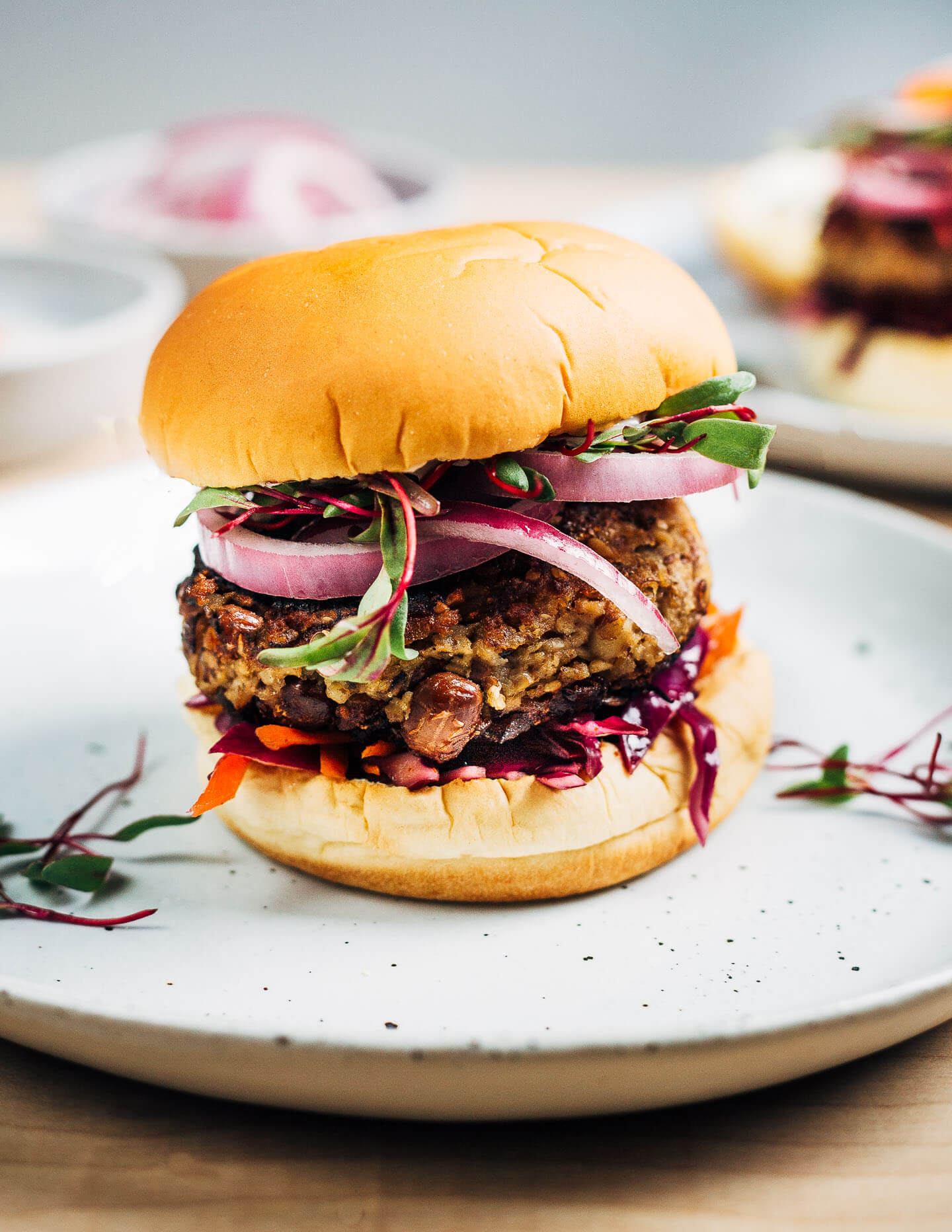 Right now, our neighborhood is dusted with snow and each time the wind howls around our cozy house, snow bursts off the roof and glitters in the bright winter sunlight. This bone-chilling cold is just the kind of winter weather I crave.
And it seems as good a reason as any to make a substantive, comforting dinner. In a sort of resolution, we've cut back our consumption of animal products this year. My older daughter is a pescatarian, and it seemed easy enough to mostly follow her lead. So I've been experimenting with a wider range of vegetarian and pescatarian meals beyond our usual bean and rice burritos.
We've made samosas, ramen, cheesy polenta, and now, homemade tahini veggie burgers.
Tahini Veggies Burgers: Chewy, Toothsome, and Delicious
These burgers aren't meant to approximate the taste of meat; rather, they're meant to taste like what they are: shiitake mushroom, pinto bean, and barley patties with lots of umami punch and just the right amounts of heft and chew. To get the texture right, I also folded quick-soaked sunflower seeds and panko into the mix. But it's the flavor that I really love. These patties get their depth from the shiitake mushrooms, hints of soy and tahini, and sesame seeds, plus favorites like garlic powder and fresh ground cumin seed to round things out.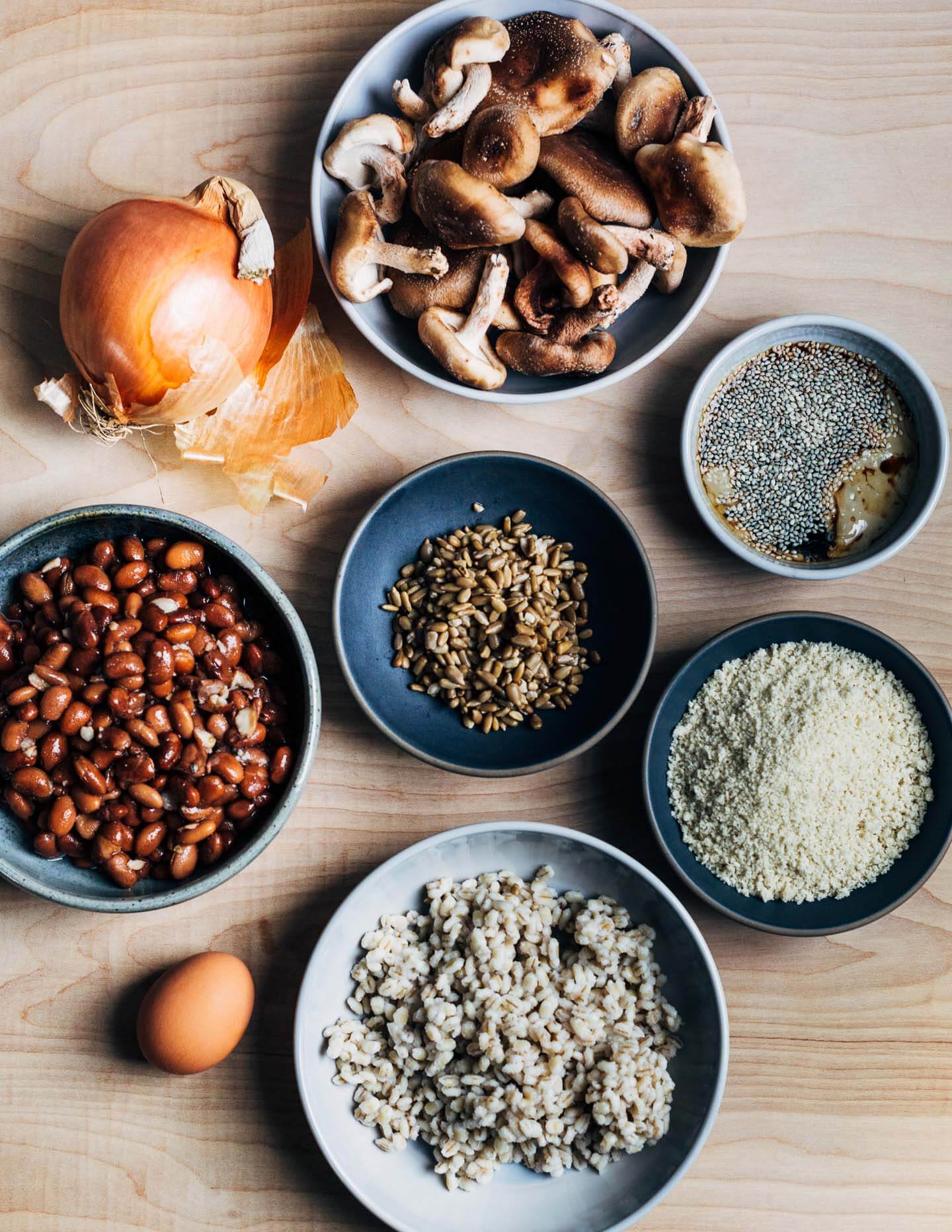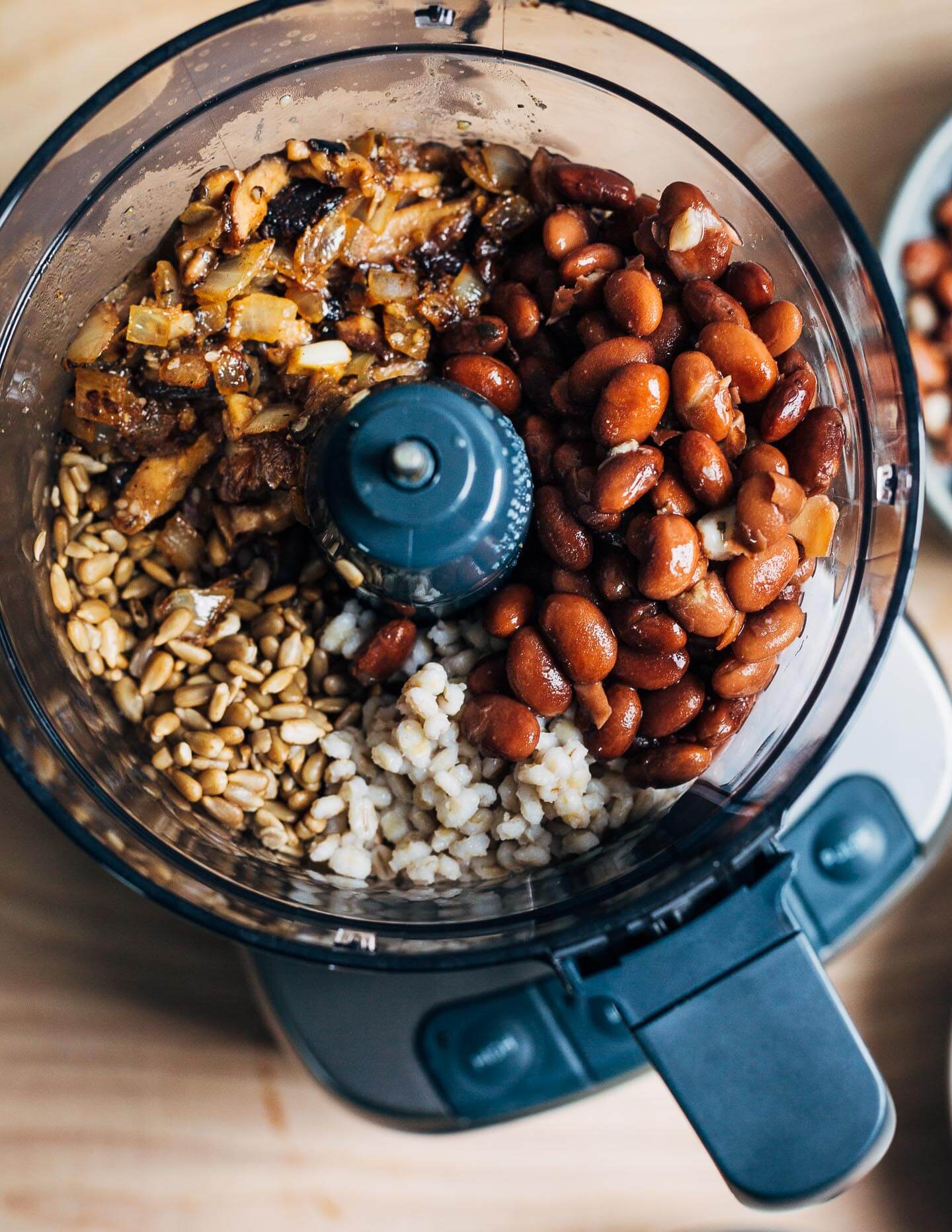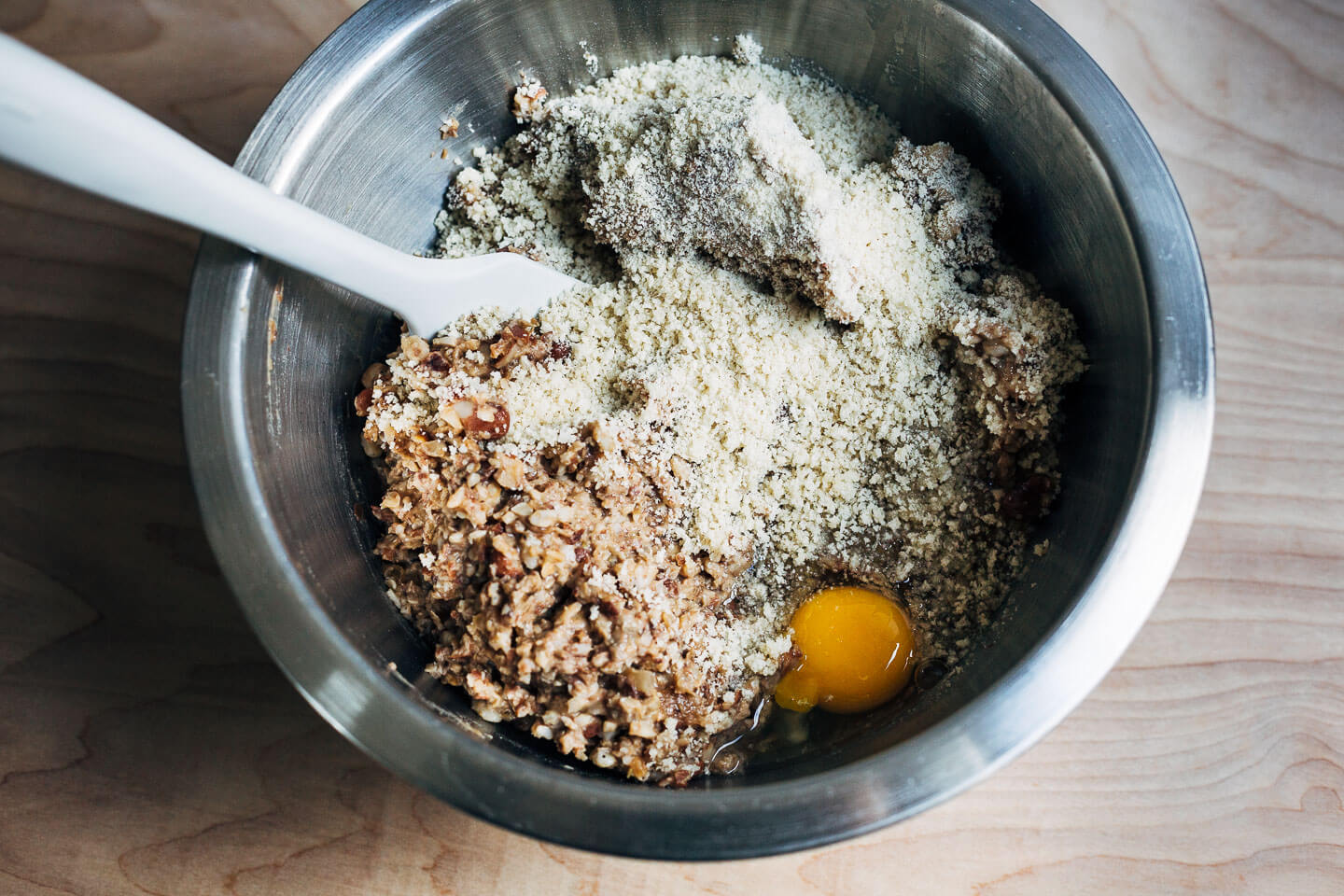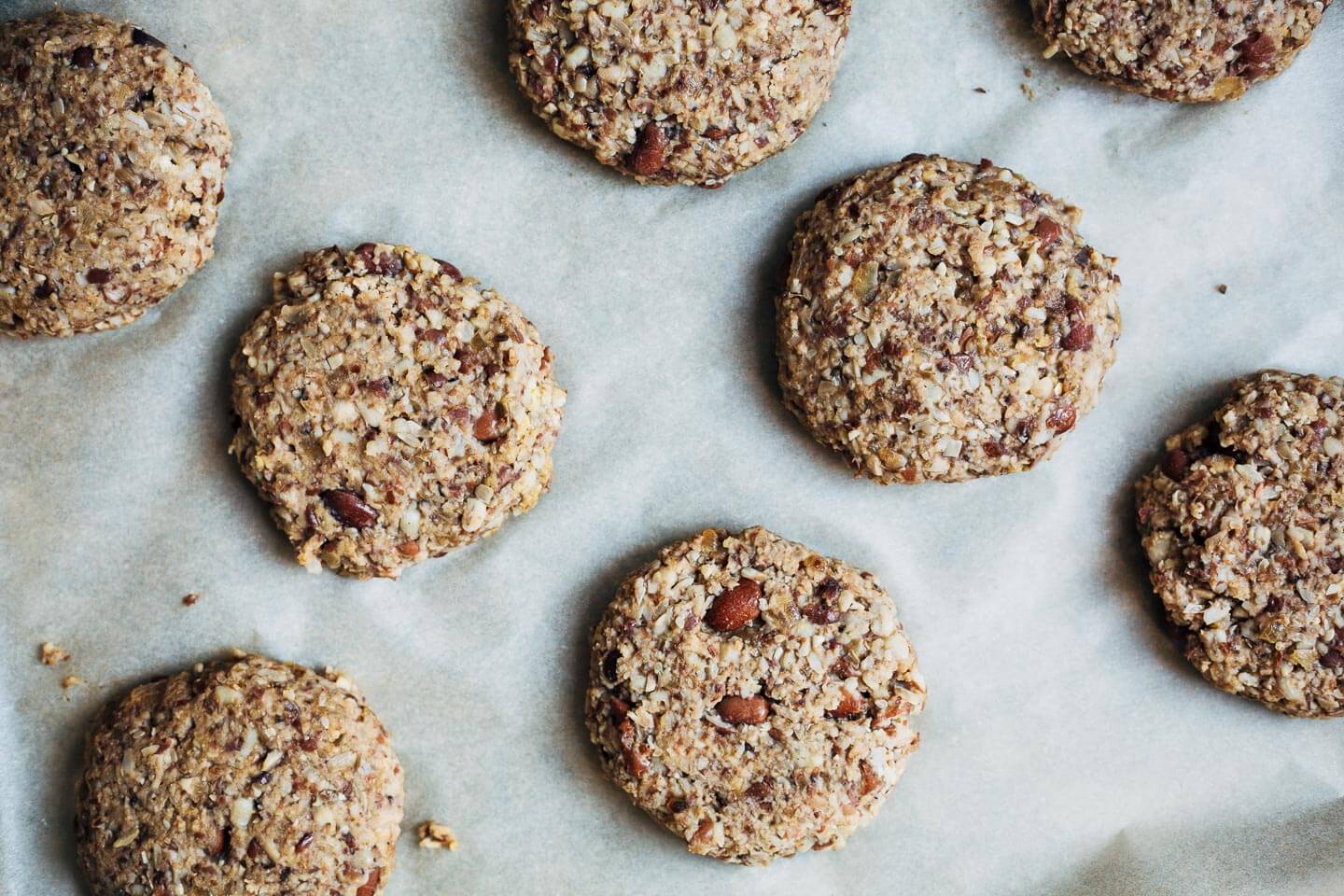 How to Prep Your Veggie Burgers
The easiest approach is to make the burgers in stages. I cooked both the barley and pinto beans in my Instant Pot ahead of time, but you could just as easily make the barley on the stovetop and use canned beans. These patties also cook up best when they've had time to chill and dry out a bit, for at least an hour but preferably overnight.
These burgers can be grilled over indirect heat on an oiled grill grate, but I prefer to make them in a pan. A little bit of oil and a gentle sear yields a lovely golden outer crust and a center with just a bit of squish. I found these need a good bit of time to cook so that the center sets up – the quicker the cooking method, the more likely the center is to be mushy.
Don't Forget the Toppings!
I layered my burgers with a sweet and savory red cabbage slaw (you may have noticed, red cabbage is one of my go-to ingredients for bright colors and crunch this time of year), plus a few very quick-pickled red onions, carrots, and daikon root. And finally, I topped everything with tasty beet micro greens that an old friend brought by my house yesterday. He and his daughter have started a small business delivering to downtown Charlottesville and also selling to a few stores. If you're local, check out Zuma Green Micros right here.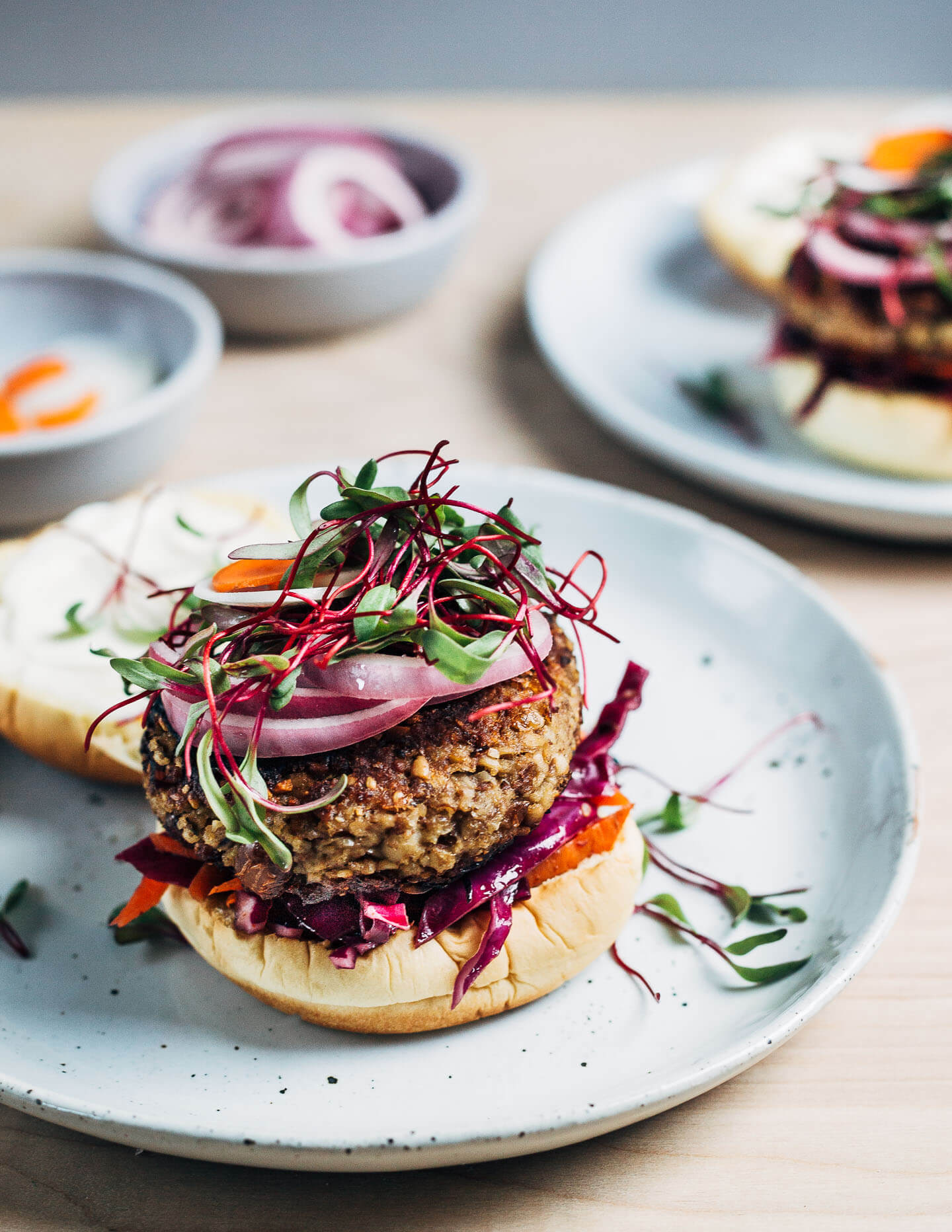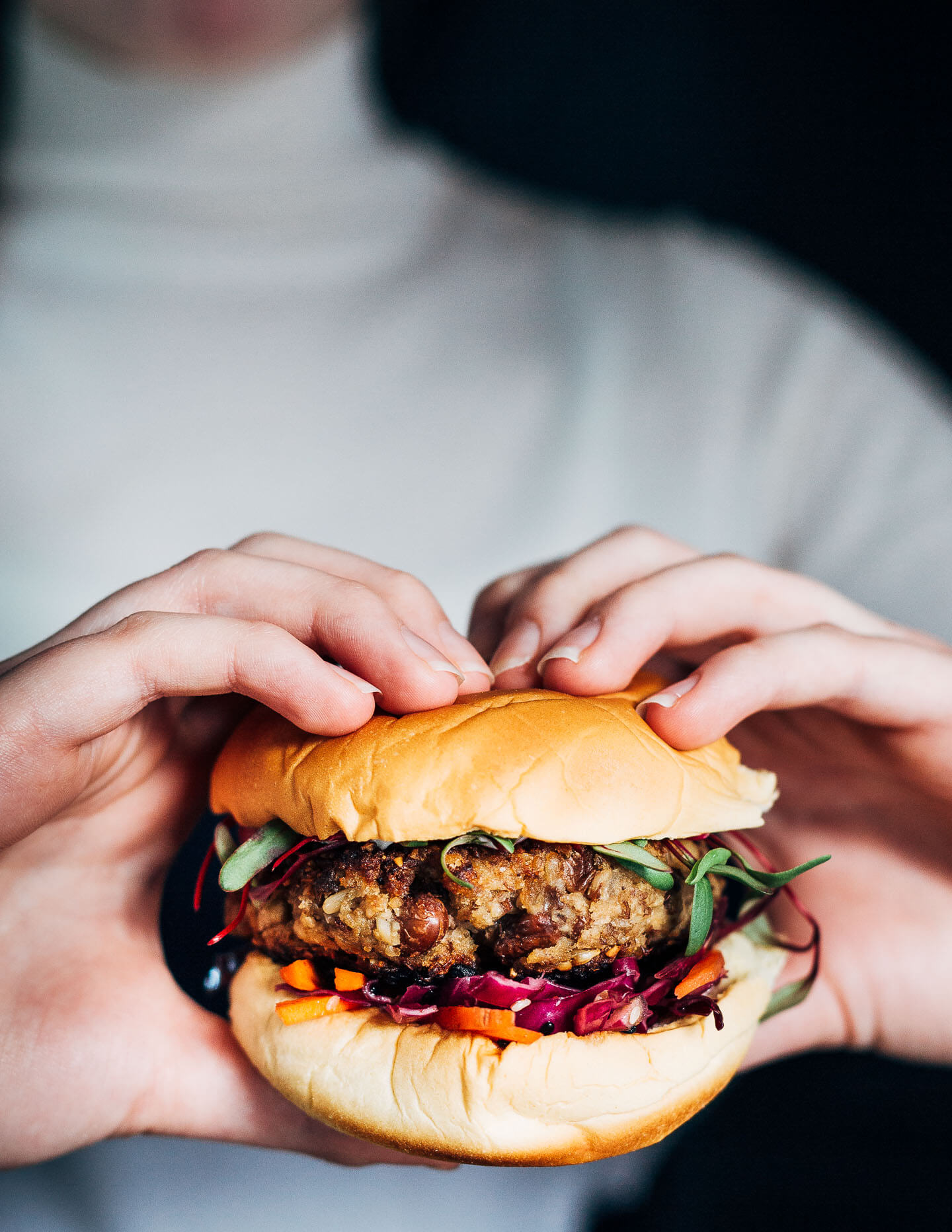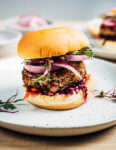 Tahini Veggie Burgers with Slaw and Quick Pickles
These vegetarian shiitake mushroom and tahini veggie burgers with a savory sweet red cabbage and carrot slaw, quick-pickles, and beet microgreens are a super flavorful, wonderfully satisfying dinner option.
Ingredients
Burgers
1 15-

ounce

can of pinto beans

(or just under 2 cups home cooked beans), drained

1

cup

cooked barley

1/4 cup

raw, hulled sunflower seed

2

tablespoons

extra virgin olive oil

1

cup

minced yellow onion

(from about 1 medium onion)

6

ounces

shiitake mushrooms,

de-stemmed and sliced thin

1

clove

garlic

2

tablespoons

soy sauce

1

tablespoon

sesame seeds

1

tablespoon

tahini

1/2

teaspoon

fine sea salt,

plus more to taste

1/2

teaspoon

cumin

1/2

teaspoon

garlic powder

1/2

teaspoon

black pepper

1

egg,

lightly beaten

3/4

cup

panko

2 - 3

tablespoons

canola for frying
Slaw
2

tablespoons

rice wine vinegar

1

tablespoon

honey

½

teaspoon

toasted sesame oil

¼

teaspoon

sea salt,

plus more to taste

1

teaspoon

sesame seeds

½

head red cabbage,

sliced thin

2

medium carrots,

scrubbed, trimmed, and julienned
Pickles
½

a red onion,

sliced into ¼-inch thick rounds

Daikon and carrots,

sliced into paper thin rounds

1/3

cup

rice wine vinegar

1

tablespoon

honey

¼

teaspoon

fine sea salt
Instructions
Start by prepping the barley, beans, and sunflower seeds. Set a 2-quart saucepan filled with water over high heat. When it boils, add barley and 1 teaspoon sea salt. Cook at a lively simmer 20 - 25 minutes, or until tender. Drain and set aside to cool. If cooking the beans, go with your favorite method for tender beans infused with salt. If using canned beans, rinse and drain thoroughly. Measure sunflower seeds into a jar or other heat proof container, pour in enough boiling water to cover the seeds. Set aside for an hour, then drain. If making ahead, cover and set seeds in the fridge.

To make the slaw, mix vinegar, honey, oil, and sea salt in a small bowl. In a large bowl, toss dressing and sesame seeds with cabbage and carrots. Set aside for 15 minutes. Add sea salt to taste.

To make the quick-pickles, mix the rice wine vinegar, honey, and sea salt in a pint jar. Add the sliced onions, daikon, and carrots in a small bowl or jar. Cover and refrigerate until needed.

When ready to make the veggie patties, set a large skillet over medium heat. Add the olive oil, and when hot, add the onions and sea salt. Cook until onions are translucent, about 7 minutes. Add mushrooms, garlic, soy sauce, sesame seeds, tahini, cumin, garlic powder, and pepper. Cook, stirring frequently, about 10 minutes or until mushrooms have released their water and firmed up again with crisp edges.

In the bowl of a food processor, combine the mushroom mixture, half the beans, half the barley, and sunflower seeds. Pulse 3 or 4 times, or just until mixture is reduced. Add remaining beans and barley to a large mixing bowl, and mash lightly. Fold in mushroom mixture, and panko. Taste mixture and add sea salt as needed. Fold in the egg.

Line a baking sheet with parchment. With your hands, form 8 (5-inch wide, 1-inch thick) patties and arrange on the baking sheet. Set uncovered in the fridge and chill patties at least an hour or as long as overnight.

To cook, set a large skillet over medium/medium-high heat (hot, but not so much that the oil smokes – adjust heat as needed). Add 2 tablespoons oil, and when hot, add 4 patties. Cook 3 - 4 minutes per side, or until the patties have a golden crust. Keep cooked patties in a warm oven while you cook the remaining batch.

Patties can also be grilled on an oiled grate over indirect heat for 5 - 7 minutes per side.

Serve veggie burgers on toasted buns layered with a spoonful of slaw, quick pickles, microgreens, and the condiments of your choice.