In praise of my backyard garden, a stabilizing force in all the tumult. And a simple recipe for turnip fritters topped with turnip greens, and served alongside pimenton aioli.
The small miracle of getting actual food from a seed is never lost on me.
This year especially. When I planted a row of turnip seeds in my backyard garden, I was worried about the future. What would the world be like in three months? At the time, there were runs on everything from soap to toilet paper to salt and flour, and I wanted a back-up plan.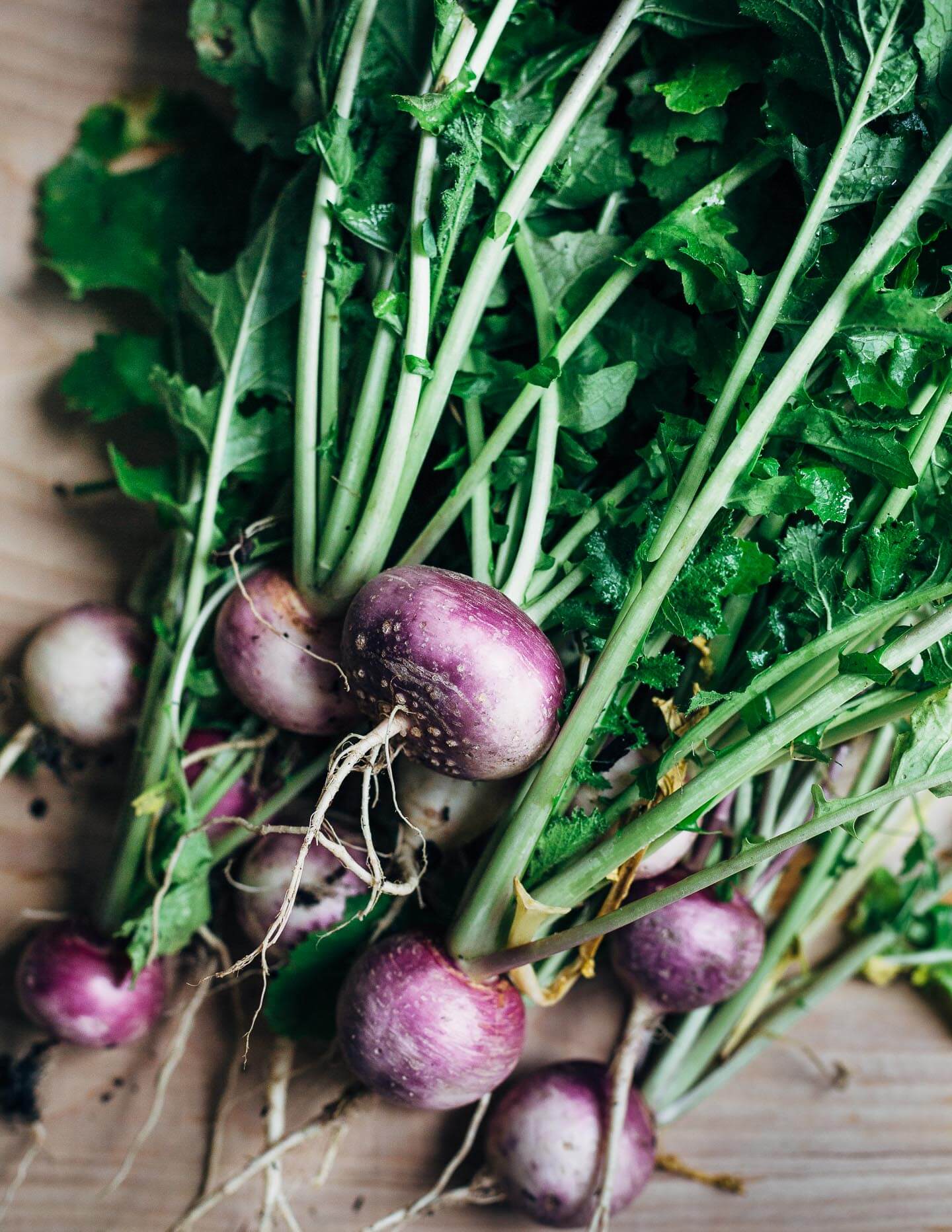 The roar of a world remaking itself, the worry of a pandemic, the knowledge that there is so much work left to do – it's overwhelming. When the crush and worry are just too much, I step outside. This year more than ever, I have deep gratitude for my garden – the luxury of expansive outdoor space, all to myself, is never lost on this ex-New Yorker. Watering, weeding, staking, and pruning are a grounding respites from everything else. And if it means I can also harvest piles of turnips, all the better.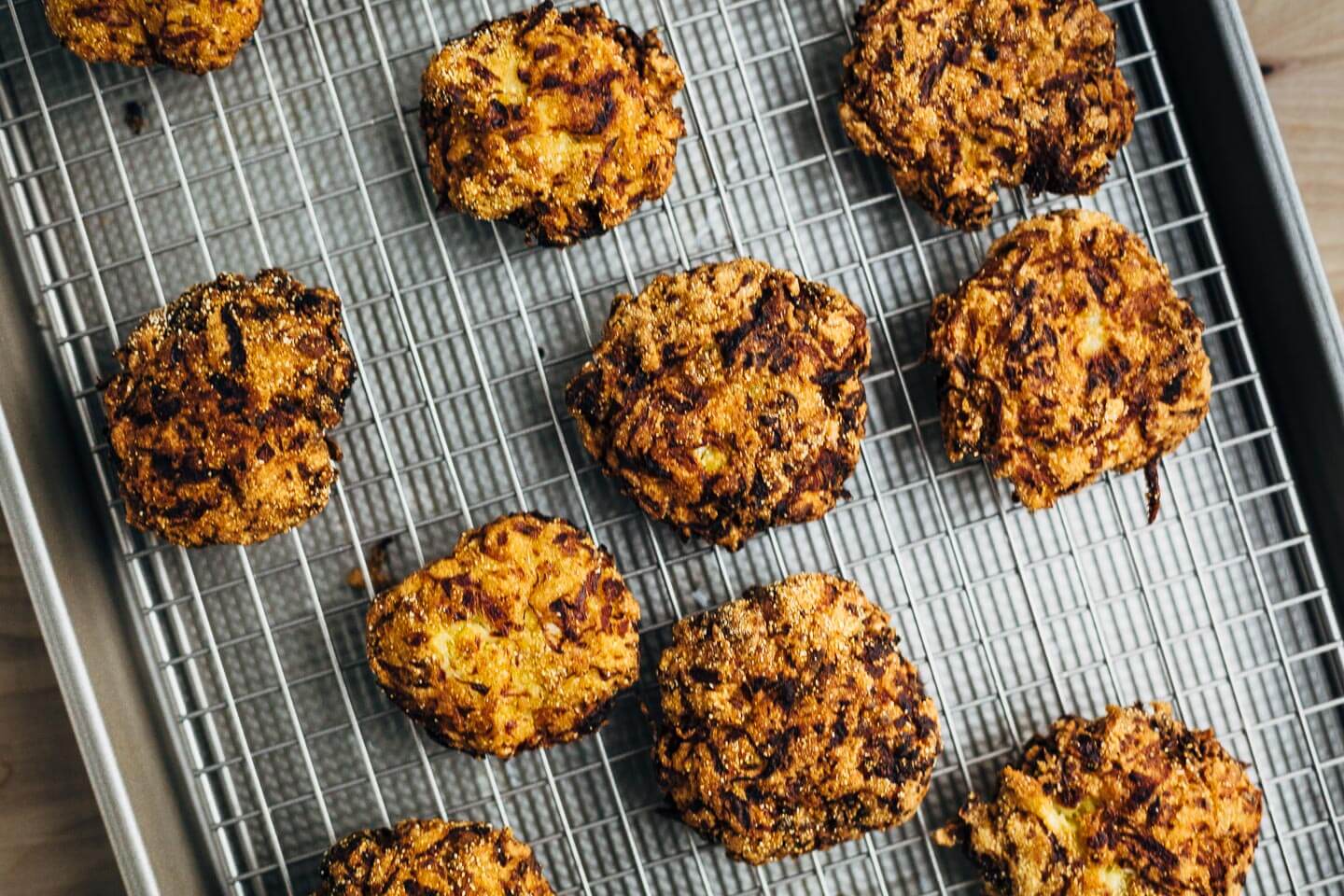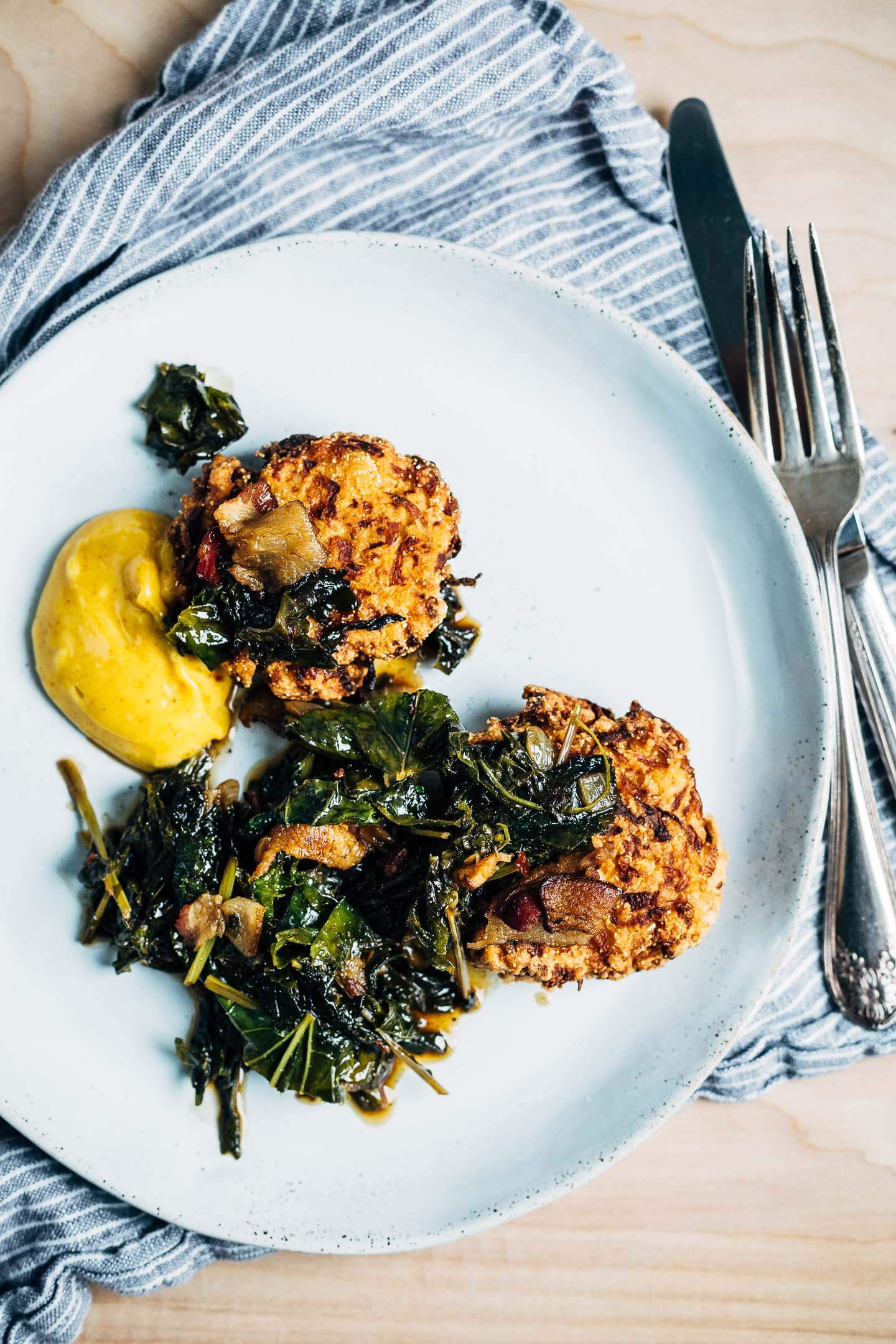 Turnip Roots and Greens
For many southern cooks, turnip greens are the cooking greens of choice. As such, they're also the most prized part of the turnip plant. Those spiky, rough leaves cook up velvety and tender. Fibrous strands and tough leaves effortlessly melt into the mix of broth, onions, and pools of bacon fat.
The roots are a different story. Turnips, even young ones, have an edge of bitterness. Here, they're salted and folded in with cornmeal, flour, and eggs. Like any good fritter, they crisp in the oil, while the center takes on the texture of hush puppies. Turnip fritters smothered with supple turnip greens would be quite enough for an excellent meal, but a dollop of pimenton aioli makes it a feast. Simple and sating, turnip fritters and greens make for a very good June supper.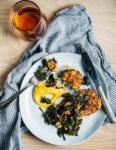 Turnip Fritters and Greens
This recipe for turnip fritters with greens uses the whole plant, root to stem. Turnips with greens are widely available at farmer's markets. If you're unable to source them, sub storage turnips and the hardy green of your choice (especially collards or mustard greens).
The fritters and greens are wonderful on their own, but especially delicious with a dollop of pimentón aioli.
Ingredients
Fritters
1 1/2

pounds

turnips,

scrubbed and shredded

2

teaspoons

sea salt,

divided

1

cup

all-purpose flour

1

cup

fine ground cornmeal

1/2

teaspoon

black pepper

2

large eggs

Neutral oil like canola for frying
Greens
1

pound

turnip greens

4

thick-cut strips bacon

1

medium yellow onion,

minced

1/2

teaspoon

red pepper flakes

1 - 2

cups

chicken or pork broth
Instructions
Fill a sink with cold water. Immerse the turnip greens, shake under the water a bit, and then let the dirt settle in the water. Roll greens in a towel and set aside to dry. When greens are dry, chop them up.

To make the greens, set a large skillet over medium heat. Add the bacon and cook until both sides have crisp edges and the fat has rendered. Set bacon aside to cool. In the same skillet, still over medium heat, add the onion and red pepper flakes. Saute until onions are translucent, 5 - 7 minutes. Fold in the turnip greens, a handful or two at a time. Sprinkle with just a pinch of sea salt as you go. When bacon is cool, crumble it in. Add 1 cup broth, bring to a simmer, and turn heat to medium-low. Cook, stirring often, until greens are very tender, at least 30 - 40 minutes. Towards the end of cook time, add sea salt to taste, keeping in mind that the salt will concentrate as the greens reduce. As greens cook, add up to 1/2 - 1 cup more broth as needed.

Meanwhile, make the fritters. In a large mixing bowl, toss shredded turnips with 1 teaspoon sea salt and set aside for 15 minutes. (The turnips won't release much water, but this does help soften them.) After 15 minutes, toss the turnips with the flours, 1 teaspoon sea salt, and black pepper. Fold eggs into the mixture until everything is well combined. Set mixture aside while you heat the oil.

Set a wire rack on a baking sheet and slide into the oven. Set temperature to 200 degrees F.

Set a large cast iron or other heavy skillet on the stove and turn the dial just past medium heat (roughly 5-o'clock). Add oil to a 1/4-inch depth. When oil shimmers and is fragrant, gather fritter dough into small discs (with about 3 tablespoons dough). Don't pack them too tightly. Carefully immerse 4 - 5 fritters in the oil at a time. Cook fritters for 2 - 3 minutes on each side. Place cooked fritters on the wire rack in the oven. Repeat for remaining fritters. As you cook, you may want to edge the heat down slightly.

Serve fritters topped with greens and with a big dollop of aioli on the side.