A spring-inspired biscuit board with cheddar-jalapeño and plain cream biscuits is the perfect centerpiece for an Easter brunch or springtime gatherings. With pimento cheese, Serrano ham, pickles, seasonal veggies, and everything else you need to make tasty biscuit sandwiches, this biscuit board is a delicious crowd-pleaser.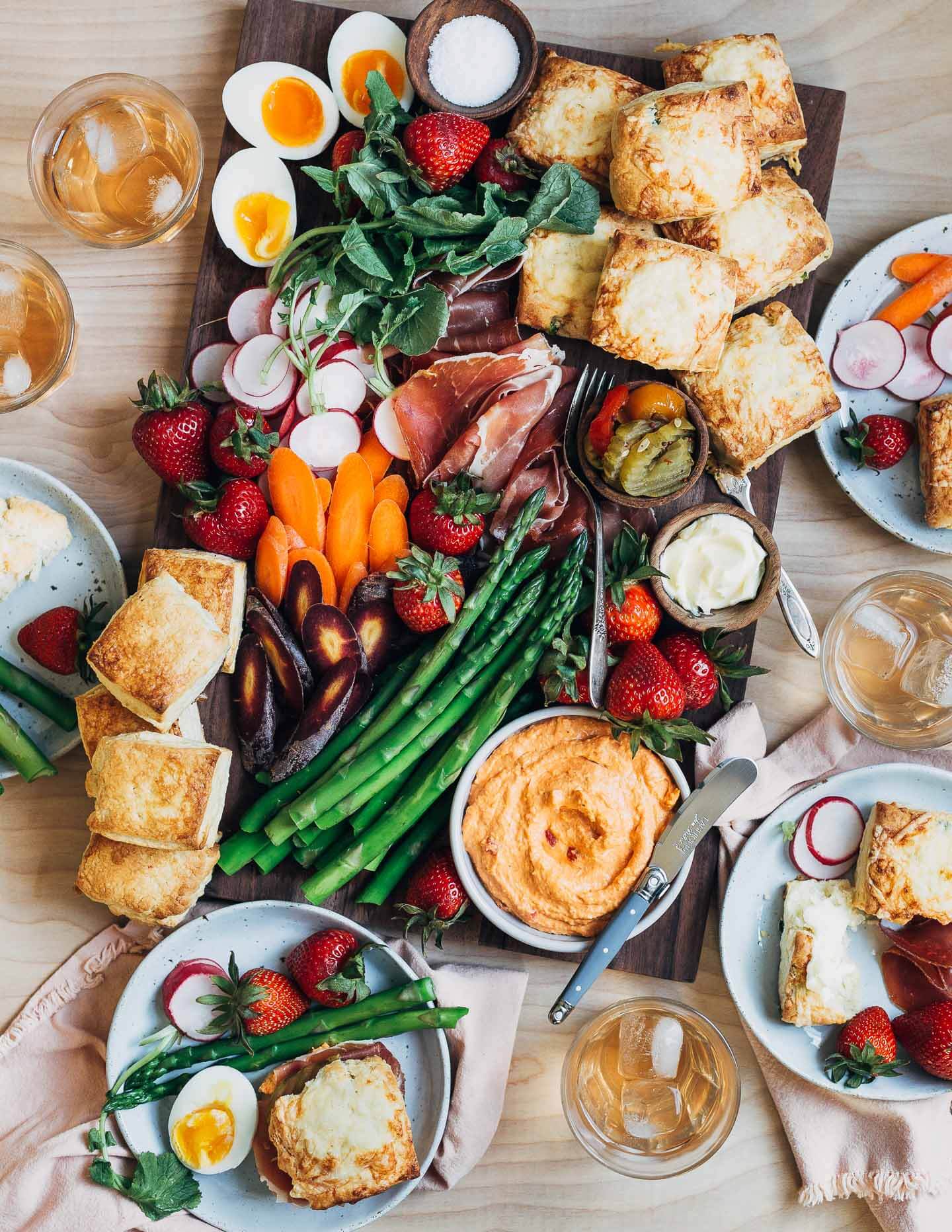 Have you heard? I've got a bi-weekly substack newsletter featuring simple recipes and the best of what's in season. Sign up now and get delicious food and recipe inspiration delivered straight to your inbox.
By nature, biscuit boards, and lots of other charcuterie boards, are a bit frivolous. We could just as easily serve all the elements in separate bowls and plates. But something transformational happens when we mass all the delicious elements on one board. It's abundant and playful. A well-crafted board is an invitation to select exactly what you want.
Also, boards are very pretty.
There's no need to get decadent with your board. The best boards feature carefully selected ingredients that all pair well together.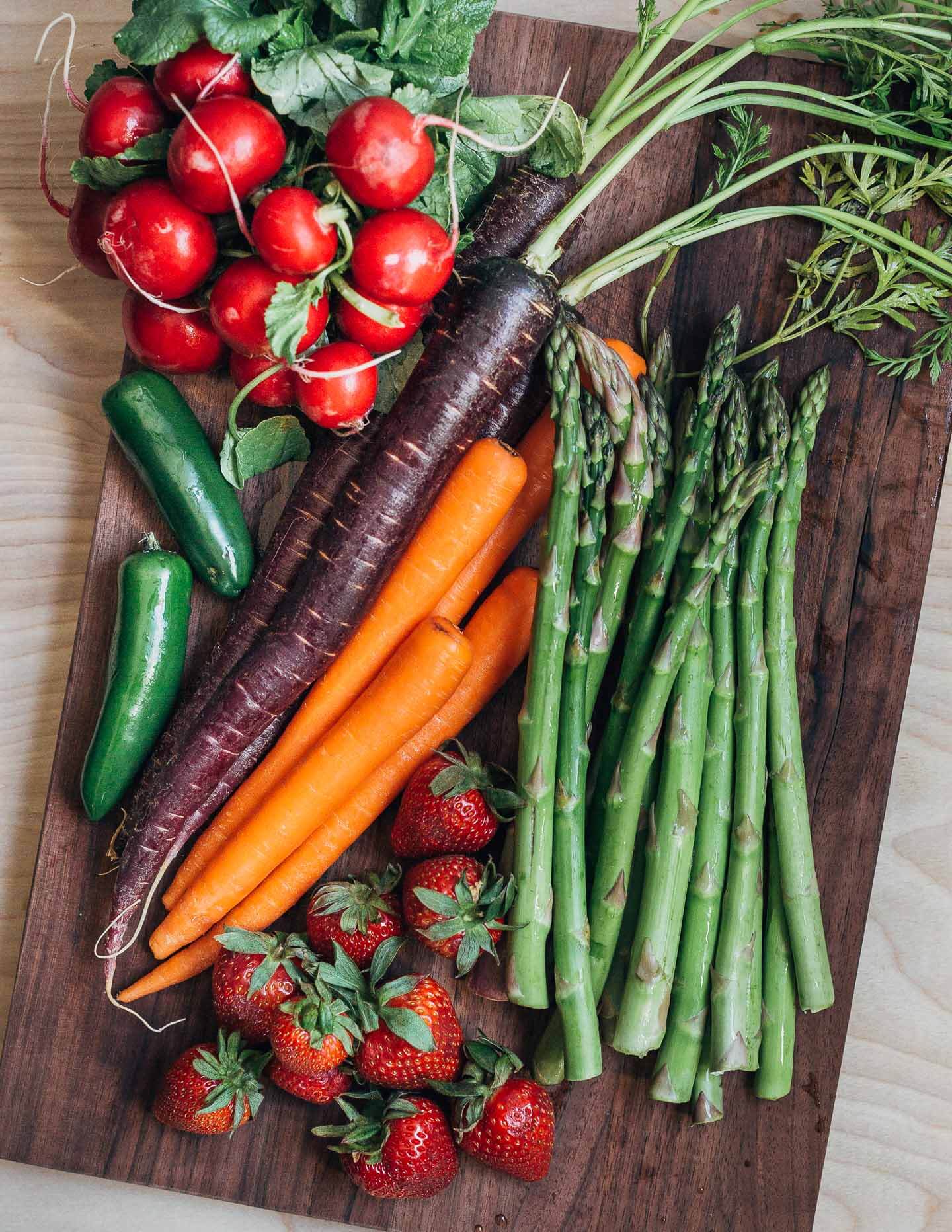 Crafting Your Biscuit Board: The Basics
To create this spring biscuit board, I played with Southern flavors. Two kinds of easy cream biscuits anchor the board: plain and cheddar-jalapeño. The Pimento cheese, Serrano ham, bread and butter pickles, salted butter, and jammy eggs round out the sandwich fixings. Purple and orange carrots, red radishes, strawberries, and lightly blanched asparagus add color and crunch.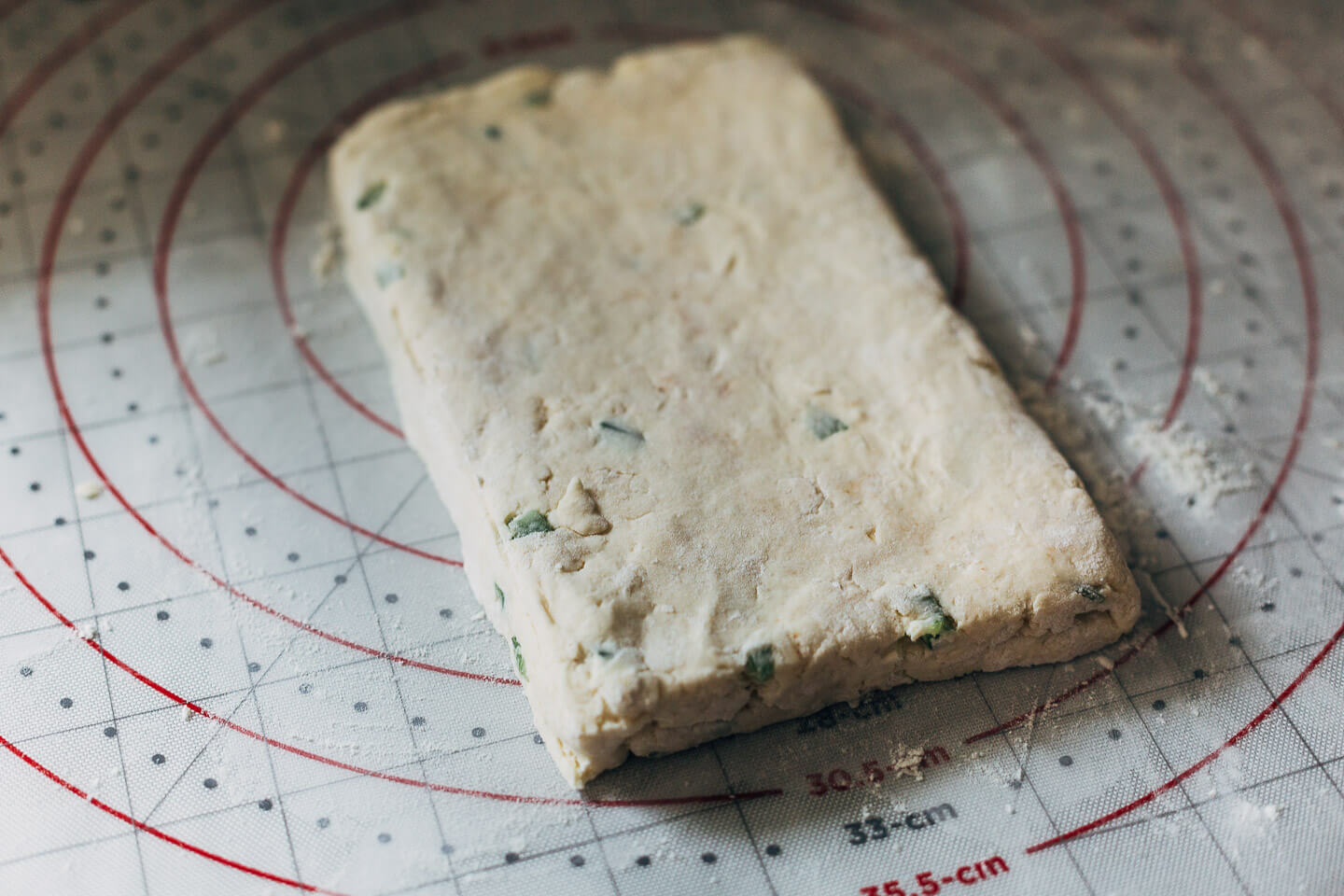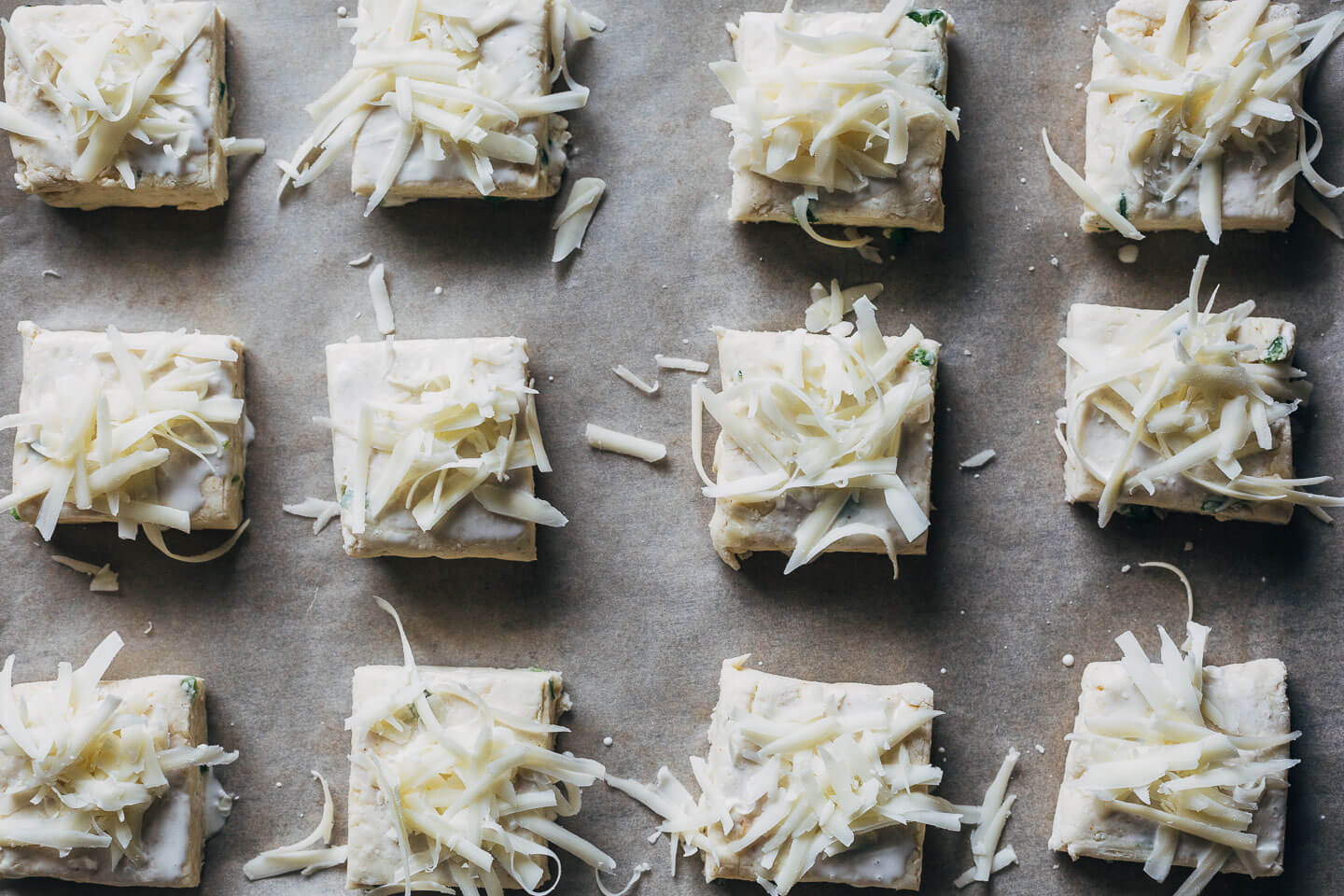 Cream Biscuits
I used J. Kenji López-Alt's recipe for two-ingredient cream biscuits here. The two-ingredient workaround relies on self-rising flour, but you can use all-purpose and add salt and baking powder as well. I added grated cheddar and minced fresh jalapeño to the basic recipe for the cheddar-jalapeño biscuits. They are flaky and tender, with just enough cheese and a hint of spice. If you prefer a spicier biscuit, punch up the amount of ground cayenne pepper. These biscuits are incredibly simple to pull together and take just a few minutes in the oven, so they're the perfect option if you have a big to-do list.
(An even easier option is to buy freshly-made biscuits.)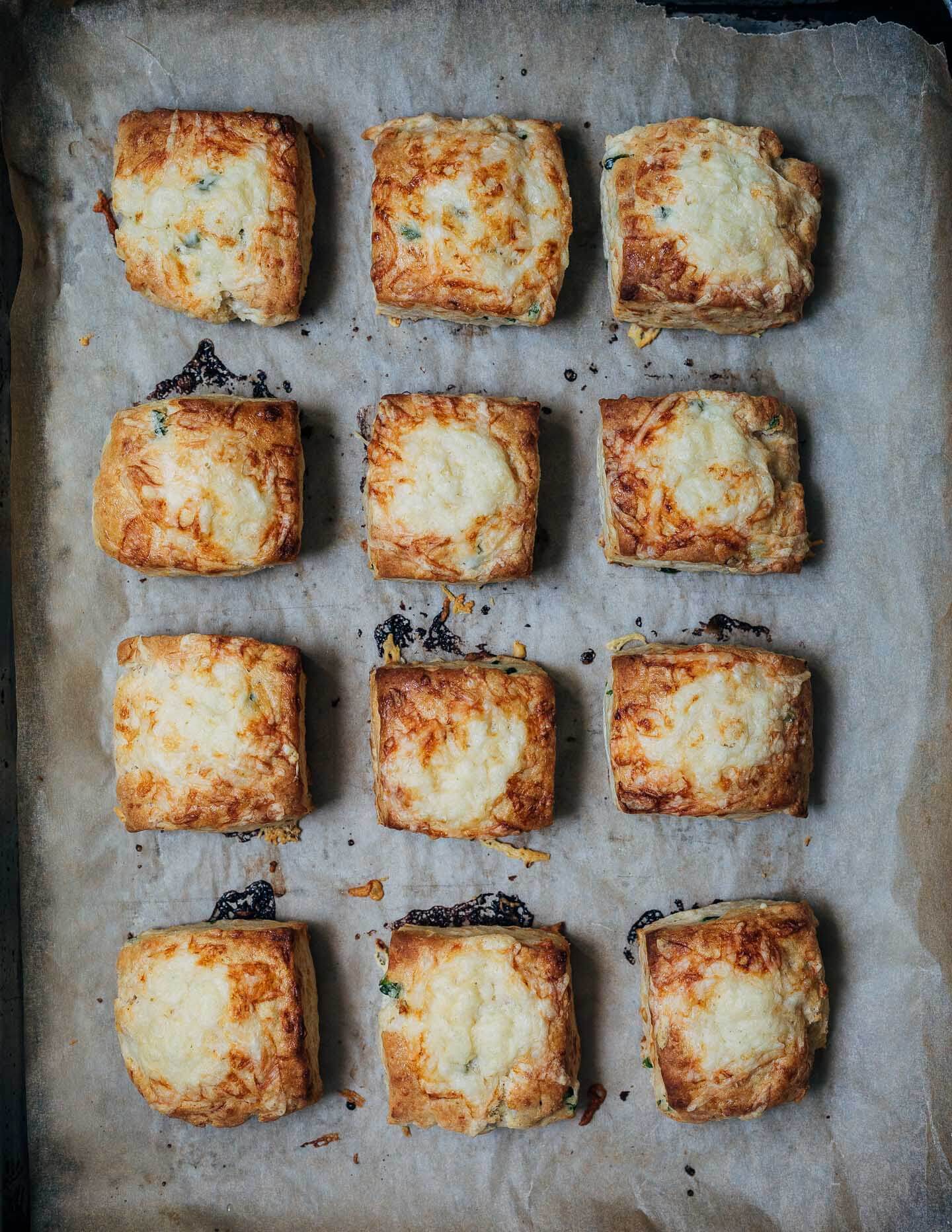 Biscuit Board Basics
Biscuits (homemade or store bought)
Country or Serrano ham, or Prosciutto
Bread and Butter Pickles
Salted room temperature butter
Sliced radishes and flaky sea salt
Sliced Carrots
Blanched asparagus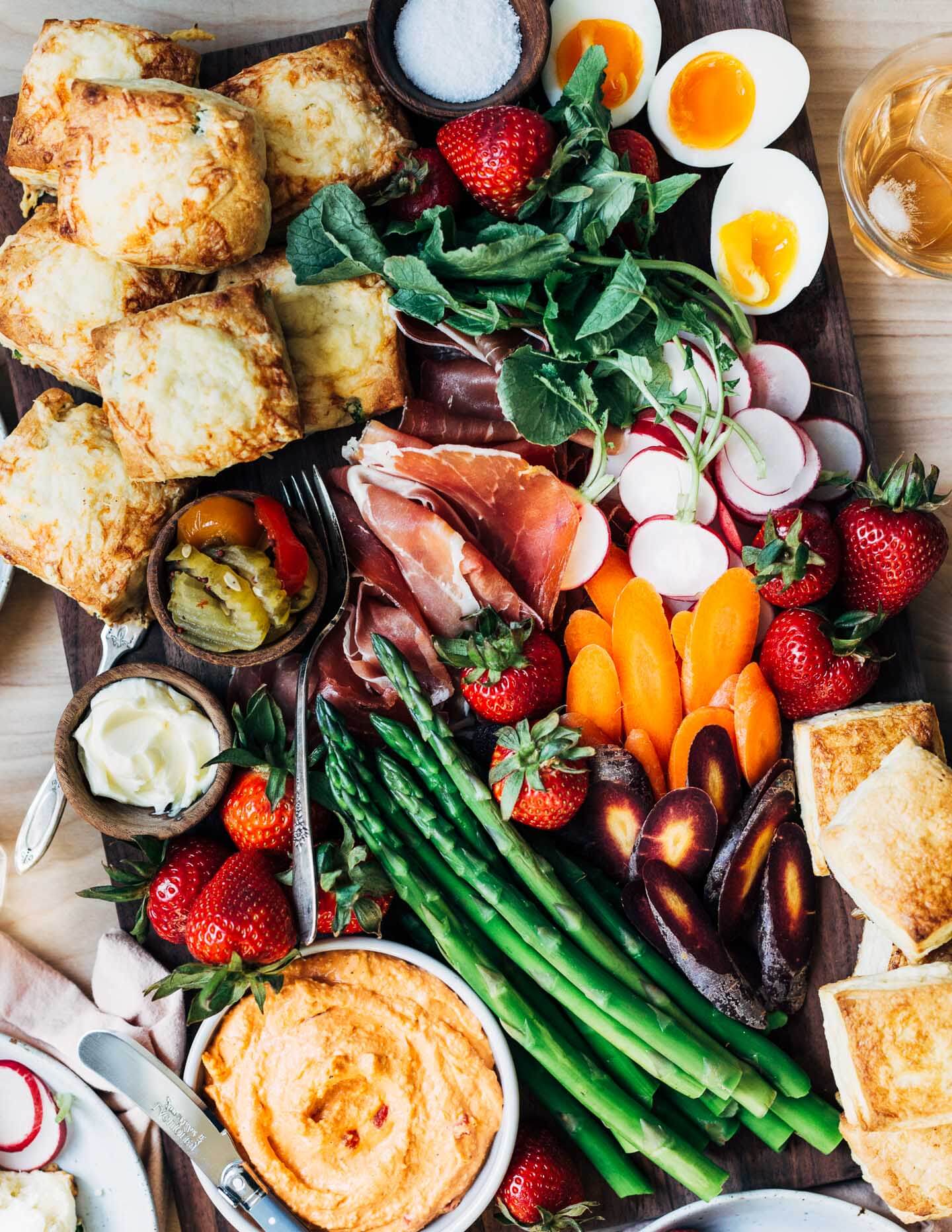 Filling Out Your Biscuit Board
I kept the elements on my biscuit board fairly simple, but there's lots of room for variation! Here are some more biscuit board ideas:
Cheese slices
Pickled Jalapeños, okra, onion, or beets
More veggies: broccoli, cauliflower, or chicories
Dip options: onion dip, cauliflower dip, or whipped feta dip
Crisp bacon
Deviled eggs
Berries and other fruit
Smoked salmon
Sturdy crackers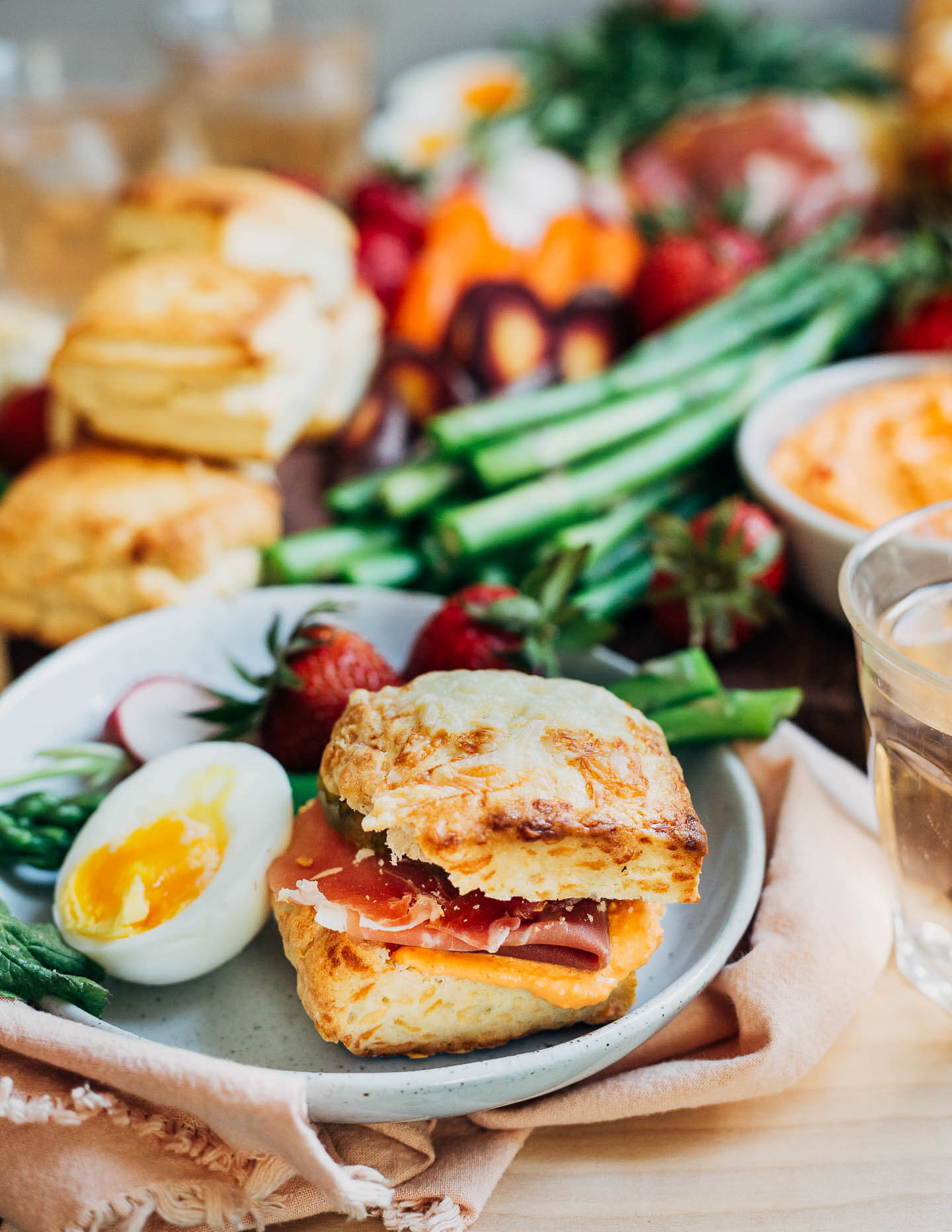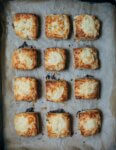 Cheddar-Jalapeño Cream Biscuits
These fluffy, wonderfully tender cheddar-jalapeño cream biscuits have just 4 ingredients and are a cinch to make. Recipe adapted from J. Kenji López-Alt.
Recipe Type:
Breakfast, Brunch
Keyword:
Cheddar-Jalapeño Cream Biscuits
Makes
:
12
(2-inch) biscuits
Ingredients
1 3/4

cup

plus 2 tablespoons self-rising flour

(285 g), or make your own self-rising flour – see note*

1/4

teaspoon

ground cayenne pepper,

or more to taste

1 3/4

cups

grated cheddar

(about 6 ounces/170 grams), divided

2

tablespoons

minced fresh jalapeño

Scant 1 cup cold heavy cream
Instructions
Preheat oven to 425 degrees F. Move rack to the center of the oven. Line a large baking sheet with parchment.

Measure the flour and cayenne into a large bowl. Fold in 1 1/2 cups cheddar and the jalapeño. Pour in 3/4 cup of the cream and fold into the flour mixture. Add additional cream in small drizzles, just until dough holds together.

Turn out onto a lightly floured surface and gather into a rough disc. Roll into a 6 x 8-inch rectangle, using a pastry scraper to square the edges and corners. Fold dough into thirds (like a sheet of paper for an envelope), and then gently roll into a 6 x 8-inch rectangle again. Fold into thirds once more, then roll again into a 6 x 8-inch rectangle. Square up the edges, then use a sharp knife to slice into 12 (2-inch) square biscuits in a 3 x 4 pattern.

Set biscuits 2-inches apart on the baking sheet. Brush with leftover cream and sprinkle with remaining 1/4 cup cheese.

Bake 12 - 15 minutes, or until the biscuit edges are a deep golden hue. Cool 20 minutes, then serve. Biscuits are best up to a few hours after they're made. If making well ahead, warm them in a 200 degree oven for a few minutes before serving.
Recipe Notes
Note: To make your own self-rising flour, sift 2 cups all-purpose flour, and add 1 tablespoon baking powder, and 1 1/2 teaspoons kosher salt. Measure as needed.