A rich, herbaceous caramelized onion tart that's perfect for a show-stopping holiday app or side.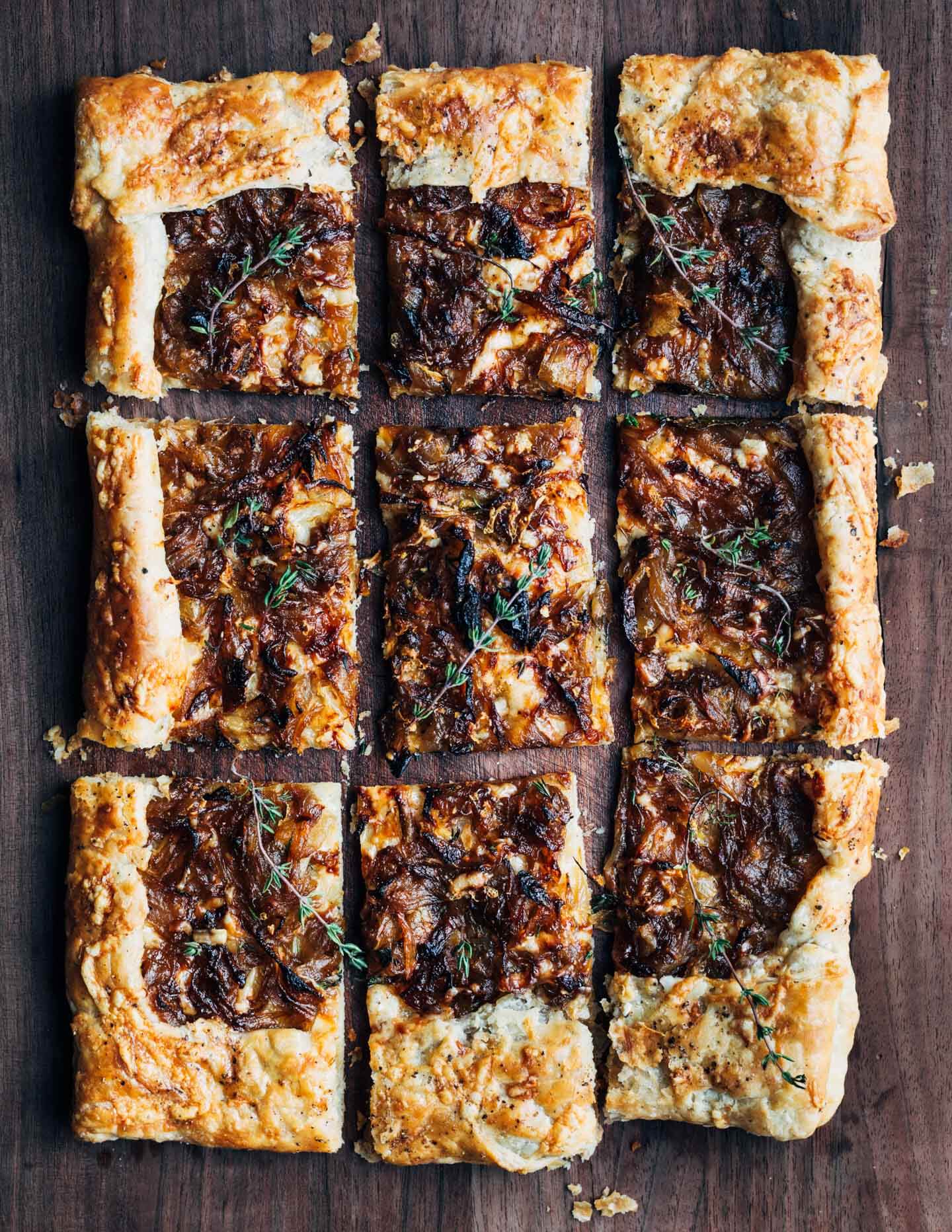 Get the newsletter
Are you signed up for the Right Now newsletter? It hits inboxes twice a week with exclusive recipes and seasonal ingredient inspiration. Subscribe today!
A deep golden caramelized onion tart is the kind of dish that's perfect to bring along to holiday gatherings and parties. It will sit nicely tucked in among an assortment of appetizers or as a main dish.
We also just need to eat regular meals this time of year, and this tart is a lovely dinner for a day when you have a bit of extra time. Pair it with a bracing green salad and you're set.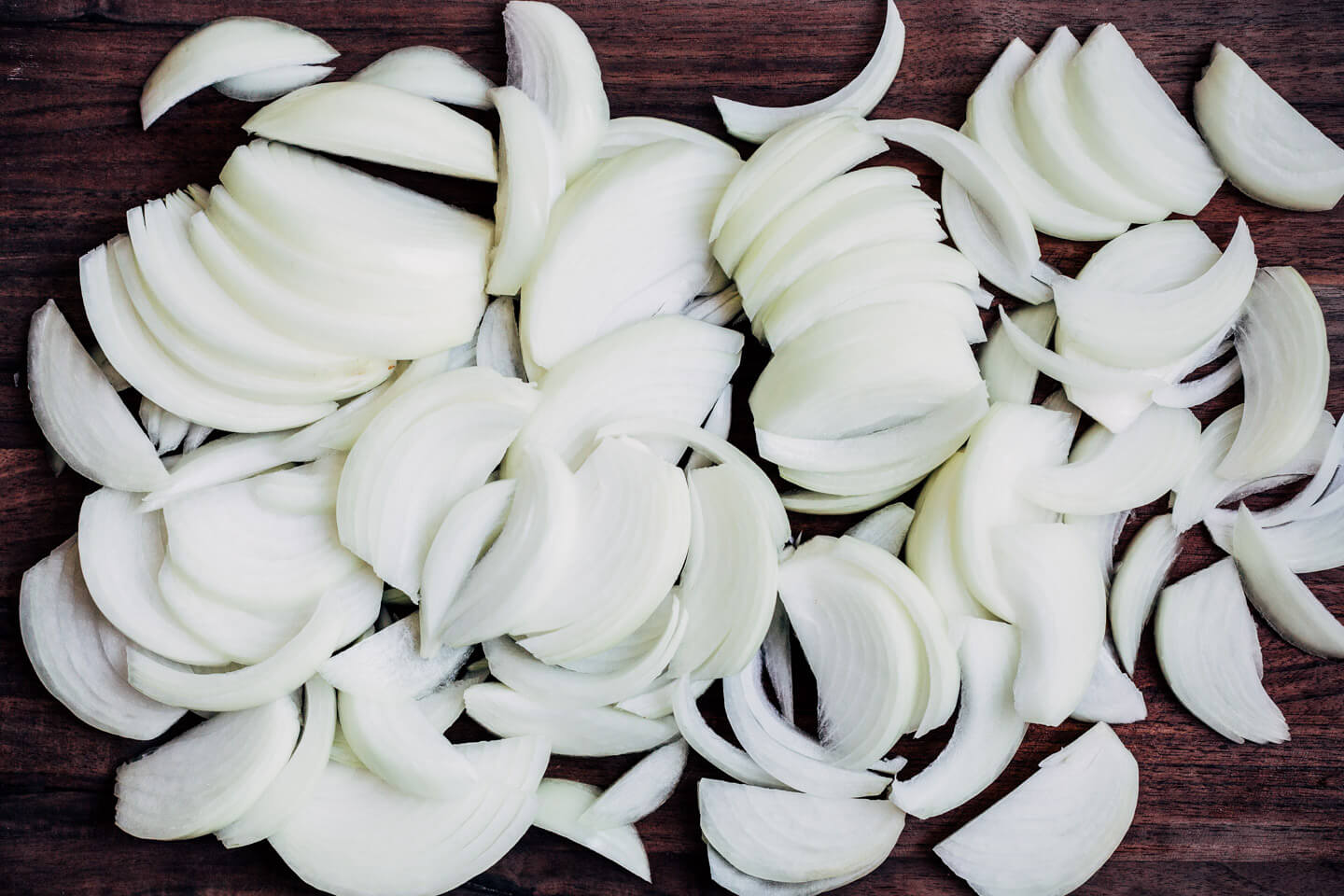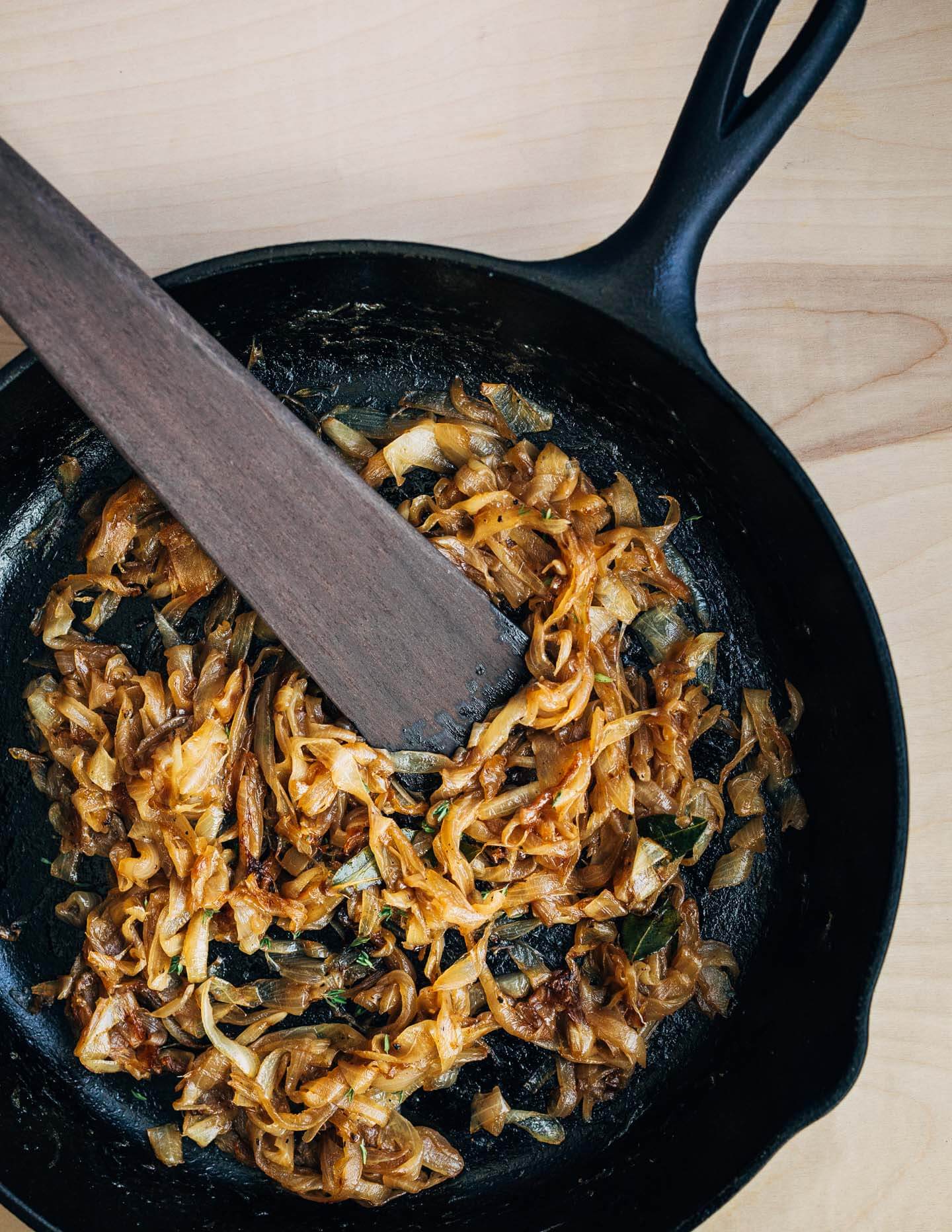 Caramelizing Onions
For the most flavorful caramelized onion tart, you'll need deeply caramelized onions.
The timing of caramelized onions is much-debated online. Some recipe authors will tell you that an onion can be caramelized in 25 minutes, but this is just not true. It takes at least 40 minutes to bring out the deep sweetness in onions. And even a little longer if you want them to really want them to have that rich caramel depth.
Take heart, though. Caramelizing onions requires only a bit of attention – you'll want to nudge them in the pan every few minutes or so. Otherwise you're free to enjoy tea and a book or whatever little projects you have going on.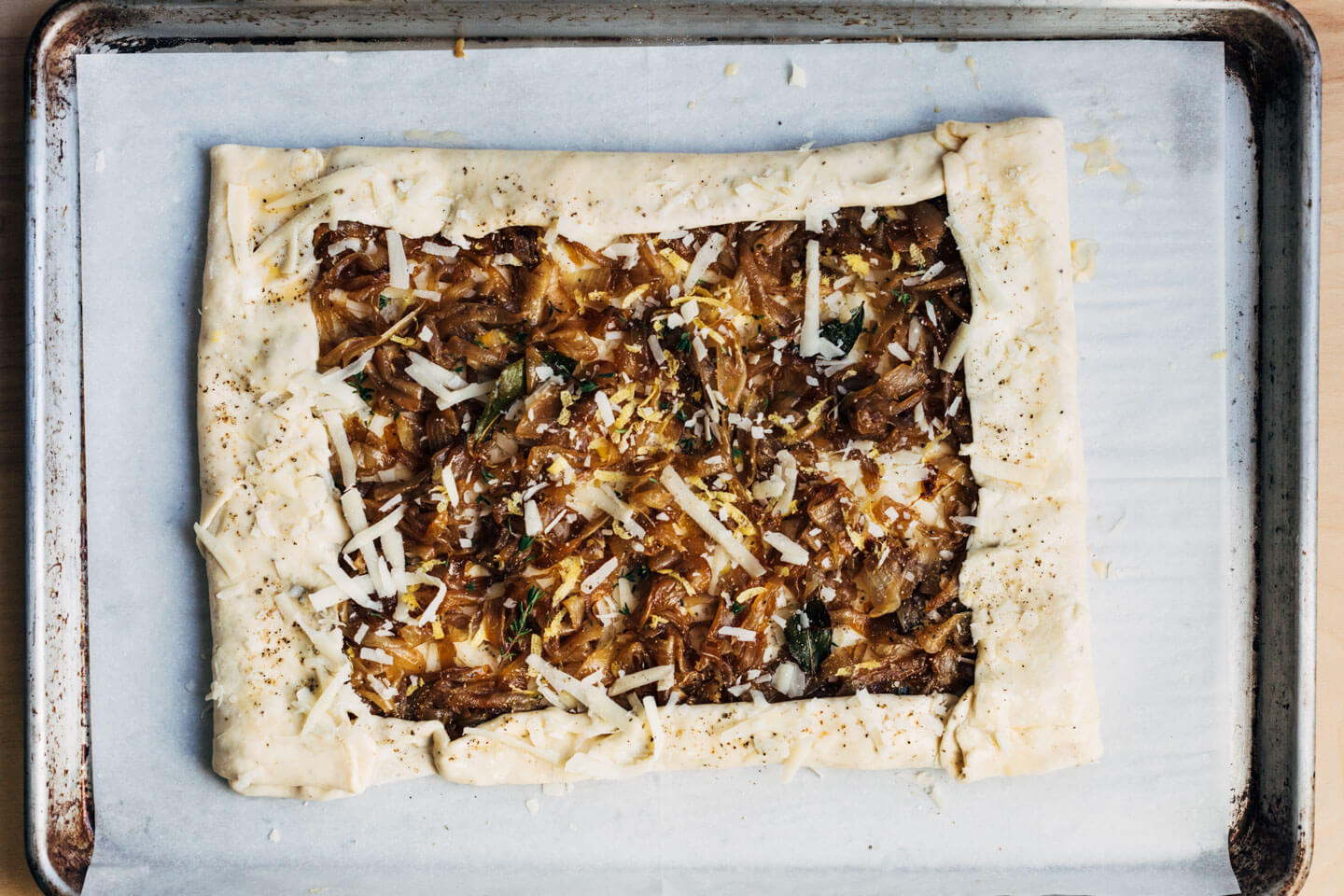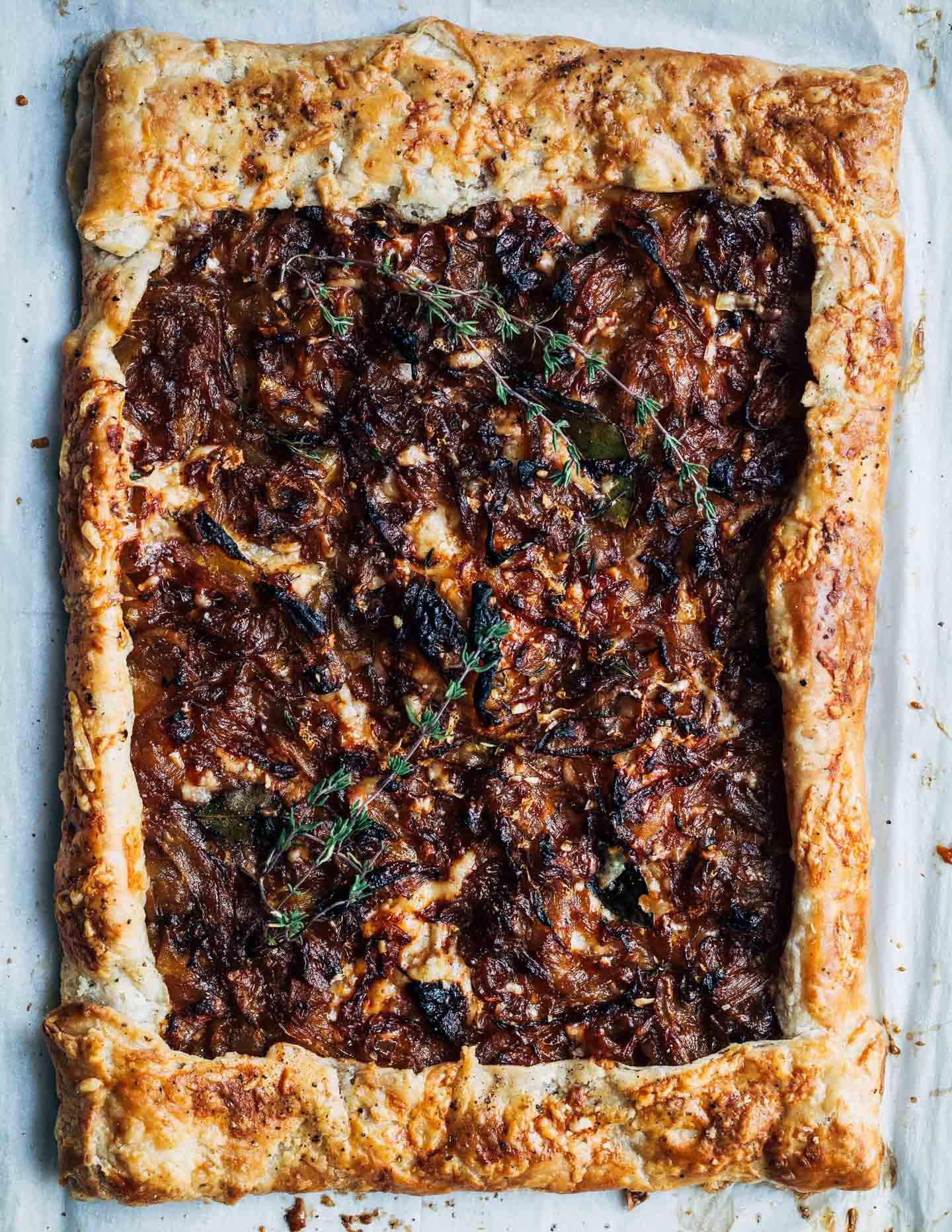 A Simple Savory Crust
For the crust, I've used my tried and true all-butter crust recipe and handled it the same as any other crust. If you have a favorite savory crust recipe, go ahead and swap it in. Whatever recipe you make, add the black pepper to enhance the flavor.
Change It Up
I love getting to the part of the recipe intro where I share all the ways you can make a dish your own and use what you have on hand. There's lots of room for experimentation here and a lot of ways to use up odds and ends.
I used a mix of Gruyere and Parmesan because I liked the way the nutty flavors complemented the richness of the caramelized onions. But lots of cheeses would be excellent here. Consider an aged cheddar or stilton, Pecorino, chevre, or even a creamy brie.
This caramelized onion tart loves herbs. Consider swapping in parsley, sage, rosemary, or a tiny bit of fresh tarragon.
You can also play with the spices – freshly grated nutmeg or a whole star anise would lend depth. A few sliced apples or pears would be lovely, too.
And, of course, if you're short in time, swap in store bought all-butter puff pastry dough.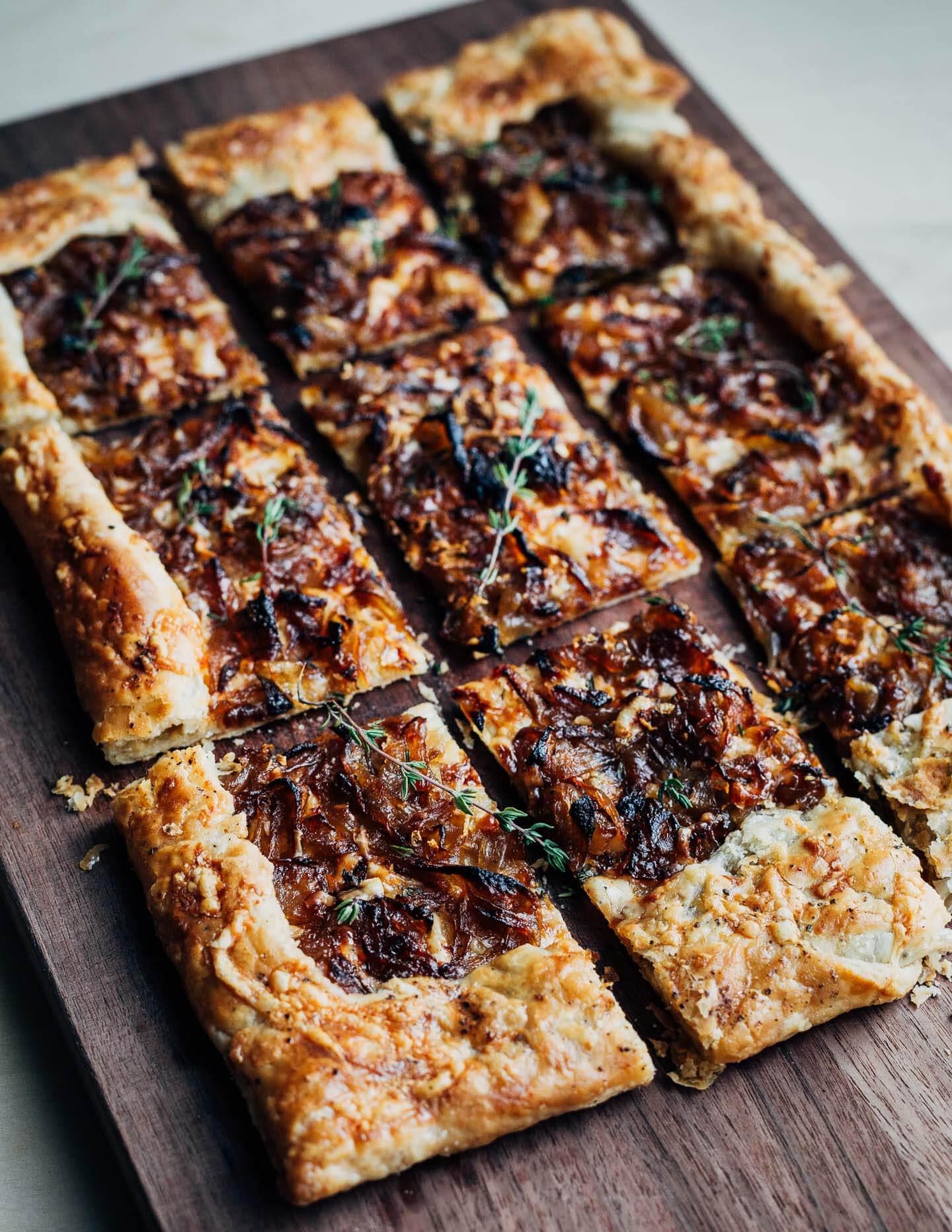 More Knockout Holiday Appetizers
Looking for more festive apps? Check out these favorites: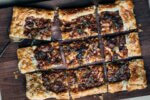 Caramelized Onion Tart with Gruyere and Herbs
A rich, herbaceous caramelized onion tart that's perfect for a show-stopping holiday app or side. If you're short in time, swap in store bought all-butter puff pastry dough.
Keyword:
caramelized onion tart
Ingredients
Pastry
1 1/4

cups

all-purpose flour

1

teaspoon

sugar

1/2

teaspoon

sea salt

8

tablespoons

unsalted butter,

cut 1/2-inch cubes

1/3

cup

ice water
Filling
4

medium yellow onions,

halved lengthwise and peeled

2

tablespoons

unsalted butter

Salt

Black pepper

2

bay leaves,

preferably fresh

4

thyme sprigs,

plus more for garnish

1

tablespoon

ground Dijon mustard

1/2

cup

grated Gruyere

1/2

cup

grated Parmesan

1

egg,

lightly beaten
Instructions
Pastry
Working 1 hour or up to 3 days ahead, make and chill the dough. In a large bowl, combine flour, sugar, and salt. Fold in butter. Working quickly, use fingertips to smush and flatten most of the butter cubes, ensuring each piece is completely coated with flour. You should have a shaggy, clumpy dough with some large butter chunks when you're done. Fold in ice water, gently nudging dough until it holds together. If needed, add 1 - 2 tablespoons more ice water to help dough hold together.

Turn dough out onto a sheet of parchment or plastic wrap, shape into a disc, and wrap tightly.

Chill at least 1 hour or up to 3 days ahead.
Filling
Use a tiny triangle cut to remove onion cores. Then cut 1/4-inch thick slices lengthwise (from top to root).

Set a wide, deep-sided 10-inch skillet or pot over medium heat. Once hot, add the butter, and then the onions a few handfuls at a time. Set timer for 10 minutes and cook, stirring frequently until the onions have taken on color and just started to sizzle. Reduce heat to medium-low, add bay leaves, and a 1/4 teaspoon each salt and pepper. Set timer for 40 minutes. Check the onions frequently, stirring and turning them. If the skillet starts to dry out, add a tablespoon of water and be sure to scrape up the delicious brown bits from the bottom of a skillet. Toward the end of cook time, add additional salt and pepper to taste. Cook until onions are sweet and a golden hue. Set aside to cool briefly.

When onions are almost done cooking, preheat the oven to 400 degrees F and move a baking rack to the top third of the oven.

On a lightly floured sheet of parchment, roll the chilled dough into a 12 x 15-inch rectangle.

Place dough and parchment on a large rimmed baking sheet and set in the fridge to chill while you prep the filling. Reserve any extra dough in the fridge.
To Assemble
To assemble, spread a layer of Dijon over the dough, leaving a 2-inch border. Preserving the border, scatter all bit 1/4 cup of the cheeses and the caramelized onions. (I like to leave the bay leaves in, but remove them now if you'd prefer.) Brush the border with the egg wash, fold up the long sides and brush with egg, and then fold up the short sides. Brush the top of the dough all over with egg wash, check that the corners are sealed, and finish with several twists of black pepper. Strip the leaves from the thyme sprigs and scatter thyme and remaining cheese over the onions and crust.

Bake the tart 20 - 25 minutes or until filling is a deep golden brown and the crust is puffed up and golden. Cool 30 minutes, then slice and serve with additional thyme sprigs as a garnish.

This tart is best enjoyed the day it's made but leftovers will keep well for a day or two sealed at room temp.