Sweet, savory, and perfectly charred, these easy grilled pineapple chicken kebabs are steeped in a brown sugar and lime marinade and grilled with bell peppers and red onions. This post was created in partnership with Farmer Focus.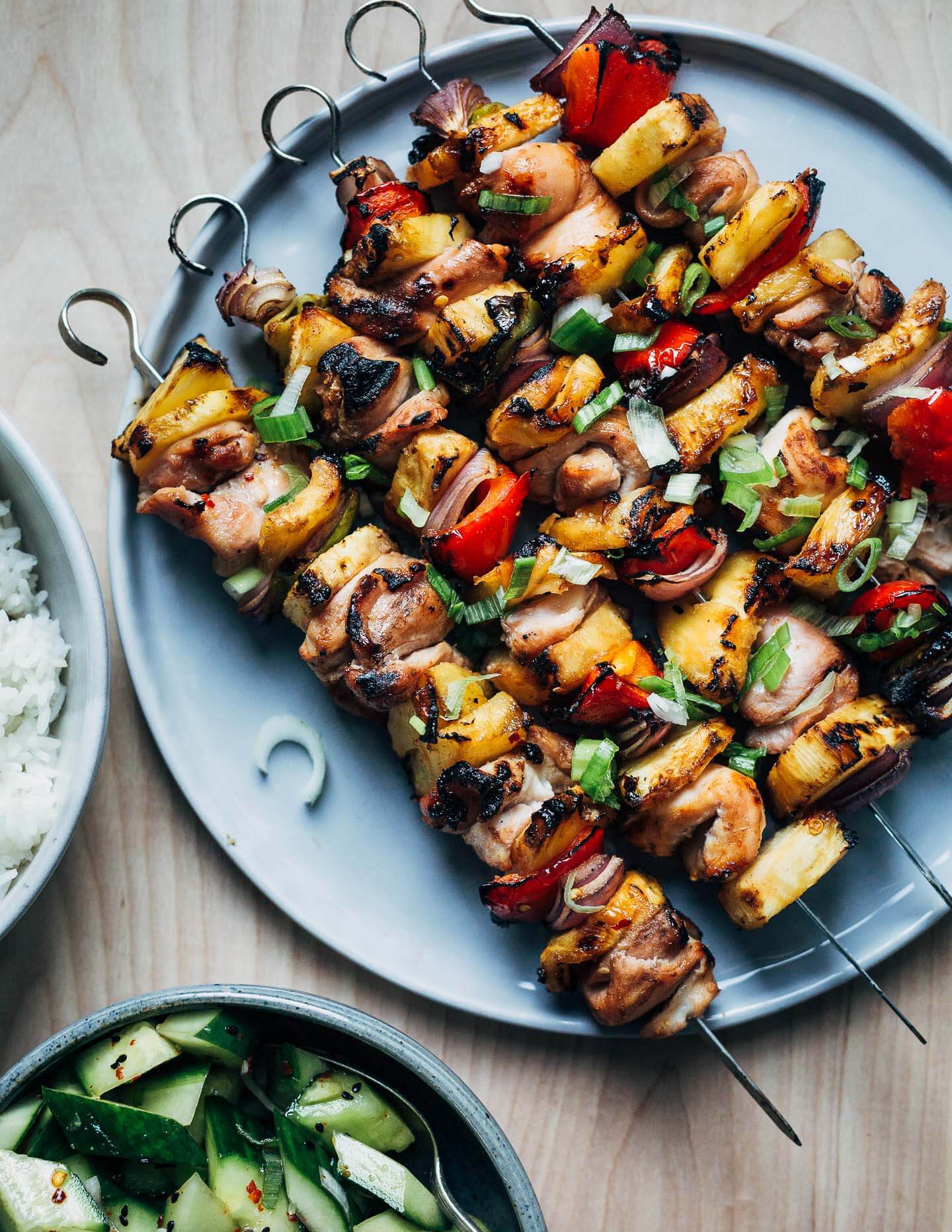 Experimentation is always the best way for me to break out of my cooking routines. An unfamiliar technique or new-to-me flavor combination can inspire a whole week of fresh flavors and ideas.
Of course, pineapple and chicken have long been culinary companions, so this is hardly new territory. From traditional Hawaiian cooking to 1950s mainland cooking magazines, the synergy of pineapple and chicken is well known. In this recipe the bright sweetness of the pineapple, plus lime, chilies, soy, and fish sauce, permeate the chicken beautifully, and when mixed with bell peppers and red onions, the whole meal points the way toward a more flavorful kind of summer cooking. The kind of the thing where the simple elements become so much more than the sum of their parts.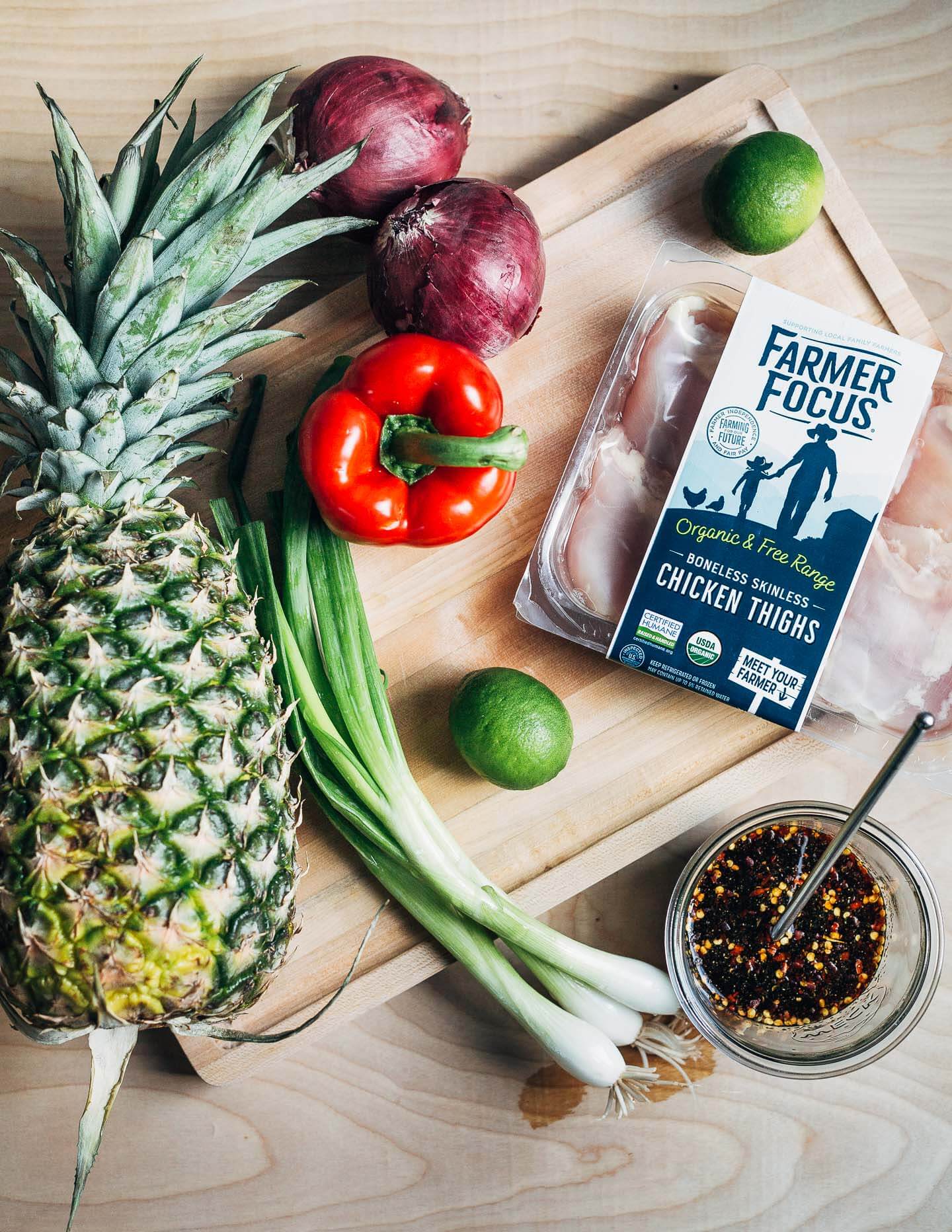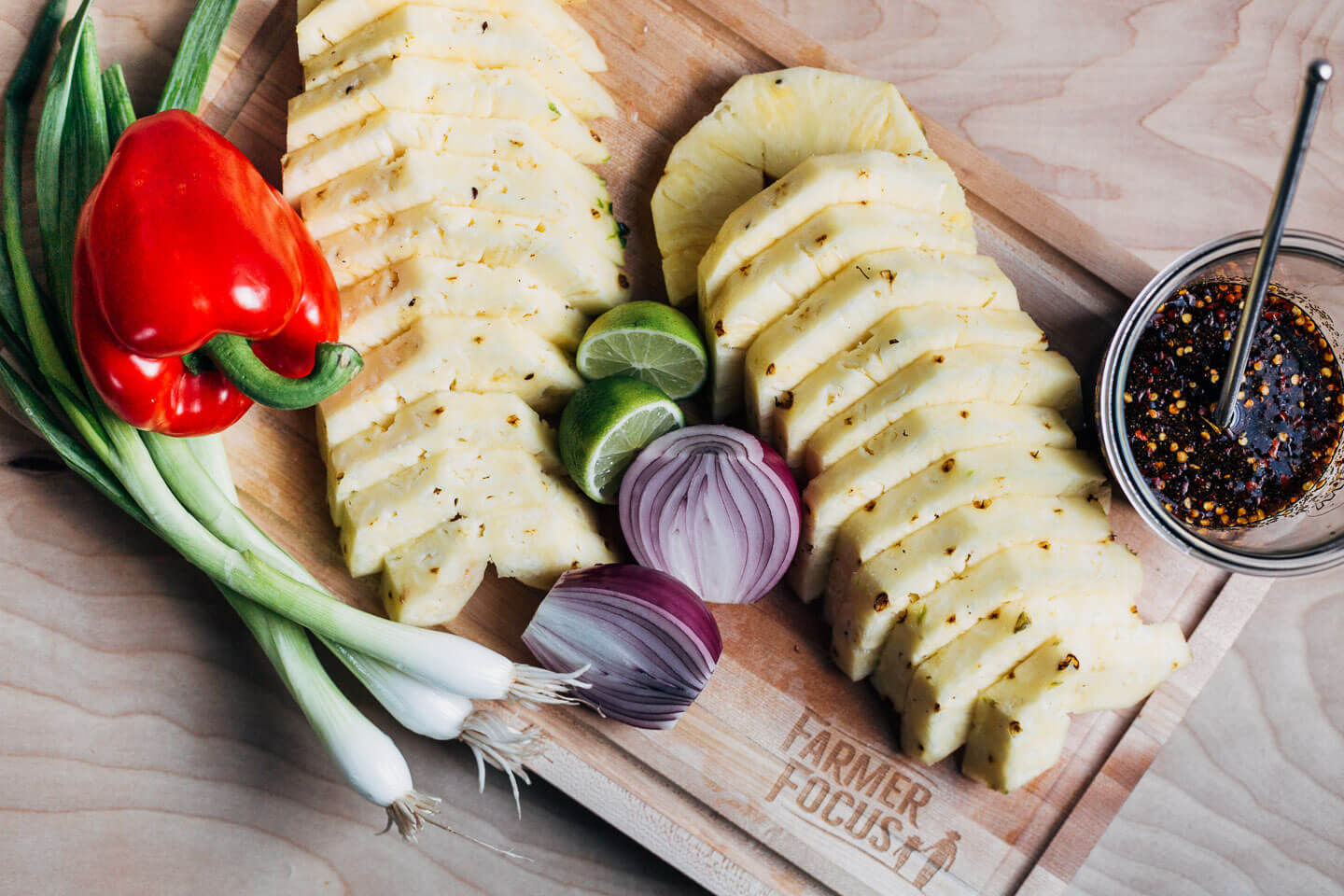 Eating Closer to Home
Now that the growing season is well underway, I'm eating a lot closer to home (well, mostly – pineapples and limes are big exceptions). Besides the increasing piles of produce from my backyard garden, one of my favorite local ingredients to cook with is Farmer Focus organic chicken.
Farmer Focus chicken is raised in the Shenandoah Valley by small family farms who work hard to ensure that Farmer Focus chicken is the absolute best quality. Each package of Farmer Focus chicken has a Farm ID so you can look up and learn about the farm that raised your chicken. I made these grilled pineapple chicken kebabs with chicken from the Turley Creek Farm, a family farm in Bridgewater, VA.
All Farmer Focus chicken is USDA Organic, Certified Humane, and carries a Step 3 Global Animal Partnership rating. Farmer Focus is continually expanding its availability – look for Farmer Focus online at Fresh Direct or Instacart, or use the store locator right here.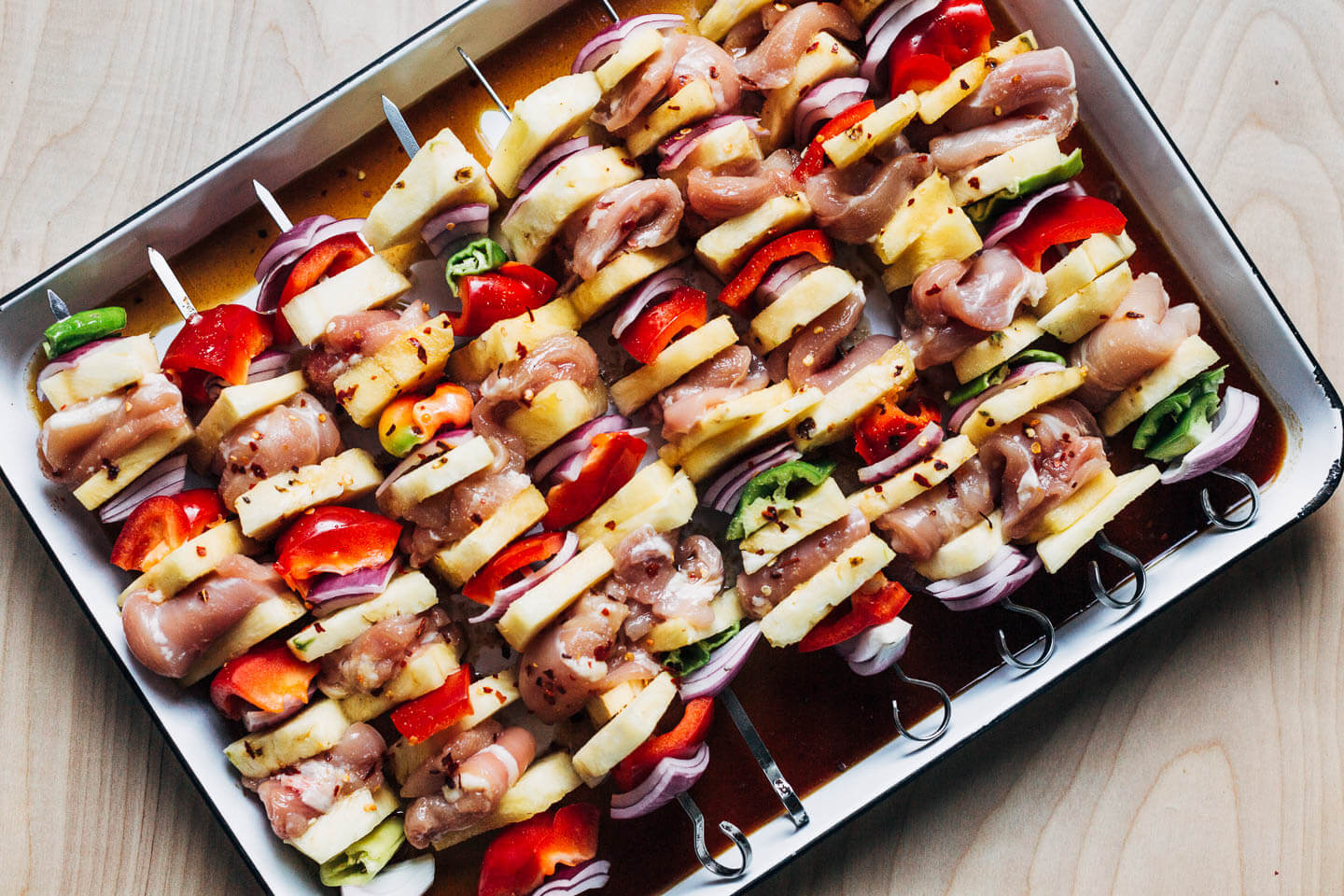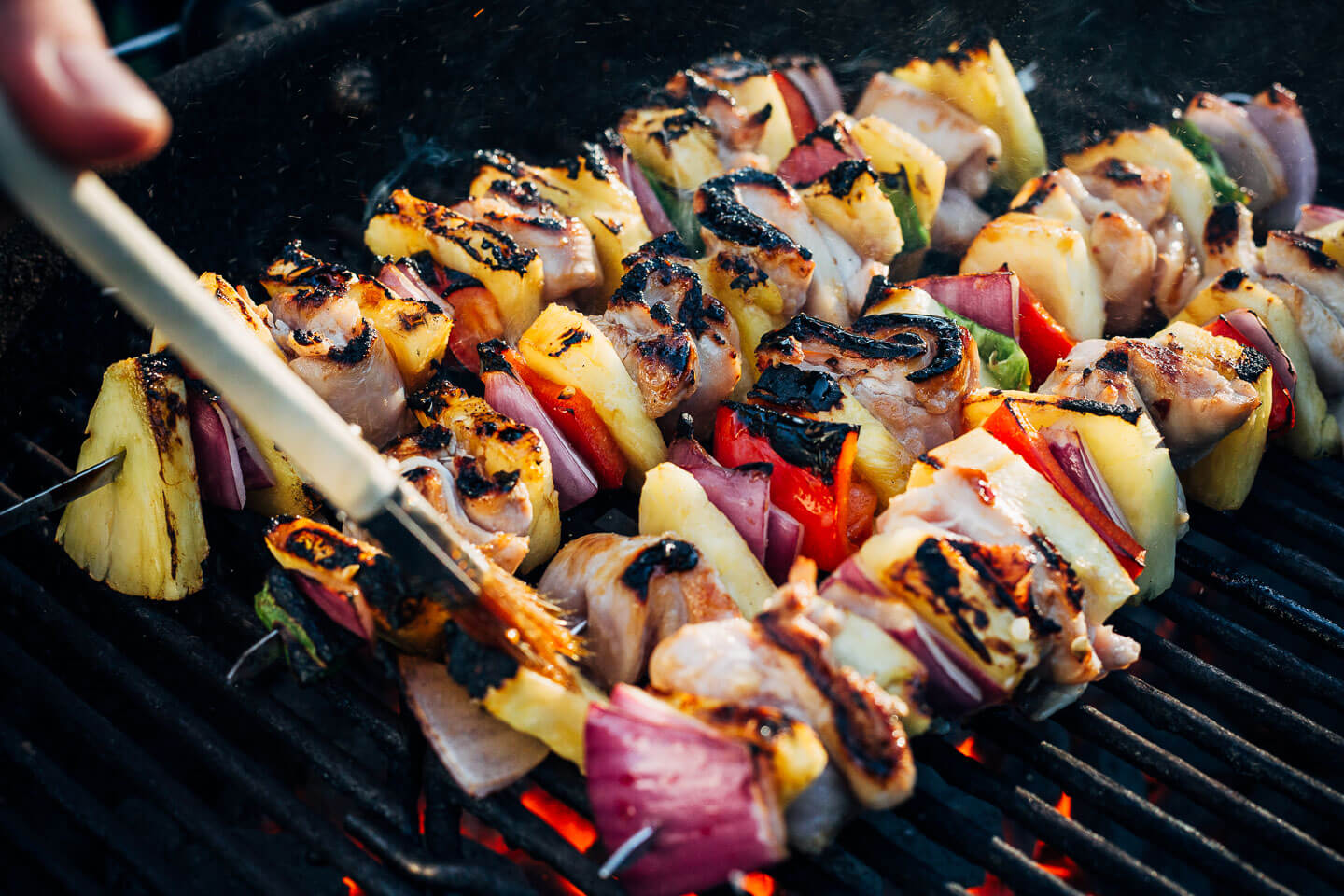 Marinated Pineapple Chicken
One of the keys to this recipe's deliciousness is giving the chicken and the pineapple plenty of time together. I find the least messy way is to prep and thread the skewers and then set 6 or so in a zip-top bag with the marinade. It will take a few bags for everything, but it's easier than trying to thread slippery ingredients after the marinade. If you have a large tub, you can also lay the kebabs out in that and cover with marinade.
The natural enzymes in pineapple tenderize the meat and help it retain moisture. For this reason, a lot of cooks pair chicken breasts with pineapple, but I find that the added flavor and fat of chicken thighs stay juicy and develop a richer flavor. Whatever your preference, breast or thigh, these grilled pineapple chicken kebabs will be absolutely delicious.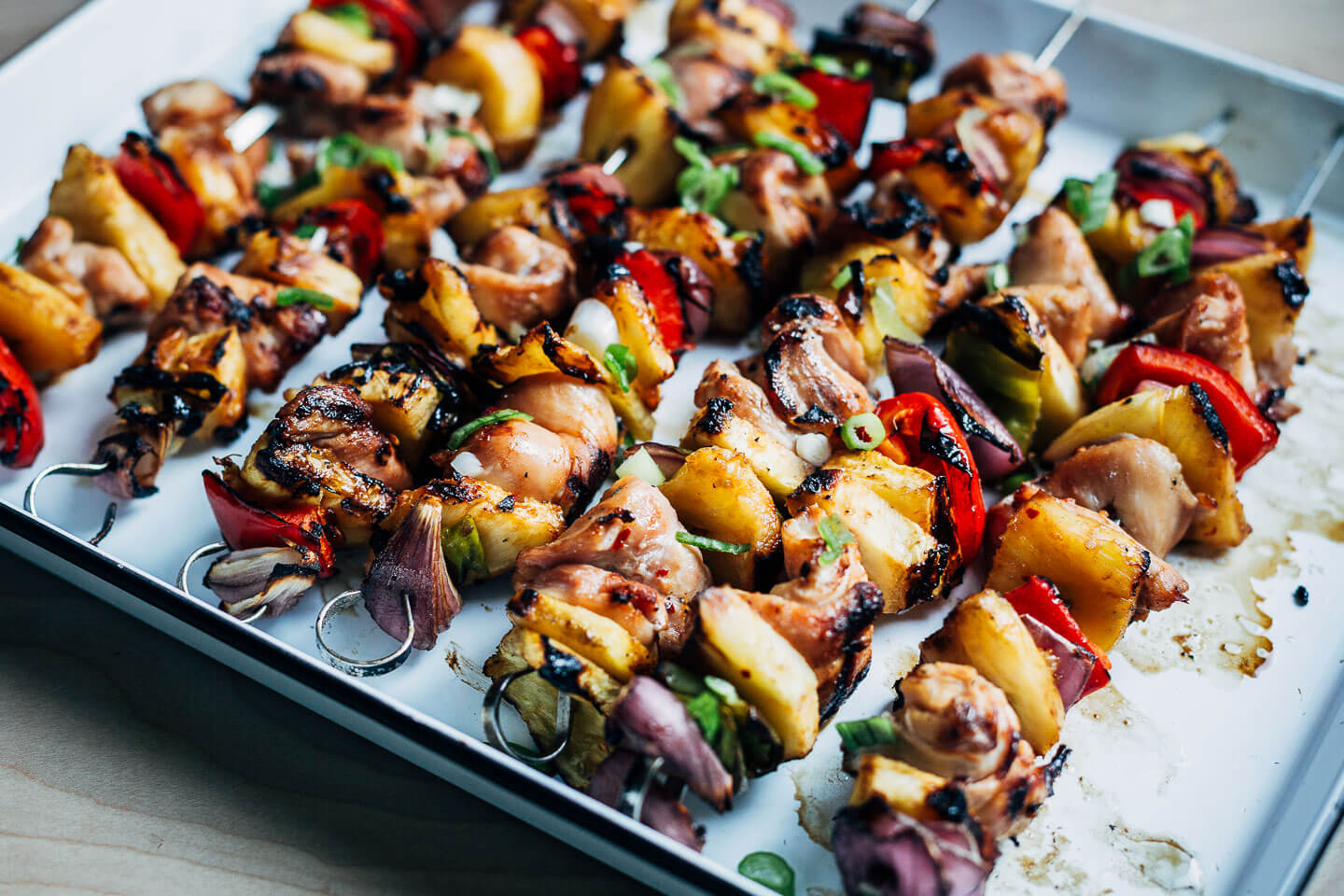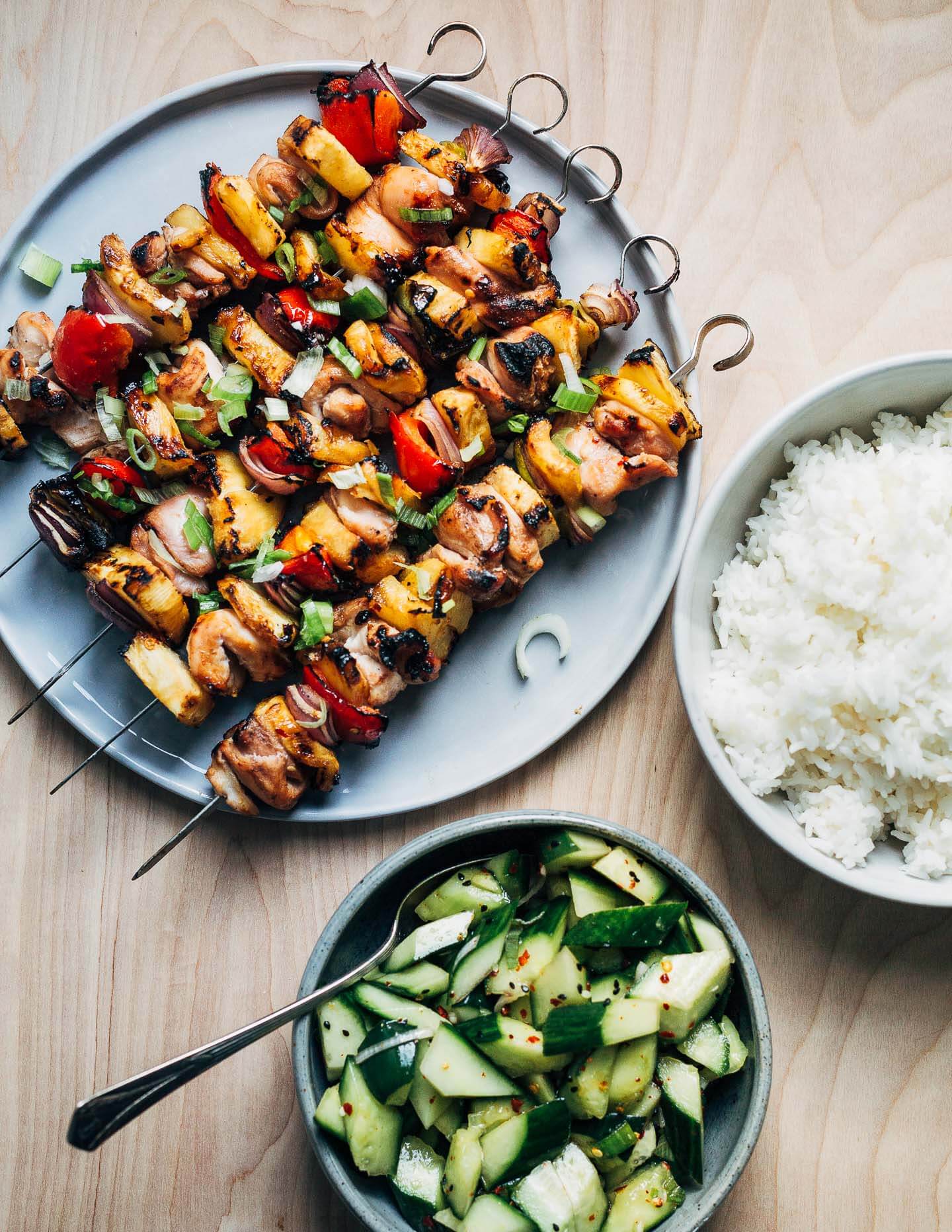 Looking for more grilled chicken inspiration? Check out there recipes: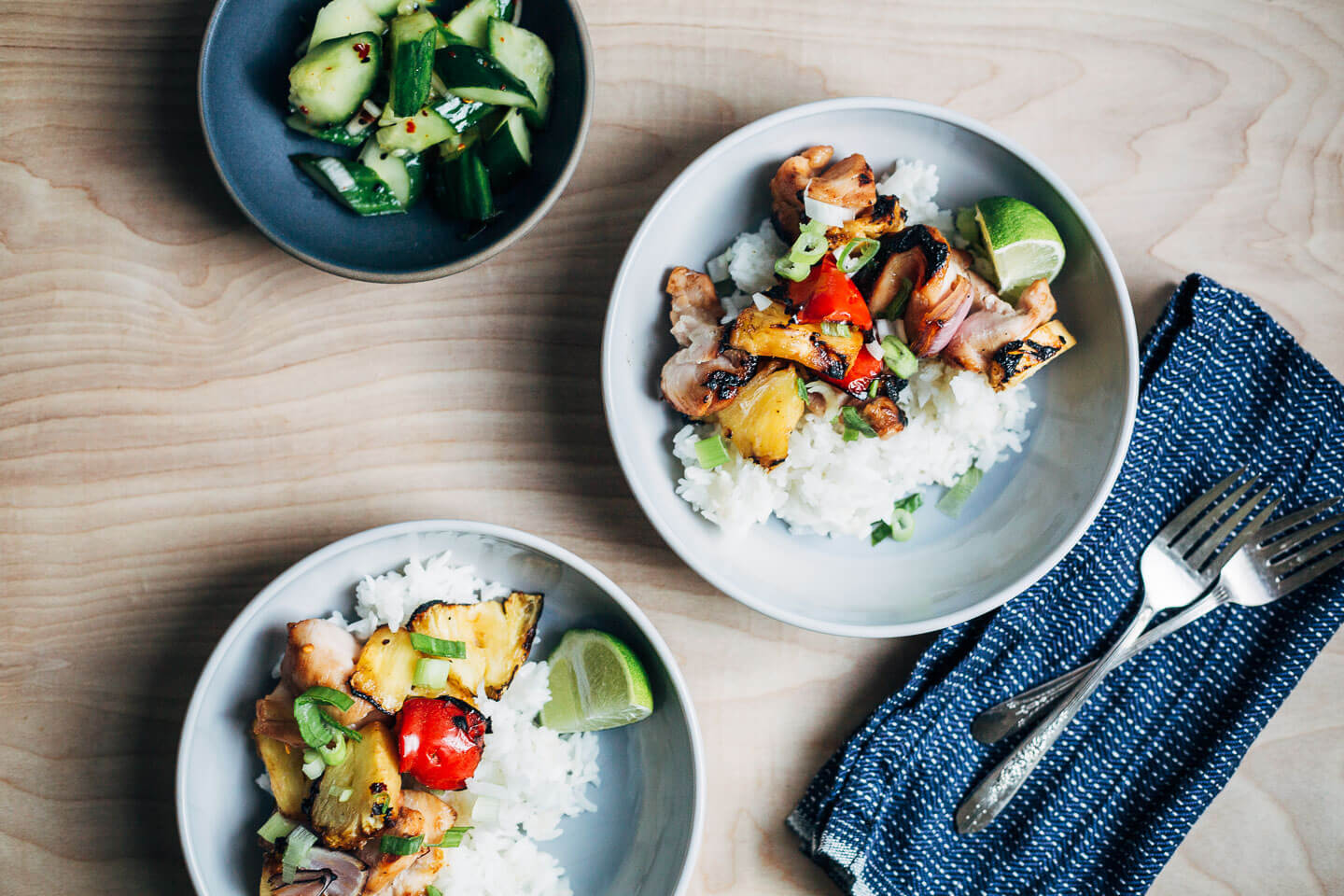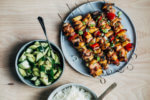 Grilled Pineapple Chicken Kebabs
Savory-sweet and perfectly charred, these grilled pineapple chicken kebabs are made with marinated chicken and pineapple, bell peppers, and red onions. This post was created in partnership with Farmer Focus.
Keyword:
grilled pineapple chicken
Ingredients
Kebabs
2

packages Farmer Focus Skinless,

Boneless Chicken Thighs (about 3 pounds)

1

teaspoon

fine sea salt

1

whole pineapple or 6 cups cubed

2

red bell peppers,

or a mix of spicy and sweet peppers, seeded and cut into 2-inch pieces

1

large red onion,

cut into eighths
Marinade
1/2

cup

brown sugar

1/4

cup

plus two tablespoons soy sauce

1/4

cup

fresh squeezed lime juice

1/4

cup

fish sauce

1/4

cup

rice wine vinegar

1

teaspoon

garlic powder

1

teaspoon

red pepper flakes
To Serve
3

green onions,

thinly sliced

Lime wedges
Instructions
Working the night before or at least four hours ahead, salt the chicken on both sides and cut each thigh into 3 rough strips (enough to fold over on a skewer).

To break down the pineapple, slice the top and bottom off of the pineapple and use downward strokes to cut away the prickly sides. Halve the pineapple lengthwise, cut out the core, cut the two halves into 3/4-inch thick fan-shaped slices, and then cut those slices into thirds so you have rough 2-inch wide pieces of pineapple.

Get your skewers ready and thread 2 slices of red onion, a slice of red pepper, pineapple, chicken, and then pineapple. Continue until the skewer has an inch of room on either side. Take care that each piece of chicken is surrounded on both sides by pineapple.

In a large jar, mix to combine the marinade ingredients.

Carefully lower several skewers into 2 - 3 zip-top bags or arrange in a large plastic container. If using the bags, divide 1 cup of the marinade between the bags. If using a container, pour 1 cup marinade over the skewers. Set marinating skewers in the fridge and reserve the remaining marinade.

The next day, prepare a hot grill . Bank the hot coals to one side to create zones of direct and indirect heat.

Pour half of the remaining marinade in a small jar and set out a brush.

Set 5 or 6 skewers over high heat. Cook for 4 - 5 minutes per side, or until the edges of the chicken and veggies are nicely charred. Carefully brush the seared side with marinade. Move cooked skewers over indirect heat and set another batch over direct heat. When all the skewers have been seared on both sides, cover the grill and cook for 5 minutes more or until an instant read thermometer inserted in the chicken reads 165 degrees F.

Top cooked kebabs with green onions and serve with sticky short grain rice, reserved marinade, and a lime wedge.