A rich and savory vegan mushroom gravy with lots of umami depth. This simple gravy comes together quickly and can be made ahead.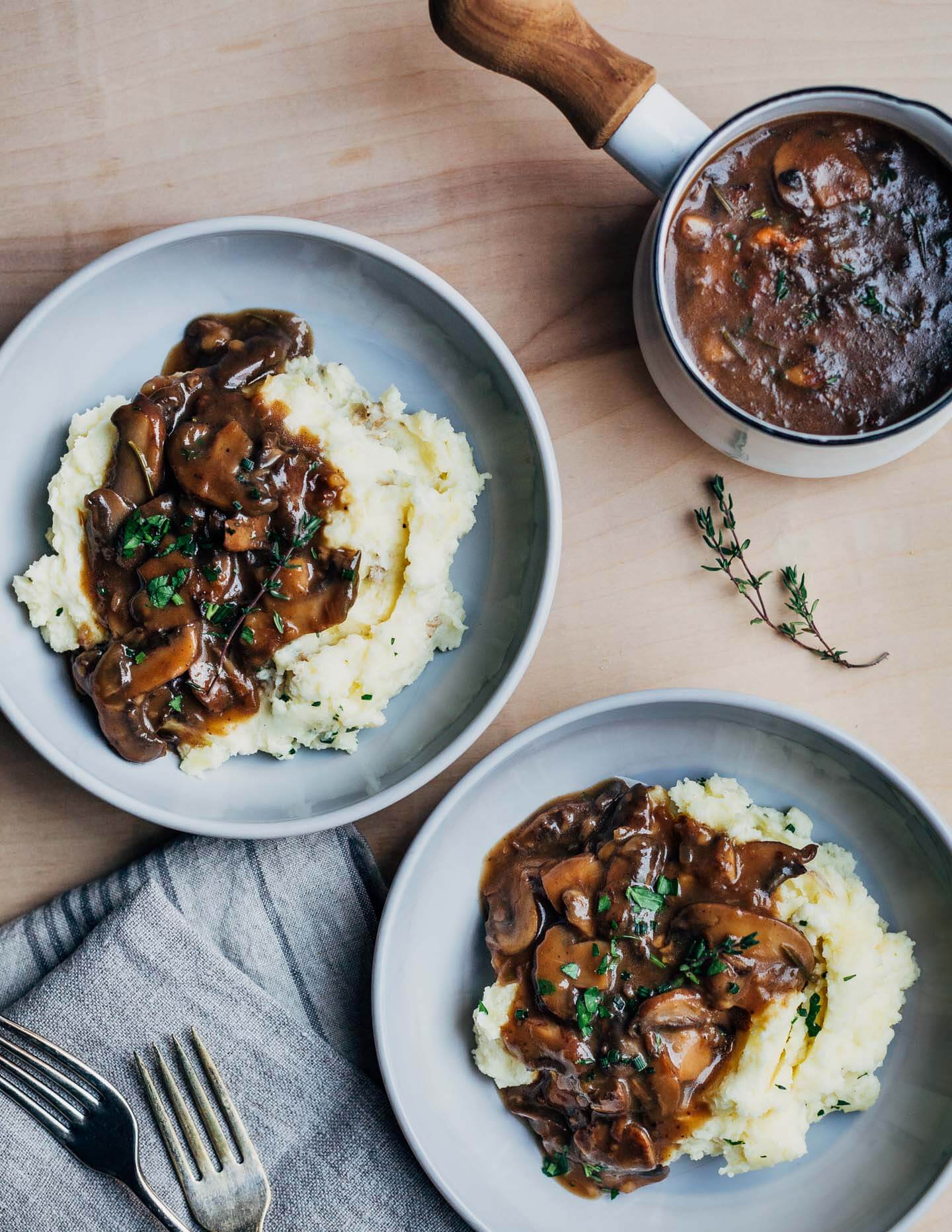 Get the newsletter
Are you signed up for the Right Now newsletter? It hits inboxes twice a week with exclusive recipes and seasonal ingredient inspiration. Subscribe today!
Every year, I make a vegan or vegetarian gravy to accompany our Thanksgiving meal. Gravy is an essential part of Thanksgiving, and leaving the vegetarians and vegans in my life without it is unthinkable!
For a vegetarian meal, serve your mushroom gravy with sour cream mashed potatoes and gluten-free, vegan cornbread and wild rice stuffing. Check out this round up of Thanksgiving menu ideas for more recipe inspiration! If you're cooking up a strictly vegan feast, check out this recipe roundup from Laura on the First Mess.
Start with Great Vegetable Broth
Mushroom gravy should have all the depth and umami punch that it can. That means starting with a great-tasting vegetable stock. I made mine with two onions (skins and all), a head of garlic, 3 celery ribs, 2 carrots, and the mushroom stems from the gravy prep, plus black peppercorns, bay leaves, thyme, and a big pinch of salt. Let it all simmer for about two hours and you'll have a delicious stock. You can prep up to 3 days ahead or freeze the stock for longer storage.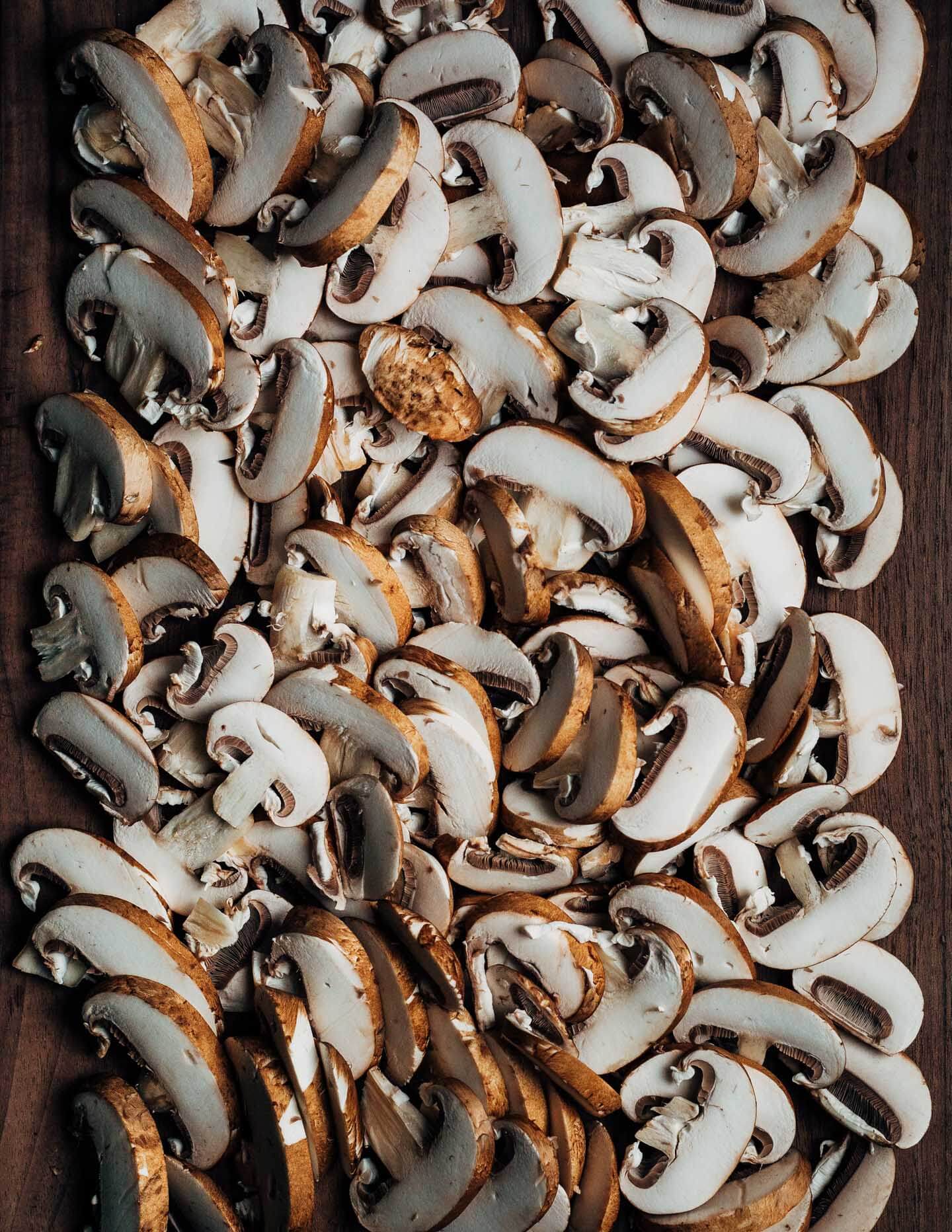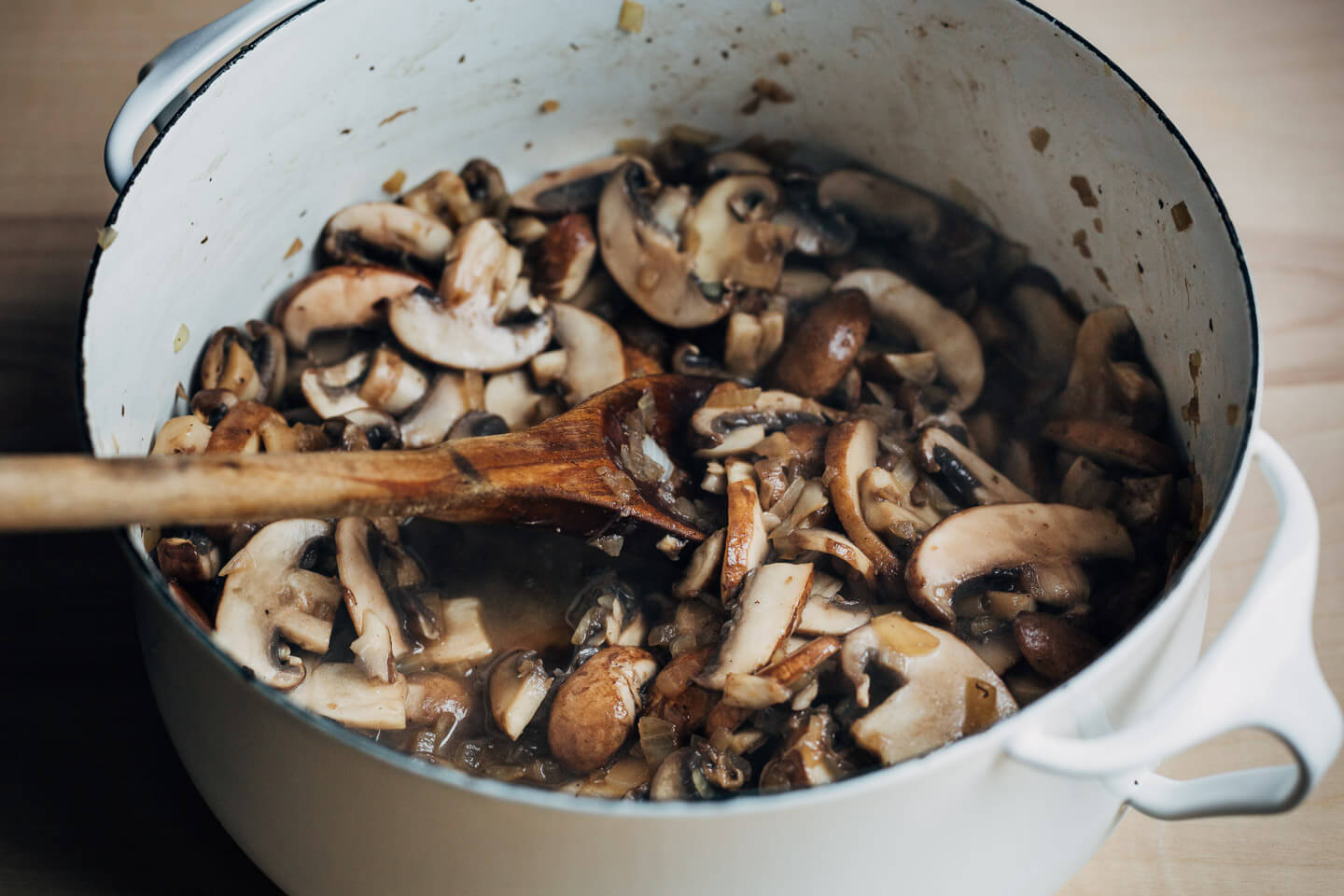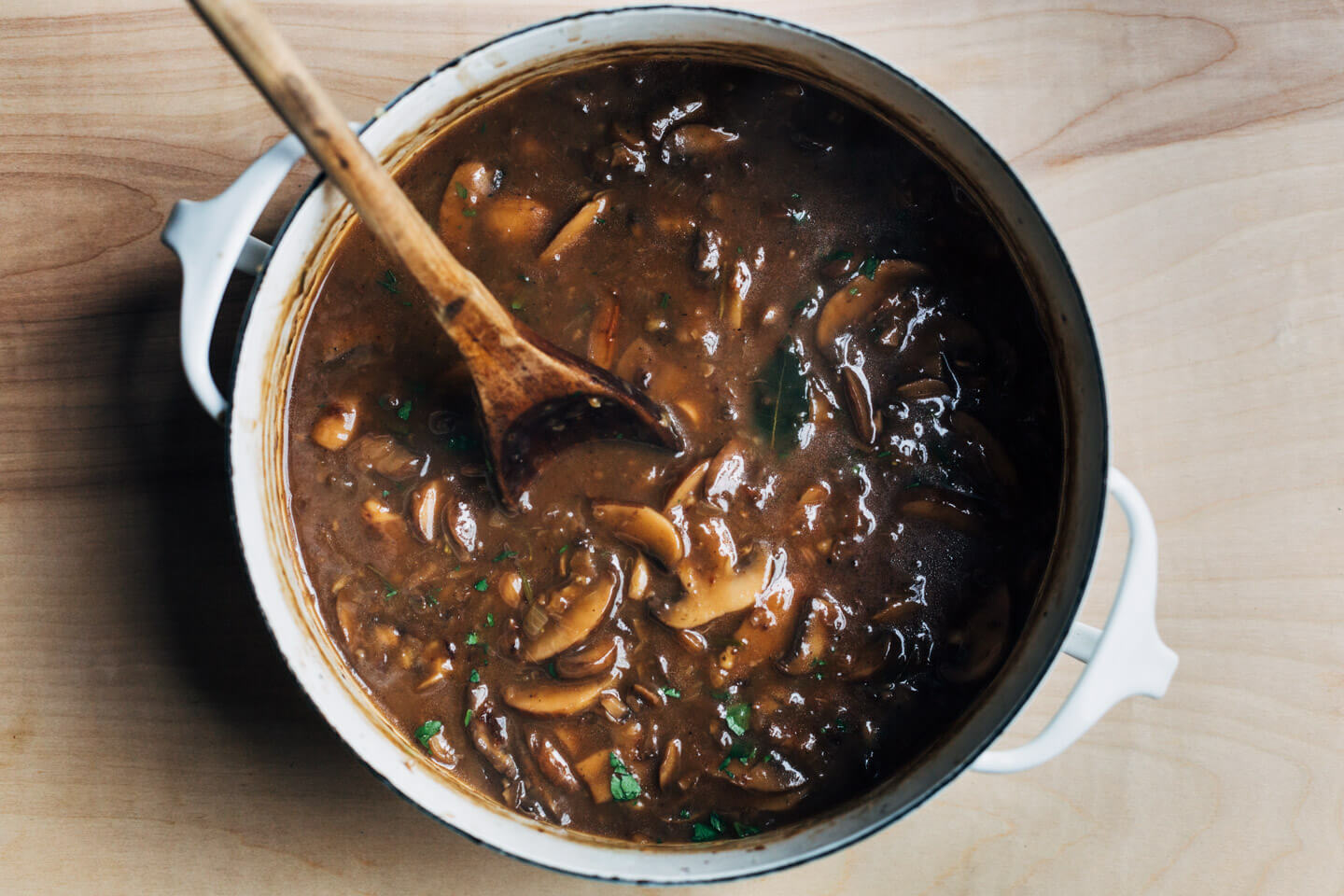 My Favorite Store-Bought Vegetable Broths
If you need to just buy your broth, I have two that I love. Imagine Foods Low-Sodium No-Chicken and Beyond Bouillon No-Chicken. Both have a nice richness that approximates chicken broth, without any actual chicken. Beyond Bouillon is one of my kitchen staples since one little jar can make many quarts of broth.
What Kind of Mushrooms?
If you're feeling splurgy, consider getting a trove of local mushrooms at the farmers market. Oyster, maitake, or shiitake mushrooms would all add wonderful depth to the gravy. Store-bought criminis are also quite delicious. Feel free to mix and match with the mushrooms that suit your taste and budget.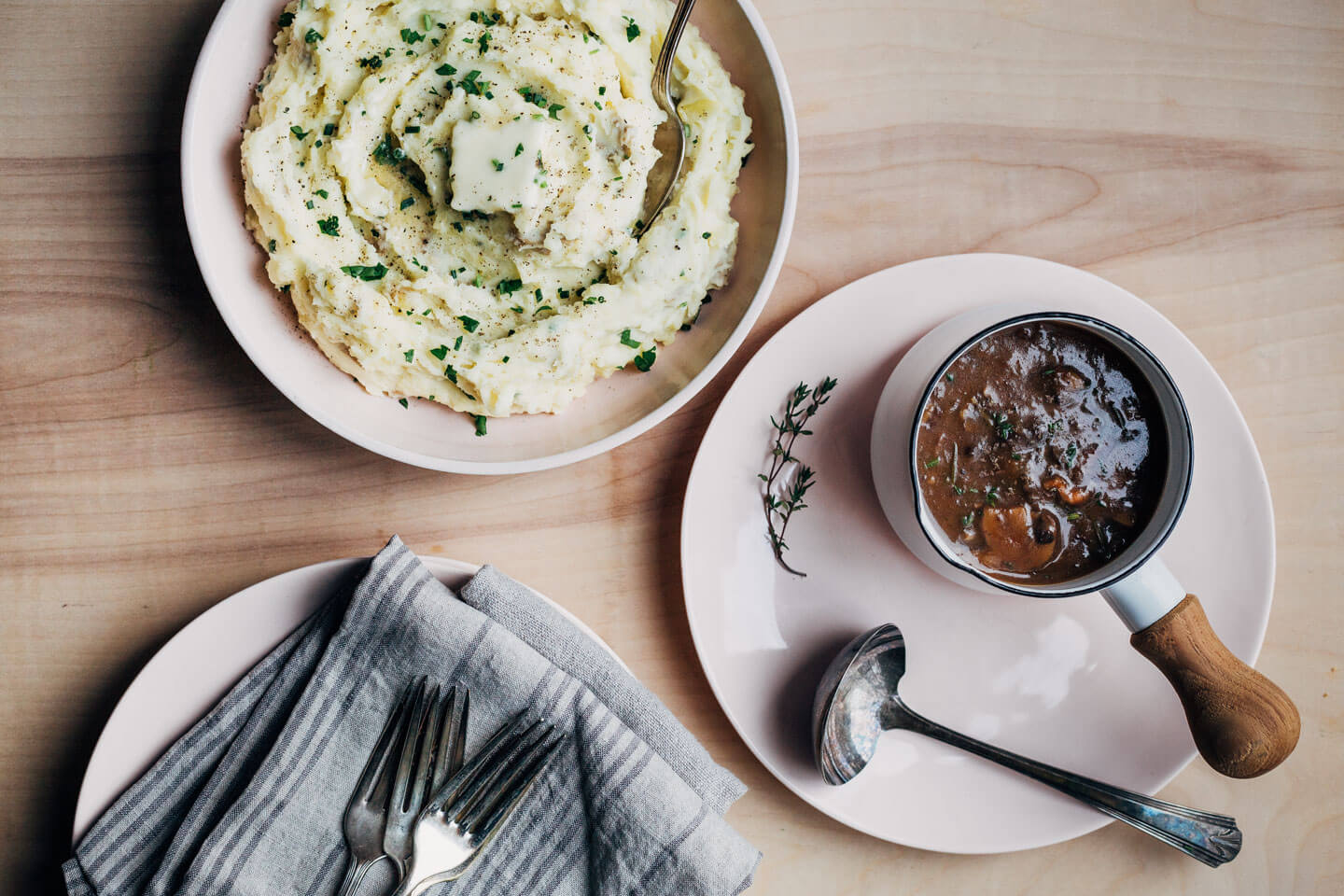 Making the Mushroom Gravy
Good gravy complements a meal and should be made from what's on hand. As always, feel free to riff and experiment here (tasting as you go!).
Start with a big-ish pot (there's going to be a lot of stirring). Cook the onions until they're supple and translucent, then add the mushrooms. Cook until the mushrooms are soft and fragrant. Add the flour, toss to coat, add a splash of soy sauce, and then slowly add the broth as the mixture thickens. Add fresh bay leaves and thyme if you have it.
Once all the broth is added, let the gravy simmer away for 20 minutes or so. In my experience, it will seem too runny and then suddenly, too thick. (This is especially true if you're juggling many things in the kitchen.) Turn up the heat slightly to thicken the gravy and add a splash more broth to thin it out.
A splash of sherry brings out a wonderful depth in the gravy if you have it.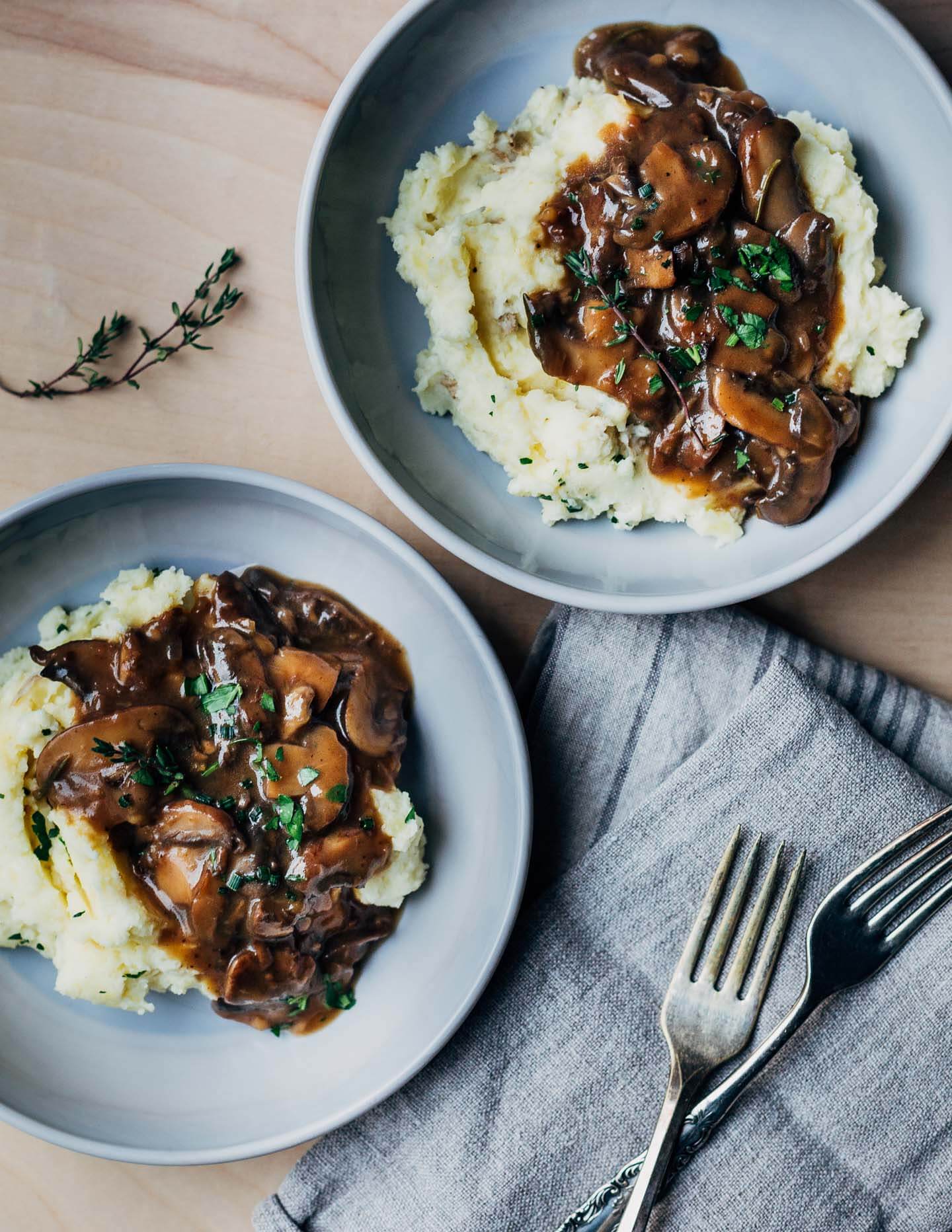 Make It Ahead
Mushroom gravy can be made up to three days ahead of time, or frozen for longer storage.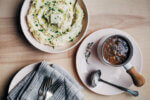 Vegan Mushroom Gravy
A deeply savory vegan mushroom gravy with lots of umami depth. This simple gravy comes together quickly and can be made ahead.
Ingredients
3

tablespoons

butter or olive oil

1

medium yellow onion,

minced

1

medium shallot,

minced

4

cloves

garlic,

smashed, peeled, and minced

1 1/2

pounds

24 ounces mushrooms (crimini, oyster, maitake, shiitake, or a mix)

1/2

teaspoon

freshly grated nutmeg

Salt

Black pepper

1/4

cup

all-purpose flour

2

tablespoons

sherry

(optional)

2

tablespoons

soy sauce or tamari

3

cups

rich vegetable broth

(low-sodium store bought or homemade), warmed

2

bay leaves,

preferably fresh

4

sprigs thyme

2

tablespoons

minced chives,

parsley, and/or thyme
Instructions
Brush or quickly rinse mushrooms and give them time to dry back out. Slice any woody bits from the stems and add those bits to your broth. Slice the mushrooms uniformly, about 1/4-thick.

Set a wide 3-quart pot or Dutch oven over medium heat. When hot, add the oil or butter and then the onions and shallot. Cook, stirring often, until onions are supple and just starting to brown, about 7 minutes. Add garlic and cook 1 minute more.

Add mushrooms, a handful at a time. Let them cook undisturbed for a minute or two, then gently fold them into the onion mixture. Continue until all the mushrooms have cooked down and turned a deep golden brown. Add nutmeg, a big pinch of salt, and black pepper to taste. (Flavors will continue to concentrate as the gravy cooks down, so add salt sparingly.)

Fold in flour and cook, stirring often, 3 minutes. Add a splash of sherry (if using) and soy sauce, scraping up any brown bits. Slowly add broth, a half cup at a time, stirring often and allowing mixture to thicken before adding more. Once all the broth has been added, add bay and thyme, bring mixture to a boil, then turn down to a bubbly simmer and cook 20 minutes, stirring often. Add salt and pepper to taste. Remove bay and thyme and discard.

Before serving, garnish with fresh herbs.

Gravy can be made 3 days ahead and kept in the fridge, or up to 6 months in the freezer.